Post Affiliate Pro Review: Can it Help Improve Your Affiliate Performance?
When you buy something through one of the links on our site, we may earn an affiliate commission.
If you're searching for solutions for managing your affiliate marketing campaigns, this Post Affiliate Pro review might be of interest to you.
Post Affiliate Pro is a feature-packed affiliate software built to help online store and eCommerce website owners track, manage, and optimize multiple affiliate programs.
In this review, we'll cover what Post Affiliate Pro can do, how it can enhance your affiliate income, who it's right for, what type of support and integrations it has, pricing, the best alternatives, and whether it's worth your time.
In a hurry? Create a free Affiliate Pro account now and test it out.
Post Affiliate Pro Review
Ease of Use

Value for Money

Customer Service

Features
Summary
Post Affiliate Pro is an easy to use affiliate management software made for e-commerce stores and websites to manage their affiliate campaigns. It has a huge range of features, accurate tracking data, a ton of promotional materials and 24/7 customer service so you can work closely with your affiliates to maximize sales and make more money.
Pros
24/7 customer service
Can access a 1-month free trial
Easy to manage affiliates
Accurate affiliate tracking data
Excellent range of promotional materials
Simple to set up affiliate programs
Huge amount of features and tools
Detailed analytics and reports
Flexible and customizable user interface
Cons
Some may find the pricing too high
What Can You Do With Post Affiliate Pro?

Whether you're an experienced affiliate marketer or just starting out, Post Affiliate Pro has a range of features to help you earn more money and streamline your business.
It has a wealth of great features. Let's take a look at a few here:
Promotional Materials
Post Affiliate Pro contains a range of promotional materials to help your affiliates promote your products and links. The main ones include:
Affiliate discount coupons. Generate discount coupons quickly and easily inside Post Affiliate Pro or download your own into the platform in a few clicks. The ready-made coupon formats can be customized where necessary.
Smartlinks. This refers to a destination URL link that can be set up for banners and will change depending on the location and device used by a customer.
Banners. Create a range of banners easily, such as lightbox banners, that are interactive to market your products, services, or website.
Reporting
Get access to a wide range of analytics inside Post Affiliate Pro to learn what is working and what is not. A few things you can see in your analytics dashboard include:
Trends. By utilizing affiliate marketing trends you can predict what strategies will perform best in the upcoming year.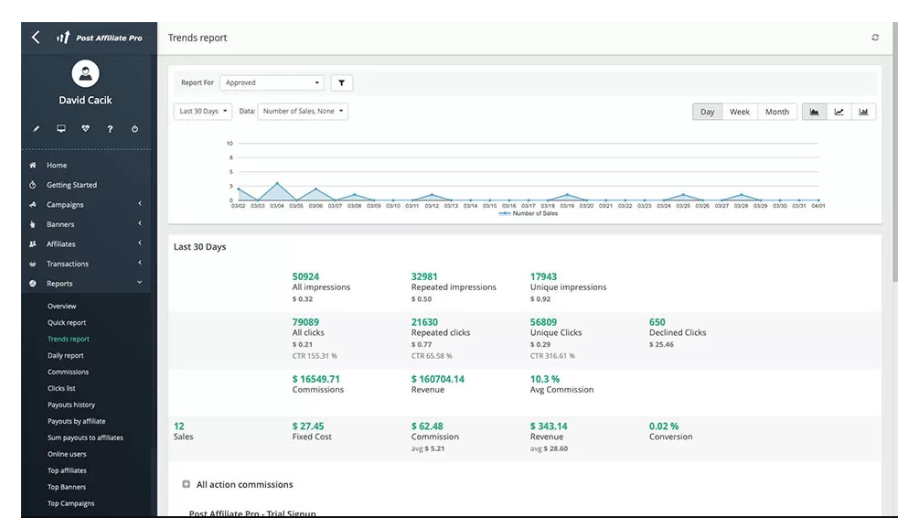 Map overlay. See information about your website visitors, such as where they come from. This info will assist you in building a marketing strategy that brings a maximum ROI.
Top affiliates. Knowing your top affiliates allows you to keep them motivated with extra rewards.
Top campaigns and banner reports. Search your top campaigns to keep in touch with clients, and use banner reports to fine-tune your marketing efforts.
Commissions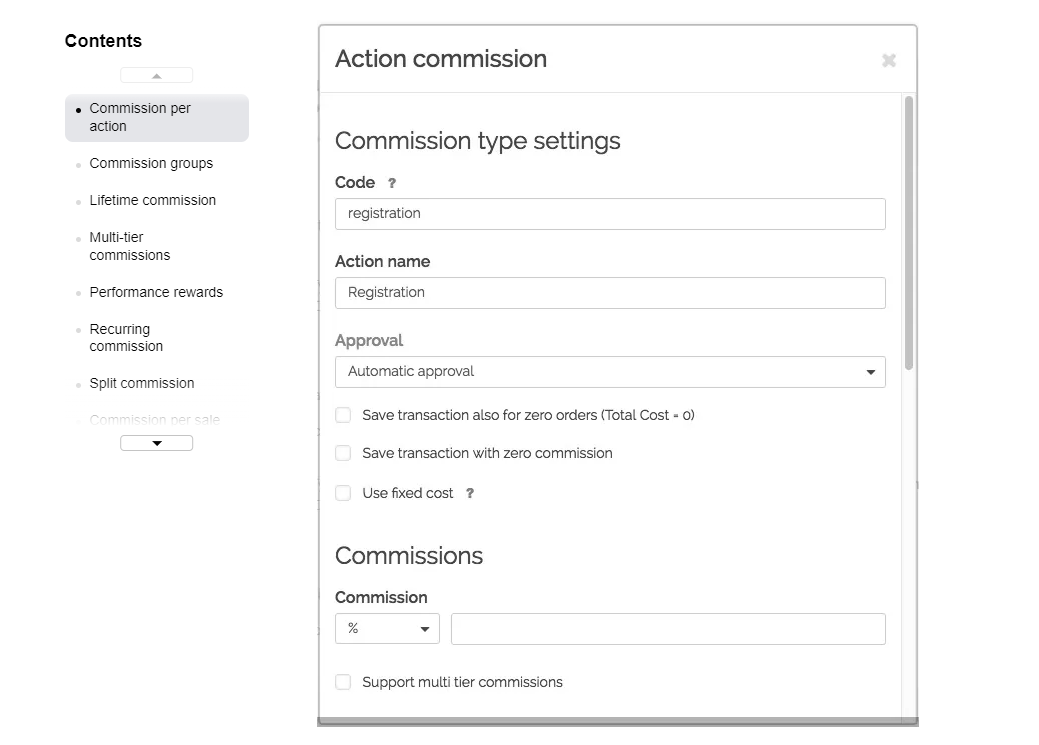 Post Affiliate Pro helps you to reward your affiliates with a range of commission structures, such as:
Commission per action
Commission groups
Lifetime commission
Multi-tier commissions
Performance rewards
Recurring commission
Split commission
Commission per sale
Commission per click
User Interface
It's possible to customize many features in your merchant panel, such as:
Interface. Customize your affiliate panel to your liking including colors, logo, header, footer, and more.
Mass payments. Choose from a range of payment methods and different fields affiliates have to fill out to get paid.
Multilingual support. Use the Post Affiliate Pro software in over 36 languages with more being added all the time.
Themes. Customize the default themes to match your own branding and website.
Multiple merchant roles. As your business grows, you can assign merchants different roles.
Tracking
Implement different types of tracking inside Post Affiliate Pro including:
Cookie tracking. Set your cookie tracking preferences so your affiliates get compensated fairly.
Tracking referrals by IP. If browser cookies can't be found during a sale, this tracking method searches for the last known visitor's IP address.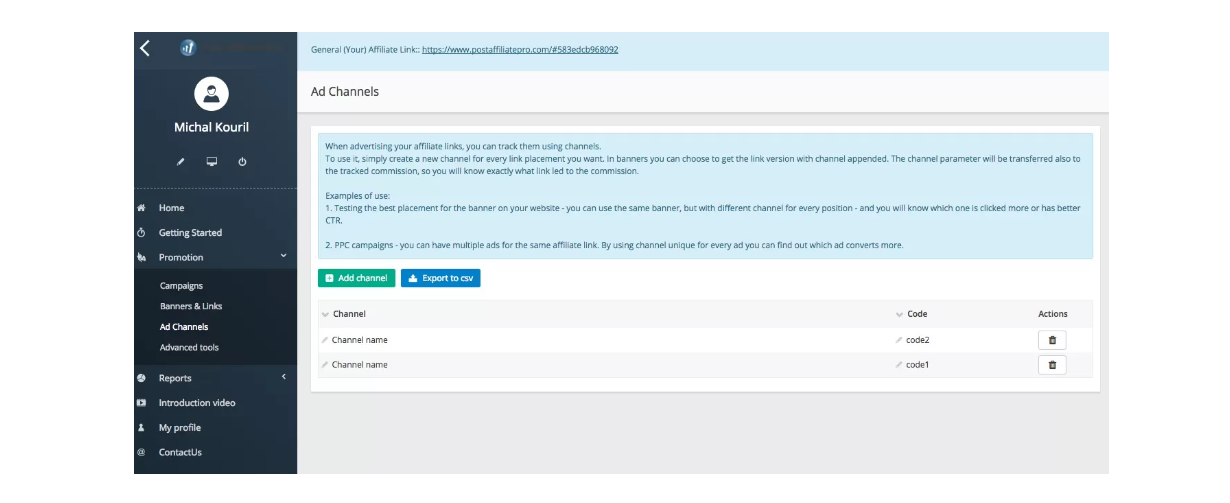 Extended tracking methods. Alongside the standard tracking methods, Post Affiliate Pro has multiple extended tracking methods such as impression tracking, action tracking, per-product tracking, offline tracking, S2S tracking, and pixel tracking.
Security
Take advantage of a range of security features to protect you from outside threats. These include:
2-Step verification. This includes the Google Authenticator app that delivers a 6-digit code that must be used after signing in.
Fraud protection. All transactions are monitored, and any suspicious ones are declined.
Post Affiliate Pro Review: Can it Help Your Affiliate Marketing Efforts?
This software is an all-in-one affiliate marketing platform that has everything you need. The main ways it can help you include:
Affiliate Tracking

Measure the success of your affiliate marketing activity with a range of affiliate tracking tools.
Track everything you need, including conversion rates, traffic sources, affiliate commissions, fraud detection, sales, clicks, and more.
The benefits of this software include:
Versatile features and flexibility
Improved SEO ranking
Easy and fast to set up
Free 24/7 customer support
170+ ready-made integrations
Affiliate Marketing
Promote all types of products with this affiliate marketing software.
Sell online or physical products, create a unique affiliate marketing strategy, and increase your sales with promotional materials.
Post Affiliate Pro has all you need in one place to set up, manage and succeed with your own affiliate marketing program.
Affiliate Management

Manage your affiliates, affiliate marketing programs, and campaign performances using the management software.
Get access to a range of premium features, including precise tracking, 24/7 customer support, promotional materials, and much more.
By managing and optimizing your affiliate campaigns all in one place, you can maximize your ROI and get great results for your business.
Who is Post Affiliate Pro Suitable For?
Post Affiliate Pro is the right choice for companies, businesses, websites, and eCommerce store owners who want to sell their products and services.
Here are a few examples of how to use this affiliate software:
Selling Services
Post Affiliate Pro is ideal to be used by service providers. By setting up an affiliate program, companies can use affiliates to promote their services and increase audience engagement.
Selling Digital Products
Software companies and website owners can create their own affiliate programs to promote their digital products and drive new customers to their sales pages.
Drive E-Commerce Store Sales
E-commerce store owners can use unlimited affiliates to drive new customers to their site and offer rewards for sales made through unique links tracked in Post Affiliate Pro.
Does Post Affiliate Pro Have Good Customer Support?
Yes, this affiliate software does have great customer support.
If you get stuck, you can contact the support team in four different ways:
Contact form
Messenger
WhatsApp
Instant chat via the website
You can also contact the Post Affiliate Pro team on their Facebook and Twitter pages.
What Integrations Does it Have?

You can easily integrate this software with a range of apps and websites, such as:
Stripe
Wix
PayPal
WooCommerce
WordPress
3DCart
And many others...
Take a look at the full list of integrations here.
Post Affiliate Pro Review: What Resources Are Available?
The Post Affiliate Pro platform offers a range of free resources to help you succeed with affiliate marketing, such as:
Academy

Learn what it takes to become an affiliate marketing expert with this range of tutorials guiding you every step of the way.
The Academy provides all the information needed in detail, from the basics like ''what affiliate marketing is'', right up to ''how to make money with affiliate marketing '' and ''how to do your taxes''.
Templates
Take advantage of pre-made templates to use in your affiliate business, such as terms and conditions, acknowledging top affiliates, launching announcements, and more.

Blog
Get access to cutting-edge information on what's going on in the world of affiliate marketing, all in one place.
Affiliate Marketing Glossary
As a new affiliate, have a read through the affiliate marketing glossary to get a handle on all the terminology.
Videos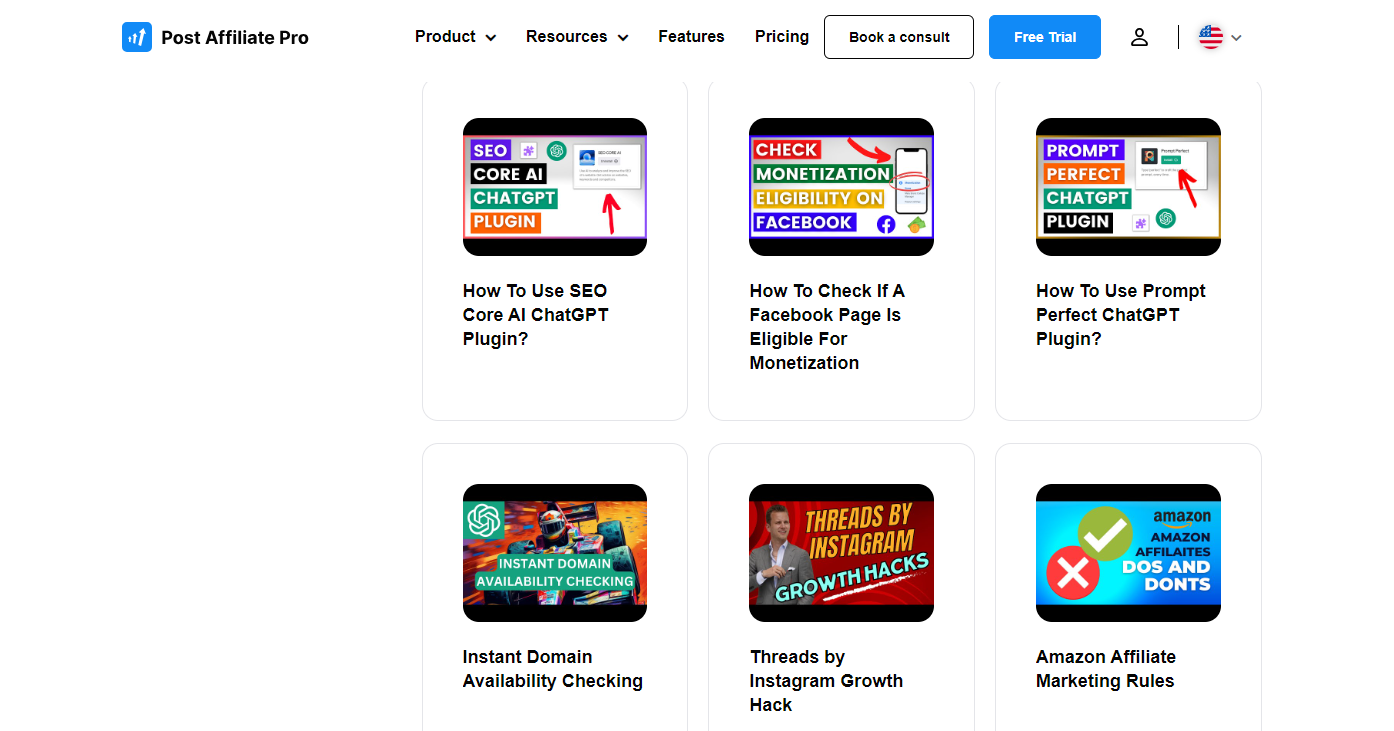 Watch over 252 videos teaching you all about affiliate marketing, different strategies, trends, SEO, social media and how to use AI-powered affiliate marketing.
Affiliate Program Directory
Get access to a directory of affiliate companies and affiliate programs that you can search according to your niche.
Support Portal
If you need a little extra help or have a question, search through the support portal to find quick answers.
Post Affiliate Pro Review: How Much Does it Cost?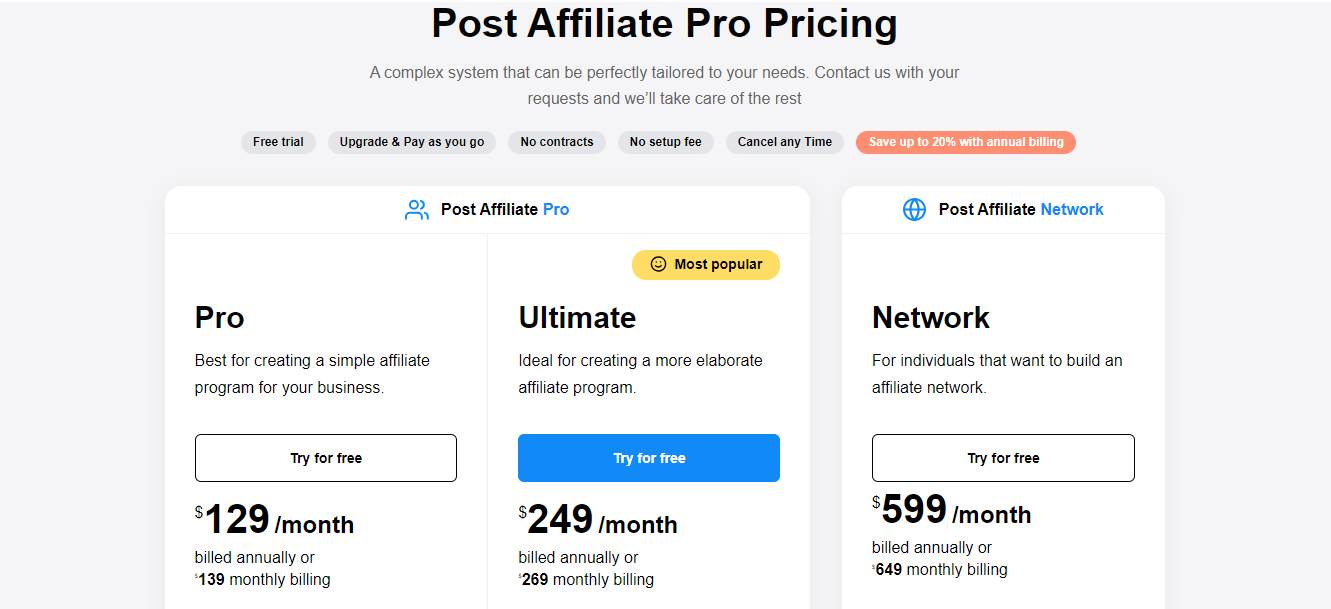 To join Post Affiliate Pro, there are zero setup fees, and you can try it out free for 1 month without having to add in your credit card details.
If you decide to upgrade, the paid plans are priced like this:
Pro. $129/month billed annually
Ultimate. $249/month billed annually
Network. $599/month billed annually
Does Post Affiliate Pro Have Good Customer Reviews?
Post Affiliate Pro has a 4.3 star, excellent rating on Trustpilot, and many happy Post Affiliate Pro reviews.

Post Affiliate Pro Review: What Are the Alternatives?
There are multiple alternatives to Post Affiliate Pro worth taking a look at:
AffiliateWP

AffiliateWP is a good choice if your website runs on WordPress.
It allows you to set up an affiliate program quickly and easily, and it integrates with all the usual apps and sites.
Plus, it offers a range of tools to boost your growth, such as customizable affiliate landing pages, coupon codes, direct link tracking, and more.
Price: Personal $149.50/year, Plus $199.50/year, Professional $299.50/year.
Read about more WordPress affiliate plugins to skyrocket your earnings.
---
Tapfiliate
Tapfiliate is an easy-to-use affiliate tracking software that can be used on different platforms such as WordPress, Shopify, Wix, and Squarespace.
Using it, you can manage all your affiliate marketing, influencer marketing, and referral marketing campaigns.
It comes with a range of resources and effective features such as accurate tracking, affiliate coupons, automated referral partner recruitment, and much more.
Price: Essential $89/month, Pro $149/month, Enterprise/custom pricing.
Read about more of the best affiliate tracking software you can use.
---
Refersion

Refersion is a user-friendly affiliate marketing and tracking software used to drive e-commerce growth for sites powered by Shopify, BigCommerce, WooCommerce, and more.
It allows users to manage, track and grow their affiliate and ambassador programs, and it easily integrates with many of the big apps.
Some of its main features include affiliate discovery, campaign management, advanced offers and commissions, and tracking.
Price: Professional $99/month paid annually, Business $249/month paid annually.
Want more options? Check out this article detailing the best affiliate management software.
Post Affiliate Pro Review Conclusion
At the end of this Post Affiliate Pro review, let's sum up whether it's right for you.
As you can see, it has many positive reviews and all the features needed to help you build, manage, track, and scale your affiliate campaigns.
The customer support is excellent, with a 24/7 live chat team and plenty of free resources and tutorials on their website.
Medium to small businesses and e-commerce store owners should find everything they need to succeed. However, smaller businesses and those just starting out may find the $129/month price tag a little too much.
Are you new to affiliate marketing? Learn how to create an effective affiliate program for your business.
Want to learn step-by-step how I built my Niche Site Empire up to a full-time income?
Yes! I Love to Learn
Learn How I Built My Niche Site Empire to a Full-time Income
How to Pick the Right Keywords at the START, and avoid the losers
How to Scale and Outsource 90% of the Work, Allowing Your Empire to GROW Without You
How to Build a Site That Gets REAL TRAFFIC FROM GOOGLE (every. single. day.)
Subscribe to the Niche Pursuits Newsletter delivered with value 3X per week