Is Hopper Legit? How to Get Great Travel Deals without Hidden Fees
When you buy something through one of the links on our site, we may earn an affiliate commission.
Are you looking for a great deal on airfare? If so, you may have heard about Hopper. But is Hopper legit and is it worth using to book your next trip? Our answer - YES, we think it is!
In this article, we'll take a close look at Hopper and see what you can expect. We'll also discuss how the site works and some of its pros and cons. So read on to discover whether Hopper is worth the hype!
About Hopper
A lot of people think that Hopper is a relatively new company, but it's actually been around for quite a while. It was founded in 2007 by two friends who were both passionate about travel. They started out by creating software that would help people book flights and hotels, but they quickly realized that there was a lot more they could do to make travel affordable and convenient.
The Hopper app uses artificial intelligence to predict when prices for flights and hotels will drop or rise. In turn, you can save money on your next trip by booking at just the right time. They also offer flexible booking options, so that you can change your plans if your schedule changes.
Hopper has been featured in Forbes, The New York Times, and CNN, and the app has been downloaded over 30 million times. Today, Hopper is one of the leading travel booking companies in the world.
And it's all thanks to the vision of its founders.
If you're looking to save cash on your next vacation, Hopper is definitely worth checking out.
Is Hopper Legit?
There's no doubt that online booking platforms have revolutionized the way we travel. But with so many options available online, choosing the right one is hard. Is Hopper legit? The short answer is yes, Hopper is definitely legit, and the company is based in Montreal and Boston.
They're well-respected in the travel industry and have been featured in major publications like Forbes, Time, and The Huffington Post, so they're definitely an accredited travel agency and not a scam company.
So when it comes to finding the best deals on flights, hotels, and rental cars, Hopper is one option that definitely deserves a closer look.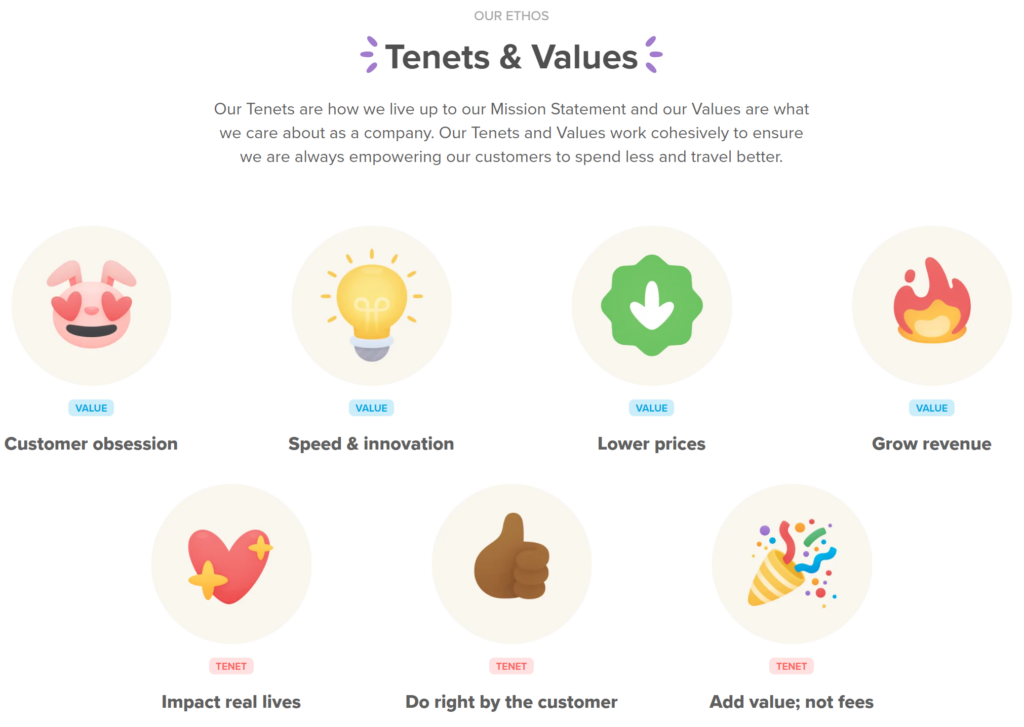 How Does Hopper Work?
Hopper has a user-friendly interface and offers a convenient way to compare prices and find the best deals. Hopper is a revolutionary app that allows you to save money on flights and hotel room bookings.
Unlike other travel apps, Hopper uses artificial intelligence to predict future flight prices with 95% accuracy.
This means that you can anticipate whether price drops are likely, telling you the perfect time to book your flight. You can be confident that you're getting the best deal possible on your Hopper flights or Hopper hotels.
So how does Hopper work? Hopper constantly monitors flight prices around the world and uses historical data to predict future prices. When you search for a flight on Hopper, you'll see a "Price Prediction" that shows when the price is likely to rise or fall.
This way, you can book your flight at the perfect time and save more money than you would by booking flights directly. And because Hopper makes booking flights, hotel deals and rental cars quick and easy, you spend less time searching for deals and more time planning your dream vacation.
Whether you're looking for the cheapest flights or the flexibility to change your plans at the last minute, Hopper is definitely worth considering.

Does Hopper Have an App?
Yes - the Hopper app is the most downloaded travel app in North America. To date, it has over 30 million downloads. The Hopper app is available for both iOS and Android devices and is free to download from Apple's App Store and Google Play Store.
Is the Hopper app legit? Users find the Hopper app trustworthy and convenient, with an average rating of 4.7 out of 5 stars on the App Store and 4.5 out of 5 stars on Google Play. The Hopper app is perfect if you're looking for a convenient way to book Hopper flights, hotels, and car rental on the go.
How Do I Get Started with Hopper?
Getting started with Hopper is quick and easy. All you need to do is download the Hopper app from Apple's App Store or Google Play Store. Once you've downloaded the Hopper app, you can create a Hopper account to start searching for flights on your desired travel dates. Sign up for push notifications when prices drop.
If you're looking for even more ways to save, be sure to check out Hopper's blog. It's full of tips and tricks for finding the best prices on flights, hotels, and car rentals. Whether you're a seasoned traveler or planning your first trip, the Hopper app is a great resource to find cheap flights and hotel deals.
What are the Features of Hopper?
Data Collection: Every day, Hopper tracks flights, collecting 30 billion airfare price quotes. They have archived several trillion prices from the past few years.
Price Prediction: Hopper predicts future flight prices with up to 95% accuracy, meaning that whether you should "buy now" or "wait for a better price," you'll be able to plan your trips well in advance and never pay more than you need to.
Price Comparison: If you're tired of spending hours online trying to find the cheapest airline ticket, Hopper is the solution for you. Hopper constantly compares prices for domestic and international flights and will send push notifications with price predictions, giving you info on when to buy your ticket, if prices are expected to rise, or if there might be a price drop in the future.
Simple App: The Hopper app is designed for simplicity so that you can book a flight for the best price in only a few taps. This way, you won't miss out on any amazing time-sensitive deals and can always grab the lowest fares.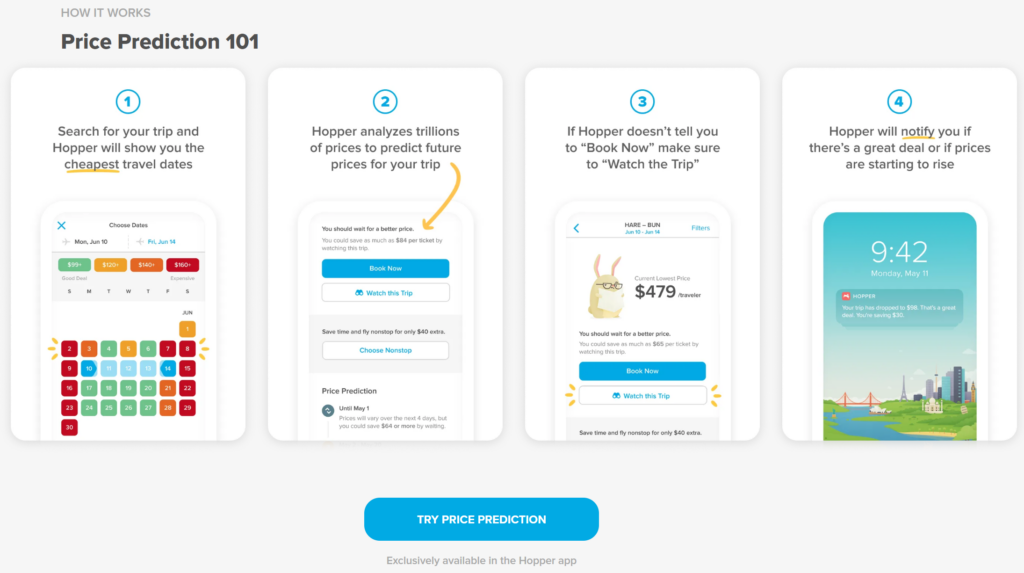 What are People's Experiences with Hopper?
Hopper's Trustpilot rating is better than some, but nothing to write home about, with a score of 3.7 based on over 4,000 reviews, putting it firmly in the "average" category. Hidden charges, paying to contact customer service, and "price freeze" deals disappearing when the traveler tried to book flights are some of the main complaints levelled against Hopper.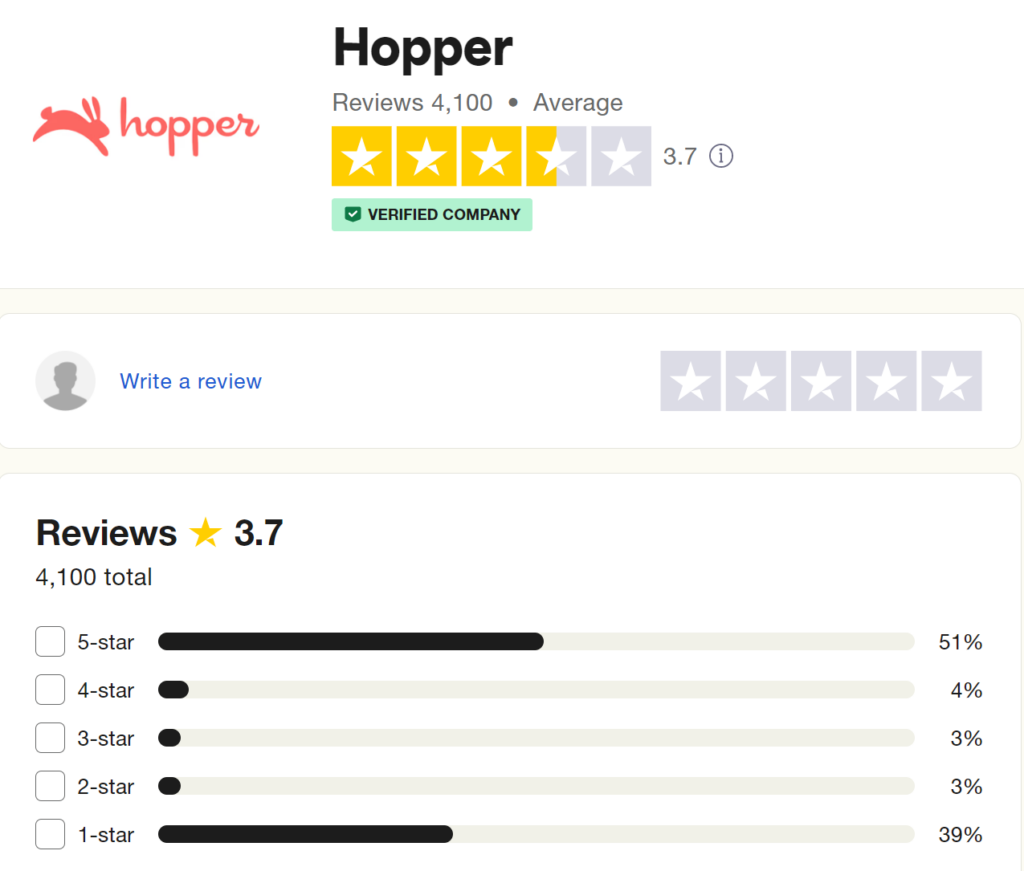 However, the company responds to negative feedback, with a Hopper representative replying to each review, asking the reviewer to DM them on Twitter or any of their other social media channels. It seems as though they are working to resolve these problems.
Some of the complaints were made by Hopper users who had incurred fees after booking the wrong dates, which is really not the company's fault. On the other hand, many people were happy with the flight fares.
Overall, it seems that Hopper offers a useful service as long as you're aware of the fees involved, but there are some areas where they could improve.

What's Up Regarding Hopper Complaints?
The main issue that people have with Hopper is hidden fees. If you're not careful, you could end up spending more than you were prepared to.
This can be true of any travel booking site when booking a flight ticket; many of the flight deals on other platforms are also subject to these fees, even if you book directly with the airline. Sometimes even the credit card company adds a charge if they consider it a foreign currency transaction, so it's always important to read the fine print before you book.
Price Freeze
Another complaint is that Hopper's "price freeze" deals sometimes disappear when the traveler tries to book, which can be frustrating.
The price freeze policy is designed to hold a flight price so that you can have time to book at the original price, but it's not perfect and there have been some reports of the deals from the initial session disappearing within the timeframe.
It's unclear whether the company is working on improving this issue, or even to notify customers that these deals might not be around for long.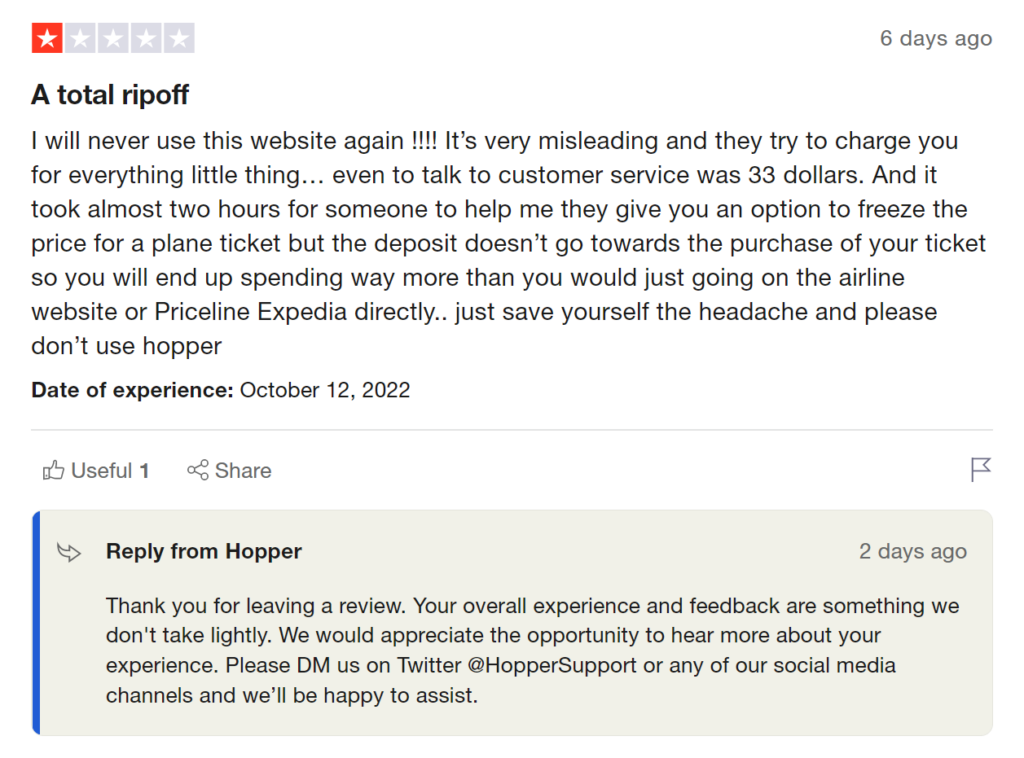 VIP Customer Service
Paying to access the VIP level of Hopper customer service is another common complaint. Customer service is always a tricky issue.
Companies want to provide great service, but they also don't want to spend a fortune on it. It's no surprise that some companies have found creative ways to balance this. Hopper is one of those companies, and they have a VIP option that allows you to jump the queue and be prioritized when you contact the Hopper support team.
It's worth noting that this is optional and customer service will still gladly assist you when you contact Hopper without paying the VIP fee – eventually! But let's face it, nobody likes being nickel and dimed for decent customer service. It's just an additional fee that creates a bad feeling all around. Especially if the standard level of support is actually poor customer service.
Many non-VIPs who have contacted Hopper have not been satisfied with the terrible customer service. So come on Hopper - let's get rid of this fee and make everybody happy!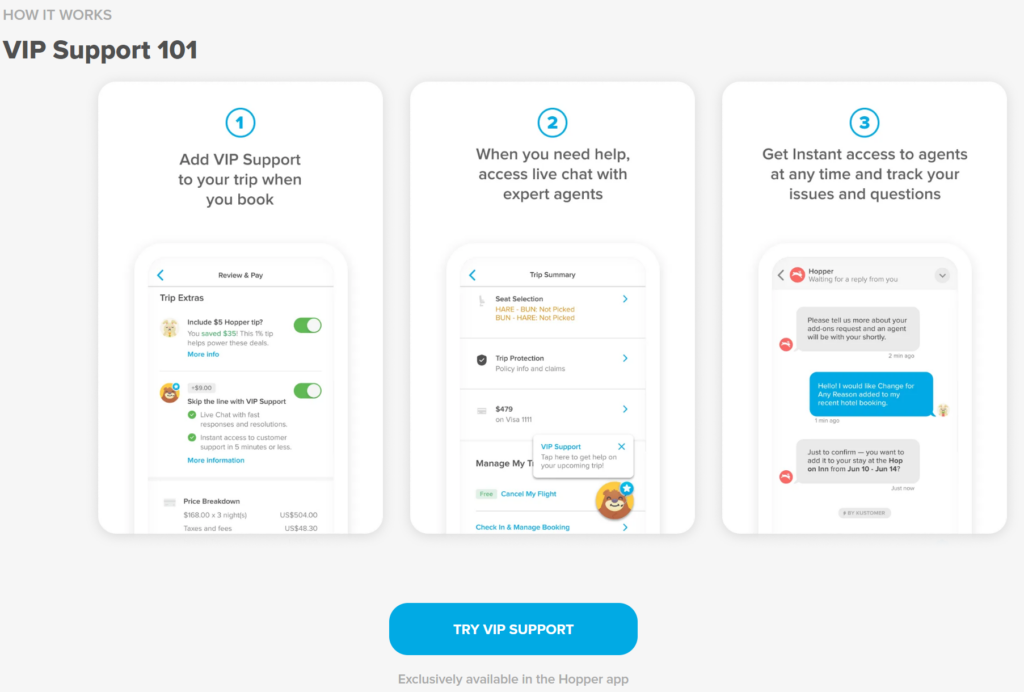 Carrot Cash Refunds
Refunds being given as "Carrot Cash" was another issue mentioned in the Hopper reviews. Carrot Cash is Hopper's reward system and it can only be used to book future travel with Hopper.
If your experience has been bad enough that you're unlikely to use Hopper again, you'd want your original payment method to be credited. There's literally no point in having the refund as Carrot Cash.
Generally, it seems that many people who left a Hopper app review were happy overall, but there are some areas where the company could improve. If you're considering using Hopper, just be sure to read the fine print carefully before you book so that you're aware of how much you'll end up paying.
Hopper Alternatives
Hopper is a legit app for finding cheap flights, but it's not the only option out there. If you're looking for alternatives to Hopper, here are a few options to consider.
Agoda
If you're looking for a hotel as well as flights and car rentals, Agoda is a great option. They have a huge selection of hotels all over the world and they always have great deals. You can read reviews from other travelers before you book to make sure you're getting a good deal.
Trip.com
Trip.com is a great option if you're looking to book a flight, hotel, or rental car all in one go. They always have good deals on hotels and flights. Although their customer service is not always the best, they could still be worth taking a look!
Read our in-depth article "Is Trip.com legit?" to see if it's the right travel site for you.
Snaptravel
If you're looking for an all-in-one travel booking website, Snaptravel is definitely worth a look. They offer great deals on hotels and flights, and their car rental options are also very competitive. Snaptravel is a great option for anyone who wants to save time and money on their travel plans.
Is Snaptravel legit? Don't book your next vacation without reading our comprehensive article! We'll give you all the information you need to know before making a decision.
Final Thoughts: Is Hopper Legit?
Assuming you like to travel and don't mind spending a little time planning your trip, Hopper is definitely worth considering for your next vacation. Their travel app is user-friendly and their whole business model is based on finding cheap flights, so you know you're in good hands. They always have offers and deals going on, so it's easy to save some money when you book through them.
However, there have been some complaints about hidden fees, so be sure to understand all the charges before you book. Overall, Hopper is a legit company and definitely worth considering for your next vacation if you're keen to keep your travel expenses low (and for a bonus option check out our review of whether Traveluro is legit).
So what are you waiting for? Start planning your dream trip!
Want to learn step-by-step how I built my Niche Site Empire up to a full-time income?
Yes! I Love to Learn
Learn How I Built My Niche Site Empire to a Full-time Income
How to Pick the Right Keywords at the START, and avoid the losers
How to Scale and Outsource 90% of the Work, Allowing Your Empire to GROW Without You
How to Build a Site That Gets REAL TRAFFIC FROM GOOGLE (every. single. day.)
Subscribe to the Niche Pursuits Newsletter delivered with value 3X per week