Is Agoda Legit? Here's What You Need to Know Before Booking!
When you buy something through one of the links on our site, we may earn an affiliate commission.
Are you planning a trip and looking for the best deal on accommodation? If so, you may have come across Agoda, a website that promises low prices on hotels worldwide. But is Agoda legit? Yes, Agoda is a legitimate website, but there are also many factors to consider before using it.
In this post, we'll take a closer look at Agoda to help you decide whether or not it's the right booking site for you.
About Agoda
Agoda is a travel website that offers accommodation bookings, flights, airport transfers, and more in destinations around the world. The company was founded in 2005, is headquartered in Singapore, and has over 5,000 employees worldwide.
Agoda offers a variety of accommodation options, from hotels and apartments to villas and hostels, and provides travelers with detailed information about each property. In addition to accommodations, Agoda also offers flights, car rentals, and activities in some destinations.
Travelers can book all their travel needs on the Agoda website or mobile app, and they can also take advantage of Agoda's Best Price Guarantee. Whether you're looking for a place to stay in Bangkok or looking for activities in Bali, Agoda is a one-stop shop for all your travel needs.
Is Agoda legit?
There's no shortage of choices when it comes to booking a hotel room these days. Online travel agencies like Agoda have made it easier than ever to compare prices and find the best deals. But with so many options out there, it can be hard to know which one to trust.
So, is Agoda legit? The short answer is yes. Agoda is a reliable and user-friendly booking site that offers great deals on hotels all over the world. In addition, customers can often find even better prices by using Agoda's "Secret Deals" feature. So if you're looking for a great deal on your next hotel room, Agoda could be worth checking out.

Is Agoda reliable?
There's no denying that planning a vacation can be a stressful experience. Not only do you have to worry about finding the right flights and accommodations, but you also have to be diligent in reading reviews and comparing prices. With so many booking websites out there, it can be hard to know which one to trust.
Agoda has become one of the world's leading travel websites, offering users a convenient way to compare prices and find the best deals on hotels, flights, and more.
Agoda offers a "Best Price Guarantee." If you find a lower price for the same room on another website, they will refund you the difference. This guarantee gives travelers even more peace of mind when booking through Agoda.
Plus, with 24/7 customer support and a user-friendly booking process, Agoda takes the stress out of planning your next vacation.
The company's branding is eye-catching and fun, giving Agoda a real identity in the online travel space. They've obviously invested a lot in their website design and user experience, making it easy to find the information you need and book your stay with just a few clicks.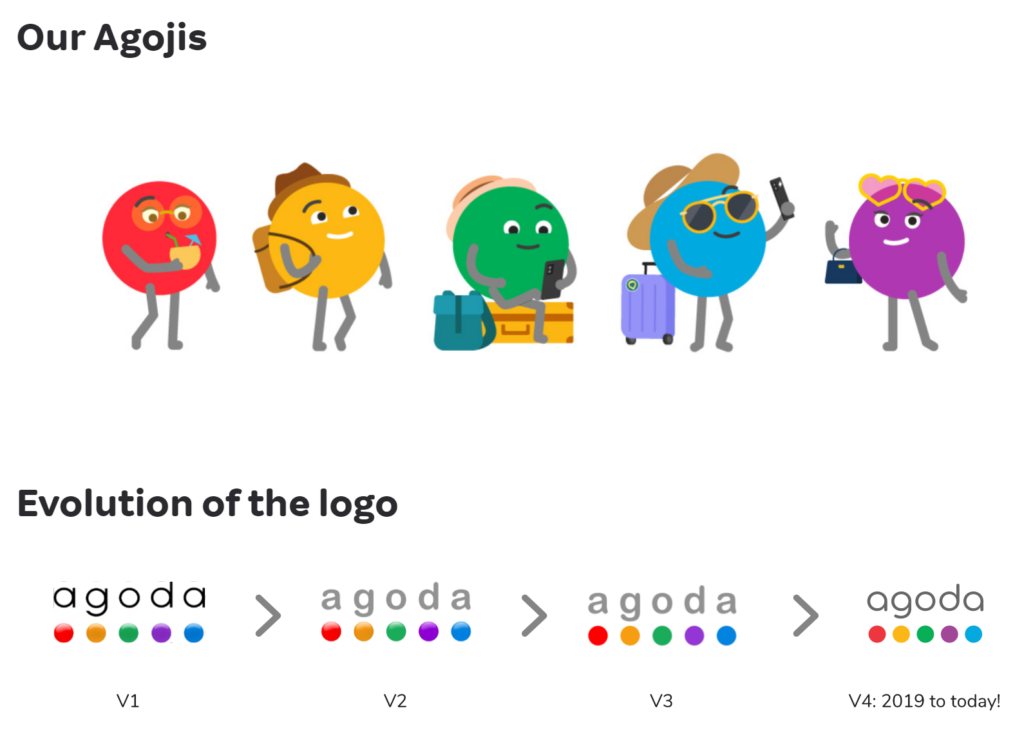 Why is Agoda so cheap?
For budget-minded travelers, Agoda is often the first choice for booking accommodations. But why are their rates so much cheaper than other online travel sites? The answer may lie in their business model.
Agoda is a subsidiary of Booking.com, and both sites offer discounted rates. The group has established strong relationships with hotels. They have negotiating power because they send a lot of business to hotels. That's why they can offer some of the lowest rates you'll find.
Agoda can also offer low prices because part of the commission they receive from bookings can be passed on to travelers in the form of cheaper rates.
As an online travel agency website, Agoda doesn't have the higher overheads of bricks and mortar high street travel agents.
How to use Agoda
To get the most out of the Agoda website, it's important to understand how the site works. Here are a few tips:
Create an account: The process of creating an account is quick and easy, and you can use your Facebook login if you prefer. Once you've created your account, be sure to fill out your profile so that Agoda can provide you with personalized recommendations.
Search for hotels: To find a hotel, simply enter your travel destination and dates into the search bar. You can also use the filters to narrow down your results based on price, location, amenities, and more. Once you've found a hotel you like, make sure you read the reviews to get a sense of what other travelers thought about their stay.
Book your room: When you're ready to book, simply click on the "Book Now" button and enter your payment information. And double-check the dates and number of guests before you finalize your reservation.
Agoda often offers coupons and promo codes that can save you even more money on your hotel booking. Be sure to check for coupon deals before you book.
Get the Agoda app: To make booking on the go even easier, be sure to download the Agoda app. The app is available for both iOS and Android devices, and it offers all the same great features as the website, but it means you can keep all your booking confirmations in one place, so you don't have to scroll through your email to find your reservation number or booking details when you're in a hurry.
Get the best price: As mentioned earlier, Agoda offers a "Best Price Guarantee." If you find a lower price for the same room on another website, they will refund you the difference. So do shop around before you book!
Now that you know more about how Agoda works, you can start planning your next vacation.
What are people saying about Agoda?
It seems like Agoda might be having a bit of a moment if Trustpilot is anything to go by. They've got a score of just 1.9, which is classed as "poor."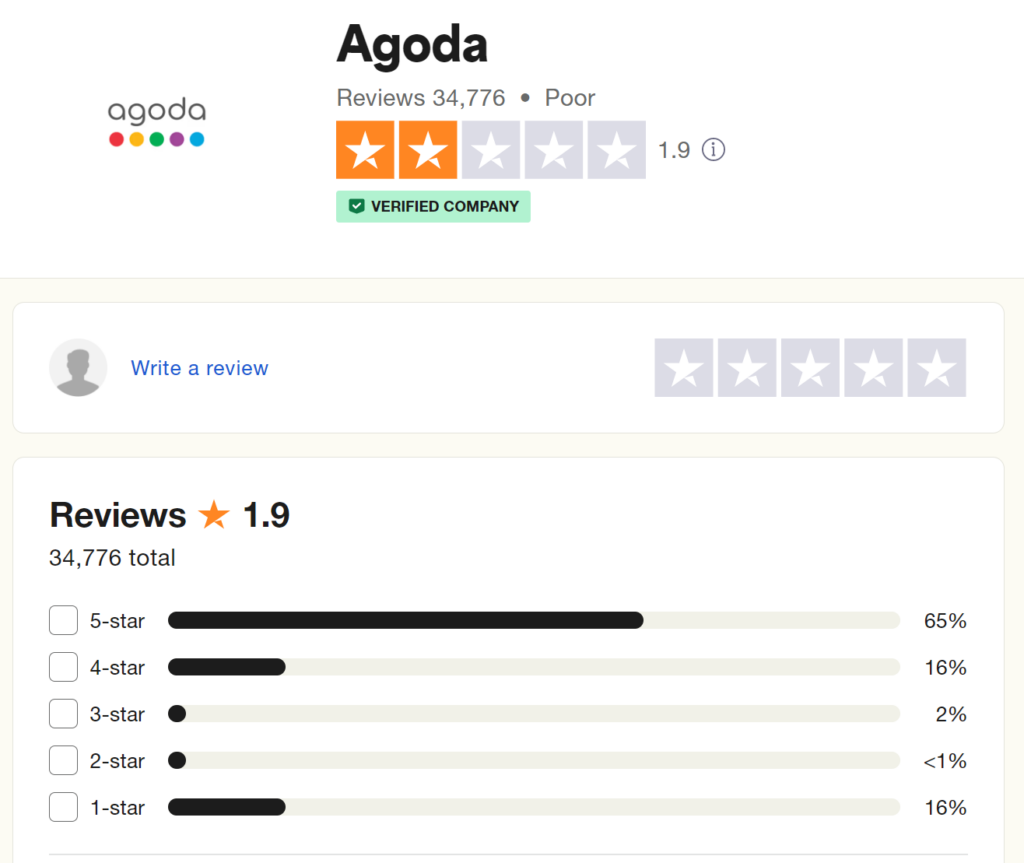 Although over 80% of the reviews are 4- and 5-star ratings, Trustpilot also takes into account the number and age of the reviews when they are calculating the score, so it looks like something's gone a bit pear-shaped lately for Agoda and their rating has taken a nosedive as a result.
Maybe they haven't been able to keep up with the demand, or maybe there have been some issues with bookings. Either way, it's not looking too good for Agoda at the moment. It'll be interesting to see how they recover from this little hiccup.
Hopefully, they'll be able to sort things out soon and get back to being one of the top travel websites.
Should you be worried about Agoda complaints?
If you're like most travelers, you probably spend a lot of time researching your trips. You read reviews, compare prices, and look at pictures to find the perfect hotel. But what if you're using the wrong site to book your hotel?
While Agoda is one of the largest online travel agencies, it has also been the subject of some complaints. From hidden fees to misinformation, travelers have reported a number of problems with Agoda. So should you be worried about booking through them?
The short answer is yes and no. Yes, there have been a number of complaints about Agoda, but no, you shouldn't necessarily be worried about booking through them. While it's always important to do your research before booking anything, Agoda is still a reputable company.
And as with any company, there will always be some unhappy customers. The key is to weigh the pros and cons before making a decision.
Take the time to read through the reviews and see if there are any patterns emerging. If there are multiple complaints about the same issue, then it's probably worth taking note of. However, if the complaints seem to be isolated incidents, then it's likely that they won't impact your own experience.
Some travelers have reported problems with hidden fees, inaccurate information, and unresponsive customer service. Reviews repeatedly mention bookings being canceled by Agoda close to the dates, leaving travelers scrambling to find new accommodations.
In some cases, travelers have arrived at their hotel to be told there is no booking and no availability, or they have been given a room that is not what they booked. This suggests communication issues between Agoda and their property owners, but it's the traveler who ends up paying the price in additional stress and hassle.
To top it all off, Agoda doesn't respond to Trustpilot reviews, so it's impossible to know what they are doing to improve the customer experience.
So if you're considering booking through Agoda, make sure you take everything into consideration and look for trends in their recent reviews before making a decision.
What's their customer service like?
Agoda has a comprehensive help section on its website, which includes FAQs, contact information, and a live chat function. They also have a dedicated customer service team who are available 24/7 to help with any bookings or inquiries you might have.
In terms of actual customer service reviews, there are some mixed opinions out there.
Some people have had positive experiences and found the team to be helpful and responsive. Others, however, have found the opposite to be true. Complaints about customer service include long wait times, unhelpful staff, and a lack of response to inquiries.
If you do encounter any problems with your booking, it's important to remember that Agoda is just a middleman. They are not responsible for the properties listed on their site, so they may not be able to resolve your issue. In some cases, it's best to reach out to the property directly and see if they can help.

Is Agoda Legit? Are there fake hotel reviews on Agoda?
As with most online travel agency websites, there is always the possibility of fake reviews. This is why it's so important to take everything you read with a grain of salt.
If you're concerned that the reviews on Agoda might not be real, look for signs that they might be fake. Reviews that are overly positive or negative, or those that don't provide any specific details, are more likely to be fake.
You should also be wary of reviews that are posted within a short time frame, as this could be a sign that they are part of a marketing campaign. On the flip side, big gaps in the dates between reviews can also be a sign that something fishy is going on.
A frequent Agoda traveler who has submitted many reviews mentioned on a forum that some of their less favorable reviews have taken longer to be published than their more positive reviews. Who knows why this happens, but it's something to keep in mind.
Check reviews against other review sites such as tripadvisor.com, Facebook, or Google to see if you can get a sense of whether the reviewer is real or not. Read multiple reviews from different sources, and don't just rely on Agoda's own reviews.
---
Agoda alternatives
While there's no shortage of online booking websites these days, Agoda has long been a go-to choice for travelers looking for great deals on hotels and accommodation. However, there are several other websites that offer similar services and may be worth checking out for your next trip.
Booking.com
Booking.com is a hugely popular travel website. It's easy to use and offers a wide variety of hotels, apartments, and hostels to choose from. You can also find some great deals on car rentals and activities.
One thing to keep in mind is that Booking.com is owned by the same umbrella company as Agoda. This means that they share the same business practices, so you may encounter similar problems if you book through them. Have a look at our article Is Booking.com Legit for more info.
---
Trip.com
Trip.com is another popular travel website that offers a wide variety of hotels and other accommodation options. They also have a good selection of flight and train tickets, as well as tours and activities.
Unlike Agoda, Trip.com is actually owned by the Chinese travel company Ctrip. They have a fairly decent rating on Trustpilot, but there are still some complaints about hidden fees, cancellation issues, and unresponsive customer service. To find our thoughts on the company, take a look at our article Is Trip.com Legit.
---
Airbnb
Airbnb offers a popular alternative to traditional hotels. It's a peer-to-peer platform that allows people to list their homes or rooms for rent as a side hustle or as a business. You can find unique and quirky places to stay in almost any city, from apartments and houses to treehouses and castles.
One thing to keep in mind is that Airbnb is not necessarily cheaper than a hotel. In some cases, it can actually be more expensive. It's also important to read the reviews carefully and make sure you understand what you're getting before you book.
---
Is Agoda legit? Final thoughts...
If you've been wondering, "Is Agoda Legit?" the answer is yes. It's a popular travel website that offers a wide variety of hotels and other accommodation and travel options. However, there are some complaints about hidden fees, unresponsive customer service, and problems with bookings.
If you're considering booking through Agoda, make sure you take everything into consideration before making a decision. And for a bonus option - check out our guide about whether Snaptravel is legit.
Thanks for following along on this journey – and happy travels!
Want to learn step-by-step how I built my Niche Site Empire up to a full-time income?
Yes! I Love to Learn
Learn How I Built My Niche Site Empire to a Full-time Income
How to Pick the Right Keywords at the START, and avoid the losers
How to Scale and Outsource 90% of the Work, Allowing Your Empire to GROW Without You
How to Build a Site That Gets REAL TRAFFIC FROM GOOGLE (every. single. day.)
Subscribe to the Niche Pursuits Newsletter delivered with value 3X per week