Is Traveluro Legit for Travelers on a Budget? Get the Scoop
When you buy something through one of the links on our site, we may earn an affiliate commission.
It's no secret that traveling can be expensive. But what if there was a way to travel the world with a cheaper price tag? That's where Traveluro comes in. But is Traveluro legit? The short answer is yes. Well, sort of ...
The hotel booking and travel website seems to be legit, but there's a lot more you need to know before making a reservation. Read on...
About Traveluro
If you're like most people, you're always looking for new and interesting ways to spend your free time without totally emptying your bank account! Maybe you've been thinking about traveling more, but you're worried about the cost.
Traveluro is a travel booking service that offers a wide selection of travel options at competitive prices. You can book your flight, hotel, and even your rental car and activities all in one place. 
With Traveluro, there's no need to spend a few hours scouring the internet for a good price. Everything is all on one site; you can easily compare prices and find the perfect trip for you. So you can start planning your next adventure today!
Is Traveluro legit?
Have you ever heard of Traveluro? If you haven't, you're not alone. Traveluro is a travel website and hotel booking service that is just making a big splash in the online travel world. The website offers a wide selection of travel and hotel options at competitive prices. But is Traveluro trustworthy, or is it too good to be true?
When it comes to finding a reputable travel company, there are a few key things to look for to make sure it's not a scam site before making a reservation.
Unfortunately, Traveluro doesn't seem to check all the boxes.
For starters, there's no "about us" page on the website, which is always a bit suspicious. They've also not been featured in any big-name press, which makes it tough to get a sense of their reputation. A quick Google search reveals very little about when the company was founded or who is behind it.
So while Traveluro appears to be legit and not a scam company, there's not much information available about them. This lack of transparency makes it tough to trust them with your hotel room booking.
But if you're looking for a good deal on travel, Traveluro might be worth checking out if you go into it with your eyes wide open. Just be sure to do your research first and book with a credit card so you can dispute any charges with your credit card company if something goes wrong.
On deeper inspection, Traveluro is owned by Holisto LTD, which was founded in 2015 and is based in Israel, employing a total of 370 people worldwide.
Why is Traveluro so cheap?
As mentioned, Traveluro is owned by Holisto LTD, which is also the umbrella company for Splitty Travel. Splitty Travel is another travel booking website that offers discounted rates on hotel bookings and flights.
And like Splitty Travel, Traveluro offers a "Best Price Guarantee" which promises to refund the difference in price if you find the same hotel room or flight elsewhere for less money.
So why is Traveluro so cheap? Because it's part of a larger company that is able to offer discounts on travel arrangements. Many discount travel booking sites pass on a percentage of their commission from the airlines and hotels to the customer in the form of lower prices.
And because Holisto LTD is a large company, they are also able to negotiate bigger discounts.
How to use Traveluro
Using Traveluro is easy! The service operates similarly to other travel booking websites.
Simply enter your travel dates and destination, number of travelers, whether you want one room, two rooms or more, and the website will show you a list of available hotel bookings, flights, and activities.
You can then compare prices, find the best deal for you and make a reservation. Just create an account and when you find a trip you're interested in, click "Book Now" and follow the instructions on the screen to secure your reservation on the website.
You'll be asked to provide your contact information and payment details, and then you're all set!
What are people saying about Traveluro?
Reading reviews, the scores are pretty decent, with a Trustpilot classification of 4, and 72% of customers' reviews giving a 4- or 5-star rating.
Some of the satisfied customers leaving positive reviews say that they feel like they got good value for the money they paid. They were able to find hotel deals that were a bit cheaper than other booking websites when they booked and paid for their hotel room.
However, some negative reviews of Traveluro mention the scenario of having booked a hotel through Traveluro, but then arriving at the hotel only to find there was no reservation. And being unable to get a resolution when they called Traveluro customer service - if they could get hold of them at all!
Other reviews have described the company as a total scam, where Traveluro charged customers only to cancel their booking requests and issue just a partial refund.
Some angry customers have even implied some of the more positive reports might be fake reviews, but with over five thousand reviews, it seems pretty unlikely. But it's often people who feel strongly one way or another who write reviews, hence the lack of 2- and 3- star ratings.
Assuming at least some of the good reviews are real, many customers seem to be happy with Traveluro as long as they understand it's a discount travel site and not a traditional travel agency. So Traveluro is legit according to customers.
Should you be worried about Traveluro complaints?
Imagine this: you're finally taking that long-awaited vacation. You've been looking forward to it for months, and you're eager to just relax and enjoy yourself.
But when you arrive at the front desk of your booked hotel, you're told that there's no reservation in your name and no other rooms available that night.
And when you try to reach customer service, you can't get through. That's the nightmare scenario that many travelers have experienced with Traveluro.
A quick search on Traveluro will reveal a litany of bad reviews from customers who have had this exact same experience, having arrived at the accommodation only for the hotel to have no record of their reservation for that night, despite the customer showing their confirmation number.
On the plus side, the company has a contact phone number listed on the website, which many of its competitors don't. But if you're unlucky enough to encounter this problem, good luck getting a resolution from customer support.
Many reviews report being unable to reach anyone when they try to contact Traveluro customer service about their reservation or receiving conflicting information from different representatives.
With customer support in six languages, you would think they would be able to handle a few customer service inquiries. But apparently not.
So if you're thinking of booking with Traveluro, be sure to have a backup plan in case your reservation (and the money you paid) goes up in smoke.
Traveluro alternatives
If you're looking for hotel booking and travel websites to make a reservation for your next trip, there are plenty of alternatives to choose from.
Booking.com
One of the most popular travel websites, Booking.com offers a wide variety of hotel rooms, apartments, and vacation rentals around the world.
Many of the hotels featured on their website are available to book with free cancellation up to specific dates, so you can change your plans and cancel after you've booked a room if necessary.
Although these are sometimes at the same rate, you may have to pay slightly more for such a deal, but if you need to cancel, it can be worth the extra money to some customers.
Our article "Is Booking.com Legit" will give you all the details.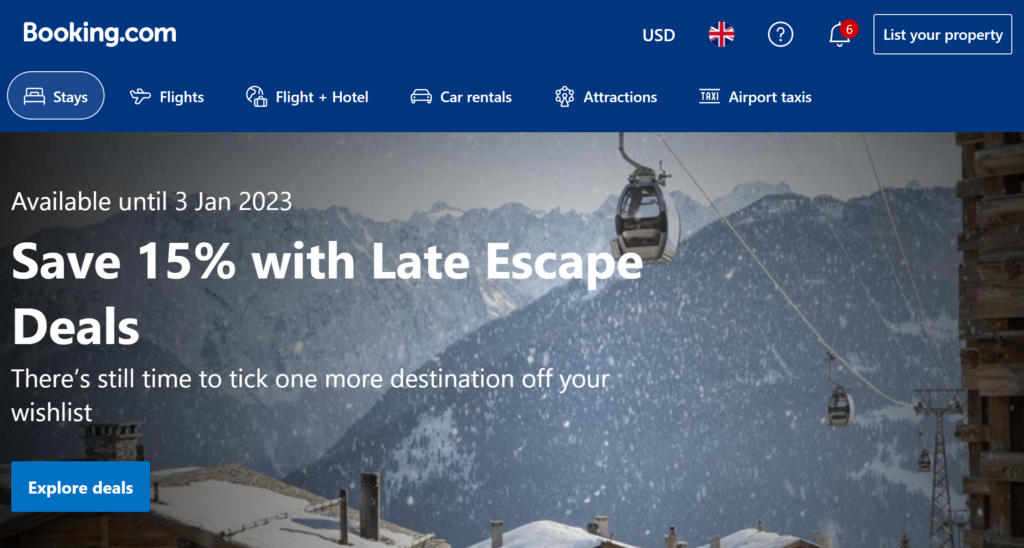 ---
Agoda
Agoda is a hotel and travel booking website that initially specialized in accommodations in Asia, although they now cover hotels all over the world.
One of the features that sets Agoda apart is its "Coupons and Deals" page, where you can find special offers and discounts on your next hotel room booking. Check out our article "Is Agoda legit?" for the full scoop.
---
Snaptravel/Super
If you're looking for a last-minute travel deal on a room, Snaptravel (recently rebranded as Super) may be the website for you. They specialize in discounted hotel rooms, and you can often find offers for up to 60% off the regular price.
However, because these deals are so deeply discounted on the site, they are sometimes non-refundable hotel rooms, and there is often a limited selection available, so be sure to check the T&Cs before pressing the "book now" button.
In our article "Is Snaptravel Legit?" we give you all the details about this hotel and travel site.
---
Is Traveluro legit? Final thoughts...
So, is Traveluro legit? Overall, it seems like they are a legitimate hotel and travel site that offers competitive prices on travel arrangements.
However, there have been some reviews that mention reservations being canceled after being paid for or not being honored by the hotel, with some customers having had issues obtaining a full refund, making it feel like a scam.
Therefore, if you're considering using Traveluro for your next trip, always make your reservation with a credit card so you can dispute any charges if something goes wrong.
Having read the reviews, it might also be wise to contact the hotel directly to double check they're got a record of your hotel room booking.
Otherwise, make sure to have a contingency plan in case your reservation falls through.
Happy travels!
Want to learn step-by-step how I built my Niche Site Empire up to a full-time income?
Yes! I Love to Learn
Learn How I Built My Niche Site Empire to a Full-time Income
How to Pick the Right Keywords at the START, and avoid the losers
How to Scale and Outsource 90% of the Work, Allowing Your Empire to GROW Without You
How to Build a Site That Gets REAL TRAFFIC FROM GOOGLE (every. single. day.)
Subscribe to the Niche Pursuits Newsletter delivered with value 3X per week