Is Trip.com Legit? We Investigated to Find Out!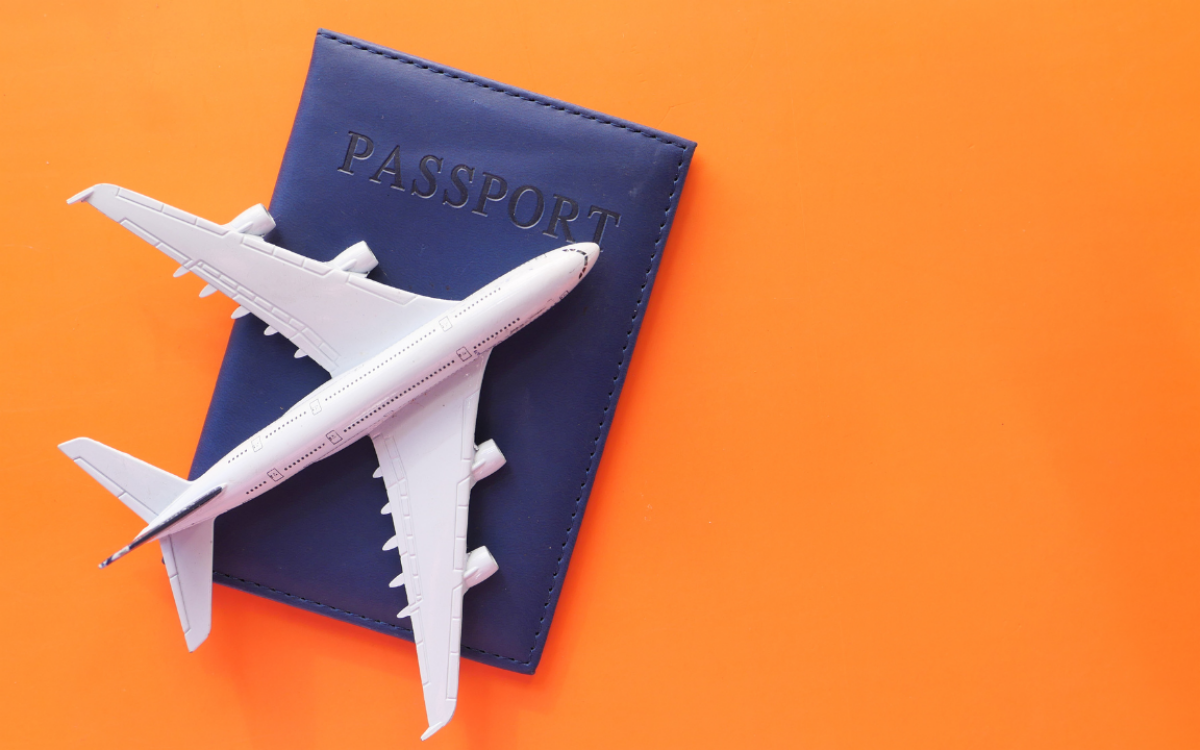 When you buy something through one of the links on our site, we may earn an affiliate commission.
If you've been anywhere near the internet in the last few years, you've probably heard of Trip.com. The website has made a big name for itself by offering discounted rates on flight reservation, hotels, rental cars, train tickets, and other travel related services. But is Trip.com legit?
Is it safe to use? And is it really as good of a deal as it seems?
In this blog post, we'll look at Trip.com and answer all those questions. So, whether you're considering using Trip.com for your next vacation or want to know more about it, keep reading!
What Is Trip.com?
Trip.com is a global one-stop shop for travel services to help you plan and book your perfect trip. It's available in 20 languages across 27 countries and regions. The company was founded in 1999, with its headquarters based in Singapore.
If you're looking for a place to stay while on vacation, Trip.com might be your go-to website - offering competitive prices on over 1.2 million hotels in 200 countries and regions available. Not only that, but they provide a flight booking services to connect 5,000 cities worldwide via 2 million individual routes!
Is Trip.com legit?
Is Trip.com legit and a legitimate website and business? The company has been in operation for over twenty years, so you can be confident that they're not a fly-by-night operation.
Trip.com is a safe website to use, and they offer a wide range of travel-related services, including booking hotels and flights. And regarding online safety, Trip.com is a secure website that uses SSL encryption to protect your personal and financial information.
Is Trip.com reliable?
There's no shortage of travel booking sites out there. But with so many options, it can be hard to know which one to use. Enter Trip.com. But is it reliable?
In short, yes. Trip.com is a part of the Trip.com Group, a publicly traded Chinese company and one of the world's leading providers of travel services. Trip.com group also owns Skyscanner and CTrip, two other well-known travel sites.
In addition, Trip.com has been in business for over 20 years and has earned a solid reputation for customer satisfaction.
Why is Trip.com so cheap?
When it comes to the booking travel industry, everyone wants to get the best deal possible. And while there are a lot of different ways to save money on travel expenses, one of the easiest is to use Trip.com. It's one of the leading travel websites, and for good reason - they consistently offer low prices on airfare, hotels, and more.
But how do they do it? Part of the answer lies in their low overhead costs. By selling directly to consumers online, they avoid the high costs associated with traditional travel agencies on the high street.
They also pass some of the commission they receive from hotels and airlines on to their customers at lower prices, meaning that you can often find even better deals on Trip.com than anywhere else.
How to use Trip.com
Whether you're booking flights, hotels, or activities, Trip.com can help you find the best deals. Here's a step-by-step guide to using Trip.com to book your next vacation:
Input your destination, departure date or check in date, number of nights, rooms and guests, and any keywords into the search bar. You can also specify your preferred hotel amenities, such as "free breakfast" or "pool."
Click the "Search" button, and a results list will appear. You can then filter your results by price, rating, or Trip.com user reviews.
Once you've found hotel reservations or flight you're interested in, click on the "Details" button to learn more about it. Here, you'll find information on pricing, amenities, and user reviews.
If you're happy with the hotel or flight and want to book it, click on the "Book Now" button. You'll then be taken to a page where you can enter your contact and payment information.
Once your booking is complete, you'll receive a confirmation email from Trip.com with your booking number. Be sure to save this email or print it out, as you'll need your booking details when you check in to your hotel or flight.
How to get the most out of Trip.com
Trip.com offers a lot of great deals, but there are a few things you can do to make sure you're getting the most out of the site:
Plan ahead: The sooner you start planning your trip, the more likely will find good deals. Try to have a general idea of when you want to travel and your budget before searching on Trip.com.
Be flexible: If you're flexible with your travel dates and destination, you'll have a better chance of finding low prices.
Compare prices: Once you've found a hotel reservation or flight you're interested in, check the ticket price on other websites to ensure you're getting the best deal.
Read reviews: Before booking a hotel or flight, read the reviews to get an idea of what other travelers have experienced.
Sign up for their loyalty program: Trip.com offers a loyalty program called Trip Coins. Signing up is free and gives you access to discounts, depending on your travel habits. You can also earn Trip Coins by booking hotels, flights, and activities through the site. So if you book hotel rooms regularly, you can get extra discounts on your next journey.
Use the Trip.com app: Trip.com also offers a handy mobile app that can make booking travel even easier. The app allows you to search for hotels and flights, compare prices, read reviews, and more from your smartphone or tablet. You can also use the app to keep track of your booking reference and receive notifications about changes or updates to your itinerary.
By following these tips, you can be sure you're getting the best possible deal when booking details through Trip.com.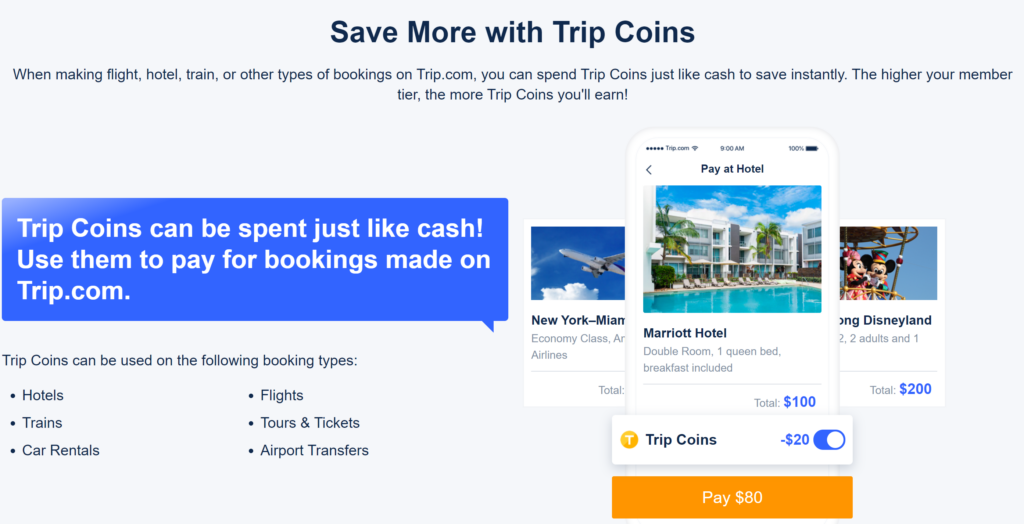 What are people saying about Trip.com?
If you're looking for a travel website with an excellent reputation, Trip.com is worth checking out. Although they're not registered with the Better Business Bureau, the company has a Trustpilot consumer rating score of 3.6 from over 24,000 reviews. That gives them a TP rating of "average".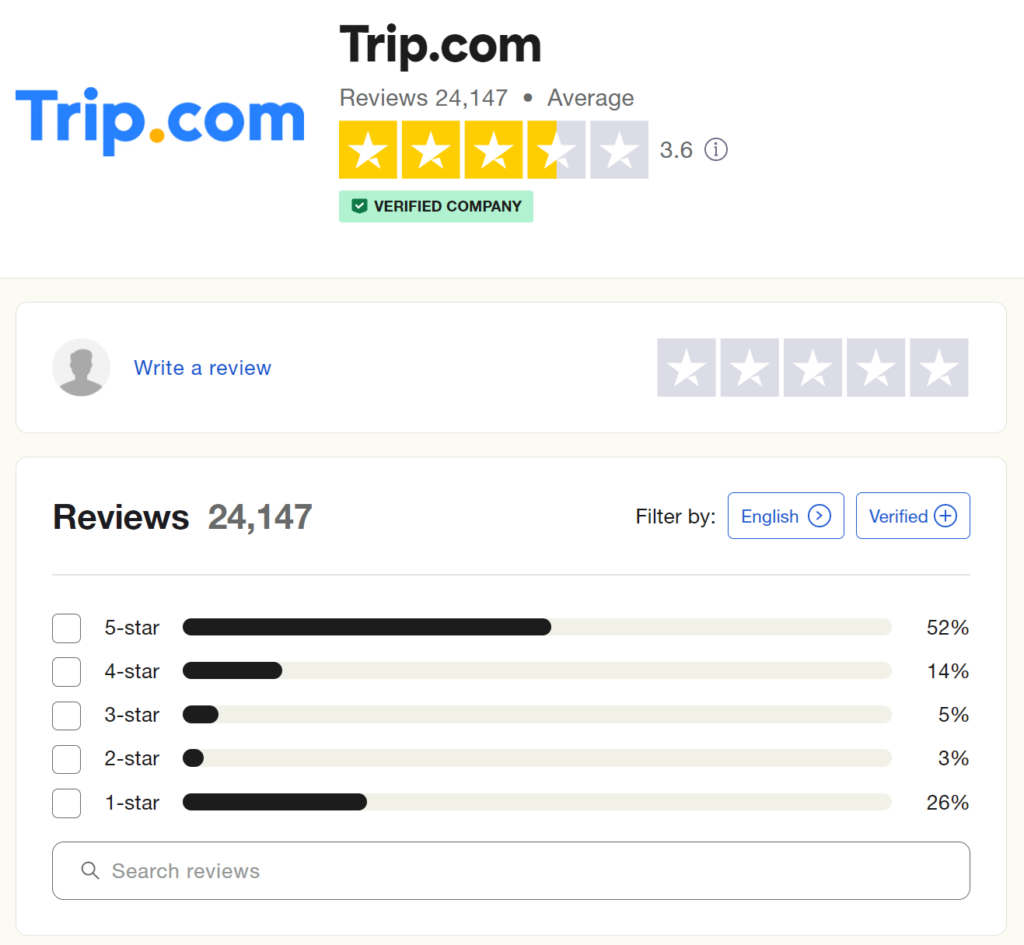 However, it's worth noting that the company's customer service agents have responded to 94% of negative reviews by offering further assistance, so it looks like they have all the intentions to improve their customer service.
Trip.com's world-class 24/7 English language customer service and additional centers in Edinburgh, Tokyo and Seoul help 'create the best travel experience' for its millions of customers worldwide. - Trip.com.
Most reviewers seem happy with their customer experience, with 66% giving 4 or 5-star reviews. Many praise the site for its wide selection of hotels and destinations and its user-friendly interface. There are also a number of positive reviews from people who have had great experiences with their customer success team.
Their customer services contact info is easy to find, and there is a contact number to call if you want to speak to a human being rather than use the online chat facility.
So if you're planning your next trip, Trip.com is definitely worth a look.
Is Trip.com Legit? Should you be worried about complaints?
If you're planning a trip, you might be wondering if Trip.com is the right choice. After all, there have been some bad reviews floating around and they're not on the Better Business Bureau. But here's the thing: any business is going to have complaints about unsatisfactory service. It's just part of the territory.
The important thing is how the business handles those complaints once somebody has contacted customer service. And from what we can see, Trip.com takes customer service pretty seriously. They have a dedicated team that responds to every complaint and works to resolve the issue.
Some common complaints involve the unpleasant experience of a hotel room not living up to expectations. This is unfortunately something that can happen with any travel website, not just Trip.com. However, it seems that the company is responding when this happens.
Another problem seems to involve unexpected changes made to travelers' flight itinerary, which can be a major inconvenience when trying to plan a trip. Again, this is something that can happen with any travel company as this is down to the airline company, not Trip.com.
If an airline cancelled a flight, changed a flight date, or made other flight changes, this would be an issue regardless of which company the traveler booked through,or even if they'd booked with the airline directly.
Hidden charges are another sticking point in some negative reviews. However, these seem to be because of reasons such as international bank card service fees by their credit company and not necessarily the fault of Trip.com.
And finally, some customers have complained in their reviews about being charged a cancellation fee for accidentally booking a flight for the wrong date or destination and subsequently canceling it.
All airlines have their own refund and cancellation policy, which is outside of the control of Trip.com, so to avoid having to make a refund request or cancellation request, make sure the info on your booking details page is all correct before hitting the button for your air tickets!
You don't want to make the mistake of thinking you've booked a round trip flight when you haven't.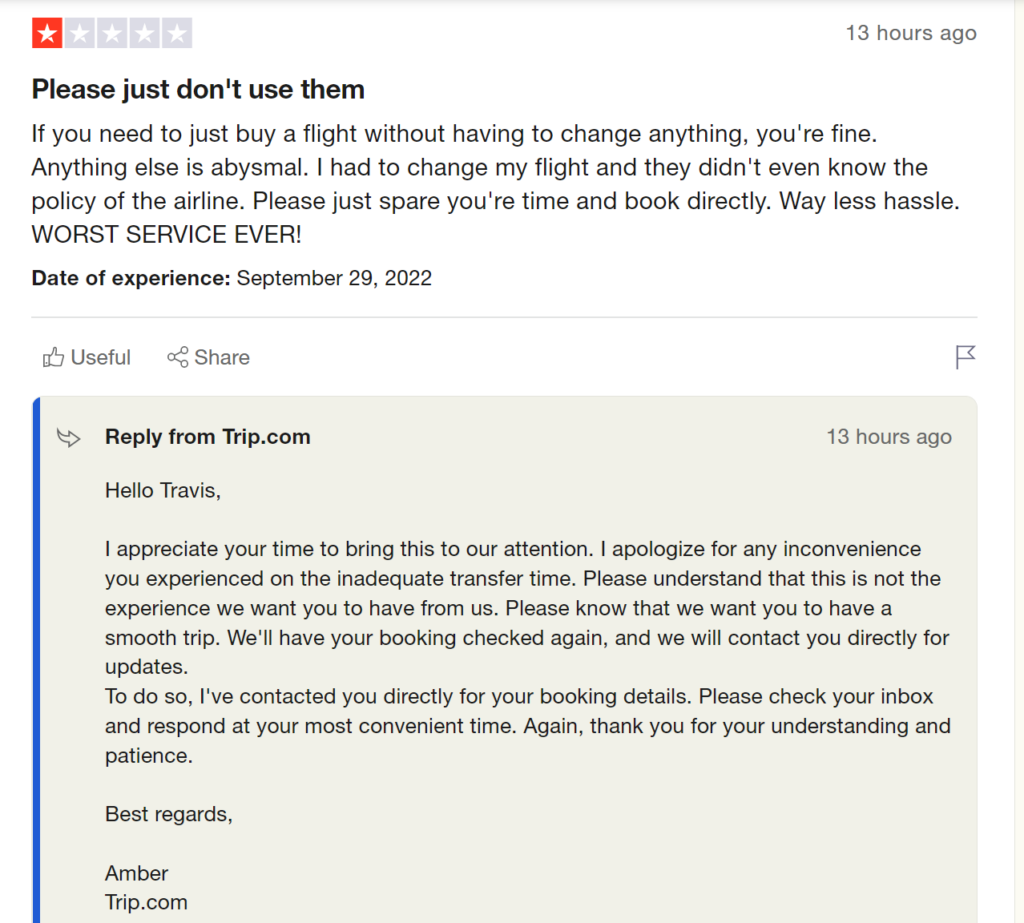 Are there fake hotel reviews on Trip.com?
There has been some speculation regarding fake hotel reviews on Trip.com. However, it's important to remember that this is a problem with any travel website, not just Trip.com. Fake reviews are written by people who have never stayed at the hotel to either boost or slander the property's reputation.
That said, Trip.com has measures in place to try to combat this problem by only allowing reviews from verified guests.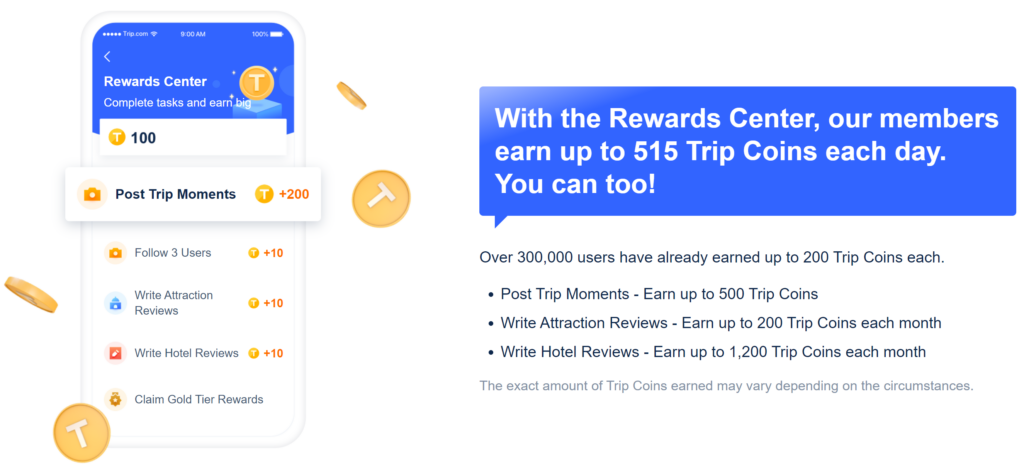 With Trip.com rewards, travelers can earn TripCoins when they write reviews of their stays and submit them to the website. These can be used to get discounts on future flight bookings, making it worth the traveler's while to write an honest and accurate review.
So if you're worried about fake hotel reviews, Trip.com is probably as good a choice as any.
Trip.com alternatives
If you're looking for alternative travel websites, there are a few options out there.
Booking.com
Booking.com is another popular travel website that offers a wide selection of hotels, destinations, car rentals, airport transfers, etc. They also have a user-friendly interface, a useful app, and offer 24/7 customer support. While Booking.com may be a popular travel website, they seem to lack good customer service, and their Trustpilot score is a dismal 1.3, with one-star reviews making up 64% of their total.
Expedia
If you're looking for a great travel agency website that isn't Trip.com, Expedia is a great option. With Expedia, you can easily find deals on hotels, flights, attraction tickets, and car rental companies. You can also book packaged tours and activities. This can save you time and money when booking everything at once. Expand your horizons by checking out Expedia.
Is Trip.com legit? Final thoughts...
So, is Trip.com legit? In my opinion, yes! The company has been in business for over 20 years and is one of the more established online travel agencies. Their Trustpilot rating is higher than some of their competitors, so customer service is pretty decent, and they always seem to have great deals on hotels and flights.
Trip.com is a legit company and a good option for booking travel plans. However, it's always a good idea to do your research to ensure you're getting the best deal possible. Thanks for reading, and happy travels!
Want to learn step-by-step how I built my Niche Site Empire up to a full-time income?
Yes! I Love to Learn
Learn How I Built My Niche Site Empire to a Full-time Income
How to Pick the Right Keywords at the START, and avoid the losers
How to Scale and Outsource 90% of the Work, Allowing Your Empire to GROW Without You
How to Build a Site That Gets REAL TRAFFIC FROM GOOGLE (every. single. day.)
Subscribe to the Niche Pursuits Newsletter delivered with value 3X per week