Is TruthFinder Legit? Can You Trust Their Background Checks?
When you buy something through one of the links on our site, we may earn an affiliate commission.
Is TruthFinder legit? Yes, it is! TruthFinder is a background check service that gives users access to in-depth and well-written data.
The data may be beneficial when conducting a thorough investigation on someone, including a person's educational background, dating profiles, and social media assets.
Background checks are more crucial as the world becomes more complex year after year. A proper background check service can literally save your house, business, and even your life. You never know who you're dealing with.
In this article, we will discuss all aspects of TruthFinder including how to conduct a search and what you may find. We'll also cover the advantages and disadvantages of using the service.
Finally, you'll see our suggestions for some of the best TruthFinder alternatives.
What Is TruthFinder? An Overview
Here's a bit of TruthFinder background, proving how legit it is. Founded in 2014, it had its first headquarters in San Diego, CA. Since its start, it has successfully handled thousands of background checks.
TruthFinder is a tool for finding people. You can search for anyone in the US using their name, phone number, address, or email address. TruthFinder searches through billions of public records from the US. It then puts the data into a single, understandable report.
Through the TruthFinder website, you can access contact details, arrests, and criminal history. Other public records are also available, such as:
Assets
Bankruptcy details
Licenses
Social media profiles
Geographical details
TruthFinder has access to billions of public records kept in third-party databases. TruthFinder pays a fee to access these databases. When you launch a search, it gathers all the information about your search subject from the databases.
Is TruthFinder Legal to Use?
Yes. Still, make sure you abide by the Fair Credit Reporting Act (FCRA.) A violation of the law may result in hefty fines. TruthFinder is not a Consumer Reporting Agency.
This means that you may not use the data to make consumer credit decisions or hiring personnel, insurance, tenant screening, or other activities requiring FCRA compliance.
TruthFinder Accuracy
TruthFinder is a search engine and not a private investigator. It's not entirely accurate, but it does the job for many users. The software gathers the open data it can access. Using the data collected, TruthFinder generates legit reports.
Yet, some reports may be outdated or incomplete. This is due to factors that the TruthFinder team has no control over. It typically occurs when the public records are out-of-date or when a particular state or county does not allow the documents to be available to the general public.
Such circumstances might jeopardize the accuracy of the TruthFinder background check report. TruthFinder relies on public records, meaning that the information it provides may not be as accurate as it should be.
TruthFinder does have a customer care team. But no one checks the integrity of the information gathered.
Is TruthFinder Trustworthy?
Can you trust TruthFinder as a legit website? It's a common question. Despite being a US-based corporation, TruthFinder Inc has many online complaints. One TruthFinder review centered on folks signing up for automatic billing plans they weren't aware of. Some had trouble stopping the automated billing.
Others had difficulty getting information changed or erased.
How Does TruthFinder Report the Information to You?
The entirety of the information that appears in a TruthFinder Person Report is on a single web page. There are two ways to examine this information:
You can read each segment as you scroll across the entire webpage.
Select one of the tabs on the left side of your report. This allows you to get to a specific area (listed under "Report Navigation.")
Each TruthFinder Report has eight sections.
Personal Information
The person whose identity you are looking for information about is in this section. The TruthFinder people search can include their full name, birthday, and astrological sign as well as known aliases and potential photos. This section could contain the following:
Jobs
Possible Relatives
Associates
Relationships
Divorce Records
Related Links
Social Security Number Information
Contact Info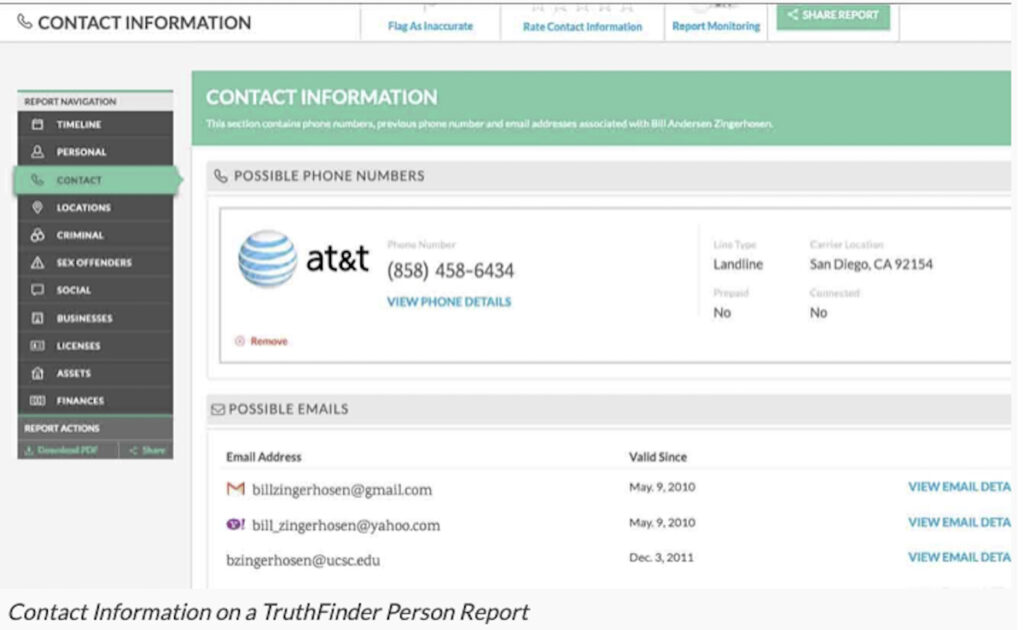 The contact information may include email addresses and phone numbers (landline and mobile).
Location
In this section, you can view a map of the person's present and previous addresses. It also displays information on local demographics, crime rates, and census data. Click on any of the green tabs under "City Statistics" to access these statistics.
A tab labeled "Location History" is underneath Street View and Location Details. This section can display addresses associated with a person's name. These could include current dwellings or other properties they own
Criminal
This section has available traffic infractions, criminal histories, and arrest records. The degree to which these records match the individual you're looking for determines their ranking. The most likely matches will be those with the same first and last names, birthdays, and addresses.
Less likely matches will share a part of the same data, such as a first and last name.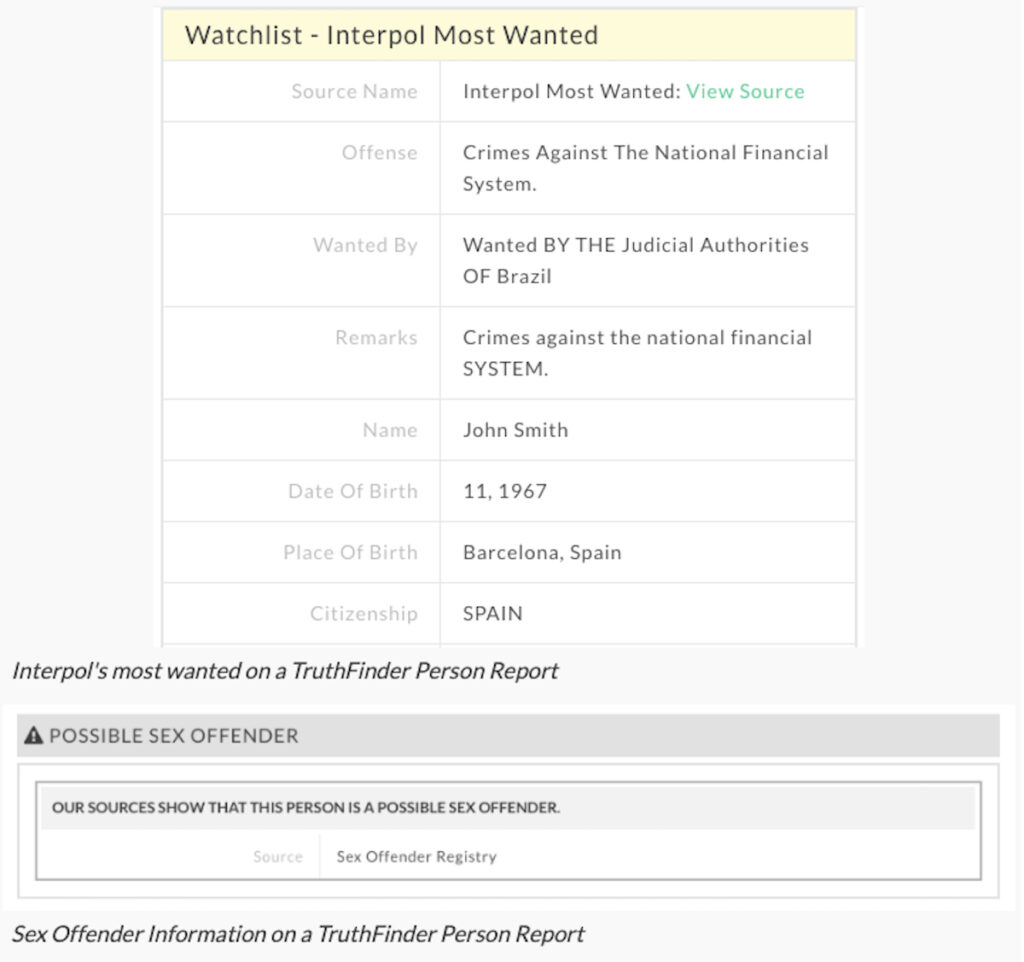 Where available, a report's criminal section can include information about potential criminal records. It may also have government watch lists and possible sex offender status.
Sex Offenders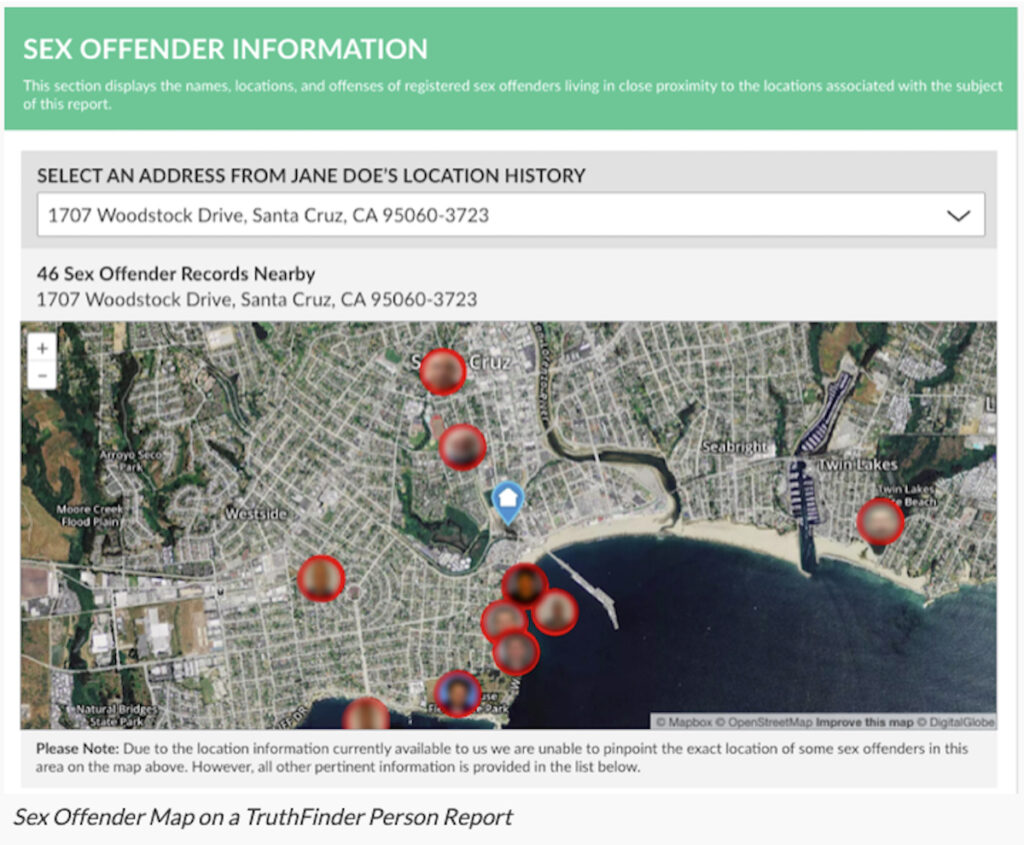 Do you want to find out if sex offenders live close to the target of your report? This section can display the full names, mug shots, and sexual offenses of registered sex offenders, especially sex offenders who live close to the person's primary address.
By selecting "View Details," you may get information about the victims' biographical and physical characteristics plus a summary of the sexual offenses these people committed.
Social Media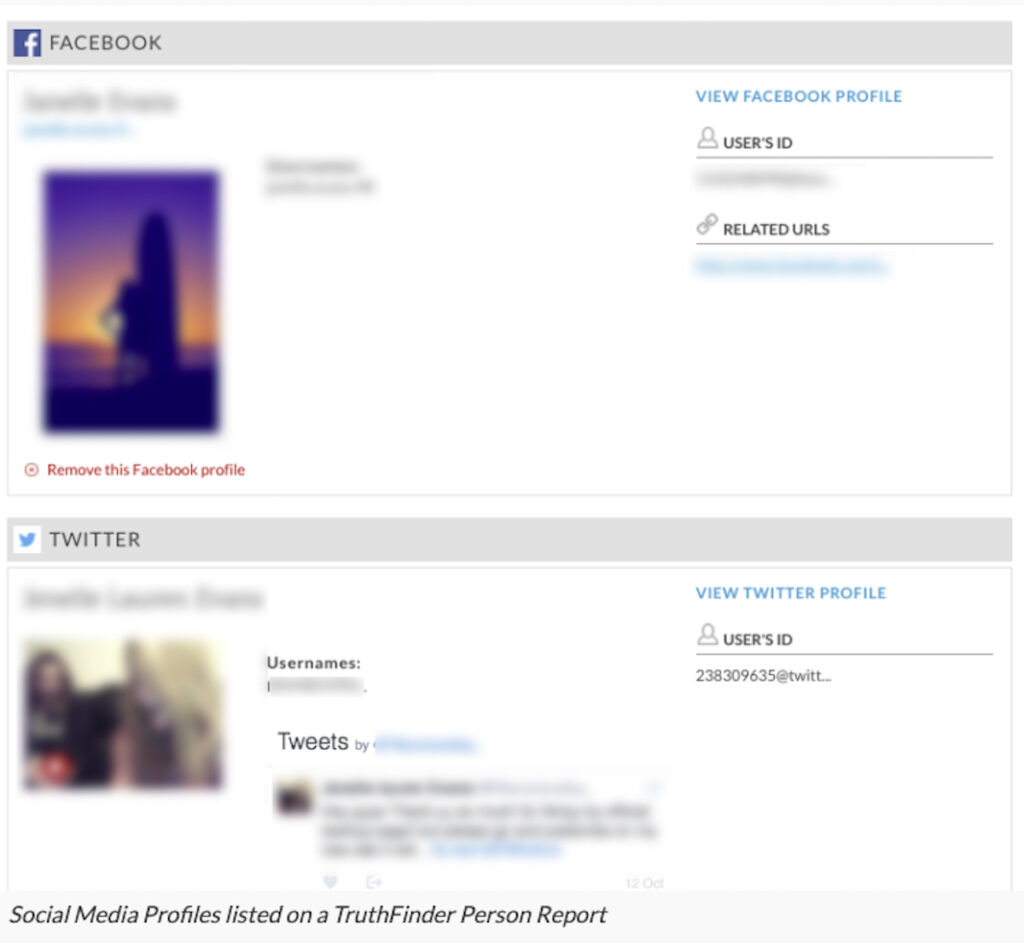 This section searches millions of websites for accounts connected to the individual on the internet and social media. They may even have concealed profiles on Facebook, Twitter, LinkedIn, and YouTube and even subscribe to online dating sites.
Licenses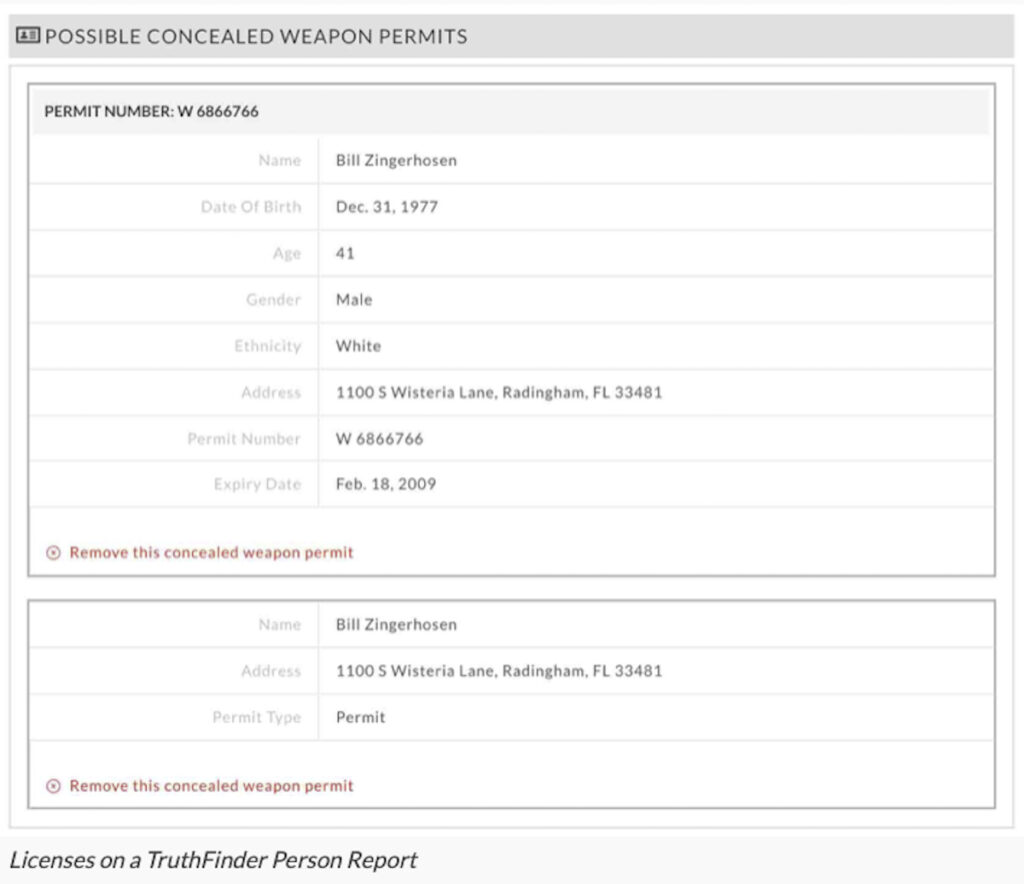 This component of a TruthFinder report may contain information about concealed weapons permits issued by the DEA, FAA, or CBP. It may also include hunting licenses.
Assets
This section of the report may contain assets such as vehicles or property driven or owned.
How Do You Run a Search on TruthFinder?
TruthFinder offers an easy-to-understand user manual; it may be wise to read it! You'll find that TruthFinder is very user-friendly.
Once you're a member of TruthFinder, log in by clicking the 'LOGIN' button at the top right of the page when you visit TruthFinder.com. Here are a few search options.
Test Several Name Variations
People may have a different name on their birth certificate and only use their nickname. Some individuals also use a middle name. Make a list of a person's name variations before starting your search. You can still find what you're looking for, even if you don't know the middle name or initial.
Search Using their Previous Home Address
Go to the "Search By Address" tab on your TruthFinder membership dashboard. TruthFinder property records may contain a list of prior owners even if your search target has moved. You might be able to find them by providing a previous residential address.
Access a Friend or Relative's Report
The ability to link the reports of friends, associates, and family members is one of the best features of a TruthFinder report. You can see the background report of anyone identified in the "Possible Relatives" section of a TruthFinder report.
Try looking for someone's parents, spouse, siblings, aunts, uncles, or any other kind of relative you can think of. This is useful if you're having difficulties finding them. To view the report you choose, click "View Report." You can examine as many reports as you'd like with a TruthFinder membership.
TruthFinder can also consider the reports of individuals, coworkers, or friends who could have shared an address with your search subject. Make sure to check "Possible Associates" to see whether your search subject is mentioned in any other reports. You may even find them in your own profile!
Reverse Phone Check
Do you have access to your research subject's old phone number? An ancient number may not be functional right now, but it can still be helpful in your quest.
Select "Search By Phone," the second option on your membership search panel. After entering the number, click "SEARCH."
If your friend's number appears in this part of the owner history section of a phone report, you can click to view their report.
Email Address Search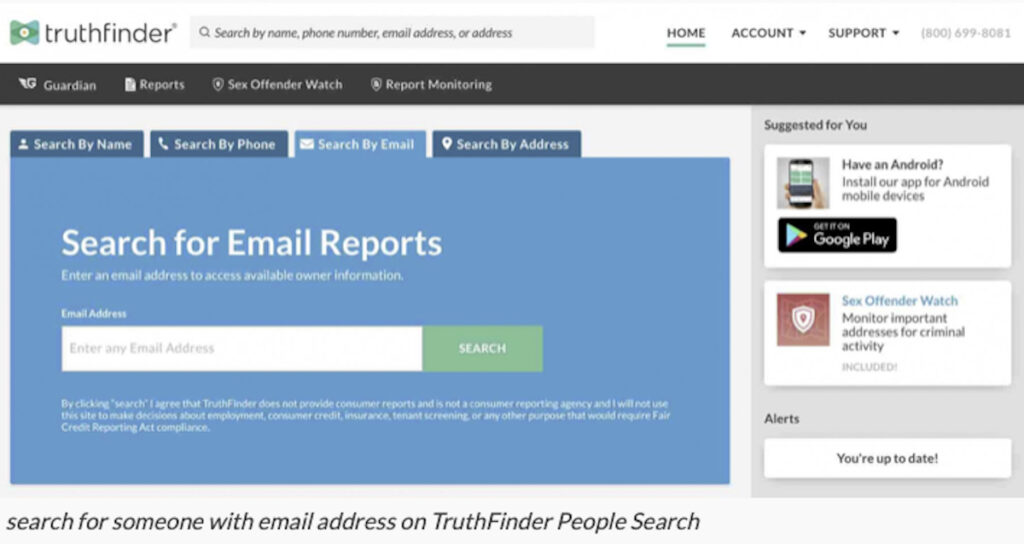 You can also look someone up with an old email address. To view a full report, select "View Background Report" from the menu on the left.
What an email address can tell you about someone might surprise you! You may find the following:
Addresses and locations information
Phone numbers
Possible images
Social media profile, and more!
Researching the Old-Fashioned Way
We're accustomed to having plenty of information at our fingertips. But a visit to the local library or a phone call to a friend can provide a crucial piece of information about the topic of your search.
Often, large archives contain items like old newspapers and yearbooks. You can find family trees, and other offline artifacts at libraries. Try historical societies, alumni groups, and other brick-and-mortar resources. These archives can be very helpful to you in your search.
Or, you can use TruthFinder to find shared friends' and acquaintances' telephone numbers and email addresses. Try contacting someone if your web search doesn't yield the desired results.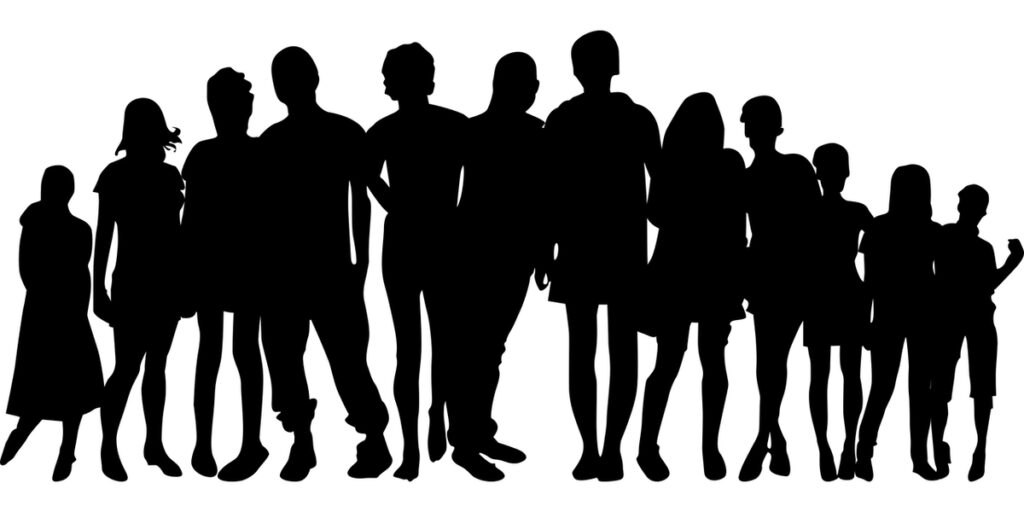 TruthFinder Features
With TruthFinder, more options are accessible besides background checks. Some of TruthFinder's key features are listed below.
Valuable Background Reports
The most popular services on TruthFinder are their legit background checks. This service is one of the top aspects and it is the company's primary selling point. TruthFinder's search engine scans through public records. These include census, arrest, birth, and court documents. TruthFinder produces reports with a wealth of information.
People will learn much about the individual they are looking for!
TruthFinder has various components that help with background checks.
Monitor and Scan the Dark Web
Identity theft and data breaches are frequent events today. TruthFinder offers the function to check through many data points. The feature prevents people from finding tainted material on the dark web. This gets done in collaboration with the consumer reporting company Experian.
Extensive Screening Details
On TruthFinder, users can conduct particular person searches. All they do is enter the person's name into the search bar. This feature pulls many public records from several internet sources. It can then provide a detailed report.
TruthFinder is also a great tool for self-monitoring. A member of TruthFinder can see their own records. They can even see what information others will find. Additionally, the platform allows users to claim specific documents as their own and can fix factual errors or hide them from other users.
Listed below is the information that TruthFinder can discover for an individual. Note that it's only possible if the data is accessible online.
Email address
Address history
Phone number
Location history
Family history
Possible relatives
Neighbors - if any
Education
Any social media account
Web photos
Criminal records
Licenses
Finances – including forecloses, evictions, and bankruptcies
Reverse Phone Lookups
The reverse phone feature allows users to find the owner of a phone number. People often receive calls from unknown numbers so this feature is among the most popular. If this happens, you may wish to find out who the owner of the number is.
TruthFinder can do this because it can look up phone numbers in public records. And, since you only need the phone number, it's simple for users to locate the owner. The results may disclose the owner's name and any other aliases.
Additionally, there is always a chance to view a person's photo.
Last but not least, recipients will get a list of names of prior owners of that phone number. The information is helpful if you are curious about who is phoning you and presumably why.
TruthFinder Advantages and Disadvantages
TruthFinder is one of the best online background check services. That doesn't imply that the website is faultless. Here are both the advantages and disadvantages:
Advantages
An Android TruthFinder app is available.
Users can access an unlimited number of reports with the monthly membership plan.
The search option offers excellent refinement tools.
You can use it to track people's internet activity.
If a person worries that their information is on the dark web, they can use TruthFinder to search for it.
All reports adhere to the Fair Credit Reporting Act. This means users know when and how to use these reports.
The website gives users valid cautionary messages. These include FCRA-compliant disclaimers and pop-ups with unexpected or upsetting news.
Disadvantages
Customers must buy a monthly subscription because there is no one-time purchase.
Downloading a report costs an extra fee.
TruthFinder can only collect data on people in the United States.
Reports can be outdated, so they don't always provide accurate information.
TruthFinder goes overboard with warnings about frightening criminal information and graphic items in a report. These are mostly unfounded and only serve to add a "juicier" element to the report.
It provides the option to check your astrological compatibility with the subject of your report. It's a ridiculous feature for a legitimate and professional background check service.
Services are expensive.
It's very difficult to cancel a membership.
Customer care isn't as good as it should be.
TruthFinder Pricing
TruthFinder offers three pricing options:
People Search: $28.05/month - all features & unlimited searches
Reverse Phone Lookup: $4.99/month
Reverse Email Lookup: $29.73/month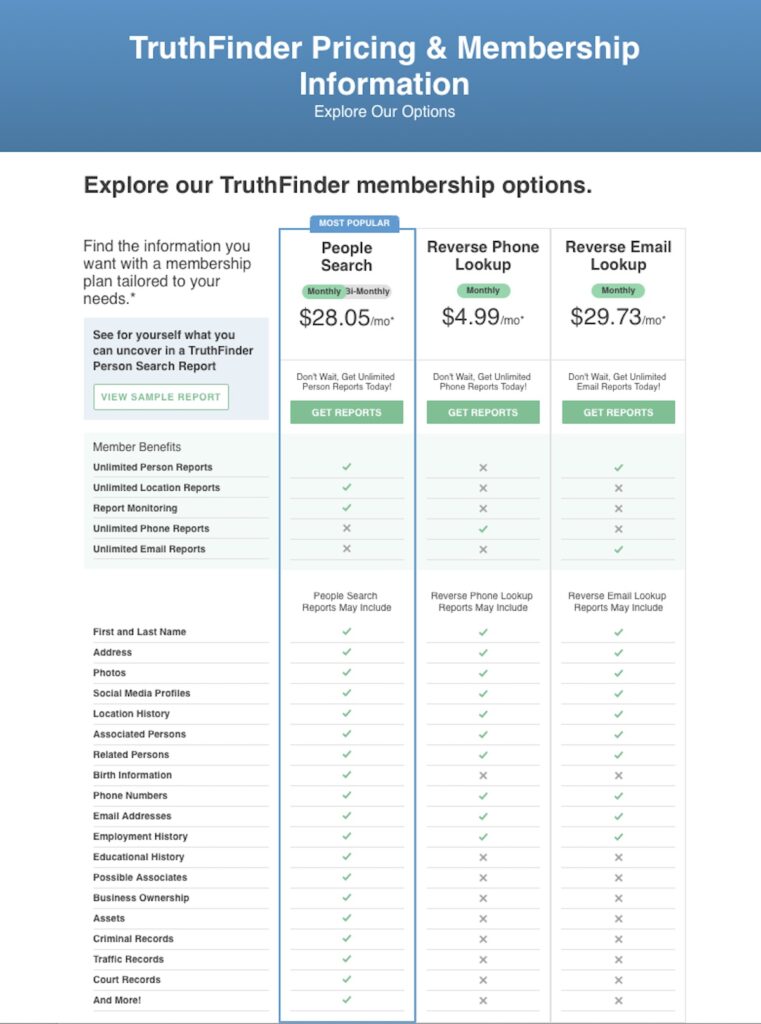 TruthFinder Customer Care and Support
According to TruthFinder reviews, the client support provided by TruthFinder is satisfactory. If you're having trouble using TruthFinder, you can try and get help from their website or you can try their 24/7 customer service department.
TruthFinder Security
TruthFinder encrypts all transmitted data. This ensures the safety and security of personal information. The service is diligent in preventing information mishandling. And also in protecting its community from criminal behavior such as stalking.
TruthFinder Alternatives
Below are just a few of the best and most legit TruthFinder alternatives. There are many other great options available; it's best to do some research to find the right one for you.
PeopleFinder
PeopleFinder is (arguably) the best background check service. And a reliable TruthFinder competitor for those looking for someone's contact information. The site has over two billion records in its database. These include information on criminal records, property ownership, and court records and filings.
You can find people by name, city, state, or zip code. The website also has a reverse phone lookup feature. Other services available on the site include people search and background check reports.
PeopleFinder is not FCRA-compliant.
But the company does offer two options for businesses looking to generate leads and verify customers. Searches and reports cost $24.95 a month. This includes available data like known associates, aliases, contact info, and relatives.
More detailed information is available through the Premium Membership. The monthly subscription costs $29.95. It includes data like property records, assets, and business records. You can also access criminal records, bankruptcies, liens, judgments, and more.
---
Spokeo
Spokeo is an online people search engine tool provided by Spokeo, Inc.. The Pasadena, California-based people search company was founded in 2006.
The company aims to provide information about anyone living in the United States. It hopes to reconnect with them or learn more about them. Spokeo uses proprietary deep web technology. It searches billions of name records. And it provides accurate and up-to-date people information to millions of users in the United States.
---
GoodHire
GoodHire's FCRA compliance distinguishes it as a background screening provider. Using this software to screen employees or tenants and conduct background checks is permissible.
You can expect results in minutes or up to seven days when using GoodHire. You will be charged a fee each time you conduct a background check.
Individual inquiries are limited to 25 per year at the following pricing:
Basic searches in the national database for illegal activity and sexual crimes cost $29.99.
A nationwide search and up to three county criminal court searches for $54.99 each are included.
For $79.99, you can get a comprehensive search including school and employment information.
---
Certn
Certn's robust platform and API make managing all aspects of your screening process simple. These include customizing packages and paying only for what you need. You get tracking status updates, criminal background checks, and biometric ID verification.
Certn provides comprehensive background checks in more than 200 countries and 200,000 data sources.
Certn complies with the FCRA, GDPR, and SOC 2 Type II. Its team of compliance experts and customer support specialists can assist you in remaining compliant. They can help you achieve success with the platform.
---
Intelius
Intelius is a popular service with a lot to offer. And it's a good background check service alternative to TruthFinder. It collects data from federal, state, and national sources which then allows you to search for people by name, address, and phone number to find their public or criminal records.
You can use Intelius to learn about someone's personal information. This includes their address, phone number, email address, and social media profiles. Background checks can be used to investigate a new babysitter or employee or to learn more about a new romantic partner.
As stated before, Intelius compiles its information by searching public records databases. This means that the accuracy of the results may vary. But, it is generally regarded as a reliable source.
Unlimited Person Reports Membership 1 costs $42.25. It renews every 60 days. Unlimited Person Reports Membership 2 costs $24.86 and renews every 30 days.
---
BeenVerified is another background-checking company you may want to look into. Read our article which asks "Is BeenVerified legit?" – it is, by the way.
Bottom Line: Is TruthFinder Legit?
Is TruthFinder Legit? Yes, it is, but it all depends on the information you need and the purpose of your background check.
TruthFinder could be useful if you want to get a general idea about someone's background. Or if you want to make sure your information isn't floating around the dark web.
But, if you want a detailed background check to locate missing people or prepare a legal case, you'll need more than TruthFinder. In these instances, you should hire a private investigator.
Lastly, always stay safe online. Be sure to check out our article on the topic: 19 Simple Ways to Get Scammed Online.
Want to learn step-by-step how I built my Niche Site Empire up to a full-time income?
Yes! I Love to Learn
Learn How I Built My Niche Site Empire to a Full-time Income
How to Pick the Right Keywords at the START, and avoid the losers
How to Scale and Outsource 90% of the Work, Allowing Your Empire to GROW Without You
How to Build a Site That Gets REAL TRAFFIC FROM GOOGLE (every. single. day.)
Subscribe to the Niche Pursuits Newsletter delivered with value 3X per week