How To Start An Online Boutique: Work From Home Doing What You Love!
When you buy something through one of the links on our site, we may earn an affiliate commission.
Starting an online boutique doesn't have to be difficult or complicated.
If you're not sure where to begin, don't worry! We've got you covered. In this article, we are going to look at what you need to know to start your own online boutique, step-by-step.
We'll get into the full range of topics from deciding what to sell right through to launching and scaling your business. It's all in here!
How to Start a Boutique Online
Over the last decade, the e-commerce industry has been booming, and it's showing no signs of slowing down.
Revenue from e-commerce sales in the U.S. alone is expected to increase to $563.4 billion by 2025.
And, with the rise of e-commerce platforms like WooCommerce and Shopify, it's easier than ever to get started. If you've been thinking about starting your own online boutique, there's no better time than right now.
Unlike high street boutiques, owning an online boutique opens you up to an entire world of buyers. The sky's the limit when it comes to growth.
Before we get into exactly how to start an online boutique, let's just take a look at exactly what an online boutique is…
What is an Online Boutique?
An online boutique is an independent online store that typically sells stylish clothes, shoes, and accessories.
They stock everything you would find in a high-street boutique but give the convenience of being able to shop online and have delivered to your home.
There are several other benefits to owning an online boutique too:
Low overheads compared to a brick and mortar business
It's easy to start your business
Huge growth potential
Customers can shop 24/7
You can track and analyze your customers' behavior to optimize your conversions
Potential to retarget customers with advertising and email marketing
Now that we've covered the benefits of starting your own online boutique, let's talk about how to start and grow your business.
What To Sell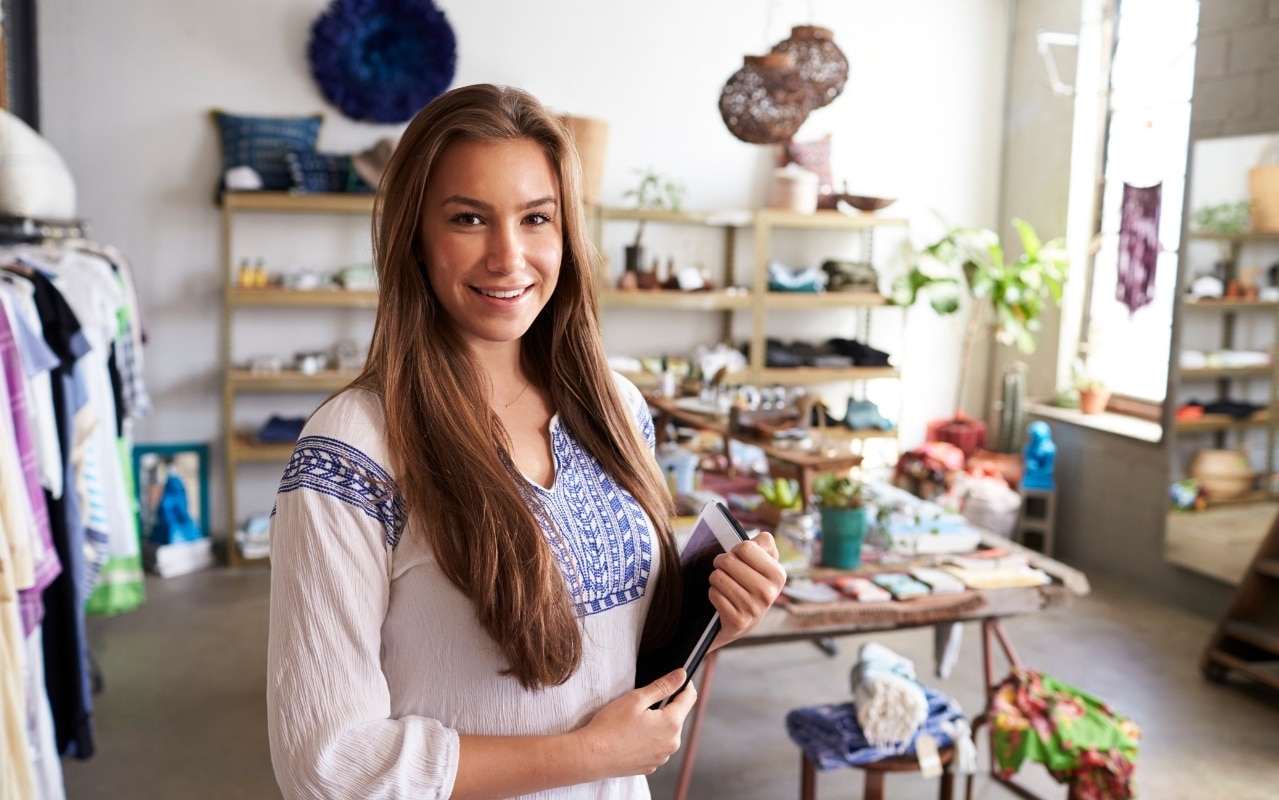 The first step of starting an online store is deciding exactly what you want to sell.
You will need to choose a niche for your online boutique. This helps you target your ideal customers, and enables you to get repeat business from those same customers.
Here are just a few examples of niches you could choose for your online boutique:
Swimwear
Kids clothing
Women's dresses
Men's casual wear
Vintage clothing
Jewelry
Women's sportswear
Having a niche will also allow you to sell complementary products to your customers.
For example, if you sell women's swimwear, you could also offer a range of women's sandals, beach bags, and sunglasses. These are items a customer would be likely to purchase if they were already looking for swimwear.
Online Boutique Names
Choosing the right name for your clothing business is important as it will become a part of your brand identity (and be sure to check out our guide on how to start a clothing business for even more ideas).
When choosing a name for your online boutique, there are a few things you will want to consider:
Is the business name available?
Is the domain name available?
Are there any businesses trading under very similar names?
Most of this you can find out by doing a simple Google search. Each U.S. state will have its own search availability tool where you can find out for free if a business name is available.
Make sure you choose a memorable name that will stand out to your ideal customer. Think about what your ideal customer cares about, and what your business stands for.
You should also check if your desired business name is available on social media. Social media is a huge part of digital marketing and will be vital when it comes to promoting your business.
Create a Business Plan
Now that you have decided what you would like to sell, it's time to create your business plan.
A business plan will outline the goals of your business and cover how you plan to achieve them.
It's not always vital to create a business plan, however, if you need a loan to get started, you will need one.
Your business plan should contain:
Market research
Estimated startup costs
Who your target customer is
Keyword research
Competitor analysis
Your business model (dropshipping, wholesale, or manufacturing)
Revenue predictions
Marketing strategy
Knowing all of these things will help you to beat your competitors and succeed as a business from the start.
Business Registration
You will need to register your business for tax purposes.
There are a few different business structures you can choose for your online boutique, including:
Sole Proprietorship
Partnership
Limited Liability Company (LLC)
Corporation
S-Corp
The most popular business structure for an online clothing store is usually an LLC.
An LLC limits your personal liability when it comes to the business. If your business were to go into debt, or run into legal trouble, you would not be personally liable.
You can also start your business as a sole proprietor, and change it to an LLC at a later date if you need to.
You can find out more about the different business structures here. You will also need an Employer Identification Number (EIN). This is also known as a Federal Tax Identification Number and is required if you want to open a business bank account or hire any employees for your business.
You may also require a business license, depending on where you live.
Funding Options
When you are starting a business from the ground up, you will need to think about funding options.
Do you have the capital to start on your own, or will you need help from investors at the start?
These are the main options for funding your online boutique:
Self-funded – you invest the capital and buy everything you need – all of the profits belong to the business
Get a loan – A business loan from your bank (or you can find out here if Upstart is legit)
Crowdfunded – You raise the start-up capital from family, friends, and other people who want to support your business
Angel investors – Investors provide you with cash to start your business in return for a share of the business and profits
If you don't have much capital to invest then you could also consider the dropshipping business model.
Dropshipping will allow you to start your own ecommerce store without any huge upfront investments.
Here's how it works:
You list products for sale on your online boutique
A customer buys the product from you and pays through your website
You order the product from the manufacturer at wholesale price and have it shipped directly to your customer
You keep the difference
The benefit of the dropshipping boutique business model is that you don't have to pay for any products until a customer has paid you first. The only downside is that the profit margins won't be as high as they would if you were manufacturing your own products.
Want to know more about how to create a successful dropshipping store?
Instant Eccomerce is an online course that teaches you how – step-by-step!
Instant Ecommerce Training
Branding
Branding is one of the most important aspects of starting your online boutique and says a lot about your business.
It is the first impression a customer will have of your clothing brand and is vital when it comes to building trust and loyalty.
Strong branding can help increase the value of your business. As people begin to trust your brand and the quality of products you produce, you will gain repeat customers that will be invaluable as your clothing boutique business grows.
When you're thinking of ideas for your logo and branding, think about what will appeal to your target market.
If your target customers are women shopping for dresses, you may want to make your branding more feminine. On the other hand, if your target customers are men, you may want to use stronger, more masculine colors.
Think about the colors you will be using on your website as well as what fonts you will use.
You can hire a graphic designer on a platform like 99designs to create your branding and logo for you.
If you're on a shoestring budget you can create your own logo using a free graphic design tool like Canva.
Find Suppliers or Manufacturers
Next, you will need to find products to sell in your boutique.
You can design and create your own products, or source them from a wholesale supplier.
You can choose from either local or overseas manufacturers and suppliers. There are benefits to each, but many online business owners choose to use wholesale clothing suppliers and manufacturers from Asia to save on costs and increase profits.
Pros of sourcing products from overseas:
More suppliers to choose from
Lower costs
High-quality products
Wider variety of products to choose from
Cons of sourcing products from overseas:
Some manufacturers have large minimum order quantities
You will need to pay shipping costs
You will need to pay import taxes on certain products
Even with the shipping and taxes, it can still work out much cheaper to source products for your online clothing business from overseas.
If you do want to look overseas for manufacturers you should check out Alibaba.com. Alibaba is a marketplace that connects entrepreneurs and small businesses with suppliers and manufacturers abroad.
Whichever option you choose you will want to be sure that the clothing you source is of the highest quality. It's worth checking out as many suppliers and manufacturers as possible to assess the quality and service each one provides.
Order samples from each supplier and wholesaler so you can compare the quality, and make notes of anything you are unhappy with.
You should also check online reviews such as Trustpilot and Google reviews to see what other businesses think of them.
Build A Website
Now that you have found the right products to sell, you will need a beautiful website to sell them.
There are a couple of options available here:
Use an 'out of the box' ecommerce solution like Shopify
Build your own website using WordPress with WooCommerce
Although it might seem easier to use an ecommerce platform like Shopify, the monthly costs are much higher.
The most basic Shopify package starts at $29/month.
This is a lot more than buying hosting from the likes of Bluehost, which starts at $2.95/month. Using WordPress will also give you much more flexibility with regards to customization as your site grows.
It's super easy to start your online shop using WordPress, here's how to get started:
Sign up for a WordPress hosting plan
Choose a theme for your website
Install and activate the WooCommerce plugin
Use the WooCommerce set-up wizard to set up and configure your store
Add your products to your store
Add any extensions you want such as additional payment gateways
With the help of good YouTube tutorials, you can have your ecommerce store up and running in a matter of hours. There's no need to hire a developer unless you are totally out of your depths.
One important thing to note is to make sure your website is mobile-friendly.
Mobile sales account for more than 60% of all e-commerce sales worldwide, so you will want to know that your site is easy to use and fast on mobile devices.
Email Marketing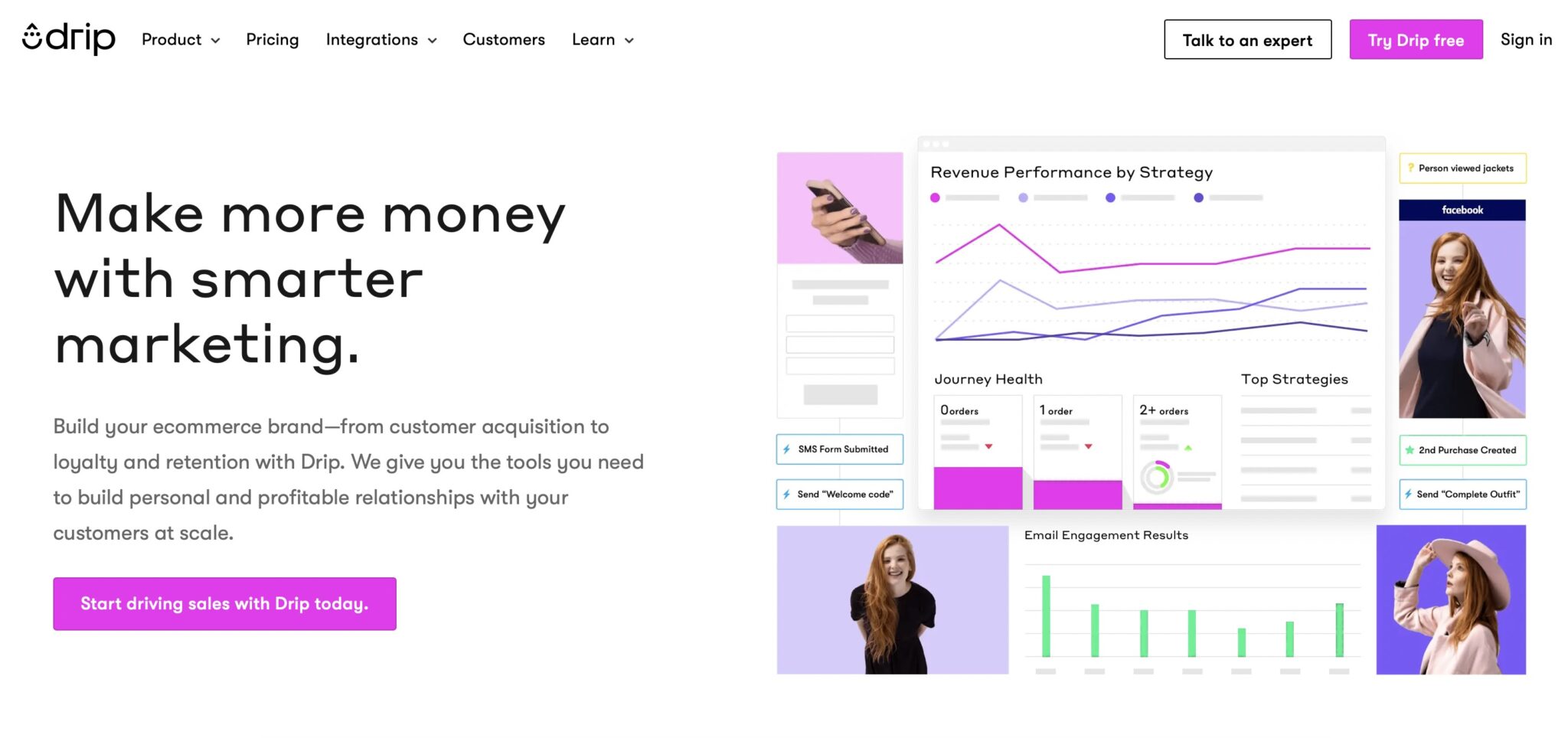 Email marketing is a vital part of running an ecommerce business.
There are lots of email marketing platforms to choose from, but some are better suited to ecommerce than others.
Sendinblue is a great option if you want something that's low cost and offers all the bells and whistles.
It's completely free to send up to 300 emails a day, making it the perfect choice for anyone who's starting their online clothing boutique on a shoestring budget.
As well as email marketing, Sendinblue also offers SMS marketing and a chatbox. You install this on your website to help customers and chat with them in real-time as they browse your website.
If you have a larger budget, then Drip or Convertkit are other ecommerce email marketing solutions. They both provide you with powerful analytics and workflows which will help to increase your sales and grow your business on autopilot.
Product Photography
Product photography is one of the most important parts of setting up your online boutique.
Your customers can't see your products in person so they will be relying on the photos 100% when it comes to deciding if they want to buy your products or not.
If you can't afford to pay for professional product photography services, then you can go down the DIY route, as long as you have the right tools and knowledge.
Here are some tips for product photography for your online boutique:
Make sure you have adequate lighting – natural light or professional photography lighting is ideal
The items you are photographing should be clean, ironed, and in good condition
Take at least 4-7 shots of each item from different angles to give the buyer a full picture
High-resolution images so your customers can zoom in if required
White or light-colored backgrounds are ideal to let your product stand out
Keep all of your photos consistent to create a professional look on your website – use the same background or edit all of your photos in the same way
Social Media
Social media marketing is a powerful advertising tool that can help you grow your brand.
This comes through people sharing your store bringing more traffic but can also give your website an SEO boost.
You don't need to have a social media account on every platform, but it's a good idea to pick two or three platforms that you can focus on.
Social media marketing is one of the best ways to market your business on a budget. It's completely free to set up your accounts, and you can grow your audience and promote your products to them without spending a single penny.
Of course, once your business grows and you have a budget for paid advertising that's great too. However, it's absolutely not necessary to get started.
Instagram is particularly good for fashion brands like Cider to connect with their audience because it's a very visual platform. You can even sell your products directly on Instagram thanks to the Instagram Shopping feature.
Launch
It's time to launch your online boutique and share your beautiful products with the world!
Here are some ways to make your launch exciting:
Build up some excitement for your launch by sharing images of your products on social media before the launch day
Do a countdown on social media 5 days before your launch so people start to get excited
Offer a discount code on your launch day to hook in new customers
Collect their email in return for the discount so you can advertise to them in the future
Host a giveaway to get people to sign up for your mailing list
Before you hit the launch button, be sure to check that everything on your website is working as it should. Ask a friend to check everything for you with a fresh pair of eyes too!
Influencer Marketing
Influencer marketing is one of the best ways for you to get your products in front of your ideal customers.
Around 49% of consumers depend on influencer recommendations when making a purchase, so it's definitely worth using this marketing method for your clothing store.
If you don't have a marketing budget to start with, you can offer influencers an item of clothing from your boutique for free in return for sharing a picture of them wearing your clothing on Instagram or another social media platform.
You can find influencers to work with by following them on social media and reaching out directly, or by using Influencer Networks.
Influencer networks are a great way to connect with influencers on paid and gifted campaigns. Using a dedicated network can help you find influencers that are the right fit for your brand and will give you the highest ROI.
Grow The Business
Congratulations, your online boutique is up and running!
Now that you've got the basics, it's time to add new products and scale your business.
You can scale your business by using paid ads and paid influencer marketing campaigns.
You can also use conversion rate optimization tools to make sure your site's conversion rate is as high as possible.
As your business grows you can start to outsource some of the everyday tasks to make everything as 'hands off' as possible.
Some things you can outsource include:
Customer service
Packing and fulfillment
Marketing
If you aren't quite ready to take on full-time team members yet you can use online job boards to find a part-time VA. Sites like UpWork have people that can help you with customer service and marketing tasks.
Starting an Online Boutique
Owning your own online boutique is a great way to build a brand, and grow a successful business.
There's never been a better time to get into ecommerce than now, so if you've been thinking about starting an online boutique, go for it.
If you are looking to get into ecommerce but would prefer a more 'hands off' business model, there are options. In an Amazon FBA business, for example, you don't have to handle shipping and fulfillment yourself.
Amazon FBA will still allow you to start and grow your own brand, but you have the added benefit of Amazon's worldwide marketplace.
The shipping and fulfillment are handled for you too. Once you have everything up and running your Amazon FBA business will be pretty much hands off, making it easier to scale!
Want to know more about starting an Amazon FBA business?
Check out how Spencer went from $0 – $4,399 in sales with a new Amazon FBA business in just 30 days.
HOW TO START AMAZON FBA
Want to learn step-by-step how I built my Niche Site Empire up to a full-time income?
Yes! I Love to Learn
Learn How I Built My Niche Site Empire to a Full-time Income
How to Pick the Right Keywords at the START, and avoid the losers
How to Scale and Outsource 90% of the Work, Allowing Your Empire to GROW Without You
How to Build a Site That Gets REAL TRAFFIC FROM GOOGLE (every. single. day.)
Subscribe to the Niche Pursuits Newsletter delivered with value 3X per week