Is Cider Legit? Should You Buy Their Clothing or Try Somewhere Else?
When you buy something through one of the links on our site, we may earn an affiliate commission.
The burning question: Is Cider legit? In general, yes it is.
If you've been on social media at all recently, you've probably heard about Cider clothing. You may have seen Cider on targeted advertisements, Tiktok, or your favorite Instagram influencer posing in that adorable outfit. And no, I'm not referring to the hot apple beverage that signals the arrival of fall, though that is also pretty popular.
This article will examine what Cider is, how it shot to such prominence, and what customers say about the fast fashion clothing Cider sells.
What Exactly is Cider?
Cider is an online fast-fashion brand constantly rising in status with Gen Z women who want cute stuff to wear. In the first half of 2022, the Cider app had 2 million downloads in the US!
Here are some shop Cider fast facts before we dive deep.
Founder and owner: Michael Wang.
Website: E-commerce store.
Sells: Women's wear and accessories.
Standard delivery takes: 15-20 days.
Returns: within 14 days of purchase.
Refunds: after seven days of return.
Payment methods: Visa, Mastercard, Maestro, American Express, Discover, Diners Club, and Paypal.
Head office: Cider Holding Limited 245-251 Hennessy Road, Hong Kong.
Overview of Cider
Cider is a fast fashion brand and online retailer of affordable, fashionable clothes.
This retailer focuses on AI forecasting, where they wisely produce small batches of garments. This helps in reducing waste brought on by excessive inventory.
Internet and social media presence for the online store is excellent. Users have lots of fun buying at Cider because of the massive variety of products available. You'll find plenty of great styles and gorgeous outfit collections.
But before we continue, let's find out: is Shop Cider legit?
Is Cider Legit?
In a word, yes. Cider is a legit company. Shop Cider doesn't steal your money, send you phony goods, or purposely delay your delivery.
Cider fast fashion offers many collections, sometimes known as drops, customized to particular styles.
Whether you're "feeling retro" or "feeling sophisticated," you're sure to find two (or twenty) fast fashion pieces that will make you swoon.
Who is Cider Best For?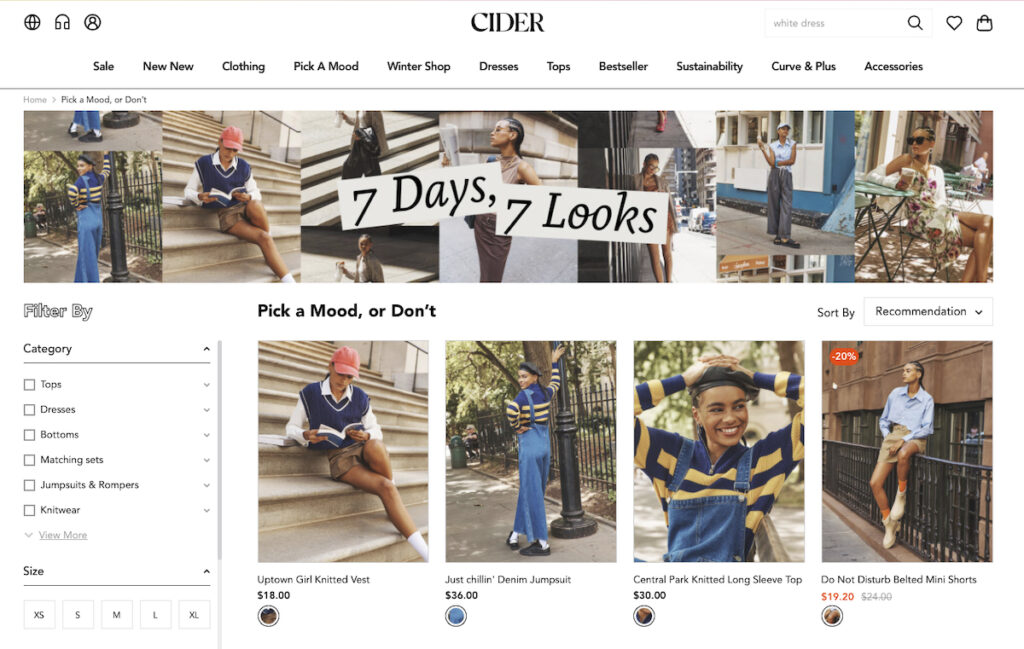 Cider clothing is aimed at Gen Z's. And most Gen Zers love to shop Cider's distinctive fashions and specific styles at reasonable prices.
Cider fast fashion approaches curation in a different way than Shein does. The #cidergang is a global group of Gen Zers interested in fashion. They're demanding tighter curation and better quality at affordable rates.
If you're wondering about Shein, be sure to read our article to find out: is Shein legit?
Although Cider fans adore the fast fashion clothing, they also want to mix things up to create their own unique styles.
Why Did Cider Go Viral?
In October 2020, Christa Allen re-interpreted her role as the young Jenny Rink from 13 Going on 30 on a video for TikTok. For the video, she wore a variation of the iconic Versace striped dress from the film. Collectively, the internet went insane, and imitation copies quickly flooded the market.
Shop Cider and other e-commerce companies like Amazon based their design for the classic 13 Going On 30 dress on creations by independent designer Wanda Cobar from Etsy. Cobar makes Allen's Versace-inspired outfit for £368. The cost of Cider's version is £14.
You don't need to be a genius to figure out which product cash-strapped Gen-Z buyers will choose.
And this is ultra fast fashion brand Cider's secret to success: low-cost items that are immediately in style. Their "pre-order" business approach, which enables them to produce clothing in smaller batches while minimizing waste, adds to their success.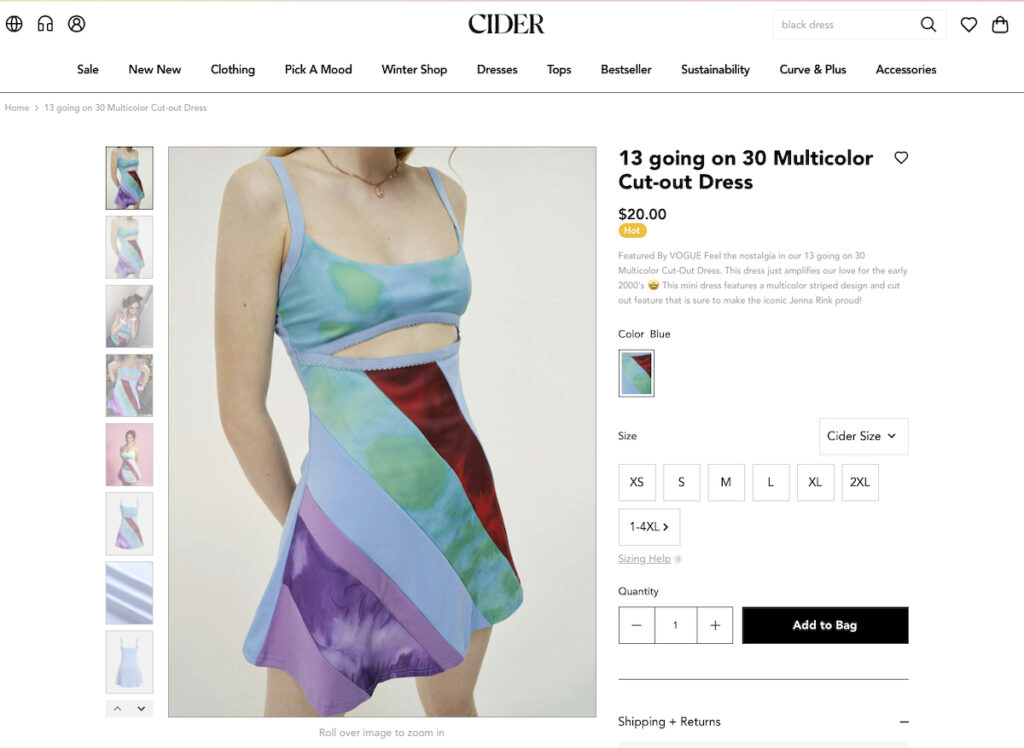 What Does Social Media Think of Cider?
As a "social first" fashion brand, thanks to their Pinteresque look on both their Instagram and TikTok, Cider clothing gained 2.4 million followers on Instagram in just 15 months.
This is a sharp contrast to Shein, which took 14 years to accomplish the same.
Green plants, Matisse posters positioned in the corners, and minimal cosmetics all contribute to their TikTok's distinctive ambiance. This is the typical appearance for their roster of the new generation of artists who individually provide new looks and styling advice for the Gen-Z audience on a daily basis.
Though each Cider TikTok video receives hundreds of views and close to 700,000 followers, it seldom receives more than 100 likes. Very few get more than a dozen comments. There are very few comments, and none of them could possibly be characterized as unfavorable.
Globally minded, Cider fast fashion has 2 million followers on Instagram, producing specific styles and regularly receiving comments like "so sweet and gorgeous" and "omg this top." But rather suspiciously, no criticisms at all. Cider's social media profiles are immaculate, if not faultless.
A simple look through competitor clothing brands such as H&M's Instagram reveals people criticizing the company's alleged practices. Or there's the occasional spam message posted with people begging for a "like for like."
But, if you visit Twitter, you'll see that there are fewer love hearts and more irate complaints about Cider. Many customers are expressing their displeasure with the company. There are plenty of complaints about late shipments and receiving the wrong order. People are having problems returning products and receiving garments of poor quality.
Is Cider Clothing Any Good?
Reports from customers about Cider clothing are generally a mixed bag. Most love the designs of their super cute clothes, but many dislike the quality of the products or sometimes getting a garment with a weird fit.
A student in North America - Jenna, 18, placed an order from Cider after discovering the brand on TikTok. Her shop Cider review claimed that despite not having any issues with the shipping process, Cider clothes were of poor quality after just one use. "Threads came out of the top, and it lost its shape," she recalled.
Buyers also have experienced issues with durability when we read reviews. Ohio-based Sarah reported that the sweater she purchased at an affordable price smelled terrible. And despite numerous washes, she couldn't get rid of the stench. It also seemed like the sweater would disintegrate after a few uses.
Tana, 21, and Clara, both from Los Angeles, claimed to have waited many weeks for their orders, and that stuff didn't arrive in a timely manner. After waiting 20 days for her order to arrive, Tana expressed her frustration with the company, saying, "I was unhappy with how long it took because, despite ordering during COVID, I had faster shipping with other stores compared to this one."
Hinting at their size-inclusive clothing, price and quality, Frieda from New York said, "Overall, ordering from Cider was a decent experience for me. If something especially entertaining caught my eye, I'd shop there again. I can't answer to the quality of everything they produce, but at least I can guarantee that you won't receive doll-sized clothes or products made of tissue paper."
Returns
Typically, most fast fashion brands provide free return shipping when a customer is dissatisfied with an online buy. However, all non-US customers making purchases on Cider are responsible for covering the return shipping expense.
Cider reviews reveal that many consumers keep the clothes and don't return them because the cost of shipping (which starts at £6.85 to send an item back to China) is frequently higher than the actual item's cost. As a result, many customers keep the clothing and store it in their closets unworn instead of completing a return request as it's not worth the money.
Where Does Cider Clothing Come From?
Cider clothing is manufactured in Guangzhou, and partner companies all over China.
Is Cider Ethical and Sustainable?
Cider provides no information about the factories they work with. It doesn't seem like they are certified for sustainability or have worker protection procedures in place. There's quite an interesting Reddit thread on the topic of Cider's sustainability.
Folks seem to have tried pretty hard to get answers when they ask the question, Is Cider clothing ethical? They get plenty of hype from Cider but no facts.
Cider Customer Service
For customer service, go to the Cider support FAQ list.
You can also email the customer service teams for help.
Where to Buy Cider Clothing
You can only buy the brand's products from the Cider online shop.
Cider Alternatives
Here's a thought: in the history of fashion, the time we live in is unprecedented. Much of our world has been taken over by fast fashion. We seem to be shopping more than ever and throwing things away more than ever. While Cider is legit, it may not be the best option, and some might prefer more sustainable alternatives.
Fast fashion companies like Cider produce super-cheap clothing that can be worn once and then thrown away. But the cost of shopping like this is high. Not only do the dollars add up, but the damage to our ecosystem is shame-making.
Here are some great alternatives to Cider.
Quince
Quince was founded on the principle that everyone should be able to afford the finest clothing.
The clothing brand company set out to create great quality, luxury items at reasonable prices for maximum customer satisfaction. And to provide fashionable and sleek designs that last, the team ethically seeks sustainable materials. These include organic cotton and linen, Mulberry silk, and cashmere.
Quince is open about its partner factories, such as details about pay and labor conditions.
---
For Days
Every item at For Days is 100 percent recyclable and created using zero-waste principles.
All clothing can be returned as part of its closed-loop system once you're done wearing it. The team designs and produces its products using fabrics like organic cotton, twill, and recycled terry.
For Days offers everything from casual adult t-shirts to elegant yet basic outfits to cozy loungewear for children.
---
Girlfriend Collective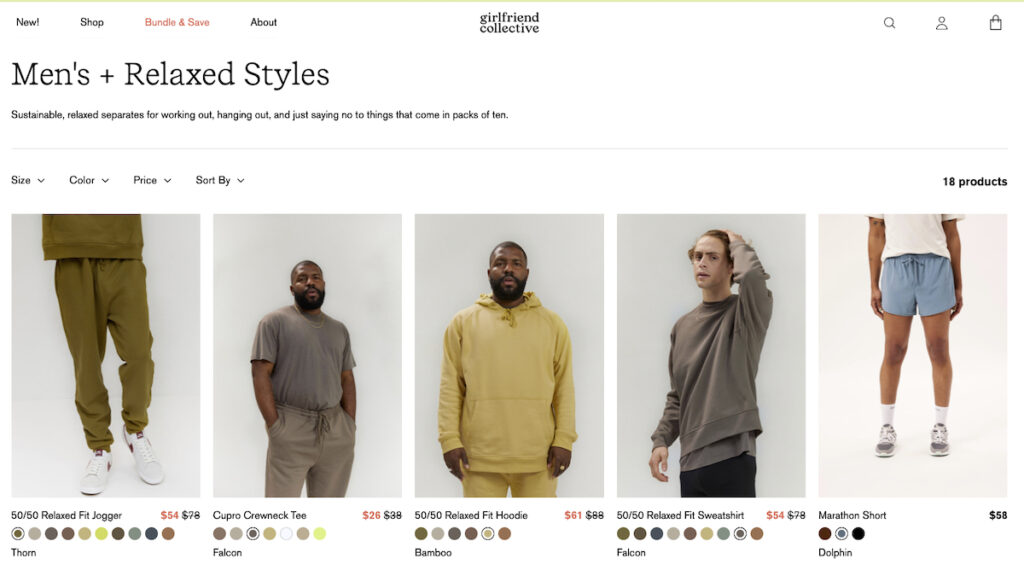 Girlfriend Collective has a fantastic selection of inclusive, eco-friendly, and reasonably-priced activewear. The company sells bras, shorts, leggings, and other items in sizes XXS to 6XL manufactured from recycled materials like old fishing nets and water bottles.
The clothing is produced in Vietnamese factories. Employees get safe working conditions, fair pay, and set work hours.
GC also started the ReGirlfriend program to recycle used items.
---
Everlane
Everlane is a well-known brand in the fashion industry. In addition to its contemporary yet straightforward designs for good quality clothes, it engages in radical transparency and is dedicated to producing sustainable goods.
The company's claims of transparency are valid. You can look up the production facility where each product is created. Plus, Everlane replaced 90% of the new plastics in its supply chain with recycled or other materials.
---
Final Thoughts: Is Cider Legit?
So, is Cider legit? The answer is a qualified yes, but there are big issues surrounding the theft of small fashion designers' ideas. And there's also the question of unethical, unsustainable production.
Is there a place for Cider fashion in the industry? Yes, in most cases. Cider fashion is usually acknowledged to be a trend that is highly popular, particularly with Gen Z. People generally consider Cider to be stylish and affordable.
Lastly, if you are an affiliate marketer and interested in fashion, check out this article on the best clothing affiliate programs to promote. And talking about promoting, be sure to also have a look at this: How to make a viral video on Tik Tok and grow a massive following.
Want to learn step-by-step how I built my Niche Site Empire up to a full-time income?
Yes! I Love to Learn
Learn How I Built My Niche Site Empire to a Full-time Income
How to Pick the Right Keywords at the START, and avoid the losers
How to Scale and Outsource 90% of the Work, Allowing Your Empire to GROW Without You
How to Build a Site That Gets REAL TRAFFIC FROM GOOGLE (every. single. day.)
Subscribe to the Niche Pursuits Newsletter delivered with value 3X per week