Google Loves My Site! Niche Site Project 4 Monthly Report for March 2020
When you buy something through one of the links on our site, we may earn an affiliate commission.
March 2020 was a very good month for OwnTheYard.com!
Not only was it a record traffic month, but it was also a record earning month. The site broke $3,000 in earnings…a nice milestone for sure.
The best news is that March is really just the very beginning of the peak season for my type of site.  So, the months of April, May, June, July, and beyond, should just get more and more traffic and sales.
The last full monthly report that I shared was for December, which was a good month due to the holiday season. Since it's been about 4 months since I've shared a report, I have a lot to cover.
This report will give you a much better picture of everything I've been up to the last 6 months, including income, expenses, amount of content published, strategies, and much more.
Let's dive in!
You can also watch my discussion of this income report on Youtube.  Be sure to subscribe to my YouTube channel right here.
Total Earnings – $3,195.31
As you can see from the earnings history chart above, Own The Yard has generally been trending in the right direction.  After last July and August, the site took a small dip, primarily due to seasonality.
But after the low point in September 2019 that was just shy of $1,000 in earnings, the site has been trending up.  I basically don't "count" December in that trend (even though it was a great month), because of the holidays.  
Yes, it was higher, but I wasn't sad when the earnings in January dipped below December, because that was totally expected.  January earnings was higher than November earnings, so that was mostly what I was concerned with. 
So, the total earnings for the month of March for OwnTheYard.com was $3,195.31!
Amazon Earnings
In total, the site made $1,741.72 from the Amazon Associates program.  As you can see the clicks and orders started to trend up during the second half of the month.  This correlates quite well with the traffic trends that I'll share below.
I also am starting to notice that the conversion rates are higher, more clicks are turning into buyers.  I didn't do anything special, it just turns out that people are more likely to buy outdoor games and yard equipment when it's warmer outside, go figure.
I expect this to continue to be the case throughout Spring and Summer.
Ezoic Earnings
Ezoic earnings came in at $1,453.62.  Ezoic is what powers all the display ads that you see on the site.  
You can try out Ezoic right here.
You will notice that the Ezoic earnings did trend up a bit in the last couple weeks of the month, but not nearly as much as the traffic.  The reason is that EPMV was lower during the second half of March, which means I was earning less per visitor, but my visitor count was much higher.
See the EPMV trend from Ezoic:
I'll explain why EMPV was down in my "Covid Concern" section below.
But overall, I'm VERY happy with both the Ezoic and Amazon earnings.  Earning nearly $3,200 from my site that is about 18 months old is something I can live with.
The Covid Concern
I've mostly kept quiet about the Covid-19 pandemic that we are currently facing.  For some reason, almost every business and "influencer" thinks their audience wants to hear their response to Covid-19.
I really appreciate the 1,000 extra emails I got from people and businesses I didn't even know had my email address this month. It's been a lot of fun reading deleting those emails.
I know you don't care about my response, so I'm not going to share it. 
However, I only bring it up so I can explain how the coronavirus has impacted my business as it relates to this monthly report and how it might impact yours.
Advertisers are paying less money for ads now.  That much is very clear.  
With all the uncertainty going on in the world, businesses are more hesitant to spend advertising dollars.  As a result, my EPMV (from Ezoic) dropped quite a bit in the second half of the month.
In addition, I actually think my Amazon sales would have been higher (by how much is anyone's guess).  A lot of products are no longer able to take advantage of Prime shipping right now, because Amazon is prioritizing their warehouses to ship "essential" items.
As a result, people likely aren't buying as much on Amazon because it may not be free shipping…or it could just be out of stock since sellers need to self-fulfill.
March was still a breakout month for me, but it's possible it could have been higher had the ad rates and Amazon purchase rates been higher.
On the flip side, more people are home and searching online.  During the first half of the month, many of my sites (including Own The Yard) saw a dip in traffic as people were searching for nothing but "coronavirus", or at least it seemed that way.
However, now that people have accepted our new strange stay-at-home reality, they are spending more time searching their "normal" stuff.  So, it's actually possible I've seen a higher traffic volume in the second half of March because more people are at home and "Googling stuff".
But that's just my rough analysis based on what I've seen with my sites.
Traffic
As you can see, the traffic was trending up quite nicely during the second half of the month!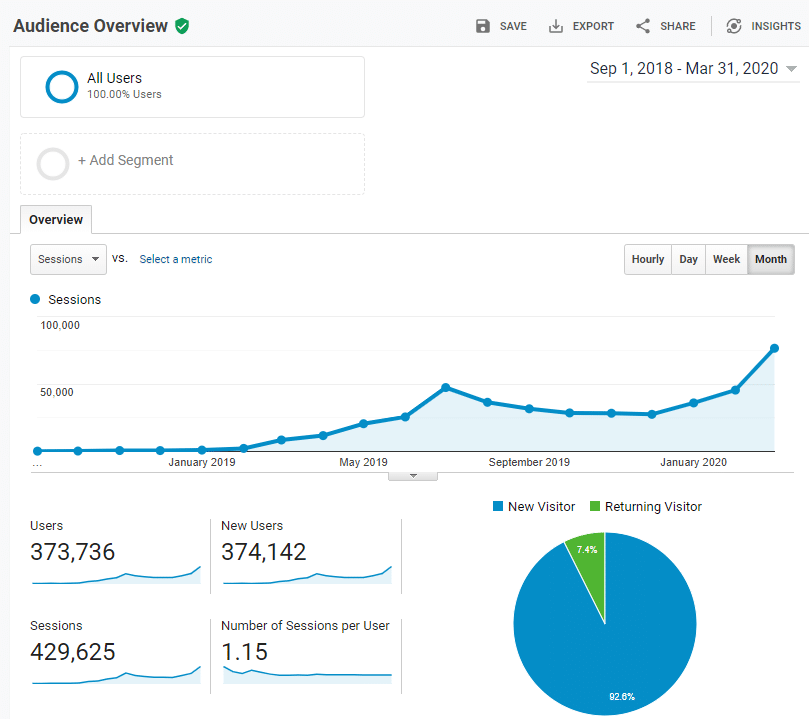 Here's a a screenshot from the entire life of the site.  You can see that it peaked in July 2019 (seasonality).  The mostly held steady from September to January.
Since January it's been on a nice trend upwards, with a much bigger jump during March.
Organic Traffic
The Google organic traffic is definitely the largest driver of traffic to the site.  If you compare this organic traffic graph of the entire life of the site to the total traffic graph, you will notice 2 things.
First, the peaks and valleys are much more smooth.  The social traffic caused the traffic to look like it had higher highs and lower lows than the fairly consistent organic traffic shows.
Second, the organic traffic has grown like crazy over the last few months…with March jumping significantly.  The organic traffic is basically triple since December and almost doubled in just 1 month.
It's good to have all that Spring time search traffic!
Pinterest Traffic
The social media traffic (most of it coming from Pinterest) shows a higher peak in summer time and a nice trend back up that direction here at the beginning of spring.
Overall, social traffic accounts for just shy of 13% of the total traffic and organic traffic accounts for about 77%.
SEO for the win!
Content Strategies that Have Worked
When building a site, there are lots of strategies that can you follow.  
You can build a site that reaches $500 or $1,000 a month, then move on to the next site.  You can then build a portfolio of sites of similar size.  You can get your sites to a point where they are relatively passive and then just rinse and repeat the process.
I'm no longer a fan of that strategy because things ALWAYS come up with sites.  No site is truly hands-off and it becomes extremely difficult to optimize sites if you end up with half a dozen or more sites (which unfortunately is still where I'm at…hoping to sell a couple in the next 12 to 18 months).
Another approach is to focus on a few larger keywords and do a ton of link building.  You can certainly build a site with less than 100 articles into a pretty significant earning site.  You just will likely need to do tons of outreach and link building to rank well for more difficult and higher-earning keywords.
This approach can work well for some, but I've personally never been a big link builder.
The approach I've taken for Own The Yard is to publish TONS of articles targeting mostly long-tail keywords that don't require many (or any) links to rank in google.
Again, my strategy is not the only strategy, but it's the one I like the most and it appears to be working well for Own The Yard.
In other words, I've scaled content significantly over the last 12 months and expect to continue to publish lots of content for the foreseeable future.
So, how much content have I published?  Well, here's the full accounting of the articles published (and earnings month by month).
OwnTheYard.com now has 498 total articles published!  Yes, it's a lot of content.  But it's a strategy that is clearly working…and depending on who you ask, this is still a tiny website.
I know lots of people with sites that have 10,000, 20,000, or even 30,000 or more posts.
As you can see, I really ramped up content over the fall and winter months.  Content and SEO typically take up to 6 months before they truly reach their full rankings and potential.  So, all those articles I published are just now starting to have an impact and should help my site grow over the next few months…hopefully by quite a bit!
So, my content strategy will continue to be the same, publish lots of long tail content that has a chance to rank in Google.
Question-Based Keywords
I've written a detailed post about how I go about finding my keywords for all my sites.  However, a large portion of the articles that I published over the winter for Own The Yard were "Question based keywords".
Things like:
Can I shoot a possum in my backyard?
Can I have an alpaca in my backyard?
Can you eat squirrel from your backyard?
These types of keywords may not get a ton of search volume, but they are easy to rank for and I can typically write much shorter articles (1,000 to 1,500 words) in order to rank for them.
However, because they are longer phrases, there are typically lots of keyword variations that I do end up also ranking for which overall does bring in enough traffic to make it worth it.
Oh, and by the way, I rank #1 in Google for the above 3 questions that I used as examples.  Plus tons more…
I did an entire tutorial video on how I go about finding Question Based Keywords recently on YouTube.  You can watch that video below.
I would strongly encourage you to subscribe to my YouTube channel right here for future videos.  I plan on posting lots of how to videos that more than likely won't ever make it on my blog.
Internal Link Building
Another important factor for my rankings improvement and increased organic traffic is internal linking.
I did an entire case study right here that shows exactly what I've been doing.  I highly encourage you to read that entire case study.
But in a nutshell, I find all my orphaned posts, build relevant internal links using Link Whisper, and then track the results over time.
If you are not properly internally linking your content you are likely leaving a lot of potential money on the table.
I use Link Whisper to make the process much faster and easier and to give me full reporting on my internal links.
You can check out Link Whisper right here.
Profit and Loss
A big reason I don't enjoy doing a monthly income report for this project any more is because the P&L takes so long to do!
So, I hope you enjoy these numbers because it took me a long time to put together this simple little spreadsheet.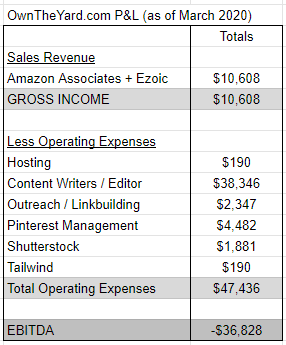 As you can see, I've spent a total of $47,436 on building the site.
So, my "earnings" is a negative $36,828.
So, why am I so happy about this project?
Well, the value of this business is now significantly more than $36,828 (my "loss" right now).  
I'm not interested in building a little site that makes $1,000 a month.  I'm trying to build something much larger, and that requires either tons of time or money.  I don't have much time these days, so I'm investing money (and hiring people to do the work).
Is it Worth It?
So, how much is my site worth today?  Let's imagine the site continues to just earn $3,200 a month.  How much could it sell for?
A site making $3,200 a month would sell for close to 34x that price or $108,800.
Odds are that my site will be worth more than that in a few months as I'm quite hopeful that the earnings during the rest of spring and summer grow quite a bit.
This is not an exact potential sell price today (there would be lots of other considerations), but I'm just throwing out a ballpark number to explain why investing so much in this site is not a bad idea (in my opinion).
So, even if I sold for $100,000…my total net would be about $63,000.  Not bad!
So, I now have an asset worth much more than I invested into it.  That's how I think about it.
Positive Trends
The best part about the growth that I'm seeing is that this is just the beginning.  The trends for backyard stuff is just about to hit it's "stride" for the year.
As you can see from this Google trends graph of the topic "backyard" (the main broad topic of OwnTheYard.com), there is definitely seasonality.  
March is only about halfway up the peak, with the top of the peak typically occurring in early June.  In other words, the search volume for the type of keywords I'm targeting should grow significantly in April, May, and June!
So, I'm feeling confident that the earnings will all be record highs in April, May, and June…and possibly beyond because I've added so much new content that is still aging.
How Big Can This Niche Site Get?
I don't know.  But I believe that $5k or $10k a month is just barely scratching the surface.
I want something much much bigger and don't plan to stop growing this site as long as I see improvement.
Will OwnTheYard.com get to $10k a month? $20k a month? $50k a month???
Who knows!  But I'm not going to limit myself to thinking that this is some dinky little site that I should be happy with $3k a month.  I'm satisfied where the site is now after about 18 months, but this is really where the fun begins with this project.
The next year, 2 years, or 3 years and beyond should see much bigger numbers than $3k a month.  I plan to grow and hold this site until I feel like I've truly maxed out the potential.
I hope you find all of this motivating!
Thanks again for following along.
Looking for a comment section?  Feel free to ask questions in my private Facebook group here, or subscribe to my YouTube channel here and ask questions on relevant videos.
Want to learn step-by-step how I built my Niche Site Empire up to a full-time income?
Yes! I Love to Learn
Learn How I Built My Niche Site Empire to a Full-time Income
How to Pick the Right Keywords at the START, and avoid the losers
How to Scale and Outsource 90% of the Work, Allowing Your Empire to GROW Without You
How to Build a Site That Gets REAL TRAFFIC FROM GOOGLE (every. single. day.)
Subscribe to the Niche Pursuits Newsletter delivered with value 3X per week