15 Best Gardening Affiliate Programs For Higher Payouts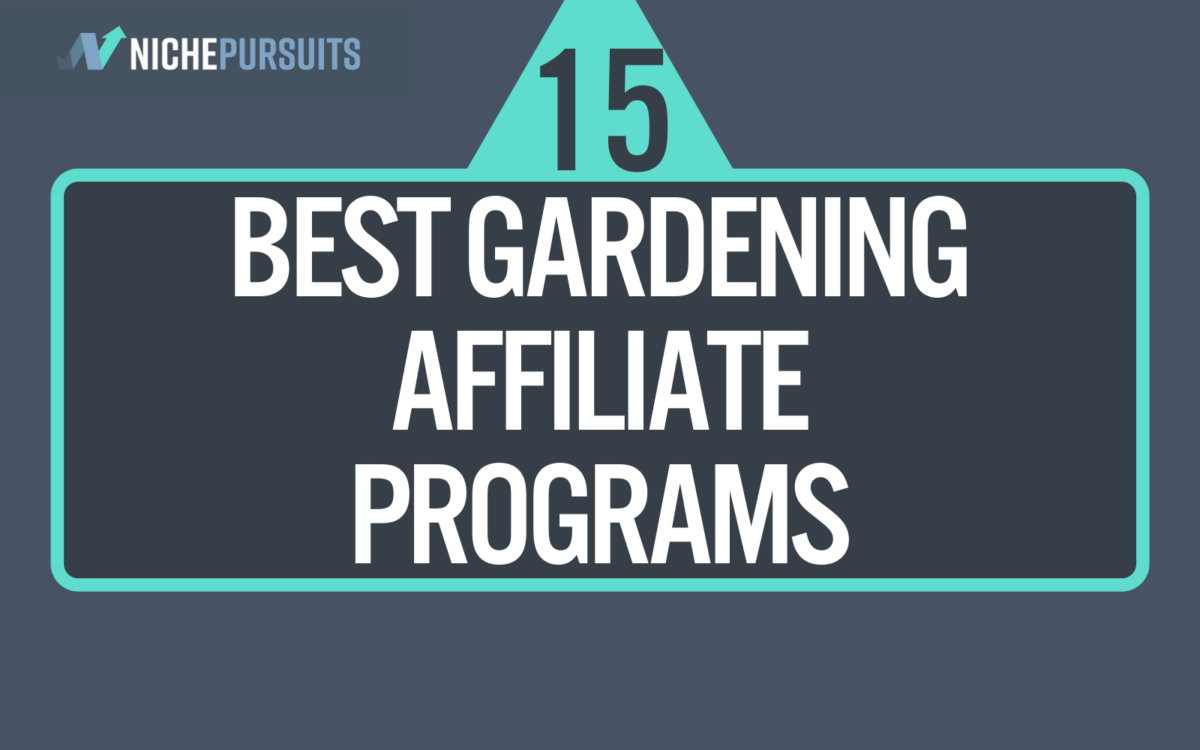 When you buy something through one of the links on our site, we may earn an affiliate commission.
Are you looking for the best gardening affiliate programs to monetize your website? We've got you covered.
Some bloggers and online entrepreneurs shy away from the gardening niche due to its seasonality. But gardening is a viable niche if the latest trends are anything to go by. More people are opting to grow their own vegetables, mainly due to the Covid-19 pandemic.
Indoor gardening is also on the rise, and now people don't have to rely on seasons.
And the bigger the niche gets, the more products there are and the more ways you can earn from your website.
The Best Gardening Affiliate Programs
Let's look at some of the top gardening affiliate programs and the products you'll have to promote.
46 & Spruce Affiliate Program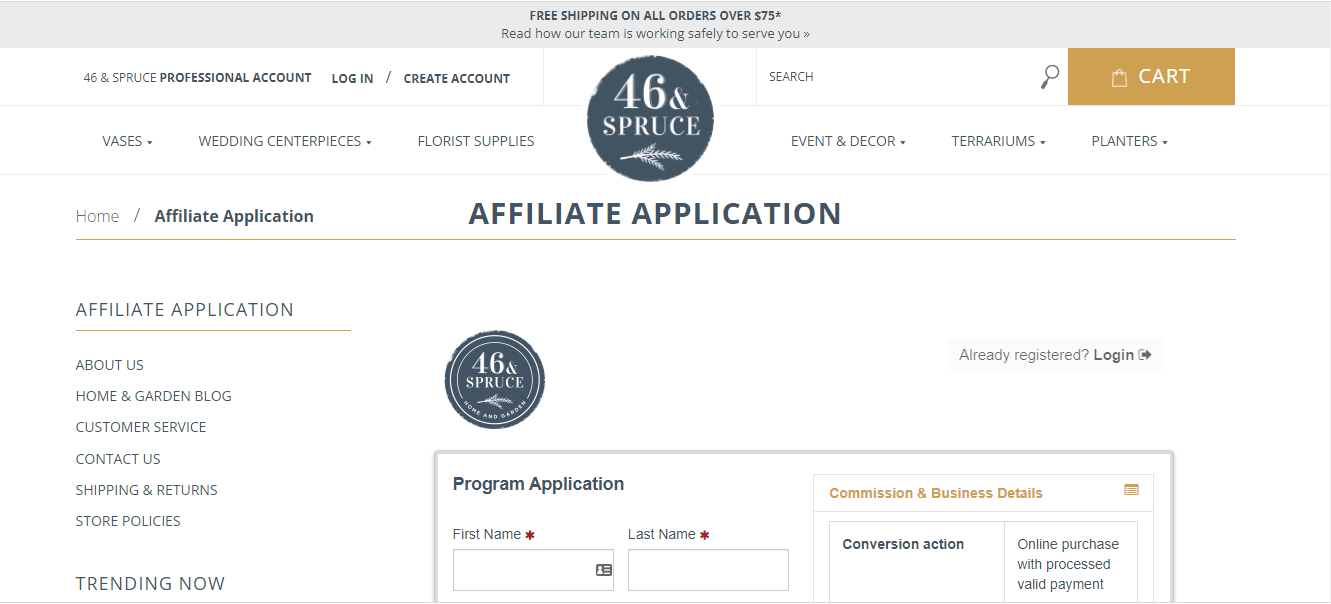 If your audience loves practicing gardening with a decorative touch, 46 & Spruce has products designed just for them.
46 & Spruce specializes in decorative products often used in weddings and other events, but they are still applicable for indoor gardening.
These products include terrariums, vases, planters, and centerpieces. They also have a helpful blog where your audience can learn how to get the most out of these devices.
With an average order value of $55, a 10% commission rate sounds fair. And for those who run coupon sites, the commission rates are set at 2%.
Commission Rates – 10% on Every Purchase
Cookie Duration – 30 Days
Average Order Value – $55
JOIN 46 & SPRUCE AFFILIATE PROGRAM
AeroGarden Affiliate Program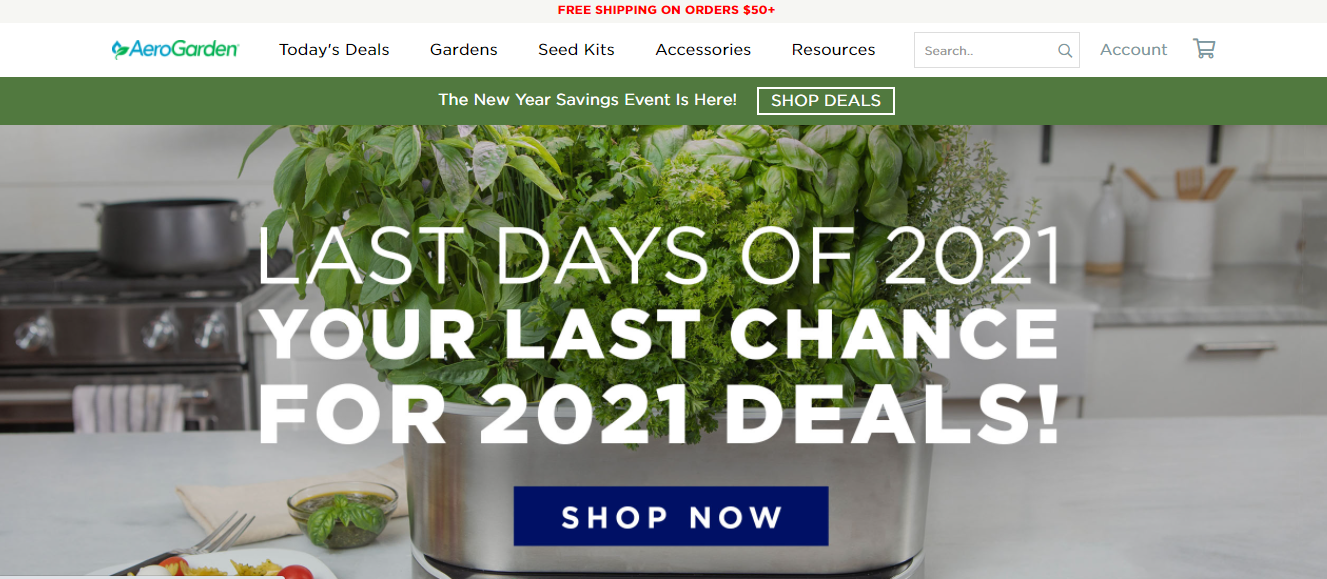 AeroGarden takes indoor gardening to a whole new level. They offer a solution for those who hate the soil around their home or lack time to deal with dirt.
Their indoor gardening kits utilize hydroponics where you don't need any soil to grow your food, just water and a nutrient solution.
Better yet, these kits are modernized to blend in with your home's décor. They are also WiFi-enabled, which allows you to control them remotely.
And if you'll be on vacation for some time, you can set them to Vacation Mode to make sure your plants don't die while you're away.
Considering how costly it is to set up a hydroponics system, a 7.5% commission on every purchase is very reasonable.
AeroGarden runs their affiliate program through FlexOffers, a dedicated affiliate network that provides a good platform for advertisers to post their products and tools to help publishers promote these products.
Commission Rates – 7.5% on Every Purchase
Cookie Duration – 40 Days
JOIN AEROGARDEN AFFILIATE PROGRAM
Amazon Associates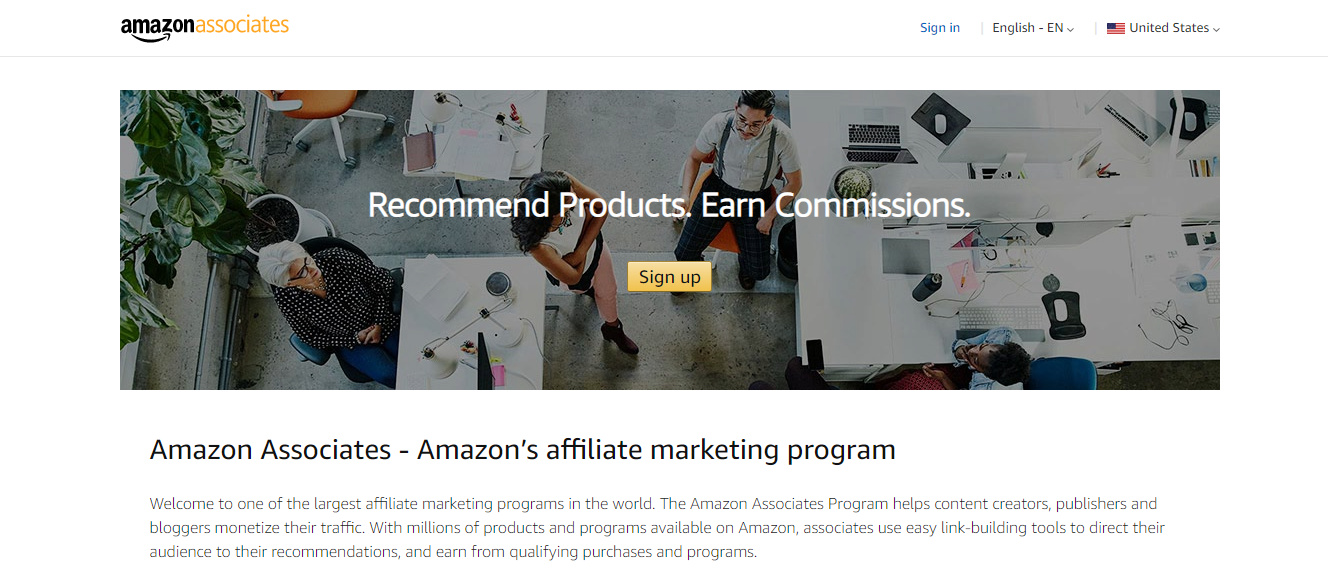 Amazon Associates is one of the most popular affiliate programs, offering a wide range of products in various niches.
While their commission rates are pretty low (3%), Amazon Associates is one of the easiest gardening affiliate programs to join and one of the easiest ways to start monetizing a growing website.
The good thing about Amazon is they have thousands of merchants who sell their products on the platform.
These products range from low-ticket products that cost less than $10 to high-ticket products like lawnmowers with prices above $3,000. Better yet, you can also use Amazon ads on your site, which suggest products to the reader based on the content on that page.
What's more? You still get a commission even though they bought a different product instead of the products you were recommending. But they have to do it within 24 hours, which is how long the cookie lasts.
Commission Rates – 3% on Every Purchase
Cookie Duration – 24 hours
JOIN AMAZON ASSOCIATES AFFILIATE PROGRAM
Botanical Interests Affiliate Program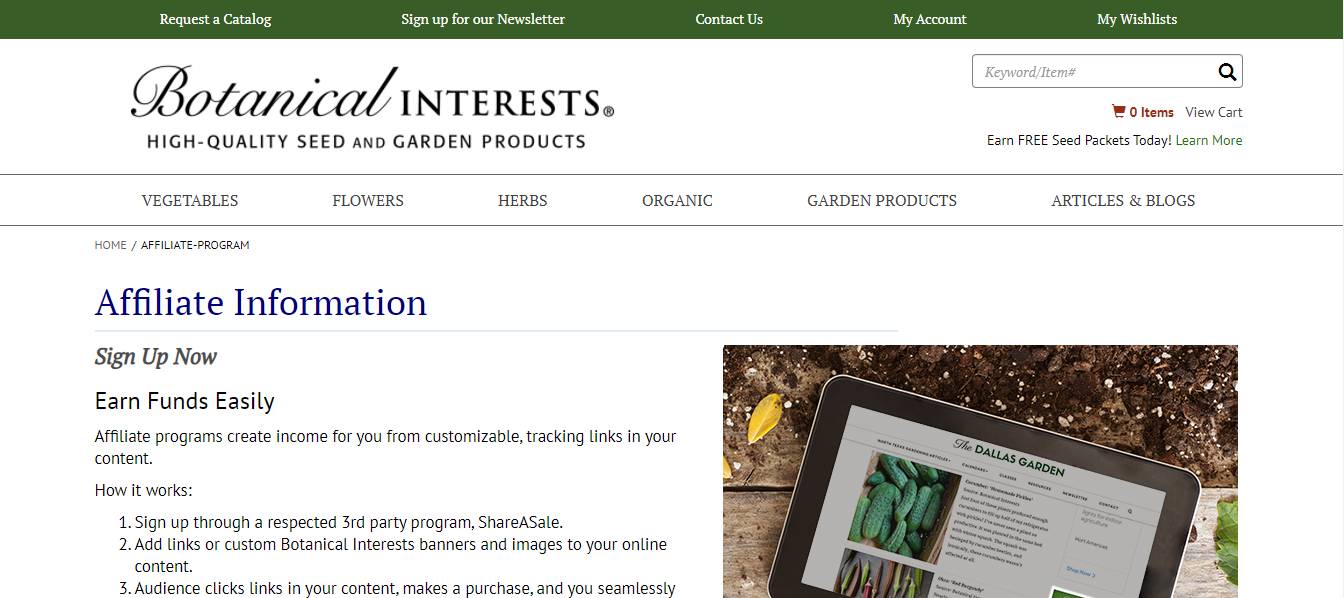 Started in 1995, Botanical Interests prides itself in manufacturing some of the best all-natural seeds.
Their seeds aren't treated with any added chemical alternatives like those you'll find in larger stores. As a matter of fact, this company was built to keep people away from big box stores.
They may have started in their home with only 96 seed varieties, but they now have over 600 varieties of flowers, vegetables, and herbs which you can promote to your audience. Botanical Interests also sells:
Garden tools
Supplies
Themed collections
Gift sets
Gift tags 
You also stand to gain a lot as an affiliate marketer since Botanical Interests runs their affiliate program through ShareASale, with a 15% commission rate and a 45-day cookie duration.
If you have a brick-and-mortar business, you can earn up to 35% per sale through their Direct Ship program. But this only applies to shipping within the US.
Commission Rates – 15% on Every Purchase
Cookie Duration – 45 Days
JOIN BOTANICAL INTERESTS AFFILIATE PROGRAM
Click & Grow Affiliate Program
Like AeroGarden, Click & Grow also manufactures indoor gardening kits. As the name suggests, the kits are "smart" where everything is integrated – from nutrients to water to lighting.
And all you have to do is plant your vegetables, plug the system in, and let it do its thing. Since it's a hydroponic system, you also don't have to worry about dirt or taking the plants outside for sunlight.
Click & Grow is one of the best gardening affiliate programs. For starters, they offer a 10% commission, which is pretty lucrative in this niche.
Secondly, if you've garnered at least 10,000 followers, you get a free sample to test and giveaways for your followers.
Thirdly, regardless of your blog's size, Click and Grow will share your content on their channels, offer a 10% discount to your followers, and provide other marketing tools.
Commission Rates – 10%
Cookie Duration – 45 Days
JOIN CLICK AND GROW AFFILIATE PROGRAM
Earth Easy Affiliate Program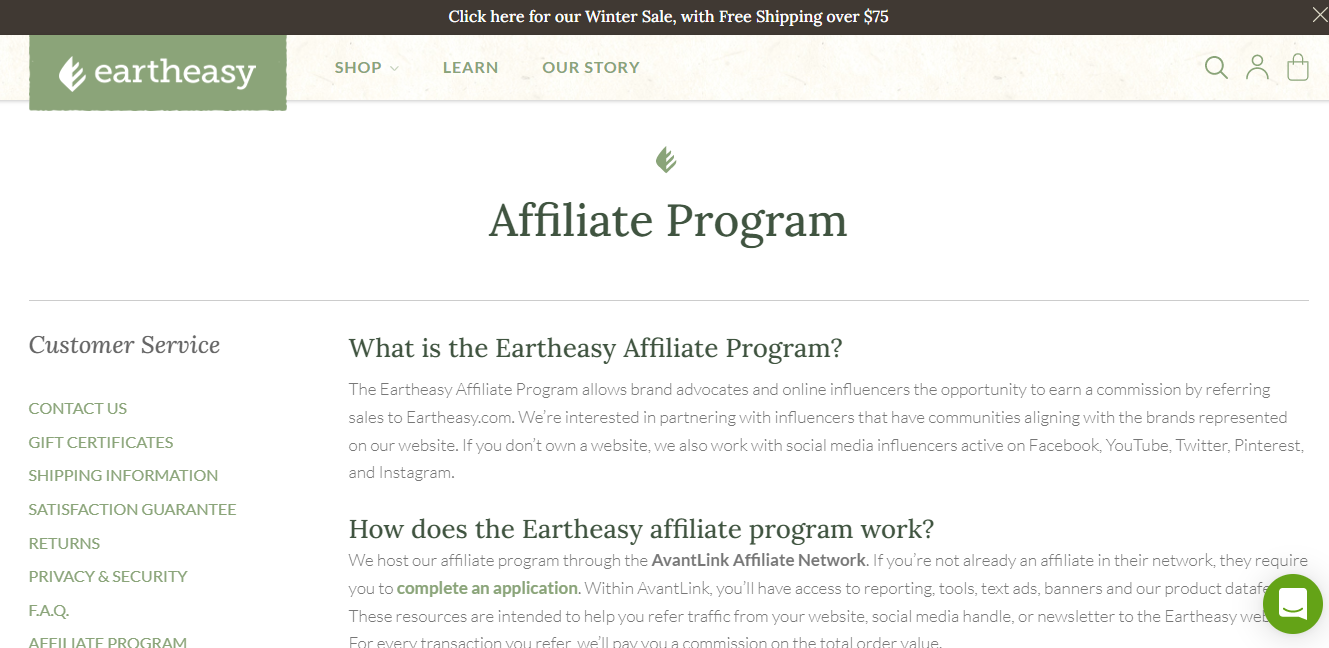 If you've built a following or a loyal audience in the organic gardening niche, Earth Easy has some fantastic products you can promote. Earth Easy is a renowned manufacturer of "natural," "non-toxic," or "clean energy" products.
They've been a family-owned business since 2000 and are trusted by over 3 million customers and prospects every year.
Some of the products they manufacture include:
Composters
Natural cedar raised beds
Hoses
Seeds
They also manufacture home and outdoor accessories such as candles, conditioner bars, and essential oil diffusers.
With the average prices of the products ranging from $150 to $200, a commission rate ranging from $5 to $10, and a 90-day cookie duration, you have every reason to join this gardening affiliate program.
Earth Easy's affiliate program is hosted on AvantLink, another great affiliate network with several other gardening affiliate programs when you want to diversify.
Commission Rates – 5 – 10%
Cookie Duration – 90 Days
JOIN EARTH EASY AFFILIATE PROGRAM
Ferry-Morse Affiliate Program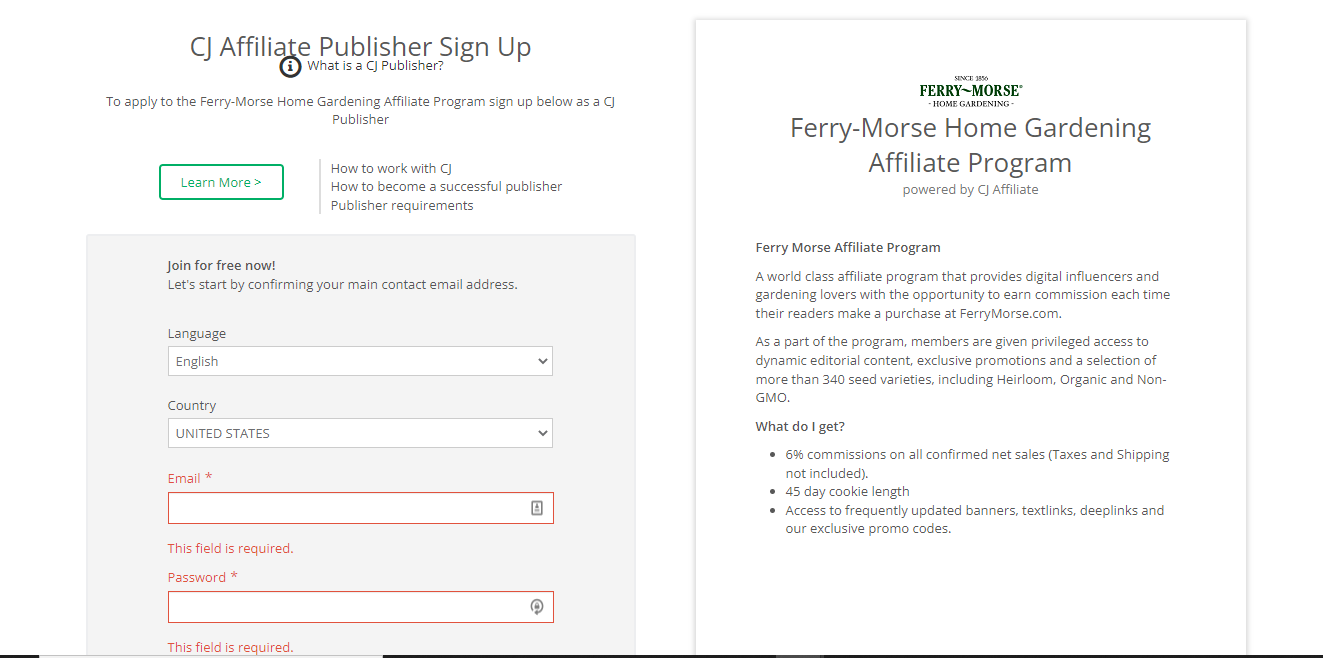 Started in 1856, Ferry-Morse is probably one of the oldest companies in the gardening sector.
They are known for their high-quality seeds and plantlings, but they've also ventured into gardening supplies, home décor, apparel, and merch. With over 300 seed varieties and many other products in their inventory, you can't run out of products to promote.
Ferry-Morse runs its affiliate program on CJ Affiliates, an affiliate network with more than 3800 advertisers in many other industries. They also provide promoting tools to their publishers.
A 6% commission may seem low compared to other gardening affiliate programs on our list, but it's pretty decent, especially when you have a high conversion rate.
Commission Rates – 6%
Cookie Duration – 45 Days
JOIN FERRY-MORSE AFFILIATE PROGRAM
Garden Tower Affiliate Program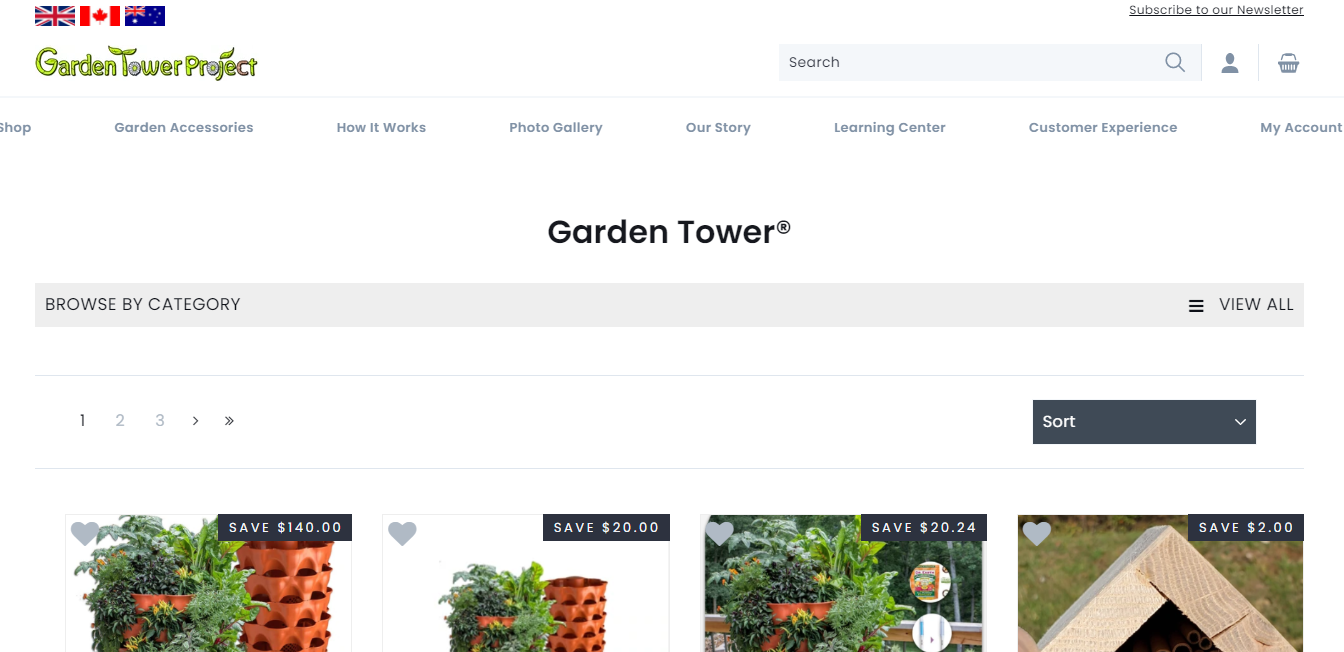 Raised or vertical gardening is one of the most recent trends that's quickly gaining popularity.
That's because it provides a viable alternative to people with limited yard space or those who want to use a different and more potent soil than the one in their yards.
The Garden Tower Project provides a solution by manufacturing stackable vertical gardens.
This innovative method allows you to compost, provide nutrients to your plants, water, and manage up to 50 plants on one setup.
Better yet, since the tower gardens can become quite heavy, the manufacturer added caster wheels that make it easy to move it around when necessary.
Composting is done using worms, allowing you to recycle kitchen waste and other organic waste around your home.
Vertical gardens aren't the only products in their inventory. They also manufacture seed starters, beehives, grow lights, and many other products.
Their affiliate program is quite impressive as they offer up to 16% on every purchase.
Considering their product prices range from $30 to $600, you can make a considerable income with a few sales. Better yet, they run the affiliate program through ShareASale, where you have access to tracking tools, advertising tools, and analytics.
Commission Rates – 16% on Every Purchase
Cookie Duration – N/A
JOIN GARDEN TOWER AFFILIATE PROGRAM
Hoss Tools Affiliate Program
As mentioned earlier, more people want to grow their food rather than purchase it from the store. And Hoss Tools makes sure they can do that by manufacturing some of the best tools. These include:
Garden tools like hoes, seeders, short- and long-handle tools
Garden supplies for irrigation, food preservation, and seed starters
Seeds
Pest Control products
Soil mix, grow lights, and other indoor gardening accessories
They also have a blog and a Hoss Tools University page where you can learn more about gardening from the best.
Now that you know why you or your audience should trust Hoss Tools, it's time to see how you'll benefit from them as an affiliate.
Hoss Tools offers a 10% commission on every sale, which is pretty incredible considering most of their products cost more than $100. And like Garden Tower, they also run their affiliate program through ShareASale.
The first time I applied for Hoss Tools, I was rejected, but I got approved after a few tries. Just make sure you have high-quality traffic and a well-designed website.
Commission Rates – 10% on Every Purchase
Cookie Duration – 60 to 90 Days
JOIN THE HOSS TOOLS AFFILIATE PROGRAM
Succulents Box
Succulents play a significant role in a home. They help purify it, improve your confidence levels, improve the humidity around your house, and contribute to your overall well-being. Besides, they are the easiest to maintain since they don't need frequent watering.
If your audience is interested in growing succulents, you need to sign up to Succulents Box.
This company sells accessories necessary for growing succulents, and they also sell packaged succulents, which can come in a planter and with some soil upon request.
These packages are sold on a monthly subscription, where you can have some succulent plants delivered to you or as a gift to someone else. They also sell succulent-themed jewelry.
Succulents Box offers a 10% commission on every sale. While you may not earn much from each product since most of them cost less than $50, there's a chance to earn recurring income on the subscription packages.
Commission Rates – 10%
Cookie Duration – 30 Days
Average Order Value – $50
JOIN SUCCULENT BOX AFFILIATE PROGRAM
Nature Hills Nursery Affiliate Program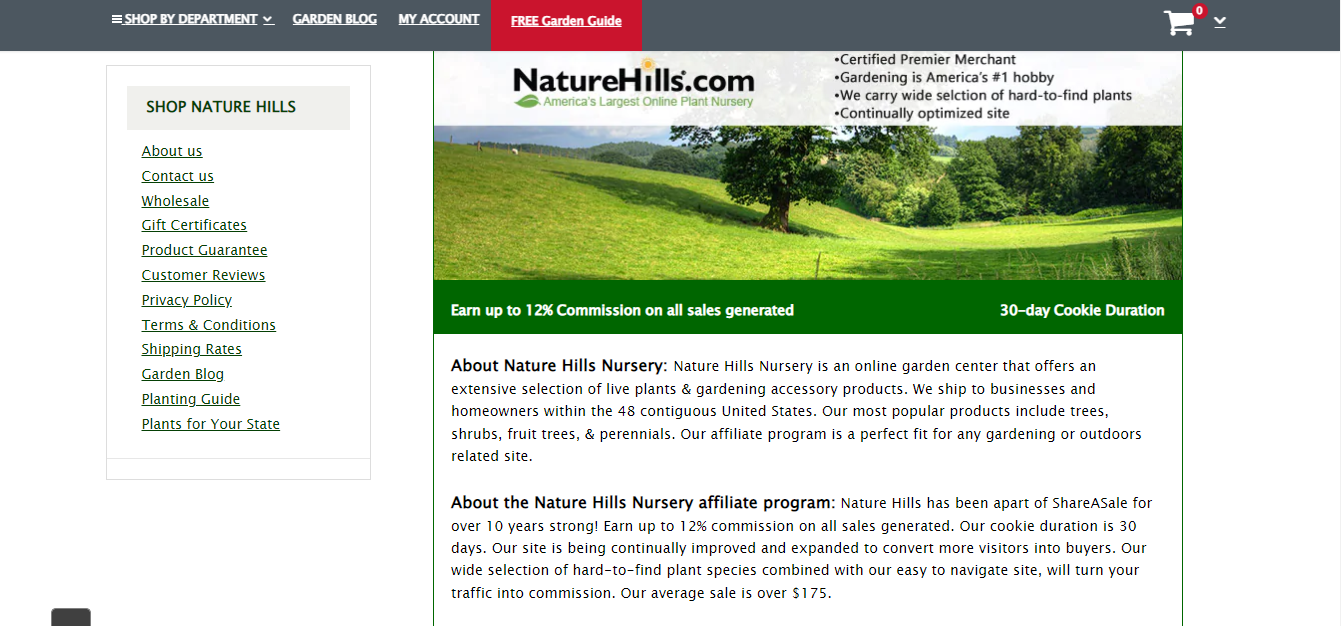 Nature Hills Nursery is a leading seller of both seeds and live plants.
They started as a local nursery that primarily dealt with trees, but they've since ventured into other areas such as:
Vegetables
Shrubs
Flowers
Herbs
House plants
Besides plants, they also sell home and garden essentials such as lawn management tools, outdoor furniture, kitchen tools, raised beds, and gifts.
With an average order value of $175 and a commission rate of 12%, you can expect to earn up to $21 per sale. That's pretty good.
Commission Rates – 12%
Cookie Duration – 30 Days
Average Order Value – $175
JOIN NATURE HILLS NURSERY AFFILIATE PROGRAM
Plants.com Affiliate Program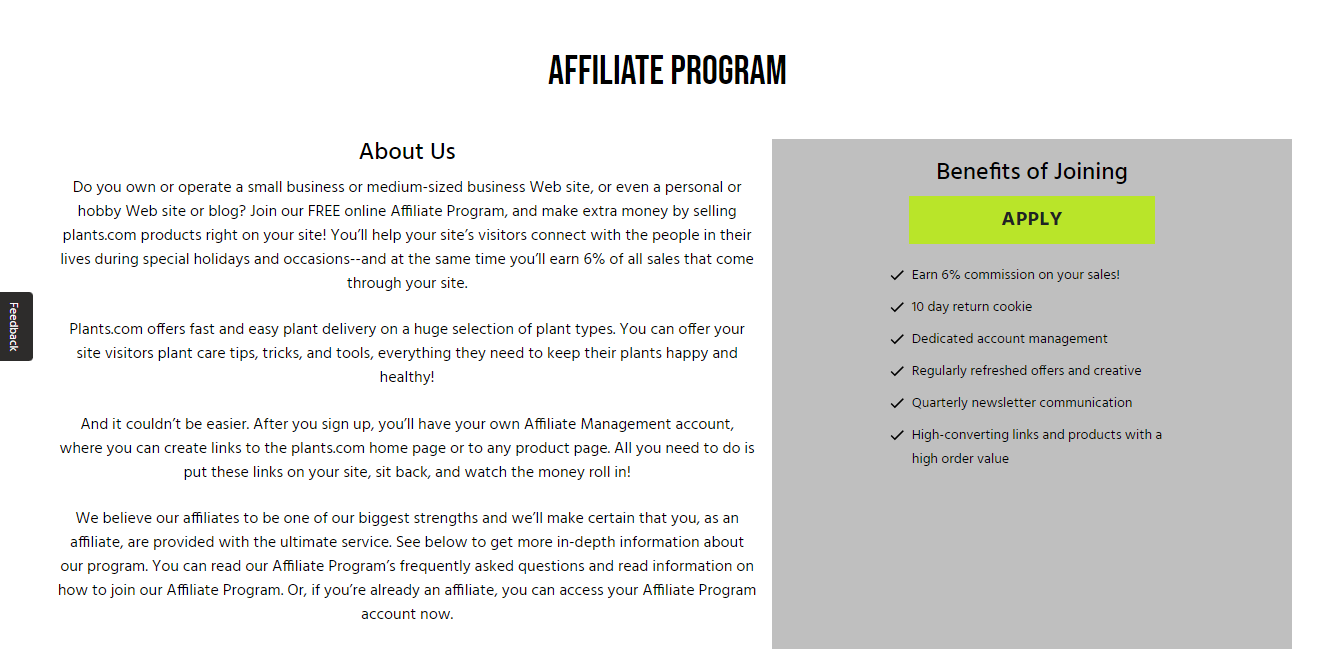 Is your audience interested in houseplants mainly for decorative purposes, cleaner air, and other benefits?
Then Plants.com is worth a try. Plants.com sells different types of indoor plants, and the good thing about them is they are categorized based on a theme, where you'll place them, or based on the purpose they'll serve.
That's why you'll find floor plants, pet-friendly plants, office plants, air-purifying plants, and gift plants based on the occasion.
Commission Rates – 6%
Cookie Duration – 10 Days
JOIN PLANTS.COM AFFILIATE PROGRAM
Urban Leaf Affiliate Program
Urban Leaf is yet another company targeting indoor gardening and GIY (Grow It Yourself) enthusiasts, especially those living in apartments.
But instead of selling you complete live plants, they sell you growing kits with seeds and provide all relevant information to help you grow the plants yourself.
Trust me, one of the best feelings and confidence boosters is seeing a plant grow from a seed to a full-grown live plant.
Better yet, they have kits for all skill levels – from beginners who've never grown anything before to gardening experts who prefer dealing with soil.
What's interesting is how they convert bottles into hydroponic systems, making them a perfect gift for anyone with limited space and no time to deal with soil. And these systems are gorgeous too.
I can bet your audience would be interested in what Urban Leaf has to offer.
Commission Rates – 8%
Cookie Duration – 30 Days
JOIN URBAN LEAF AFFILIATE PROGRAM
Ezoic
Sometimes the traffic you attract may not be interested in buying the products you promote. Instead, they may want the information you provide.
If that's the case, you can still earn from your traffic using display ads, and Ezoic is perfect for that.
Ezoic is a display ad network that allows advertisers to submit their campaigns and allows publishers to apply to show these ads on their websites. Ezoic combines AI and other state-of-the-art technology to display ads without appearing aggressive or spammy.
They also pay per impression, making it easier to convert your traffic to income.
How about the RPM? They can go as high as $100 per 1000 visitors. Most garden sites average $20 to $30 per 1000 visits, which is still great.
You can also choose where to show the ads, which pages to show ads, and even which ads not to show. And guess what? There's no traffic requirement.
All you need is high-quality content and proof that your website gets organic traffic.
Commission Rates – About $20 to $30 Per 1000 Visits
JOIN EZOIC AD NETWORK
Garden Bird
Is your audience more interested in bird watching in their gardens? Then Garden Bird has products just for them.
This company manufactures bird seeds and bird feeders, which allow bird watchers to attract birds to their yard. And as you probably already know, bird watching has a lot more benefits.
Besides bird products, Garden Bird has also ventured into products for other wildlife such as bees, poultry, fish, squirrels, and hedgehogs. They also sell garden supplies such as seeds, fertilizers, compost, garden gifts, etc. The more products you can promote, the better.
Garden Bird hosts their affiliate program on Awin, offering a 5% commission on new sales and 3% on return sales.
While these may not be the highest commission rates, their focus on wildlife, and the potential bonuses, make them worth consideration.
Commission Rates – 5% on new sales and 3% on return sales
Cookie Duration – 30 Days
JOIN GARDEN BIRD AFFILIATE PROGRAM
Conclusion
And there you have it. Whether you already have a site in the gardening niche or are planning to start one, don't be discouraged.
There are several gardening affiliate programs that you can apply to, and as you may have realized, some of them have very lucrative commission rates.
And you don't have to limit yourself to one affiliate marketing model. You can combine several of them and add display ads to get the most out of your traffic.
Want to learn step-by-step how I built my Niche Site Empire up to a full-time income?
Yes! I Love to Learn
Learn How I Built My Niche Site Empire to a Full-time Income
How to Pick the Right Keywords at the START, and avoid the losers
How to Scale and Outsource 90% of the Work, Allowing Your Empire to GROW Without You
How to Build a Site That Gets REAL TRAFFIC FROM GOOGLE (every. single. day.)
Subscribe to the Niche Pursuits Newsletter delivered with value 3X per week