How to Make Money with Cheeto Fingers…Seriously!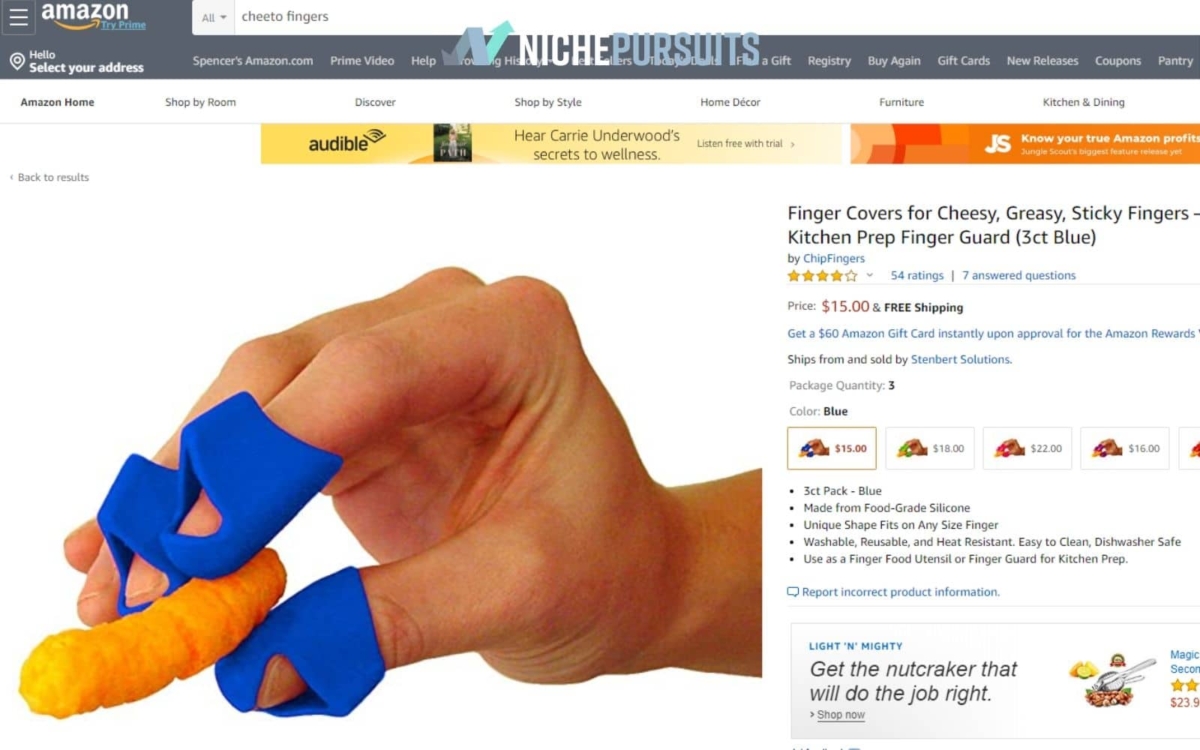 When you buy something through one of the links on our site, we may earn an affiliate commission.
Things are about to get weird. 
That's right, cue the creepy music…because you've just entered the Twilight Cheeto Zone.  Cheeto Finger Zone that is.
In early 2020, cheetos officially named the cheesy residue that is left on your fingers after eating a bag of chips…cheeto fingers.  Clever.
Recently one of my friends on Facebook posted a picture of what I thought was a fake product.  They posted a picture of Cheeto Finger Covers, which I thought was pretty hilarious.  
Then I realized, this isn't a gag product…this is real!  Someone is selling Cheeto finger covers on Amazon and making money.
So, like any normal human being, I decided I would do some market research to see if going into the "Cheeto Finger" market was a good idea.  What did I find?
Well, I recorded EXACTLY what I found in this video:
I wanted to find out a few things in this ever important research on the subject of Cheeto Fingers.
First, is anyone buying finger covers/cheeto fingers on Amazon?  And if so, how much?
Second, are there any affiliate websites targeting the related keywords and are they making money?
Finally, overall is this an interesting market to enter?
Cheeto Fingers on Amazon?
Turns out, Cheeto Fingers is serious business! 
First, I went to Amazon and did a quick search for my keyword.  Then I used the Jungle Scout chrome extension to see how much money the top sellers are making.
Here's what I saw:
Get 30% Off Jungle Scout Here
At the time of the video, Jungle Scout showed the top seller was making $23,000…now it appears to be closer to $20,000 a month.
That's right…$20,000 a month from selling Cheeto Fingers!
Hurry, every start manufacturing these bad boys!
Actually, the deeper I dug my fingers into this niche, the more I got suspicious.
I did find a cool Twitter account though:
Cheeto Finger Affiliate Site?
I didn't find any niche sites dedicated to cheeto fingers…go figure.  But I did find that the following keywords do get some monthly search volume.  I used the WMS Everywhere Chrome Extension (which is free) to quickly find the keyword volume.
Cheeto Fingers – 780 searches a month
Finger covers – 1,900 searches a month
Finger cots – 8,100 searches a month
The serps were mostly made up of eCommerce or news websites.  It appears people want to laugh at Cheeto Fingers rather than make a serious business out of it.
I'm not one to say that you shouldn't build a niche site on such a narrow topic, so do what you want.  However, I personally won't be betting my future ability to buy as many snack foods as I want on the Cheeto Fingers niche.
You are welcome to enter this niche without competition from me.
However, I did find a few "funny" websites that just have a ton of humorous products or other articles that clearly are getting a TON of traffic.  So, you may not want to put all your finger dust in the Cheeto covers, you might be able to include the term as one part of a broader "fun" website.
I used SEMrush to do competition analysis and to figure out how much taffic those sites are getting…in case you were wondering.
Overall Decision?
I'll personally stick to eating cheetos, rather than going into the Cheeto Finger niche.  However, if I were to decide to make money from the glorious products related to cheesy dust, here's what I would do.
I would personally build a site related to gag products or just funny products in general.  You could play up the humor, created shareable memes, and probably gain traction on social media.
(If you are wondering how to build a niche site, here's my comprehensive guide).
Cheeto Fingers would just be one of many thousands of products I would write about over time.  Sure, you could do the classic "Best Finger Covers" articles or "Cheeto Fingers Review" type stuff.  But I would also want to keep a steady flow of funny content that gets shared, attracts links, and likely can get a ton of traffic from Google if done properly.
A site that gets a ton of traffic would mostly be monetized by display ads (like Ezoic, Mediavine, or Google Adsense).
This could eventually lead to other opportunities like T-shirts, mugs, or other Merch that include whatever witty things you come up with. (Remember people coming to your site probably like odd or funny product ideas).
You could also consider selling through Amazon FBA, but I would ONLY do that if I had some unique spin on the products that are already out there.  I certainly wouldn't just copy the design of an existing player just because it's making $20,000 a month.  I would create my own variation of finger covers or fun "food tongs" or whatever to help me stand out from the crowd.
My overall analysis is that I won't be going into this niche.
But I've given my reasons why and you can make a decision for yourself.  As mentioned, you could pivot away from just "Cheeto Fingers" and perhaps find a path to success.
If you suddenly have the urge to eat some Cheetos after all this "business" talk, be sure to protect your fingers with this top seller on Amazon right here.  (Yep, that's my affiliate link).
Now that I think about it, I don't even like cheetos.
I think I'll go eat some Doritos.
If you enjoyed this blog post, considering signing up for my newsletter here so you can get notified next time I review an odd niche.
Want to learn step-by-step how I built my Niche Site Empire up to a full-time income?
Yes! I Love to Learn
Learn How I Built My Niche Site Empire to a Full-time Income
How to Pick the Right Keywords at the START, and avoid the losers
How to Scale and Outsource 90% of the Work, Allowing Your Empire to GROW Without You
How to Build a Site That Gets REAL TRAFFIC FROM GOOGLE (every. single. day.)
Subscribe to the Niche Pursuits Newsletter delivered with value 3X per week