23 Best Blogging Resources to Help You Grow & Scale
When you buy something through one of the links on our site, we may earn an affiliate commission.
Whether you have been blogging for a while or are just getting started, you might need a little help to drive more traffic to your page. Fortunately, there are tons of tools out there to help you with everything from web hosting to keyword research. What blogging resources should you know about to get started on the path to massive growth?
Here are our 23 best easy-to-use tools and resources to help you manage your WordPress blog.
Let's take a closer look!
Blogging Resources for Hosting & Site Setup
Getting your blog up and running requires a little bit of planning. Here are our favorite blogging resources for hosting and domain names.
1. Bluehost: Low-Cost Hosting

If you're going with a WordPress blog (and we highly recommend that you do), you will need to secure hosting for your blog posts. A free blog will only be able to take you so far, and you want the maximum number of people to read your blog post. Bluehost allows you to do just that with an affordable option that scales with you.
Bluehost offers multiple hosting options depending on your traffic, including shared, VPS, and dedicated server hosting, with plans that come in at less than $10 per month. It's fast, efficient, and gets the job done right.
---
2. WPX: Premium Hosting
Speed is a core component of your search engine optimization process. When your blogging platform moves quickly, you are likely to rank higher. Enter WPX hosting, the fastest service around. It allows for quick installation of the WordPress platform, staging, site optimization, and backups.
It has all of the bells and whistles you could possibly need to take your blog to the next level.
That being said, you will pay for those features. WPX ranges in price from around $20 per month (up to 5 sites) to a high $83 per month (up to 35 sites). If you pay annually, you get two months free on any plan you select.
---
3. Namecheap
While you can sometimes get a domain name through your hosting platform, Namecheap is an inexpensive way to get what you need. A domain name ending in .com comes in at just $5.98. This is also a great resource to get an email address with your domain name for a more professional image.
---
4. GeneratePress
Designing your website on the blogging platform of your choice is complicated. You can find plenty of completely free blogging themes for WordPress sites, but you might be better off paying for something more lightweight and stable. GeneratePress gives you that option.
They have hundreds of thousands of happy customers. Best of all, it's a great tool for anyone who wants to try it out, with a premium option for those who want more than just the free resources. You can customize using block-based theme building to get the exact website you have been dreaming of.
Check out our GeneratePress review for more info.
Keyword Research
Keyword research is one of the must-have blogging tools no matter where you decide to host. If you want to grow your blog, you need these tools on your side.
5. Keysearch: Great Low-Cost Tool
Keysearch gives you the foundation of a robust tool to make your blog post stand out from the rest. It includes everything you might need when first getting started:
Competitor analysis
Keyword suggestions
Keyword difficulty checker
Rank tracking
YouTube research ideas
Backlink checker
For just $17 per month, you get up to 200 daily searches with all of the bells and whistles Keysearch has to offer.
See our Keysearch review here to learn more.
---
6. SEMRush: Premium Keyword Research and More
If you have a little more to spend and are less concerned with running a free blog, you might want to consider SEMRush. Not only does it offer keyword research, but it also has unique tools like technical SEO audits, tracking SERP positions daily, and checking up on your competition.
Find the keyword and backlink gap, as well as reveal the promotion strategies of your competitors. It's a robust tool with regard to content marketing, social media, advertising, market research, and general SEO.
Be prepared that it's a little expensive and might be better for experienced bloggers, coming in at $129.95 for the lowest tier plan. See our SEMRush review here to see if it's right for your budget.
Easy-to-Use Tools for Images
Every blog post needs to have a few images to break up giant walls of text. Here are our favorite free blogging resources to spruce up your blog posts.
7. Canva (for Image Optimization)
If you need to resize images or edit them in any way, Canva is the best solution. You can use it to create sleek logos, infographics, and perfectly formatted images for your social media feeds. Even if you have little to no experience editing images, Canva helps you take your graphics to the next level.
See our full Canva review here.
---
8. Pexels
Finding royalty-free images is a crucial part of free blogging. Pexels allows you to find easy pictures and helps you make sure that you have stunning graphics for your blog. You can choose to donate to the photographer for any pictures you use. It even has an option to open it directly in Canva for editing.
---
9. Pixabay

Pixabay is very similar to Pexels and is one of the best free blogging resources out there when you get started. Download the exact size you want on a royalty-free image or open it right in Canva for ease of editing.
Blogging Resources For Email Marketing
Email marketing is a great way to market your affiliate links and keep in touch with your audience. Here are a few options you may want to consider.
10. OptinMonster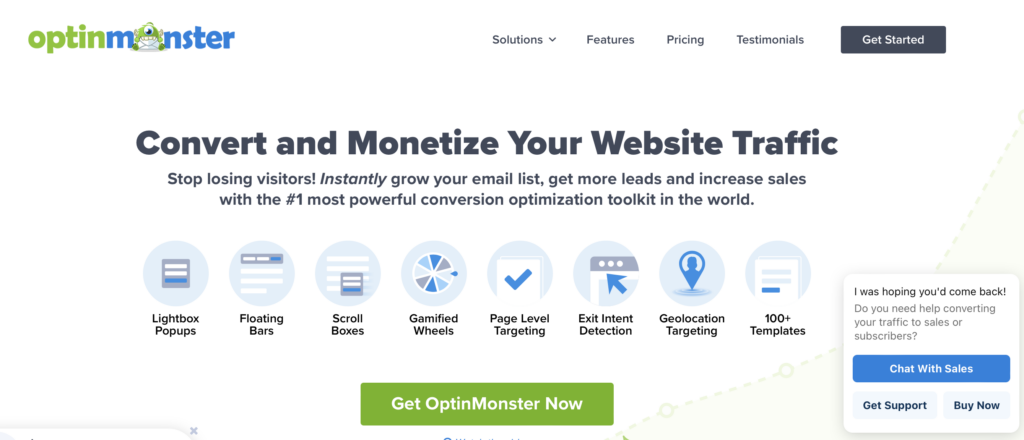 OptinMonster is one of the best blogging tools you can utilize to get email newsletter signups. It comes with several form types and has easy-to-use dashboard analytics so that you can keep your finger on the pulse of your website. You can even dive deeper into your growth with A/B testing.
Best of all, it starts at just $9 per month for a single website.
See our OptinMonster review for more details here.
---
11. Convertkit: Low-Cost Blogging Tools
Once you get your forms enabled with OptinMonster, you need to start actually creating your email newsletter. Convertkit features an easy-to-use interface that is great for beginner bloggers. Create unlimited landing pages, link pages, and email opt-in forms with every plan offered.
Their free blogging tools are good for up to 1,000 subscribers and then scale based on the number of subscribers you have and the features you want to have access to.
See our full Convertkit review here.
---
12. Mailchimp
If Convertkit doesn't seem like the right fit for you, Mailchimp might be a great option. Featuring a free option for up to 1,000 monthly email sends, their plans also scale based on the number of monthly email sends you want.
For those beginner bloggers who need more help, you also get access to better customer support on the more expensive tiers of Mailchimp. If you aren't as tech-savvy or need a little more hand-holding to get your email newsletter off the ground, it might be worth the extra money.
Free Blogging Resources for Content Management
Keeping track of all the moving pieces is complex, even for advanced bloggers. These tools will help streamline your blog content and planning processes.
13. Trello (Content Strategy Management)
Sometimes, it helps to have all of your to-do list items in one place. Trello is based on the Kanban board system, allowing you to create a board for all of your search engine optimization and post ideas. You can move cards that you create from a to-do list into a "doing" or "done" list so that you have a visual representation of your workflow.
---
14. Hootsuite (Social Media Management)
Managing your social media is just as important for your blog traffic as making blog posts. Hootsuite allows you to monitor engagement, publish and schedule to multiple social media accounts, and even keep tabs on your advertisements. Make money the easy way with tons of integrations, including Google My Business, Canva, and even Hubspot.
They offer a free 30-day trial to see if this is right for you before you start spending on it.
---
15. Answer the Public
Need some ideas to make sure you're on the right track with your blog topics? Answer the Public allows you three daily searches with a visual representation of questions related to your topic idea. See the real questions people are asking, and then you can form a blog post all about those topics.
---
16. Answer Socrates
Answer Socrates is similar to Answer the Public in that it gives you a good idea of what people are typing into the search engine related to your field of expertise. From the dashboard, you have access to trending search topics to give you ideas for your blog writing.
SEO Blogging Resources
Need a little help getting your SEO off the ground? These tools will help you make the leap into successful blogging.
17. Affiliate Lab
Affiliate Lab is a great course option to learn more about search engine optimization for those who are serious about making money blogging. They teach you how to rank, monetize, and even flip your sites for a profit when you're finished working on them.
Learn more about choosing a niche, keyword opportunities, how to create content people love, and even money-making opportunities like affiliate marketing, where you earn a small commission for sales you make.
See our full Affiliate Lab review here.
---
18. RankMath: Low-Cost SEO
Most WordPress sites can benefit from having an SEO tool on board. RankMath offers a low-cost way to ensure you are incorporating the keywords that people naturally search for. You'll be hard-pressed to find a free tool that gives you the leg up you can get with a paid tool.
For less than $6 per month, you can track up to 500 keywords. It has an easy-to-use interface and shows you the analytics right from your blogging platforms.
For more information on their higher level plans, you can see our RankMath Pro review here.
---
19. Surfer SEO: Premium Onpage SEO Tool
When you have a little more money to spend, other blogging resources might jump out at you. Surfer SEO lets you know exactly which keywords need to be in a blog, how many times to use each one, and even what words you should use in your headings. It's super intuitive to use and should help you start ranking on the search engines.
It starts at $69 per month for the most basic plan.
See our Surfer SEO review for the details.
Resources for Writing Blog Posts
Maybe you need help writing blogs or even social media content. Artificial intelligence tools could help you get where you need to be. These blogging tools are must-haves if writing isn't your strong suit.
20. Jasper AI: Low-Cost AI Tool
Jasper AI has taken the world by storm and is a great option for anyone who wants to get their feet wet with writing blogs. Starting at $39 per month, you can set up a brand voice that is tailored to how you want people to perceive your writing. If you want to talk like a pirate on your blog, the choice is yours!
They boast an 80% time savings when it comes to creating content -- and time is money!
See our full Jasper review here to determine if it's right for you.
---
21. Shortly AI: Premium AI Tool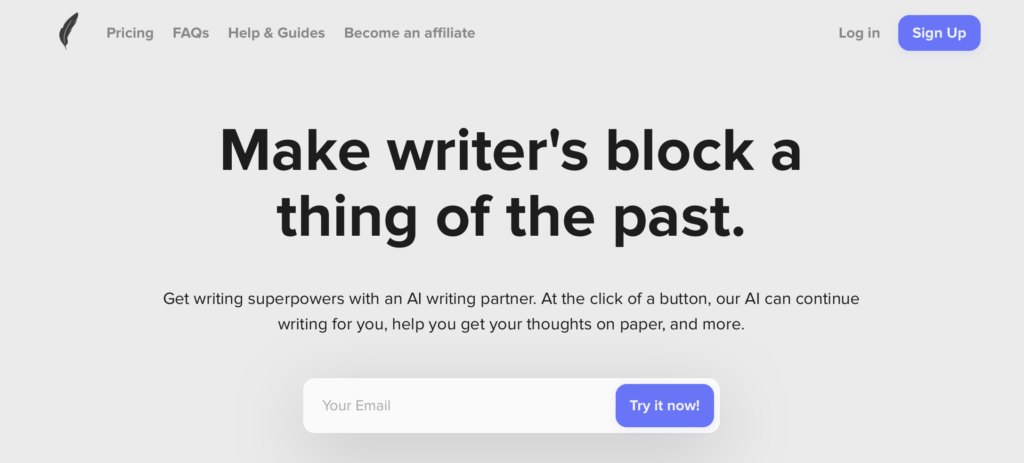 A little more expensive than Jasper, Shortly AI has some unique features to consider when you need help creating content. It can help you brainstorm ideas or finish a piece that you're stuck on. Best of all, it matches the new writing to your original style and tone.
Shortly AI has a simple interface with minimal distractions, so you can focus on your work instead of on all of the buttons and features. Copy and paste it into Google Docs or Microsoft Word so that you can edit it until you're satisfied.
See our Shortly AI review here.
Analytics To Grow Your Blog
Of course, you also want to make sure that you can grow your blog. These tools will help you to keep tabs on your progress.
22. Google Analytics: Free Tool
Do you want a free tool that will show you how to run a successful blog? Google Analytics offers totally free training and resources that you can use on your blog today. Analyze data and get some basic reports with this amazing tool. It features built-in automation and so much more to keep your blogging efforts on the right track.
---
23. MonsterInsights: Premium Option
MonsterInsights offers many of the same features of Google Analytics as WordPress plugins. It allows you to run reports on your data so that you can see everything you need. For right around $100 per year, you get tracking, headline analyzers, and other growth tools.
Get all of the details in our MonsterInsights review here.
Final Thoughts: Which Blogging Resources Will You Try?
Are you ready to make money blogging and grow your audience? These blogging resources range from free to premium, but they will all help move your blog one step closer to success. Figure out your budget and which ones you can afford to invest in so that you have the top tools to maximize your efforts today.
Want to learn step-by-step how I built my Niche Site Empire up to a full-time income?
Yes! I Love to Learn
Learn How I Built My Niche Site Empire to a Full-time Income
How to Pick the Right Keywords at the START, and avoid the losers
How to Scale and Outsource 90% of the Work, Allowing Your Empire to GROW Without You
How to Build a Site That Gets REAL TRAFFIC FROM GOOGLE (every. single. day.)
Subscribe to the Niche Pursuits Newsletter delivered with value 3X per week