Writers Work Review: The Best Place For New Freelance Writers To Get Their Start?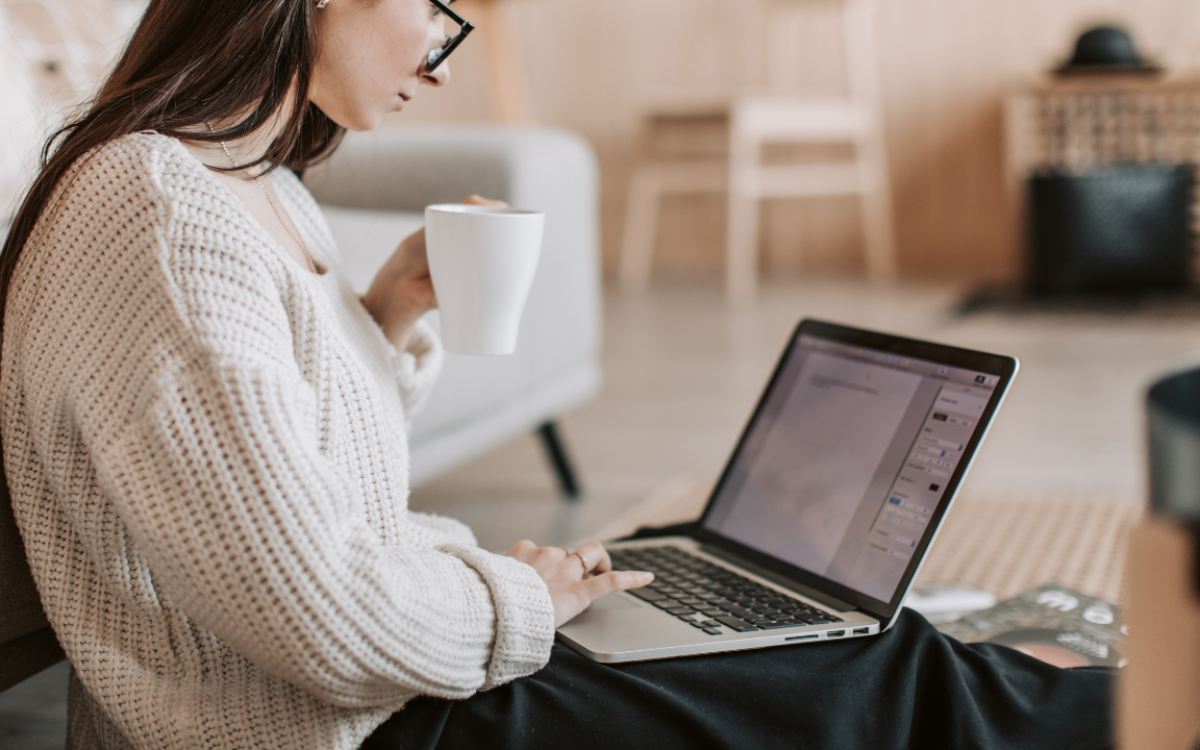 When you buy something through one of the links on our site, we may earn an affiliate commission.
Are you wondering whether it's worth signing up for Writers Work as an aspiring writer? Well, this Writers Work review is going to help you make a decision.
There are many different ways to find freelance writing jobs online. However, it can be time-consuming to scroll through multiple different job boards.
But what if there was a platform containing a regular flow of writing jobs, from all over the internet, in one place?
This is where paid job boards can be handy, especially when you're a new writer.
Writers Work is one platform we'll look at in detail today.
By the end of this post, you'll know everything about Writers Work and whether it's worth your time.
This Writers Work review highlights:
Writers Work features
How much it costs
How much money you can make
Pros and cons of Writers Work
And more...
And, if you're a new writer, you can sign up for Writers Work here.
Ease of Use

Stability

Customer Service

Price
Summary
Overall, Writers Work may be helpful for beginners to find their first freelance writing jobs. It can save you time scrolling multiple job boards, and the training videos give you an insight into how to set up your freelance business. If you're new to paid writing, this platform could give you the direction you need. You can try out Writers Work here.
Pros
Large job board with many writing jobs available
Saves you time searching multiple job boards
Easy to keep track of jobs with the project management tool
The training videos are useful for new writers with no experience
Cons
There are free or cheaper Writers Work alternatives
No guarantee you'll get paid work after signing up
There is no free trial period to try the platform out
Job listings are just re-posts from job sites you can access for free
Tools such as the grammar checker can be found for free online
What is Writers Work?
Writers Work is an online platform offering a range of training and tools to help new writers build successful careers.
It also includes a regularly updated job board, with relevant writing jobs delivered straight to your dashboard.
Alongside this, you can access a list of publications currently accepting article submissions, even from new writers.
You can get answers to all your burning questions as a new writer by watching their career training videos. Learn how to find clients, how much to charge, and even how to do your taxes.
There are also some handy tools to help polish your words to perfection. You can even use the habit builder to ensure you hit word count goals.
While Writers Work does offer a lot to help kick-start your writing career, it's important to understand that work isn't guaranteed after signing up.
You still have to apply to jobs available on the platform, make your pitch stand out, and be able to write to a decent standard.
Writers Work Review: Features
The Writers Work website claims to help demystify the journey of building a writing career.
Here's an overview of the features available after signing up for a paid membership.
1. Portfolio Page
A top feature of this writing platform is that you can create your own portfolio that potential clients can search for.
Clients who like what they see can hit your Hire Me button and communicate with you directly.
You can demonstrate your writing skills by adding portfolio content to your profile and filling out the About section to let clients know a little about you.
When you're happy with your profile, add a professional photo and cover image.
Finally, you can set your profile to go live on the Writers Marketplace. This is where potential clients can find you and make contact if they see you as a good fit for a job.
2. Writers Work Job Listings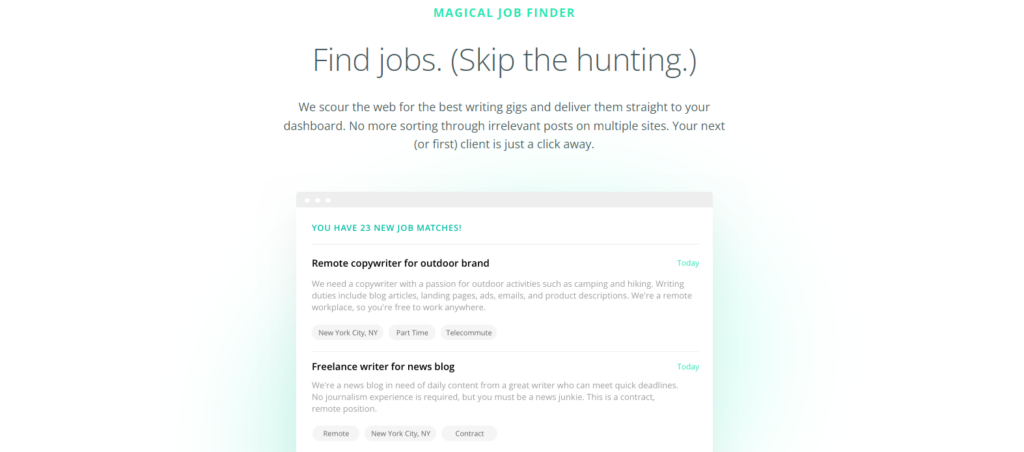 The writing job board is a useful feature on this platform.
Just like other content writing sites, Writers Work pulls together a list of online writing jobs from around the internet.
You can filter the paid online writing jobs according to your preferred niche, location, salary, and availability.
3. Submission Finder Tool
Another feature of Writers Work is the submission finder.
This section contains a list of blogs and magazines that accept freelance submissions.
Some will be paid, and some ask you to work for free, but others may offer you a link to your blog or social media accounts.
4. Project Organization
A top feature offered by Writers Work is their project organization tools.
To use it, you enter details of your current projects, create subtasks that need to get done, track project times, and set up deadline notifications.
If you write your content on the platform, you can use the time tracking tool.
This allows you to track your words per minute, which can be useful when trying to figure out your hourly rate.
5. Writers Work University
One of the main selling points of Writers Work is the training they give you to set up a successful freelance writing career.
The videos include content such as how to set up your business, improve your writing, write pitches, and create a portfolio that gets you noticed.
6. Habit Builder
The habit builder tool is another Writers Work feature.
Using this, you can set yourself writing goals and deadlines for finishing articles.
So, if you want to set yourself a goal of writing 2,000 words a day, you can enter this into the habit builder, which will help keep you on track.
7. Grammar Checker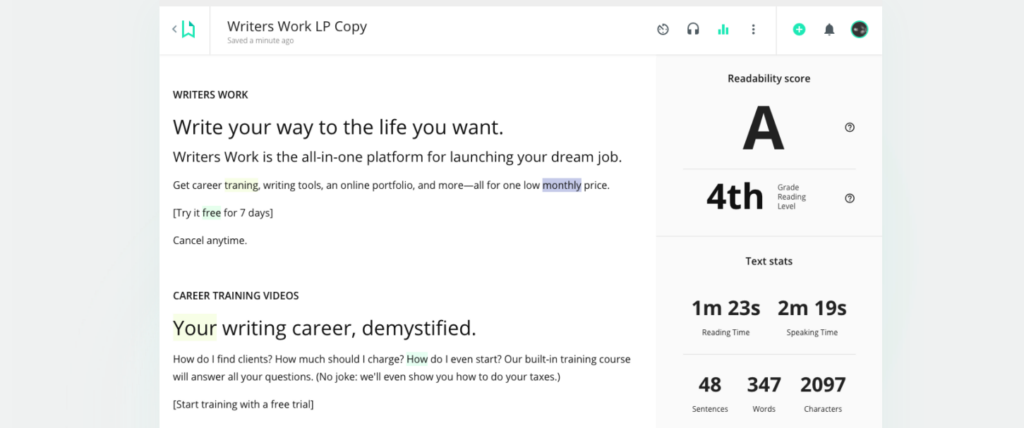 By using Writers Work, you can also use their in-built grammar checker.
It will catch any spelling or grammar mistakes you make, and you can export content as a PDF or straight to your blog when finished.
Writers Work Review: How Much Does it Cost?
You can choose from two different Writers Work paid plans.
The pay-once plan is $47, or you can opt to pay $15 each month.
The monthly payment plan is a good place to start as a new freelance writer to see if it's right for you.
The platform offers a 30-day money-back guarantee, so you can try it out risk-free.
How Much Can You Make with Writers Work?
As previously mentioned, there's no guarantee you'll get work after signing up for Writers Work.
However, the platform does claim that writers can earn $20 to $65 an hour.
The amount you earn will depend on the time you spend on the platform, the quality of your pitches, and the availability of paid online writing jobs on the job board.
It's important to remember that higher-paid freelance writing jobs will have more competition.
Is Writers Work Legit?
Writers Work is a legit platform that helps aspiring writers find their initial content writing jobs and set up their freelance businesses.
However, if you're a more experienced writer, this platform is probably not worth your time.
By Googling 'Writers Work', you will find mixed reviews. This is mainly because the platform had complaints regarding refunds and the quality of its customer service.
Other people have also mentioned not liking how it advertises high-paying work guaranteed, which is a bit misleading.
While it is possible to make money by using this site, it will take work, just like with any other freelance writing platform.
Writers Work Alternatives
Luckily, there are many Writers Work alternatives to help you find paid writing jobs. Here are a few worth checking out:
ProBlogger
The platform ProBlogger is an online job board that helps with finding freelance writing jobs from job postings in various niches.
You can scroll through freelance, contract, full- and part-time writing jobs hiring and filter your job search further by typing in your location and a keyword.
New jobs are added daily and are easy to apply for. Register on the site, create your CV and apply to any jobs that suit you in a few clicks.
You can also access various free resources to enhance your writing careers such as podcasts, eBooks, and courses.
Freelance Writing.com
FreelanceWriting.com was established in 1997 and offers a writing job board, tons of job postings, freelance writing resources, and various writing contests to improve your skills.
The platform makes it easy to search for writing jobs in your niche by using the advanced search features in the left-hand column.
To further help you in your job search, head to the writer's guidelines section. Here you can find submission guidelines for publications in many different niches.
i-Writer
i-Writer is a content platform that connects writers with businesses and people that need content.
The platform is easy and free for freelance writers to join, but you must pass a short writing test to be considered for work.
This is a good place to start as a new writer, as the barrier to entry is low. Plus, you can earn more as you improve, from the Standard tier to Premium, Elite, and Elite Plus.
To access the higher-paid writing gigs, you will need to consistently produce quality work and receive great ratings from clients.
Check out our full iwriter review here.
Writers Work Review Final Thoughts
I hope this Writers Work review gives you a good understanding of how it works and whether it's right for you.
Overall, the platform is geared towards new writers and helps them launch their careers if they don't know where to start.
However, it's important to remain realistic if you choose to use it. As a beginner freelance writer, using the platform may help speed up securing your first writing job.
Writers Work pulls jobs from nine free job boards across the internet. While you could look at these for free, you can save time by searching in one place on Writers Work.
You can also save time using the submission section to find one-off writing gigs. These small jobs are great for gaining experience and building up your portfolio.
And finally, the training videos and tools will be helpful for new writers to navigate setting up their business and improve their writing craft.
At the end of the day, Writers Work is easy to use and could give you the direction you need as a new writer if you're feeling overwhelmed.
Want to learn step-by-step how I built my Niche Site Empire up to a full-time income?
Yes! I Love to Learn
Learn How I Built My Niche Site Empire to a Full-time Income
How to Pick the Right Keywords at the START, and avoid the losers
How to Scale and Outsource 90% of the Work, Allowing Your Empire to GROW Without You
How to Build a Site That Gets REAL TRAFFIC FROM GOOGLE (every. single. day.)
Subscribe to the Niche Pursuits Newsletter delivered with value 3X per week