16 Best CPA Networks with Reliable and High Paying Offers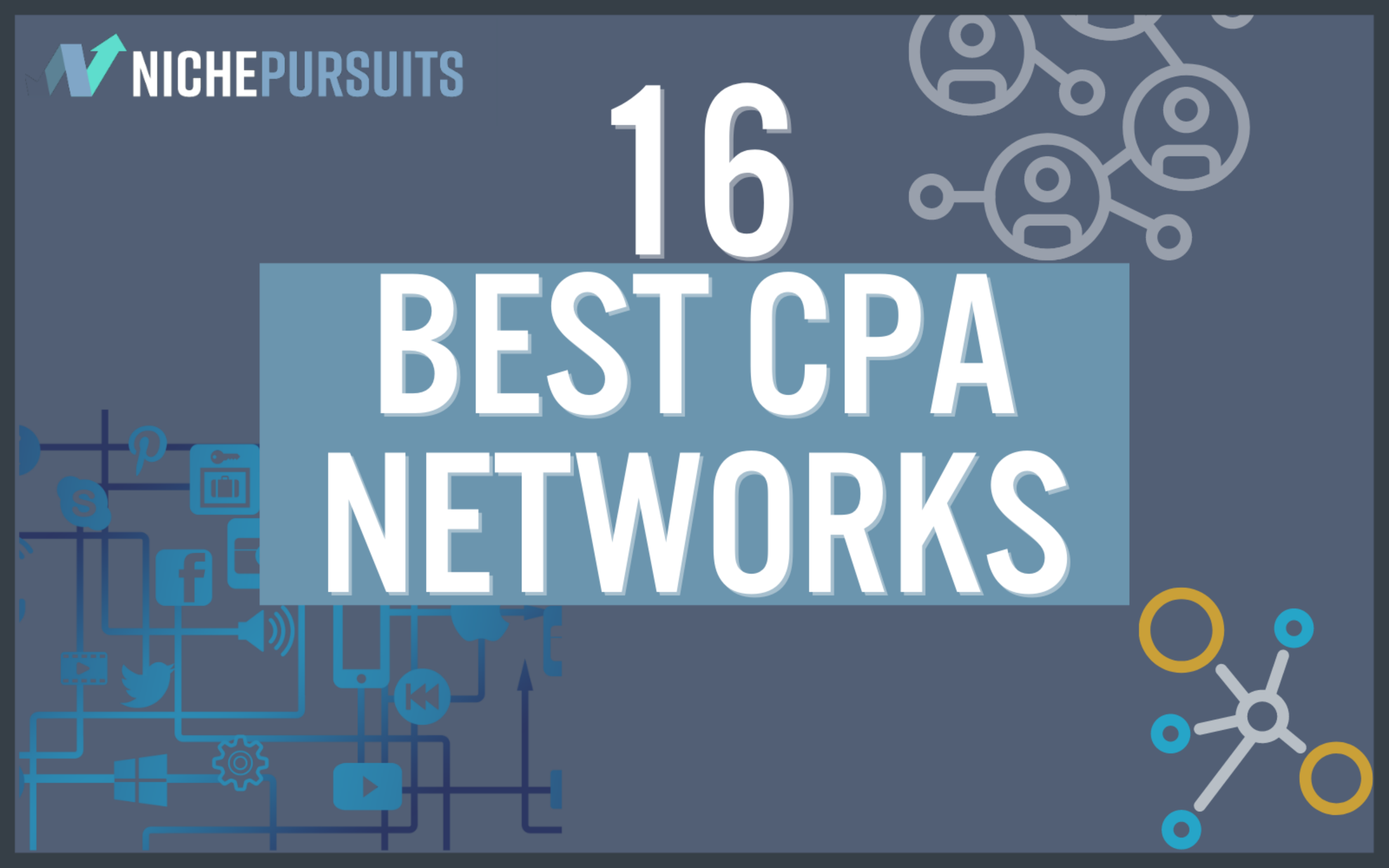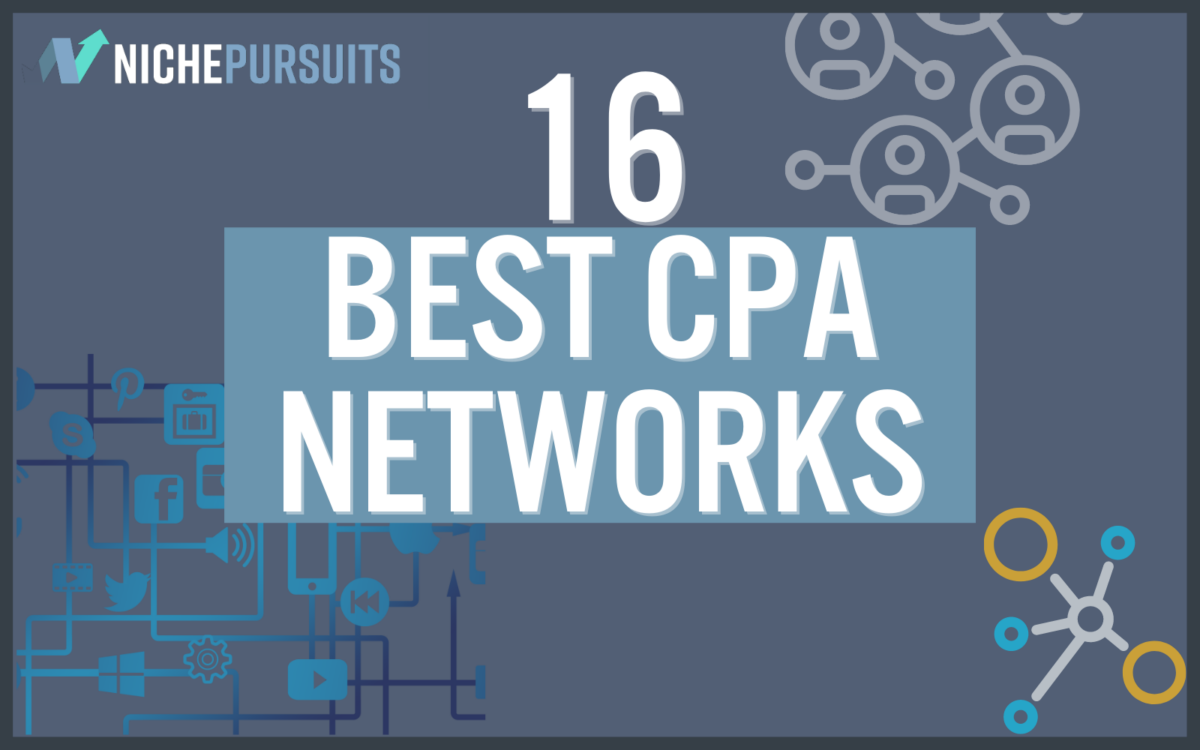 When you buy something through one of the links on our site, we may earn an affiliate commission.
Whether you're a complete newbie or a veteran affiliate marketer, it's worth knowing the best CPA networks.
These CPA networks host thousands of offers and offer comparatively high payouts. Most times, you don't even have to try too hard to convince prospects to click your affiliate link and convert right away.
You get paid just for sending leads to a CPA offer. So you can leave the task of converting the prospect to someone else.
Like what you hear about CPA affiliate marketing? Then you're right. You should.
In this article, we'll walk you through Niche Pursuits pick of the current leading CPA affiliate networks based on ratings, research, and user reviews.
Let's get started.
What Is CPA Affiliate Marketing?
Before we hop into the various CPA networks, let's understand some key marketing definitions.
CPA is an acronym for Cost Per Acquisition or Cost Per Action. In brief, this means CPA affiliate marketing is all about generating leads.
It is an affiliate marketing model that gives a commission to an affiliate when a particular action is completed by the lead or prospect they referred. Simply put, it is a performance marketing model.
The qualifying lead's action can be anything like:
Filling out a form
Signing up for a website
Watching a video
Getting a quote
So, as a CPA affiliate, you get paid a fixed fee every time you refer a visitor who completes the required action for an offer.
How Does CPA Marketing Work?
The CPA marketing concept is simple to understand when you break it down into who's involved at what stage of the CPA marketing process and how it works:
Publisher or Affiliate: The individual (business, blogger, brand) that promotes a product or business to drive leads to a website to take a specific action.
Advertiser or Business: A brand (advertiser) that seeking for a partnership with an affiliate marketer that'll send traffic to their website to generate leads, boost conversions and sales.
CPA Networks: The platform that brings together the business (advertiser) that wants their offer promoted and the affiliate (CPA marketer) who wants to earn commissions for promoting products.
List of the Best CPA Networks
With that said, let's have a look at the best CPA affiliate networks.
Admitad
Admitad is a global affiliate marketing network with nearly 2000 unique advertisers. And they have an affiliate program in just about any vertical. They provide contextual advertising, interstitial ads, and app installs as options for monetizing your traffic.
Your visitors don't have to bother about canceling pop-ups and you still get to earn money from your content using attractive CPA offers. This is what makes them unique in this best CPA networks list.
Affiliate marketers who work with Admitad claim earnings of up to $32,700 per day.
That's obviously when marketing working with some massive traffic. However, it reveals what's possible when working with the network for Cost per Acquisition offers.
Payment Frequency: Weekly
Commission Payment Threshold: $20
Payment Methods: Payoneer, WebMoney, PayPal, bank, bank card
Join Admitad Now
---
Perform (previously Clickbooth)
Clickbooth is currently known as Perform [cb].
This is due to a merger between Clickbooth, Ignite OPM, and Adperio.
The minds behind this CPA affiliate network have a track record of decades of cumulative experience in the industry. Most importantly, they have hundreds of curated offers that span a ton of popular online advertising verticals.
This is inclusive of all the regular affiliate marketing niches such as lifestyle entertainment, dating, financial, health, etc.
You'll find eHarmony, McAfee, HBO on their client list, for instance, which is pretty impressive.
Perform [cb] has a broad and diverse selection of offers you can promote. And they have been around since 2002. The affiliate network also offers a low payment threshold in comparison to other mega networks.
CPA networks can sometimes disappear overnight. So partnering with one that has served publishers and advertisers alike for so many years is always preferable.
Payment Frequency: Monthly
Commission Payment threshold: US$50
Payment Method: PayPal, WIRE, Payoneer, Capitalist, Paxum, and ACH
Join Perform[cb] Now
---
CPAlead
CPALead is a CPA affiliate network that focuses on both desktop and mobile offers. However, they have a strong leaning towards mobile.
Additionally, they also have more than 300 services and products that you can promote through many different formats, including native ads, pop-ups, banner ads, and pop-unders.
They also handle all of the device-specific targeting and geo shenanigans for you.
All you have to do as an affiliate is pick the offer that you think will have the best conversion for CPA marketing and send warm traffic to it.
CPA lead as seen in the image below, partners with some of the best and biggest brands in the world.
This is probably the reason they have been able to pay out more than $100 million to their affiliate partners. The affiliate network is one of the most established CPA networks currently on the scene.
Payment Frequency: Weekly
Commission Payment Threshold: $50
Payment Methods: Payoneer, PayPal, wire transfer WebMoney, Paxum, and ePayments.
Join CPAlead Now
---
AdWork Media
There are so many CPA networks available, so what makes AdWork Media a unique affiliate network?
Besides a brand name that comes really close to annoying Google.
Their first USP is the number of advertisers and campaigns this global affiliate network manages, which is currently at more than 2,500. Secondly, what they focus on is mobile-friendly, content-locked offers.
In essence, your traffic completes a free trial or survey to unlock the content they want to see. And you receive a commission from the CPA network whenever they do that.
AdWork Media also offers performance bonuses to affiliates with the most profitable leads. You have to begin with monthly payments at the start with this CPA network. But you can transition to weekly after a bit.
Payment Frequency: Monthly
Commission Payment Threshold: $35
Payment Method: PayPal, Check, ACH Direct Deposit, Wire Transfer, PayPal, Payoneer, Payza, or Western Union.
Join AdWork Media Now
---
MaxBounty
Maxbounty is one of the oldest networks in the CPA affiliate marketing scene. It launched in 2004.
The network is also rated highly by advertisers as it won the best CPA network at the Blue Book Awards, in 2019.
It receives plenty of accolades from CPA affiliates as well. As it offers a choice of over 2,000 active campaigns with advertisers from around the globe.
Irrespective of where your audience resides (within reason) you'll see an affiliate program that will suit their needs at MaxBounty.
Alongside offering weekly payments this affiliate network provides performance bonuses to leading affiliate marketers via regular performance-based rewards.
After approval, the affiliate is assigned a dedicated manager to help drive quality traffic to their offers.
The program for this CPA network also boasts of a function-rich dashboard that makes it seamless for the affiliate to stay on top of their game. And keep tabs on the most popular and latest affiliate campaigns.
Payment Frequency: Weekly
Commission Payment Threshold: $100
Payment Methods: PayPal, Intercash, eCheck, ACH, Wire, Bitcoin or Check
Join MaxBounty Now
---
Toro Advertising
This CPA network is European and makes some very bold claims. Such as, "if you want any offer we have it."
Toro Advertising's CPA network portfolio spans thousands of offers across numerous popular verticals like apps, finance, gambling, mobile content, and dating.
Also, they operate in 90 countries around the globe.
Is Toro Advertising one of the best CPA networks available? They are definitely worth a chance if you haven't tried them already.
They are used to partnering with CPA affiliate marketers at all phases of their career from freshers to established publishers who can drive a ton of traffic.
If you perform well they will promote you to their VIP brackets and you will have access to all the perks associated with the promotion.
Payments are sent out every month, but it is strictly so only for your first month. After that, you can change to weekly payments. This is the typical procedure from most of the leading CPA networks.
Payment Frequency: Monthly for the first month, then weekly or bi-weekly.
Commission Payment Threshold: $500
Payment Methods: Wire, Paypal, Skrill, ePayments, and Payoneer.
Join Toro Advertising now
---
ClickDealer
ClickDealer is one of the newest CPA networks on the scene, launching in 2012. However, they have already been winning an accolade or award of some kind per year since their inception.
This makes it clear that they know what they're doing concerning CPA networking.
From the eyes of an affiliate, there's so much to like about ClickDealer. They are an international affiliate network that has offers in every popular niche such as mobile, retail, eCommerce, dating, and gaming.
This affiliate network also has offers in voucher, sweepstakes, software, and social media niches. So there are so many offers with exciting incentives to motivate affiliates to work with the platform.
ClickDealer CPA network sends payments out monthly for new affiliates after you cross their $100 threshold.
You can also choose to switch to weekly payments once you've proven that you can send great traffic (not dud traffic or cooking stuffing).
Payment Frequency: Monthly
Commission Payment Threshold: $100
Payment Methods: Wire Transfer, ACH, Payoneer, PayPal, Paxum, WebMoney, ePayments, eCheck, Qiwi, Yandex. Money, and Capitalist.
Join ClickDealer now
---
Adsterra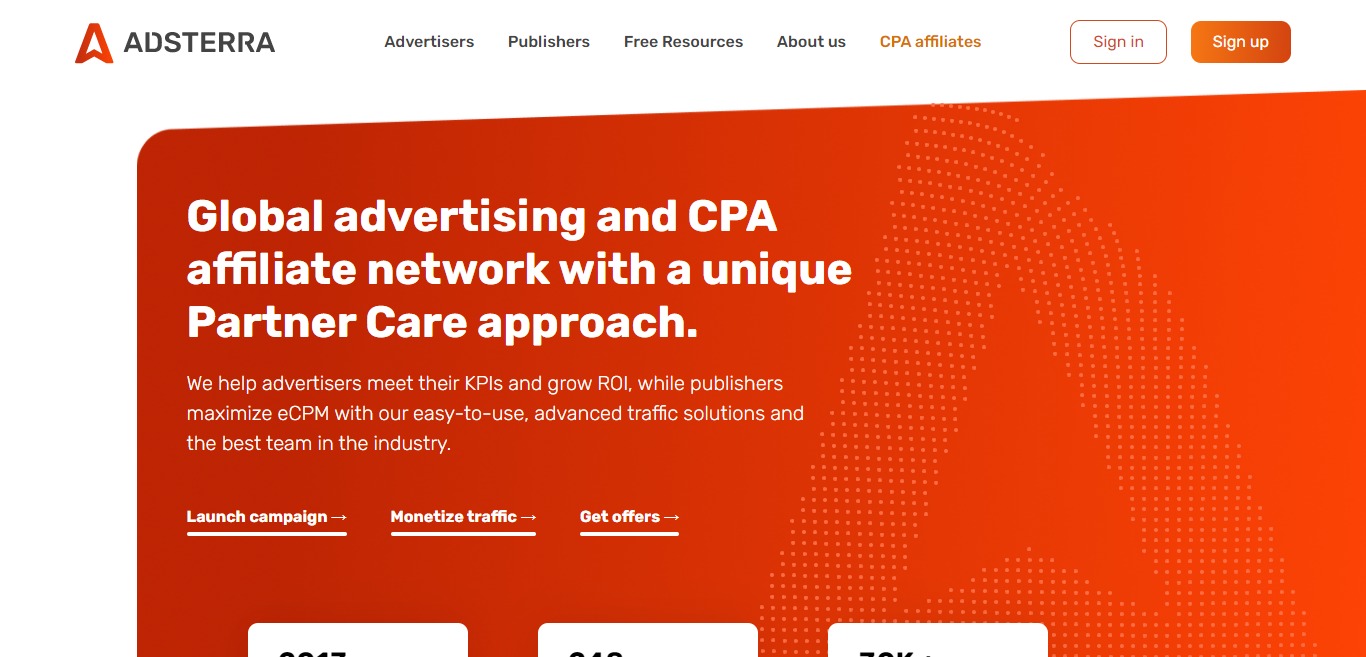 Adsterra is generally known as an ad network. However, it also has one of the best CPA networks available. It provides CPA offers across a broad range of attractive niches such as sweepstakes, dating, software, gaming, antivirus, utility, and gambling.
Choice opportunity is a huge deal for Adsterra, as it lets affiliate marketers choose their preferred payment method from a long list that includes Bitcoin, Paxum, WebMoney PayPal, and more.
They also have a minimum payment of $5 via WebMoney and Paxum. This means you can get weekly payments even if you don't generate a lot of leads.
Adsterra also provides you with a dedicated affiliate manager to help you boost performance.
Payment Frequency: Every Monday
Commission Payment Threshold: $5
Payment Methods: Bitcoin, PayPal, Tether (ERC20 wallet), Wire transfer, WebMoney, and Paxum.
Join Adsterra now
---
Advendor
If you didn't know of Advendor before now that's because they're fresh on the scene, which is a plus for both publishers and advertisers. Because they'll be willing to do business with you.
However, the downside is that the details about the network are very thin. But based on their client list it's safe to assume that they puts a lot of emphasis on the cryptocurrency vertical.
On the upside, for newbie CPA marketers the affiliate approval process should be very lenient. And yes, you're taking a thought-out risk when you work with a brand-new CPA network.
This affiliate network offers a payment threshold of $50 and a weekly payout. That said, some of their available payment methods are not the most popular options you may be used to from other platforms.
Payment Frequency: Weekly
Commission Payment Threshold: $50
Payment Method: Webmoney, Yandex. Money, Bank and Wire transfer, Epayments.
Join Advendor now
---
Fireads
Fireads is a CPA network based in Poland. They have been in the business for nearly a decade. This affiliate network is one of the many European CPA platforms beginning to make their presence felt around the globe.
With regards to what they do, Fireads specialize in CPA offers, and provide CPL, CPS, and pay per install install campaigns for affiliates to monetize their traffic with.
This CPA network runs in a number of popular verticals such as cryptos, gaming, and dating.
These are competitive verticals, but the payout is generally more than worth the competition.
This affiliate network claims to have offers that pay affiliates up to $350 per sale, which is very attractive to both newbies and established affiliate marketers. However, this is with the understanding that it is an exception rather than the rule.
They are also one of the best CPA networks on the list that allows withdrawals via wire or PayPal within hours of a qualified sale.
Payment Frequency: Bi-monthly
Commission Payment Threshold: $20
Payment. Methods: standard bank transfer, PayPal, Payza, Webmoney, Payoneer, or ePayments.
Join Fireads Now
---
Mobidea
Mobidea is an affiliate network that focuses on mobile offers that shouldn't be a surprise as it's in their brand name. You get access to a stuffed-full offers wall where you can choose from a list of promotions. As well as opt for their SmartLink feature.
The SmartLink feature automatically gives your visitors an offer that best suits them based on their geographic location and other personalization considerations.
You can also improve your CPA affiliate marketing by enrolling in the Mobidea Academy.
The platform has also received a lot of accolades from thought leaders in the industry, rating them as one of the best CPA networks for fresh affiliates.
Mobidea is one of the very few affiliate networks that lets you check out their offers before registration. With regards to earning potential, their offers pay up to $36 for each sale, which is very substantial.
Payment Frequency: Monthly
Commission Payment Threshold: €50
Payment Methods: PayPal, WebMoney, Paxum, ePayments, and Bank Transfers.
Join Mobidea Now
---
Advidi
Advidi is yet another European CPA network. Their website looks and feels more like a digital marketing agency than an affiliate platform.
Either way, to find the type of offers available for promotion, you need to carry out a search on their website for more information. The CPA network offers very little information before registration about their offers.
They have multiple campaigns in what appears to be a static list of some of the leading CPA verticals such as finance, gaming, nutrition, dating, and sweepstakes.
However, those offers generally span everything from casinos to dietary programs.
Just like a lot of these networks, Advidi makes it very hard to find information about the offers.
However, what we do know is that if you want to get paid every week you need to generate $1000 in commissions weekly with this CPA network.
This is kind of a letdown if you are a newbie affiliate, as you'll need to be an established affiliate that can push a serious amount of traffic to reach that target.
Payment Frequency: Monthly and weekly
Commission Payment Threshold: $1000
Payment Methods: Wire transfer, Payoneer, Paxum, and WebMoney.
Join Advidi now
---
Adscend
Adscend CPA network began as a great idea and a two-man business.
From that time, they have grown to become an affiliate network with more than 35,000 publishers.
What types of offers or campaigns do they offer affiliates? Adscend is very tight-lipped on that aspect. You have to register to find out.
However, all their campaigns are available for integration on your website via an API or iframe or on your mobile app through SDK integration.
The best CPA networks can offer you so many promises but except you get paid on time such offers are meaningless. Adscend has not missed publisher payment cycles. And since getting paid is a crucial consideration when choosing the best CPA networks to register, with Adscend takes a win here.
Payment Frequency: Monthly, weekly, and Bi-monthly.
Commission Payment Threshold: $50 for PayPal and Payoneer. $100 for ACH and checks.
Payment Methods: PayPal, Payoneer, Checks, ACH.
Join Adscend
---
Madrivo
Madrivo provides access to the affiliate offers of some of the biggest brand names in the world. They also provide a diverse range of verticals, including everything from dating to subscription boxes to car insurance.
What you earn from this affiliate network depends on the offers you choose to promote.
However, when it comes to Madrivo, your payment threshold is campaign-dependent if you choose so.
The network offers a $2000 performance bonus when you earn above $1000 weekly in your first 60 days with them. That said, they don't offer some of the most popular online payment methods such as PayPal, Payoneer, WebMoney, etc.
Payment Threshold: It is dependent on the campaign
Commission Payment Frequency: Monthly or weekly
Payment Methods: ACH, check, or wire transfer.
Join Madrivo Now
---
GlobalWide Media
GlobalWide Media is one of the best CPA networks available and it has been around for more than a decade.
If this is the first time that you're hearing about them, it's great to know that they have been providing premium media solutions to some of the largest brands in the world such as Groupon, MindSpark, Jumia, and Hotels.com.
The above is a quality of brands and CPA offers that you'll get access to when working with this CPA marketing network as an affiliate.
How well do they do what they do? They generate about $3 billion and sales every year for advertisers.
That is a result that only the best CPA networks can create.
With the basics, this affiliate network has a payment threshold of just $100 and a monthly payment frequency. Affiliates can also get a 5% bonus for every sale made by anyone they refer to them. The network provides the affiliate with a dedicated manager as well, to help boost your lead generation and jumpstart your affiliate marketing earnings.
Payment Frequency: Monthly
Commission Payment Threshold: $100
Payment Methods: Check, PayPal, Echeck (Direct Deposit/ACH), Wire.
Join GlobalWide Media now
---
A4D
A4D is an acronym for "Ads 4 Dough".
So, ignoring the slightly cringe-worthy name, what does the CPA affiliate network have to offer?
It took quite some time to find out. The network decided to use a mobile interface for the whole website, which isn't helpful and quite bizarre.
Though this is something that even the best CPA networks can be guilty of – poor user experience. After some poking around, we discovered that they have a lot of nice offers in enough niches to satisfy most affiliates.
You'll see all the usual stuff like beauty, fitness, and health, but they also have offers and campaigns in eCommerce, business opportunities, and finance.
All the attractive details about your offers are embedded within the membership area as with most of the best CPA networks. However, they assure publishers that they vet each of their advertisers carefully and only accept high-converting offers.
Regarding their payment methods, they offer some of the most unpopular choices for online payments – no PayPal, Payoneer, and the likes.
Payment Frequency: monthly or weekly
Commission Payment Threshold: $50
Payment Methods: Cheque, ACH, Direct Deposit
Join A4D Now
---
Best CPA Network for You?
That brings us to the wrap of our best CPA networks roundup for the savvy affiliate marketer. As you can see above, CPA affiliate offers can generate hundreds to thousands of dollars in affiliate marketing revenue if you send the right traffic.
A few affiliate networks are missing from this list that may show up on other blogs. However, to maintain our quality standard, we avoided certain CPA networks.
Particularly those with a reputation for not paying their CPA affiliate partners at all or on time.
That said, to pick the best CPA network for an affiliate partnership, simply choose the one that has verticals in a niche where you can send the best quality traffic. As well as one with a payment method and frequency you're comfortable with.
Check out our article on affiliate programs that pay daily.
Want to learn step-by-step how I built my Niche Site Empire up to a full-time income?
Yes! I Love to Learn
Learn How I Built My Niche Site Empire to a Full-time Income
How to Pick the Right Keywords at the START, and avoid the losers
How to Scale and Outsource 90% of the Work, Allowing Your Empire to GROW Without You
How to Build a Site That Gets REAL TRAFFIC FROM GOOGLE (every. single. day.)
Subscribe to the Niche Pursuits Newsletter delivered with value 3X per week