21 Gaming Affiliate Programs to Consider Promoting as an Affiliate
When you buy something through one of the links on our site, we may earn an affiliate commission.
Gaming affiliate programs are worth it!
To some people, video games are a form of entertainment or a lifestyle. To others, they're an anti-social hobby.
But regardless of what you think about video games and the gamers who play them, there's no denying their ever-growing popularity – especially among younger demographics. And this group can represent a lucrative market for affiliates and developers looking to sell their products.
By far the most efficient way to reach these consumers is via online marketing – specifically through gaming affiliate programs that pay commissions on sales generated by affiliate marketing through your site or channel.
You can promote anything from a gaming PC to apparel to your readers if you run a tech blog or a website that, for example, reviews video games.
For example, if someone visits your website and clicks an affiliate link to buy a PC game from Electronic Arts' Origin store. You'll earn a commission on that sale if they end up buying something.
Or if somebody reads a review of EA's FIFA 2020 written by you, likes the product and then clicks-through to the store via your affiliate link on the post you're able to generate revenue when they purchase the game.
Many gaming brands and stores offer these sorts of programs not just because it helps them sell more games, but also because affiliates are technically providing huge publicity for the business. 
However, which program should you join?
Because there are so many affiliate programs in this field, it may be tough to discover the best option. But, depending on the sort of blog you run, there will be a suitable affiliate program that matches you and your readers' interests.
So if you're interested in becoming a gaming affiliate or finding your niche within this ever-growing industry, we've gathered 20+ gaming affiliate programs to join and make money online.
GamePal Affiliate Program
Gamers need additional assistance to advance and enhance their skills while playing. GamePal provides a variety of services including power-leveling and in-game currencies.
Players can earn EXP when they're not online and buy premium goods using their services. Users may also purchase established accounts from them, eliminating the need to begin playing from the ground up.
This is one of the gaming affiliate programs that pays a 25% commission on every sale.
This is a one-of-a-kind but in-demand service, so advertising them might be quite lucrative for you.
Commission: 25%
Cookie: 80 days
Join GamePal Affiliate Program Now
Razer Affiliate Program
This is a well-known company that creates a wide range of gaming accessories for both hardcore and casual gamers.
The brand offers a wide selection of items, including:
High-performance consoles
Gaming laptops
Gears
Mousepads
Bags and clothing
They also offer software and mobile apps that can improve gamer experiences.
Razer also has an energy drink known as Respawn, which is exclusively made for gamers.
As an affiliate, you can make up to a 10% commission on the goods you promote.
Furthermore, since the brand is well-known, there's a good chance you'll have a lot of traffic.
Commission: 10%
Cookie: 30 days
Join the Razer Affiliate Program Now
Microsoft Gaming Affiliate Program
Microsoft was the first to provide PCs to the general public, rather than just geeks. And now, playing video games has also gotten more accessible for those that couldn't afford high-end PCs.
If you've been gaming for a long time, you're probably aware that Microsoft is the company behind Xbox. Microsoft's gaming affiliate program allows your visitors to purchase required consoles and accessories via your website.
Even though the commission rate is only 2%, you shouldn't worry about it since selling an Xbox or its console to your gaming fanatic followers isn't difficult.
Commission: 2% of Xbox accessories & console sales
Cookie: Undisclosed
Join the Microsoft Affiliate Program Now
Logitech Affiliate Program
Logitech is a well-known brand for its wide selection of computer keyboards and mousepads, but it's also a favorite among gamers.
Speakers, headsets, webcams, gaming mouse pads, joysticks, and other gaming equipment are available on the platform. You can also purchase an "all-in-one" heavy equipment bundle from their website, which will allow you to fully duplicate a tractor for your farming simulator from the comfort of your home.
By becoming a member of their affiliate program, you can expect to make around 4% to 10% on each item.
However, instead of relying on it as your main source of income, consider how you might integrate it with other such programs.
Commission: 4-10%
Cookie: 30 days
Join the Logitech Affiliate Program Now
Gamer Dating Affiliate Program
This website's concept is unique. Gamers are looking for love too, and they want someone who shares their enthusiasm for games.
The gaming dating site is a great location for gamers to meet a partner online. It's quite popular and has helped a lot of people find love.
You can earn a 20% commission each time your readers sign up for membership of the program.
This is one of the most intriguing gaming affiliate programs to advertise, which your followers will undoubtedly find fascinating.
Commission: 20%
Cookie: Undisclosed
Join the Gamer Dating Affiliate Program Now
World Winner Affiliate Program
Gamers get to compete with each other and receive real money as a prize with this service. The site runs genuine tournaments with actual people.
World Winner holds tournaments for simple games like Angry Birds, Solitaire, and much more.
Gamers can choose from solo or multiplayer games based on their skill levels. It's a fun platform to play on, and anybody with good gaming hands can win money.
CJ Affiliate is the first network to offer an affiliate program for World Winner.
As an affiliate marketer, you'll get $25 for each new client you refer.
If your audience is more interested in light gaming, you can entertain them by enabling them to attend the competitions.
Commission: $25
Cookie: Undisclosed
Join World Winner Affiliate Program Now
Leprestore Gaming Affiliate Program
Ever heard of a game booster service? Well, there are several of these services out there, and they assist gamers to improve their gaming characters for cash.
Leprestore is a company that specializes in character boosts for games like Apex Legends, Destiny 2, and World of Warcraft Classic.
This is a well-known sub-niche, and you can profit pretty well by promoting businesses like this.
With a 90-day referral period, affiliates of Leeprestore gaming affiliate program get a 15% commission for each sale.
The cost is fair, and most gamers would be willing to pay more if they find it beneficial.
Commission: 15%
Cookie: 90 days
Join the Leprestore Affiliate Program Now
Nerd Or Die Affiliate Program
Nerd or Die aims to assist gamers who broadcast regularly. Streamers can use them to produce the most advanced, unique, and attractive streams on YouTube, Twitch, or Facebook. They provide stream alerts, widgets, designs, overlays, and a variety of other streaming tools.
You can pick from their broad range of gorgeous designs and even have personalized designs created to match your preferences. If you're a novice in the streaming business, you can use their tutorials and other training materials to learn more about how it works.
At first, you will get a 10% commission as an affiliate. This can be pushed up to 30% based on your performance.
Commission: 10 to 30%
Cookie: Undisclosed
Join the Nerd or Die Affiliate Program Now
Sennheiser Affiliate Program
Sennheiser is a family-owned company that specializes in high-end audio equipment. They've created a great range of soundbars, headphones, and other accessories to improve your gaming experience.
Aside from gaming, they provide outstanding goods for the home, travel, and office.
Playing video games requires exceptional sound, which makes advertising this provider to your customers an excellent option.
What are the benefits of joining the affiliate program? You will receive a 6% commission for every sale you make from your blog.
Plus, you will be able to utilize their innovative banners and logos to run your campaign effectively.
Commission: 6%
Cookie: Undisclosed
Join the Sennheiser Affiliate Program Now
Origin PC Affiliate Program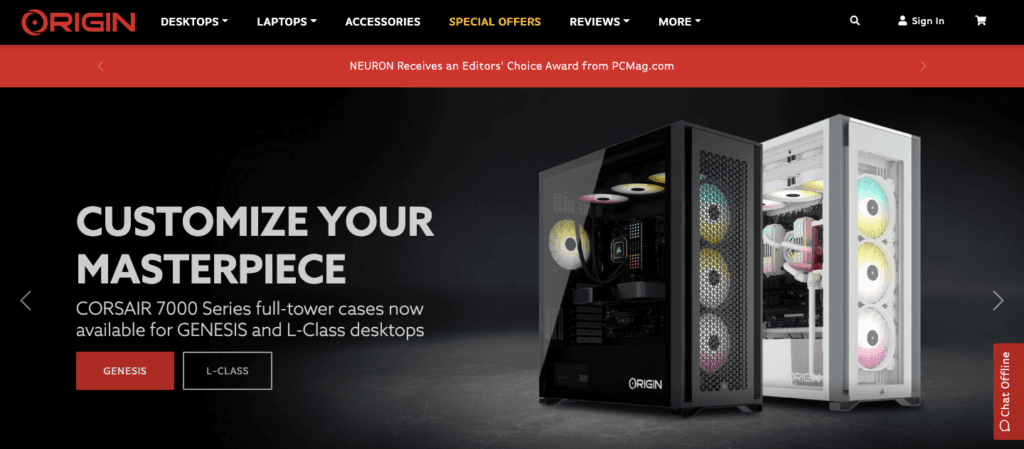 Origin PC is a well-known custom PC system builder that delivers high-performance PCs and laptops with a unique design. Their gaming PCs and laptops are made to be stylish while still being powerful enough for serious gamers.
To join their affiliate program, go to their website and fill out an application. It will take approximately 72 hours for you to be accepted into the program, so you'll need a big audience to join it.
The commission rate is determined by the items you promote. You will only be paid if your sale is confirmed and sent.
Commission: Varies
Cookie: 30 days
Join the Origin PC Affiliate Program Now
Zygor Guide Gaming Affiliate Program
If you're a fan of World of Warcraft, you'll undoubtedly want to buy Zygor Guides' services for a better gaming experience. They provide in-game help for this popular game that can assist you in gaining experience, leveling up, and obtaining gold seamlessly and quickly.
They ensure that the game's ToS is not broken while assisting you in playing it efficiently.
The affiliate publishers for Zygor Guides will receive a 50% commission.
Plus, your audience will adore them since they provide a valued service to this world-renowned game.
Commission: 50%
Cookie: 60 days
Join Zygor Guides Affiliate Program
WarGaming.net Affiliate Program
You don't need to be a game enthusiast to know about WarGaming.net. Anyone who watches a lot of television has seen an advertisement for World of Tanks or World of Warships at some point.
The brand develops and publishes some of the most popular free MMO games played by thousands of people from all over the world.
People can play their games for free, but they can also get a premium account to obtain a better experience. As an affiliate marketer, you can benefit from this.
You earn $10 per referred sale when your readers subscribe to a premium account.
The commission rate will vary depending on your location.
Commission: up to $10
Cookie: Undisclosed
Join the WarGaming.net Affiliate Program Now
Alienware Gaming Affiliate Program
There's no need to introduce this company. Anyone who is a gamer will be familiar with Alienware.
Alienware was established in 1996 as Sakai and changed its name to Alienware after a year due to their passionate love for the famous TV series, The X-Files.
Why is this brand so well-known? Aside from their powerful gaming PCs, they were also one of the first to make gaming portable with their gaming laptops.
In 2006, Alienware was acquired by Dell, another well-known computer hardware company. As a result, you must join the Dell affiliate program to advertise Alienware PCs.
The commission for each sale is only 3% – which appears to be a bad deal.
However, you can expect to make a lot of money through your site given the costly price of Alienware goods.
Commission: 3%
Cookie: 90 days
Join the Alienware Affiliate Program Now
Twitch Affiliate Program
If you're a gamer and want to make money through affiliate marketing, Twitch is a perfect choice. And we made a whole guide on how to become a Twitch affiliate.
It is the most popular streaming platform in the world that focuses on video game live streaming. Most gamers earn a livelihood here by broadcasting esports matches, producing content, and so on.
The site is also supported by an affiliate program, which helps publishers generate a substantial amount of money.
The commission rate varies depending on how you utilize the platform.
Furthermore, you will be able to make use of their various features to improve your earnings.
Commission: Varies
Cookie: Undisclosed
Join the Twitch Affiliate Program Now
Astro Gaming Affiliate Program
Astro Gaming is one of the world's most popular gaming stores for high-quality gaming equipment. They provide a wide range of headphones, clothing, earbuds, backpacks, and other accessories.
The company is dedicated to raising the level of enthusiasm for video games. AvantLink runs its affiliate program.
While the 5% fee appears to be rather unmotivating, you will have a 180-day cookie period to ensure that you make some profitable sales.
Commission: 5%
Cookie: 180 days
Join the Astro Gaming Affiliate Program Now
Epic Games Affiliate Program
Epic Games is a well-known game developer. Their stunning creation Fortnite stormed the world after just a month of release.
Aside from their own games, they also sell games developed by other companies through their platform. People can play any number of RPG, strategy, or first-person shooter titles on their site.
By becoming a member of their affiliate program, you will receive a fixed 5% commission for every successful transaction.
You will also get a bonus each time one of your referrals makes an in-game purchase.
Commission: 5%
Cookie: 14 days
Join the Epic Games Affiliate Program
Nvidia Affiliate Program

You can't fathom gaming without high-quality visuals, and when you think of graphics, Nvidia comes to mind.
Nvidia is one of the world's most popular GPU (Graphics Processing Unit) manufacturers.
For gaming PCs, they offer high-performance GPUs that are designed with gamers in mind. They're also well-known for AI development workstations and streaming media players, among other things.
Although Nvidia is a well-known brand, pushing their goods might be tough for any merchant. It's because most consumers purchase their products from lower-priced sources, so they'll check your link and buy them somewhere else.
But since it is the standard option for PC gamers, you are very likely to make some sales.
Commission: 2% – 5%
Cookie: 45 days
Join Nvidia Affiliate Program
GT Omega Affiliate Program
The minds behind GT Omega strive to satisfy the needs of racing enthusiasts. Their wide selection of gaming and office seats not only looks fantastic but also performs well.
Some of the most impressive items from GT Omega include gaming seats, racing simulators, and cockpit chairs. All of the items available on GT Omega are created to offer a great virtual racing experience.
Don't get discouraged by their 5% affiliate commission. Since their offers are rather costly, they'll pay a decent amount per sale.
Commission: 5%
Cookie: 30 days
Join GT Omega Affiliate Program Now
Into The AM Affiliate Program
Into The AM is a well-known maker of comfy clothing that is designed with the late-night gaming player in mind. Their distinctive patterns are adored by almost everyone, even if they aren't gamers.
The brand has licensed t-shirts for games including God of War, World of Warcraft, Assassin's Creed, Smite, and others.
You can join their affiliate program to advertise their stylish tees to your readers, no matter what your blog's focus is (fashion or gaming).
You will earn a 10% commission each time someone makes a purchase using your referral link.
Commission: 10%
Cookie: 30 days
Join the Into The AM Affiliate Program Now
Secret Lab Affiliate Program
Due to sitting in front of a computer, there are few gamers (if any) who have not experienced back discomfort. People who spend hours playing video games should take precautions to sit in a comfortable position.
For such dedicated gamers, Secret Lab creates cutting-edge and high-quality chairs that ensure comfort while also maintaining their health.
Plus, their gaming chairs are reasonably priced, which is fantastic news for gamers.
The sole drawback to their affiliate network is the 7-day cookie duration. But, when you consider their commission rate of 12% as well as the popularity of their offers, it's still a profitable program.
Commission: 12%
Cookie: 7 days
Join the Secret Lab Affiliate Program Now
Mainframe Affiliate Program
Mainframe is a clothing brand that offers t-shirts, hoodies, sweatpants, etc. The brand is not for individuals who enjoy playing games online as a hobby but for gamers whose lives center around gaming. As a result, their products reflect this culture.
Their hoodies, tees, and other gaming products have a stylish, contemporary design that is inspired by a gamer's lifestyle.
Whether your blog is for fashionistas or geeks, advertising Mainframe's goods can help you attract visitors and earn cash.
You can earn up to a 10% commission every time someone purchases their items using your referral link.
This is one of the best gaming affiliate programs to add to your affiliate marketing collection.
Commission: up to 10%
Cookie: Undisclosed
Join the Mainframe Affiliate Program Now
Bose Affiliate Program
Noise-canceling headphones can be helpful. They can cancel out noise and help both you and the person who lives with you while you game.
Bose is one of the world's best consumer electronics firms, producing high-quality headphones and speakers. Gamers adore Bose's noise-canceling headphones since they provide an incredible gaming experience.
You will receive a 2-3% commission, which is quite modest.
However, since their items have a lot of demand, there's a good possibility that you'll make lucrative sales with them via your site.
Commission: 2-3%
Cookie: 30 days
Join Bose Affiliate Program Now
Closing Thoughts
Affiliates have a tremendous opportunity to make massive revenue in the ever-growing gaming industry. All you need to do is join the right affiliate programs as listed in this roundup and start promoting. 
You don't even have to promote your content to just gamers as you can still make cash off game-themed clothing and products.  So if your audience aren't all gamers these game affiliate programs still present a huge money-making opportunity.
So get started with the above gaming affiliate programs (and you may also be curious to check out survival affiliate programs)!
Want to learn step-by-step how I built my Niche Site Empire up to a full-time income?
Yes! I Love to Learn
Learn How I Built My Niche Site Empire to a Full-time Income
How to Pick the Right Keywords at the START, and avoid the losers
How to Scale and Outsource 90% of the Work, Allowing Your Empire to GROW Without You
How to Build a Site That Gets REAL TRAFFIC FROM GOOGLE (every. single. day.)
Subscribe to the Niche Pursuits Newsletter delivered with value 3X per week