23 of the Best Blogging Courses: Everything You Need to Know
When you buy something through one of the links on our site, we may earn an affiliate commission.
Type 'Best Blogging Courses' in any search engine, and you'll be flooded with pages and pages of options. Some really good, some terrible, and really, all you want is to learn to build a successful blog!
But researching so many online blogging courses is an incredible waste of time. How would you know if any of them are worthwhile? The authors all seem to promise that their courses will make you millions (don't believe that one for a minute.)
However, if you find the right one, you can make some good money eventually.
If you're reading this, you've come to the right place. We've sifted through what there is on offer and compiled a list of 23 of those we think are the best blogging courses available, including some free courses. And once you've checked them, you'll know why you may need to take a course – even if you're quite experienced, and which one will suit you best.
1. Authority Hacker
For beginner bloggers, affiliate marketing is one of the easiest ways to make money blogging. With this blogging strategy, you don't have any products to deliver or customers to look after. You send traffic to the merchants via your blogging site. And if there are any sales, the vendors pay you a commission. That's all you have to do!
Authority Hacker is the top blogging program for affiliate marketing and for you to begin your blogging journey to building a successful authority site.
The Authority Site System is designed for people new to affiliate marketing who want an over-the-shoulder crash course on getting a site up and running.
Its creators are well-regarded in the space and describe TASS as "a thorough step-by-step training course for establishing profitable authority sites from the bottom up." The system teaches bloggers how to run a successful blog and design an affiliate marketing strategy to make money online. You'll get practical internet marketing instruction.
I recommend The Authority Site System blogging course to anyone who wants to develop websites from the ground up, rank them at the top of Google and other search engines, and make money with affiliate marketing. And it's a great course for both experienced and beginner bloggers. Plus, you get access to their exclusive TASS Facebook group, where you can ask questions, connect with other members, and grow together.
If you're interested, you'd normally have to spend $997 (plus VAT) to access the Authority Site System's 15 training modules and other features. But there's a special 40% discount for Niche Pursuits readers.
And you'll also be pleased to know that there are no upsells once inside the course, and members receive all updates free of charge.
Get the Authority Site System Course Special Offer Here
2. Ahrefs Academy: Blogging for Business
Ahrefs is a world-famous tool for new bloggers and experts. Among other things, it's known for its expertise in recognizing toxic backlinks, finding link prospects, and stealthily checking on what your competitors are up to.
You can use its very effective tools to track the progress of your website and detect what is causing your site's ranking to go down. What's even better about Ahrefs is that you can access Ahrefs Academy via the website and learn everything you need to know about using this tool to help your blogging strategy.
So let's have a look at Ahrefs' video course Blogging for Business. This 10-module course aims to get bloggers to focus on getting business rather than attracting traffic. It contains the following lessons:
The Compounding Effect of Content Marketing
Two main methods for expanding a blog
How to assess a keyword's traffic potential and ranking complexity
Identify amazing content ideas with significant commercial worth
How to optimize your content for a specific topic and generate the most search traffic from it
How to generate excellent self-promoting content
Write link-worthy material and do not focus entirely on link building
How to publicize your content & make it rank high on Google
Create backlinks to your blog content
What to do to build links & promote content via blogger outreach
And the guest interviews are brilliant and worth watching.
Noah Kagan: Audience-building advice
Bryan Harris: Building lists
Ramsay Taplin: All about starting a blog
You'll learn a lot from this free blogging course if you already own Ahrefs tools or are an experienced blogger.
3. Backlinko: 'SEO That Works'
How do you compete against over 500 million blogs? Because that's the current figure of blogs on the internet. Now there's no need to get discouraged; it doesn't mean there are 500 million successful blogs!
Backlinko's Brian Dean's online blogging course 'SEO that Works' gives expert bloggers the opportunity to build quality backlinks using white-hat methods (earning backlinks with Google guidelines.)
SEO is a complicated set of systems and strategies. According to most analysts, Google updates its search algorithm 500 to 600 times a year. That amounts to between once and twice every day. While most of these changes have little impact on the SEO environment, some are important and may influence how we write for SEO.
Search Engines have guidelines, and if you follow them, SEO will help you get a higher ranking. But seeing results takes a lot of work and solid SEO understanding. Brian Dean's course will teach you a full SEO strategy which includes:
On-page SEO
Off-page SEO
Local SEO
You need people to find your site; no matter how good your content is, you're not going anywhere without proven SEO tactics. And Backlinko's course will teach you exactly how.
But, access to fantastic material from the top experts in the field doesn't come cheap – subscribing to the "SEO That Works" course is $497 a month (or almost $6K a year).
Brian Dean and Backlinko provide a wealth of free SEO knowledge on their site, but the "SEO That Works" course is expensive.
4. Blogging Accelerator
The Blogging Accelerator program is made up of five modules, starting with simple and easy-to-follow steps to create your successful blog. You'll learn how to find the correct niche, name your blog, set up your website, and write your first article, as part of your blogging strategy.
In addition, you'll learn how to customize your site with a theme, connect your site to Google Analytics to track your traffic, and even how to prioritize your to-do list. The five modules include:
Blogging Playbook (installing WordPress, configuring it, creating a theme, uploading images, publishing posts, and navigation)
Blog Analytics (making connections and gaining a better knowledge of how Google operates)
Posting Perfection (creating a blog post with the right structure and keywords to get higher ranks on Google)
Smart Productivity Plan (Make a timetable that allows you to use your time effectively)
Easy Printables (to develop your email list, design and create your first freebie)
Blogging Accelerator is a good blogging course for beginners, and it will only cost you $97. If you are experienced in content marketing tactics and have been writing for a while, this one is not for you.
5. Blog By Number
When moms started connecting through their social media accounts and blogs, "mom blogs' grew very fast and now are very popular. Here parents can connect, ask for and give advice, make recommendations, or simply vent.
Suzi Whitford of 'Start a Mom Blog' designed 'Blog By Numbers' for beginners wanting to get into mom blogging.
The Blog by Number course has blog templates to get you started and move forward with your blogging strategy. The blogging course includes:
Over 65 video tutorials with step-by-step instructions
Workbooks
Blog templates
Stock photos
Worksheets with blanks you can fill in with your info
How to use analytics and plugins to help you maximize your brand
The blogging course costs $97, and an eBook is available for purchase at $18.
This online blogging course is an excellent option for someone who wants to pursue a career in mommy blogging using content marketing tactics. Although the program is specialized in the parent blog niche, it's pretty good for anyone who wants to start a blog.
6. Blogging For a Living
Theo McArthur designed 'Blogging for a Living,' a premium blogging course on Udemy. This is one of the most popular and highly-rated blogging courses on the Udemy platform. You can enroll in the course for $150 and have access to the materials immediately after making your payment. It also comes with lifetime access and a 30-day money-back guarantee.
The course includes:
Over 12 hours of on-demand video footage
How to launch a money-spinning blog on any subject
Create blog entries that follow best practices
Learn to recognize which sorts of content work best
Send high-quality traffic to your blog from a variety of sources
Use high commission digital items to monetize your blog
Create a list of excellent email subscribers from your blog
Make money off your email list
Use multiple list-building tactics to gain 50+ new subscribers every day and build a massive amount of content
You'll be given a certificate of completion once you've finished the blogging course. By including this digital certificate on your CV or LinkedIn page, you can use it to highlight your credentials.
With Blogging For a Living, you'll learn everything you need to know to move forward with your blogging strategy and developing your own profitable blog from scratch.
7. Blogging Rituals and Routines: 10 Secrets to Increasing Blogging Productivity
Staying motivated to deliver quality blogs consistently is one of the major blogging problems for both new and experienced writers. This CourseMarks course focuses on the rituals and routines that should be followed to maintain consistency and quality in every blog you write.
It's all very well learning everything there is to know about blogging, affiliate marketing, secrets to SEO keywords, etc. But you won't go anywhere if you can't focus and keep to your pathway.
The CourseMarks blogging course includes on-demand videos and projects and is designed for those who wish to overcome writer's block and create a blogging routine that makes the most of their time.
The course costs $32 per month, and you can start with a free one-week trial to learn without risk.
8. Build a Successful Creative Blog
Build a Successful Creative Blog from Creativelive is a highly rated premium blogger's online course. April Bowles-Olin, a writer, creative business consultant, and marketing strategist, designed this successful course. Over 34k students registered for this blogging course which costs only $34.
The program includes 26 video lessons and 15+ hours of class content and will teach you the following.
Best practices for blogging
Understanding your ideal reader
Making a content strategy
Advice and tips for Blog design, Copywriting, SEO Blog advertising advice, and more.
You will learn how to develop your style and feel more at ease writing in your own voice. You'll also get great tips on creating an efficient editorial plan, drawing in the proper readers, and writing catchy headlines that will increase traffic to your website.
April will go over some of the major issues preventing bloggers from succeeding, such as writer's block, boredom, uncertainty about what you're writing, and how to fix them.
This blogging course will give you the ideal base for better copywriting and how to build a successful blog that will generate website traffic after just three short days.
9. Food Blogger Pro
The food blogging sector is massive, and the food industry is pretty saturated. But there's always room for more if you have some great ideas or a passion for food. If you want to start a food blog or learn more about blogging, 'Food Blogger Pro' is the blogging course for you.
Food Blogger Pro was founded in 2013 to assist new and ambitious foodies in taking their love of cooking to higher levels. This is the finest blogging training for you, whether you want to establish your own food blog or if you currently have one and want more traffic to your site.
This blogging course will set you back $35 per month or $350 per year, and you will receive:
Access to more than 350 training videos for beginner to intermediate bloggers
Private discussion forum
Monthly live Q&A sessions
Video Updates Every Month
Expert advice from the industry
The finest tools for establishing a food blog
How to Take Great Photos with Artificial Lighting
How to Increase Traffic Using Simple SEO
Making money from eBooks
SEO fundamentals and essentials
The best approach to leverage affiliate marketing and much more
Food Blogger Pro is for food lovers who want to keep their blogging skills current and relevant.
10. Free Traffic & Monetization Mini Challenge
The valuable tips you will receive if you participate in this 5-day email mini-challenge will blow your mind! It shows you how to create and optimize a clear traffic pathway for your readers.
You'll get an email daily with the following topics:
How to Make Your Traffic Strategy Easier
How to Increase Blog Income from Existing Traffic
What you should and should not say in your call to action
Tips for finding hidden niches through keyword research
One metric you should monitor to increase your blog income (this challenge will definitely increase your blog income.)
This is a nice short blogging course with plenty of great tips, and it's free!
11. Launch Your Blog Biz
Launch Your Blog Biz from Create And Go Courses is one of the top paid blogging courses for beginners in any field.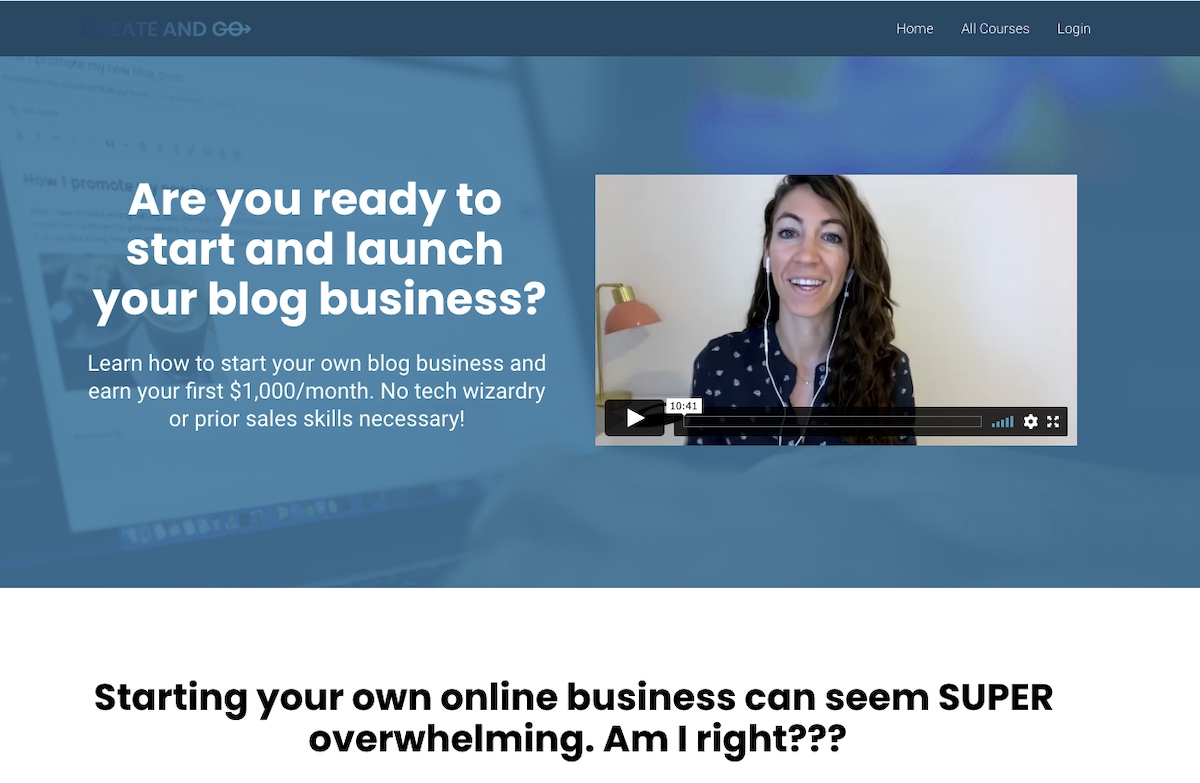 First, you'll master the basics of running an internet company and developing your brand. Then you'll define your specialty and launch your WordPress website, complete with hosting, plugins, and a well-designed theme.
You'll learn the followingin this blogging course:
How to set up a website
Write decent content
Attract the correct readers
How to ensure you have a profitable blog
Develop your content strategy
Begin building your email list as the course advances
All about affiliate marketing, Pinterest, SEO, YouTube, podcasts, and other traffic-generating strategies.
Launch Your Blog Biz is a wonderful blogging course for beginners and a place to start if you're a new blogger and want to create an online business. And it comes at an affordable price tag of $297.
12. Niche Site Academy
Mike Pearson's Stupid Simple SEO offers an online niche building course called Niche Site Academy. It is the most comprehensive course on finding a profitable niche, developing an excellent content strategy, and making money from your efforts. And Mike knows what he's talking about; after all, back in 2020, he got multiple six figures when he sold one of his niche blogs.
What you will get out of the Niche Site Academy blogging course:
How long it will take to make money from your niche site
Mike's "Niche Site Framework" for each blog he starts
Find profitable niche ideas using data
Validate your niche ideas to quickly determine whether something is a waste of time or not
Create a niche website
How to conduct keyword research
SEO Mike and his writers use a specific framework to write blog content
Tips on using link building to improve your niche site's ranking
Bonus: How to scale and outsource content creation by hiring a team of writers
But, and this is a pretty big but, Niche Site Academy is not for people wanting to make quick money (or see instant traffic) from their content marketing efforts. You probably won't be making any money in the first year after launching your niche site. Mike is very clear about this.
He advises you to look ahead 18-24 months before you decide to continue with your dreams of niche blogging.
Most bloggers fail to make money because they choose the wrong niche. And because profitable blogging is not a get-rich-quick scheme, if you choose the wrong niche, you won't even realize it until much later when you still haven't made any money.
However, don't let this put you off. If you're passionate about your particular niche, this course is for you, at a cost of $597.
13. Pinteresting Strategies
For many bloggers, Pinterest is a fantastic traffic source and a terrific method to draw attention to topics that may be challenging to rank for. Pinterest functions differently from other social media sites since it is a visual search engine.

Pinterest isn't difficult, but it can take a lot of trial and error to figure out what works. With the classes listed below, you can save some time!
Carly Campbell's distinctive Pinterest course, "Pinteresting Strategies," emphasizes pinning by hand. She delves into the inner workings of Pinterest, Pinterest SEO, and her precise method for manually pinning with great success.
There are nine modules in the Pinteresting Strategies course.
Welcome: News and updates from Pinterest – current
Priorities: Do your homework to prepare for success
Learn how Pinterest operates and how to create a profile before you get started
How your pins are viewed by Pinterest and its users
SEO for Pinterest
Group boards
Pinning by hand – Strategy tips for both new and established accounts
Bonus Lessons and FAQs: Advanced techniques, analytics, and story and video pins
Free Templates for pins
The only thing you'll need to think about is whether you want to spend time on Pinterest. Because this course isn't about making passive money – you can't just "set it and walk away."
You'll probably need to set aside some time each day to manually create pins with a plan in mind if you want to see results. But, if you like the platform and decide on staying with it, then Pinteresting Strategies is perfect for you. The course costs $97 and includes all course materials, video tutorials, and updates.
14. Pocket Products
This is the best option for bloggers who want to build a high-value, low-cost digital product for their internet company.
Course designer Courtney Foster-Donahue describes Pocket Products as little digital products that range in price from $17 to $97. They are tailored to your target demographic and are jam-packed with value.
In this course, you'll discover:
How to decide what Pocket Product to build
Create it super fast
Design the product's sales page
Launch your product
Arrange continuing product promotion on autopilot
This course is essentially a mini-blogging masterclass on digital product production and is worth a good look. It currently only costs $47.
15. Persuasion Nation
Mary Fernandez – the founder of Persuasion Nation, is a digital marketing strategist. In eight years between homeschooling her kids, she created her own online education business, learned how to grow seven- and eight-figure online enterprises, and managed to enjoy herself at the same time.
Mary openly shares her secrets to success. You'll learn the exact system she utilizes to build and sell online courses in six practical, actionable step-by-step sessions.
Plus, with over 100 video courses at your disposal, you'll have access to even more expert tactics. You can get lifetime access for $2497 or pay $687 a month for access for four months.
The big issue I have with her website is that you can't get any information about her courses unless you join. You seem to have to take the reviews on the site as all the information you need to be persuaded to sign up.
Two of her most popular courses Blogging for Profit and Creating & Selling Online Courses are featured on the website Clarity.fm so you can at least assess those two. But, she's very popular so it may be worth checking it out.
16. SEO Writing Masterclass
The SEO Writing Masterclass by Surfer's major objective is to give you a significant advantage over ordinary content writers. And it will teach you everything you need to know about search engine optimization.
Course instructors Tomasz and Karolina are highly qualified marketers with content creation and SEO backgrounds. You can be sure they will provide you with actual best practices from their personal experiences.
Before I continue; Surfer SEO is a fantastic on-page optimization tool that analyzes and compares your own pages to what is currently ranking in the SERPs.
This tool provides a data-driven analysis of exactly what's wrong with your page. Surfer will assess your selected page against thousands of different on-page SEO factors and evaluate the results against the competitors on the first page of Google for your chosen keyword.
Basically, you analyze your content with Surfer SEO, and then apply the complete on-page suggestions specified by the tool.
The SEO Writing Masterclass is offered in three modules plus a bonus section, and here's basically what you'll get:
Module 1: The Basics
A summary of what you'll learn and best practices.
Module 2: Plan, Write, and Optimize
The three most fundamental stages of writing: the Discovery Phase, the Writing Phase, and the Optimization Phase.
Module 3: Going Above and Beyond
Aside from everything you learned in Module 2, there are answers to some of your most frequently asked questions, discussions about favorite tools, and opportunities to share lessons learned.
Module 4 bonus section: Application
Applying what you've learned and venturing into the world of SEO.
SEO Masterclass is an excellent introduction to SEO. This is written by a writer for writers, and it's a free blogging course! The course instructors use plain language and avoid jargon to make the knowledge easier to absorb.
17. The Four Pillars of Blogging
This is a collection of online blogging classes offered by ProBlogger.
The four course categories are as follows:
Create Content
Find Readers
Build Community
Make Money
Each course is divided into lessons that include tutorials, tasks, readings, videos, and other tools and resources.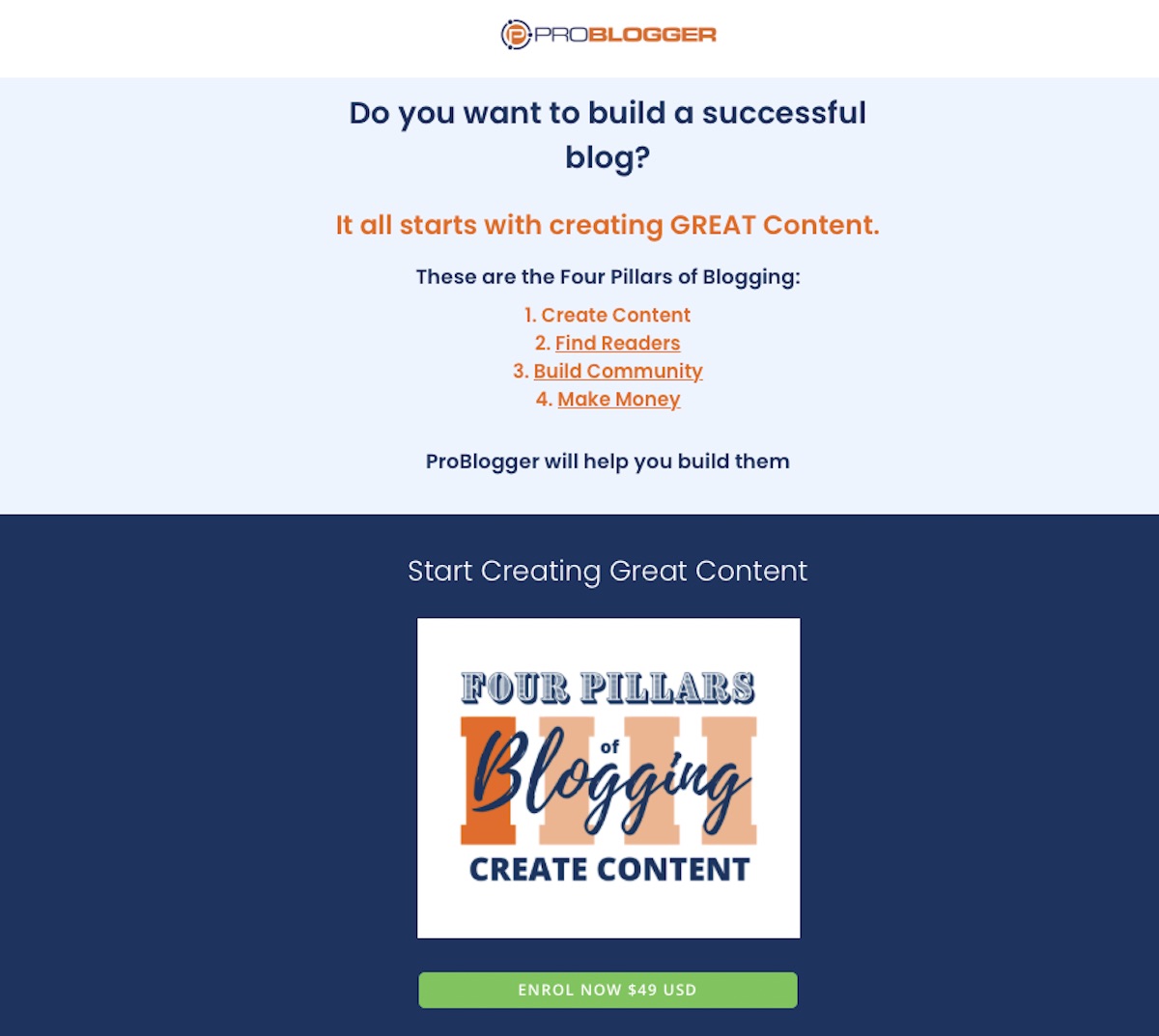 Here are some of the subjects in the courses:
Understanding the various options for monetizing your blog
How to establish your ideal reader
Optimize your blog for SEO
How to use email marketing to develop your blog
The four courses each cost $49. If you decide to get all four, you can select a bundle option at checkout. This will get you all of the courses for $99.
You'll get instant access to the material through the ProBlogger Course platform when you buy the bundle. And you can go through the content as often as necessary without paying a monthly subscription.
In addition, as a ProBlogger student, you will have access to additional courses such as Starting a Blog – The Ultimate Guide and the 7-Day content Sprint.
This course is a good choice because it covers all essential blogging topics. Darren, the instructor, provides practical advice on developing a monetization strategy that aligns with your goals for your site (and don't miss great tips on how to optimize your blog for monetization ).
18. Smart Blogger
Jon Morrow (known as Mr Blogger) founded Smart Blogger in 2011 after he decided to start his own blogging journey. Smart Blogger offers a selection of the best online blogging courses to help new bloggers make their articles hit the top of search results, sell more products, and seriously improve their content. Experienced bloggers will find these courses useful as well.
Bloggers have quickly gone from $0 to $1000, frequently in just a few months, using the information they get from the courses. Two of the most popular on offer are "Freedom Machine" and "Content Marketing Certification."
Mr Blogger is a man with incredible spirit and courage. He was born with spinal muscular atrophy, a terminal genetic condition gradually weakening the body until it can't move. It hasn't stopped him; all the courses are full of encouragement for his students.
Here is what is on offer:
Guide to Affiliate Marketing – free for beginners
How to start a Blog – free
Making Money with Blogging – free
Power Words – 801+ – free
Platforms for Best Blogging – free
Learn the Art of Writing a Blog Post – free
Writing can Make You Money – free
Certification for Content Marketing – $2,000
Freedom Machine – $999
Only For Serious Bloggers – free
Blog Traffic Blueprint – free
With the help of Smart Blogger's courses, you could boost your return on investment (ROI), rank higher and faster, and make your material easier to read. And you may significantly increase your income. The only issue I had with the website is that the course prices are very hard to find.
19. Superstar Blogging
Matthew Kepnes (Nomadic Matt) established Superstar Blogging to teach you all you need to know about running a successful internet company. This New York Times bestselling author and American travel blogger's course teaches you how to start from scratch to making money from blogging.
You can pay $49 a month or $399 a year. This includes a 14-day money-back guarantee, and you can cancel your membership anytime.
Superstar Blogging will teach you:
The basics of successful blogging
How to develop a long-term internet brand
How to make sure your content is appealing
Learn about SEO for your website to get traffic and conversions
Social media
Email marketing
How to make money from blogging
Although the Superstar Blogging course features some advanced sections, you would benefit from it best if you enroll early in your blogging career. Beginners are for sure the target audience for the first few modules, which cover WordPress and website architecture.
The advanced blog subjects, such as SEO, affiliate marketing, collaborations, and product creation, are covered after the setup and technical courses.
Superstar Blogging will help you get started on paid blogging if you're prepared to put in the effort and time. And the comprehensive course material will be useful to refer back to for a long time.
20. The SEO Playbook
The SEO Playbook is all-inclusive, realistic, and one of the top actionable SEO training courses you can get online at a one-time fee of $500.
This course, intended for intermediate to advanced SEO practitioners, guides students step-by-step through tried-and-true methods for boosting organic traffic, leads, and sales.
The fact that you can observe the course designer, Robbie Richards, as he applies the lessons learned in the course to actual businesses is what really distinguishes this course from the many others available.
You get to witness Robbie complete a technical content audit for an affiliate products site from beginning to end and produce a keyword research document and content plan for an eCommerce products store, and much more.
Every student can access a closed Slack group where they may communicate with Robbie and nearly 200 other SEO experts.
Here is a sample of what the course will cover:
100+ instruction videos
20+ pre-built templates
50+ detailed procedure documents
The inside scoop on how Robbie evaluates actual businesses
If you want SEO training that will provide you with the procedures and tools to instruct staff members, contract out SEO work, attract new clients, and develop valuable skill sets; check out The SEO Playbook.
21. Travel Blog Prosperity
Jessie Festa from Jessie on a Journey runs the Travel Blog Prosperity membership program. It's an excellent choice for travel bloggers who want to learn every part of the blogging industry. And it's perfect for beginner, intermediate bloggers, and advanced travel bloggers.
When you sign up, you'll have access to a massive library of videos, workbooks, and mini-courses. Subjects cover SEO, working with brands, social media, technology, product sales, and more.
Jessie introduces a new module which includes a training video, a workbook, and questions that students have thought long and hard about. You also often get extras such as interviews with experts and graphics or text that you can download and print.
Here are just a few of the 55+ course groups you'll receive; keep in mind that a brand-new subject is released each month!
Using a membership site to monetize your blog
Updating your social media approach
How to stand out using a drone
How to get money writing for hire
Establishing a consistent brand across all platforms
Jessie incorporates live components like group coaching calls and live blog audits in addition to these in-depth courses. This membership is useful for bloggers in various niches, even though most topics are targeted at travel content writers.
It will cost you $9 for your first month to access all features mentioned above. After that, you'll pay $49/month to continue your membership, and you can cancel at any time.
22. WordPress for Beginners – Complete WordPress Training For Beginners
Udemy's WordPress for Beginners is one of the top blogging courses with WordPress right now (but don't miss our complete list of the best WordPress courses around). This course will walk you through every step of the process, from installation to finished website.
It will demonstrate how to install WordPress on your own computer for free, eliminating the need to pay for a domain name or hosting fees while completing this course. After installing WordPress on your computer, you will learn how to create and manage a profitable, beautiful, responsive-design website that you can be proud of. And you'll only pay $149.99.
Highlights & Unique Selling Points
Create unique menus and navigation systems that search engines will appreciate
Learn how to make a static or blog-like homepage
Understand the significance of post categories and tags and how to utilize them correctly
Learn how to navigate the WordPress dashboard and use it effectively
Understand plugins and themes and how to locate and install them
This course is excellent if you want to design a WordPress blog without paying for a site server. In addition, if you want to learn WordPress without becoming stuck in technical language, this course is for you.
23. 31 Days to Build a Better Blog
Darren Rowse started blogging in 2002 and is most likely the first professional blogger to teach others how to become successful bloggers. He also has millions of followers around the world.
His premium blogging course "31 Days to Build a Better Blog" is extremely successful, with over 20,000 people enrolled. What's great about this blogging course is that it is broken down into 31 simple steps, and you'll only part with a one-time payment of $99 (with a 60-day money-back guarantee.)
Each step includes an in-depth task for the day, teaching, and more reading. It also includes access to their private Facebook group where you can chat with other bloggers.
What to do to come up with new post ideas
Promotional methods for blogs
Identifying your target market
Organizing your blog's content with an editorial schedule
Finding ways to make money from your blog
If you're a newbie searching for simple and practical training on blogging, this is the one for you.
Is It Necessary To Take A Blogging Course?
If you're new to blogging and don't know anything about it, I wouldn't spend money on an expensive online blogging course just yet. But it would help a lot if you did as much research as you possibly can.
I would start with freely available online information. Start with blogging basics and work your way up.
Also, practice makes perfect. You'll go through your own trial and error process, which will be informed by what you've discovered by reading, watching, and listening to information.
You'll eventually figure out what works and what doesn't. And then, you can start your research into the best blogging courses online.
How Do I Know Which Blogging Course To Take?
Which best blogging course to take is not such an easy question to answer. I would avoid those that promise quick and easy riches and charge tons of money for their courses. Go for short and free blogging courses.
When you're just starting, long and detailed programs can just depress you because there is so much to learn.
Conclusion
It doesn't have to be tough to find the best blogging courses. The best place to begin is with yourself. So, think about what you want your blog to do, which niche you'll be happiest writing about, and what skills you need. With any luck, you'll be well on your way to becoming a highly successful blogger in no time.
It will take time to start making money from your blog. Read this article if your question is: Exactly how long does it take to make money from a blog? And you will probably also want to know: how much money do bloggers make?
And last but not least, make sure to check out all of our insights to the question how does a blog work?
Most of the courses offered promise riches but also talk freely about how hard it is at first. So, be patient and keep going!
Want to learn step-by-step how I built my Niche Site Empire up to a full-time income?
Yes! I Love to Learn
Learn How I Built My Niche Site Empire to a Full-time Income
How to Pick the Right Keywords at the START, and avoid the losers
How to Scale and Outsource 90% of the Work, Allowing Your Empire to GROW Without You
How to Build a Site That Gets REAL TRAFFIC FROM GOOGLE (every. single. day.)
Subscribe to the Niche Pursuits Newsletter delivered with value 3X per week