Looking for the Best WordPress Course? Here Are 12 Great Options
When you buy something through one of the links on our site, we may earn an affiliate commission.
If you're looking for the best WordPress course, you're in the right place.
This article will discuss 12 great courses, from complex and detailed, to super simple for beginners. They also contain audio and visual components that help you remember what you've learned.
You'll get a good idea of what the courses offer, and, most importantly, you'll be able to design and launch your own website in no time!
Best WordPress Course: Our List of 12 to Check Out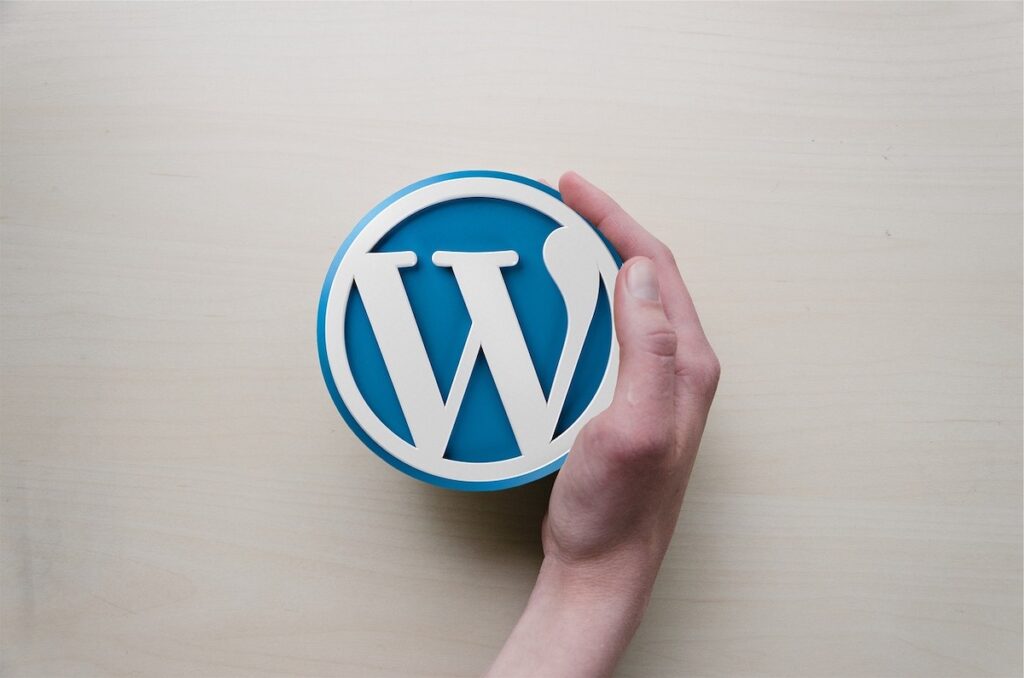 The following is a cross-section of the best WordPress courses that will help you learn WordPress, even if you are new to web development.
The Authority Site System by Authority Hacker
If you aim to build an authoritative niche website using WordPress, then there is no better way to learn how than with The Authority Site System (TASS).
TASS offers a systematic approach that will answer your every question about building a niche site. Their system has been proven and is continually updated to reflect new insights and changes within the industry.
The over-the-shoulder approach of this course makes it easy to follow, even if you are a complete beginner. And because of the depth and scope of the training, seasoned hands can also learn a thing or two.
Course Content
Mark Webster and Gael Breton present the training. Both have extensive experience in building successful niche websites.
TASS covers every aspect of building an authority site in 15 in-depth modules, which include 183+ (over 30 hours) video lessons. Topics covered include the following:
Market Research
Keyword Research
Technical Site Setup (this is where you will learn about WordPress)
Design and Branding
Content Creation
Link Building
Hiring and Outsourcing
Monetization
Analytics and Tracking
TASS is action-focused. You will learn the theory behind every aspect and also build your own WordPress site in the process.
You can join the active TASS Facebook community to share experiences and get peer support. In addition, a support team is on hand to help you through every difficulty you may encounter.
Duration
This is one of the longest and most extensive courses you can get. You can complete this TASS in your own time, but it is estimated to take about two months.
Pricing
The price regularly is $997 or six times $249 outside the Niche Pursuits 40% discount of six payments of $149 or $599 as a once-off payment.
TASS offers a 30-day money-back guarantee.
Be prepared to spend an additional $200 to $500 on software tools you will need to complete the training.
---
Anyone interested in learning a new skill or starting a career in WordPress development or themes should take this course.
The WordPress Academy; Learn WordPress Step-by-Step course by Skillshare is designed for people new to the field who want to learn WordPress from scratch.
You'll get tutorials specifically for utilizing WordPress to build blogging and eCommerce websites.
Besides theory, the course mandates that students complete three projects. They must build a landing page, a blog, and a WordPress eCommerce site.
Course Content
Presented by: Chris Dixon, Web Developer & Online Teacher.
The course starts with an introduction to WordPress and a look at localhost installation.
Starting with a landing page for a music festival, you will become familiar with the Gutenberg editor. Widgets, adding pages, installing themes, and the media library are also covered.
Then, when you create your own blog website, you'll look at WordPress basics, including blog posts, pages, navigation menus, and theme installation.
After learning WordPress basics, you'll customize your blog using sliders, widgets, header pictures, and the customizer. You will get a chance to back up your website and optimize it for search engines.
The third project broadens your understanding of WordPress even more. You'll design an eCommerce T-Shirt store.
Later in the course, you'll get an introduction to WordPress theme development. You'll convert an existing CSS and HTML website to a fully functional WordPress theme. Although PHP coding is covered in this area, there is a PHP basics section to help you get started.
You will learn new approaches and better understand how WordPress themes are made.
To complete this course, you don't need any additional software, subscriptions, purchases, etc. All the images and data you'll need are supplied for download.
Duration
The WordPress Academy online course is one of the longest and most comprehensive on our list. It features video content lasting approximately 8 hours and 30 minutes. Eighty-four videos of the course cover every topic related to WordPress.
Pricing
To access the WordPress Academy course, you will need a Skillshare membership. A Skillshare subscription costs about $30 per year.
Note: In the past, Skillshare provided a free tier with restricted access to a small number of classes. However, the free Skillshare courses were discontinued in September 2021, leaving only the annual membership plan.
---
The Complete WordPress Website Business Course 2.0 (Udemy)
The Complete WordPress Website Business Course 2.0 is available through the well-known online learning management system Udemy. The course is organized into logical steps where you build your skills from one section into the next. You'll also get useful tips on where to find resources etc. This is probably the best WordPress course for building your business website. And you'll get a certificate of completion.
Course Content
Presented by instructor Greg Davis, a WordPress Website Professional, and Teacher.
Use WordPress to create all kinds of websites to sell to clients or for your own business.
WordPress 5.9 and later - use the Twenty Twenty-Two theme to learn block-based and full site editing.
Master the Visual Builder and Elegant's Divi Theme to build custom websites from pre-designed layout packs.
Create and modify websites in environments for development and staging.
Use the three email types required to support a WordPress website (send and receive transactional emails, and marketing email (bulk send)).
Learn how WordPress functions inside out to build, maintain, and debug websites.
Learn how to create high-performance custom WordPress sites with the Kadence Theme and Kadence Blocks WordPress plugin using the built-in blocks system.
Create server and hosting infrastructures in the most cost-effective and safe manner possible.
WordPress website migration and transfer from staging to live and vice versa
Systems for Hosting Multiple Websites
Website Care Plans - The management of services
Backups and Staging for Website Care Systems
Online Payment Acceptance with WooCommerce
Note 1: Elegant Themes offers a 30-day trial period, so you can test it and see if you like it.
Note 2: The multipurpose WordPress theme Kadence is free to download as a basic version, but it also has a paid edition that offers more options.
Duration
18.5 hours of on-demand video.
Pricing
$84.99 (Udemy often gives deep discounts, so be sure to check for those.)
---
WordPress for Beginners – Master WordPress Quickly (Udemy)
The WordPress For Beginners - Master WordPress Quickly Udemy course has a primary objective. That is to teach anyone, even a total newbie without using technical lingo, how to master WordPress quickly. You get 24 articles, resources, and a Certificate of Completion.

Course Content
Presented by Instructor Andrew Williams, WordPress, SEO & Self-Publishing Expert, teacher, and author.
This online course teaches how to use WordPress to create a functional, attractive, and responsive website.
Know your way around the WordPress interface and how to use everything.
Recognize the core components of WordPress.
Make pages and posts, and most importantly, understand how they differ.
Make individualized menus and navigational systems that are useful to visitors and search engines.
Be mindful of how your use of post categories and tags can affect your search engine rankings.
Find out how to configure WordPress for the best results.
Find out where to get themes and plugins and how to install them.
Make sure your WordPress website is safe from hackers and spammers.
Create a blog-friendly home page or a static home page that works for the majority of websites
Learn the Key Elements
Once you feel comfortable using your new tools, you'll go over the key elements you'll require as you build your site, including:
WYSIWYG editor. You can enter all of your website content here.
You control all the images, audio, and video files you want to publish on your website in the media library.
WordPress Settings - go through correctly configuring them step-by-step.
Find out about the differences between WordPress posts and pages. And get a practical guide on choosing which to use and when.
Go over how to use tags, categories, and article summaries on a well-structured website to enhance user experience and search engine rankings.
Find out how to add a contact form so users can get in touch.
Set up an "About Us" page, and learn why it's crucial and what details to put there.
The necessary legal pages will be explained.
Learn about your site's navigation structure and how to build up specialized navigation in the header, sidebar, or footer. Plus, internal site linking.
WordPress security and how to put up a strategy to prevent hackers from accessing the website.
Examine some excellent free plugins.
Finally, you'll get a 20-step plan for building your website.
Duration
9.5 hours of video instruction.
Pricing
$129.99 (Prices may vary when Udemy offers deep discounts.)
---
This course from Skillshare is ideal for individuals who have never built a website before.
Course Content
Install WordPress
Website security: How to install SSL encryption
Select the right web hosting organization
Make a professional webmail account
How to choose and work with the right theme
Configure various WordPress plugins
How to make and edit image galleries
Publish content with posts and pages
User accounts and how to create them
Create policy and privacy pages
Social media functionality integration into your website
Use Mailchimp to build your mailing list
WordPress website backup
Optimize for Google, Bing, and other major search engines
Set up contact pages and comments
How to stop spam comments
Using caching plugins to speed up your website
Import and export content and more
Duration
70 video lessons - 7 hrs 41 mins.
Pricing
Skillshare is pretty mysterious about its price structure. That's the downside - you can't find pricing models anywhere unless you sign up. But you do have free access to all Skillshare's courses for one month.
---
WordPress Crash Course: Learn WordPress Fast (Udemy)
The WordPress Crash Course: Learn WordPress Fast from Udemy will teach you the basics in the shortest time possible.
Course Content
Presented by training brand Meta Brains.
Practice without paying for a domain and web hosting by installing WordPress on your computer.
Learn how to become a WordPress master and produce stunning pages, posts, and portfolio items.
Website optimization for Google, Bing, and other search engines.
Build websites for clients and even launch your own web design business.
Use WordPress and the Elementor Page Builder to create your own website.
Download, install, and configure external WordPress plugins.
Backup your website.
How to export and move your website to a different domain (migrating websites).
Note: Along with several other premium subscription levels, Elementor also provides a free plan. The free version includes 40+ basic widgets, a drag-and-drop editor, and 30+ templates, as well as all the features you need to build a robust user experience on your site.
Duration
2h 30m total length - 6 sections; 26 lectures.
Pricing
This course costs $59.99.
---
Getting Your First WordPress Website Up in Under 24 Hours (PluralSight)
Building a website might be intimidating, especially if you've never done it. WordPress can make it easier, but all the settings and jargon might still be overwhelming.
WordPress is reduced to its bare essentials in this course: Getting Your First WordPress Website Up In Under 24 Hours. You can get started immediately without worrying about what each configuration does. The course is presented informally, making setting up your website even less daunting.

Course Content
Presented by instructor Chris Reynolds: WordPress developer for WebDevStudios and a freelance web designer and developer specializing in WordPress.
Module one: Briefly introducing WordPress
Then first things first - what you will need:
Domain Name
Hosting
Server Requirements
WordPress
FTP Client
Installing WordPress
Module Two: Setup
Navigating The Front-End And The Back-End
Remove Default Content
Change The First Five Settings
Keep Your Site Updated
Module Three: Customization
Searching For and Installing New Plugins and Themes.
Themes and Plugins - Free or Premium?
Set up Your Sidebar
Module Four: Publish
Writing Posts and Pages
Deleting Posts and Pages
Images and Galleries
Adding Video
Post Formats
Module Five: After You Go Live
Plugins You Should Know About
Social Media
Custom URL Shorteners
Search Engine Optimization
Adding New Users
Duration
Each module is different, but the total duration of the course is about 2 hours and 41 minutes.
Pricing
You'll need to subscribe to Pluralsight for this course at $45 per month. However, you can test the course with a 10-day free trial.
---
WordPress 2022: The Complete WordPress Website Course (WebsiteLearners)
The WordPress 2022: The Complete WordPress Website Course is for newbies who want to spend less time learning how and more time building the perfect website.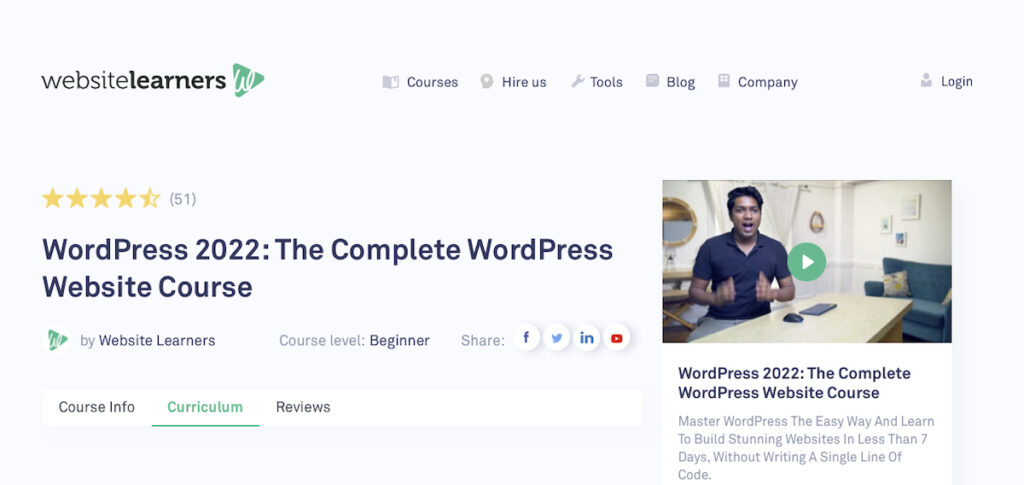 Course Content
Take only seven days to learn WordPress
Make a WordPress site that is responsive and functions well across all devices.
Use the WordPress editor and sophisticated visual builders to create pages that look totally professional.
Use relevant themes and plugins to get the finest features for your website.
Set up WordPress settings to improve the performance of your website.
Utilize categories, tags, backups, and other best practices to categorize and maintain your website.
How to use SEO to rank your website on Google search results
Duration
6 hrs and 6 mins.
Pricing
This course costs $330.
---
Building a Small Business Website with WordPress (LinkedIn Learning)
Building a Small Business Website With WordPress by LinkedIn Learning course gives you a series of very simple and practical steps required to build a small business website.
Course Content
Presented by instructor Carrie Dils: WordPress Developer.
Preparations to Build Your Site - the process of deciding what needs to go into your small business website
Configuring Site Appearance - how to design an attention-grabbing landing page.
Extending Functionality with Plugins - make your website work better with WordPress plugins.
Adding Key Content - What to add and how to do so.
Advanced Topics in Owning a Website - SEO training, search engines, and costs.
Go Live - Testing your site before going live, securing your site, and managing spam.
Ongoing site maintenance
Duration
About 60 minutes of self-paced video learning.
Pricing
Around $21.50 (check for discounts). You can also signup for a 1-month free trial to LinkedIn Learning.
---
How To Create a Website in a Weekend (Coursera)
This project-centered course (How To Create A Website In A Weekend) is intended for students with little to no experience creating websites. The course will use WordPress to get you going and offer many examples you can download.
It will also walk you through the process of providing and receiving helpful peer-to-peer feedback.
You'll accomplish the following:
Create, develop, and publish a simple website in this project-based course.
Your website will feature text, graphics, sound, hyperlinks, plugins, and social media involvement.
Get step-by-step instructions, exercises, advice, and tools to register a domain name.
Design appealing page layouts and properly arrange your content.
Ensure your site works well on mobile devices
Keep your site secure and let people know it's online.
How to keep track of your visitors.
Through peer review and course forums, you'll collaborate and converse with other students throughout the course.
Once you've completed your first WordPress website project, you can progress to the optional, expanded module. This covers more sophisticated skills, including using a simple text editor, and coding in HTML, CSS, Javascript, etc.
Duration
Self-paced learning - around 14 hours to complete.
Pricing
Free, or $29 if you want a certificate.
---
Learn How to Create a Website from Scratch with WordPress in 1 Day (Bitdegree)
Learn How To Create A Website From Scratch With WordPress In 1 Day is the best WordPress course if you're looking for a super quick, powerful course for beginners.
Course Content
Presented by the instructor - Alex Genadinik: entrepreneur, teacher, and best-selling Amazon author.
Introduction to the instructor and the course
What is website hosting, and why should you get it
Benefits and drawbacks of purchasing domains and hosting in different places
Configure your domain and hosting if you purchased them from different websites.
Installing PHP, WordPress, and your domain on your hosting platform
Creating posts and pages
Blog post categories and tags
How to create customized URLs for your pages and posts
Plugins, themes, and widgets
You'll learn quick and simple techniques from this course that will help you create a website from start to finish.
That is not all, though. You'll also learn SEO and marketing tactics. This course will not only teach you how to design a website, but it will also cover affiliate marketing for beginners.
Duration
1hr 15min of content in total.
Pricing
This course usually costs $58.33. There's a limited-time special running for $1.99 right now. So always check for discounts.
---
How to Make a Website with WordPress - Full Course by freeCodeCamp.org
How to Make a Website with WordPress by freeCodeCamp.org: Learn from the pros as the instructor guides you through getting a domain name and hosting.
Learn about setting up WordPress, and utilizing a theme, allowing you to customize your website completely.
Course Content
Presented by Beau Carnes: teacher and developer with freeCodeCamp.org. Beau runs the freeCodeCamp.org YouTube channel.
You'll start this WordPress development course with an overview.
You'll get a domain name and hosting from Hostinger. (Hostinger offers a free plan with limited features.)
Understand the hosting control panel
Set up WordPress
Sign in to the WordPress administration panel
Remove the pre-installed plugins
Next Steps
Learn about the WordPress dashboard
Update WordPress
Add and edit users
Update Permalinks
Install a WordPress theme, plugins, and a demo template
Backup your WordPress website and start customizing it
Then
Make a unique logo and adjust the website's overall colors
Add a favicon and modify the website's content
Use Elementor to create custom elements.
Amend the text on the page, update links, change the color of specific parts, and add images
Lastly
Adjust the layout and appearance
Add new sections to pages
Update pages and menus
Create new pages
Set the homepage to be a blog and update the blog entries page
Make a new blog post, edit the settings for how blog posts are shown, and eliminate sample articles
You'll learn how to disable comments, alter the contact page and create a custom contact form
Update the website's header, social media links, and website footer
Also, update the custom CSS, and add a "scroll to the top" button before the course is over
Duration
The course is broken down into 45 videos. Each video involves about 1 to 2 minutes of work. Concepts are taught through video lectures only. View the full course on the freeCodeCamp.org YouTube channel (2-hour watch).
Pricing
This course is free.
---
Free WordPress Training: WordPress for Beginners (Yoast)
This Free WordPress Training: WordPress for Beginners course makes it easy to construct your blog, an online store, or a company website.
Course Content
You will learn what WordPress is, how WordPress.com and WordPress.org vary, what you can accomplish with WordPress, and what open source entails in the first module.
In the second module, you'll discover how to select a WordPress hosting provider and get your own domain. Also, get accustomed to the WordPress back end, and determine how you want to use WordPress.
The third module: you'll learn how to personalize your website, use WordPress settings, themes, plugins, and widgets, and comprehend the fundamentals of page builders.
In the fourth module, you'll learn about adding posts and pages to your WordPress site. You'll also learn how to add photos and videos to these posts and pages.
The fifth module: you'll learn how to organize your material using menus, categories, and tags so that site visitors can easily discover what they're looking for.
After you've set up your WordPress site, you'll learn how to administer it using user roles, updates, and backups in the sixth module.
SEO for WordPress: To ensure that visitors can really find your website in the search engines, the seventh module covers WordPress SEO. Learn what the Yoast SEO plugin can do for you, what you should do yourself, and what WordPress does for your site's SEO out of the box.
Finally, you'll learn the history of WordPress, its open-source environment, and how you may contribute in the eighth module.
Duration
Concepts are taught through a combination of videos, readings, and quizzes. You can do the online course in your own time.
Pricing
This training is completely free.
---
What are The Benefits of Doing a WordPress Course?
The unlimited possibilities that WordPress offers for everyone, from beginners to experienced website developers, make it one of the most sought-after technologies of recent times.
WordPress powers over 835 million websites, making it a great career opportunity. Even a novice with no formal training can advance to becoming a WordPress developer, designer, or educator.
With such advantages, learning WordPress is the best skill you can have. You may even become a "Master in WordPress" with a great professional WordPress training course!
How to Choose the Best WordPress Course
While enrolling in classes is important, picking the right WordPress training course is just as crucial. But how to choose the best option?
The correct course is the one that meets your needs by offering current, high-quality content (being economical is an additional bonus).
So, the following are some crucial considerations you should take into account before enrolling in a course:
High-quality, narrowly focused content that is delivered in an organized way.
Practical lessons that can help you learn WordPress and apply it to your projects.
Value adds, like a free theme or plugins necessary for a WordPress website.
Updated course material that reflects WordPress changes.
And no additional costs.
Final Thoughts: Best WordPress Course
There you have it. Choose your best WordPress course out of the 12 we've discussed.
Some of these courses are brief and uncomplicated. Others are more extensive and take longer to finish, but they provide a deeper look at WordPress. In a similar vein, some are more appropriate for total beginners with no prior web design experience. Others, though, are more suitable for an experienced web developer.
With the proper knowledge and a strong foundation, WordPress allows you to build websites with great layouts. Its programming is exceptionally straightforward, which is why it has become popular with developers worldwide.
A quick word of caution:
Some of the courses teach you to use particular themes and plugins, but these may not be the fastest or the best options - do your research. And read our article on the best SEO WordPress themes.
Once you are ready to create content for your new site, you may want to know how to import Google Docs to WordPress. And find out how to edit code in WordPress if you are more advanced.
We hope your new WordPress website brings you success and recognition.
Want to learn step-by-step how I built my Niche Site Empire up to a full-time income?
Yes! I Love to Learn
Learn How I Built My Niche Site Empire to a Full-time Income
How to Pick the Right Keywords at the START, and avoid the losers
How to Scale and Outsource 90% of the Work, Allowing Your Empire to GROW Without You
How to Build a Site That Gets REAL TRAFFIC FROM GOOGLE (every. single. day.)
Subscribe to the Niche Pursuits Newsletter delivered with value 3X per week