Scale Down in Order to Scale Up: 2020 Business Performance and Personal Review
When you buy something through one of the links on our site, we may earn an affiliate commission.
I recently reported on my earnings and progress for Own The Yard.
However, that niche site is really not a very big part of my business in terms of both time and money.
As a result, I thought it would be good to do something I haven't done in a few years:  Reflect on my entire business for 2020 and share my vision going forward.
Today I'll be sharing the progress I've made in my entire business; including NichePursuits.com and LinkWhisper.com.
In this report you'll find:
the importance of balancing expectations vs reality
a personal recap of 2020
the books I read last year
All the businesses I'm involved with
Link Whisper Progress
Niche Pursuits Progress and Vision
Goals for 2021
Expectations vs. Reality
Tempering expectations is sometimes a difficult concept to grapple with as a business owner.  At the beginning of the year you set goals, but then you reflect on those goals a year later and half of them may not even matter at that point.
Sure, 2020 was a year that no one expected.  I didn't expect my kids to still be doing "virtual learning" at home with no end in sight.  I didn't expect half of the world to start working from home in 2020.
But such is reality.
However, I want to dive deeper than the obvious pandemic that impacted everyone.  This is just one example of a "Black Swan" event that no one could predict.
These types of events to a smaller degree happen every single year that change the trajectory of your business. 
For example, I had a goal at the beginning of 2020 to create a new software tool.  However, as my business progressed that turned out to be a really bad idea and I'm glad I didn't fulfill that goal.
Doing so would have taken my focus away from existing projects that have tons of potential.
So, I will simply say that I am a BIG believer in settings goals based on the expectations that you currently have.  However, sometimes reality sets in, and the best course of action is to abandon your original goal and to pursue something completely different.
This may come in the form of a better business opportunity, a better work-life balance opportunity, or something else completely unforeseen.
For example, I had a goal in 2020 to run my fastest marathon ever and qualify for the Boston Marathon.  I had a goal of 3:05 (my previous best is 3:09:40 run at the end of 2019).
I was in the best shape of my life and I was scheduled to run a marathon on April 4th.  Well, that marathon (along with all others) got shut down 2 weeks before it was scheduled to happen.  Many many months of hard training were for not.
Here's a picture taken a couple weeks before I knew my marathon was going to be canceled. I had just gone running on a relatively cloud-free day and then out of nowhere, about 3 miles into my run it started pouring rain and then hailing.  
I just took the picture to kinda say, "What in the world happened!?"
Sometimes things look great, then it starts hailing on you and you are 3 miles from home with no phone, and the only way home is on a dirt trail.  We've all been there, right? 🙂
Personal Happenings in 2020
Overall, 2020 was actually a fantastic year both personally and professionally.  I wanted to reflect a bit on the positive and perhaps get a bit more personal than I have in a long time.
My wife is going to hate that I'm sharing pictures of her and our kids.  But she never reads this blog, so she will never know! (<—- True statement, by the way).
As I started to look at a few photos, I thought I'd share a few highlights.
In January of 2020 my family made a trip to Arizona to visit my parents.  My son and I, along with a couple of my brothers and their kids, hiked to the top of Flat Iron (Superstition Mountains). Yes, my son is taller than me.
I started doing more Youtube videos and thought I should take odd thumbnail pictures of myself.  By the end of the year, I've killed off that idea.  But this is a shot of me a bit more reflective on what the future will bring.  
With kids being quarantined and unable to go to school in person, we decided as a family to try and get out every day and go hiking.  My wife and I loved it…and somedays our kids enjoyed it too.  Below is McBee mountain trail.
Here we are near the top of Candy Mountain. We ended up discovering tons of local trails that we didn't know about.  Some of them we will visit again, and some we will definitely never visit again.
We also made a trip to Falls Creek Falls near Portland, OR
My brother and I took most of our kids + an extra nephew on an epic backpacking trip to Swamp Lake near Mt. Rainier.  Don't let the name fool you, this was an absolutely gorgeous wilderness.  This hike pushed our kids to their limits as we did roughly 12 miles in less than 24 hours.
Here's a few more pictures from the epic overnight backpacking trip to Swamp Lake and Cougar Lake.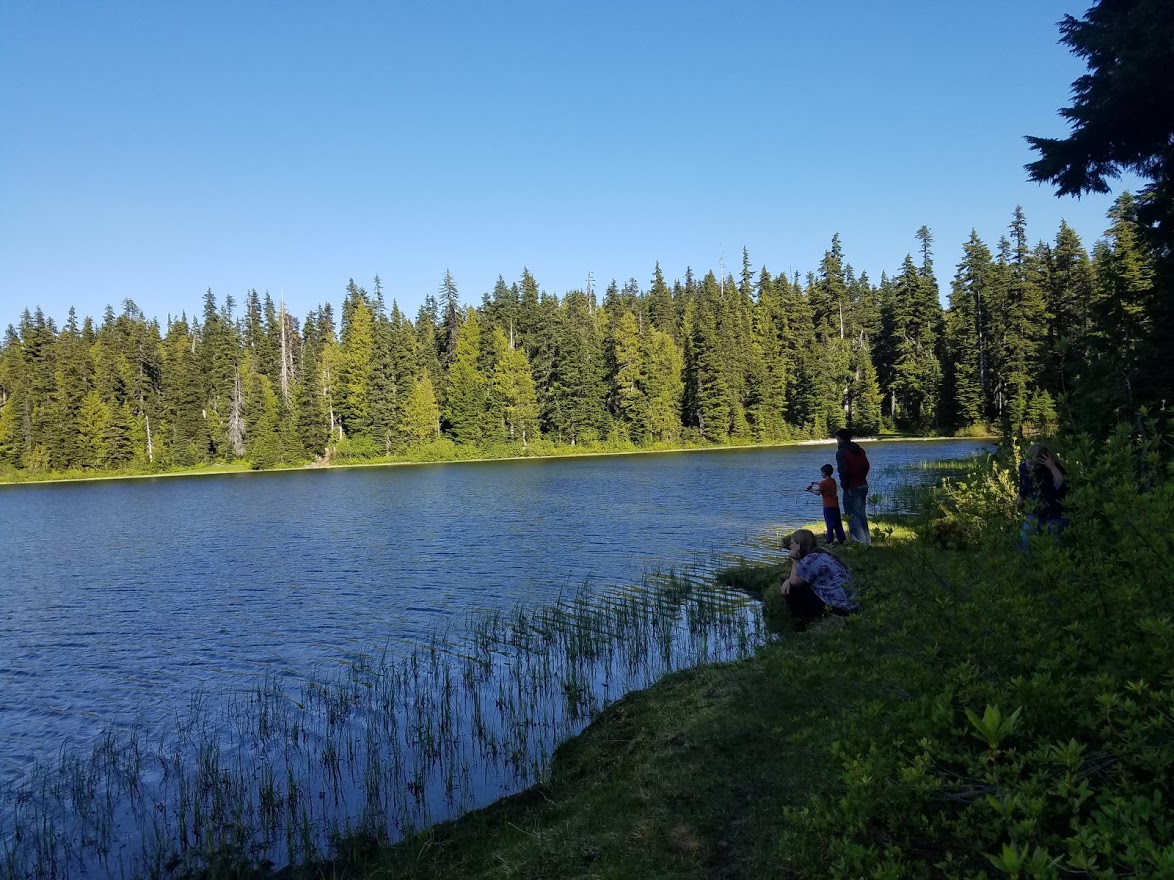 My youngest son graduated from Kindergarten.  Because no big graduation ceremonies were allowed, the teacher had small groups of her students go to her house and walk across her porch one at a time to get their "graduation certificate".  All the kids were excited.  But not my son…of course.  He suddenly got cold feet and didn't want to walk across that porch.  I came up to try and save the day to walk across with him.  This picture captures that moment.  Spoiler alert, he didn't ever make it across the porch.  But they let him graduate anyway :). 
I voted.  And carved pumpkins on the same night.
I ate a dozen donuts in a day.  This is something I've done once a year for several years.  The "dozen donut challenge" is hard to explain the origins and why I still do it.  But the idea is to "reset" when you are feeling miserable and out of shape.  Eat 12 donuts in 12 hours. Hit rock bottom. Feel motivated to get in shape and never feel like that again.  (PS – My wife hates it every time I do it, but at this point, it has kinda become a Spencer thing, so I keep doing it).
(I made it easier on myself this year and went with Krispy Kreme, which are only about half the size of a normal donut that I usually do).
Finally, my wife created a Zombie production of sorts for her mother. (Her mom LOVES zombies).  So, I got cast as an innocent bystander that got attacked by my zombie children.  I know, it's hard to explain and I don't fully understand it either.  When your wife wants you to get attacked by zombies and wear a wig you do it!!
Overall, 2020 was pretty epic on a personal level with my family.  We explored a ton of new places and even managed a couple of other vacations that I didn't mention here.
Family is always my number 1 priority and business is further down the list. 
But since this is a business blog, I'll move on from this brief personal update.  Thanks for indulging me by reading so far.
Books Read in 2020
I enjoy reading and was able to make it through several books.  I did a poor job of documenting all the books I read, but here's a likely incomplete list of the books I read in 2020.  I've simply bolded the ones that I enjoyed the most.
The Ride of a Lifetime: Lessons Learned from 15 Years as CEO of the Walt Disney Company – Bob Iger
Before the Dawn: Recovering the Lost History of Our Ancestors – Wade Nicholas
Sam Walton: Made In America – Sam Walton
The Boys in the Boat: Nine Americans and Their Epic Quest for Gold at the 1936 Berlin Olympics – Daniel James Brown (Got bored and didn't finish)
Essentialism: The Disciplined Pursuit of Less – Greg McKeown
1491: New Revelations of the Americas Before Columbus – Charles Mann
Lake of the Ozarks: My Surreal Summers in a Vanishing America – Bill Geist (Got bored and didn't finish reading)
The Cartiers: The Untold Story of the Family Behind the Jewelry Empire (Got bored didn't finish reading)
Call Me Ted – Ted Turner
The Tattooist of Auschwitz: A Novel – Heather Morris
Tiny Hot Dogs: A Memoir in Small Bites – Mary Giuliani
A Crack in Creation: Gene Editing and the Unthinkable Power to Control Evolution – Jennifer Doudna
Traction: Get a Grip on Your Business – Gino Wickman
Human Compatible: Artificial Intelligence and the Problem of Control – Stuart Russel
Life 3.0: Being Human in the Age of Artificial Intelligence – Max Tegmark
Here's a few books I've already purchased that are on my "To-read" list:
The Seven Daughters of Eve: The Science That Reveals Our Genetic Ancestry – Bryan Sykes (I'm currently reading this and enjoying it).
Friday Night Lights, 25th Anniversary Edition: A Town, a Team, and a Dream – HG Bissinger (I finished part of this already, but will pick it back up soon).
The Warmth of Other Suns: The Epic Story of America's Great Migration – Isabel Wilkerson
The Better Angels of Our Nature: Why Violence Has Declined – Steven Pinker
1493: Uncovering the New World Columbus Created – Charles Mann
Killers of the Flower Moon: The Osage Murders and the Birth of the FBI – David Grann
I'm fairly certain I read a couple more last year, but this is most of them.  If you have good book recommendations, let me know!
Business Portfolio Overview
One of the themes that I started to apply at the end of 2020 and hope to apply even more in 2021 is to scale down in order to scale up.
What I mean by this is that I need to scale down the number of projects I'm working on in order to have the time and focus necessary to scale up the biggest projects with the most potential.
So, as I share my overall portfolio, I'll also simply share whether it's a project I'm planning to exit in 2021 or a project I plan to scale up.
NichePursuits.com. I plan to continue focusing on and growing this business.
LinkWhisper.com. After launching in mid-2019, this business has grown much bigger than I initially expected.  I still see TONS of growth potential, so I plan to keep focusing here.
OwnTheYard.com. I just published an annual review here.  I plan to put very little of my own time here.  I could definitely see myself selling this site in the next 12 months, but who knows.
Other niche sites.  I have a few other niche sites that I'm still working on.  I'd really like to sell all of these sites in 2021 in order to free up "mind" space and a little bit of time.
TableLabs.com. The SaaS business is one that underperformed based on my expectations. I'd like to sell this business in the next 12 months.  Contact me if interested in buying.
MotionInvest.com – This is a business where I am a minority partner.  I put very little of my own time into the business.  I plan to stick around because I believe there is growth potential and its only a very minor time commitment.
BrandBuilders.io – I'm also a very minority partner here.  I don't put any real time into this business either.  We will see what happens with this one over the next 12 months.
As you can see, I have 7 total businesses that get some of my time, even if it's a very little amount of time.
I'd love to only have 2 businesses to focus on, but I'm not sure I can scale down that far in 2021.
In addition to perhaps selling some of my sites or exiting other businesses, I have a goal set in stone that I will NOT start any NEW websites or businesses in 2021.
I want to scale up what I already have.
The 2 businesses that I will be focusing on for 2021 is NichePursuits.com and LinkWhisper.com.  And the nice part is that both of these businesses are very interconnected.  So, my time spent on either one is really spent helping both.
Link Whisper Progress
When I originally created Link Whisper, I was planning to create 3 or 4 different little WordPress plugins that would add up to a nice little software portfolio.
However, when I launched Link Whisper just about 18 months ago, the demand was MUCH larger than I expected.  I won't go into the numbers that I was expecting; however, I'll just say this was another time where expectations did not meet reality…in a good way.
As a result of what I've seen over the last 18 months of running the business, I plan to focus heavily on growing the Link Whisper business and won't be pursuing any other software tools at this time.
I honestly never thought I would have another tool as successful as Long Tail Pro (which I exited 5 years ago).  Link Whisper is still not as big as Long Tail Pro, but when I compare the trajectory of Link Whisper to Long Tail Pro after the first 18 months, Link Whisper is definitely ahead.
Product Hunt
In May of this year, I was able to do a promotion on Product Hunt.  Link Whisper ended up being the #1 product of the day and got listed in the Product Hunt email.
This led to some nice exposure and quite a few sales.
New Features
During the year, we released so many new features that I won't list all of them.  I now have a dedicated full-time developer working on the project, so we are making lots of updates all the time.
Recently we released:
Ability to add your own target keywords to get better link suggestions.  This includes integrating with Yoast SEO or Rank Math to pull in any target keywords you've already added.
Ability to connect with Google Search Console.  This allows you to see the target keywords you are already ranking for, so Link Whisper can suggest better internal links.  Google Search Console also provides search data that is readily available for you to view directly in the plugin.
Supported more languages and more themes/wordpress editors.
Added more filters, search functions, and more to make it faster and easier to find and add internal links based on your personal criteria.
Coming soon, we will be adding the ability to interlink multiple sites that you own.  If you own both site A and B, you will soon be able to see link suggestions between those sites if you so choose.
Link Whisper Performance
I'm a little hesitant to share the exact revenue of Link Whisper.  However, here is a graph below of the monthly revenue since the product was launched 18 months ago.  
I know the graph doesn't give a ton of data.  However, when I compare the same month of 2019 vs. 2020, it's pretty easy to see the awesome growth.  Most of the spikes that you see are when I did some sort of promotion.
For example, the big spike in July 2019 is when I launched the tool to my email list.  Then Nov. and Dec. of both years are Black Friday and Cyber Monday spikes.  And May 2020 was my Product Hunt launch.
I'm excited to see where this business goes.
Niche Pursuits Progress and Vision
I plan to put a lot of my time into growing Niche Pursuits both as a community and as an income stream.
I'll be honest that 2020 was a VERY rough year for traffic to Niche Pursuits.  The site got hit hard with the May Google update.  Niche Pursuits has avoided every single other update Google has ever thrown out since 2010.
I've never done any "link building", so I've never worried about negative impacts from Google.  However, for whatever reason, Google decided to lay down the hammer.
Here's what the carnage looked like:
That's not the kind of graph you want to see.  Early in the year I had lost the rankings of a couple of my big keywords, but this only impacted a couple of articles. 
However, in May the drop was really across the entire site after the core update.
I wish I could say I knew the reason my site got hit with the update, but I don't know for sure.  However, during the second half of the year, I spent a lot of time auditing and cleaning up Niche Pursuits in hopes that Google would once again smile on my site.
The work appears to have paid off when the December core update came out.
Here's the rest of what 2020 looked like in Google Search Console (and beginning of 2021):
As you can see with the red line I added, my Organic traffic is VERY close to getting right back to where it was before the May update.  And the trend that I'm seeing with increased traffic right now leads me to believe that in another month or two I could definitely exceed where I once was at the beginning of 2020.
Here's a few things I did that I believe helped me "recover" from the Google core update in May.  (I also deep down believe that Google made a mistake penalizing my site, and maybe they were just "fixing" that mistake in December):
I have TONS of old, personal, or otherwise non-keyword focused content that was getting no traffic.  I removed roughly 250 articles that were basically never targeting a keyword or were otherwise not worth repurposing.  This took many many hours of my own time.
I've spent a lot of time optimizing the internal links with Link Whisper.  In many cases this involved actually removing links.  For example, I might have anchor text of "Amazon Affiliate Website" leading to article A and then the same anchor text "Amazon affiliate website" leading to article B in another location.  I believe this really confuses Google and both article A and B end up performing poorly.  Fortunately, Link Whisper made it much faster and easier to audit and update all my internal links.
I did a complete technical Audit using both Google Search Console and Ahrefs to fix errors on my site.  This was also a time-consuming project.
I've also been updating my top-performing content and using Market Muse to do those updates.  I've seen increases in rank and traffic in almost every single one of the articles that I update.  This is an ongoing task that will likely go all throughout 2021 and perhaps forever.  I currently have 2 authors assisting with those updates.
Niche Pursuits Traffic and Monetization
When I look at the total traffic (not just search traffic) for Niche Pursuits Year Over Year, I can see that traffic was only down 10.66%.  Now, I hate a decline of any kind, but with all that went on with the May core update, etc, I'll live with it.
However, despite a 10% decline in traffic to Niche Pursuits, the actual income INCREASED by 97.85%. That's right I almost doubled the income of Niche Pursuits in 2020 compared to 2019.
How did I nearly double the income with declining traffic?
Well, part of it was definitely optimizing posts for monetization.  Some articles were not monetized very well in the past and so I fixed that. 
Another part was that I had started producing more "money" type articles in 2019 that started performing better in early 2020. 
Perhaps the largest contribution to increased revenue in 2020 was due to utilizing my email list better. I developed a better system for writing content, finding offers, and monetizing my email list.
When you have an email list that you've built over 10 years that you haven't fully monetized, there is a lot of "meat" on the bone so to speak.
Now, I have been very careful about trying to not just send out offer after offer without any real content.  I now have gotten into a rhythm of trying to provide 3 or 4 stories, articles, interviews, or other great pieces of content in my emails.  Then I have one "By the way, this service is x% off today" type of offer.  
As a result, the feedback I've gotten is that people are still excited to open my emails and read because they get those motivational or strategic stories that I share or the entrepreneurial interviews that I do.  And they don't mind seeing a small paragraph that might mention a special offer that I make an affiliate commission on.
Now, if all I was doing was making the special offers 100% of my emails, this would backfire pretty quickly. 
You have to keep sending great content that your email subscribers want to read and then they don't mind a short "commercial break" halfway through.
This process has been working so well that I've hired a full-time COO to help me grow the business side of Niche Pursuits.  Eric Burns started in late September and has been a great addition to my team.
Niche Pursuits Income
I won't be sharing the actual revenue numbers, as I'd like to continue to keep that private, but NichePursuits.com is a good business.
As you can see from the graph above, the income has been steadily increasing over the last couple of years.
I track the "passive income" and the "active income" on the site.  The passive income is simply the articles that are ranking in Google and make sales without my involvement.  Basically, everything happening directly on NichePursuits.com.
The other income is things that happen off Niche Pursuits, like email promotions or other one-time payments that I might get, like podcast sponsorships, etc.
As you can see, 2 years ago, I basically had no sponsorships or "active" income happening with my email list, etc (at least not very frequently).  Now you can see that this has become a bigger part of my business and I believe there is tons of growth potential here.
I'm putting more and more effort into growing my email list and I almost treat my email list like its own business separate from the passive income that is happening on NichePursuits.com.  They definitely feed off each other, but they need to be operated differently.
Link Whisper vs. NichePursuits.com
Again, I've edited out the actual income numbers, but I thought it would be interesting to compare the month over month revenue of Niche Pursuits vs. Link Whisper.
As you can see my 18 month old business of Link Whisper is already performing at the same level of my 10-year-old business, NichePursuits.com.
Link Whisper actually edged out Niche Pursuits overall for the entire year for revenue.  However, the expenses are definitely higher for Link Whisper with a full-time developer, paid ad campaigns, and support staff.
(It's still very profitable though).
Goals for 2021
Overall, I'm happy with the performance of both businesses during 2020, but I have goals to make them even better.
I always set goals in both my personal and business life. Here's my business goals for 2021:
Update and Optimize 125 posts on NichePursuits.com
Grow Niche Pursuits traffic to 10,000 sessions a day (300,000 sessions a month)
Write 1500 words per weekday (5 times a week)
Grow Niche Pursuits revenue by 50%
Grow Link Whisper revenue by 50%
Read 2 books per month
Don't start any new business ventures in 2021
I won't bore you with all the personal and family goals that I have for the year, but just know that I have those as well.
I'm off to a great start with my writing 1500 words a day goal!  I think having this dedicated "deep work" time is going to hone my skills as a blogger and I'm finding it quite fulfilling.  Here's a quick look at my daily goal tracker for writing (home-made spreadsheet):
Overall, I hope you've gotten some value out of reading my 2020 year in review post.  I believe that 2021 is going to be a fantastic year for online entrepreneurs in general and I look forward to sharing my progress along the way.
If you'd like to stay informed with what I'm up to, what's happening on Niche Pursuits, and any other business strategies that I have to share, I recommend that you join my email newsletter right here.
Want to learn step-by-step how I built my Niche Site Empire up to a full-time income?
Yes! I Love to Learn
Learn How I Built My Niche Site Empire to a Full-time Income
How to Pick the Right Keywords at the START, and avoid the losers
How to Scale and Outsource 90% of the Work, Allowing Your Empire to GROW Without You
How to Build a Site That Gets REAL TRAFFIC FROM GOOGLE (every. single. day.)
Subscribe to the Niche Pursuits Newsletter delivered with value 3X per week