How Much Money Did OwnTheYard.com Make in 2020? Annual Report and Plans Moving Forward
When you buy something through one of the links on our site, we may earn an affiliate commission.
So, what happened to OwnTheYard.com in 2020?
A lot.
Today, I want to jump into an "annual report" for Own The Yard to catch you up with all the exciting news for the site.  I stopped doing monthly reports earlier this year and don't plan to start them up again in 2021, but I feel like an annual report is appropriate for now.
In this report I'll cover:
How much the site earned last month
How much the site earned last year and over its lifetime
Traffic analysis
Google updates, unnatural links, and recovery
Questions from the community
Plans moving forward
Let's jump into it.
December 2020 Earnings for Own The Yard
Last month, OwnTheYard.com earned a total of $3,755.
Amazon Associates accounted for $2,543.31 of that earnings.  
The remainder of the earnings was from Ezoic display ads ($1,211.84): 
About midway through the month, I got invited to the Ezoic Premium program, so I joined.  As you can see from the above image, Ezoic Premium added an additional $155.90 to my earnings in the second half of December.
When I compare Dec. 2020 earnings to Dec. 2019 earnings, I'm very happy with the results.  Last December the site made $2,366, which is $1,389 less than I made this December.
So, the site has clearly grown over the last year when I compare month to month.
Own The Yard Yearly and Lifetime Earnings
So, how much money did OwnTheYard.com make in 2020? 
In total, the site made $48,897.
That's an average of just over $4,000 a month.  I'll take it!
Now, there have clearly been some ups and downs along the way. Check out this earnings chart showing the lifetime earnings of the site.
As you can see, the site peaks during Spring and Summer months then has another little spike in December (Christmas buying season).  That appears to be playing out again this year.
I just hope that the spike in 2021 during the Spring and Summer is bigger than 2020.
As a quick recap, I launched the site in September of 2018.  The site made its first $1 in December 2018.
So, I guess last month marks the 2 year anniversary since the site made its first money.
Since the site started, it has made a total of $59,505. 
Expenses
I often get asked how much money I'm spending on the site.  I think that's a fair question.
Since I started the site in September of 2018, I've spent a total of roughly $45,000.  I can only say roughly that much because I only kept extremely detailed records for the first year. (I spent $20,805 the first 12 months).
The bulk of the expenses are for content.  But I've outsourced the entire site.  The only thing I do for the most part is keyword research.
The site now has 621 articles. 
I added almost 300 articles in a period of about 6 months in the last year.  But most of these articles were very short, roughly 1,000 words long.
For those word count ninjas out there, sorry, I don't know the total word count of the site.  I just have never kept track of a metric like that.
They were simple question based articles that answer questions like, "Can You Roast Marshmallows Over A Propane Fire Pit?", "Can You Use Glass Marbles In A Fire Pit?", or "How To Remove A Tree Stump Without A Grinder".
So, if I do a quick lifetime Profit and Loss statement:
| | |
| --- | --- |
| Total Revenue | $59,505 |
| Total Expenses | $45,000 |
| Total Profit | $14,505 |
If I look at just the total profit, it doesn't seem that impressive.  But if I start to look at what I am currently spending on the site each month and how much the site is making, the numbers look a little better.
If I were to sell my site, the buyer is likely not interested in how much money I spent over the lifetime of the site on content.  What they are more interested in is seeing how much money I currently spent month to month on the site.
Like any business, there are often bigger start up costs in the early life of the business.  That is the approach I took with Own The Yard, I ramped up content quickly in the first year or two, and now I'm taking a slower "drip" content approach.
I currently am only adding 4 new articles a month. I also pay an author to update and optimize about 4 old pieces of content each month. I also have someone managing Pinterest for me.
So, really my expenses are about $1,000 a month now.  So, if the site makes about $50,000 in 2021 (about what it did in 2020), the profit will be roughly $38,000 for the year.
I fully expect to do much more than $50k in 2021 as I believe the site will have a bigger spike this Spring than it did last year and all the content I've added is aging and will start performing better.
If I were to sell the site today, I could easily expect more than $100,000 for the site.  And possibly closer to $150,000 depending on how you slice the numbers.
Traffic Analysis
I'll be the first one to admit that I love roller coasters.  But I don't enjoy the kind that might make you sick.
Last year was quite the roller coaster of traffic peaks and valleys for Own The Yard.
Early in the year, I hit a massive wave as springtime search volume increased for topics related to my site.  Combined with great rankings on lots of new content I was producing and my site peak out at just shy of 10,000 sessions a day in early May.
Then the Google May core update came out and dealt a heavy blow to my site.  Then combined with seasonal traffic petering out over summer and fall and the traffic decline has been pretty ugly.
The major dip in May was definitely from the core update.  The fade-in traffic after that has been primarily due to seasonality.  Even if I were to not fully recover from the core update, I expect traffic to increase significantly in Sring and Summer.
I'll address my recovery efforts below.
But first, I wanted to share the breakdown of the traffic over the entire life of Own The Yard.  Here's a screenshot of traffic since the site started.
As you can see, my traffic levels for January 2021 are still significantly higher than they were in January 2020.  I'm not happy with the way the traffic looks, but I guess I'll take being at a higher traffic level than I was a year ago.
And there does appear to be some evidence that my traffic may be increasing in the new year.  Its' ever so slight right now, but since the Google core update in December, my organic traffic is trending up.
Here's a look at the lifetime traffic from Search:
Ahrefs makes it appear that Own The Yard is starting to rank for TON more keywords since the December update.  I wish Google Analytics looks like this big of an increase, but I do believe the site is ranking for more keywords and this could manifest itself in a big way over Spring.
The below Ahrefs chart is basically telling me that I'm now gaining rankings for tons of keywords (likely recovery lost keyword rankings from the May core update).  The reason my organic traffic isn't spiking at the same rate is because people still aren't searching during winter for these keywords very much.
But my site IS ranking for those keywords.  This means that I should see a huge jump in traffic when people do hit the peak season and search for these keywords that Ahrefs is telling me I'm now ranking for again.
In addition, I'm seeing a little bit more traffic for social sources (mostly Pinterest) over the last week or so.  Here's a look at the lifetime traffic from social sources.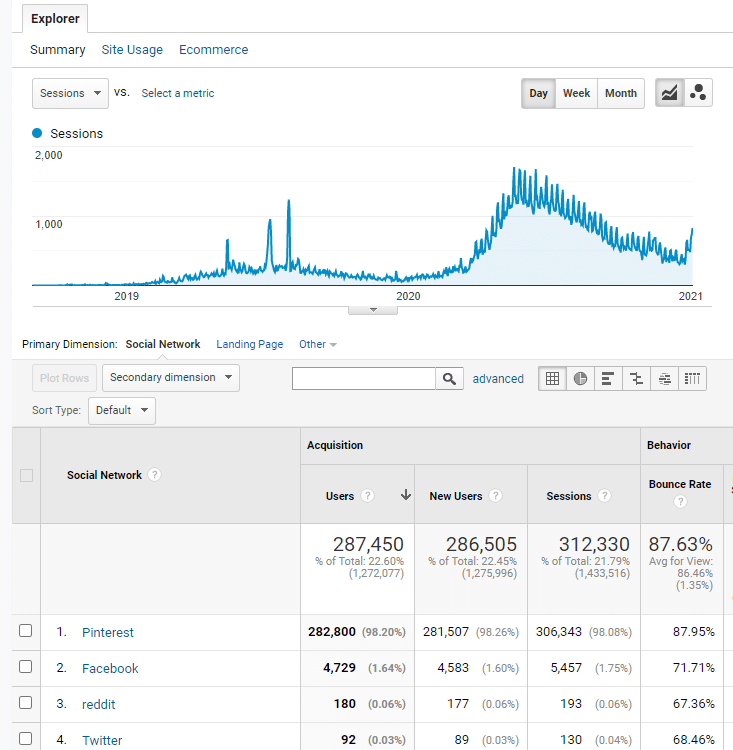 Overall, being that it's the dead of winter, I think I'm satisfied with the traffic.  Right now people just aren't search for how to plant trees, backyard game ideas, or the best lawn mower.  The core of my search traffic will come in Spring and Summer.
So, it will be interesting to see what happens.
Google Updates and Unnatural Links
As mentioned, it's pretty clear from the graphs above that Own The Yard was hit by the Google core update in May.
There was another Google core update in December.  The impact of the December update is still inconclusive.  It certainly didn't hurt my site.  My organic traffic appears to be ever so slightly in the right direction since the update.
And Ahrefs is showing a huge spike in new organic keywords ranking.
I would call that pretty good since the number of people actually searching for things related to my site are probably at a yearly low right now.
I'll take flat to a slight incline over a decline any day.
I think I'll know better if the site made a recovery from the Google May update when spring rolls around.
Unnatural Links Penalty
I shared a few weeks ago in my Facebook group that Own The Yard was hit with an unnatural links penalty.
I don't believe that I've built any shady links, but Google has served up a penalty nonetheless.  Here's what that looks like:
The "good" news is that the manual action only affects some pages.  And to be honest, I've yet to discover exactly what pages it affects.  In other words, I haven't noticed any impact in search from the manual action.
I suspect that it affects a page or pages that weren't really getting much search traffic anyway.
Despite that, I've been working with Rick Lomas to get any suspicious links disavowed and to get the manual action removed.  He submitted a disavow file a few weeks ago and we are still waiting on Google to review and then hopefully remove the manual action.
The timing of the penalty was a bit unfortunate as I had just started a shotgun skyscraper link building package from Niche Website Builders.  For the record, I do not believe that their link building package caused the manual action.
Rick Lomas also agrees.  After looking at my link profile, he could see lots of spammy / automated links that could have been causing the issue.
However, for now I've paused all link building for the site until I'm able to recover.  I then fully expect to restart the link building campaign from Niche Website Builders.
Other Random Facts about Own The Yard
I asked readers in the Niche Pursuits Facebook group what else they would like to know about my site and I got several questions.  So, I'm going to share some of the answers to those random questions here.
Percentage of Articles Earning Money
This turns out to be much more difficult to figure out then I expected.  I went to Ezoic Big Data Analytics and looked at the pages report.  Well, turns out this includes things like category pages and duplicate "query" pages.
Bottom line is that the same article gets counted multiple times.  Here's just a quick example:
However, after exporting the data from Ezoic and doing a little bit of removing duplicates, I can get a rough estimate.  
So, over the last 30 days ROUGHLY 450 articles earned at least $0.01.  Since the site now has 621 articles, that means that about 72% of the articles made some money in the last 30 days.
If I look at articles that made over $1, I end up with about 167 articles.  So, about 27% of articles made $1 or more in the last 30 days.
Google analytics tells a similar story.  Again, it's incredibly difficult to get an exact count of the number of articles that received traffic, because of query strings/duplicates that analytics adds.  So, without doing some manual work, I'm only sharing rough numbers here.
But it appears that at least 500 articles out of the 621 received some traffic in the last 30 days.  It could be as high as 550, but again I don't think its worth spending a couple of hours to get the perfect number here.
I would estimate that roughly 80% of my articles received some traffic in the last 30 days.
Here's a few other stats:
380 articles got 10 or more visitors in the last 30 days
267 articles got 30 or more visitors in the last 30 days
150 articles got 100 or more visitors in the last 30 days
17 articles got 1,000 or more visitors in the last 30 days
The top 17 articles accounted for 41.86% of the traffic in the last 30 days
You can interpret this in a number of ways.  You can say, well, I should only focus on those keywords that will bring in more than 1,000 visitors a month!
Or you could say most of my traffic comes from the articles that get less than 4 visitors a day (or 1,000 a month).
Both of these statements may be true.
How Many Articles Are Ranking on the First Page of Google?
According to Ahrefs, Own the Yard has 253 articles that are ranking on the first page of Google (top 10 positions).
253 articles ranking on the first page is a little deceiving, but this is as close as I'm going to get without putting in a ton of work.
Lots of the pages rank on the first page of Google for a keyword, but not necessarily my chosen keyword.  For example, the keyword I'm targeting for one of my articles is "how to catch a caterpillar".  But you can see from the above screenshot I'm ranking on the first page of Google for "where to find caterpillars."
Money Articles vs. Info Articles?
I have no idea.  Again, I don't plan on going through and manually figuring it out.  But my guess is that it's like 70% info articles and 30% "money" articles.
And by "money" articles, I'm simply talking about articles that are targeting a buyer keyword for Amazon products.
Amazon Average Order Size?
The average Amazon order size is about $37.95.
Obviously, this is skewed because some products sell for over $1,000.  But lots of products sell for less than $10.
But the average is $37.95
Content Publishing Frequency?
I've never really had a fixed schedule. In the early days, I just attempted to get as many articles published as quickly as possible.
I'm a big believer that just getting as much of your content indexed and ranking as quickly as possible is a good idea.
Nowadays, my content publishing schedule is about 4 new articles a month.  Plus I update a few articles a month.  
I have one author that works on the site now and she is both writing the new articles and updating the old content.
Plans Moving Forward
I've mostly covered what my plans are moving forward already, but I'll simply reiterate.
Publish roughly 4 new articles a month
Update roughly 4 old articles each month
Continue creating and pinning about 5 new pins a day. (My author also creates and pins all the images, this is about a 15 minute task a weekday).
Get unnatural links penalty removed
Start link building again once links penalty is removed
Ride the wave of Spring and Summer high traffic months
Once I see that the manual links penalty is removed and I see a nice uptick over Spring, I may revisit ramping up content again.
I'm really at the point now where I could decide to sell the site if it performs well in Spring.  I could just take a six-figure cash out and move on to my next project.
Or I may get excited again after I see how well the site performs and I may decide to ramp up content even further and hold for a few more years.  I think there is still a ton of growth opportunity.
However, I have to balance the growth and time investment opportunity for Own The Yard vs. my other projects with high growth opportunities.
Link Whisper and Niche Pursuits and a couple of my other niche sites are bigger than Own The Yard.  So, do I put my time into a small site with lots of opportunities (Own The Yard)? Or do I put my time into a really large earning project that also has tons of growth opportunities.
So, this is my constant struggle.  Should I eliminate projects, so I can focus on my true money makers?  
Or do I continue to scale this smaller site because it's fun and does have a lot more potential?  
I guess we will find out what happens over the next 12 months.
I'll address some of these thoughts and questions in my 2020 review of my entire business which I'm currently working on.
Overall, I hope you enjoyed the annual report for Own The Yard!  If you enjoy this type of content, be sure to join my email newsletter if you are not already on it.
Want to learn step-by-step how I built my Niche Site Empire up to a full-time income?
Yes! I Love to Learn
Learn How I Built My Niche Site Empire to a Full-time Income
How to Pick the Right Keywords at the START, and avoid the losers
How to Scale and Outsource 90% of the Work, Allowing Your Empire to GROW Without You
How to Build a Site That Gets REAL TRAFFIC FROM GOOGLE (every. single. day.)
Subscribe to the Niche Pursuits Newsletter delivered with value 3X per week