How Will Blears Quit His Job and Makes $20,000 Per Month Online
When you buy something through one of the links on our site, we may earn an affiliate commission.
Below is a guest post by Will Blears from OneMansBrand.com.  Will is someone that has been an active participate on my blog as well as in the Niche Site Project 3 private Facebook group. 
I've heard some of the success he was having building out web properties, so I asked him to give us a bit more of his story and how he is finding success.  In addition to an interesting story, Will share's some great tips on how to start, grow, and monetize an affiliate website.
Here's Will…
How to Make $20,000 a Month – Will Blears
This is the story of how I quit my job and in just over 2 years managed to build a $20,000 monthly passive income, primarily focusing on Amazon Associate websites.
Before we delve into the specifics, let me first give a brief summary of how this all began.
Earnings from September 2015 (1 year ago)
Current Earnings (September 2016)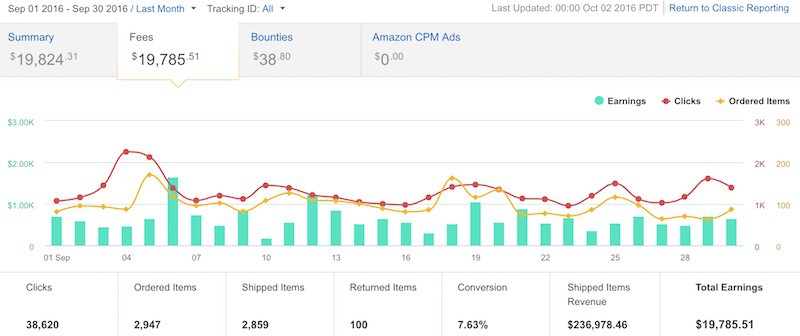 I was a 15-year-old kid; I'd recently purchased my first computer so I could play a game called Counter Strike Source with my friends. I spent hours and hours playing this game; everything was so new to me.
To be honest, the Internet was relatively new to me; in fact computers were new to me. I had very little interaction with them at school; except for the allotted 1-hour IT class we had each week.
Getting my first computer felt like I had been given access to the world, it also felt as though I were handicapped, like I had entered a race but had turned up late. I knew I had a lot of catching up to do, so for the first 12 months or so, apart from playing CSS I was a sponge, soaking up as much information about anything and everything that the Internet was used for.
It was during my first year in sixth form, when I were 16 that I'd first get a glimpse of how people were building websites and generating revenue from them. During the boom of Myspace and Bebo, schools tried they're best to block these social networks from their ISPs and in an attempt to bypass these students would use Proxy websites which would act as a virtual network, hiding your IP or disguising your IP as another and allowing you to get access to all those social networks and gaming websites which were otherwise blocked.
The issue was that proxy websites would quickly be blocked by school networks and therefore new proxy websites needed to be created. So, I thought it would be cool if I made my own proxy websites for my friends at school. This was the life changing moment.
On my journey to learning how to create a proxy website I stumbled upon a forum called Digital Point, which at the time was the largest Internet Marketing community online. They had a 300+ page thread about proxy websites, with all sorts of information from how to make a proxy website, to promotion and monetisation. I remember I read the entire thread a few times and absorbed as much information as possible.
After learning how to build and promote Proxy websites I eventually launched my own Proxy website and generated $169 from Google Adsense in just less than 3 weeks, I was hooked.
Now for the sake of the readers who haven't got several hours to read my entire story, I am going to summarise a few of the next parts in to bite size chunks.
I spent hours upon hours on Digital Point, reading about SEO, Affiliate Marketing, Clickbank, eBay, Amazon, I absorbed as much as I could.
The next 2-3 years…
I focused all my efforts on learning as much as I could; I jumped from Proxy websites to Yahoo Groups to selling Proxy advertising services. I then fell into Clickbank and began promoting Forex products amongst many other things, and also became a Clickbank vendor with a few products of my own. The next step was…
The Corporate life
I'd not even finished University yet, however I felt my digital marketing skills could be better tested and nurtured if I were to gain some experience within the corporate digital marketing world. During the summer of my second year at University I joined a company called Groupon that had recently launched in the UK, this was July 2010.
For the next year I managed the affiliate marketing platform for Groupon UK, I networked with several CPA networks including Neverblue and helped grow our affiliate marketing platform to £3 million in revenue per month.
During this time I continued with Clickbank, dabbled in PPC and sold a few websites. All in all during my 'research & learning' phase which lasted approximately 6 years I probably generated in the region of $30,000 – $50,000 in revenue.
July 2011 – leaving Groupon, graduating from University and specialising
During my time at Groupon, I remember one thing above all else, one day I was in front of my manager's computer screen and he accidently clicked on a tab that showed the Google Adwords interface. It was set to 30-day period and had a total cost of more than £1 million. I thought to myself, that is a crazy amount of money to be spent on buying traffic, I imagined all that data and felt incredibly excited by the thought of paying for traffic, making changes to a campaign, landing page or website offering and almost instantly seeing the results of those changes. I knew I had to specialise in Paid advertising.
Three years of specialisation & the final step before becoming self-employed
In July 2011, the same month that I had left Groupon and graduated from University I got a job at a large digital agency in London. I was now a PPC analyst, working within a team that managed high profile clients such as Nespresso, American Express & TM Lewin and budgets in excess of £15 million per year. This was a big step for me; I was thrown in at the deep end and needed to learn fast.
During my second year at the agency, I was promoted to become the youngest ever manager in the company. I managed a team of 8 and a client portfolio with budgets in excess of £15 million.
I was doing well, I had a well-paid job with a bright future, and I enjoyed many perks that the company and the industry in general had to offer; however I was not satisfied.
The Entrepreneurial Trait
I always knew I were entrepreneurial, I always knew I would want to work for myself and I've always known I am going to make my own way in life. So what was I doing working for another company? Making someone else money?
The answer was, I'd become comfortable – but I'd also become unhappy. I began to plan my escape route.
I knew that the income generated from my websites would not have been enough to survive. I needed another channel of income to subsidise the loss of salary the answer was freelancing.
With my industry experience and flourishing resume I knew that I would have a good chance of winning clients if I were to submit proposals on freelancing websites such as Elance, so that's exactly what I did.
At the end of June 2014 I quit my job, setup an Elance profile and began doing freelance PPC. I knew that freelancing was a means to an end, it was a way of making an income with less restraints and more freedom, which also enabled me to focus more attention towards my affiliate business.
From July 2014 onwards I focused 75% on freelancing and 25% on my affiliate business and in August 2014 I moved to Seoul, South Korea.
The rocky road to entrepreneurialism & the five-figure discovery
A lot of my freelancing work was one-off jobs; I knew that if I wanted to concentrate more time on my affiliate business that I would need to seek more sustainable income by acquiring clients on monthly retainers. So this is what I began doing…
By December 2014 I had a handful of clients on a retainer basis that allowed me to focus more time to my affiliate business. It was during this time when I launched what would become my first five-figure Amazon website.
The five-figure site setup
Honestly speaking, the strategies I implemented for this website were no different to any of my other websites, this is the process I follow when building out niche websites:
Authority Site Analysis – I use SEM Rush to analyse the organic traffic for big authority sites such as TopTenReviews, BestReviews & ConsumerSearch and pluck a handful of niches from within these sites that look lucrative
Keyword Analysis – I then analyse the niche on a keyword level, ensure there is high enough search volume for keywords with high buyer intent and ensure the competition isn't too tough
Competitor & Market Analysis – I then thoroughly examine the market, each of the main websites what they're USPs are (if any) and the angle they are taking (authority site, niche site, blogger type site, real reviews, collated reviews e.t.c)
Keyword Research – I take everything I have learned so far to then delve in to the keywords as deep as possible, I extract all the data I possible can until I am drowning in data and use Excel to start organising this data in to tabs for each theme/page idea.
The tools I use for the above include: SEM Rush, AHREFs, Moz & Long Tail Pro – however for those who are just starting out you can try using Keyword Finder and a trial for SEM Rush or AHREFs as well as the free version of Moz.
I always start a website with:
A paid WordPress theme – usually I buy from MyThemeShop or ThemeForest and I always look for simple to setup themes, I want to invest as little time as possible in the site setup, but ensure the website looks and functions well.
Must have plugins – Yoast SEO, Table Press I try to use as few plugins as possible since they reduce site speed and just make everything clunky.
25,000 words – initially this started out at 15k words but now I only launch sites with 25,000 words or more that is usually split over 10-15 pages of content.
Best xxx pages only – I very rarely launch a website with specific product reviews, instead I focus on 'best xxxx pages' which include summary product reviews for at least 3 products.
Comparison tables (above the fold) ­– this is absolutely essential, the CTR of comparison tables is significantly higher than any other part of the page, trust me I've tested this multiple times using CrazyEgg heatmaps.
About, Contact, TOS, Privacy and Sitemap – these are just the basic pages that every site must have.
I launched the five-figure website in September 2014 and it was actually an expired domain that I found on ExpiredDomains.net, it had previously been used as an E-commerce website and had a clean link profile. The site made its first sale in October 2014, which made a whopping $49.96 in commission.
Note: it is absolutely essential to do thorough due diligence when looking to register an expired domain. Use tools such as Majestic & AHREFs to look for any dirty links and bad anchor texts. Then use Wayback Machine (or a Wayback Machine alternative) to see what the domain was previously used for. Finally, ensure it is not blacklisted by Google and see if it is still indexed.
Two years on the site has hit consistent five figure monthly revenue and having fine-tuned the process of researching, launching and growing an Amazon Associates website, I now have a portfolio of 10+ websites which combined are generating more than $20,000 in revenue each and every month.
What I have learned over my 11-year journey?
Persistence is the key to success.
As simple as that may sound, it is completely true.
Two years is all you need to build a five-figure passive income.
I firmly believe that anyone can go from zero to hero in two years (hero obviously being a five-figure passive income). I appreciate that might sound bold, since I've been doing online marketing for 11 years. However, what you are forgetting is for the first 5 years I wasn't determined, at least not as determined as you need to be.
Now during the past two years I've been determined, and I've been focused and I've been persistent and this has led to my success. Sure, I didn't need to learn how to register a domain or setup a wordpress website and I knew what SEO was and how to market my website. But I also knew 101 other skills that were not linked to my success.
What I am trying to get at is this:
To be successful online you need to focus, you need to be determined and you need to be persistent. If you haven't already, find what you want to focus on, whether it be affiliate marketing via Amazon Associates or lead generation through Peerfly or becoming a Clickbank vendor or a Kindle author, just find whatever it might be and focus only on this.
I am at the point now where I can reflect and in this reflection I can say that it would take a complete novice up to two years to make five-figures consistently per month through Amazon Associates. In fact, I am teaching my sister's fiancé and my father, they're both complete novices, heck I even have to teach my Dad how to use a computer but I am convinced, absolutely positive in two years they will both be at similar stages to where I am today.
At this point you may be saying well, that's not fair because they have you teaching them. Yes, you are correct – but that's no excuse, you have all the information you need available to you right now at the click of a button and you are already a thousand steps in front of my sister's fiancé and my father because they don't even know about Niche Pursuits yet!
To end this story I am going to finish off with what is working well for my websites right now.
Comparison Tables – I always add a comparison table as close to above the fold as possible. I rarely add more than 5 products to the comparison table and I always hyperlink the product title and the 'check price' or 'visit retail' link within the table.
Don't be afraid to link – too often I hear people talking about how they're scared about adding too many links. Don't be, most of my sites have at least 50 affiliate links per page.
Always include buttons – I've split test buttons vs. hyperlinked test and generally found that buttons have a much higher CTR. Be sure to add call to actions in the form of buttons on your websites.
Focus on best xxxx pages – screw the review page format, at least initially and focus on the 'best xxxx pages' these are what brings the majority of the traffic and these are what convert the most. You only expand to product review style posts when you are generating revenue and have no other best xxxx pages to cover.
Interlinking is your friend – from an SEO standpoint always be sure to interlink pages, it does help.
If you are new, find a high-ticket product – if you are new to affiliate marketing, make sure you find a high-ticket product to promote. The motivation and energy you will get from a $15-$50 commission compared to that product you just sold for $50 is priceless.
Focus on high buyer intent keywords – don't be looking at search volume, instead focus on buyer intent. Keywords such as 'best xxxx' or 'xxxx review' are the must haves. Ignore the rest, at least in the beginning.
That's all from me today, I could write forever about my experiences in Online Marketing however, I wanted to try and keep this short (2,500 words is short).
You can connect with me via Facebook here, you can read about my current Amazon Affiliate projects such as my Authority Site Project & my Niche Site Case Study and you can join my little private Facebook group here
Want to learn step-by-step how I built my Niche Site Empire up to a full-time income?
Yes! I Love to Learn
Learn How I Built My Niche Site Empire to a Full-time Income
How to Pick the Right Keywords at the START, and avoid the losers
How to Scale and Outsource 90% of the Work, Allowing Your Empire to GROW Without You
How to Build a Site That Gets REAL TRAFFIC FROM GOOGLE (every. single. day.)
Subscribe to the Niche Pursuits Newsletter delivered with value 3X per week