12 Best Ticket Resale Sites You Can Join Today
When you buy something through one of the links on our site, we may earn an affiliate commission.
Whether you bought tickets to an event but won't manage to go or are looking for a side-hustle selling tickets, this post discusses some of the best ticket resale sites.
Ticket reselling has gained popularity over the years and has even become a viable source of income.
However, there are concerns about whether it's legal, and there are many ticket resale websites out there, all of which make it challenging to find a legitimate place to resell tickets.
Is It Legal To Resell Concert Tickets?
Reselling tickets, also known as ticket scalping, is legal in most states, but there are restrictions. For instance, in most states, you can resell the tickets, but at the same price or a slightly higher price than the original price, so this is not necessarily a means to obtain cheap tickets!
Other standard regulations state that you shouldn't resell the tickets at the venue, which makes online ticket resale websites even more practical.
The Best Ticket Resale Sites
After learning the art of reselling concert tickets, below are some of the sites you can join today and how they work.
StubHub
StubHub is one of the most popular ticket resale websites specializing in comedy shows, music live events, sports, and movie theatre shows. Spread across 40 countries and offering tickets to up to 10 million events, you can buy and sell tickets to a broader market.
StubHub's platform is also pretty easy to use. All you need to do is create one account, regardless of whether you want to buy or sell tickets. Then, search for the event you have tickets for, and click "Sell". When you want to sell tickets, you are allowed to set your price to either a fixed price or a declining price, depending on what works for you.
There are two reasons why people would prefer to purchase tickets on StubHub;
Fan Codes –These are points awarded to the buyer every time they buy a ticket, which they can then use later to buy more tickets.
FanProtect Guarantee – This policy protects fans from fraudsters. When they buy invalid tickets or the event gets canceled, they can get refunded in cash, fan codes, or valid tickets.
The only slight downside to using StubHub is the charges. While it's free to join, they charge you 10% of the total ticket price, so you'll have to factor that in when setting the price to sell tickets. On the other hand, buyers will have to pay 28% more than they would have if they bought directly from the event organizers.
Charges – 10% of the ticket's final price
TRY STUBHUB TODAY!
Check out our article for the full in-depth review, where we answer the question Is Stubhub legit?
Viagogo
Viagogo is a major player in the ticket resale industry, considering it operates globally with more than 40 currencies and 13 languages. Eric Baker, also a co-founder of StubHub, co-founded Viagogo.
But it grew tremendously until they were able to acquire StubHub from eBay in 2020. Currently, they own StubHub in the Northern American market but still compete with it in other markets.
Viagogo is best for reselling sports events tickets or season tickets. Why? Because they've partnered with Manchester United F.C. and Chelsea F.C. Since reselling Premier League tickets is illegal, these partnerships allow fans to sell sports tickets but only for these clubs.
Other event tickets that you can sell on the platform include comedy shows, theatre, and music events such as concert tickets. They've also been the official ticketing for several music festivals over the years.
TRY VIAGOGO TODAY!
Skiddle
Skiddle is an award-winning tickets resale program based in the U.K. Whether you have tickets for your event or want to resell tickets, Skiddle is a viable marketplace with over 2 million visitors per month.
If you'd like to leverage your social media following, Skiddle also has a feature that allows you to turn your Facebook page into a fully-fledged ticket reselling site. This is thanks to features like custom branding, RSVP and integration, and 3D fraud checking. The same case applies to those with websites. Better yet, you can sell both online and physical tickets.
Like StubHub, Skiddle is free to join and you only pay 10% of the ticket's price and a 25% charge which takes care of the fraud checking and credit card fees. But if you want to sell tickets on a larger scale, you can negotiate a lower price.
And for those with events, Skiddle provides the RapidScan Box Office app. This helps you collect payment and the customer's data, which you can then use to build your email list later.
Charges – 10% of the ticket's final price plus a 25% Charge
TRY SKIDDLE TODAY!
eBay
eBay is one of the largest marketplaces for various goods, from physical to digital products. They also acquired StubHub in 2007 but later sold it to Viagogo.
If you'd like to avoid some of the hefty fees charged by some of the largest ticket resale sites, you can sell tickets on eBay.
The good thing about eBay is there are three ways to sell and buy tickets:
Set a fixed price.
Set up an auction where buyers bid and the one with the highest bid wins the ticket.
Trade the tickets for something else.
eBay presents a cheaper option since buyers don't pay any fee. But a seller is subjected to a fee ranging from 5% to 15% and a $0.30 fee per order.
Charges – 5% to 15% of the ticket's price plus $0.30 per sale
TRY EBAY TODAY!
CraigsList
Craigslist is another online marketplace for many physical and digital products, including tickets. Considering they get up to 200 million visitors per month, your tickets will be sold out in minutes, especially when they are for popular events.
Unlike any other ticket resale site I've mentioned so far, CraigsList is free to use. There are no buying or selling fees. This allows you to price the tickets within the margin offered in your state's laws.
However, there are many reports of scammers on CraigsList, which may make some buyers avoid it. Therefore, make sure you present yourself as a legitimate seller by:
Using real names and not pseudonyms
Providing as much information as possible about the tickets (including where you bought them from, invoices, and seats)
Responding promptly to requests
Building a good reputation with current customers to attract more buyers
Offering to deliver the tickets manually or through an insured delivery company
Pricing the tickets reasonably
Obtaining licenses where necessary
TRY CRAIGSLIST TODAY!
SeatGeek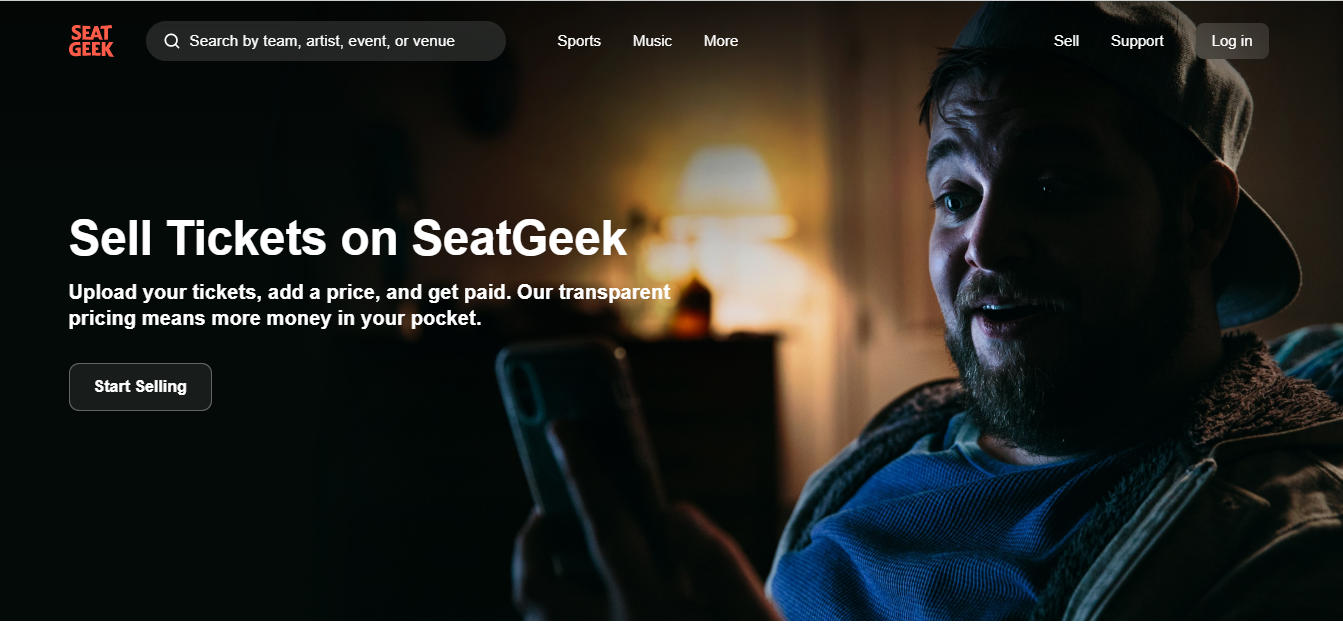 SeatGeek started as a simple ticket resale site, but it has become one of the largest primary and secondary ticketing sites and we found out if it's legit. That means that you not only get to resell your tickets, but you can also set up your own event and promote it through SeatGeek.
Currently, tickets for a wide range of sporting events, music, comedy, concert tickets, and Broadway shows are sold on the sites. Buyers can also select city-specific events.
SeatGeek also doubles as a search engine where it finds the best price and seat position. This is after they acquired FanSnap, the initial search engine started in 2007. The seat position is made possible by their DealScore algorithm.
When finding the most favorable price, SeatGeek analyses the prices from other ticket resale platforms such as eBay, StubHub, TicketNetwork, and RazorGator. Better yet, they even have a 3D modeling feature that shows the buyer where they'll be sitting, allowing them to choose the best available position.
And that's not all. They also have an app named Rally. Through this app, you can handle all ticket-related activities, and buyers can also buy food, beverages, and even order a Lyft while at the event.
Charges – 20% of the ticket's price.
TRY SEATGEEK TODAY!
Vivid Seats
Vivid Seats is another excellent ticket resale site offering a secure marketplace for people to buy and sell tickets (and we've put together a full guide on whether or not Vivid Seats is legit). This includes both primary and secondary sellers.
Launched in 2001, Vivid Seats has grown tremendously over the years. Its success can be attributed to its partnerships with major brands such as:
ESPN
Los Angeles Clippers
University of Tennessee
Rolling Stone
What makes them stand out is their excellent customer service. They've even been named America's Best Companies for Customer Service by Newsweek for two years in a row. Considering the bad rap ticket reselling gets, good customer service helps build some trust.
The VividSeats reward system also helps them attract more buyers every month, which translates to a larger audience for you as a ticket reseller.
Charges – 10% of the ticket's final price
TRY VIVID SEATS TODAY!
RazorGator
Next on my list is RazorGator, one of the largest ticket sites that have been in business since 2001. They are pretty popular due to their thorough background check to ensure they are dealing with legitimate resellers. The A+ rating by the Better Business Bureau also helps build its credibility.
RazorGator also offers a 100% money-back guarantee if the event gets canceled or if there's an issue with the tickets. Besides providing a secure platform for buyers, they also offer a favorable environment for resellers since they only charge a 10% fee after selling the tickets.
In the two decades they've been in the ticket reselling business, they have served more than 1 million customers, and more than 3 million tickets have been sold through their platform. Most of the tickets sold on this platform are for theatre performances, sports, concerts, and events.
Charges – 10% of the ticket's final price
TRY RAZORGATOR TODAY!
TicketMaster
TicketMaster is probably one of the oldest ticket resale platforms. It started in 1976 and mainly dealt with licensing and selling software and hardware for ticketing systems. Over the years, it has grown into one of the largest primary ticketing services.
However, recently, they allowed people to resell tickets on their platform in case they didn't need them anymore.
They'll initially charge you 15% of the ticket's face value, which is understandable. Besides, if you find the fees are too high, you can sell the tickets on other ticket resale sites such as StubHub.
Charges – 10% of the ticket's face value plus fees
TRY TICKETMASTER TODAY!
TicketCity
This is another ticket resale site that has been in business for more than two decades. TicketCity prides itself on offering tickets and more. In addition to tickets, they also sell
Parking passes
Hotel rooms
Premium seats
Group seats
Best places to sit
Driving directions to the venue
As a result, they've served millions of customers and sold tickets to more than 100,000 events.
Unlike the other ticket resale platforms I've mentioned so far, TicketCity doesn't really allow you to sell the tickets to another fan directly. Instead, they offer to buy the ticket from you so that they can resell it.
This takes the waiting off your hands since they pay you upfront and they'll handle the selling. However, they increase the ticket's price by up to 24%, which may price the tickets higher than other sites, making them hard to sell. There's also no guarantee that they'll approve your offer. But it's still worth a try, especially when you have several tickets.
TRY TICKETCITY TODAY!
TicketNetwork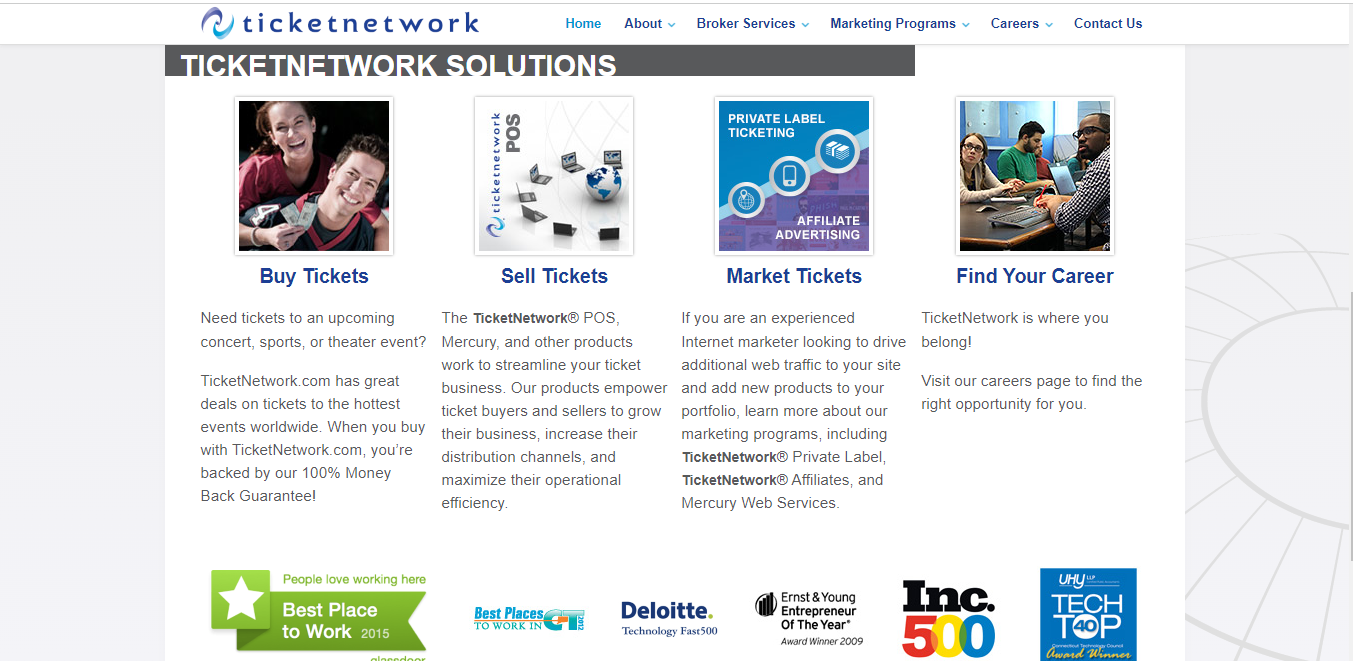 TicketNetwork functions a lot like eBay, where ticket sellers list their tickets for fans to buy. Both event organizers or promoters and ticket resellers can sell on the platform.
On the other hand, the buyer is charged service, delivery, and transactional fees. Sometimes these fees can be as high as 33%, making the ticket price higher than other platforms. But this shouldn't stop you from listing your tickets with them or buying tickets on the platform.
Ticketnetwork also owns Ticket Liquidator, another ticket resale site, and the Better Ticketing Association, a blog that shares information and news about buying and selling tickets.
Charges – Up to 33% Of The ticket's price
TRY TICKETNETWORK TODAY!
Eventbrite
Eventbrite is popular among event organizers and promoters as a platform for selling event tickets. What you might not know is you can also resell your tickets on the platform. While they understand the importance of having an event sold out, they know empty seats can be a bummer.
That's because if people buy tickets and do not attend, fewer people will buy food, beverages, and anything else being offered in the event. That's why Eventbrite partnered with Lyte and Tixel to give fans an option to resell their tickets in case they don't manage to attend.
While people can take their tickets and resell them on other ticket resellers' websites, Eventbrite promises a verified and more secure platform for reselling tickets. But it wouldn't hurt to check if you'd still make a profit if you sell the tickets on other sites.
Charges – Up to 10% Of The ticket's price
TRY EVENTBRITE TODAY!
Conclusion
And that wraps up my guide on the best ticket resale websites. If you will not manage to attend the event, make sure there aren't empty seats. Let another fan enjoy the experience.
And if you're thinking of trying ticket reselling as a side hustle, you'll have a better chance of finding buyers on the sites mentioned above. Besides selling tickets, you can also join their affiliate programs and drive traffic to the various tickets on the platforms.
For even more options check out our list of the best Stubhub Alternatives.
Want to learn step-by-step how I built my Niche Site Empire up to a full-time income?
Yes! I Love to Learn
Learn How I Built My Niche Site Empire to a Full-time Income
How to Pick the Right Keywords at the START, and avoid the losers
How to Scale and Outsource 90% of the Work, Allowing Your Empire to GROW Without You
How to Build a Site That Gets REAL TRAFFIC FROM GOOGLE (every. single. day.)
Subscribe to the Niche Pursuits Newsletter delivered with value 3X per week