Is Vivid Seats Legit? Find Out All About The Ticket Resale Marketplace
When you buy something through one of the links on our site, we may earn an affiliate commission.
There's nothing quite like the thrill of seeing your favorite band live in concert. But if you're not careful, the experience can quickly turn into a nightmare. Buying concert tickets is often an exercise in frustration, whether you're trying to snag them on Ticketmaster or avoid being ripped off by a scalper. You may have heard of Vivid Seats, a ticket resale site. But is Vivid Seats legit?
The short answer is yes. However, that doesn't mean it's the right choice for everyone.
Let's take a look in more detail.
About Vivid Seats
Vivid Seats is an online marketplace that allows people to buy and sell tickets to live events. The ticket resale site is based in Chicago, and was founded in 2001. Vivid Seats provides a convenient way for people to buy and sell tickets to their favorite shows and concerts.
The company has a user-friendly website and offers Buyer Protection on all tickets in the form of their 100% Buyer Guarantee. In addition, Vivid Seats offers a mobile app so that you can buy and sell tickets on the go.
Whether you want front-row seats to the hottest concert in town or are just hoping to snag a last-minute ticket to the game, Vivid Seats could be the platform to try.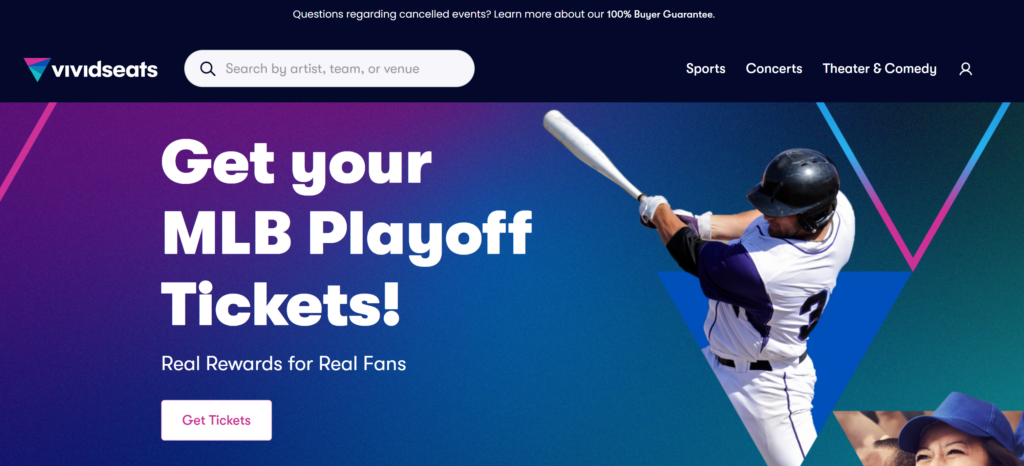 How Does Vivid Seats work?
One of the advantages of using Vivid Seats is that you can find tickets to a sold-out live event. Because people are always buying and selling tickets, there's a good chance you'll be able to find the tickets you want.
However, you should be aware that ticket prices can be higher than face value. This is because people are free to set their own prices.
If you've ever been stuck with tickets to an event you can't attend, you know how frustrating it can be. Not only have you wasted money on tickets you can't use, but you also miss out on the event itself.
If you've got tickets to an event that you now cannot attend, you can sell them on Vivid Seats. Reselling is a great way to get your money back if your plans change, and you can often make a profit too. Check out our article on reselling concert tickets.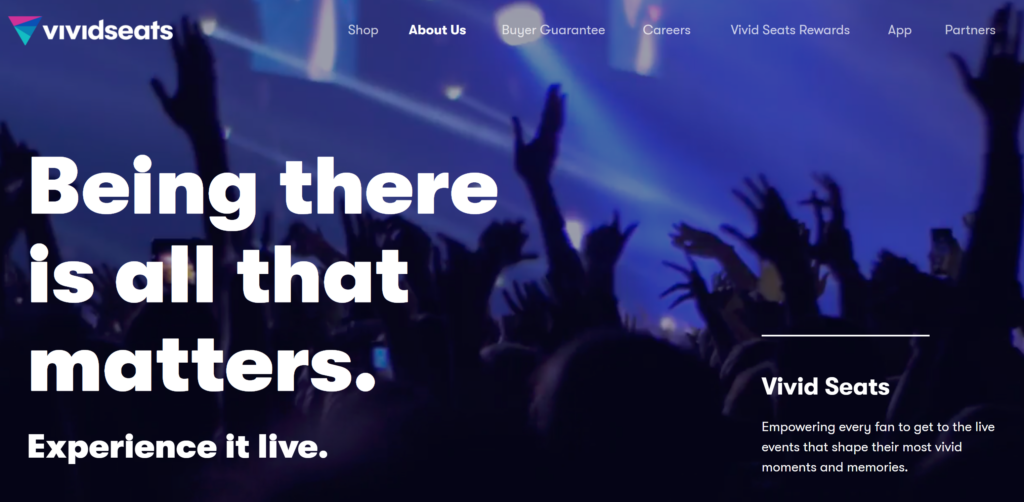 Is Vivid Seats Legit?
Yes, Vivid Seats is a legit company. It can be a great way to find tickets to sold-out events. However, ticket prices can be higher than face value, so you should be aware of that before you buy. And there are other risks to consider as well. More on that later.
As a Seller
There's nothing worse than having to miss out on a great event because you can't make it. But if you've already bought tickets, there's no need to waste them! With Vivid Seats, you can sell your tickets to other fans so they can enjoy the event and you can recoup your cash.
It's easy to list your tickets on the site, and you can set your own price. Plus, there's no worry about selling to a scalper. Vivid Seats is a safe and secure platform, so you can be sure that you're getting a fair price for your tickets.
Next time you find yourself stuck with tickets to an event you can't attend, don't despair; simply log on to Vivid Seats and sell your tickets for cash.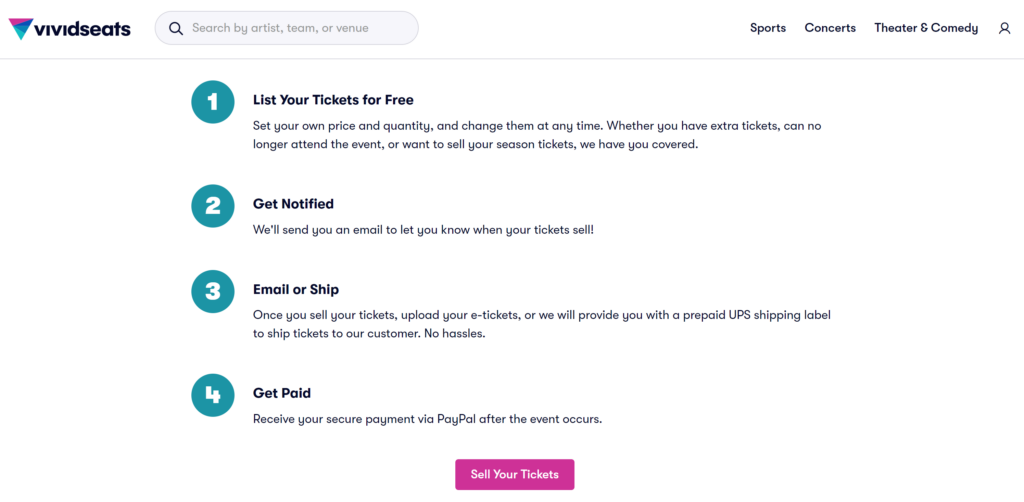 How Much Does It Cost to Sell on Vivid Seats?
Vivid seats fees are fairly standard for the industry, taking a 10% commission on each transaction to the seller. So, if you sell tickets for $100, you will receive $90.
Any shipping fees associated with transferring the tickets are the responsibility of the buyer.
Who Sets the Price on Vivid Seats?
The seller sets the ticket price.
However, Vivid Seats does have a recommended price for each event ticket, based on the face value of the ticket and the current market value.
This can be helpful when you're trying to decide how much to sell your tickets for.
Vivid Seats as a Buyer
Vivid Seats makes buying tickets easy - simply search for the event you want to see and browse the available tickets.
Additionally, their loyalty scheme, known as the Vivid Seats Rewards program, offers points towards money off future purchases.
What Do Reviews From Actual Buyers Say?
Within the ticket reseller category on Trustpilot, Vivid Seats is 20 out of 22 similar businesses, with a consumer rating of 3.1, which is "average".
The vast majority of reviews are from buyers. Only 5% of reviews are 2, 3 or 4 stars, so Vivid Seats appears to be quite "love it or hate it" amongst customers, with 95% being either very positive or very negative reviews - with little in between!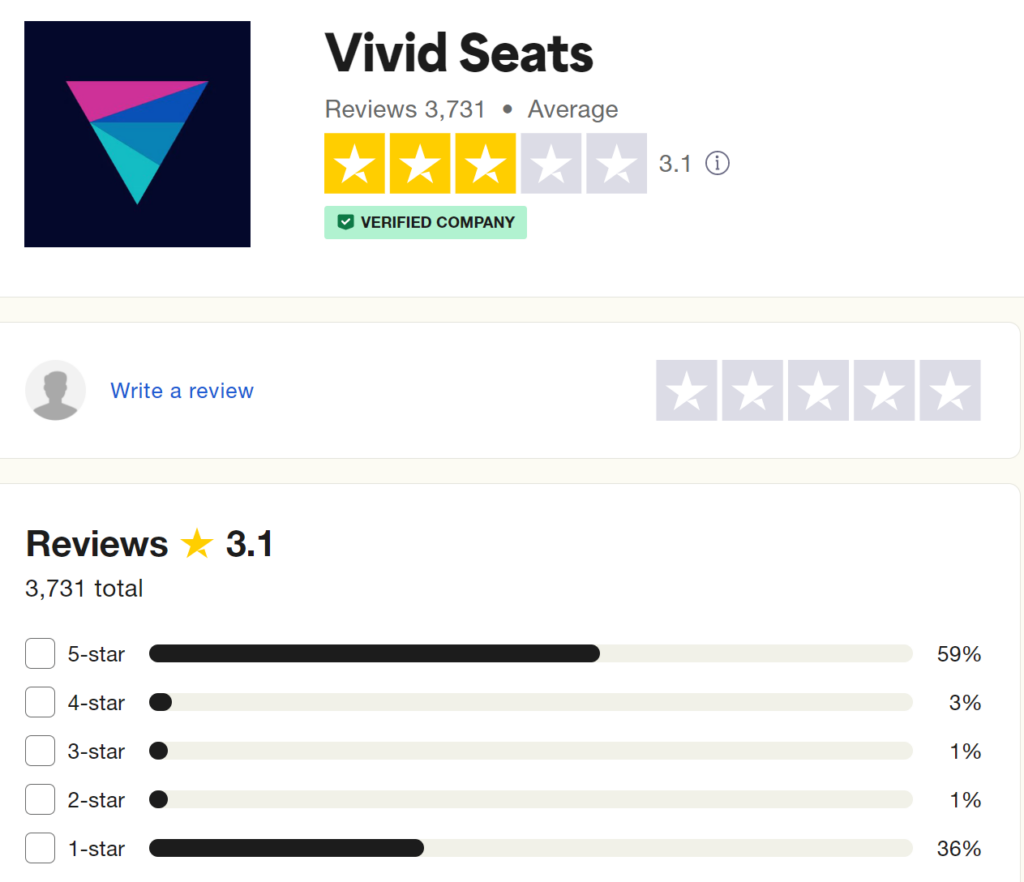 Some of the main complaints from buyers are about the cost of Vivid Seats tickets, with many people saying they paid way more than face value. However, it's important to remember that ticket prices are set by the seller, not Vivid Seats. So if you're buying tickets on the platform, be sure to check the price before you buy.
Other complaints from buyers include tickets not arriving on time and issues with customer service. Vivid Seats does not respond to Trustpilot reviews so it's impossible to tell how they deal with these issues.
Despite Vivid Seat's claim of a Buyer Guarantee, consumers have said they've bought counterfeit tickets or only received e-tickets when physical ones were needed. Several customers have had this issue, and based on their reviews, the customer service provided to fix these problems is not up to scratch.
Tickets not arriving at all was a recurring theme amongst the reviews, with several people saying they never received their tickets, even though they had already paid for them.
It's clear that Vivid Seats isn't living up to its Buyer Guarantee, and ticket buyers are suffering as a result. If you're considering using Vivid Seats, be aware of the risks involved. You might end up with fake tickets or no tickets at all. And even if you do get in touch with customer service, you may not get the resolution you're hoping for.

Vivid Seats Alternatives
SeatGeek
Vivid Seats is a great option for tickets, but Seatgeek is a legit alternative. Seatgeek is another ticket marketplace that connects buyers and sellers, so you can find tickets to just about any event, from concerts to sports games. And if you're looking to sell tickets, you can do so on Seatgeek as well.
Every ticket sold on SeatGeek is protected by their Buyer Guarantee to give you peace of mind.
StubHub
StubHub is a legit ticket marketplace, and it has a few features that set it apart from its competitors. First, StubHub offers a FanProtect guarantee, so you can be sure that you're getting your tickets from a reliable source. Second, they have a community forum feature, where you can ask questions and get advice from other StubHub users.
Whether you're looking for last-minute tickets or planning ahead for your next big event, StubHub is worth checking out.
The Verdict: Is Vivid Seats Legit?
Yes, Vivid Seats is a legit platform for buying and selling tickets. If you're looking for tickets to your favorite concert or sporting event, you might turn to Vivid Seats. After all, the ticket marketplace promises a "Buyer Guarantee" that seems to offer protection against getting scammed.
Unfortunately, many customers have found that the guarantee is anything but reliable. In fact, there have been many reports of people being sold counterfeit tickets or only receiving e-tickets when they needed physical ones. And when they've reached out to Vivid Seat customer service for help, they've been met with unhelpful responses.
On the flip side, there are plenty of people who have had very positive experiences buying tickets via Vivid Seats.
If you decide to use the ticket marketplace, just be aware of the risks involved. You might end up paying more than you bargained for, and you might not get the tickets you were hoping for.
All in all, Vivid Seats seems to be a pretty hit-and-miss platform. There are some great deals to be had, but you need to be aware of the potential risks before using the site.
Want to learn step-by-step how I built my Niche Site Empire up to a full-time income?
Yes! I Love to Learn
Learn How I Built My Niche Site Empire to a Full-time Income
How to Pick the Right Keywords at the START, and avoid the losers
How to Scale and Outsource 90% of the Work, Allowing Your Empire to GROW Without You
How to Build a Site That Gets REAL TRAFFIC FROM GOOGLE (every. single. day.)
Subscribe to the Niche Pursuits Newsletter delivered with value 3X per week