9 Best Community Platforms to Help Grow Your Brand Today
When you buy something through one of the links on our site, we may earn an affiliate commission.
Whether you're looking for an unbiased opinion from other community members or to watch live streaming – community platforms will provide you with all the support you need. Use them to promote your small business and build a brand. Or take a course to learn a new skill.
Community platforms range from any old Facebook group to knowledge base sites. You can teach or complete an online course, exchange ideas, and crowd-fund to make your dreams a reality. A community platform will help you turn your small business into an enterprise, especially if you know how to use them.
Being a community member opens up a whole new world with access to all the information you want. Use community platforms for analytics, live human support, and a sense of belonging.
The community feature has changed the way we think of the internet. Community platform software has taken over what was once a cold, lonely place. It is now a network of vibrant communities with unlimited members all willing to help you achieve your goals.
The 9 Best Community Platforms
Having access to an insight community to review your content will give you an idea of how the public will react to it.
Here is our ultimate guide to some of the best community platforms we have come across. The list was based on community engagement, customer support, and community management. Community platform software, website toolbox, engagement, user experience, etc., were all considered too.
Mighty Networks: Best Community Platform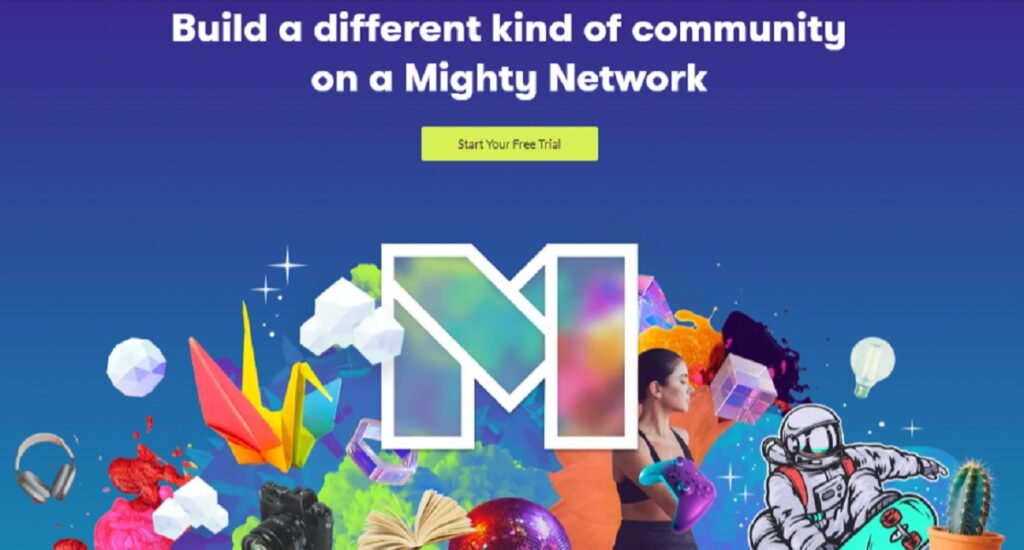 Are you an edupreneur or content creator who needs to add a community option to your offer? Then Mighty Networks is perfect for you!
It is a one-stop shop for building an online course or a website. Its excellent community management system will help you set up and run from start to finish. Once you get the hang of it, you will love using this intuitive tool. It makes it easy to create an interactive, personalized community. Build the perfect home for your content!
Mighty Networks provide each community member with community interaction. They do that through chat messages, sound, image, and video file sharing. It has a comments and polls feature too. This community platform brings you an easy-to-set-up monetization capability. And the easier it is to charge members for content, the more revenue you will generate.
Its best feature makes it a mighty network: an all-in-one platform. There is no need to use third-party providers. On top of that, it provides unlimited storage space for all your content. And it allows for unlimited members, admin, and moderators. Mighty Networks makes community management easy and enjoyable.
Mighty Networks offers all the standard community platform features with their free version. $28 a month gets you the Community Plan. And $98 a month will buy you access to their Business Plan and everything in their website toolbox.
---
Thinkific: Best Educational Community Platform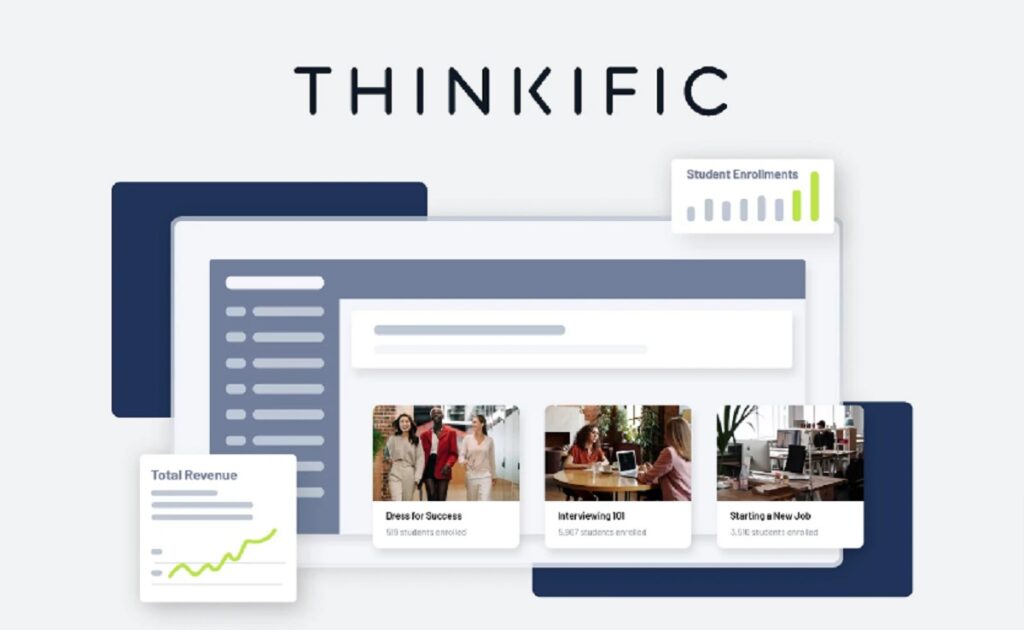 Being a course creator is a lot of work. Trust Thinkific to help you create an educational community platform that provides you with all the tools you need. Host live lessons, post assignments, and communicate with community members, all in one place.
Knowledge base communities are an excellent way to reach new customers and provide the best customer support to them.
Thinkific is a one-stop shop to build your courses from scratch. You can personalize each online course to your liking and needs. Once completed and posted, you can market and sell them to millions of other users.
To date, this awesome community platform has sold over 100,000,000 courses. Thinkific provides a home for around 50,000 active online course creators.
The free version will provide you with everything you need to create one course and offer it to unlimited members.
$36 will allow you to host unlimited courses in one community.
$149 a month allows you to host unlimited courses in 3 communities.
You can also request custom pricing for your exact needs.
A branded mobile app is coming soon too.
---
Circle: Most User-Friendly
Unlike other community platforms, which try to woo us with one feature after another, Circle provides only the most important and useful tools. The simplicity compensates for the lack of variety in options.
The website toolbox will provide you with all the necessary options to edit and customize content. A mobile app is also available, but only to iOS users for now. Circle doesn't offer many fancy features. But it performs better than most when it comes to system integration. You can integrate your community into your website, course, membership, or product.
Automated community management and custom domains secure Circle customer loyalty. This sleek white-labeled community platform offers three pricing plans:
Basic plan is $39 per month and allows for ten spaces with 1000 community members.
Professional plan is $79 per month and allows for 100 community spaces and 10,000 members.
Enterprise plan is $199 a month, and it allows three communities, 1000 spaces, and 100,000 members.
---
Disciple: Best for Revenue-Generating
Disciple offers your community platform a new strategy to monetize your content. Instead of creating difficult content, you can generate revenue with ads and sponsorships.
Disciple comes with an option to build a branded mobile app for your community. The system supports iOS and Android. On top of that, it allows you to sell subscriptions that unlock exclusive places - a great way to reward customer loyalty.
Live streaming, personalized feeds, threaded comments, etc., make it work great as a standard community platform.
It is an easy and enjoyable tool to use. Unfortunately, it comes at a hefty price. The cost will depend on the type of community platform you choose to build and the add-ons you opt for:
Hosting 100 members on 50gb space costs $55 per month.
The mobile app will push the cost to $549 per month for 500 members.
To add 100 more members costs $26 per month.
Space for 1000 community members costs $130 per month.
Hosting 10,000 members costs $650 per month.
The prices of add-ons range from $20 to $130 per month.
---
BuddyBoss: Best for WordPress Support
BuddyBoss is one of not too many online community platforms to include an LMS (Learning Management System) for WordPress. Its branded mobile app feature makes it especially attractive.
BuddyBoss is a plug-in that unblocks the community feature on your WordPress platforms. It contains all the best qualities of an excellent community platform. There's the usual, such as customizable feeds, messages, and sub-groups. But it also allows community members to host live streaming content over Zoom.
Members can share any file type on personal and public feeds. It also supports white-labeled native mobile apps.
If you use WordPress and need an online community platform, consider adding this website toolbox to make your work easy.
The price of $205 buys you a whole year's membership for one site. To run it on five sites, you will have to pay $259.
---
Vanilla Forums: Best Enterprise Community Platform
We chose Vanilla Forums as the best community platform for enterprises. It impressed us with its unique community-building software. Vanilla Forums is for enterprises and mid-sized companies. It allows the content creator to engage with their existing and potential customers.
Vanilla Forums is a great choice to build an online community that will help you grow your business. Use its strategic audience engagement to increase sales and customer loyalty. Vanilla Forums offers private messaging, Q&A, discussions, and an impressive knowledge base. Use this great online community platform to create up to 20 sub-committees. And add 100 staff members to one profile.
Vanilla Forums allows extensive customization options, gamification, enhanced customer support, and notifications. You can capitalize on features like avatars, automated summaries, performance analytics, and more.
The process can be a bit overwhelming for non-coders, though. Unfortunately, it is too expensive to risk it to give it a try.
Understanding the pricing system of this community platform is another challenge. They quote each individual client based on their needs and package choice. One thing is for sure: all 4 of Vanilla Forums' packages are pricey. Especially for a small business, as the quotes start at $689 per month.
---
Bettermode (formerly Tribe): Best to Build and Grow a Brand
Present your business to the audience of an online community platform using Bettermode. You won't regret it. Unlike the other community platforms on this list, Bettermode isn't feature packed. But its excellence at white labeling has secured it a place on our list. It only focuses on community building and community management. Each online community is customizable to represent your brand.
Using the website toolbox or mobile app, you can create a tailor-made space with branded widgets, layouts, and logos.
Take advantage of the gamifying options to engage your community members. Your online community can enjoy a personalized feed. It comes with the option to create membership points, leaderboards, badges, and virtual currencies.
Create a community platform that looks and operates like a standard social network, like Facebook. Bettermode uses the same architecture. Members can log in using their social media details from Facebook, Twitter, Google, and LinkedIn.
The company is currently going through a rebrand, affecting its pricing system. For now, the only set option is the Advanced plan, which is $599 a month. You'll have to contact them directly to apply for the free trial or get a quote for the custom-made Enterprise plan.
---
Hivebrite: Best for Professional Networks
Hivebrite supports all media formats. Your community members can share videos, documents, and presentations. Each community member can create dedicated groups based on their interests. This online community platform is perfect for professionals and nonprofits.
Community members can share ideas and opportunities and work together on projects. Job boards allow members to post job offers and share CVs.
Hivebrite allows your online community to set up pages for donations and campaigns. It offers communication within the community feature, integration into social networks, and much more.
Hivebrite offers engagement analytics, monetization options, and the opportunity to reach new partners and co-funders.
Even though it was made for charity, the only free version is the demo. The basic plan starts at $500. But if you can afford it, it is worth the price.
---
Discourse: Best for Open-Source
Few community platforms offer what Discourse does: 100% open source code that you can shape to your exact preference as much as you want. With over 60 plug-ins, it is one of the most feature-rich community platforms.
Don't despair if you can't code. You can still get a lot out of it.
Discourse also offers a default feature that is simple to use, even for inexperienced users. If you can set up a Facebook group, you will know how to use it. The interface is simple, with clear instructions. It contains all the usual components of an online community platform.
While the code is open source, the platform is not free. A 14-day free trial is the best you'll get before you have to pay $100 per month to use Discourse.
Wrapping Up Community Platforms
Consider the needs of your community when making a choice. Use Google Analytics to collect data from your apps and websites to gain insight. Understanding the gaps in your set-up will help you choose a platform that adds the most value to your business.
If you share original content on your platform, use the "rights reserved" mark to prevent data theft. Focus on creating a positive user experience. Customer loyalty will side with a platform that is easy to navigate.
Community platforms will help you reach new customers, students, and partners. And create an opportunity to manage your content. A properly set up community platform will allow you full control over everything you post.
Social media has influenced us to crave community support for work and social interactions. We got the most out of social networks. Now it is time for an upgrade!
Want to learn step-by-step how I built my Niche Site Empire up to a full-time income?
Yes! I Love to Learn
Learn How I Built My Niche Site Empire to a Full-time Income
How to Pick the Right Keywords at the START, and avoid the losers
How to Scale and Outsource 90% of the Work, Allowing Your Empire to GROW Without You
How to Build a Site That Gets REAL TRAFFIC FROM GOOGLE (every. single. day.)
Subscribe to the Niche Pursuits Newsletter delivered with value 3X per week