The 10 Best Squarespace Alternatives To Help Revamp Your Site
When you buy something through one of the links on our site, we may earn an affiliate commission.
Your website is considered the online face of your business, and choosing the right website builder is crucial to its success. While Squarespace is a popular choice among entrepreneurs, it may not necessarily be the best fit for you. And there are lots of Squarespace alternatives that may better suit your needs.
Whether you're looking for more customization options, better pricing, or specific features, we can guide you toward a website builder to help you meet your goals.
So, without further ado, here are the top 10 alternatives to Squarespace that make it easy to build beautiful sites.
10 Squarespace Alternatives for Professional and Beautiful Websites
If you've browsed through some of the best Squarespace templates and want more options, check out one of these high-quality website builders.
1. WordPress: Most Customizable Site Builder
If you're on the hunt for a versatile website builder that puts you in the driver's seat, WordPress is your answer. Ideal for those who crave customization and control, it's also perfect for those with an eye on future website sales due to its easy transferability.
Here's what makes WordPress stand out:
Flexibility: Whether it's a personal blog, business site, or an online community, WordPress caters to all.
Publishing Tools: Manage your content effortlessly. Schedule posts, create drafts, and secure your pages with ease.
User Management: A system that allows different roles - administrators, editors, authors, contributors, and subscribers, fostering a vibrant community.
Easy Theme System: Choose from thousands of themes or upload your own for a unique look.
Extend with Plugins: Advanced features are just a plugin away. You can browse our selection of the best free WordPress plugins. Add galleries, forums, SEO controls, and more with ease.
Built-in Comments: Engage with your audience directly on your platform.
SEO Optimized: Your website is ready for search engines right out of the box. For more control, plenty of SEO tools are available.
Easy Installation and Upgrades: With one-click installers offered by many web hosting providers, setting up and upgrading your WordPress site is a breeze.
WordPress is not just a free version of a website builder; it's an open-source platform that lets you own your data and gives you the freedom to use it as you wish. But keep in mind that there may be a high learning curve if you're transitioning from other site builders.
You may want to invest in a premium WordPress theme or hire a developer to ensure your site is unique and professional-looking.
But with its vast community and resources on a site like Upwork, you'll be able to find affordable solutions.
Pricing: The WordPress software is free, but you'll need to purchase a domain name and hosting plan. You may also want to invest in premium themes and plugins for added features.
---
2. Duda: Best for Agencies and Small Teams
Dive into Duda, a web builder designed for the small business owner assembling a team.
Here's what you can expect from this web builder:
Variety of templates: Over 100 customizable options for your unique brand.
Analytics tools: Understand your site traffic better.
eCommerce tools: Advanced features for your online store.
Unlimited storage and data transfers: Space will never be an issue as your media needs and team expands
Apps and widgets: From PayPal payments to social media comments, enhance your site's functionality.
However, Duda may limit your creative freedom and SEO support. Plus, moving your site to another host isn't straightforward. Yet, its impressive widget lineup, integrated pop-ups, Google Sheets contact forms, and appointment scheduling abilities make this a great Squarespace alternative.
Check out our complete Duda review to learn more.
Pricing: A basic plan starts at $19 per month, billed yearly
---
3. Shopify: Best for Online Storefronts
Shopify is a robust website builder that serves as an excellent alternative to Squarespace for small business owners looking to establish an online store.
This e-commerce platform allows you to sell through various channels, including social media sites, marketplaces, and even in-person with its integrated point-of-sale (POS) system.
The program's main e-commerce features include:
Over 6,000 apps: Enhance your store's functionality, from drop shipping to social media marketing.
Customization: Complete control over your store's layout, content, and colors.
Social media integration: Connect with platforms like Pinterest, Instagram, Facebook, Twitter, and Tumblr, as well as marketplaces like Google, eBay, and Walmart.
Shopify's comprehensive website building features can help streamline your operations, saving time and improving your business. Our thorough Shopify review discusses more features in detail.
Pricing: A basic plan costs $29 per month when billed annually
---
4. GoDaddy: Best Streamlined Setup
GoDaddy, a renowned name in domain registration and web hosting, also offers a user-friendly website builder, making it a solid alternative to Squarespace. It's perfect for beginners or those with limited coding skills who want to get a professional site live fast.
GoDaddy's AI-driven design editor creates a custom site based on your answers to a few simple questions.
Here are a few of the perks of using the GoDaddy website builder:
Easy-to-use drag-and-drop editor
Over 100 design templates
Free plan with GoDaddy-branded site and custom domain
E-commerce features for online stores, including payment processing
24/7 support
With GoDaddy, you can create an online store, add a blog, send emails directly, and schedule appointments. The platform also offers a digital marketing suite for an extra fee, unlimited storage and bandwidth, and hardware options for physical stores.
It's an all-in-one web hosting solution for website building that can save you time and enhance your business.
Pricing: An annual basic plan starts at $9.99 per month
---
5. Carrd: Best Single-Page Site Builder
Carrd is one of the best alternatives to Squarespace for individuals and small businesses seeking a streamlined solution for building one-page websites. This intuitive platform, equipped with a drag-and-drop editor, is ideal for creating landing pages, portfolios, or promotional sites swiftly and efficiently.
You can expect:
110+ pre-designed templates and 91 themes for Pro users
16 design elements, including text, images, and buttons
Basic SEO tools for site title and description customization
With Carrd, you can launch your website in minutes using its user-friendly interface and free plan. Its basic features cover your needs, from text editing to linking Google Analytics for tracking.
However, keep in mind that as a simple builder, Carrd's SEO options are limited. But overall, it's a time-saving tool that helps improve your online presence.
This handy Carrd review will help you assess if this website builder is right for you.
Pricing: A pro plan starts at $9 per year
---
6. Zenfolio: Best Option for Photographers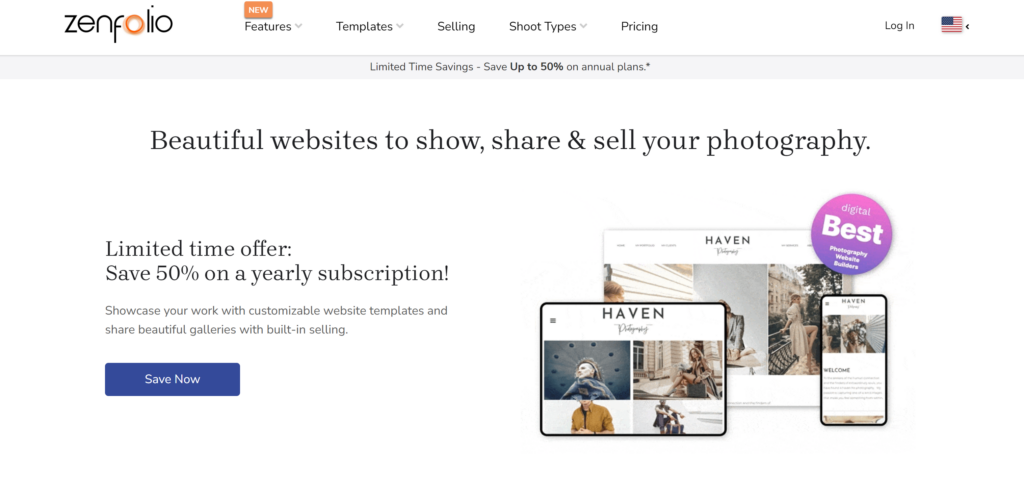 Zenfolio is a comprehensive tool designed for photographers seeking an efficient way to showcase their work, secure gigs, and sell products. It's an all-in-one platform that simplifies web design, even without coding knowledge, saving you time and effort.
Small businesses in the creative sector can enjoy:
11 customizable templates with attractive color schemes
Eight pre-built gallery layouts for showcasing images
A "Shoot Types" box for niche-specific portfolios
A media management section for organizing photos and videos
You can personalize your portfolio, adjust color schemes, and reorder design elements. The platform also offers up to 1TB of storage for your media based on your subscription level. With this tool, you can manage complex sites and present password-protected client galleries.
Plus, it integrates seamlessly with Adobe Lightroom Classic for easy uploads. Zenfolio's features are designed to boost your business growth, making it a valuable asset for any photographer.
Learn more about this simple website-building tool in this Zenfolio review.
Pricing: Portfolios start at $3.50 each month when billed annually
---
7. Webflow: Best for Responsive Design
If you are seeking Squarespace alternatives that work well on all devices, consider the Webflow website builder. Its responsive design capabilities make it perfect for businesses looking to develop a website with a modern, sleek look.
This website builder is designed for those who prioritize creative visuals and interactive design.
Here's what you can expect:
Extensive customization options for a tailored experience
A variety of free and premium templates for diverse web host needs
Responsive design that adapts to different devices
Comprehensive SEO options to increase visibility
However, Webflow does come with its challenges. It requires some coding knowledge and has a steep learning curve. There are also limitations on CMS items and eCommerce features for your online store.
And customer support is only available via email, which is important to keep in mind if you want around-the-clock support.
Despite these cons, if you're keen on building your own website with an emphasis on design, read our complete Webflow review to decide if you'd like to invest in this website creation tool.
Pricing: Webflow offers a free site, and basic plans start at $14 per month when billed annually.
---
8. Weebly: Best for its Ease of Use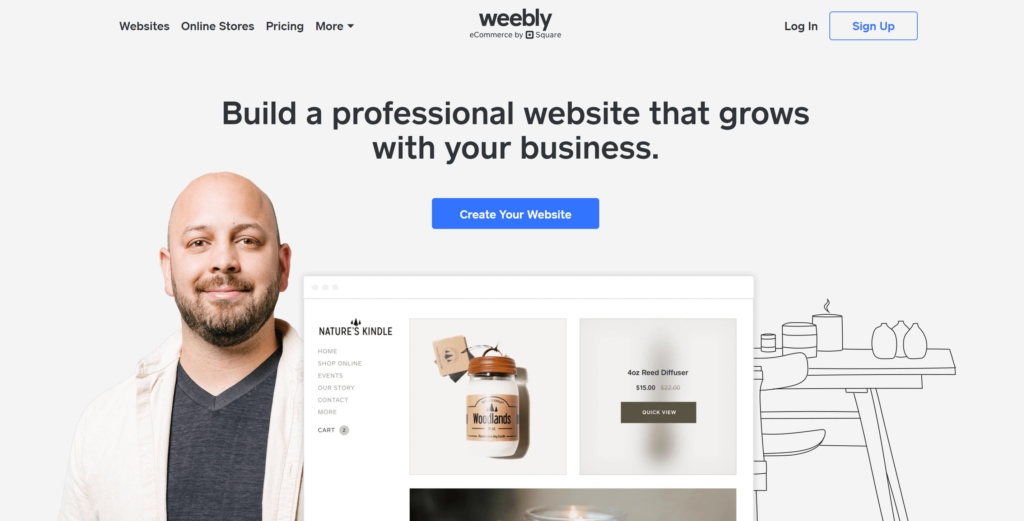 If you're in the market for beginner-friendly Squarespace alternatives, Weebly, an easy-to-use website builder, might be worth considering. Designed for first-timers, Weebly allows you to create a mobile-optimized website with zero coding skills.
Weebly outshines other website builders with its:
Easy-to-use drag-and-drop editing tool
Responsive themes and excellent website speed
Over 350 third-party apps ready for integration
However, this website builder has its limitations. It lacks design flexibility and theme options, and customer support could be improved.
Weebly's features are particularly beneficial for personal and portfolio sites, including custom fonts, built-in image editor, SEO tools, and more.
For e-commerce sites, Weebly provides advanced e-commerce capabilities such as customizable store themes, inventory management, and an integrated shopping cart for your online store.
Check out our comprehensive Weebly review to learn even more.
Pricing: Weebly has a free plan as well as a personal plan starting at $10 a month when annually billed.
---
9. Strikingly: Quickest Website Setup
Strikingly is a website builder that enables anyone, even without coding experience, to create their own websites within hours. This is an ideal solution for small business owners and freelancers looking to build a professional online presence without a hefty upfront investment.
Notable features include:
Drag and drop editor for easy website construction
Pro Plan offers a Facebook Messenger live chat feature
SEO checklist to optimize your site
Detailed visitor statistics
Strikingly also offers e-commerce functionality, even on the Free Plan, making it a good choice for online stores. However, selling is limited on Free and Limited plans.
One standout feature is its ability to create multiple websites, making it suitable for businesses with multiple organizations or digital agencies managing different clients.
Strikingly ensures security with SSL encryption and offers 24/7 live chat support. Despite its simplicity, it can cater to more complex sites with its expansive features.
Pricing: The Strikingly limited plan starts at $8 a month when billed every year.
---
10. Wix: Best for Sleek Templates
If you're contemplating the best Squarespace alternatives, Wix is a website builder that offers full e-commerce features and creative freedom. It's ideal for beginners looking to sell online or create a basic site without tech experience.
Unlike most website builders, Wix has a massive collection of over 800 customizable templates, highly detailed design options, and a user-friendly drag-and-drop editor for building your site.
Additionally, Wix offers some key features like:
Easy-to-use drag-and-drop editor
Extensive ecommerce tools for selling online
Flexibility for extensive customization
Marketing tools and client management tools
A dedicated app store for further web functionality
However, Wix has some drawbacks. Once your site is published, you can't switch templates without starting over.
For advanced functionality, you might need third-party apps at an extra cost. Additionally, its best features are behind premium plans. So things could get pricey fast.
Despite these gaps in the free plan, with a paid plan, Wix provides everything you need to grow and scale.
From a free custom domain your first year on paid plans to stunning website templates and built-in marketing features, it's one of the best Squarespace alternatives on the market.
Pricing: Wix plans start at $16 a month when billed annually.
The Bottom Line on Squarespace Alternatives
These 10 Squarespace alternatives are some of the best website builders out there. Each has its strengths, making it suitable for unique business needs and goals.
Consider factors like ease of use, responsive design, customization options, SEO tools, ecommerce capabilities, support options, and cost when choosing the right Squarespace alternative for your business or personal website.
And remember that website builders are only a means to an end. Choose the one that suits your needs, but don't forget to focus on creating quality content and promoting your site effectively for success.
Want to learn step-by-step how I built my Niche Site Empire up to a full-time income?
Yes! I Love to Learn
Learn How I Built My Niche Site Empire to a Full-time Income
How to Pick the Right Keywords at the START, and avoid the losers
How to Scale and Outsource 90% of the Work, Allowing Your Empire to GROW Without You
How to Build a Site That Gets REAL TRAFFIC FROM GOOGLE (every. single. day.)
Subscribe to the Niche Pursuits Newsletter delivered with value 3X per week