Zenfolio Review: Best Website Builder For Photographers To Make Money?
When you buy something through one of the links on our site, we may earn an affiliate commission.
For our Zenfolio review, we'll explore this website builder from top to bottom. We'll discuss all of its many features and how easy it is to use. Together we can decide whether it's the best website builder for photographers to make money.
When deciding on a website builder, there are essential factors to consider. You'll find countless ways to achieve your goals in terms of functionality, ease of use, cost, etc. What you want to achieve with your site will determine the best website builder for you. Some, such as Zenfolio, are excellent at helping you build a stunning photography portfolio, while others are perfect at marketing and e-commerce features.
Whichever you choose has a long-term impact on your adaptability, usability, and, naturally, your brand. Zenfolio is definitely one very good option, and it will help photographers make money.
This Zenfolio review will cover:
An overview of Zenfolio
Key features
Pricing
Pros and cons
Alternatives to Zenfolio
Zenfolio review
Features

Ease of Use

Performance

Price

Customer Support
Summary
Zenfolio is an excellent, all-in-one solution for photographers. It offers ingenious tools to help you display your images, get hired for sessions, sell items, and get paid. It's not the most flexible website builder, though, and you'll undoubtedly need unlimited storage space if you have a large image bank. Try Zenfolio here!
Pros
Decent value for the money
Built-in features such as watermarking, printing, and sales
Easy to set up
Simple, well-designed templates
Cons
Very few templates
Customer support is not great
Performance can be very slow
Best features only available on the more expensive plans
Zenfolio Overview
Zenfolio is at the all-inclusive end of the broad spectrum of website-building options. It offers everything you need to launch and develop your photography website.
Zenfolio offers an all-in-one solution that has everything a professional photographer needs to expand their business. From cutting-edge templates that are easy to change to eCommerce tools that allow you to sell photographs straight from your website.
Instead of functioning like a standard drag-and-drop website builder, Zenfolio asks you to choose your photographic style from a menu of possibilities. Then it provides you with several suggested themes that you can change out later.
Beginners who lack design or development skills will find this framework appealing. It offers an easier and quick approach to getting your photos on an attractive website. But this specific website builder is a specialty tool. Zenfolio is a good choice if you are a photographer.
You have 14 days to sample Zenfolio for free. But before you commit to a paid membership, you might want to keep reading to see if this website builder is a good fit for you.
In a hurry? Try Zenfolio out right here!
Zenfolio Review: Key Features
Since your primary line of work is digital photography, you need to make sure the platform you choose offers the essentials.
You can immediately find all the information you need on Zenfolio's homepage. One thing to keep in mind, though, is that many of the advanced features are only available with the more expensive plans (Pro and Advanced).
I took the product for a test-drive before writing this Zenfolio review - here is what I found.
Website Builder
Everything you need to know before getting started is available right away on the Zenfolio website. Once you sign up for the free trial, the setup wizard assists you every step of the way.
First, select a template to design the general layout of your website. Then add pictures to your first gallery.
Zenfolio provides a total of 11 templates, the majority of which you can use for single- or multi-page sites. You also get eight pre-built gallery layouts. They are all generally well-designed. They have an attractive color scheme, simple shapes, and animations. Every subscription includes mobile-friendly templates.
The "Shoot Types" box is pretty clever. Click the tab and you get plenty of choices. Photographers in particular niches can choose their preferred subject. Then they can see how Zenfolio may help them grow their businesses.
The bulk of the features focus on automation, which is a real game-changer.
Despite being rather basic, the website editor has the tools you need to customize your design. You'll be able to create a personalized portfolio, alter color schemes and change or reorder design components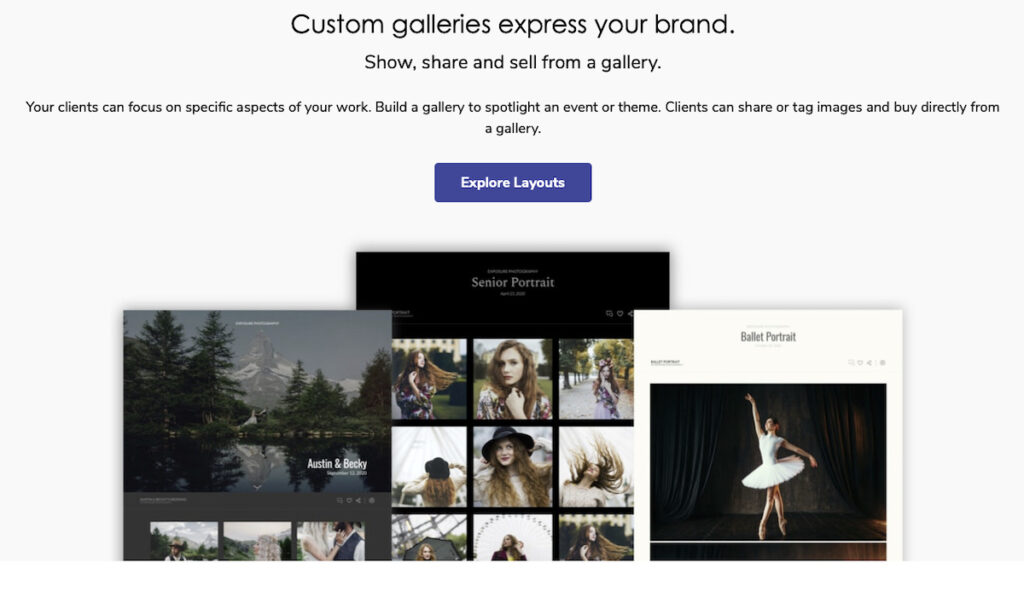 The last feature is the media management section. This allows you to upload and arrange your photographs and movies. You'll be able to showcase your work to potential customers by adding password-protected client galleries. You may also create custom galleries for various pages.
As for the Zenfolio review findings: I have no complaints about Zenfolio's usability, and it's designed to make things as simple as possible for you.
SEO is integrated into your dashboard. This means adding keywords and terms to your photo descriptions to promote business is easy.
There are a few more features and add-ons worth taking a closer look at.
PhotoRefine.ai
PhotoRefine.ai is an innovative method for photo culling. The cutting-edge automatic system can reduce thousands of photos from a typical shoot to just a few hundred pretty fast.
You choose the criteria and parameters to rate and group images, add a people filter, and identify duplicates to manage the AI settings.
Images and data are stored only on your computer, not in the cloud. PhotoRefine.ai is a local desktop device app. Galleries are private and safe because you control who has access to the images and all security settings.
Zenfolio Lightroom Classic Plugin
Zenfolio provides simple Lightroom plugin uploading from Adobe Lightroom Classic. Download this plugin to upload photographs directly from Lightroom on your computer to Zenfolio. Doing so will speed up the upload and editing processes.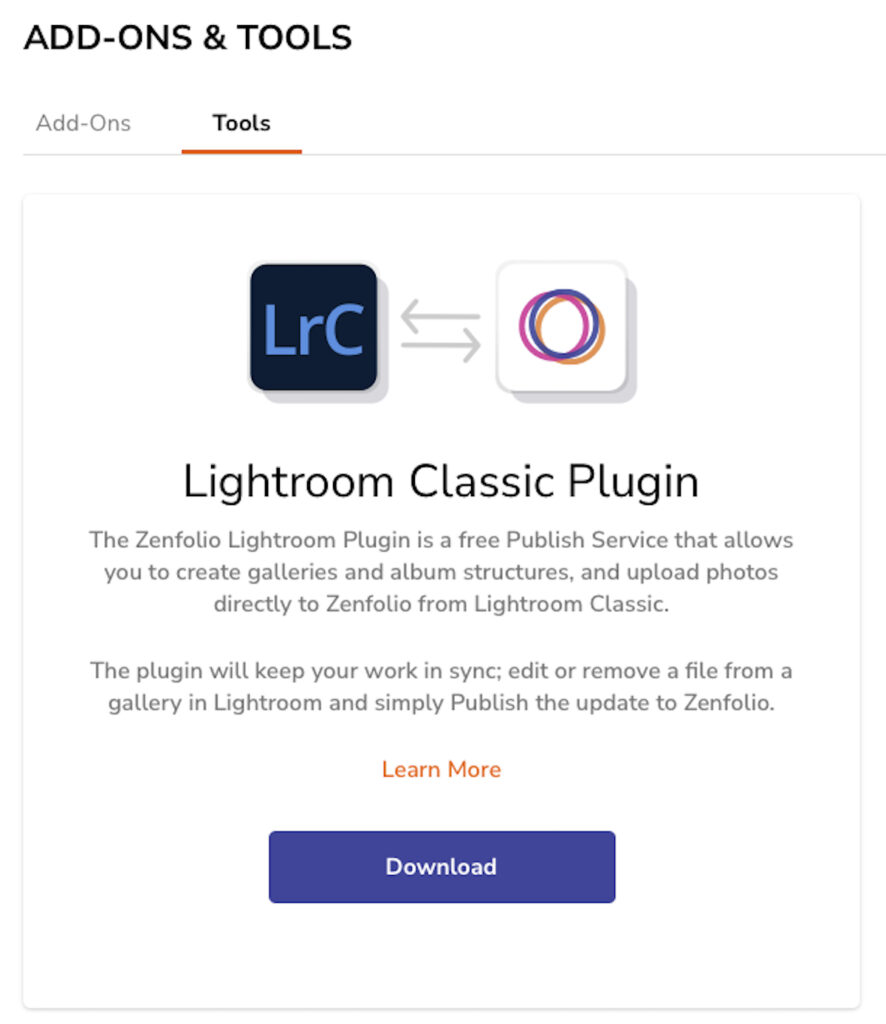 Uploader App
The Zenfolio uploader allows you to upload videos and images from any folder on your computer to your Zenfolio account. It saves a ton of time by creating nested galleries and folders directly from your file structure.
The app is the quickest and easiest way to upload and organize your assets.
Photo Storage
Zenfolio offers options for managing and uploading photos. It offers a wide range of practical, well-thought-out tools to assist you. The tools can help in managing your work organization and even maximizing sales.
You can upload and arrange your photographs and videos (up to 1TB of storage is available (depending on the Zenfolio subscription you select). Plus, make new galleries, tag photos, and establish permissions from your Zenfolio dashboard.
Photo Proofing
Who can view the content on your website is entirely within your control. For instance, you can make password-protected galleries for a client to proof and place orders. You'll also be able to open galleries to draw in new clients and display your work.
It's best to group photographs and videos into searchable collections for your clients. With gallery presets, you can save and use your preferences when you add new images and videos.
You can try the editable templates for invitations and client-proofing galleries. And you'll be able to change them and add a new tab for your client's specific needs.
You can also allow your client to comment on their favorite images. This will give you a better idea of which they like the best.
Security and Protection
This is an important area. Zenfolio offers several methods to protect yourself and your photographs. They include the following:
Watermarking. Photographers frequently include a watermark on their images to prevent unauthorized use of their work.
Password Protection. Keep your galleries secure with passwords that you enable and manage. You control who may view and access galleries. It could be for family gatherings or highly classified new products. And you can stop Google from looking for and finding images and videos in your galleries.
Customers can view their galleries on your website using a direct login link.
Cloud Backup. You have an extra location where you may upload and securely save pictures and videos. You can use discs and drives, but it's best to add an extra layer of backup redundancy (just for safety.)
Social Media Integration and Sharing
Zenfolio allows you to integrate your business accounts into a content block on your website. Photo sharing can attract visitors and encourage them to follow you on social media.
E-Commerce Tools
Zenfolio assists you in selling your images. It has agreements with international print facilities and several integrated e-commerce technologies. Just bear in mind that to use e-commerce tools, you must have a PortfolioPlus or ProSuite package, which we'll discuss later in this review.
Once your online photography business is set up, Zenfolio's system manages orders and collects payments. It can also send products straight to your customers while the partner lab handles order fulfillment. You only need to concentrate on landing gigs and taking excellent pictures. That is if you don't mind forking over 9.9% of sales as a service fee for order processing.
You may offer more than 100 photo products, including presents like canvas paintings, wall art, and digital and printed images. But, the active partner print labs in your area will determine your options.
Zenfolio can give you a suggested price structure based on what other photography businesses charge for similar shoots. Or you may develop your own price list.
There are also a variety of marketing options to support the expansion of your business. These include email sign-up blocks, email templates, coupons, and social network integrations.
Marketing Tools
If you choose the PortfolioPlus or Portfolio Suite, you will have access to features that will help you sell your work more effectively. You can use various crucial marketing tools, such as the following:
Establish free directory listings.
Design a blog that is search engine optimized.
The power to request visitor registration.
The ability to collect visitors' contact information.
Gain access to features for automatic email marketing.
Use pre-designed email and marketing templates.
Hand out vouchers for discounts and coupons.
The capacity to post content to social media platforms.
BookMeScheduling
The BookMe Integration is yet another impressive Zenfolio feature. It means automating booking, scheduling, gallery building, and even commerce for professional photographers. BookMe can save you considerable admin hours a month.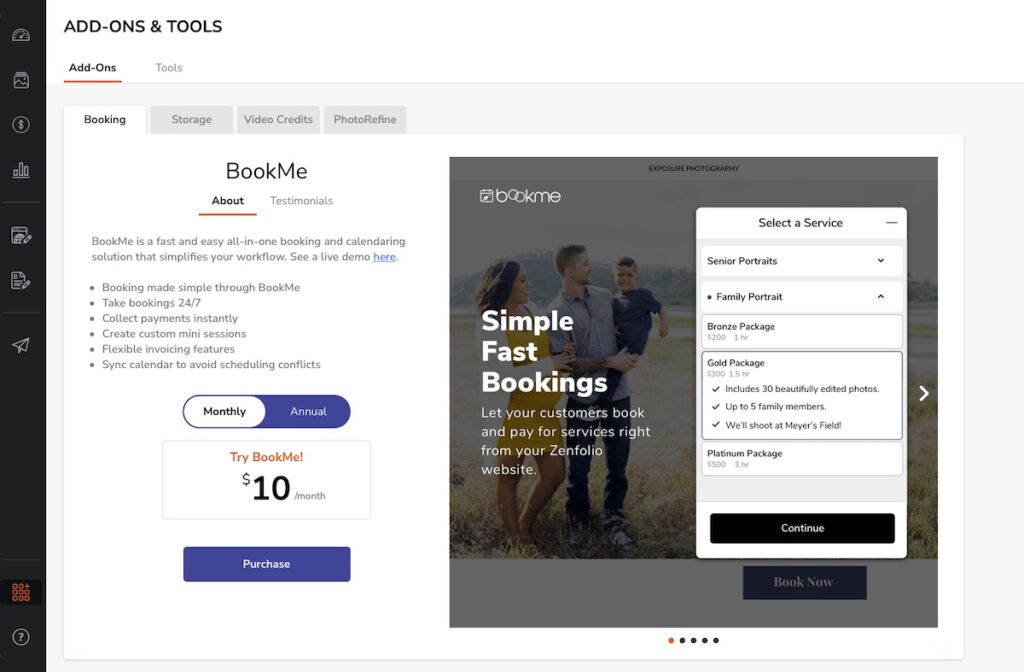 You can integrate BookMe with your website to automate the following processes:
Booking and payments. BookMe shows your availability, session types, and package options by syncing with your calendar. Customers get fast access to booking and payment options.
Client Galleries. BookMe automatically creates a client gallery when they book a package, ready for them to submit their images. The customer can go in after the shoot to proof and choose which photographs to order.
Fulfillment. When a customer places a purchase, BookMe immediately processes the order. It dropships and delivers the goods to the customer's door without requiring much effort on your part. The user interface is simple, so customers can make reservations with you on any device.
Pricing for this extra service starts at $10/month.
Zenfolio Review: Pricing
ProSuite costs $36/month. It includes everything that Portfolio offers plus 1TB of storage. And up to 750 hosted videos and advanced selling with over 1000 products on your website. You also have the ability to remove all Zenfolio branding from your website.
Portfolio Plus costs $18/month. You get 100GB of storage, and you can sell products. Plus, you get email marketing tools and 75 hosted videos.
Portfolio costs $8/month. This plan offers 15GB storage space for photos and videos (you can upload up to 25 videos). One-page website templates. You can add your own domain. Allows social media integrations and all the basic marketing features, but you can't sell with it.
Zenfolio Customer Support
You can contact the Zenfolio customer care team by live chat, online ticket submission, or email. There is also a selection of self-help tools, which include in-depth manuals, complete webinars, and more.
There's just one problem. Only ProSuite and Portfolio Plus members can get email support. And there are many complaints from users about Zenfolio's customer support.
Zenfolio Review: Pros and Cons
Simple drag-and-drop editor

Templates are mobile friendly

Website builder focused on photography
Limited variety of templates

No free version available

Poor customer support

Focused on photographer features but lacks business features 

SEO features are very basic
Zenfolio Review: Alternatives
Whatever the cause to consider leaving Zenfolio or not signing on, there are plenty of excellent alternatives available.
SquareSpace
Squarespace counts as one of the top website builders for professionals in the creative industry. The platform is an excellent option because it loads fast, so visitors don't click away too soon.
You'll enjoy Squarespace for how simple it is to use. There are over 90 customizable themes available, and they're all mobile-friendly.
Live chat and email customer service are available around the clock on the platform, and you can test it for free for 14 days. After that, pricing is as follows:
Personal at $23/month
Business at $33/month
Basic Commerce at $36/month
Advanced Commerce at $65/month

Read more about the best Squarespace templates - particularly those for photography.
---
SmugMug
You can upload videos and photographs to SmugMug, an image hosting, sharing, and online video tool. It also functions as a platform for creating online portfolios. It offers customizable features and tools for quickly displaying high-quality photos and videos.
SmugMug uses Amazon S3 file storage, which gives you practically unlimited photo storage. Regardless of the plan, SmugMug has no storage limits. It also incorporates excellent SEO capabilities where you may add XML sitemaps or apply meta tags.
SmugMug offers a 14-day free trial, and plans are as follows.
Power at $13/month
Portfolio at 28/month
Pro at $42/month
---
Pixpa
Pixpa is a great Zenfolio alternative that is ideal for anyone who wants to launch a photography website or an online business.
Its visual editor and drag-and-drop capabilities make it simple to customize templates. One unique characteristic is the proofing platform built from gallery apps and web galleries.
The platform offers over 150 adaptable templates and apps and includes all you need to share, sell, and promote your photos online. Pixpa offers email and live chat customer care that is available around the clock to make sure you never run into trouble.
Additionally, you can use Pixpa's more than 100 apps and integrations to power your website.
You can test the tool for 15 days. Then pricing is as follows:
Basic at $6/month
Creator at $12/month
Professional at $18/month
Advanced at $25/month
---
Zenfolio Review: Final Thoughts
Finally, is Zenfolio the best website builder for photographers to make money?
I ran several tests on Zenfolio's templates, usability, functionality, and pricing. It has potential, no question. It has a wide range of useful built-in features for photographers. These include one-stop solutions for getting bookings, selling, and setting up client galleries. It also offers top-notch tools for photo administration and protection.
However, Zenfolio doesn't have the most flexible customization options or the best selection of templates. Notably, the storage isn't particularly extensive in the lower-tier plans either. And you'll have to subscribe to the more expensive plans for just about all its stand-out features.
Zenfolio is a good website builder for photographers to make money and is worth testing, but it is not the best. I would go with SmugMug. Apart from it being an easy website builder, it offers unlimited storage. Professional Photographers need storage space, but to get the most out of it, you'll need to subscribe to the higher tiers.
You may also enjoy our article which explains how to start a stock photo website and make money as well as our sell pictures online guide.
Where ever you are on your photography journey we wish you good luck!
Want to learn step-by-step how I built my Niche Site Empire up to a full-time income?
Yes! I Love to Learn
Learn How I Built My Niche Site Empire to a Full-time Income
How to Pick the Right Keywords at the START, and avoid the losers
How to Scale and Outsource 90% of the Work, Allowing Your Empire to GROW Without You
How to Build a Site That Gets REAL TRAFFIC FROM GOOGLE (every. single. day.)
Subscribe to the Niche Pursuits Newsletter delivered with value 3X per week