Carrd Review: Is It The Best One-Page Website Builder or Not?
In this Carrd review, we'll look at whether Carrd is the best one-page website builder option for you.
Carrd is a great option if you have never built a website before, but there are also alternatives you should consider.
No time to read the whole article? You can sign up for Carrd here.
One-page websites are a growing design trend used by freelancers, entrepreneurs, and small to large businesses to promote projects. These also include portfolios, events, goods, and more.
One of the primary benefits of single-page design is that the sites often translate much better to mobile, and visitors find them easy to navigate.
When it comes to user engagement, one of the important variables is user interface design. A one-page website divides material into manageable parts and eliminates UI clutter. It also makes your website easier for consumers to understand - it's an easy-to-use user journey map. You could consider your single-page website to be a simple story with a distinct beginning, middle, and end.
In this Carrd review, we will cover:
Carrd's best features
Pricing
Pros and cons
Carrd alternatives
I am sure you will be able to decide if Carrd website builder is the best option for you by the end of this review.
---
Carrd Review
Ease of Use -

95

Pricing -

99

Templates -

98

Features -

80
Summary
Carrd is perfect for anyone who wants to develop a one-page website or landing page in very little time and with limited resources. It has excellent templates; you can build and go live with your website in minutes. Try Carrd here!
Pros
Super-easy user interface
Quick and simple to use
Templates that are stylish and trendy
Priced reasonably
Cons
Design freedom is limited
E-commerce functionality is minimal
Carrd Review: The Best Carrd Alternatives
Carrd is a great tool, but there are some good alternatives.
SquareSpace - great website design and attractive templates
Weebly - start a blog the easy way
Wix - best option for small websites
Duda - good for mobile-friendly websites
Please read on to find out more about Carrd and its alternatives.
Carrd Review - An Overview
Carrd is a one-page website builder. The moment you navigate to the Carrd website, you can start working. The user interface is super simple. Everything is clearly labeled, and there is no jargon that the ordinary person won't comprehend.
Text editing is as simple as adding and relocating content blocks and buttons. When you first begin creating, a very simple education overlay teaches you the fundamentals.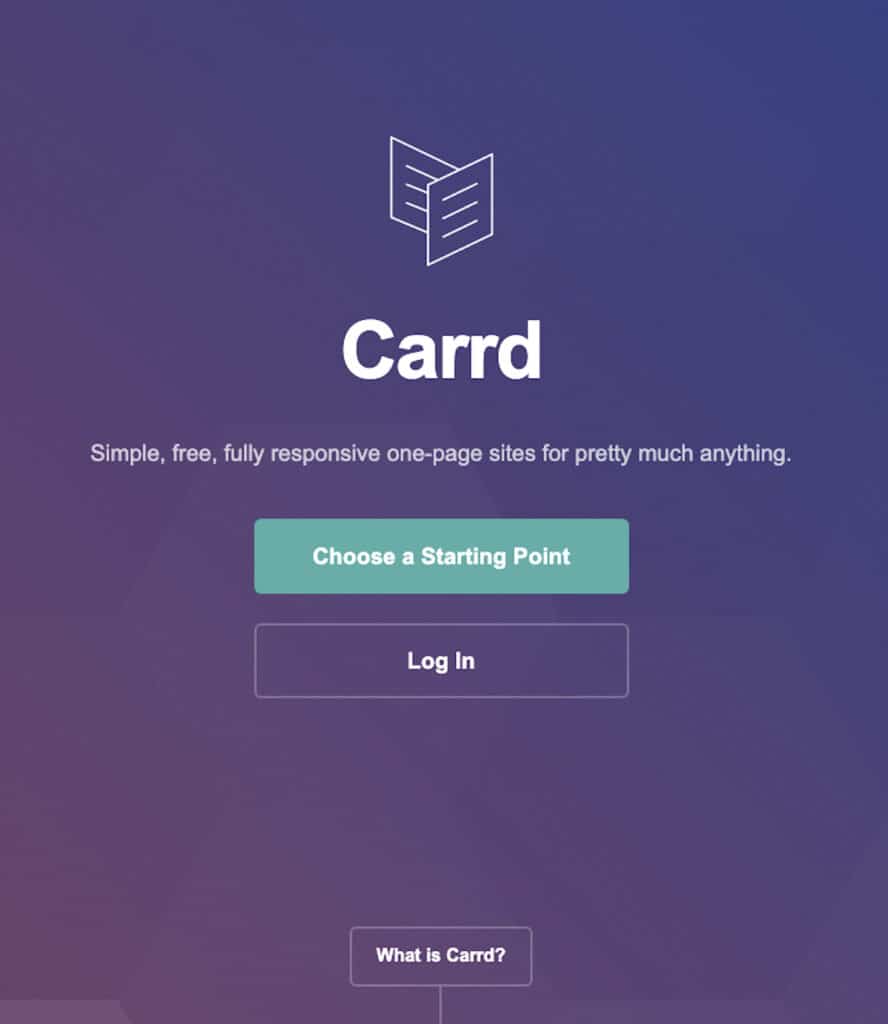 Carrd's Best Features
Open the Carrd website and click on the "Choose a Starting Point" tab. This will start you on your design journey.
Carrd Editor
Carrd greets you with a handy set of instructions once you've selected your template. These briefly explain what each button you're looking at can accomplish. You can change, remove, and add as much or as little as you want to truly personalize your website.
A lot is happening here, so don't get overwhelmed. A simple-to-use drag-and-drop editor allows you to organize objects easily on the web page.
Carrd supports a vast range of choices and includes just about everything you'll want from font choices and images to timers and icons. The simplest place to begin is by altering any existing element or adding your own.
There are also undo and redo buttons, so don't worry about making mistakes. Just play with the Carrd features and have fun. Overall, the Carrd editor is pretty intuitive and straightforward to use.
Templates
Carrd's template collection is exceptional. Pro users receive 110+ pre-designed templates and 91 Carrd themes. These are all divided into five categories. Several are free to use, while others require a Pro subscription.
Profile Page
Landing Page
Forms
Portfolio Website
Sections
The templates are great. If you are on the free plan, get access to over 67 free templates. Check them out on the Carrd website.
There's a handy edit menu on the right side, and it's so easy to use.
You can decide whether you want the page to animate when it's opened.
Backgrounds and Page Design
Your landing page is very important. The layout and background of your website significantly impact visitors.
The Page Style option allows you to change the position, style, width, alignment, padding, and other aspects of your page layout. And the Background tab allows you to choose your background.
A drop-down menu provides you with five options: color, gradient, image, video, and slideshow.
Carrd integration works with the Unsplash library to deliver you an enormous collection of free photos for Image Backgrounds.
Design Elements
Carrd comes with 16 website design elements that can be used to define the structure of your website. These cover basics such as:
Text with a great choice of Carrd fonts
Music
Video
Images
Buttons
Tables
Lists
And so on
Buttons
Carrd website builder provides a comprehensive library of icons you may use as buttons on your website. There are over 100 alternatives on the list, including the leading social media players like Facebook, phone, and email, as well as Bitcoin, Canva, and even the opportunity to link to a PDF document and Instagram feed.
Animation Effects
Animation effects make your website more vibrant and enticing to visitors. Carrd gives you simple effects like Fade, Blur, Tilt, Flip, Slide, and Zoom. This is excellent for drawing attention to your page's most crucial call to action and making the overall experience memorable.
Mobile View
Here's another excellent feature: Click on the tab, and you can switch to mobile view. You can change your webpage from here to better suit mobile users. You can even manually adjust the element design exclusively for mobile users if you choose.
Speed
You should consider the cosmetic aspects, speed, and uptime. Uptime is a metric that indicates the proportion of time your website is visible. You should not have a problem with Carrd website builder in this regard.
Not all website builders can generate quick websites, which could be a big problem. According to Nielsen, 47% of consumers expect the website to load in less than 2 seconds, and 40% will leave if it takes more than 3 seconds to open.
You can expect your Carrd website to load quickly. However, if you notice that performance is an issue, perhaps you uploaded a large number of high-quality images and videos? If this is the case, it is typical for it to take longer to load.
Carrd SEO Features
SEO is a vital component for the success of every website. But you can't expect many options for search engine optimization with a simple builder such as Carrd. One of the Carrd features allows customization options for your site's title and description.
You can edit meta tags and custom content in your site's section, giving you more control over the site.
Carrd does generate a sitemap that can be published to search engines automatically. This will aid in indexing and how search engines perceive your new website. Plus, link your Google Analytics ID to track visitors and conversions.
Add Audio
If you want some sound, you can add an audio track to your website. Click the documentation tab and scroll to the add audio section. You'll get step-by-step instructions on what to do.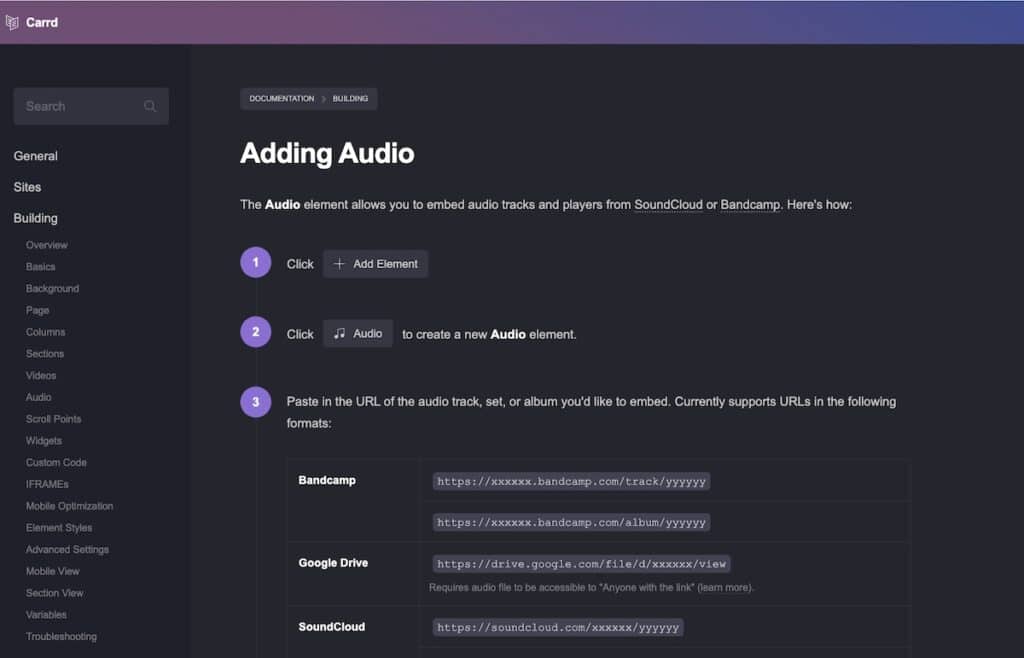 Custom Domain
Your website is published as a sub-domain under Carrd by default. As a result, your website's URL will be something like 'mywebsite.carrd.co.'
This isn't great for some. And they may feel that it looks unprofessional. However, you can link your own domain to it if you choose. But this could be a bit difficult for beginners because you must manually modify the CNAME records on your domain account. (In the Domain Name System (DNS), a Canonical Name (CNAME) Record is used to create an alias from one domain name to another.)
The ability to add a custom domain is only available on Carrd's Pro Standard and Pro Plus plans.
Carrd Pricing
Carrd website builder has three different pricing plans and a generous free plan. Each pricing plan comes with free hosting and an SSL certificate.
Check out the comparisons of the plans below.
| | Free Plan | Pro Lite Plan | Pro Standard Plan | Pro Plus Plan |
| --- | --- | --- | --- | --- |
| Pricing | $0/year | $9/year | $19/year | $49/year |
| Websites | 3 | 3 | 10 | 25 |
| Element Limit | 100 | No | No | None |
| Carrd Branding on your website | Yes | No | No | No |
| Image Quality | Standard | Good | Good | Good |
| Custom Domain | No | No | Yes | Yes |
| Forms | No | No | Yes | Yes |
| Widgets and Embeds | No | No | Yes | Yes |
| Google Analytics | No | No | Yes | Yes |
| Custom Templates | No | No | No | Yes |
| Redirects | No | No | No | Yes |
| Password Protection | No | No | No | Yes |
| Update Frequency | No | No | No | Yes |
| Advanced Settings | No | No | No | Yes |
Free Plan
You can construct three websites with a maximum of 100 items. But you'll have to live with the Carrd branding on your website. (By default, your website is published as a sub-domain under Carrd.)
Free Trial
Or you can try out all of Carrd's premium features. They provide a 7-day free trial of their Carrd Pro plan so you can properly test it out. Then, you can decide if this tool works for you.
Carrd Pros and Cons
User-friendly
Simple yet effective animation effects
Support for mobile editing
Pretty good free plan
Great value for money
Not for bulky websites
Very difficult to format text
Can't upload audio files
No eCommerce possibilities
Carrd Alternatives
Here are a few Carrd website builder alternatives to check out.
SquareSpace
First on our list of other website builders, SquareSpace pricing starts from $23/m for the Personal plan. The Business plan costs $33/m, the Basic Commerce plan $36/m, and the Advanced Commerce costs $65/m. If you pay annually, you can save up to 30%.
SquareSpace is a website construction tool. It's most known for its gorgeous website designs and attractive templates. SquareSpace is an excellent choice if a blog will be one of your primary website elements.
Weebly
For Basic use, Weebly has a free plan. The Connect plan costs $5/m when paid annually, the Pro plan $12/m, and the Business plan costs $25/m.
With Weebly's convenient blogging tools and all the features, you can start a blog fast and efficiently. Weebly is also a good option for a blogging platform.
Wix
The most basic plan, Connect Domain, costs $4.50/m. The Combo plan is for personal use and costs $8.50/m. For entrepreneurs and freelancers, there is the Unlimited plan at $12.50/m. Lastly, the VIP plan with first priority support costs $24.50/m.
Wix supplies a fantastic drag-and-drop editor for making small websites. You can add multiple pages to your Wix site. It will also provide you with more creative flexibility and a considerably broader selection of themes for the same price.
Duda
Duda has a generous 14-day free trial (find out if it's worth a try in our Duda review). The Basic plan costs $19/m, the Team plan $29/m, the Agency $59/m, and the Custom plan's price is negotiable. You can save 25% with the annual plans.
Duda provides practically everything you need to easily develop and maintain multiple mobile-friendly websites.
Carrd Review: Final Conclusion
The Carrd website builder is an excellent tool to create one page websites. If you're searching for a single landing page builder with minimal input and maximum style, go for it. Is it the best one-page website builder? The answer - It's very good and user-friendly. It's one of the best but has serious competition for the top spot.
And unfortunately, single-page sites have significant SEO limitations, one of which is keyword rankings. Single-page sites are typically constructed around a single major theme. This limits your ability to rank for a wide range of keywords.
If you rely primarily on Google to pick up new traffic, you could be better off constructing a multi-page site. There you can have many more keywords to attract a larger audience.
If you're a novice just starting on the website building adventure, Carrd is ideal. Experienced users who need one-page websites can look into its subscription plans with advanced features and capabilities!
A Reminder of Carrd Alternatives
Our Carrd review would be remiss if we didn't mention a few other website builders one last time:
SquareSpace is an excellent choice for blogs.
Weebly is inexpensive and another good option for blogging.
Wix is a very popular option where you can build multi-page small sites.
Duda is your best alternative for building mobile-friendly sites.
I hope this article has been useful in helping you find the perfect platform to build your one-page or small website!
In need of some inspiration for your website? Have a look at these inspirational personal website examples.
Want to learn step-by-step how I built my Niche Site Empire up to a full-time income?
Yes! I Love to Learn
Learn How I Built My Niche Site Empire to a Full-time Income
How to Pick the Right Keywords at the START, and avoid the losers
How to Scale and Outsource 90% of the Work, Allowing Your Empire to GROW Without You
How to Build a Site That Gets REAL TRAFFIC FROM GOOGLE (every. single. day.)
Subscribe to the Niche Pursuits Newsletter delivered with value 3X per week