15 SMS Marketing Platforms To Help You Reach Your Customers
When you buy something through one of the links on our site, we may earn an affiliate commission.
Move over email. SMS marketing platforms are about to take center stage.
With marketers desperate to find a new way to reach customers, many have turned to the most direct form of communication many of us have: texting.
It may sound more personal — and in some cases, invasive — but it's hard to deny its efficiency. According to at least a few reports, SMS marketing is 6 to 8 times more engaging than even email marketing. Knocking e-mail off its throne is no easy task, yet SMS marketing continues to impress those who use it.
If your business is thinking about implementing and SMS marketing plan, we'll show you the top platforms that can help boost your customer engagement.
Top 15 SMS Marketing Platforms
If you're wanting to get started with text marketing, here are some of the best SMS marketing platforms we found. Give them a shot and see which one works best for you.
Twilio
Founded in Seattle in 2008 by 3 men — Jeff Lawson, Evan Cooke, and John Wolthuis —Twilio originally started out as a cloud-based phone service. SMS messaging followed a few years after that, with several rounds of investments from venture capitalists providing resources to get them off the ground.
Twilio is known to rely heavily on open-source software, which allows developers to develop their own services. They've adapted this "collaboration-style" to create integrations with other software, such as Google Forms, Zapier, and SendGrid.
The pricing is a simple pay-as-you-go plan, beginning at $0.0079 per text for local numbers and $0.02 for picture messages. For small businesses, that's more than affordable.
---
ClickSend
This Australia-based company was founded in 2013 and is best known for its multichannel communication software that includes SMS marketing. ClickSend assists companies of various sizes not only in sending SMS messages to customers, but email and voice messaging as well.
Integrations with other software services like Shopify and Zoho certainly help, and their pricing is competitive. Less than 2,000 texts a month will set you back less than a nickel per text.
There are no monthly fees to use their service. Instead, you only pay for what you use.
---
TextMagic
Unlike other companies on this list, TextMagic focuses exclusively on SMS marketing and very little else. They specialize in bulk texting that you can set up and schedule beforehand, as well as segmentation.
You can set up lists and groups inside the dashboard to target customers more directly.
Furthermore, marketers have the option of attaching Word or PDF files along with images and can set up auto-replies when a customer responds. TextMagic also boasts robust backup and security features, which should give you peace of mind should something go south.
SMS texting is on a per message basis, and it cost $0.04 to send a message (incoming messages are free).
---
Sender
In case your business isn't large enough to support some of the more cost-prohibitive plans on this list, Sender has a plan that includes SMS messaging for less than $10 a month. That same plan also includes up to 30,000 emails a month spread out over 2,500 subscribers.
Because of that, it's possible to have all of your marketing needs under one roof with Sender.
Although Sender is known primarily for being an email marketing platform, they have numerous integrations as well. Zapier, Wordpress, and Shopify are just a few, and enable even newer marketers to use multiple channels.
---
TextLocal
Boasting nearly 2 million subscribers, TextLocal makes a strong case for being one of the most reliable SMS marketing platforms around today. It is certainly one of the oldest brands on this list — they opened their doors in 2005 — and they still have a fantastic rating amongst their current subscribers.
TextLocal utilizes a cloud-based system and supports text message scheduling, contact management, and even virtual mobile numbers.
All messages can be personalized to the individual, and they even include the option for a "mobile wallet module." This allows marketers to send things like event tickets and QR codes straight to the customer.
The dashboard for TextLocal helps users manage their marketing campaign with ease, and importing SMS contacts from other phonebooks to sort out customer segments is a snap. Those with administrative access can assign permissions to various employees and generate reports based on activity.
---
EZ Texting
Used by some of the biggest brands, including IKEA, Goodwill, and The Container Store, EZ Texting is a very simple and easy-to-use SMS marketing software.
All of the basic necessities that you need to get your campaigns up and running are available. Bulk messages, local numbers, and unlimited contacts are some of their most used features. However, they also include landline texting, picture messages, and dedicated short codes.
Price plans starts at $20 a month, but custom plans include more features. For not much more money, you can add multiple keywords, source numbers, and a few other features that will take the monthly cost closer to $300 per month. And we have a full EZ Texting review if you'd like to learn more.
---
ManyChat
Depending on who you are, ManyChat may be a very familiar brand. Their bread-and-butter is automated messaging across social media platforms like Facebook and Instagram, but they also can facilitate the same service via text messaging as well.
Due to its integration with Shopify, ManyChat is used by many people to drive e-commerce traffic. Personalized messages can be sent to people that have abandoned their carts. Additionally, they can generate feedback and book appointments for service-based businesses. Automated group sequence and keyword triggers are also available.
One of the main selling points for many users is the ability to create templates for your messaging, and perform A/B tests to optimize efficiency across your channels.
ManyChat is extremely user-friendly, and for that reason, will probably be around for years to come.
---
Textedly
There are very few frills when it comes to Textedly's service. It's one of the simple SMS marketing platforms that provides all the basic marketing features you need, with a strong customer support plan to boot. Follow that with a competitive pricing model, and you've got a recipe for sustained success.
Textedly offers a free 14-day trial that allows you to try out every single one of its features with zero obligation.
Some of those capabilities include scheduling text messages in advance, bulk SMS, and the ability to send coupons, notifications, and school reminders.
---
PostScript
If you want to dip your toes into the world of SMS marketing but are not ready to pay full price for a robust platform with dozens of features, PostScript might be the right one for you. Plan start at $0.015 per text, with no monthly fees. A free trial is also included.
While you (understandably) won't get all of the features some of the other companies offer on this list, you do have basic segmenting and automation capabilities that should help you take advantage of their service. They also offer a two-step opt-in process that makes confirming a subscription easy for the end customer.
---
Simple Texting
Simple Texting operates on a credits system: for $29 per month, you get 500 SMS messages. Pricing goes up to 50,000 messages, but you can expect to pay $899 per month, with each additional credit costing two cents.
What do you get in return from Simple Texting?
Besides a dedicated account manager at the higher plans, the main return is in customization. You get unlimited numbers of custom keywords and custom integrations built for you by Simple Texting for free.
The one thing they don't offer? QR codes. Very curious for a company that seems to offer everything else.
---
SlickText
Although SlickText is certainly one of the more expensive options on this list – the top plan forces you to pay $1,250 for 50,000 texts per month — they also offer a free plan for 50 text messages a month. No credit card is required, either.
SlickText's claim to fame is the ability to integrate with more software services than just about any other SMS marketing software, in addition to giving access to multiple team members. All of the basic features like two-way messaging and automated messaging are included, with the added ability of managing your SMS marketing campaign via an app.
---
Mobile Text Alerts
A small business with limited text messaging needs may find Mobile Text Alerts handy, especially since you can get 2,000 messages for only $40 a month. If you are a mega-company with millions of subscribers, don't worry — you can customize a plan that includes that capacity as well.
Mobile Text Alerts gives you the option to import contacts into your account via spreadsheet, SMS keywords, or an opt-in page. Once your contacts are uploaded, you can schedule messages in advance, send pictures, or send messages to an entire list or certain individuals.
Where Mobile Text Alerts sets itself apart from some of the others on this list is its tracking features. From a centralized dashboard, you should be able to keep track of open rates, short code opt-ins, and even measure deliverability issues.
---
SMSBump
When you're trying to manage a marketing channel that has thousands of potential customers, it can be hard to personalize the experience for your end user. SMSBump helps with this by creating dynamic messages, such as an abandoned cart message that fills the message with an image of what that specific user didn't purchase.
The ability to market upsells after the purchase is available too.
Unique coupon codes are another feature of SMSBump, which allows you to send time-sensitive offers straight to a user's phone and increase your ROI automatically.
As you would imagine, this type of functionality is perfect for e-commerce stores. If you have a brand that you're looking to take to the next level, SMSBump is one to take a look at.
---
Omnisend
As the name states, Omnisend is an omnichannel marketing platform that integrates your mobile marketing activities between email and SMS in a seamless fashion. You can track customer behavior across various segments, ensuring that your messages are hitting the right people at the right time on the right platform.
Automation is the name of the game with Omnisend. Users receive a personalized customer experience after they purchase in order, reactivate an account, or even on their birthday. The SMS campaign editor is very easy to use, and after action reports help you monitor each campaign's performance.
---
Klaviyo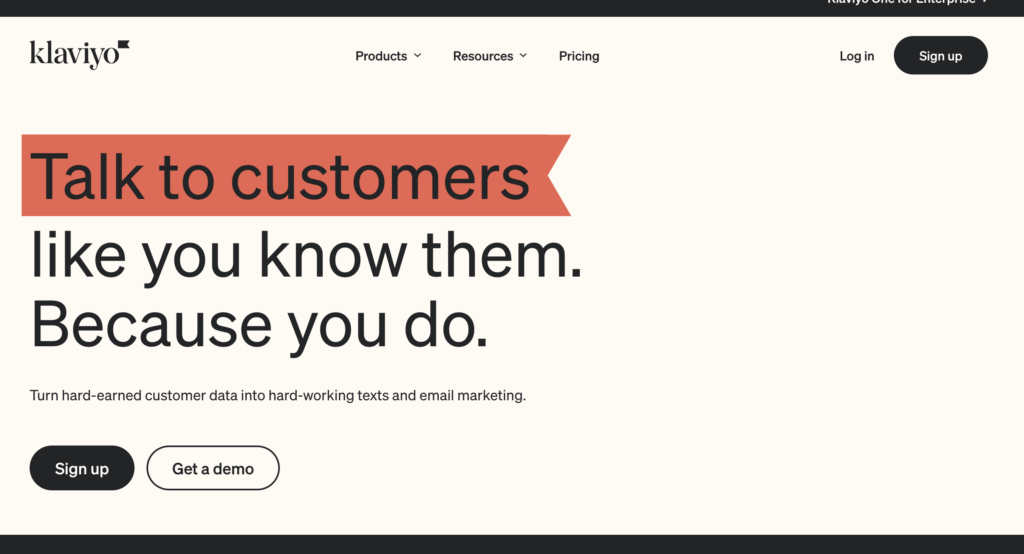 Marketing experts know that one of the main differentiators between brands is the collection and interpretation of customer data.
The more knowledge you can accrue about your customers, the better you're able to speak to them.
Klaviyo builds on this idea by creating an easy way for companies to access customer data with the end goal of increasing communication efficiency. Although they handle both email and SMS marketing, it's the synergy of these two methods that really makes them shine.
Along with a robust reporting tool and real-time tracking technology, Klaviyo has integrations with a lot of the main e-commerce platforms. The A/B testing features are also significant. On certain plans, you can test up to 25 email variations at the same time.
The one drawback to Klaviyo is the cost. Although certain features are free to use for your first 250 contacts, even 150 monthly SMS credits will cost you $45. The price goes up from there based on the number of contacts you have in your database.
What is SMS Marketing?
Most people refer to it as "texting," but SMS stands for "short message service." It's a form of communication whereby brands send information to their customers (or potential customers) by way of text message.
SMS isn't anything new. Some form of text messaging has been going on since the 1990s but has exploded in recent years. Just between 2015 and 2017, SMS marketing grew by nearly 200%.
In today's world, SMS marketing is not only one of the most efficient forms of marketing on the planet, but it's also the quickest. It's also widely accepted: almost half of all consumers have signed up for SMS marketing from one company, with more being added every year.
Why Do I Need an SMS Marketing Platform?
Some people will argue that you don't need an SMS marketing platform because it's easier just to simply text the person. After all, don't most phone numbers come with free text messaging? Why should we pay for this?
While almost anyone can texts from their phone these days, a good SMS marketing platform is efficient (don't miss our SimpleTexting review). It can bulk send lots of people at the same time while also being trackable. You are able to go in later and measure the success rate of your campaigns. This enables you to take the lessons learned each time into the future.
When trying to decide upon the right platform for your business, look to see what type of management is in place. The best SMS marketing companies will assign a manager to help you learn the platform and optimize your campaigns. In some cases, will even help you with forming a specific marketing strategy.
Also, you should check into things like automation and affordability. The ultimate goal is to provide an efficient way to reach your audience; if it's costing an arm and a leg to do so, look elsewhere.
Finally, look for an SMS platform that will grow with you. Your audience may not change, but it should become more defined over time. Look for platforms that allow you to scale up your processes without paying exponentially more fees.
Are SMS Marketing Platforms Effective?
While email marketing will most likely always be a strong marketing tool, SMS marketing is quickly becoming the channel of choice.
Unlike email, which has issues with firewalls and spam filters, SMS marketing has much higher deliverability. Nearly 98% of people open and read an SMS message. That's nearly unheard of, no matter how good your marketing team may be.
Instantaneously delivering offers and coupons to your clients' phones means that they have a much higher chance of being used. This increases ROI, while also keeping your brand fresh in their minds.
Suffice it to say that SMS marketing more effective than most people realize (learn more in our Heymarket review). Getting in on the ground now and establishing your platform will set the stage for the next several years of your company's growth.
Want to learn step-by-step how I built my Niche Site Empire up to a full-time income?
Yes! I Love to Learn
Learn How I Built My Niche Site Empire to a Full-time Income
How to Pick the Right Keywords at the START, and avoid the losers
How to Scale and Outsource 90% of the Work, Allowing Your Empire to GROW Without You
How to Build a Site That Gets REAL TRAFFIC FROM GOOGLE (every. single. day.)
Subscribe to the Niche Pursuits Newsletter delivered with value 3X per week