EZ Texting Review: Is It The Best Text Marketing Tool You Can Use?
Is EZ Texting any good or should you shop around? Yes, it's pretty good but it is expensive and customer service is an issue. We will discuss the product in detail in this EZ Texting review so that you can properly assess its capabilities and drawbacks.
EZ Texting, acquired by Callfire in December 2021, is a SaaS solution that provides a way for organizations to connect with their customers. The SMS messaging solutions allow companies to reach and engage with their mobile audiences. EZ Texting aims to raise the bar for the best business messaging.
In this EZ Texting review, we'll examine:
What EZ Texting is
EZ Texting's features
Plans and pricing
Pros and cons
EZ Texting alternatives
By the time you get to the end of our full review, you should have enough information to make up your mind if it is the best choice for you.
Or, look at our list of excellent EZ Texting competitors to help with your decision-making process.
Sign up for EZ Texting here!
---
EZ Texting Review
Advanced Features -

95

Ease of Use -

95

Customer Service -

70

Price -

75
Summary
EZ Texting is a practical, feature-rich text message marketing platform. The tool's intuitiveness distinguishes it from its competitors. New users unfamiliar with marketing or technology should be able to get up to speed fast. It integrates well with HubSpot, Constant Contact, Squarespace, Shutterstock, and Mailchimp. The company has over 150,000 dedicated customers. And it is considered to be one of the easiest-to-use text messaging platforms. Try EZ Texting here!
Pros
Excellent built-in features and tools
User-friendly and easy to learn to use
Fantastic template library
Offers plenty of integration options
Cons
Unused text messaging credits do not carry over to the next month
The few native third-party app connectors need a working grasp of Zapier
Per-text rates are high
Customer service is poor
What Exactly is EZ Texting and Why Do I Need It?
EZ Texting, founded in 2004, is one of the top SMS marketing platforms. It's fast becoming the gold standard for business texting. Businesses of all sizes in the United States and Canada can use EZ Texting's cloud-based messaging solutions to reach and connect with their mobile customers.
EZ Texting features include bulk texting, one-to-one messaging, and MMS. Plus, you have access to message templates, delivery reports, reminder campaigns, and text polls. These features come with flexible, all-inclusive price options. Custom keywords, textable numbers, and text-to-landline functionality are available as in-app purchases.
So why do you need EZ Texting? Text marketing can boost your business by sending and receiving text messages about a specific issue. Additionally, you can reach more people as this technology is more user-friendly than using a social network.
No time to read the whole article? EZ Texting is a great tool if you want to send out bulk texts, launch an SMS marketing campaign, or enable text-to-landlines.
But before we review EZ Texting in-depth, let's have a quick look at its best alternatives. We'll go into more detail toward the end of the review, but here are some thumbnail descriptions.
EZ Texting Review: Best Alternatives at a Glance
Sendinblue
Sendinblue provides sophisticated SMS marketing automation options. This allows you to reach every subscriber at the ideal time.
SlickText
SlickText is a bulk text messaging and mobile marketing service. It provides practical ways for companies and organizations to reach their target markets.
TextMagic
TextMagic is a text message marketing service that allows businesses to deliver SMS marketing campaigns, mass notifications, alerts, reminders, and confirmations.
Podium
Podium is a highly user-friendly text message marketing platform. The service offers unique options for managing customer relationships.
SimpleTexting
SimpleTexting is a simple SMS marketing software service that links you to your clients. The platform provides practical tools, a straightforward dashboard, and adaptable programs.
EZ Texting Review: Overview of Features
Keyword Selection
Adding new keywords to EZ Texting and building an automated response for when a new member joins is simple. If you sell five distinct types of products, for example, you might use EZ Texting to select a keyword for each one. Ask your customers to text you the terms or keywords they're most interested in.
New Subscriber Drip Campaigns
Email drip campaigns are pretty effective when you send a series of messages to subscribers over time. EZ Texting allows you to perform the same thing with SMS drip marketing.
From the "Campaign" drop-down menu, select "Drip campaign." Design a new campaign and add one or more subscriber groups to it (you can add more later if you want). Set the length of time between when a person subscribes and when they receive their first drip message.
You can add trackable links to drip campaigns so that you can see which subscribers visit your website after receiving a message.
Bulk and Recurring Texting
With the simple bulk text messages option from EZ Texting, you can choose the group or groups you wish to target for more customer engagement. Plus, customize any SMS message with contact information like first and last names. Messages can be sent right away or at a later time.
Fun Fact: Only 20% of emails get opened compared to 98% of text messages. Click on this article if you want to know how to start and run a successful email marketing campaign.
Text-to-Landline
Your current landline number can be configured to receive texts. By doing this, your messages will appear in your EZ Texting inbox whenever a client texts your landline.
Text-to-Landline is compatible with any mobile device capable of sending text messages. When you send a message to a landline, the address is checked to ensure that it qualifies for the Text-to-Landline service.
Two-Way Conversation Tool
The inbox feature of the EZ Texting Two-Way Conversation Tool is excellent. Select "New Message" to begin a two-way discussion. You don't have to go through a menu to get this button because it's always visible. Look up the person you wish to message by name or phone number, compose, and send your text message.
A panel above the message box allows you to include emoticons and images (MMS only). Additionally, you have immediate access to templates. You have the option to save something you write in the message box as a template if you like it and want to use it again.
Everyone who texts you has their messages delivered to your inbox. You also get your complete conversation history with that person.
MMS Support, Image Editor, and Photo Library
The EZ Texting platform supports MMS. You can use pictures, GIFs, music, video clips, and up to 1,600 characters in your MMS messages. These types of messages increase shareability and engagement. MMS messages frequently have much better response rates when compared to SMS messages.
You may enjoy the Canva-like feature to design customized invites, announcements, and promotions. You can choose from up to 20 million images available on Shutterstock to use in your MMS messages. And you can also select to edit MMS design templates.
QR Codes
A QR code is a type of matrix barcode or two-dimensional barcode. These are generally used to store URLs or other data that a smartphone camera can read.
The flexibility of QR codes on EZ Texting is excellent. Choose "Tools" from the navigation menu to use the QR code generator. You can design QR codes to perform the following actions:
Set up a new text message on a user's phone with an opt-in keyword that they can send to you.
Send visitors to a website, possibly one that has a promotional offer or a reward scheme.
Input your number into a user's phone, so they can call you.
Delivery Reports
The marketing analytics offered by EZ Texting is good but not as thorough as other platforms. You can track clickthrough rates from URLs included in text messages. You can also track bounce rates, opt-in levels, and opt-out levels. Analytics can be obtained for specific campaigns and time frames.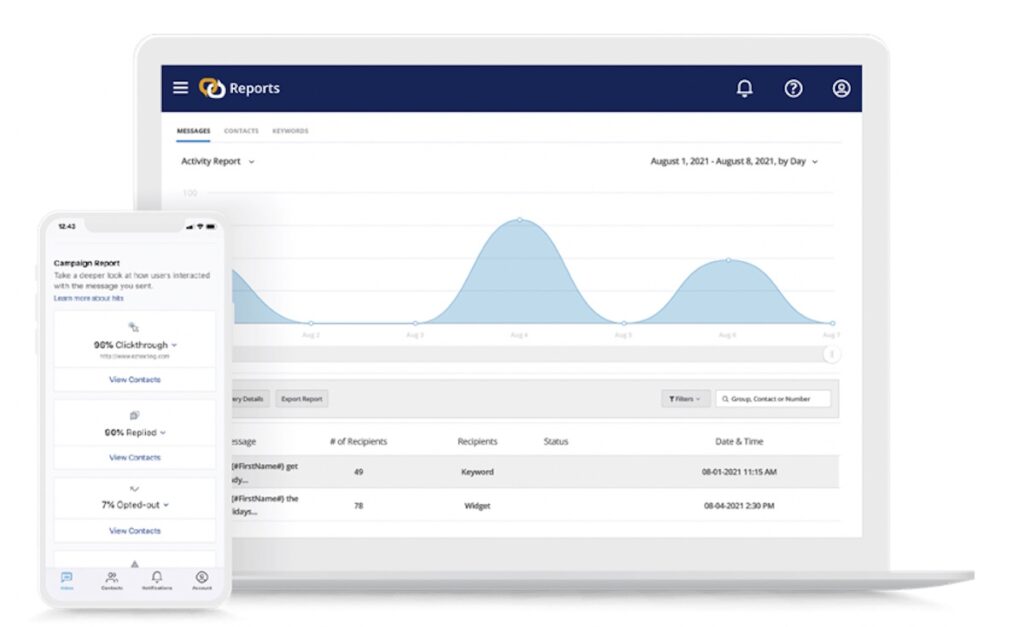 The platform offers multiple report choices.
EZ Texting Review: EZ Texting Benefits
Let's take a look at the benefits of the features just discussed.
Establish A Starting Point and Get Customers
Companies can reserve and use a keyword. They can then distribute this keyword to their target audiences, who can text the keyword to a dedicated short code. A short code (a five or six-digit phone number) is used to send mass text messages. Texting the keyword automatically converts someone into a subscriber. Thus signaling the beginning of audience engagement.
Contact Management
EZ Texting allows users to systematically organize their contacts, including those that texted the reserved keyword and became subscribers. All contacts are centralized on the platform and you can easily categorize them the way you want to view them. It is also possible to upload a list of contacts from a spreadsheet or manually enter each contact into the platform.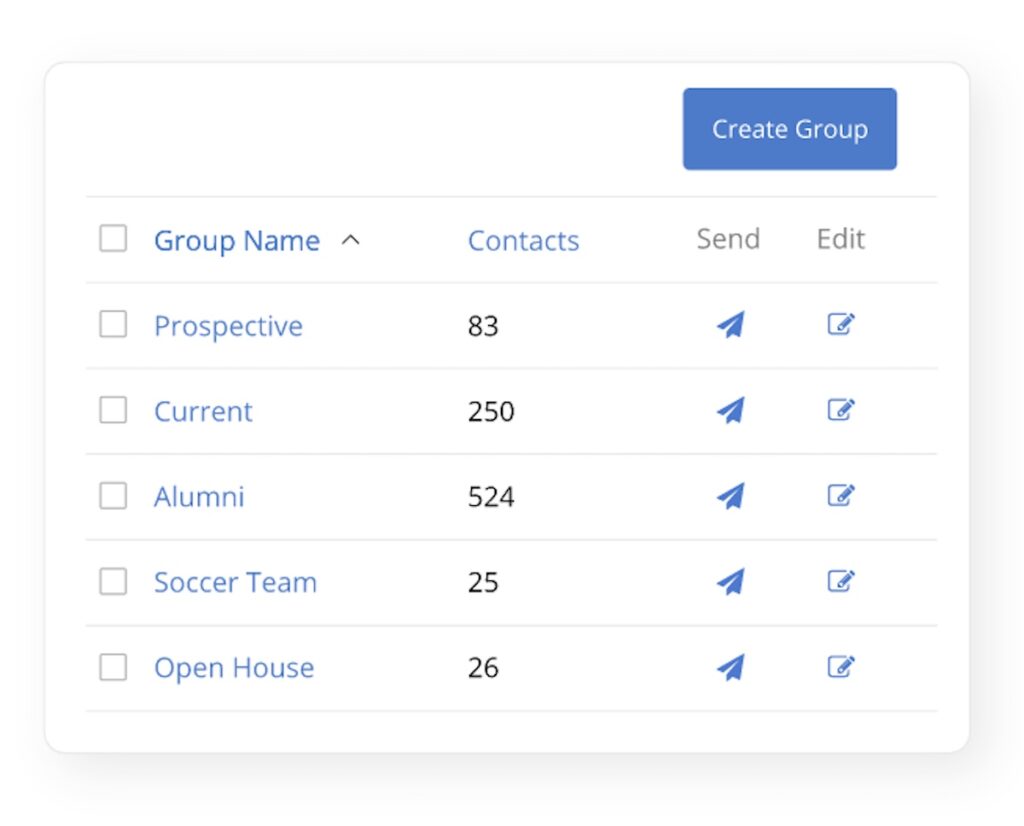 Advanced Text Messaging
EZ Texting is designed with powerful text messaging features. These allow businesses to interact and engage with their audiences and consumers effectively, personally, and flexibly.
Personalized Text Messages
Personalization is one of the most crucial text messaging capabilities of EZ Texting. Making texts personal makes viewers feel that they are special, respected, and cherished.
Message Templates
EZ Texting allows users to save and reuse their text messages as templates. In other words, they no longer have to retype the whole message if they want to deliver it to various audiences in the future.
Text Reminders
Use text reminders when you want to remind individuals about upcoming meetings, prompt salespeople to do follow-up tasks, or advertise special events. With EZ Texting, you can keep everyone in the loop.
Send Text Messages Regularly
Users can use the platform to design SMS messages that must be sent daily, weekly, or monthly. These are known as recurring text messages. This function is great for organizations with a set schedule of events such as conferences, meetings, lead engagements, etc.
Forward Incoming Messages To Your Email Or Mobile Phone
The text forwarding service allows the forwarding of customers' text messages to your mobile phone or email account (and there are also lots of email forwarding services which can help). Even better, users won't need to log into the platform to read and retrieve incoming text messages while using the service.
Increase Brand Awareness
Businesses appreciate EZ Texting because it makes it easy to advertise their business. Launching brand awareness campaigns using text marketing is cheaper than other marketing tactics.
Activate SMS Polling
Text polling is another method for increasing brand awareness. Text messaging by EZ Texting allows audiences to vote, respond to surveys, and take part in polls. This way the tool supports users in increasing audience interaction.
Monitoring and Reporting
EZ Texting can generate and access statistical data that shows how many text messages you've sent and received as well as how many active contacts you have. You can learn if the text messages are causing customers to buy. Plus, you can identify chances to improve your text marketing strategies.
Boost Efficiency with Marketing Integration
EZ Texting integrations include HubSpot, Constant Contact, Squarespace, Shutterstock, and Mailchimp. This feature enables users to integrate several marketing workflows. It also offers techniques to boost its efficiency while reaching out to large audiences.
Learn more about whether Constant Contact is a good integration for you in our detailed review here.
Web Sign-Up Forms
You may use EZ Texting to create a web sign-up form. This form can be shared on social media platforms like Facebook or Twitter or stored as a QR code. You can also design a sign-up form that you can incorporate on your website. This advanced feature can assist you in growing your text messaging list.
What is the Price of EZ Texting?
A 14-day free trial of EZ Texting is available. Following that, you must pay for one of four EZ Texting plans. Each EZ Texting subscription comes with 200 credits. Each SMS message costs one credit, and each MMS message costs three. Additional "anytime" credits can be purchased for up to 4 cents. Depending on how many credits you buy per month, the cost of these credits ranges from $9.90 to $274.40.
Pricing Plans
Value Plan
$20/month if you pay annually; $24/month if you pay monthly
One user, one textable number, and one keyword (A Textable Number is a 10-digit phone number that allows you to have 1-on-1 chat conversations with your contacts)
No MMS messages or analytics and advanced features
Essentials Plan
$29/month if you pay annually; $36/month if you pay monthly
Two users, two textable numbers, and three keywords
Premium Plan
$49/month if you pay annually; $61/month if you pay monthly
Three users, three textable numbers, and six keywords
Custom Plan
$299/month if you pay annually; $374/month if you pay monthly
You get custom number textable numbers and unlimited users on this plan
No limit on keywords
EZ Texting Add-on Charges
Aside from its high pricing, EZ Texting charges extra monthly fees for some add-ons. The good news is that your company can probably get away without using the following add-ons.
The monthly fee for a high-volume number is $25. This high-volume service provides you with a certified local phone number, more consistent delivery, and faster transmission speeds.
Extra numbers: $25 per month. You can use local 10DLC numbers (10-digit long codes) or toll-free numbers. You can also add texting capabilities to a landline (this works from your dashboard. You'll be allocated a 1-on-1 landline number. When you type your message, it will be sent to the recipient from your special number.)
Additional users: $20 per month per user. Each user receives a distinct, secure login with customizable permission levels.
Extra keywords: $25 per month, per keyword. The functions of each keyword are identical to those of the keywords that come with your account.
EZ Texting Pricing Drawbacks
Your account's included EZ Texting credits expire after 30 days.
Any extra anytime credits you buy are valid for a full year. (Some customers were not told that their anytime credits would expire after a year. This resulted in unforeseen financial losses and very unhappy customers.)
The price section of EZ Texting's website is quite confusing.
EZ Texting Review Pros and Cons
EZ Texting integrations with Shutterstock make it simple to use high-quality photographs in your mass MMS messages. 

The tool's web sign-up forms, link shortener, and open API tools are found on only a few other platforms. 

Extremely easy to use.
EZ Texting is one of the priciest text message marketing companies out there. 

Unused EZ Texting message credits expire after 30 days. 

EZ Texting customer service has a bad reputation. In some circumstances, clients who have reached out for help get agents attempting to upsell all sorts of products.
EZ Texting Review: Popular EZ Texting Alternatives
Now we'll discuss five well-known text marketing platforms in-depth. And we'll look at these marketing software solutions' features, usability, and customer service.
Sendinblue
SendinBlue is a cloud-based email marketing platform suitable for businesses of all sizes globally. It includes functionality for marketing automation, email campaigns, transactional emails, and SMS communications. It also has a great customer service department.
SendinBlue has reporting capabilities that let users produce reports on standard metrics like open rate and click-throughs. It can also assist with planning and automating marketing campaigns. SendinBlue's SMTP service or API can be used to send transactional emails. Its contact management capabilities allow you to import contacts and classify lists. You can also import collection and behavioral forms.
Additionally, SendinBlue's reporting capabilities let users produce reports on standard metrics. These include open rates, click-throughs, and heat maps. And you can export information to Excel or PDF and report by ISP.
The management software and websites of enterprises can be integrated with SendinBlue. Other content management and e-commerce platforms, such as PrestaShop, WordPress or Drupal, WooCommerce, or Magento, can also be loaded with the SendinBlue plugin.
To find out more about the product, read our SendinBlue review.
Pricing starts at $25.00/month
Free trial: Yes
Free version: Yes
---
SlickText
SlickText is a cloud-based SMS marketing tool for local and international companies of all sizes. Retail, restaurants, schools, churches, ministries, real estate, marketing firms, e-commerce, and nonprofits are just a few of the sectors it serves.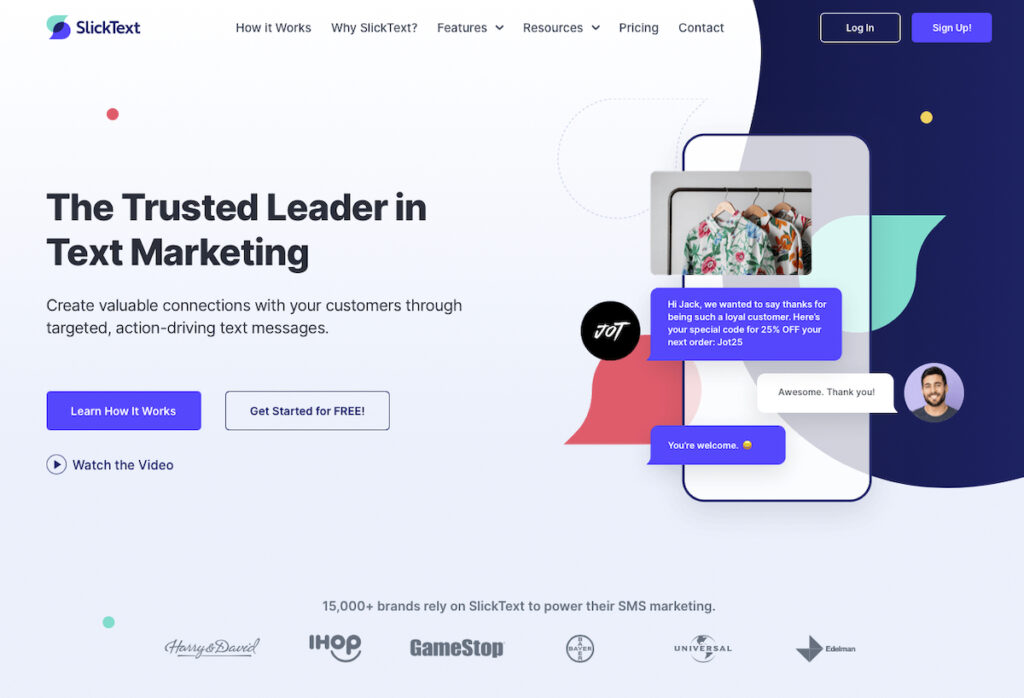 Some of the key features include:
Mass texting
Text message scheduling
Auto-replies
Image messaging
Two-way texting
Email captures
Analytics and Reporting
Drip campaigns
Free rollover SMS on birthdays
Age verification
Link shortening and tracking
Keyword marketing
Contract segmentation and Webhook
SlickText enables users to employ text marketing to reward loyal customers and boost offer redemption. The software allows for connectivity with MailChimp, Constant Contact, Facebook, and other services.
SlickText is available as a monthly subscription. Customer service options include phone, live chat, email, webinars, and FAQs.
Starting price: $29.00/month
Free trial: Yes
Free version: Yes
---
TextMagic
Any medium and small business can send notifications, warnings, reminders, and promotional texts with TextMagic - a cloud-based, global bulk SMS provider. Companies can upload contact lists and send messages to clients, staff members, stakeholders, or even the general public as part of marketing campaigns via the web interface.
An SMS gateway API from TextMagic allows websites to interface with text messaging functionality. Staff and employees can text each other using a two-way chat messenger capability. Emails can be delivered as SMS messages using the solution's ability to transform them into text messages.
Users can manage contacts and send messages from their smartphones via an iOS or Android mobile app.
The cost of TextMagic is determined by how many text messages are sent and varies by destination nation. Inbound SMSs are free. Customer service is via email, phone, live chat, online knowledge base, and how-to articles.
Price per text: $0.04
A free trial is offered.
A free version is available.
---
Podium
Podium is an all-in-one customer communication and payment platform. The tool combines Webchat, online review generation, SMS (text) marketing, and payment processing from a single, user-friendly inbox.
Podium's local business operating system operates credit card readers for 150,000 content clients. Podium sends personalized SMS messages, creates any outbound marketing campaign, and generates customer evaluations.
Podium works well with Google Reviews - the king of online reviews. However, its customer service could be better. Podium is simple to use, easy to teach others how to use, and it works to get customer reviews posted correctly online.
Podium boasts that businesses that use its platform:
Appear 52% more frequently in Google searches.
Increase client conversion rates by up to 11 times.
Increase their income by 10% in just 30 days.
Pricing: Starts at $289/month
Free Trial: Yes
Free Version: No
---
SimpleTexting
SimpleTexting's cloud-based platform allows for one-on-one, corporate texting, and mass texting message campaigns. Messages can be sent using a 6-digit short code, an existing 10-digit phone number, or a new local number.
The platform's essential features include segments, autoresponders, and scheduled messages along with data collecting, text-to-win competitions, surveys, and more. Users can also use MMS to send messages containing images, GIFs, videos, discounts, and other multimedia material.
Customer service at SimpleTexting is available by phone or chat every day of the week. They also include self-guided help center articles and complimentary product demos.
SimpleTexting offers a mobile app for iOS and Android and its internet platform (check out our full SimpleTexting review). The platform gives all users API (Application Programming Interface) access. It's perfect for enterprise businesses. The features are in all monthly plans, and all incoming messages are free.
Prices start at $25.00/month or $23.20/month annual rate (billed annually)
Free trial: Yes
Free version: No
Finally, SimpleTexting works with all major carriers across the U.S. and Canada. It also extends to Puerto Rico and other countries in the Caribbean.
---
EZ Texting Review - The Bottom Line
EZ Texting is the most user-friendly text messaging platform compared to its competitors. It has an impressive set of marketing tools built in. However, EZ Texting pricing is very high, and you'll need to be familiar with Zapier to get it to operate with other software.
It's a great texting platform, but you may get a better deal from its competitors if you shop around. Here's a quick recap of our list.
Sendinblue: Sendinblue is a potent marketing tool that enables you to communicate with your customers via email, SMS, and chat.
SlickText: SlickText is one of the best text message marketing services for small businesses. It offers a range of helpful tools and is highly user-friendly.
TextMagic: The business text messaging service TextMagic is ideal for businesses to send SMS marketing messages, alerts, and notifications to their customers.
Podium: Podium, an Interaction Management Platform, is used to streamline customer interactions through text messaging. It's also used to generate and manage online customer reviews.
SimpleTexting: SimpleTexting, is a cloud-based platform for bulk message campaigns and one-on-one, corporate texting.
That's all, folks! Is EZ Texting the right tool for you or should you shop around? Or try one of the great alternatives on our list? We hope you will make the best decision for the success of your business.
Want to learn step-by-step how I built my Niche Site Empire up to a full-time income?
Yes! I Love to Learn
Learn How I Built My Niche Site Empire to a Full-time Income
How to Pick the Right Keywords at the START, and avoid the losers
How to Scale and Outsource 90% of the Work, Allowing Your Empire to GROW Without You
How to Build a Site That Gets REAL TRAFFIC FROM GOOGLE (every. single. day.)
Subscribe to the Niche Pursuits Newsletter delivered with value 3X per week