The ContentKing Review You Must Read Before Buying
Is ContentKing worth it? In this ContentKing review, we provide the answers!
Running a website is a lot of work, and without the adequate tools to ease up the process, it can get extremely draining.
These days, you have to deal with the constant updates in SEO requirements from search engines. You also need a way to constantly monitor your website as well as analyze it to ensure that it measures up to search engine expectations. Google Analytics or Search Console alone are often not enough to keep on top of everything.
If you own a website with a single page, this can be done manually and seamlessly. Unfortunately, for brands with hundreds of pages, it's nearly impossible to accomplish this.
For this reason, you need to turn to certain tools capable of analyzing and monitoring your website and SEO performance in real-time. Basically, you need real-time SEO auditing.
This is where ContentKing comes in.
The solution gives you access to 24/7 monitoring for potential platform issues, along with a detailed alert and reporting system with custom elements that delivers meaningful and actionable insights about your website's search optimization state.
Get ContentKing Now
---
The ContentKing Review
Ease of Use -

73

Performance -

70

Customer Service -

75

Price -

85
Summary
ContentKing is a website SEO auditing, change tracking, and quality analysis application that allows you to monitor the SEO health of your website and quickly resolve any identified issues.
Pros
Ease of use
Affordable pricing
Real-time website audit
Change tracking
SEO monitoring
Comprehensive customer support
Cons
Pricing is per page
Doesn't go beyond website auditing and tracking
Customer support is on priority basis
What is ContentKing?
ContentKing is a website SEO auditing, change tracking, and quality analysis application that allows you to monitor the SEO health of your website and quickly resolve any identified issues.
This SEO software tool also sends you real-time notifications when an issue or opportunity arises, such as broken links or missing meta, so you can act on it immediately and protect or improve your online presence.
ContentKing Review: Pricing Options?
ContentKing real time SEO monitoring offers 4 pricing options which include the Basic, Standard, Pro, and Enterprise plan:
Basic Plan
The Basic plan features the following functions:
Unlimited number of users permitted
Check any number of websites
Unlimited number of rechecks
24/7 change monitoring
Proactive alerting
Content change tracking
This plan also features integrations to the following major platforms:
Other functions included in this package include co-branding, email support, live support, and access to guides and tutorial videos. Its monitoring settings are also just for US, UK, and the European Union.
For all of the above ContentKing features on a website that has up to 10,000 pages, the Basic plan costs $139 per month if paid annually.
It is important to state that the pricing of a package increases based on the number of pages your website has. For example, the Basic plan would cost $179 for 50,000 pages.
Standard Plan
The Standard plan offers the following SEO auditing features in addition to those in the Basic plan:
Custom element extraction – 5 for each website
Data retention for 9 months
JavaScript rendering available
Monitors your core web vitals
HTTP headers snapshots
With regards to integration, this plan allows you to integrate to all the platforms that the Basic package permits as well as Reporting API and Google Data Studio.
The Standard plan costs $319 per month if paid annually for 10,000 pages.
Professional Plan
The Pro plan features everything in the above plan plus the following:
Data retention for 12 months
Custom element extraction – 10 for each website
Real-time IndexNow
Log-file analysis
It allows for integrations with all the platforms permitted in the previous packages, plus Microsoft Teams.
The plan costs $449 per month if paid annually for a website with 10,000 pages.
Enterprise Plan
The Enterprise plan features everything in the above packages plus the following:
Data retention for 60 months
Custom element extraction – up to 20 per website
HTTP Bodyshots
In addition, to the other integrations, it allows you to connect to Adobe Analytics and Data Enrichment API.
You also have access to Lightspeed monitoring and custom monitoring locations beyond the US, UK, and Europe.
With regards to support, ContentKing provides priority support to all Enterprise users for live chat, email support, and phone support. It even offers custom training beyond tutorial guides and videos as well as a dedicated account manager.
This plan costs $1,279 per month when billed annually for a website with 10,000 pages.
ContentKing Review: Pros and Cons
Regardless of how needed or cool an app is, it'll have its downsides and upsides. So in this ContentKing review, let's have a look at the pros and cons of the SEO software tool:
Pros
Real-time Data and Results
Since ContentKing works in real-time, that means that problems and changes are identified and fixed quickly. This is crucial for busy businesses and those that rely wholly on their website for profit.
Relevant Alerts
The solution's alerts are up-to-date and accurate. This ensures that you focus on the right problem or change without being distracted by false issues.
Ease of Use
A major pro of this tool is its ease of use. You can set it up really quickly, even as a non-tech enthusiast or professional. They provide navigation, visual tutorials, and instructions that get you ready to use the tool in no time.
Entirely Cloud-based
You don't have to download software to use the tool. It is entirely cloud-based so you can work right from your browser.
Affordable Pricing
ContentKing, in comparison to its alternatives, offers very affordable pricing.
Cons
Pricing
While their cost is a pro, the pricing model has some huge drawbacks. ContentKing's price per page model is quite difficult to understand. And if you aren't sure the number of pages your website has, you won't know the right plan to choose.
Rendering Issue
The Basic package isn't able to render JavaScript, and that can be an issue for users on a budget.
ContentKing Review: Customer Support
ContentKing offers a comprehensive customer support system that includes phone numbers, a support email, and a live chat option. They also have a knowledge base where users can find answers to the common questions that most users have when using the tool.
That said, the tool does provide priority customer support. ContentKing reviews mention that if you're on the Basic plan, you can expect a slower response from customer support than a user on the Enterprise plan.
Who is ContentKing Best For?
This solution is best for brands that depend on real-time data to help them identify what they're doing right and what needs to be improved.
Also, it is the perfect fit for you if you always want visibility into the state of your site's SEO health.
The tool is also great for people like developers, SEO agencies, digital marketers, and search optimization specialists, as ContentKing is made with multiple teams and collaboration jobs in mind. It even offers a Slack integration that eases communication and collaboration.
You can easily and quickly create and share tasks seamlessly. This is a great capability especially when you dread paying for multiple users and just want a general fee.
Whether you're a huge organization with thousands of pages, an agency managing tons of websites, or a single user depending on real-time SEO auditing and monitoring, this tool works great.
ContentKing Review: Top Features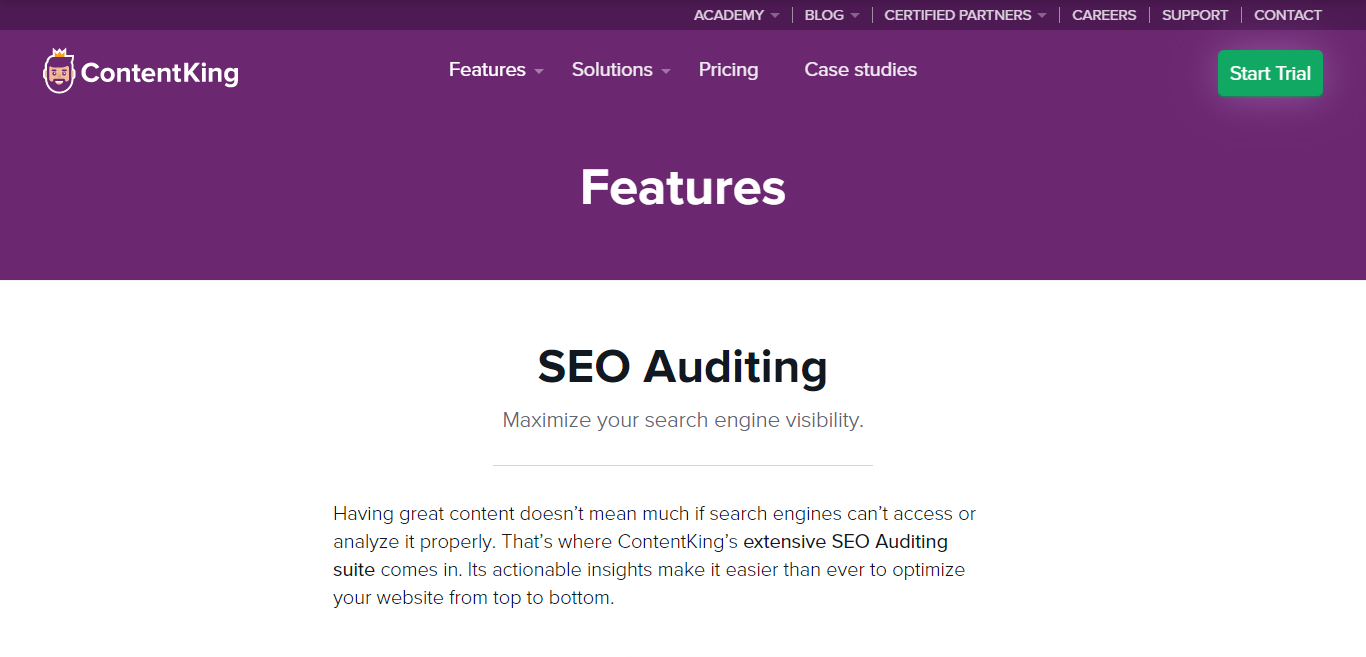 Here are the top features the ContentKing solution has to offer:
Increased Visibility of SEO Issues
This tool will help you identify issues with your site's speed, crawl rate, indexation, UX, content problems like alt tags and headings, canonical tags, and more. When these problems are identified, you can take the necessary actions to fix them without wasting time.
Real-Time Alerts
You're allowed to monitor unlimited websites with ContentKing for all of its plans. This means that you'll be able to track important data that matters most for each of your domains directly from your browser.
With their alerts system, ContentKing sends notifications whenever a change is detected on any of the tracked URLs or when one of your custom rules is triggered (you can set custom alerts).
In other words, you won't have to actively check what changes occurred during the day as this feature automates the process.
You can set up your alerts based on specific URL queries or match any part of the URL's content.
This way, you are notified every time a change occurs within your website's structure including when you fix an important bug.
Real-Time Monitoring Feature
With ContentKing, you can monitor websites live to make sure that all SEO changes are performed right without missing out on anything. You'll be able to track down and identify errors as they happen and take action before they harm your website and overall business goals.
So whenever there is an issue with indexation, crawling, availability, UX, performance, or security ContentKing will let you know immediately so that you can find a solution before it is too late.
You can perform an analysis of your website at a specific point in time or compare data from 2 different points. ContentKing also allows you to monitor unlimited websites 24/7.
Task-Oriented Dashboard
ContentKing's dashboard helps provide a visual representation of the tasks that need to be handled and completed on all your domains simultaneously.
You can create custom lists of tasks for each project, assign them to the right people, prioritize them based on importance, and create deadlines.
As soon as a task is assigned by one person, it will pop up onto everyone's screen so that they know what needs to be done next without overlooking any tasks at all.
This way, everyone who should have access to ContentKing knows what they need to do at any given time.
This helps improve the overall workflow of everyone working on the website by increasing productivity and making things more streamlined.
When you have a better idea of how your work is being managed, you can easily identify if there are any bottlenecks in the process or tasks that are being neglected, which could hurt your business goals later on down the line.
SEO Reports and Insights
ContentKing automatically generates detailed reports of all the relevant data from your website or that of your clients if you run an SEO agency. This ensures that there won't be any disputes about your site's current state.
You can report on anything that is being monitored, including indexation, crawling, content issues, ranking, security, and more to make sure that all your relevant SEO data is included.
ContentKing's audit reports are easy to understand for everyone who needs them, whether they are technical or not, because each section of the report includes color-coded visuals.
API and Integrations
ContentKing has a built-in API and allows you to integrate your existing tools and third-party apps with the platform.
This means that you can perform tasks like importing data or tracking changes in real-time without switching from one app to another.
Popular integration options include Slack, Google Analytics, Adobe Analytics, and more.
SEO Change Tracking
One of ContentKing's unique features is that it can track all changes being made to your website.
This means that if your website suddenly drops in rankings after an update, you will catch the problem right away instead of spending hours trying to figure out what changed without any benefit.
SEO Audits
ContentKing automatically audits your website so that you can see its health, check performance, and identify problems.
This way, you know exactly what is happening on your site at all times without having to do any additional legwork yourself.
You can run the analysis of individual pages or compare data from different points in time to determine whether there are any changes on your page since the last time ContentKing checked it.
This makes it easy for anyone to spot issues before they become real problems later on down the line.
ContentKing Review: Alternatives
If ContentKing doesn't do it for you, here are a couple of alternatives that you would want to consider:
SEMRush
This is an all-in-one SEO tool. The biggest advantage of SEMRush is that it provides a complete set of tools through one interface rather than requiring users to use multiple sources like ContentKing.
SEMRush has many features that compete directly with ContentKing including its website audit. It also offers comparison reports, keyword research and ranking reports, rank tracking, and more. All in all, SEMRush essentially offers way more than ContentKing does.
Join SEMRush Now
Moz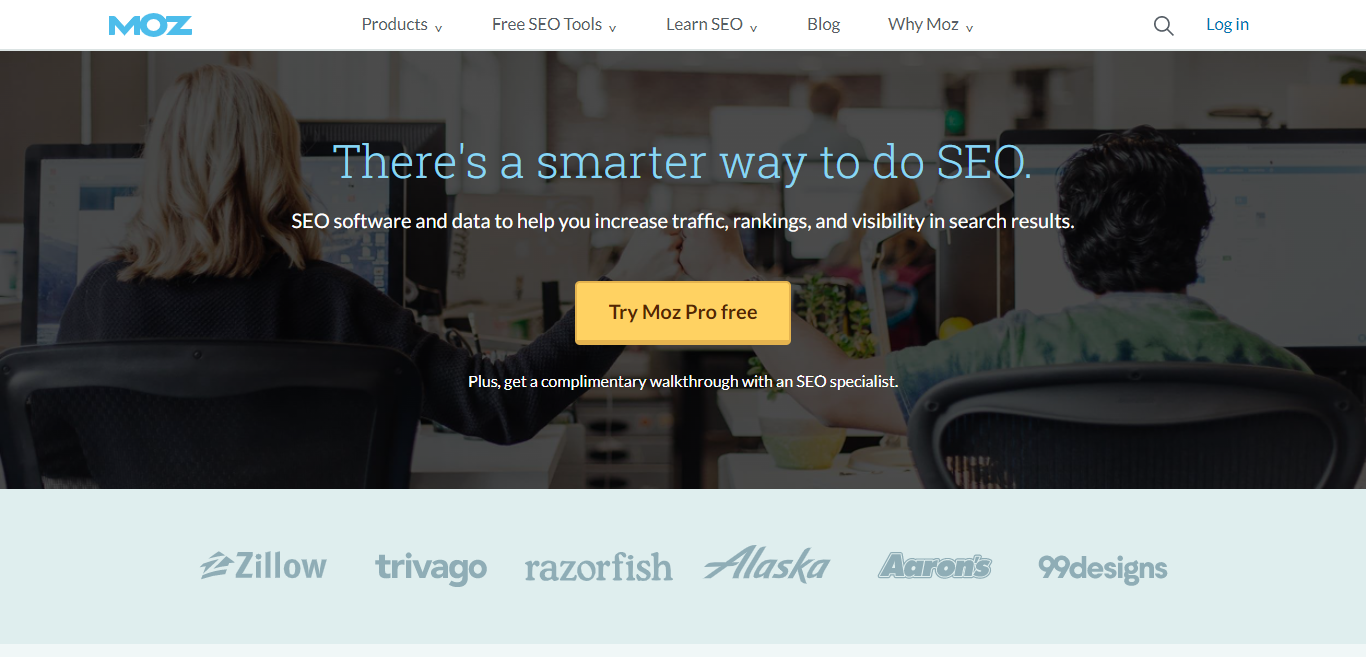 With Moz, you get access to similar data analysis for your site, like the ContentKing audit tool, which can be used to monitor changes.
However, Moz has many other tools, including Moz Local for managing your local business listings, Moz Pro for all of your SEO and online marketing needs, and much more.
For most users, Moz is a one-stop-shop for all things SEO and rank tracking, while ContentKing is just focused on website audits, detecting technical issues such as broken links, and tracking changes to the website.
If you want a more comprehensive package that covers everything from keyword research to local listings, then Moz is going to be a better choice.
Join Moz Now
BuzzSumo
This tool is an SEO tool that allows you to find out what content performs best in your niche.
BuzzSumo can help you identify influencers, keywords, content types, or any other topic related to your industry. This is so that you know what type of content gets shared the most to get ideas for new articles.
BuzzSumo is similar to ContentKing in some ways since both of them are primarily focused on monitoring your website or keeping track of your competitors.
If you are looking for a digital marketing tool that can show you which types of content are best suited for search engines, then BuzzSumo might be the right choice to enhance your online performance.
Join BuzzSumo Now
ContentKing Review: The Verdict
ContentKing is a great real-time SEO monitoring and website audit solution that helps you have constant awareness or visibility of your website's current state and performance.
Real-time SEO auditing eliminates the need for manual or delayed checks. In turn, this can help you quickly resolve issues with your website before they harm your ranking.
But if you're looking for anything other than monitoring and tracking changes to your website, this isn't the tool for you. You should check out the alternatives listed in this ContentKing review.
Get ContentKing Here
Want to learn step-by-step how I built my Niche Site Empire up to a full-time income?
Yes! I Love to Learn
Learn How I Built My Niche Site Empire to a Full-time Income
How to Pick the Right Keywords at the START, and avoid the losers
How to Scale and Outsource 90% of the Work, Allowing Your Empire to GROW Without You
How to Build a Site That Gets REAL TRAFFIC FROM GOOGLE (every. single. day.)
Subscribe to the Niche Pursuits Newsletter delivered with value 3X per week