21 Best Press Release Writing Services To Get Your Business Noticed Fast
When you buy something through one of the links on our site, we may earn an affiliate commission.
The need for press release writing services will undoubtedly come up if you're planning a public relations strategy. However, while many people are aware of their existence, few know how and when to use them. We will try to clarify this for you.
For those who don't know, a press release is communication that provides precise but limited information on an event, product launch, or another important occasion. They're usually distributed to the media in a variety of ways with the expectation that the news will be published.
A press kit – not to be confused with a press release – is a collection of information for the media, bloggers, or anyone who wants more information about you or your organization.
This could consist of information such as background, details, images, or graphics. A press release is just one component of a press kit. All this information should be accessible from your website and include links to videos and social media profiles.
It's often quite difficult to decide what type of press release writing service to go for and there are so many available to choose from.
Our research on the subject has given us a great bird's-eye view of what's on offer. It's worth having a good look at our suggestions before you take that plunge and make your choice.
Our Selection of Press Release Writing Services
We have compiled a list of great press release writing services below. If your business is big or small, you're sure to find one that will suit you. Read on to find out.
1. 24-7 Press Release Newswire
24-7 Press Release Newswire helps organizations create and distribute news via the internet and conventional news sources. It collaborates closely with public relations, marketing, and communications firms, offering attractive bulk distribution discounts. It is also cloud-based.
For medium-sized organizations looking for effective, low-cost news release distribution options, 24-7 Press Release Newswire may be a good fit.
It allows journalists to create press releases, attach documents, photographs, and videos, and disseminate the content to publications or websites.
The company also provides distribution data and statistics with each purchased release and SEO services. And the customer support is excellent.
2. ACCESSWIRE
ACCESSWIRE is a newswire company that provides a variety of press distribution plans and a configurable newsroom suite.
Their downloadable press release template makes it simple for organizations to get started. The site's editorial tool formats the content users submit for their press releases automatically.
The online newsroom is fully customizable, automatically uploads press releases, and includes an analytics dashboard and SEO services. And there are no word limits or additional fees associated with embedding YouTube videos.
3. Brand Push
Brand Push is an Estonian company that specializes in press release writing services and dissemination.
They promise to publish your articles on more than 200 news websites. This includes affiliate sites for major news platforms CBS, FOX, NBC, and USA Today.
They do not include a media contact database or offer customized distribution circuits. If the content doesn't appear on 200 sites, Brand Push will refund your money.
Their distribution network comprises many smaller regional news sites that serve the U.S. market, as well as a few overseas sites, like Malaysia Corner and Buzzing Asia.
4. Business Wire
Public and Investor relations companies, public policy, and marketing professionals use Business Wire. The organization distributes market-moving news and multimedia securely and accurately.
Business Wire's multi-patented NX Network delivers news straight into editorial systems and top online news sources. The global newsrooms of Business Wire are accessible to fulfill the requirements of communications professionals and media outlets worldwide.
They provide a diverse selection of distribution circuits. Clients can send press releases and receive editorial assistance 24 hours a day, seven days a week.
All plans feature a free full-color logo display linked to the client's website. Key audience data, multimedia impact, and social media statistics are all included in the reports.
5. Cision
Cision is among the world's largest news release distribution firms. It has a significant presence in the United States.
Working with this highly recognized firm is an excellent idea since they understand what is needed to assist you in identifying the big influencers in your market area. They are experts at how best to generate and disseminate engaging and fascinating tales about your brand.
They regularly evaluate the effectiveness of their efforts using modern marketing technologies so that you can be more productive with less work. Cision has a solid track record of assisting modern-day businesses with their contemporary solutions.
6. EIN Presswire
EIN Presswire provides a PR distribution solution in which clients can begin by producing their press releases and then delegate the rest to EIN Presswire's team.
Following an editorial check, EIN Presswire's team will distribute the release to its media network which includes news outlets, TV and radio stations, and the EIN Presswire mobile app. Clients will receive the distribution report in their mailbox within two hours.
7. eReleases
eReleases is another product teamed up with PR Newswire for the U.S. market. The service ensures a minimum of 90 media syndications with its basic plan.
More premium options are available. These promise more media placements, lengthier press release word counts, increased use of AP Newswire, and greater journalist inbox reach.
eReleases is proud of its journalist database, which contains over 100,000 connections and a 94% email delivery rate. Businesses that want to leverage the capabilities of numerous newswire providers and the eReleases database should consider this service.
8. GlobeNewswire
Intrado's GlobeNewswire is an excellent alternative for delivering and promoting press releases. The company promises to distribute news in 92 countries and 35 languages worldwide. Its media partners include household names such as Bloomberg, Yahoo, Morningstar UK, and others.
GlobeNewswire also provides graphic news releases through its Media Snippets feature. PR professionals can use this to attach multimedia resources — such as photographs, videos, infographics, and even livestreaming events — to make typical press releases more visually appealing.​​
9. HARO
HARO (or Help A Reporter Out) is a favorite among the global community for various multimedia demands. They have a team of highly trained journalists, marketers, bloggers, press release professionals, and digital media experts. Their teams assist their clients with the global distribution of their content.

They have a terrific customer service approach. And even though they are a massive firm, customers get to feel that their business is important.
10. iCrowdNewswire
iCrowdNewswire is an efficient marketing automation platform that focuses on global geographic targeting. It can target demographics based on industry, interests, and age group.
The site conducts multiple sponsored marketing campaigns with enticing titles that target different audiences. Extensive reporting and analytics tools and additional campaign scheduling and monitoring options drive the service.
You get precise and complete reports and full analytics, including links to website placements, clicks and exposure on social media, SEO services, and keyword analysis. Multiple campaign scheduling allows for Wall Street and Silicon Valley campaigns with configurable titles, languages, and locations.
11. IssueWire
IssueWire, as a press release distribution network, enables business owners to share important news with major media outlets and periodicals. It helps in customer acquisition and the enhancement of digital and social presence.
The organization is an effective marketing and public relations provider with media services and websites. IssueWire distributes news releases to over 150 media outlets on behalf of its clients.
Its planning and strategies assist clients in reaching the greatest number of people possible based on the accuracy of the information.
12. Linking News
Linking News is an excellent solution for managing and automating press release procedures. Businesses can use this service to ensure the distribution of their press releases to domestic and international news outlets, influencers, and social media platforms.
The organization offers access to 90 million social media influencers. It distributes to an impressive network of news outlets, including CBS Network, USA Today, and ABC. Linking News also provides a bundle for precisely targeting the Chinese market.
Businesses of all sizes can select from a variety of programs, and Linking News has a short response time (24-48 hours).
13. Newswire
The lowest pricing tier Newswire offers is aimed at thousands of U.S.-based media entities. Higher tiers allow for a broader geographic target and the use of third-party services such as PR Newswire and AP Newswire.
Newswire is highly adaptable; it provides press release distribution services for domestic and foreign markets.
Organizations wishing to promote their economic news might use Newswire's 'financial package,' which focuses on worldwide finance media sites. Newswire also offers a broad array of bulk purchasing discounts.
14. Otter PR
Otter PR specializes in media relations, reputation management, and crisis management. They have worked in health, technology, thought leadership, cryptocurrencies, and finance.

Forbes, Newsweek, and Entrepreneur have all acknowledged Otter PR. Its expanding team of spin doctors works with brands to achieve substantial media coverage. They aim to introduce clients to elite-level, individualized public relations professionals and deliver assured outcomes that translate into genuine ROI.
15. PR Underground
PR Underground is a straightforward, low-cost news distribution service that sends press releases to Google News and more than 80 news and news-related websites. Users can't target specific industries with their releases, The site will automatically optimize all releases for SEO and distribute releases to Twitter.
You'll find PR Underground's pricing competitive, and volume rates are available.
The distribution procedure is straightforward – all press releases are SEO-optimized and sent via Twitter, and all users get access to coverage reports for their releases.
16. Pressat
Pressat offers a low-cost press release distribution service to businesses wishing to share their story with significant media connections in the United Kingdom and around the world.
They target journalists, key influencers, and stakeholders with their distribution platform and use the Press Association and NASDAQ omx circuits.
Press release writers can professionally translate your press release for a particular population (country). It is quick and has a single fixed price, and as a client, you can use their up-to-date media database to engage with your target audience.
17. PRLeap
PRLeap is a platform for SEO news releases and social media press releases. Within minutes of publishing your press release on prleap.com, Google, Yahoo, Bing, and Blekko will index it. People can also share your news release with their friends on Facebook, Twitter, Pinterest, and Google+.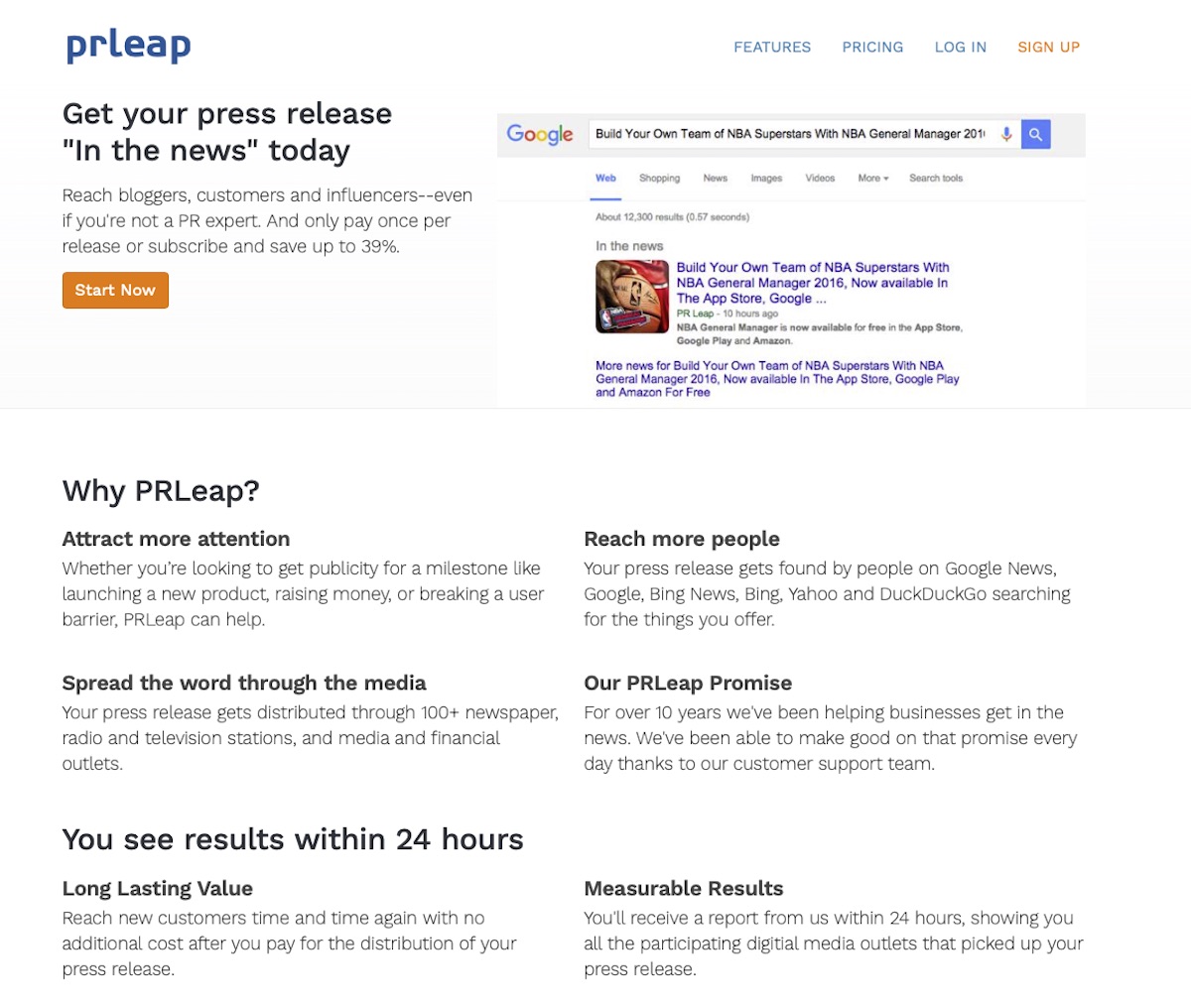 The PRLeap news release template is simple to use and allows you to insert photos and videos. It also automatically styles your press release to look great on all devices and social media platforms.
The tools track the development of your press release for you to evaluate its effectiveness and download reports to share with clients.
18. PRWeb
PRWeb by Cision receives over 12 million visitors per year and continuously hosts all press releases on its website.
Their press release writers automatically apply SEO techniques to press releases to guarantee that major search engines like Google will scoop them up. Customers can also target their news releases to industry-specific journalists and bloggers.
Its distribution network includes more than 1,200 websites. The site features several visibility-boosting add-ons, such as social media targeting, priority release, and targeted emails. Users can add multimedia by embedding movies, photos, multimedia attachments, call-out quotes, and hyperlinks.
19. SBWire
SBWire is yet another professional press release generator and distribution service aimed at the U.S. market.
The press release optimization capability is one tool that makes SBWire stand out. This includes useful features such as keyword recommendation and analytic tools, content testing, link analysis, and URL and HTML customization. All of this assists marketers in tailoring their releases for targeted distribution.
The company claims to have connections to over 200 news and media sites in the United States. Prices begin at $59/month for three monthly press releases.
20. Send2Press
This is another tool that is particularly good for press release dissemination in the United States. Send2Press can deliver your press release to over 5,000 daily media publications in the United States and ensure text-only syndication on at least 200 sites across 193 news categories, including APNews, Apple News, and Google News.
Send2Press's distinct feature is its emphasis on the U.S. market. If you want to spread the word in specific U.S. states, it can provide cheaper rates. All options include complimentary proofreading and AP style verification.
21. Sitetrail
Sitetrail provides a range of press release authoring and distribution options for small enterprises.
Sitetrail's unique access to top-tier media sites for its more expensive packages and reasonable entry-level packages covering all authoring and distribution contribute to this press release service provider being at the top of our list.
Readers trust Sitetrail. They have plenty of experienced press release writers, and their press release writing services are suitable for most businesses.
Sitetrail has an excellent industry reputation. It is less expensive than 80% of PR firms in New York but more costly than duplicate newswire providers, making it unique.
Why and When To Use Press Release Services
A press release's objective is to get coverage from relevant publications and keep a company's target audience informed. You should use professional press release services if you have important news such as:
The publication of a special report
A company landmark
Announcing or launching a new product
The announcement of new investments
The appointment of a new executive and a lot more
Regardless of the announcement, press releases should cover the who, what, where, when, why, and how.
What Defines Good Press Release Writing Services?
Journalists may receive tons of press releases every day. They will entirely disregard your company if they believe it is irrelevant to their readers.
A press release writer can keep your target audience in mind if they are familiar with your sector and target demographic. A good service will understand how to employ hyper-targeting to guarantee that the press release goes to industry-specific journalists interested in the material.
Some press release writing services have excellent ties with journalists and media distribution lists. This makes your press release significantly more likely to be read and used.
It's also critical to write short cover email letters to assist in pitching your press release and include a clear call to action. The ideal professional press release writing service will spend time getting to know your brand.
What to Consider Before Signing Up
It's good to use press release writing services to get your brand noticed in the broadest possible way. There are important considerations before signing up:
Pricing
List of retailers
Your target audience
Additional characteristics
Support and reporting
Search engine visibility
User encounter
Do your research, and you'll find one of our suggestions will suit you and your pocket.
Conclusion: How To Select The Best Press Release Writing Services
Every company can profit from favorable press publicity. A favorable news item can boost your company's growth, but how can you tickle the interest of a writer or news organization? Press releases are the solution.
Organizations can use press release distribution services to get their press releases in front of the right people. These firms will disseminate your press release for a fee to various organizations, including major news publications.
It's difficult to pinpoint how to select the best press release writing and distribution service because it is dependent on your business and trade requirements.
As vague as it sounds, just because something works for someone else doesn't guarantee it will work for you. The best course of action is to do plenty of research until you find the perfect fit for you and your company.
Want to learn step-by-step how I built my Niche Site Empire up to a full-time income?
Yes! I Love to Learn
Learn How I Built My Niche Site Empire to a Full-time Income
How to Pick the Right Keywords at the START, and avoid the losers
How to Scale and Outsource 90% of the Work, Allowing Your Empire to GROW Without You
How to Build a Site That Gets REAL TRAFFIC FROM GOOGLE (every. single. day.)
Subscribe to the Niche Pursuits Newsletter delivered with value 3X per week