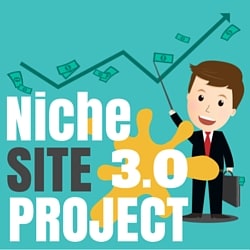 I know that many of you have been anxiously awaiting the next update for Niche Site Project 3, so I'm happy to share with you the update today!
If you recall, it has actually been two months since the last update in June.  Part of the reason we waited 2 months between updates is because, well, stuff happens…but part of the reason is by design.  I didn't want to push for an update too early, since the sites are so young and not much is happening each month.
However, after a couple of months, Samara, Colleen, and Ryan and starting to see some great things with their sites.  Below you will find their individual updates as well as traffic and earnings stats.
Hopefully this quick update inspires!
Update From Samara – TinyFry.com
Hey everybody!
It feels like ages since my last update. I hope everyone had a nice summer and is working hard on their niche sites.
I have been pretty busy with Tiny Fry.
July was actually a complicated month as I spent 3 weeks traveling to see family I never get to see, so I didn't have a ton of time to dedicate to my site. But in August I've tried to haul out the big guns.
As you guys know by now, Spencer is a firm believer in constantly publishing quality content, so that's what I've been trying to do. In July and August I published a total of 20 articles. This has been a mix of affiliate and non-affiliate content, interviews, Q&A-type texts, and I even started a section on my own experiences with my daughter.
I have been busy working on those articles and doing the subsequent outreach, and also trying to keep Tiny Fry's social media accounts as active as possible.
As I'm so focused on content, I'm letting backlinks take a back seat and just aiming to get a few each month (as is part of the strategy). This summer I landed about 7 guest posts, most of which are still pending publication, so it will be interesting to see what kind of boost I get from those once they're live.
I'm seeing a steady increase in organic traffic, as you can see from this screenshot. August traffic was more than twice that of June, so I'm pretty pleased about that.
(Spencer's Note: Look at that growth in organic traffic month after month!  This is an awesome growth curve and I expect it will continue.)
I had a record month on Amazon in August, earning $68.60, while July was quite dismal, with just $6.03. But that takes my summer total all the way up to $74.63.
According to Google Search Console, I'm ranking on the first and second page for a good number of keywords, which is very exciting.
All in all, I think I'm definitely on the right track, and with time I'll be able to grow Tiny Fry from something tiny into something quite big!
Update From Colleen – Coustii.com
Hi NSP Followers!
As the summer is winding down, so has my traveling and link building strategy. I'm back in the U.S. and really knuckling down on my website. It's a little difficult to stay focused when you're traipsing across foreign lands! Now that I'm no longer eating my way across Europe, I'm able to get into full Coustii mode!
In the past couple months, I've switched from linkbuilding and focused on building a bigger, badder site! I was really proud of myself when I saw my Moz Domain Authority score jump to 28! Woo! It was a little difficult to switch gears though. I had to think all the way back to January when I first started doing keyword research for Coustii. I have been in link building mode for so long now that I had forgotten Perrin and I's process. Thank goodness I took notes and our podcast is still up on NSP!
I have to admit that not only was switching gears difficult, but hard for me to get motivated. I've really enjoyed virtually meeting a variety of people through my outreach campaigns. I have a couple webmasters that I keep in contact with and we share vacation photos! Other than doing more writing and keyword research, I've created a Facebook page for Coustii, which I invite you to follow!
For the "numbers people" out there, here are my latest stats. In the month of July I had almost 2,000 sessions. In August, I was able to grow a little bit more and hit about 2,300 sessions. In July my organic search traffic was 900 and in August it jumped to almost 1,400! Of course, these aren't jaw dropping numbers, but I'll take every ounce of improvement I can get!

Want To Build Smart & Relevant Internal Links...Quickly?
Link Whisper is a revolutionary tool that makes internal linking much faster, easier, and more effective.  It makes it simple to boost your site's authority in the eyes of Google. You can use Link Whisper to:
Bring out your orphaned content that isn't ranking

Create smart, relevant, and fast internal links

Simple yet effective internal links reporting: what has lots of links and what pages need more links? 
Click here to revolutionize your site's way of doing internal links
I only monetized Coustii back in June, so my numbers were at 0 at the beginning of the summer. I've had a bit more hits in the past two months. My total earnings are about $43. I know, I know, don't go spend it all in one place, right?

I think the biggest realization for me since our last update, is that these things take time. No, I'm not making my goal of $500/month yet. But, I think patience and perseverance will pull me through in the long haul!
Until next time friends!
Update From Ryan
It's been said that the definition of insanity is doing the same thing over and over and expecting different results. By this definition, I may be insane. Perhaps by other definitions as well.
As you can see from my screenshots, there's only very minimal progress here in terms of traffic growth. Impressions are slowly on the rise, but not to the degree that traffic is seeing a major bump from them.
It's not really surprising when the site is getting neglected by me in the way it is. I have starts and stops, good weeks and bad weeks. Self doubts and encouragements. And everything just gets away from me. I'm sure that some of you know the deal.
I wish that I could tell you that Jake and Spencer instructed me to neglect the site so that you guys could see what it looks like when someone doesn't follow their advice and doesn't put the work in, but no, this is just me being an idiot.
For the record, I'm still not throwing in the towel or anything. It's just more of the same from your favorite delinquent student. I even have a skull and crossbones carved into my desk with a switchblade, and I'm wearing a leather jacket right now. So, it's really your stereotypical situation going on over here.
Okay, back to reality. Here's what's going on with the site in terms of things we can actually look at and analyze.
I have nine articles on my site. Yes, nine. I should have had at least that in the first month the site was live. But, that's where I'm at. Oh sure, I have a bunch of drafts of articles, but they're not finished. You can't expect traffic when you're posting that little. Fact.
I was just (in the past week) REJECTED from Amazon Associates for not having any referrals in 180 days. My clicks were actually on the rise (nothing worth writing home about), but they were heading in a direction where I feel I was close to getting an actual sale. I'll be reapplying shortly.
I haven't done any work on getting backlinks – instead I wanted to focus on content. Well, I guess I'm focusing on neither. So, that's an ongoing problem.
I'm trying you guys. I swear that I am. You know what's really weird – I work on my site almost every day. I really do. I sit down, I get an article open to work on, I check my google analytics etc… and the next thing I know, it's 1am and I have to be up 6.
I work my day job until 6pm if I'm lucky (many nights until 8 or 9), come home for dinner and family time, and by the time I get to my computer it's about 10pm. And I'm beat. I'm not looking for sympathy or making excuses, but it's a battle that I fight every day, and I'm still losing it.
If this makes no sense to you at all, this Ted video is like a portal into my brain, it's well worth checking out:
https://www.ted.com/talks/tim_urban_inside_the_mind_of_a_master_procrastinator?language=en
Spencer's Thoughts
Overall, I'm really proud of the effort that everyone has been putting into their niche sites.
Samara is seeing some nice growth each month from Google traffic and she's close the to $100/month mark in earnings…nice!
Colleen is gaining some real authority with all her link building, and I fully expect that as the site ages and she continues to add content she'll keep seeing a nice traffic and earnings increase.   Keep up the good work!
Ryan has made some good progress too.  Yes, its slow…but he is clearly putting in the effort.  I'm sure many of you can relate to the fact that he basically has no time in his day, and he's doing what he can to work on this niche site.  You all have our support, Ryan!
I wish all the students good luck, I expect great things over the next few months.
And for those of you following along and building your own sites, I hope your journey continues to go great as well!  Feel free to drop a comment below to ask any questions or let us know how your niche site is coming along.  Or you can also join up our private Facebook group for this project and read the progress reports from other people.
---