Is SSense Legit for Fashion Fanatics Looking for a Bargain?
When you buy something through one of the links on our site, we may earn an affiliate commission.
If you're a fashion lover, you're probably familiar with SSense. It's one of the most popular online stores for high-end clothing and accessories. But is SSense legit? Is it safe to shop here?
People want to know if they can trust a website with their hard-earned money, especially when it sells items at a lower price. And understandably so–after all, there are a lot of sketchy ecommerce sites out there!
In this post, we'll answer all your questions about SSense, including whether or not it's legitimate, how safe it is to shop there, and more.
About SSense
SSense is a Canadian online fashion retailer headquartered in Montreal, Canada. Founded in 2003, SSense is the brainchild of brothers Rami, Bassel, and Firas El-Eid. They're like the BeeGees of fashion! Just as the BeeGees were an iconic band of brothers in the 1960s and 70s, these fashion moguls are siblings who have revolutionized style.
SSense sells clothing, shoes, and accessories for men and women from over 200 luxury brands. The company has been profitable since its inception and has had double-digit growth every year.
You could say they're kind of a big deal!
Is SSense Legit or Fake?
So, is SSense legit? Yes, it is! The company is real and has a great reputation in the fashion industry. They have been in business for over 15 years, offer international shipping to over 40 countries, and have won numerous awards. It is not a scam and is safe to shop on.
In fact, it is one of the most popular and well-respected online retailers for luxury fashion items.
So if you're wondering whether SSense is legit, you can rest assured that the answer is yes!
Now let's look at some of the most frequently asked questions about this popular online retailer.
Why is SSense So Cheap?
When you want to find a bargain on designer fashion, many savvy shoppers turn to the SSense website. The popular outlet is known for its deeply discounted prices on sleek styles from coveted brands.
Pricing is one of the most common questions that arise about SSense. Why is it so cheap? And it's a valid question! After all, if an online store is selling designer items at a fraction of the price, it's natural to be skeptical.
But here's the thing: SSense does NOT sell fake items. The clothing, shoes, and accessories on the site are all 100% authentic.
How is SSense able to sell items at such a low price? Let's take a closer look.
Volume of Sales
All of the inventory seen on SSense is supplied directly by the brands and designers featured on the site. In exchange, they get bulk discounts and pass the savings on to their customers. That's why SSense is able to offer such amazing prices on the latest designer fashion.
By working with a network of designer brands, they're able to get the best possible deals. In turn, they pass the money they save on to their customers. In addition, SSense has developed strong relationships with many of its vendors, which gives them even more negotiating power.
Low Operational Costs
Because SSense operates primarily online, this means they have fewer overhead costs compared to traditional brick-and-mortar stores. These savings allow them to charge lower retail prices.
Supporting New and Independent Designers
In addition to selling items from well-established luxury brands, SSense is also committed to supporting new and independent designers. By offering a platform for these up-and-coming talents, SSense is able to offer unique fashion at a lower price point.
What Do SSense Customer Reviews from Actual Shoppers Say?
Buyer beware when shopping online. It's no secret that it can be a bit of a gamble. You can never be quite sure if you're going to get what you ordered, or if it's going to be the wrong size or color, especially if it's your first purchase with them. That's why it's so important to shop with a retailer that you can trust.
SSense has a Trustpilot consumer rating of 4.4 out of 5 stars. This is based on over 42,000 reviews from actual customers. The vast majority of reviewers (87%), rate SSense as "Excellent" or "Great". This achievement shows that SSense is a retailer that customers can truly rely on.
One of the most common themes in SSense reviews is fast delivery.
Many customers are generally satisfied with the speed of their order, and some mention that their items arrived on or even before the estimated delivery date, even without priority shipping.
This is great news for anyone who has ever had a bad experience with online shopping, where orders can often take weeks (or even months) to arrive.
Should You be Worried about SSense Complaints?
As with any business, most customers are satisfied, but there will always be a few unhappy campers. The good news is that the significant majority of SSense reviews are positive. And of the negative reviews, most seem to be related to issues with shipping and customer service problems.
These are both areas that SSense has been working hard to improve in recent years.
One criticism they have faced is that they do not offer exchanges. If your order is not perfect, you will need to return it for a refund and then place a new order. While this can be frustrating, particularly when it involves international shipping, it's important to remember that even if you need to return an item or two, you're still getting a great deal on your purchase.
What's SSense Customer Service Like?
While SSense may not have enjoyed the best customer service reputation in the past, they have been working to improve in this area. In recent years, they've made a number of changes to their customer service team policies and procedures.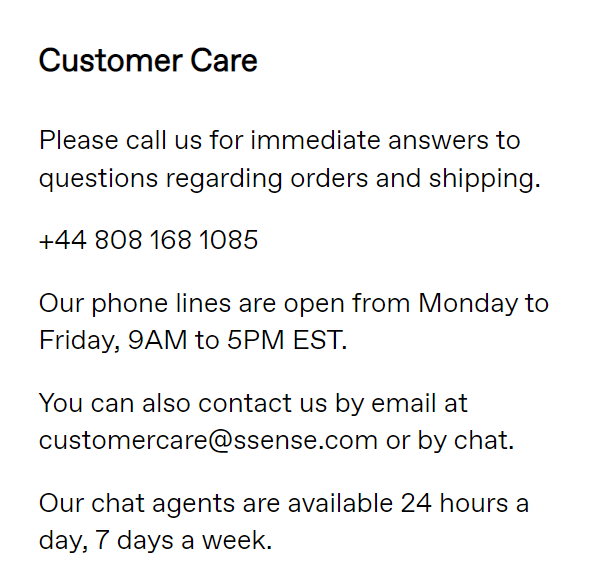 They now offer a live chat option on their website, making it even easier to contact SSense customer service representatives with a dedicated customer care team that is available 24/7 to assist with problem-solving and questions.
Additionally, they offer a 30-day return policy. Return your purchase unused and in the original packaging for a full refund if you're unsatisfied.
Does SSense Sell Fake Goods?
No. SSense does not sell fake goods. All the clothing, shoes, and accessories on their site are 100% authentic. Shop with confidence knowing that you're getting the real deal.
The company sources all of the luxury items in its inventory directly from the designers and brands featured on their site, so you can be guaranteed that everything is genuine.
SSense is a legit company that offers an authenticity guarantee on everything they sell.
SSense Alternatives
There are a number of other online retailers that offer deeply discounted designer fashion, so let's have a look at some other websites giving great deals on luxury goods.
Gilt
An alternative to SSense which is worth a look is Gilt. Gilt is an online retailer that offers designer fashion at a fraction of the retail price. They offer a variety of clothing, shoes, and accessories for men and women from a variety of high-end designers.
One of the best things about Gilt is that they offer free shipping with Gilt Unlimited. This means that you place an order and pay the initial shipping fee. Then, for the following 30 days, your next purchase and any subsequent orders all qualify for free standard shipping.
Bluefly
If you're looking for deeply discounted designer fashion, Bluefly is a great option. They offer a wide selection of clothing, shoes, and accessories for both men and women from a variety of high-end designers. They have new arrivals daily, so there's always something new to discover.
Whether you're looking for a statement piece or something more subtle, Bluefly is sure to have something that catches your eye.
TheRealReal
Anyone who's ever stepped foot inside a luxury department store knows that the prices can be pretty astronomical. Even if you have the budget to splurge on designer duds, it's hard to justify spending hundreds (or more) on something that you might only wear a few times.
That's where TheRealReal comes in. As an online retailer that specializes in luxury consignment, they offer gently used designer clothing, shoes, and accessories at a fraction of the retail price. Their selection is impressive, with items from a variety of high-end designers.
Because everything is pre-owned, you don't have to feel guilty about spending a little too much.
In addition to offering great prices on gently used designer goods, TheRealReal also provides peace of mind with their quality control and authentication process. Every item is carefully inspected by their team of experts to ensure that it is genuine. As a result, shoppers can be confident that they are getting the real deal when they shop with TheRealReal.
Is SSense Legit? Final Thoughts
SSense is a legit business with over fifteen years of experience and a great reputation as a trusted online retailer with excellent service. They have a wide selection of high-quality clothing from some of the most well-known designers globally, with something to suit every budget.
Plus, they often offer discount codes and seasonal sales. They make it easy to contact customer service if you have any questions or problems, and they offer a 30-day return policy.
If you're looking for an online shopping experience that offers designer fashion at a fraction of the cost, SSense is definitely worth checking out.
For those who are interested in joining an affiliate marketing program, SSense also offers this option. If you are looking to partner with luxury brands to make some money online, here are 40 of the Best Luxury Affiliate Programs to Skyrocket Your Earnings.
Want to learn step-by-step how I built my Niche Site Empire up to a full-time income?
Yes! I Love to Learn
Learn How I Built My Niche Site Empire to a Full-time Income
How to Pick the Right Keywords at the START, and avoid the losers
How to Scale and Outsource 90% of the Work, Allowing Your Empire to GROW Without You
How to Build a Site That Gets REAL TRAFFIC FROM GOOGLE (every. single. day.)
Subscribe to the Niche Pursuits Newsletter delivered with value 3X per week