Is Back Market Legit as a Marketplace For Sweet Tech Deals?
When you buy something through one of the links on our site, we may earn an affiliate commission.
Today, I'm going to talk about one of my favorite sites for finding deals: Back Market. But is Back Market legit? Yes, it is indeed.
If you're like me, you love a good deal. And thankfully, the internet has made finding deals easier than ever. But with so many websites and apps out there, it can be hard to know which ones are legit and which ones are scams. Let's take a look.
What is Back Market?
Back Market is an online marketplace that specializes in selling refurbished electronics. The company was founded in France, and it has grown to become one of the largest distributors of refurbished devices in Europe. Back Market offers a wide range of products, from laptops and smartphones to kitchen appliances and power tools.
All the products sold on the site are certified to be in working condition, and customers can often find great deals on devices that are otherwise quite expensive. By offering a platform where refurbished phones and other devices can be sold, the company can help to reduce e-waste and keep it out of landfills. Vive la refurb revolution!
What is Back Market's business model?
Co-founders Hug de Larauze, Quentin Le Brouster, and Vianney Vaute established Back Market in France in 2014. Instead of selling second-hand devices, it vets and grades its merchants while offering buyers a warranty on their nearly-new device.
The company lists a wide range of products, including smartphones, laptops, and tablets. Back Market's business model is based on the assumption that there is a large market for refurbished devices. Their merchants sell products that have been returned or exchanged by major retailers, as well as refurbished items.
In some cases, the products have been used and then returned. In other cases, the product may be new, but the packaging has been opened or damaged.
Is Back Market legit?
When it comes to finding good deals on electronics, there are a lot of options out there. And you're right to be a bit skeptical. But is Back Market legit? In short, yes! Back Market is a marketplace where you can buy used cell phones and other electronics.
The site has been around since 2014 and has millions of users from all over the world. The company is also financially backed by some big names, including Goldman Sachs, and even the Better Business Bureau website has shown them some love with an A+ rating.
So if you're looking for a great deal on a used iPhone or iPad, Back Market is definitely legit!
Who can sell on Back Market?
Back Market offers great deals on gently used devices from top brands like Apple, Samsung, and Sony. But who can sell on Back Market? They only allow trustworthy sellers on their platform. To ensure this, they thoroughly question sellers about their business and how it operates.
BackMarket not only ensures the products being sold are legitimate but also that everything the sellers claim is accurate. This helps to protect buyers and ensures that they're getting the best possible deals.
To make sure that refurbishers are always meeting their standards, Back Market orders anonymous products from them every week. Sneaky, but we like it!
"On average, only 1 out of 3 sellers who want to join Back Market get approved." BM website
What does Back Market sell?
Back Market is the ultimate destination for refurbished electronics. The website offers a wide variety of products, including smartphones, tablets, laptops, and more, so you'll find great deals on top-quality products.
"Many people think that refurbished electronics are limited to phones and tablets when in fact everything, or almost everything is available refurbished (from gaming consoles to printers, blenders, washing machines, hoverboards, the list goes on)." - BackMarket website
All the items on Back Market are thoroughly inspected and tested to ensure they meet the highest standards. And because they're refurbished, you can snag a great deal on something that might normally be out of your price range.
How much do products cost on Back Market?
Back Market deals include some of the most reasonable prices for buying a refurbished phone from a legitimate company. There are always a ton of products available, and the prices are usually quite reasonable. However, it is important to remember that the prices on the Back Market website can vary greatly.
Sometimes, you can find an item for a fraction of the retail price. Other times, you might pay only a few dollars less than retail. It really depends on the product and the seller.
With that said, it is always important to do your research before making a purchase on the Back Market. By taking the time to compare prices, you can ensure that you are getting the best possible deal on your desired product.
What is Back Market certified renewed?
These are devices that have been checked, refurbished, and cleaned by the manufacturer or an authorized partner! These devices compare pretty well to brand new ones, with official packaging and accessories included. So you can feel confident that your Back Market certified renewed product would work like new for years to come.
Plus, when you buy from them, you're supporting the circular economy—which means less waste and fewer resources consumed.
How does buying a phone from Back Market work?
When you buy a phone from Back Market, you can be confident that you're getting a great product at a great price.
Here's how it works: first, you choose the make and model of phone that you want. Then, you can filter the search by memory capacity, handset color, a specific carrier such as t-mobile, locked or unlocked phones, whether it's in excellent, good, or fair condition, and other factors.
Once you've found the perfect phone, simply add it to your cart and checkout. It's that easy!
Back Market starts processing your order as soon as you finish checking out. You'll then receive an email confirmation and some tracking updates so that you can follow your order's progress.
And if you're not completely satisfied with your purchase, don't worry - they've got you covered with their 30-day money-back guarantee.
How do I pay on Back Market?
Back Market is a unique platform that allows users to buy and sell gently used electronics. Because the site focuses on pre-owned items, prices are often lower than what you would find at a traditional retailer.
But how do you pay for your purchase on Back Market?
You can use Visa, MasterCard, Discover, American Express, or Affirm to pay for any product on Back Market. Some sellers also offer PayPal as a payment method, but it is not available on every listing.
No matter which payment method you choose, Back Market makes it easy to get the best deal on your next purchase.
What do customers think about Back Market reviews?
With such an amazing Trustpilot score, it's no wonder that Back Market is becoming one of the most popular places to buy refurbished electronics. BackMarket has an "excellent" Trustpilot score of 4.4, based on nearly ten thousand reviews.
An amazing 92% of reviewers have given a Back Market review with a 4- or 5-star rating. This is an incredible accomplishment, and this amount of positive reviews is a testament to the quality of the products and services that Back Market provides.
Good reviews mention the excellent condition of their used phones and getting their new device at the best price.
Buying refurbished items
When it comes to buying a new phone, there are a few things to keep in mind. Firstly, you want to make sure you're getting a good deal. But secondly, and perhaps more importantly, you want to be sure that you're getting a quality product.
But does that mean that when you buy refurbished gear, you're sacrificing quality?
Not necessarily. In fact, all the devices sold on Back Market come with a one-year warranty. So if something goes wrong after a few months, you're covered. That being said, there have been a few negative reviews for Back Market.
Some of the 1-star reviews leveled at BackMarket were regarding devices failing during the warranty period and the reviewer being reluctant to send them back for repair.
When you buy a refurbished product, you're taking a bit of a gamble. The device may work perfectly fine, or it may start to experience problems within the warranty period. If the latter happens, you'll likely have to send it back for repair. And while that can be a hassle, it's actually pretty standard for the industry.
Most sellers of refurbished products offer some kind of warranty, and they will always attempt to repair a device before replacing it.
So while BackMarket may not be perfect, they're definitely not alone in this regard. In fact, considering the high quality of their products and their commitment to customer satisfaction, they are probably doing better than most.
Remember that these reviews are in the minority. And when you compare the number of negative reviews to the overall number of sales, it's clear that Back Market is still delivering quality products at an unbeatable price.
Back Market alternatives
Back Market is a great option for finding deals on electronics, but it's not the only site out there. If you're looking for alternatives, these sites also focus on pre-owned electronics and offer great prices on a variety of products.
Swappa
Swappa is a good online marketplace for buying and selling used electronics. They focus on quality, so all the devices sold on their site are fully functional and in good condition. Their Trustpilot score is a staggering 4.8, so they're definitely worth checking out.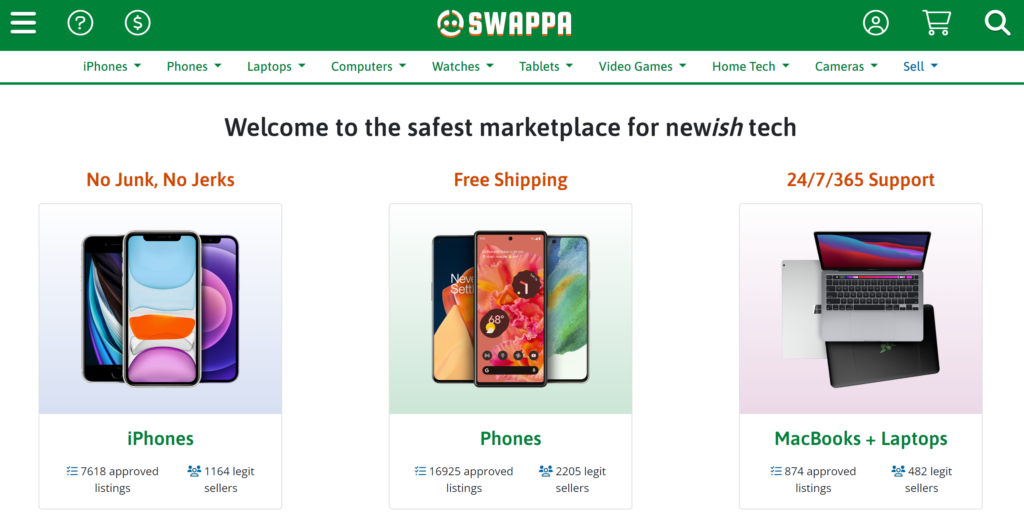 You can also sell on Swappa; check out our article on the best things to flip for more ideas.
Best Buy
Best Buy Renewed Products is a great option for buying open box and refurbished electronics. They offer a wide range of products, including smartphones, laptops, tablets, and more. Best Buy Renewed Products are fully inspected and tested by Best Buy, so you can be sure you're getting a quality product.
Their focus on providing a great experience for buyers makes them stand out from the competition. Their website is easy to navigate, and their customer service is top-notch.

Is Back Market legit - summary
Back Market is a legitimate website where you can find refurbished electronics at a fraction of the retail price. You have 30 days to return an item if you're not satisfied, and all of their products come with a one-year warranty.
With such great savings on top-brand electronics such as Apple devices and the latest Samsung watch, it's no wonder that Back Market is one of the fastest growing websites in the world. So if you're looking for an amazing deal on your next phone, tablet, or laptop, be sure to check out Back Market today!
Got stuff to sell? Check out this article on 17 of the best online flea markets!
Want to learn step-by-step how I built my Niche Site Empire up to a full-time income?
Yes! I Love to Learn
Learn How I Built My Niche Site Empire to a Full-time Income
How to Pick the Right Keywords at the START, and avoid the losers
How to Scale and Outsource 90% of the Work, Allowing Your Empire to GROW Without You
How to Build a Site That Gets REAL TRAFFIC FROM GOOGLE (every. single. day.)
Subscribe to the Niche Pursuits Newsletter delivered with value 3X per week