How to Write an About Us Page + Tips and Examples to Boost Your Brand
When you buy something through one of the links on our site, we may earn an affiliate commission.
Regardless of what niche you're setting up your website in, knowing how to write an About Us page is as important as eye contact and a firm handshake when it comes to making a good impression on potential customers. 
A good About Us/About Me/Mission Statement/Our Story/Whatever You Want to Call It page is an opportunity to differentiate yourself from your competition and show your readers why they should be emotionally invested in your brand. 
The well-known secret to good business is engaging with your target audience on a deeper level than your competition. And your About Us page is the perfect place to plant that seed.
With that in mind, we've laid out a complete guide to writing a compelling About Us page to boost your brand. 
What Is an "About Us" Page?
When a person wants to know more about your company or your brand, more often than not their first step is going to be to look for your About Us page. You've probably done it yourself. 
For a small business, your About Us page is your best chance to tell a potential customer your story.
An About Us page is where you get to make a positive first impression on your visitors. This is where you share your brand's vision and bring your company story to life. 
A potential buyer will often look at an About Us page to help them make a final decision about their purchase. Often, curious customers are interested in knowing more about the team behind the scenes and what makes up your brand identity. 
What to put on your About page:
Highlight your company's mission. Tell a compelling story about who you are and how your company started. 
Explain your business model. Conscious consumers are going to want to know that your brand is ethical and sustainable. Talk about how your products are made or what steps you take to be a sustainable business. Depending on your business, you can also highlight how your company cuts costs for the consumer by cutting out the middleman. 
Talk about your company values. Showcasing that your company's values align with your customer is one of the best ways to convert a site visitor into a happy buyer. 
Show your face. People love to see who they're buying from. Showing your face and members of your team helps make your brand more personable. 
8 Steps on How to Write an About Us Page
It really doesn't matter what your business is, the fundamentals that make up how to write an About Us page that appeals to your clients are the same.
It's important to highlight key facts that readers are looking for. Additionally, you also want to give your prospective customer a way to connect with you and feel like they are part of your success story.
That said, you want to do it all in a way that tells a compelling story. You want to have a main character (you, your founding team, or even your business), a setting, a climax, and set the stage for a sequel. 
So, how do you write an About Us page that will resonate with your visitors?
Step 1: Consider Your Page Design
Before you even get started with writing your About Us page, you should lay out a rough outline of your content. 
Most site visitors will spend the majority of their time on a page looking at the content above the fold. This means the information at the top of your page will garner more attention than anything the reader has to scroll down for. 
With that in mind, make sure you highlight the most important aspects of your story right away. By doing this, you can hook your reader in the first few lines and encourage them to read more of your story. 
Creating content in consideration of the fold line is important for all your pages. It's a key strategy in digital marketing to engage customers. Once you've got your About Us page laid out, make sure your other pages are designed to grab the viewer's attention above the fold too. 
Step 2: Introduce Your Story
This is where you introduce your main character and set the scene. It's really the first step when you think about how to write an About Us page that captures your brand identity.
Talk about who you are and your brand's humble beginnings. 
Getting the tone right is also important. Consider the target audience for your brand and envision who you're talking to.
Remember that you want to use this space to build rapport with a potential buyer.
With that in mind, try to find a middle ground between language that is professional, but still approachable. And think about how your content will resonate based on the demographics of your audience. 
Don't be afraid to get personal! This is the place to do it, so go ahead and use first person pronouns. Larger businesses might get away with third person corporate stories, but being more intimate, especially if you're a small business, can help you connect with your readers.
Try to be sincere and share your passion. 
Step 3: Mission Statement
Be very clear about the problem your brand is here to solve. Your mission statement should outline exactly what your goals are in the industry. 
This is where you can talk about what inspired you to become a business owner, or who your target audience is. 
This might seem tricky if you're wondering how to write an About Us page for a personal brand or a blog. But remember that even if you're just running a blog, you're still trying to answer a question or solve a problem. 
What inspired you to start your blog? Or how are your services better than the competition?
Step 4: Talk About a Challenge
Every protagonist faces one big challenge before the story takes a turn. Talk about what yours was.
Sharing the challenges of your business is sometimes just what is needed to coax someone into becoming invested in your company story. 
A good brand values growth. You can explain how rising to the challenge helped your company mature.
Showing that you can evolve according to the needs of the industry is critical. This lets a potential client know that you can adapt to overcome obstacles.
Step 5: Highlight Achievements, Testimonials, or Clients You've Served
People like to be reassured that you are a trustworthy business. If you know how to write an About Us page well, this is where you can make your potential customers feel more comfortable.
A great way to accomplish this is by letting them know they aren't alone in investing in your brand. Highlighting a genuine testimonial on your About Us page can help your readers feel connected to your customer base.
Integrating social proof is a great way to show the impact you are making in the industry and can help contribute to your legitimacy. This is where you can show that your company is doing all the things you say it is. 
If you're just starting out, you might not have a lot of social proof to share. That's OK. As your business grows, remember to keep coming back and updating your About Us page. 
Step 6: Include Real Numbers and Stats
Another part of building trust with your core customer is keeping it real. Don't fill your page with hype and over-exaggerations. 
The best way to "toot your own horn" is by sharing real figures. If you come across as braggy, you lose credibility with your readers.
You want to be honest and transparent. 
Real figures can help you get your message across in a clear way and build trust with your reader. 
Step 7: Paint a Picture of the Future—What Are Your Next Steps?
No one wants a good book to end. So leave your visitors with the idea that more is to come.
Talk about what the next steps will be for your company. How do you want to expand? Why should the reader continue to be invested in your brand story? 
Step 8: Include Links to Your Social Media Accounts and Contact Info
You can only fit so much onto an About Us page without making it overcrowded. It's also important to continue to build on the relationship that you've started to grow. Including a link to your social media outlets is an excellent way to do that. 
Ecommerce brands can take advantage of platforms like Instagram and TikTok to further engage their customers (click here to quickly learn how to repost on Tiktok). If you have a personal website, think about linking to Facebook or LinkedIn to further highlight your credibility. 
By directing your reader to your social media you can share everything else about your story that didn't make the cut for the About Us page. 
There are also other calls to action you can include on your page to further engage your reader. Consider buttons or links to:
Subscribe to your email list
Read your blog
View your catalog
Frequently asked questions
Finally, include your contact details or a link to your contact page for anyone that wants to find out more. It's also a nice way to wrap up your page professionally.
The more you can make your reader resonate with your story the better. If you turn casual website visitors into a social media follower, you have a better chance of them ending up on your website again.
The more they click on your site, the more likely they are to make a purchase. 
Top Tips on How to Write an About Us Page That People Want to Read
Focus on facts. Try to be succinct in your storytelling. Don't get sidelined by talking about things that aren't relevant to the facts you're trying to get across. It's important that your About Us page is clear, easy to follow, and engaging.
Don't overload the page. Trying to put too much on the page is an easy mistake to make. You should be passionate about your brand and sometimes that relates to trying to say as much as you can. Too much text or information at once can overload your reader. Keep it simple.
Include photos and visuals. People are visual. Infographics and photos can help your readers understand your story and resonate better with you. Including visuals is also a great way to break up big chunks of text to make everything easier to digest. 


Including a photo of yourself or your team can go a long way in building trust with your customer. People become instinctively more comfortable when they can put a face to the brand. 

Highlight your brand's values. This is the best space to talk about what important values are integral to your brand's identity. Coming up with a list of core values can be easier said than done. Evaluate your company culture and identify what makes your company unique and attractive. 


This is a great place to include things like charitable donations or community efforts. 

SEO. Just like every other page on your website, doing your SEO homework is important. Your About Us page can help you rank on Google in the same way your other webpages can. 


Use relevant keywords and make sure you optimize your images. 
What Can a Great About Us Page Do For Your Business?
The worst thing you can do is throw up an About Us page as an afterthought. Don't approach it as an obligation. This is an important piece of content marketing to boost your brand. 
Unfortunately, lots of websites have the About Us link somewhere hidden away in the footer. As a result, you might not think it merits much attention. Certainly, it's not exactly a necessity in the same way that a landing page or product page might be. 
However, knowing how to write an About Us page is an important skill for building your business.  
1. Introduce Yourself or Your Brand
Your About Us page is likely to be one of the most viewed pages on your website. If someone wants to know more about you or your brand and can't find anything, you instantly lose credibility. 
The truth is, people are naturally curious. They want to know more about who they are buying from and what their story is. Take advantage of their curiosity to build a relationship and show them why you're unique among the competition. 
It's also a chance for you to introduce yourself and build your personal brand in a way that helps your readers connect with you. If you can get people involved in your mission, they are more likely to buy.
2. Use Your "About Us" Page to Highlight Your Achievements
There is no better place to talk about all the great things you've accomplished in your industry than your About Us page. 
In the same way that you would use your resume to showcase your achievements to a potential employer, your About Us page is your chance to showcase your achievements to a potential client. 
Use this space to build credibility and encourage your readers to become invested in your success story. 
3. Build Trust
The most important step in converting a visitor to a client is building trust. It can be really hard to do that on other pages where the focus is on your products rather than on your story. 
If a potential customer is on the fence about a purchase, they'll likely look for your About Us page to find out more. In other words, they need convincing. 
When written effectively, your About Us page can be a valuable tool in turning traffic into more sales.
It's your chance to offer the kind of intimacy that you'd find in a brick-and-mortar store that is sometimes lacking online. 
12 Real-Life Best About Us Page Examples
So, now you know the basics of how to write an About Us page but you still don't know where to start. 
If you're looking for some inspiration, here are some great examples of effective About Us pages!
1. Nike
Despite being a big brand, Nike hasn't neglected the marketing power of a good About Us page. If you put aside the fact that they are a massive global company, there is plenty of inspiration to take for even the smallest businesses. 
What Nike Got Right
Page design. When you click on their About Us link, you're immediately greeted by a large graphic with a clear and concise mission statement that encourages you to scroll down. Below, the page is clean and simple with small chunks of text and obvious links to find out more. 
Inclusivity. Above the fold, Nike includes a small blurb of text that is actually really powerful. Below their mission statement, "bring inspiration and innovation to every athlete in the world," they've included, "*if you have a body, you are an athlete." This immediately builds a sense of community and inclusivity. Right off the bat they are confirming that you belong here and triggering an emotional response. 
Social and community impact. Whether you're a global or local business, highlighting your efforts to help the community is a great way to motivate people to invest with you. 
2. Chubbies
If you're looking for inspiration on how to get your copy just right, Chubbies absolutely nails it.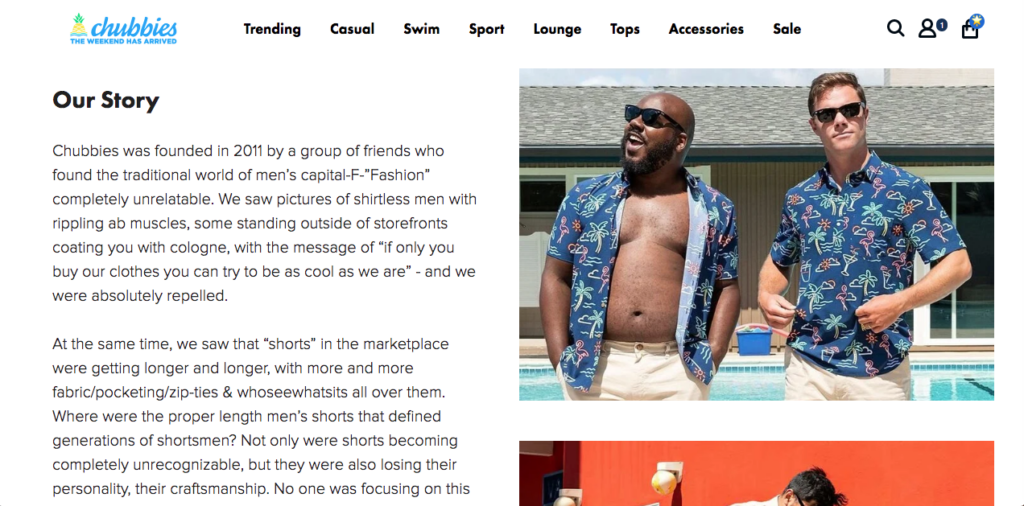 What Chubbies Got Right
Tone. You can tell that the writer for Chubbies' About Us page really kept their target audience in mind. The tone of the website copy is as laid back as their products, but there is obviously a lot of passion behind the words that comes across as you're reading it. 
Images. A good mix of text and images is really important to make your About Us page look approachable. Even though there is a fair bit of text going on, they break it up with images that enhance their story and showcase their products. 
3. Lunya
One of the best examples of how to write an About Us page, Lunya gets a lot right. Note how they make great use of "the fold" by keeping their header to 3/4 of the page and showing just enough to encourage you to scroll down.
What Lunya Got Right
Video. Engaging visuals are really important in an About Us page, but Lunya goes one step further with a video to showcase their fabrics. 
Focus on the Founder. A great way to make your readers invested in your brand is to show your face and get personal. Lunya's founder uses first person to address her readers directly and tell her story.  
Calls to action. Ending with a bang, Lunya's page invites readers to find out more about their products at the end of the page. There are separate buttons linking to their best-sellers, more information on their fabrics, and their blog. 
4. MVMT
Oozing sleek elegance goes beyond designing products. MVMT matches the same minimalist design on their website that they use for their products, and their About Us page is no exemption.

What MVMT Got Right
Graphic Design. For a brand that became popular thanks to their sleek minimalist design, it's no surprise this is mirrored in their webpages. MVMT's About Us page has a really clean layout that complements their brand well and makes it easy for the reader to skim through.
Links to social. Social media played a big role in building MVMT into a global company. So, it's no surprise that they've made it easy to follow their social pages with links to their Pinterest, Instagram, Facebook, and Twitter pages.
5. Apptopia
One of the most important functions of an About Us page is to clearly state who you are and what you do. Apptopia establishes this right off the bat so the reader can determine if they need their service or not. 

What Apptopia Got Right
Approachable language. Tech is definitely one of those industries where it's important to make sure you get your copy just right. It's easy to overwhelm your reader with tech jargon that the average person might not be able to follow. Part of knowing how to write an About Us page that will help boost your brand is using easy-to-understand language. 
Team insight. People go to About Us pages to find out more about the faces behind the company. Apptopia lifts the curtains and shares pictures and stories about their leaders, their team, and even their investors so you know exactly who you're working with. 
6. Moz
Your About Us page is a great place for you to share your company's history. Moz takes advantage of this by showing theirs in a unique way. 
What Moz Got Right
Unique layout. An About Us page should be anything but generic. This is where you get to show off who you are and have some personality. Moz uses a unique timeline layout to share their history and tell their story. 
Sharing ups and downs. A good way to gain credibility with your readers is to be humble. Share your successes but don't be afraid to talk about the stumbling blocks your company has dealt with along the way. 
7. Marie Forleo
A good way to build trust with your readers is to drop the formality (to a certain extent). Use your About Me page to get intimate with your readers and let them get to know you. Marie Forleo does this by writing her About Me page like a personal letter. 

What Marie Forleo Got Right
Engage the reader directly. At the end of the page Marie signs off "With all my love, XO Marie." While this might not work for some companies, for Marie's it's perfect. It's intimate and engaging and adds the personal touch that About page visitors are usually looking for. If you want to know how to write an About Us page that will help you connect with your readers on a more intimate level, Marie's page example is a great place to start. 
Personal photos. Marie also includes personal photos of herself so readers can get to know her better. Putting a face to the name or brand is an important step in helping your readers engage with you and trust you. 
8. Ghurka
Every brand has a story worth telling. Ghurka uses their page to share insight into their roots, their store name, and their products. 
What Ghurka Got Right
Production process. For eCommerce brands, sharing a bit of your production process is a good way to gain credibility with your reader. Buyers like transparency and knowing what kind of quality they can expect. Ghurka does this by using keywords like "handcrafted by artisans" to showcase their quality. 
Look to the future. Just as important as sharing company history, is looking forward to the future. Ghurka finishes up their About Us page by discussing their continued innovation and goals for the future. 
9. Yokel Local
There's no better place to explain anything not obvious to your customers than your About Us page. In fact, that's exactly why your customers are there.
Yokel Local uses this space to explain their unusual name and company's purpose. 
What Yokel Local Got Right
Clear and concise text. Your About page doesn't need to be a long drawn-out story. Yokel Local proves this by getting straight to the point. They say who they are and what they do in short bits of text complemented by engaging graphics. 
Awards. This is the place to proudly display any accomplishments by your company. Rewards and honors should be on your About page for readers to see. 
10. Ceros
Ceros does a great job of showing how to write an About Us page that is engaging, to the point, and helps you sell what you're offering.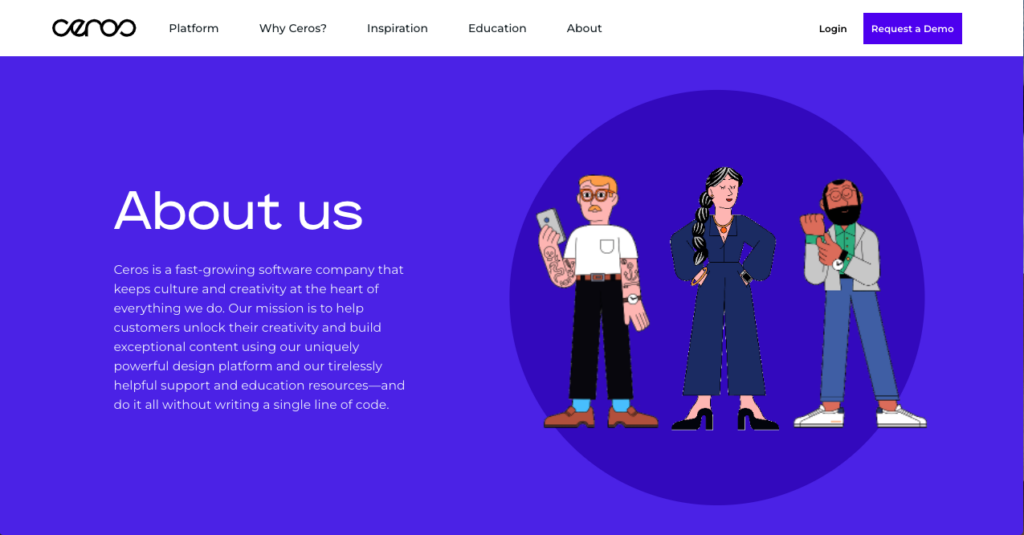 What Ceros Got Right
Interactive. Ceros's page consists of bold statements that deliver their message while keeping the audience invested thanks to their interactive elements. It's also a great way to showcase their services as a creative design platform. 
Clear graphics. Lots of people on the internet are visual people. For that reason, images and graphics are often crucial to engaging your audience. Ceros has clear graphics that they use to highlight their growth and core values. 
11. Awesomely Luvvie
It's important to know your market and how to write an About Us page that is going to resonate with your readers. Awesomely Luvvie does just that by using her skills as a writer. 
What Awesomely Luvvie Got Right
Showcase talent. Since Luvvie is a writer, the best way to showcase her skills is to make sure her About page is well-written (which it is). Using this space to show what you can do while also telling your story is a great way to kill two birds with one stone. 
Social media links. It's so important to include calls to action on your About page to keep your readers invested in you and your story. Luvvie has all of her social media links on the right side of her page as well as a signup box for her newsletter. 
12. SkinnyDipped
One of the best examples of an About Us page that gets it all right, SkinnyDipped has a unique story that they jump right into telling. 
What SkinnyDipped Got Right
Personal story. The story behind SkinnyDipped is so personal that it's impossible to not feel connected to the founders. They aren't afraid to share with their readers their passion and their reasons for starting their company. 
Clear values. Using graphics and clear text, SkinnyDipped shares the core values of their company. This is an important step to getting readers to feel invested in your brand and trust your company. 
Great photos. As mentioned earlier, images are key to a great About Us page. SkinnyDipped shares plenty which help the founders seem like real human beings to their readers. 
5 Great About Us Page Templates
Maybe you already know how to write an About Us page, you just need a little bit of help getting the ideas in your head onto the page. 
About Us templates can help you organize your content and make it look professional. Of course, being unique is important, so try to customize as much as you can to make yourself stand out.
However, using a template can be a quick place to start, especially if you're a small business owner and don't have much skill in web design. 
The way your page looks will be just as important as the content you share. Don't sacrifice readability and user engagement for originality. 
On that note, here are some About Us page templates that can help you bring your page from zero to hero. 
This done-for-you template is clean and prioritizes visual elements. It's a great template for showcasing your team and making a bold statement. 
For companies looking to capitalize on high-resolution images and include interactive graphic elements, this is a great page template to start with.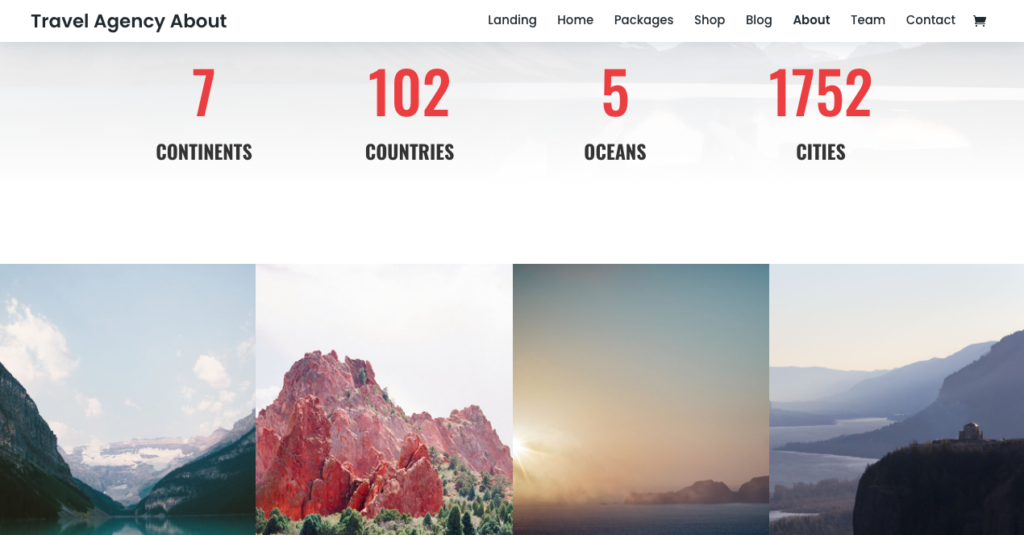 If you're looking for a template for your own website where you are focusing on your personal brand, the Coax template might be better suited than some other options. The page is laid out to showcase your skills and tell your own story rather than that of a company or brand. 
With lots of animated features and buttons to direct your reader, this template example offers an engaging, ready-to-go About Us page. 
This template is ideal for an eCommerce brand looking to showcase their products on their About page. There's space to tell your company's story and include contact details too. 
Conclusion
For any online business, the About Us page is a valuable space to market your brand and engage with your clients. 
Knowing how to write an About Us page effectively can help convert traffic into sales. This is where you can share your brand's history and talk about how your brand identity came about.
It's the space for you to share your own story as much as your company's. 
The best About Us page examples incorporate a mix of visual elements, biggest selling points, relevant milestones, and company history to appeal to your target customer. This is the first page that many people visit when they want to be invested in your brand.
For small business owners especially, it's the one page that really makes sense to prioritize. It's more than just a sales pitch, it's one of the most important pages to convert potential clients into loyal customers.
If you know how to write an About Us page well, it's a great example of how a good story can make a brand. 
Looking for additional help writing your About Us page? Check out our list of the 9 best About Us generators using artificial intelligence!
Want to learn step-by-step how I built my Niche Site Empire up to a full-time income?
Yes! I Love to Learn
Learn How I Built My Niche Site Empire to a Full-time Income
How to Pick the Right Keywords at the START, and avoid the losers
How to Scale and Outsource 90% of the Work, Allowing Your Empire to GROW Without You
How to Build a Site That Gets REAL TRAFFIC FROM GOOGLE (every. single. day.)
Subscribe to the Niche Pursuits Newsletter delivered with value 3X per week