How to Repost on TikTok for Maximum Engagement
When you buy something through one of the links on our site, we may earn an affiliate commission.
According to a study, the average attention span of humans has decreased from 12 seconds to 8 seconds in recent years. To keep up with this trend, content creators and brands are adapting their strategies to capture and retain users' attention. One platform that has seen significant growth in recent years is TikTok, which boasts over 1 billion active users.
For brands and content creators looking to leverage TikTok for marketing purposes, one of the most important things to understand is how the app works (and users interact with it). In this article, we will explore some key ways you can maximize your engagement on TikTok by using the concept of reposting.
What Is Reposting?
Reposting is the act of sharing someone else's content on your own account.
TikTok makes this process easy with a built-in "share" button that allows you to share videos from many users directly with your followers.
Reposting someone else's video will appear on your feed like any other post. Your followers can see who originally posted the video and how many times it has been shared.
Learn more about what you can expect from TikTok analytics in our full guide here.
Why Repost?
Reposting can be a great way to engage with other users and get your content seen by more people. When you repost someone else's video, they will be notified and may return the favor by reposting one of your videos. It's a new feature that can help you build relationships with other TikTok users and grow your audience.
In addition, reposting can help you fill your feed with fresh content without having to produce it yourself. This is especially helpful if you are just starting on TikTok and don't have a large following.
How to Repost on TikTok?
Reposting is easy! Simply find a video you want to share and press the "share" button. From there, you can choose whether to share the video on your feed, in a message, or on another social media platform.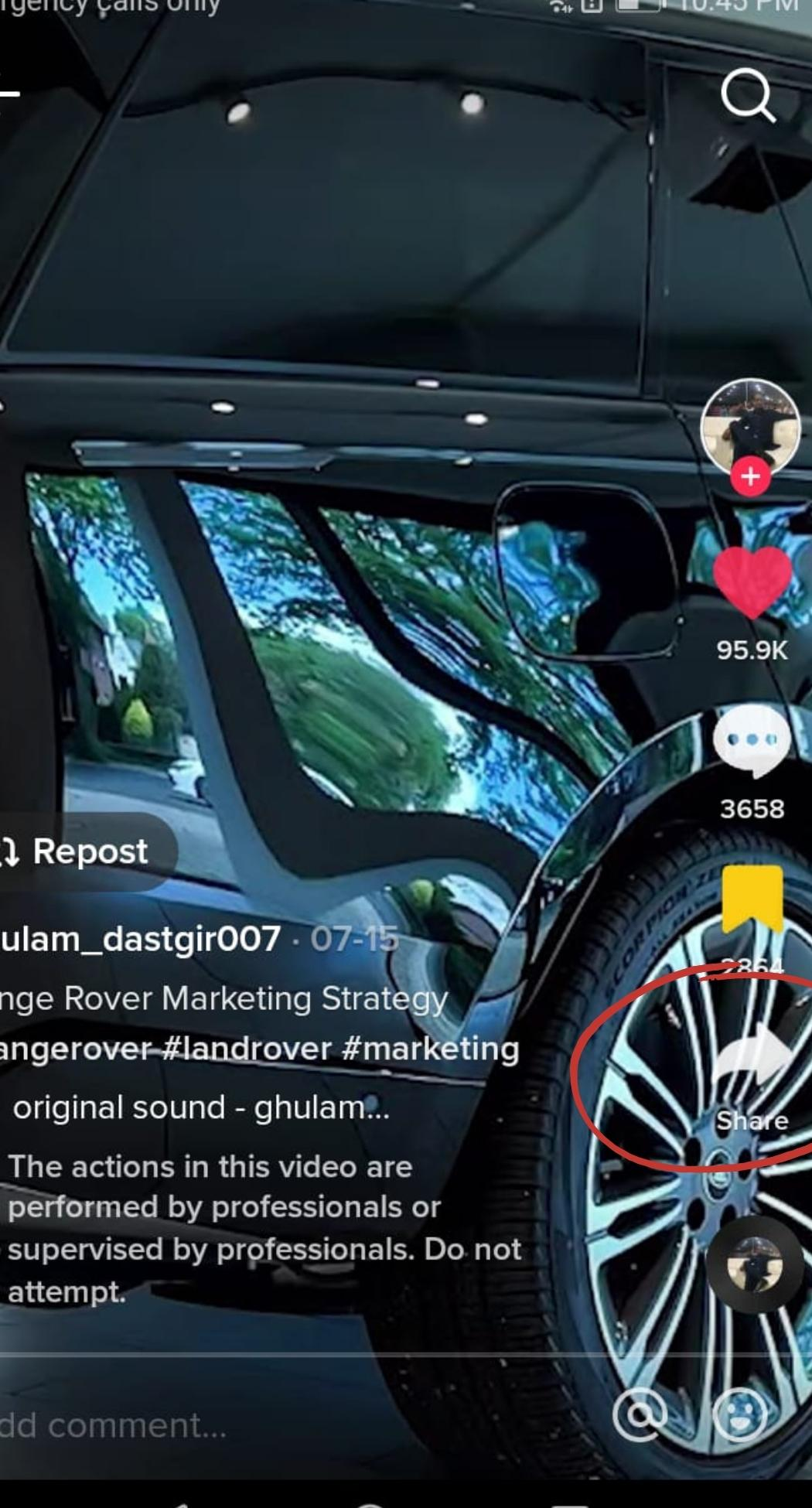 Select the yellow "Repost" button, and the repost videos will be added to your feed. You can then add a caption or description if you wish.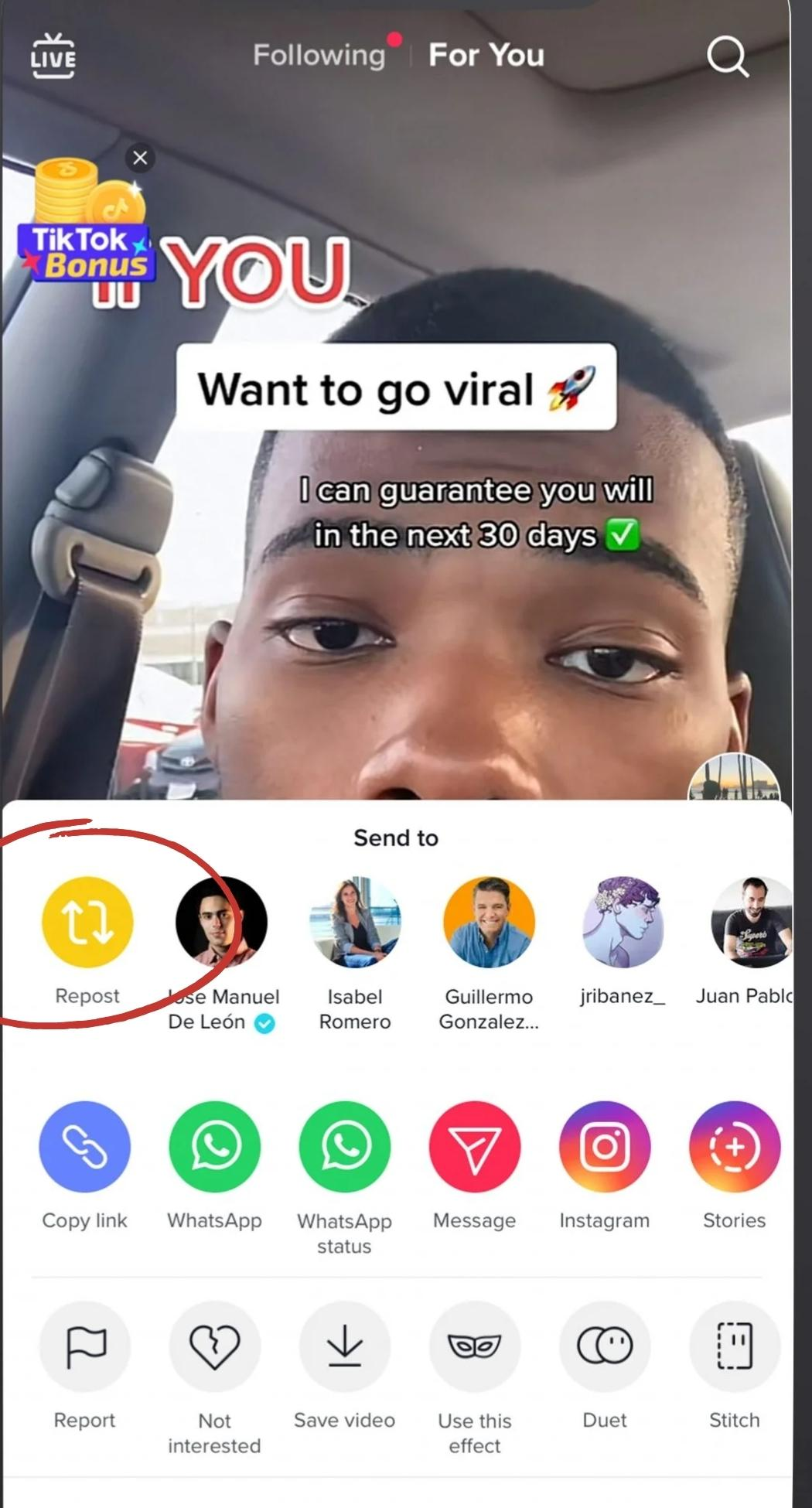 If you want to share the video on your TikTok feed, make sure that you select the "Share to Feed" option. This will ensure that your followers will see the video in their main feed rather than in a separate app section.
Once you've chosen how you want to share the video, it will appear on your feed just like any other post. Your followers can see who originally posted the video and how many times it has been shared.
Tips for Maximizing Engagement
There are a few things that you can do to maximize engagement when reposting on TikTok.
Make sure you are only sharing content relevant to your brand or niche. Your followers will appreciate it if you share content that is interesting and useful to them.
Add your commentary or caption to the video before you share it. This will give your followers a better idea of why you shared the video and what they can expect from it.
Interact with the original creator. Like and comment on their videos, and follow them if you haven't already. They are more likely to return the favor if you show an interest in their content.
Share videos from popular users. This can help you to get more views and followers, as their fans will be exposed to your account when they see the video on your feed.
Be selective with the videos that you repost. You don't want to bombard your followers with too much content, so ensure you only share the best videos.
Repost regularly, but don't overdo it. A couple of times per week is a good frequency, but you may want to adjust this depending on how often you post original content.
Following these tips can maximize your engagement and get the most out of reposting on TikTok.
Where Do Reposts Go on TikTok?
When you repost a video on TikTok, it will appear on your profile and in the "For You" feed. It will also be shared with your followers and appear in their "Following" feed. If you have a public account, anyone can see your reposts.
When you repost someone else's video, remember to give them credit by tagging their username. This is good etiquette and helps build a positive community on TikTok.
And since the person who originally posted the video will be tagged in the repost, there's a good chance they'll see it too. If they're impressed with your taste in videos or think you have many users engaged, they may decide to follow you.
Can I Undo Repost Feature On TikTok?
Yes, if you change your mind after reposting a video on TikTok, you can undo it. Go to your profile's video, tap the Share icon (the paper airplane), and select "Remove Repost."
This is a good idea if you realize that you accidentally reposted an inappropriate video for your brand or audience. It's also an excellent way to clean up your profile if you're trying to make a good impression on potential followers.
Can I Turn Off The TikTok Repost Button?
Yes, you can turn off reposting on the TikTok app if you don't want to see it in your feed. To do this, go to the app's privacy settings and toggle the "Repost" setting to "Off."
It is a good idea to turn off the repost option if you're not interested in seeing other people's videos in your feed. It's also a good way to avoid accidentally reposting a TikTok video you don't want to share.
Final Thoughts
Reposting on TikTok is a great way to get your content seen by more people. Not only does it help you reach a larger audience, but it also helps to build trust and credibility with your followers. When done correctly, reposting can be an extremely effective marketing tool.
However, there are a few things you should keep in mind when reposting on TikTok. First, make sure you credit the original creator in your caption. Second, only repost content relevant to your brand and target audience. And finally, avoid reposting content that has already been widely circulated.
By following these simple guidelines, you can ensure that your reposts are both helpful and effective.
For related content, check out:
Want to learn step-by-step how I built my Niche Site Empire up to a full-time income?
Yes! I Love to Learn
Learn How I Built My Niche Site Empire to a Full-time Income
How to Pick the Right Keywords at the START, and avoid the losers
How to Scale and Outsource 90% of the Work, Allowing Your Empire to GROW Without You
How to Build a Site That Gets REAL TRAFFIC FROM GOOGLE (every. single. day.)
Subscribe to the Niche Pursuits Newsletter delivered with value 3X per week