How To Start A Power Washing Business And Become Your Own Boss!
When you buy something through one of the links on our site, we may earn an affiliate commission.
Need to know how to start a pressure washing business from the ground up?
Whether you are looking for a weekend side hustle or something you can make a career of, starting a power washing business could be your ticket to financial freedom!
Start-up costs are low and profit margins are high compared with other businesses. It's easy to get into with low barriers to entry and work opportunities everywhere.
We're sharing what's involved with starting a pressure washing business so that you can decide whether or not it's the right business for you.
How To Start A Pressure Washing Business
There are loads of great reasons to start a pressure washing business:
Flexibility
Be your own boss
It can be very profitable!
First of all, we are going to cover the practical side of starting a pressure washing business.
We're going to be looking at what kind of equipment you will need, as well as things like uniforms, insurance, and transportation.
Once we've covered that, I'll walk you through the business side of things such as how to market your business, and how you can keep track of clients, and, of course, your money.
Start-Up Costs
As with most businesses, a power washing business will have upfront costs.
Here are the main things you will need to start:
Pressure washer: A high-quality pressure washer and hose reel
Water tank: For when you can't connect to the house water
Cleaning chemicals: For treating difficult surfaces
Protective clothing or uniform: For trust and branding
Business insurance and licenses: In case you accidentally cause damage to someone's property
Equipment insurance – In case anything gets damaged or stolen
Advertising costs: To get your name out there
Transportation: You will need a truck or van
The Best Pressure Washer
First thing's first, you are definitely going to need a pressure washer!
But what kind do you need? 
If your business is starting off as a weekend side hustle then a small-to-medium pressure washer will be perfect. A pressure washer like the Simpson Cleaning MSH3125 will be fine.
This is a 3200 PSI gas-powered unit that comes with 4 different-sized nozzle heads. It has a Honda engine and a maintenance-free pump. It's easy to move around tricky terrain and comfortable to use.
This will allow you to clean domestic properties such as patios, swimming pools, driveways, fencing, and more.
However, if you want to start a pressure washing business full time, you might want something a little bigger and better.
An industrial-grade pressure washer will allow you to take on larger jobs and complete them faster.
These units start at around $1,000.
Pressure Washing Services
A pressure washer can be used for cleaning many different types of surfaces.
It's worth listing on your marketing materials the different items you can pressure wash. This could prompt a potential client to book a cleaning for something they hadn't previously thought of! 
These are the common types of pressure washing services offered:
Driveways
Patios
Cars
Swimming pools
Outdoor furniture
Brickwork
Fencing
Trailers
Boats
House exteriors
You might have been booked to clean a driveway, but while you're there, what else could you offer to clean?
Learning To Pressure Wash
Now that you have purchased a pressure washer and thought about the types of services you could offer, it's time to practice.
It's important to be confident in what you are doing. You don't want to damage someone else's property, plus you don't want to be anxious that you're doing something wrong all the time!
Clean everything you can in your home and yard, and be sure to take 'before and after' pictures that you can use in your marketing materials!
Also, ask family and friends if they have anything that needs pressure cleaning to get plenty of practice in before doing paid work.
Ideally, work for another power washing contractor for 6 months – 1 year before going out on your own.
Experience is key!
How To Set Up A Pressure Washing Business
When it comes to running a power washing business, it's worth making sure everything is done properly.
Set yourself up for success and you will have no trouble growing organically as word gets out about your services.
Branding
Your business name and logo are important, it is your future customer's first impression of your business. 
Think about the positive feelings you want your potential clients to associate with your business.
Here are examples of words to consider using in your business name or tagline:
Clean
Fresh
Reliable
Super
Spotless
Shining
Fast
Pressure Washing
Perfect
Speedy
You might even want to consider using your own name as part of your business name. Be wary of using the name of your town, as this could limit you if you want to expand in the future.
Create a logo yourself using Canva, or hire a graphic designer on Fiverr or Upwork to create a professional logo for you.
Register your business
Once you are ready to start trading, you will need to register your business and choose a business structure to suit your needs.
The most popular types of business structure are:
Sole Proprietorship
Partnership
Corporations
S Corporations
Limited Liability Company (LLC)
Each of these types of business structures has its own benefits, so it's important to choose which is right for you. If you are just starting your business as a weekend side hustle, then sole proprietorship will probably be best.
On the other hand, if you want to turn your pressure washing business into a full-time job and hire employees, then it could be worth registering your company as an LLC.
You may also need to obtain a business license or permit to trade, so be sure to check with your state before you start trading.
Business Accounts
Having a dedicated bank account for your business is important.
This will help you keep track of your income and business expenses and make your life much easier when tax season comes around!
A business bank account will:
Make your business appear more professional and trustworthy
Protect your personal funds if anything goes wrong with the business
Offer you credit for use in an emergency
Help establish a credit history for your business
Find out more about opening a business bank account in the U.S. Small Business Administration Guide.
What To Charge
There are a few different ways you can price pressure washing services:
Hourly
Flat fee for the job
By square footage
However, the most popular way to price power washing jobs is per square foot.
This will usually require you to measure up the job site and provide the customer with a quote before you get started.
The average cost of power washing is between $0.15 and $0.75 per square foot, with jobs totaling around $288 on average.
This will vary depending on the complexity and size of the job.
If you would prefer to charge hourly, pressure washing typically costs $50 – $100 per hour for each team member.
Marketing
Marketing will be another important factor in your pressure washing business.
After all, without marketing, you wouldn't have any customers!
Ways you can market your pressure washing business:
Social Media
Leaflets and flyers 
A business website
Signwriting the work vehicle
Word of mouth – ask family and friends to put the word out
Partner with a related company and promote each other's services
Having professional-looking flyers and business cards will go a long way to helping you get your first customers.
You can easily create flyers yourself on Canva, or get a graphic designer to create one for you on Fiverr.
Use before and after pictures of your pressure washing work in your marketing to attract clients!
It's worth asking local shops and garden centers if you can put flyers up on their notice boards. Alternatively, deliver them directly to the houses in your neighborhood.
Online Marketing
If you are running a power washing business, a website is one of the most important marketing tools you can have. 
Why?
Most people investigate a business online before deciding to work with them. These days, a business without a website is seen as less professional and less legitimate.
A website gives you authority, but it will also mean you can be found in local search. Your customers will come to you.
Doesn't that sound better than posting out thousands of flyers each week?
Of course it does!
97% of people learn more about a local company by searching online than anywhere else!
The great news is, it's easy to build a professional-looking website.
You can have a great-looking website up and running in under a day, even if you're a beginner!
Ranking Your Website
Once you have your website up and running you will want to optimize your website for local SEO.
Here are some important basics of local SEO to get you started on the right foot:
Create a Google My Business account and verify that you own the business
Ask happy customers to leave you a review on Google
Start a blog on your website creating content around relevant business keywords
Optimize your website for mobile – more than 50% of searches are now done from a mobile device!
Start a Facebook page for your business and set up accounts on other social media platforms like Instagram. If you can take time-lapses of your power washing work, set up a YouTube account and start posting videos!
You may not think you need social media for a pressure washing business, but it's the best way to get your name out there locally!
There is something oddly satisfying and soothing about watching power washing – just ask the over 1 million members of the Reddit power washing community!
Also, videos can easily go viral on YouTube which might generate extra income for you through YouTube affiliate marketing and ads!
Manage Your Business
Once you have your first few clients, it's important to keep track of their information.
A notebook isn't going to cut it here if you want your business to grow!
You can keep track of their information and grow your power washing business using good CRM software.
CRM stands for Customer Relationship Management, and there are SO MANY benefits to using it in your business.
It will allow you to:
Keep all of your client's information safely in one place
Keep notes of conversations you have had with clients
Improve customer satisfaction
Optimize your marketing
Keep track of appointments and bookings
Automate mundane tasks such as follow up emails
Gain repeat business
And repeat business from happy customers is the best kind of business!
Did you know that acquiring new customers costs five times more than keeping an existing customer?
Keeping on top of your business admin will cost you less in time and money in the log run.
Hubspot has a completely free CRM that you can use for your business!
Get Hubspot FREE!
Manage Your Accounts
Once money starts coming in from your pressure washing business, you will need to keep track of everything so you can submit accurate tax returns.
The easiest way to do this is by using a bookkeeping service like Bench.
Bench is the perfect alternative to hiring a full-time bookkeeper for your business, and much more affordable!
TRY BENCH FREE 
Pros and Cons
There are pros and cons to starting a pressure washing business, as with all businesses!
Pros:
Low start-up costs
Low barriers to entry
Plenty of repeat jobs
High profit-margins
Physical work will keep you fit
Work outdoors
Work somewhere new each day
Cons:
There will be long physical days
You will often be dirty and wet
Work can be delayed by weather
High staff turnover rates
Continually need to be bringing on new clients
Potential to damage houses and other property
It really depends on the type of person you are as to whether or not you will enjoy starting a power washing business.
If you love being outdoors doing physical work it might just be right for you. It can be extremely satisfying to transform grimy areas into clean and tidy spaces.
The main downside for some will be the dirty, often wet, hard physical work involved. It's probably not the best line of work for older individuals.
Earning Potential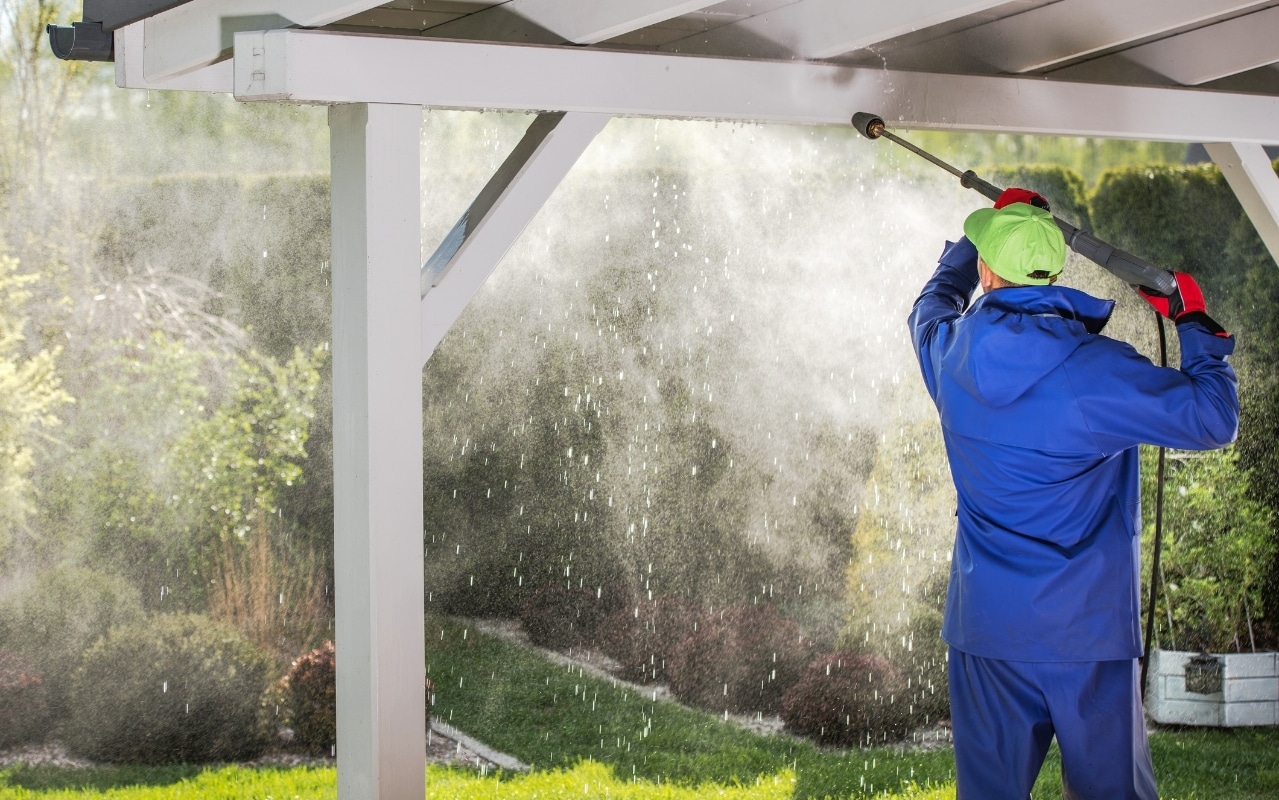 Can a pressure washing business be profitable?
Yes!
After the initial investment in equipment and transport, most of what you earn will be profit.
Although start-up costs may run into the thousands (particularly if you need to buy a truck or van), it's likely you will recoup these costs quickly.
If you consider that you could charge $50-$100 per hour for your services, you could be earning between $400-$800 per day.
That's up to $2,000- $4,000 per week!
Starting A Pressure Washing Business
Whether or not you decide to start a pressure washing business is largely going to depend on who you are!
Some people love moving from job to job, being outdoors, doing physical manual labor, and some people hate it. They would rather be in an office.
It's important to be able to enjoy your work, especially if it's going to be your business.
Many people start their power washing business as a side hustle first, working for friends and family on the weekend.
If you enjoy that then go ahead and make it a full-time thing!
Once the money starts rolling in the work can become more enjoyable. Being your own boss and controlling the source of your income is very rewarding in itself. Go on and give it a try!
Want to learn step-by-step how I built my Niche Site Empire up to a full-time income?
Yes! I Love to Learn
Learn How I Built My Niche Site Empire to a Full-time Income
How to Pick the Right Keywords at the START, and avoid the losers
How to Scale and Outsource 90% of the Work, Allowing Your Empire to GROW Without You
How to Build a Site That Gets REAL TRAFFIC FROM GOOGLE (every. single. day.)
Subscribe to the Niche Pursuits Newsletter delivered with value 3X per week