How to Make a Great Udemy Course That Makes Money
When you buy something through one of the links on our site, we may earn an affiliate commission.
If you're thinking about how to make a Udemy course, this guide will walk you through the process. The online education industry is growing fast, expected to reach $325 billion by 2025.
For instructors, it's a big opportunity to connect with students and run a thriving online education business while sharing their expertise and knowledge.
Students get the chance to expand their knowledge through flexible, convenient online learning, gaining valuable skills that can be translated to personal and work opportunities.
Keep reading to discover the 8-step process for building your Udemy course from scratch, including learning about possible costs, how much money you can make, and more.
Let's go!
What is Udemy?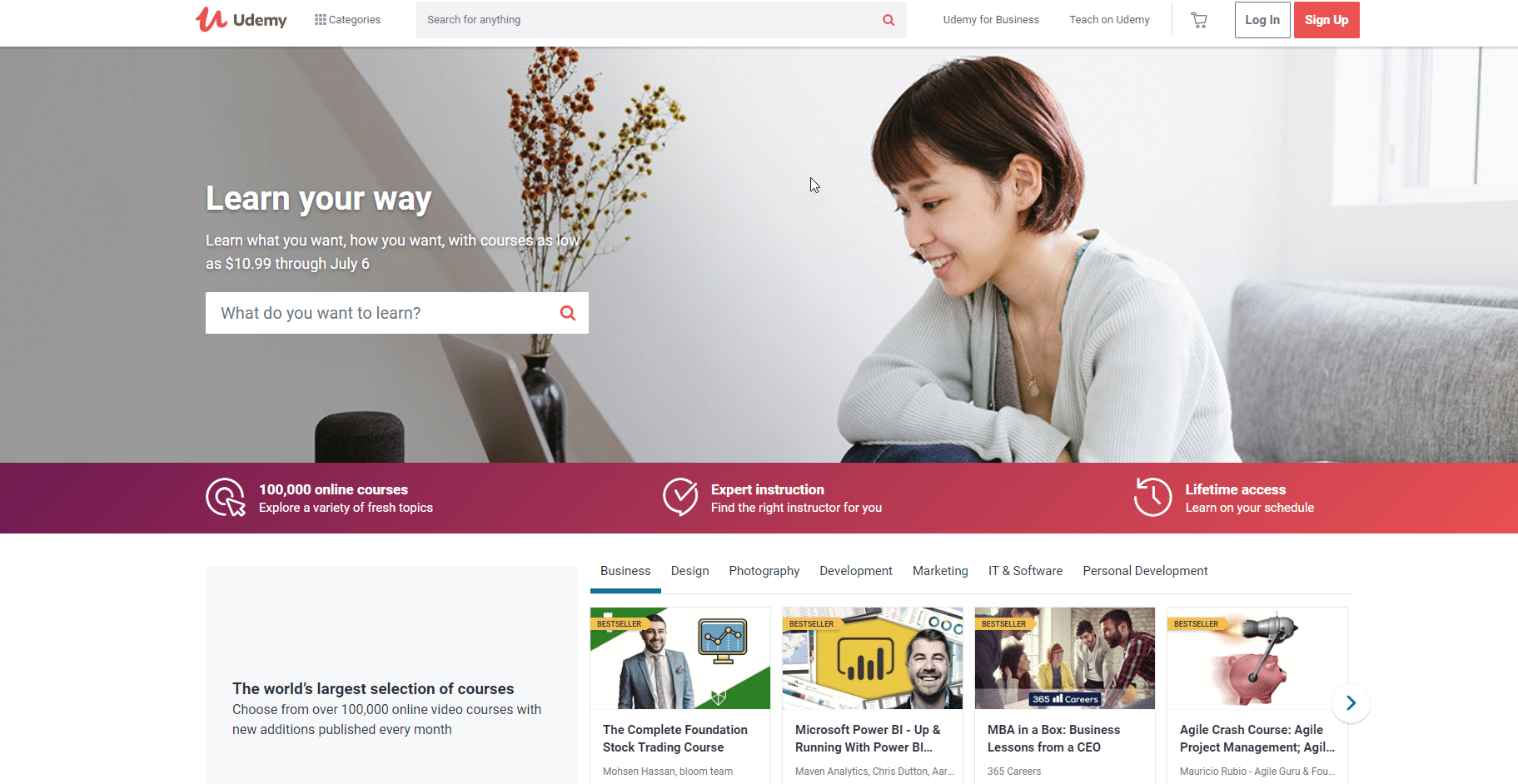 Udemy is one of the largest e-learning marketplaces on the web, connecting students with instructors for online education:
183,000 online courses
Online courses starting at $12.99
64,000+ instructors
40 million students
Students can find courses on a variety of different subjects like game design, affiliate marketing, or piano lessons, among other course categories.
Imagine learning a high-income skill from a marketplace like Udemy and taking that skill to turn it into a thriving career or business.
Instructors get the opportunity to teach their expertise to students online and build an online reputation. Plus, creating a course is one of the best passive income ideas.
Here's the 8-step process for building a Udemy course.
Pick a topic
Outline your course
Film your course
Course editing
Upload your videos to Udemy
Build your landing page
Submit for approval
Promote your course
How to make a Udemy course
Step 1: Pick a topic
First, you will start the process with course planning. That starts by choosing a topic to teach. Take your time to pick the right topic to teach as a Udemy instructor.
You want to consider demand and the competition.
Demand comes into play because you want to teach a course that people want. You can craft the ultimate course perfect for your course topic and audience, but if there's no demand, then your course will have difficulty selling.
Next, competition should be considered. You'll be competing with Udemy's 60,000+ instructors so it's a good idea to pick a low-competition topic to teach online.
With both of these factors, demand, and competition, you can begin whittling down your topic list to ultimately choose the perfect course topic to teach on Udemy.
Consider your audience
Your course isn't going to be for everyone. You'll have a core target audience you'll be speaking to.
Alongside choosing your course topic, you'll also need to define your target audience.
To pick the right audience, make sure to:
Consider goals and interests
Think about who the content is suitable for
Define what problem you're solving
Once your target audience is identified, make sure to keep them at the front of your mind throughout the entire course creation process.
Step 2: Outline your course
Outlining your course is about organizing your content so it can be easily learned and digested by students.
This is about the structure and flow of your course and it's a step that shouldn't be skipped.
You can start by downloading Udemy's course outline template which will help you lay the foundation for a well-structured course.
You'll work to create your course introduction, organize your lectures, and lay out the curriculum so you can build a quality, engaging course.
Read more about outlining your Udemy course.
Step 3: Film your course
Now it's time for filming! You'll be stepping in front of the camera to deliver the material for your course.
Consider these things:
High-quality equipment
Good lighting
Excellent sound quality
This page has information about recording to help you film the best course videos possible.
With all this in place, film your first video.
After filming, you can submit that test video to Udemy for free feedback. You will get unbiased feedback about your video's audio, video, and delivery.
Then, you can film the rest of your video content and move on to editing.
Step 4: Course editing
Editing is where you comb through all your video content, edit your videos to polish them, and prepare them for public viewing on Udemy.
Here are some tips for fine-tuning your course:
Edit out mistakes
Remove filler words in your delivery like "um's"
Use visuals to improve engagement
Use transitions and use B-roll to help your course flow
Here are some examples of video editing software you can check out:
Step 5: Upload your videos to Udemy
Uploading your videos to Udemy is one of the last steps before your course is published online.
Udemy will review your course for approval and once approved, it can be published.
One of the most common issues instructors have with their video course is audio quality:
Avoid background noise while filming
Avoid echoes
Low volume
Muffled sound
Read this page to learn how to resolve these issues.
Step 6: Build your landing page
Your landing page is what will lure your viewers to your course and convince them to invest in enrolling.
While designing your landing page, make sure to keep your audience in mind to envision their perspective when they arrive at your landing page.
What determines if students enroll in your course?
Common factors that affect decision-making are:
Price
Content
Social proof
Price is a big factor. A price that's too low might be perceived as low-value. A price that's too high is expensive and might be out of reach for students.
There's a sweet spot and you've got to figure that out. 
Pro Tip: Look at the competition. See what kind of pricing your competitors have for their courses on Udemy. Then, align your pricing accordingly.
Next is content. Your viewer will review your course material and content from the landing page to determine if it's what they're looking for.
As you're building your course, the content will be your core material, so make it good and highlight it on your landing page.
Lastly, social proof plays a part in student enrollment. 
Have you ever shopped on Amazon and seen the same product sold by two sellers?
What makes you choose to buy from one seller versus the competitor?
Many times, it's social proof. You look at the number of reviews both sellers have had. The more positive reviews a product has, the more often you'll be steered in the direction of that seller to make your purchase.
That's social proof and it exists everywhere online, including Udemy. This will come into account when students decide to buy your course or not.
Step 7: Submit for approval
When you're done with your course, you will submit it to Udemy for review and approval. It will go through Udemy's quality review process.
It will be checked using Udemy's course quality checklist.
If your course is not approved, you will have a chance to apply the fixes needed and resubmit it for review until it's finally approved. Then, you can publish live on Udemy.
Step 8: Promote your course
The last step in the process is promotion and marketing. Applying marketing can help amplify your sales results.
There are many ways you can promote your course:
Make an announcement on social media and to your email list
Add a "Buy Now" button to your website
Appear on podcasts to promote your course
The idea is to create awareness about your course and drive traffic to your landing page, where you've hopefully converted those visitors to buyers.
Read more on how to market your course.
Common questions about making a Udemy course
Here are some common questions you might have about how to make a Udemy course.
1. How much does it cost to make a Udemy course?
You can make a Udemy course for free.
Udemy does not charge any upfront fees to instructors to make a course. They get paid on the backend when your course sells. In that case, they will receive a portion of the sale.
Any investment you make into the course creation process is optional and might include:
Computer
Audio equipment
Software
2. How long does it take to make a Udemy course?
The amount of time it takes to make a Udemy course varies. It depends on how extensive your course material is and how much time you have available to dedicate to the project.
Some courses can take months to outline, film, edit, and publish while others can be completed in a weekend.
If you have a lot of content to cover in your course, expect it to take longer.
3. Do Udemy courses make money?
Yes, Udemy courses do make money.
Top instructors have made up to $1 million (and more) like the instructor from this Udemy community thread.
You can find accounts of other instructors' earnings online on websites like YouTube, where many instructors do a monthly income report to share how much they've earned from their Udemy business (you can learn about Udemy's business model in our guide).
Here's an example:
Udemy instructors get paid a portion of each course sale.
This is the revenue share model:
Sales through instructor promotions:

instructors get 97% of revenue

Sales not through instructor promotions:

instructors get 37% of revenue
Udemy traffic generation that creates course sales for you will earn you 37% of the sale. For course sales from your promotional efforts, you get 97% of the sale.
4. Can you make a Udemy course?
Yes, you can make a Udemy course. Creating a course on Udemy is open to anyone who has the knowledge and/or skills to teach.
You don't need a specialized background or certain educational requirements or a certain amount of experience to become an instructor.
It's open for anybody to make a course. And with no upfront fees, there's a low barrier to entry for new instructors who'd like to teach on the Udemy platform.
5. Who makes the most money on Udemy?
Instructors that make the most money on Udemy…
Teach multiple courses
Treat their Udemy course(s) like a business
Market their course business
An example of a top Udemy instructor is Rob Percival who has taught over 120,000 students and has made over $2.8 million on Udemy.
Another example is Victor Bastos who has earned around $900,000 teaching over 50,000 students.
You can find more top Udemy instructor earnings here.
Final word
Making a Udemy course is an income opportunity for you, but it's no get-rich-quick scheme. You'll have to put a lot of work and time into the process to produce a top course that will attract students and make you money.
Is it worth it?
I think so.
If you have the expertise to teach students online, turning it into a course is a great way to make passive income and create an additional income stream for yourself.
You can turn your knowledge and expertise into an additional income stream as a Udemy instructor.
Hopefully, this guide helps lay out the path for you on how to make a Udemy course.
What course topic are you thinking about teaching? We look forward to hearing your success story!
Start Teaching on Udemy
Want to learn step-by-step how I built my Niche Site Empire up to a full-time income?
Yes! I Love to Learn
Learn How I Built My Niche Site Empire to a Full-time Income
How to Pick the Right Keywords at the START, and avoid the losers
How to Scale and Outsource 90% of the Work, Allowing Your Empire to GROW Without You
How to Build a Site That Gets REAL TRAFFIC FROM GOOGLE (every. single. day.)
Subscribe to the Niche Pursuits Newsletter delivered with value 3X per week