How Much Money Do Udemy Instructors Make?
When you buy something through one of the links on our site, we may earn an affiliate commission.
Wondering to yourself, "how much do Udemy instructors make?" Udemy is an online marketplace that's home to thousands of online courses that students can take around the world.
Udemy instructors are teaching diverse and varied topics from machine learning to positive psychology, Google ads for beginners, belly dancing, portrait photography, and more.
Instructors have a chance to build a community online, reach students and teach their knowledge and expertise to the masses while making money.
In this article, you'll learn:
How Udemy works
Tips for making money on Udemy
How much Udemy instructors make
If teaching on Udemy is worth it
Let's go!
What is Udemy?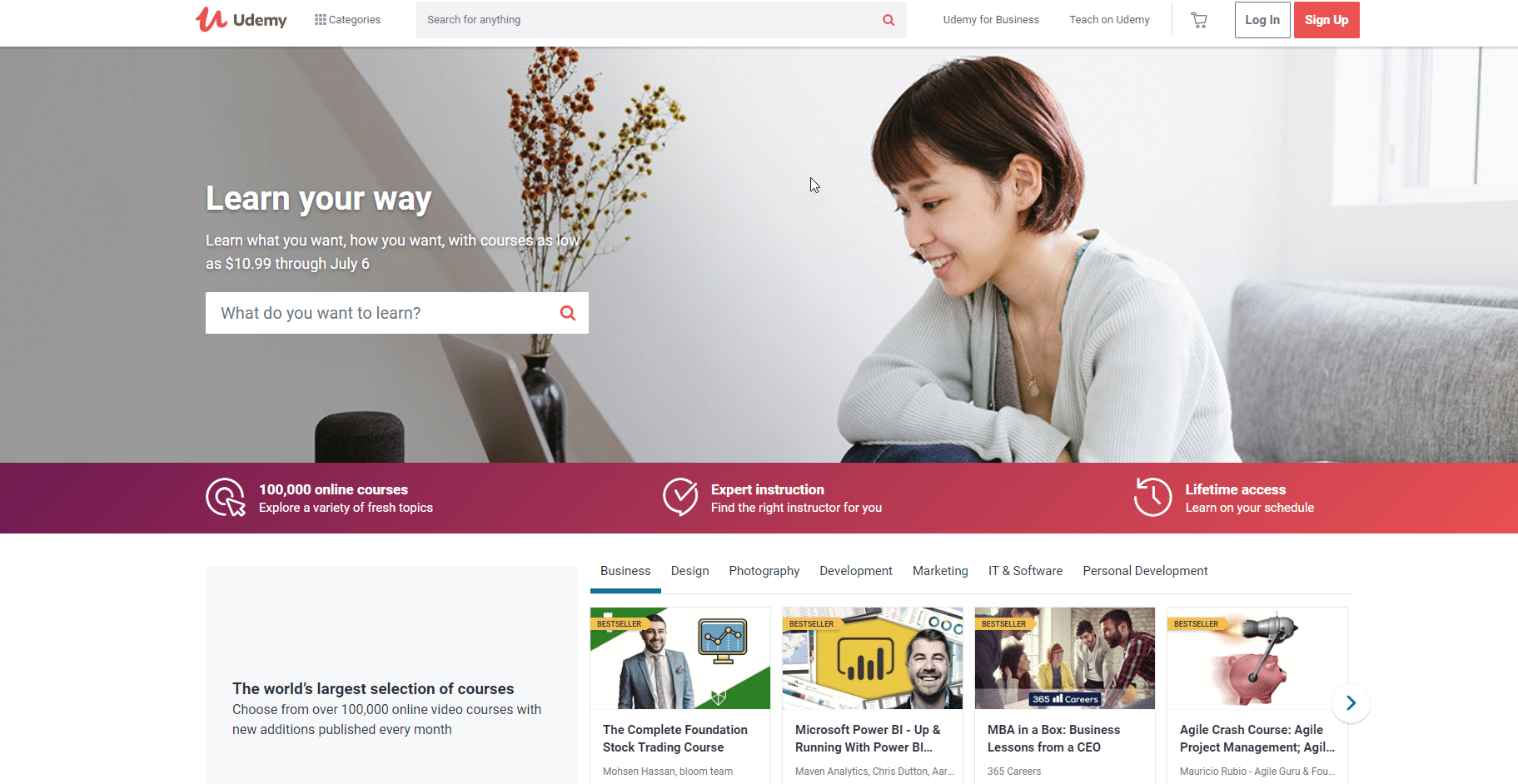 Udemy is an online course platform where students can buy digital courses a la carte to learn about virtually anything. The Udemy course categories are broad and include:
Development
Business
Health and fitness
IT and security
Finance and accounting
Lifestyle
Each category can branch into up to a dozen or more subcategories of online courses.
The opportunity exists to learn a skill and gain education around a specific topic like how to use Blender under the topic Design or learning the skill of technical writing under the category Marketing.
For students, it's a neat way for them to increase their knowledge and understanding of a topic. Sometimes the knowledge gained is enough to start a full-time career, like learning social media management to go on and start a social media management business.
For instructors, teaching what you know with online courses is a rewarding plus. As a Udemy instructor you get benefits like:
Building an audience
Developing your reputation online
Making money teaching
Teaching can be a side hustle or a full-time endeavor for instructors.
How much do Udemy instructors make?
Wondering how to make money on Udemy? Some instructors have shared their stories on exactly that.
Top instructors have earned over $1 million teaching on Udemy, like this Udemy instructor who celebrated this milestone with the instructor community.
The amount instructors earn will vary.
According to Glassdoor, the average Udemy instructor salary is just over $60,200/year.
If you do a quick search online, you'll find instructors making from $200/month as a new instructor up to $17,000/month or more, like Louise from this article.
Visit the community section of the site where you can interact with other instructors and view real salaries others are making like this discussion thread from instructor Rahul Iyer who has made over $250,000 on Udemy.
Top instructor Rob Percival has taught millions of students and has made nearly $3 million. You can also check out the earnings other top instructors have made here.
Examples of how much instructors make on Udemy
It's easy to daydream about income potential as a Udemy instructor or see what other top instructors are making and envision that for yourself. But what are real instructors actually making on the platform?
Here are some real examples (with video) highlighting Udemy revenue from instructors.
Nick Nyxson on YouTube
Nick Nyxson reports his May 2021 Udemy income at just over $727 for the month. Here's his video income report:
Viking Dev on YouTube
Viking Dev's YouTube video shows he made $1,200 in monthly income from his Python course started in November 2021.
There are also plenty of conversations happening in the Udemy Instructor Community showing Udemy earnings from instructors, including these inspiring stories:
There's definitely a lot of money to be had on Udemy.
How do Udemy instructors make money?
Udemy instructors make money teaching online classes to students on the platform. To better understand how Udemy instructors make money and how their earnings are calculated, you have to look at the pay structure.
Udemy pay structure
Udemy pays instructors on a revenue share model.
Sales through instructor promotions: instructors get 97% of revenue
Sales not through instructor promotions: instructors get 37% of revenue
So in short, if Udemy is driving traffic to your courses through their marketing/promotion events, then you receive 37% of the sale and if the customer comes to you from your promotional efforts, you get 97% of the sale. So your Udemy earnings will vary based on the success of your marketing efforts.
What is Udemy Business?
Instructors can also make money through Udemy's Business program (learn all about Udemy's business model here).
This subscription-based program offers a collection of Udemy's top-rated courses to organizations around the world.
In the Udemy Business program, instructors make money based on learner engagement.
Udemy allocates 25% of monthly subscription revenue from Udemy Business customers as the instructor revenue pool.
Your share of income is based on the number of minutes consumed from your courses.
So considering instructor revenue across Udemy and Udemy Business, how much can an instructor expect to make?
The amount instructors earn varies a lot based on the number of courses they have on the platform, student engagement level, and other factors.
You can read more about Udemy Business here.
How to find out what other instructors are making
I learned about a freemium Google extension called Course Champ which gives you access to historical data across Udemy to spy on what other instructors are making. There, you can find out more about:
Estimated revenue
Enrollments
If you're curious about whether others are having a slow sales month or wondering why a competitor Udemy course is outranking you, using the Course Champ browser extension can help.
5 Tips for making money on Udemy
Making money on Udemy is not guaranteed. It takes more than creating a class, throwing it up on the platform, and sitting back and watching sales come in. It takes real work to achieve high Udemy earnings.
So, what do the best Udemy courses have in common? If you want to make money on Udemy, these 5 tips will help you get there faster.
1. Teach your best skills
First, teach your best skills to students.
Anybody can go online, pick a topic to research and make a course about it. What makes a top Udemy class stand out is that the instructors are knowledgeable and experts in the field. They can then bundle their expertise into a course to teach to others.
Think about your passions, hobbies, interests, expertise, and knowledge. Make a list of your best skills and that can be the foundation for creating a great Udemy course.
2. Use Udemy resources
Udemy wants you to succeed on the platform. They have resources available that you can use to make your courses the best possible to maximise your Udemy earnings.
What resources are available?
Teaching center
Instructor community
Udemy Help Team
Teaching Center
The Teaching Center has a wealth of information about creating and selling courses on Udemy.
You can browse the articles to get more information and learn about all the steps in how to build an online Udemy course like:
Course planning
Recording
Marketing your course
Instructor Community
The Instructor Community is the place to get inspiration and support from other instructors on the platform.
They have featured conversations where they spotlight champion instructors, community highlights, and an "Ask a Champion" thread where you can ask top instructors your burning questions.
Browse the community to get helpful information about things like the top microphone to use for recording, error code meanings, and more. They even showcase Trending, Top Liked, Latest, and Unanswered threads for easy navigation.
Check out the Instructor Community.
Udemy Help and Support
Lastly, Udemy's Help and Support Team is available to help with your questions that you can't find answers to on your own or through the instructor community.
You can also take advantage of Udemy's tools:
Test video
Marketplace insights
The Test Video tool gives you the chance to submit your video to Udemy for free feedback. It's like getting a free user test for your content! With such a golden opportunity, you want to use this.
Udemy's Marketplace Insights is another amazing tool that shares Udemy market data to help you create a great course.
Not only does Udemy Marketplace Insights tell you popular topics that are doing well on the platform but it will let you check topics for Udemy courses you're interested in teaching to view insights like:
Topic popularity
Student demand
Number of courses
Median monthly revenue
Top monthly revenue
For example, if you want to teach a course on stock trading, you can review the Udemy Marketplace Insights to determine if it's a good topic to create a course around on the platform and whether you want to pursue it or not.
Visit Marketplace Insights to check it out.
3. Invest in high-quality equipment
Planning and preparation go into creating an awesome video course. Choosing the right high-quality equipment is an important part of this.
This could mean investing in tools and equipment like:
A microphone
Backdrop
Decor pieces for your recording space
Don't skip out on this part. It's a crucial part of teaching a top-performing course.
4. Use a script
Your script will help guide you through the flow of your course. You're the expert and you know the material but using a script is beneficial because it will:
Keep you organized
Help you stay on track
Present the information in a smooth, polished way
5. Give away all your best knowledge
Give it all away in your classes and make your course curriculum and lessons as valuable as possible. Make your course engaging and rewarding for your students to take.
Udemy shares these 5 steps to create an engaging course:
Choose a course topic
Define your target audience
Figure out how students will put what they learn into practice
Set up an outline for your course
Use a script
Learn more about making engaging courses here.
Is teaching on Udemy worth it?
Yes, teaching on Udemy is worth it. You'll get to share your knowledge and expertise with the masses, teaching your best skills and getting paid to do it!
Common questions about selling on Udemy
Here are some frequently asked questions you might have about selling on Udemy.
1. How much does it cost to start selling on Udemy?
There's no upfront cost to you from Udemy to start teaching on the platform. It's free to become an instructor and sell courses.
Udemy gets paid based on the sales you make from your course. So, if you don't make any sales, you won't pay anything to Udemy. When you do make sales, they take a percentage of your sale.
This makes joining Udemy as a course creator a low barrier to entry side hustle. Anybody can be an instructor and use Udemy's tools and resources to create the best online classes around their subject matter to sell courses.
2. What percentage does Udemy take from instructors?
Based on whether your promotions bring students to your classes or Udemy's promotional efforts drive students, they will take 3% or 63% of the sale.
3. Who makes the most money on Udemy?
Udemy instructors that make the most money are those that create high-quality, engaging online courses in high-demand, low-supply course categories, or top instructors that have ruled the market in high supply categories.
This can be done if you follow some of the suggestions highlighted in this article:
Take your time planning and outlining your course
Use Udemy's free tools/resources to your benefit
Invest in high-quality equipment
Use a script in your video recordings
Teach your top skills
Don't be afraid to give it all away in your course!
Final word
Hopefully, this answers your question of "how much do Udemy instructors make?"
As you can see, the income from instructors varies widely based on the course topic, the number of courses taught, and other factors.
If you're thinking about adding an extra income stream, teaching on Udemy could be the right fit for you.
You'll like that Udemy has:
A low barrier to entry
No upfront fees
Generous course creator tools/resources to help you get started
Ready to take the leap? Visit Udemy to get started teaching your first Udemy course.
Visit Udemy Now
Want to learn step-by-step how I built my Niche Site Empire up to a full-time income?
Yes! I Love to Learn
Learn How I Built My Niche Site Empire to a Full-time Income
How to Pick the Right Keywords at the START, and avoid the losers
How to Scale and Outsource 90% of the Work, Allowing Your Empire to GROW Without You
How to Build a Site That Gets REAL TRAFFIC FROM GOOGLE (every. single. day.)
Subscribe to the Niche Pursuits Newsletter delivered with value 3X per week