7 Steps to Making Money on Udemy
When you buy something through one of the links on our site, we may earn an affiliate commission.
You're thinking about teaching online and you want to figure out how to make money on Udemy. The online learning industry is worth over 250 billion dollars! And, it's growing faster than ever, projected to grow by over 21% through 2027.
More entrepreneurs are turning to online teaching to educate their audience about what they do, how they do it and teach how their students can do the same.
Here's what you need to know about how to make money on Udemy.
What is Udemy?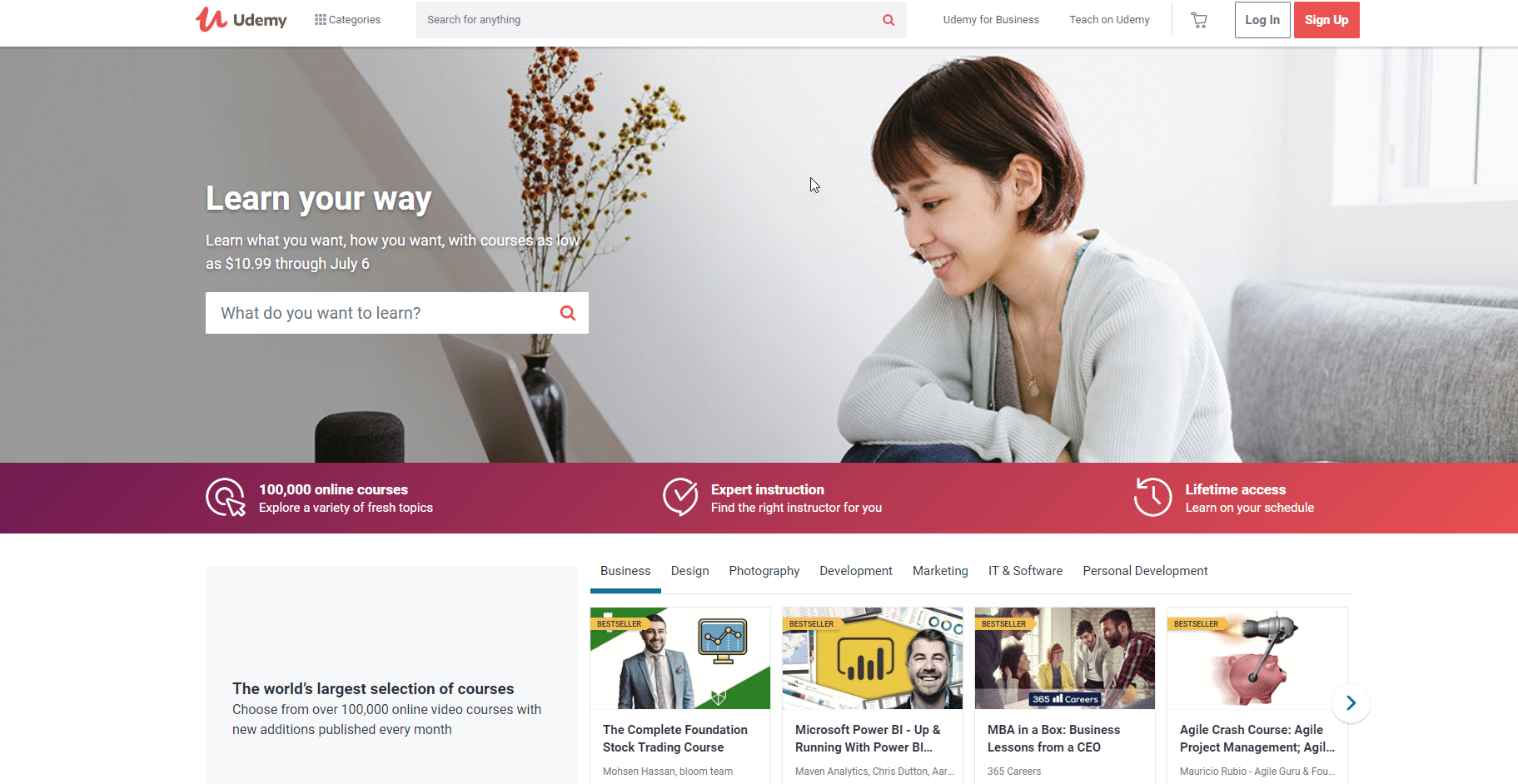 Udemy is an online learning platform home to more than 180,000 classes and over 40 million students. Teachers come to Udemy to find their audience and teach what they know best to the masses.
Students come to Udemy to learn, on a variety of topics like watercolor painting, French language, 3D modeling, Pinterest affiliate marketing, and other subjects.
You can think of Udemy as the Amazon of online courses.
Students can learn about virtually anything on the platform and at a fraction of the cost of taking an in-person course at a college or university.
You can find classes ranging from $15 to $250+ available instantly as soon as you purchase.
For teachers, it's a great opportunity to attract a large audience to their course and make extra money online as an instructor. Plus, it can be passive income and a lucrative way to make a full-time income.
Here's more info on how much you can make on Udemy.
How much money can you make on Udemy?
Udemy teachers are making millions per year! Like Louise, a serial entrepreneur who makes $17,000 per month teaching on Udemy, or Rob Percival who has made over 2.8 million dollars in total revenue teaching more than 2 million students!
In fact, Udemy shows their top teachers here, with lifetime earnings between $650,000 up to 2.8 million dollars!
Online learning is a lucrative industry and the numbers prove it.
You will love how transparent Udemy is with sharing course creator revenue. It provides eye-opening insights that many current and prospective teachers are interested in knowing.
High demand, low competition online course topics
Discover what the most popular online course topics are, to give you some insight on what categories are in-demand and highly sought after.

Their marketplace tool will show you the most searched keywords students are using.

Plus, you can research to see how saturated online course topics are before you begin outlining your Udemy courses.
For example, this is how competitive the photography topic is:
You can see that it scores high in student demand which is good, but there's also a high number of courses being taught in this subject, which indicates that it might be saturated. Top monthly revenue is over $13,000/month with a median monthly income of $36.
The income potential as a course creator on Udemy is high, with top instructors making over one million dollars per year.
7 Tips on How to Make Money on Udemy
To get started fast, check out these 7 tips on how to make money on Udemy…
1. Research your course topic
After you've decided to give course creation on Udemy a try, the first step is to research your online course topic. This is figuring out what kind of online course you'll build on Udemy.
Use Udemy's resources
Udemy has a ton of research tools available to you so you can pick the right topic for your online course:
Udemy Teaching Center
Marketplace Insights
Free video feedback
The Udemy Teaching Center has it all. It provides free tools and resources to help you through every step of the course creation process from planning to publishing and marketing.
You'll learn about how to define your audience, how to script your videos, check video quality, edit, market, and more.
Marketplace Insights will let you check how competitive your course topic is along with the income potential. Free video feedback is also available to all instructors who want to provide their videos to Udemy for a free critique.
Take advantage of these resources as you start research on your course topic.
2. Consider your skillset
When planning and mapping out your online course content, think about your skillset.
What are you good at? What's your expertise? Where do you shine?
Use these skills to your benefit when building your course.
For example, if you love being on camera and you're confident speaking about what you know, make that at the heart of your courses.
Or, if you're strong in marketing, use those skills to promote your online course like crazy when it's ready to be marketed.
You don't have to be good at everything. The important thing is to take those skills that you've mastered and use them while building your online course on Udemy.
3. Use quality equipment
High-quality equipment is important to use when filming your video course. It's something often forgotten but it makes a difference.
Some simple tweaks could make a major difference in the quality of your video and audio.
For example, Udemy recommends these tips when recording your audio:
Use an external microphone
Check your audio early on to avoid re-recording everything at the end
4. Outline your course
If you prepare a complete outline, it just makes the course creation process easier. You can use Udemy's free course outline template or make your own.
Provide value and give away all your knowledge
Fill your course with all the knowledge you have on the topic. Give it all away and aim to make your lectures as valuable as possible.
When it comes to outlining your course, the main things you want to consider are to have a beginning, middle, and end.
The introduction will have:
An introduction to your course
Instructional lectures
An engagement activity
The middle will have:
Sections
Lectures
Activities and/or assessments
Materials for reference
The conclusion will have:
Your final lecture
Bonus section (optional)
Udemy will give you a lot of flexibility when you create your course content. They support video and text-based lectures, quizzes, assignments, practice tests, and other exercises.
5. Use a script
Using a script in your course when filming video is beneficial because:
You will be more prepared
Videos will sound professional and well-organized
Your delivery will be smooth
Make high quality, scripted videos
A lot of things can happen when the camera turns on, including turning a confident course creator into a nervous speaker.
If you have a script, even if you're nervous, the delivery will be a lot better, you'll have talking points, and a script can keep the course flowing in a nice, organized manner.
Here are some of Udemy's best tips for using a script:
Keep it simple
Share definitions or acronyms that will be used in the course
Use this structure for lectures: "Tell them what you're going to tell them, tell them, then tell them what you told them."
Include diverse stories and examples to engage with your audience
Practice your tone to ensure it's approachable and friendly
Have enthusiasm when you introduce yourself to show passion in the topic you're going to teach
This is about marketing. If you have an existing audience, share your Udemy course with them, wherever they hang out online: Google, Facebook, Twitter, Reddit, your email list, etc.
Write an SEO-friendly blog post to publish online
Share an announcement on social media
Email your email list
7. Promote your course
Lastly, promotion goes along with #6, marketing. This should be done before you publish, during, and after your course is live on the Udemy marketplace.
A big mistake some Udemy authors make is skipping the promotion/marketing.
They think that having their course on Udemy's huge marketplace is enough to get them exposure. Maybe it can, depending on the course topic but the truth is, marketing can amplify the results even more, regardless of if you're already getting attention on Udemy or not.
What are some ideas to market your course?
Here are some tips for marketing your Udemy course:
Offer promotional coupons or discount codes
Share a video preview of your course
Consider creating a website for yourself to help promote your course
Add a "buy now" button to your website
Create awareness in online communities by posting on social media
Engage in communities around your course topic like Reddit or Quora (check out our guide on how to earn from Quora)
Network in person
Promotional coupons and discount codes are a great introductory offer to your first customers who buy your course. It's an early bird incentive that a lot of people support.
Sharing a video preview of what's inside your course is great to show a behind-the-scenes look at what customers can expect to learn from your curriculum. Getting this sneak peek can give them the push they needed to commit to buying.
Next, while a website isn't required for course selling, it can help. It's a good promotional tool in many ways.
You create content to support your course and rank in Google for traffic-building. And, if you add a "buy now" button which Udemy recommends, it's an added opportunity to get more students to enroll in your course.
Take advantage of social media for community building
Social media is one of the best places for community building. People flock to networks like Facebook, Twitter, Instagram, and others for, community.
They can hang out with their peers online and learn about what's important to them. It's the perfect place to connect with your audience and share your course as a resource to learn more about the topic you're teaching.
Quora, Reddit, and other communities are also where your audience might be hanging out and these places shouldn't be ignored. They are tight-knit communities and while it may be difficult to get "in" with the regulars right away, if you keep at it, it'll pay off in the long run.
Is it hard to make money on Udemy?
Making money on Udemy is definitely within reach for new teachers wanting to sell courses. You'll get exposure on a platform where over 100 million monthly visitors land every month.
But, it's not as simple as creating a course, sitting back, and watching the sales come in. That's why simply knowing how to make a Udemy course isn't a guaranteed path to success.
The low barrier to entry for joining Udemy as a teacher is both an advantage and a drawback. The competition is fierce and Udemy is review-driven which can present challenges for new teachers starting.
So yes, it can be hard to earn money on Udemy and hit your financial goals but, there are things you can do to overcome this challenge:
Use Udemy's resources
Pick a high demand, low competition course topic that's worth teaching
Create high quality scripted videos that are better than the other courses on the subject
Give away everything you know in the course
Do marketing on social media and your own website
Ask for, and get, good reviews.
How much money can a beginner make from Udemy?
New Udemy instructors can make money starting out, even from month 1.
If you type "how much money can a beginner make from Udemy," into Google, you'll get mixed results but we found a few examples to share:
This instructor made $42.83 in her first month
The first two months made this instructor around $1,058 of extra income
The income potential in your first few months as a new Udemy instructor varies based on many factors like the size of your existing audience, your course topic, and the marketing power behind your promotional efforts.
You can see from the above examples, that around $50 to $500 per month of passive income is possible for new Udemy instructors but, the potential can be even more money!
Final thoughts about how to make money on Udemy
Selling courses on Udemy is a passive income stream to make extra money online that can work for many people. It can be fulfilling to connect with students and teach a topic you're passionate about to an audience eager to learn.
Plus, it's beginner-friendly!
If this is something you're curious about trying out, I encourage you to go for it and become a Udemy instructor. The only thing you'll be risking is your time but, I think the risk is worth it. This could turn into a successful project that replaces your day job, turning a full-time income like many of the instructors shared above.
Would you teach on Udemy?
Click here to join Udemy to get started
Want to learn step-by-step how I built my Niche Site Empire up to a full-time income?
Yes! I Love to Learn
Learn How I Built My Niche Site Empire to a Full-time Income
How to Pick the Right Keywords at the START, and avoid the losers
How to Scale and Outsource 90% of the Work, Allowing Your Empire to GROW Without You
How to Build a Site That Gets REAL TRAFFIC FROM GOOGLE (every. single. day.)
Subscribe to the Niche Pursuits Newsletter delivered with value 3X per week