How to Get Paid to Talk to People: 13 Creative Ways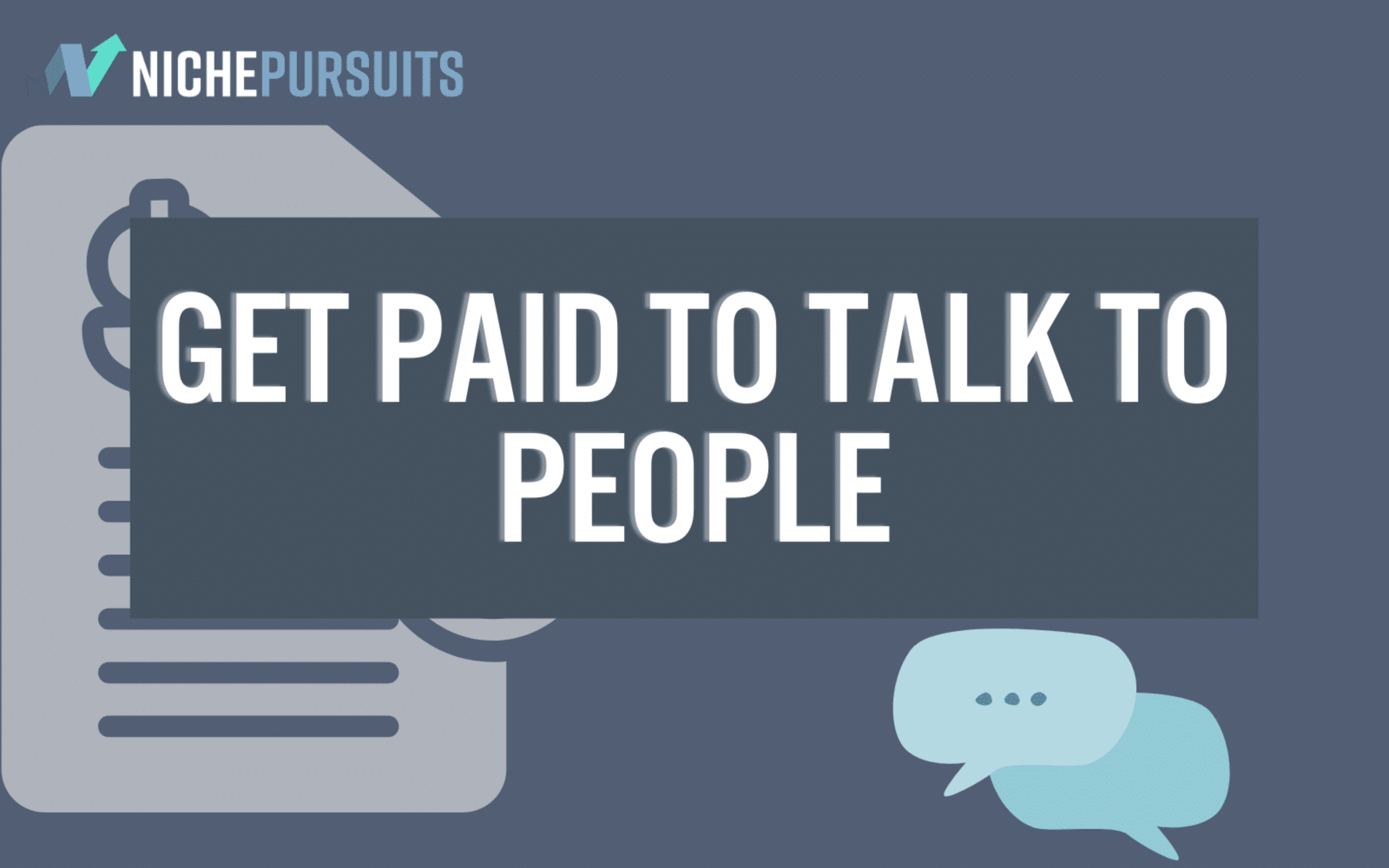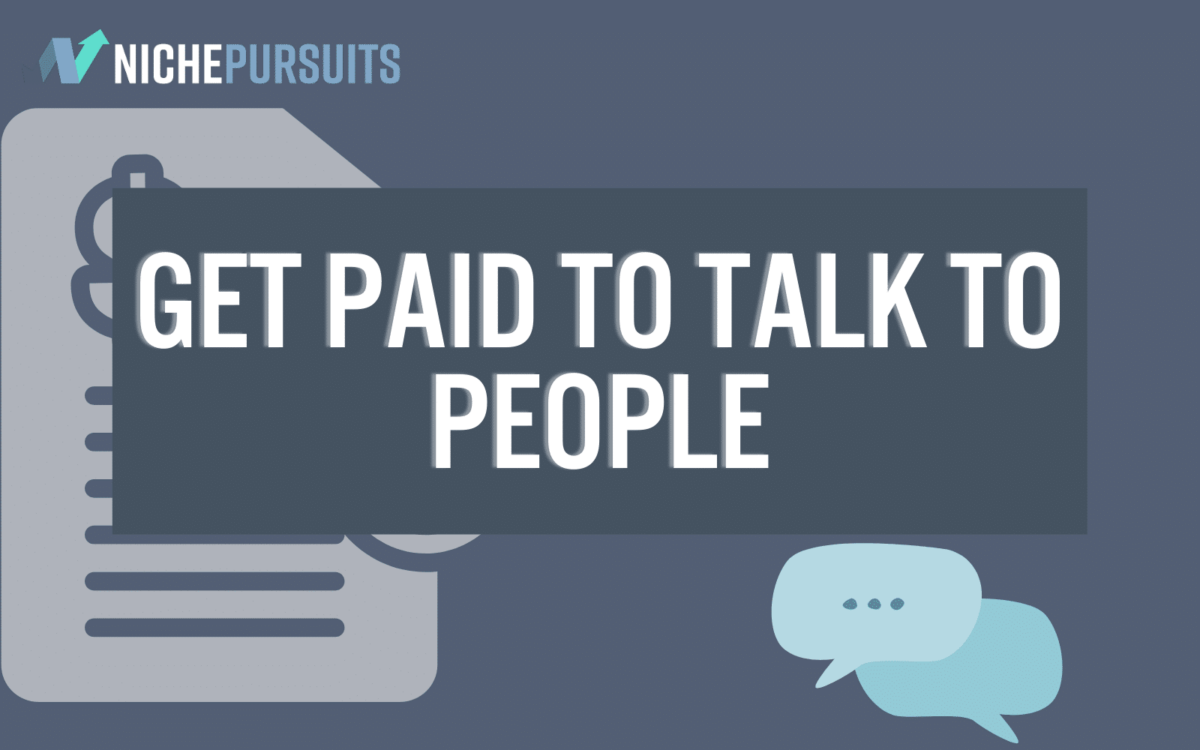 When you buy something through one of the links on our site, we may earn an affiliate commission.
If you're a conversationalist and like talking to others, you might be wondering how to get paid to talk to people. The truth is, there are plenty of websites that will pay you to talk to others.
Whether you connect with lonely people who just need an online friend to chat with for virtual companionship or you talk to someone who just likes talking, there are many opportunities where you can safely talk to others online.
This isn't affiliate marketing, MLM, or direct sales. It's truly about getting paid to talk as a chat agent, webcam host, or phone services operator.
In this article, you will read about 13 websites that offer this opportunity to get paid to talk. I'll cover what the website is about, how it works, income potential, and more.
Let's go!
How to Get Paid to Talk to People
Today, you can get paid online for a lot of different things, including talking to lonely people.
People get lonely. They long for a human connection. But sometimes they're too busy to make friends or connect with others so paying to talk to someone is a good solution for them.
For you, if you enjoy talking and have good communication skills, this is one of the easy ways to make extra money in your spare time.
Each website differs a little. Some offer text message chats, others offer phone conversations or webcam viewing. You can choose your favorite sites to use, joining one or more to get paid to talk to people.
1. Rent a Friend
This site, Rent a Friend, is just what it sounds like. Someone who needs to "rent a friend" to attend an event or gathering with or might just want the company of an online friend will turn to this site to connect with people like you.
People use Rent a Friend for things like:
Wingperson
Amusement park
Dinner
Arcade
Hot air balloon
Going to the park
Skiing
Parties
Meet friends
This site is worldwide, connecting "friends" from around the globe. They also offer virtual friend services to talk on the phone, FaceTime, or Zoom.
How Does it Work?
To make money as a "friend," you'll visit this page to sign up for free. You can get paid up to $50 per hour plus free meals, free sporting events and accommodations, and more, based on the event you're attending.
After you sign up to join and get approved, you can set up your profile and when members search for "friends" on the site, they can hire you. You'll be able to negotiate prices, talk about and plan the event, meet up, and get paid to chat.
Visit Rent a Friend to start
2. Papa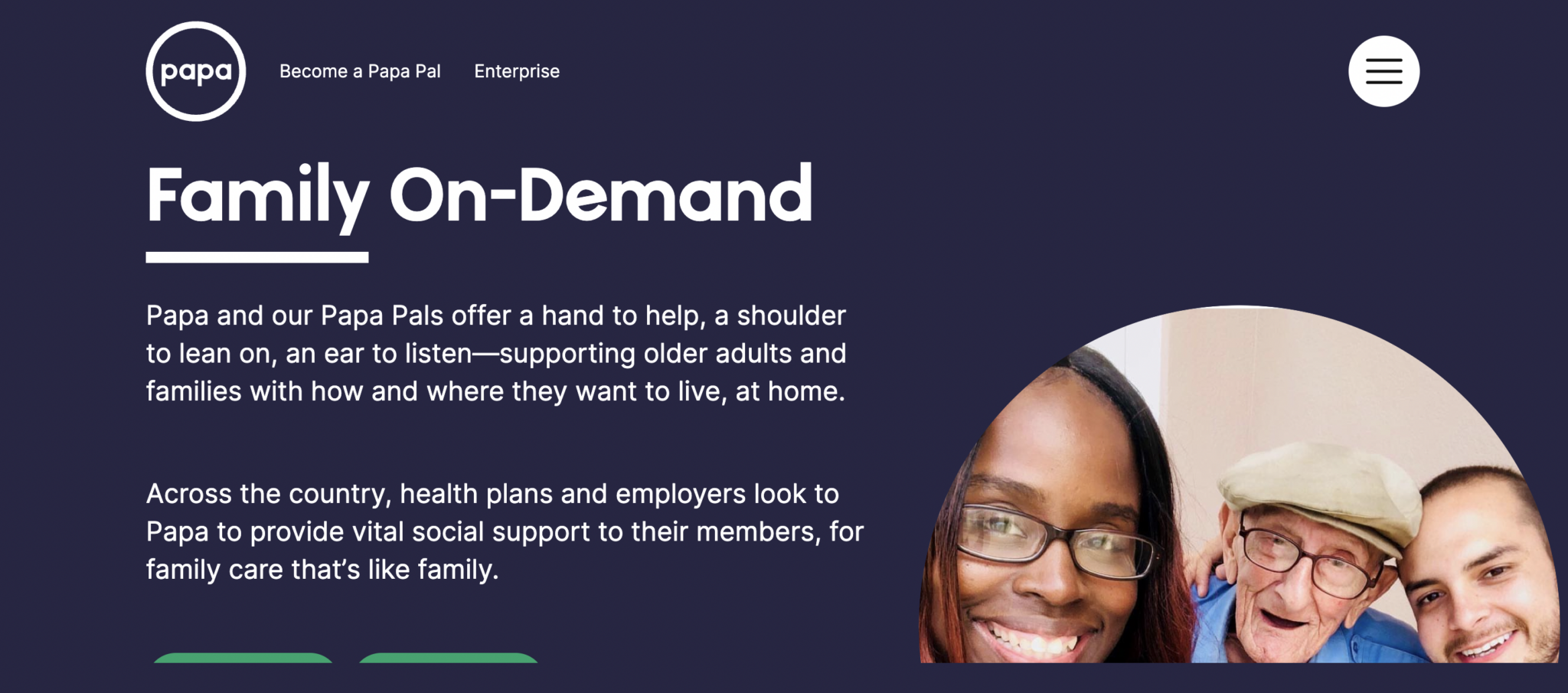 Work as a Papa pal and be a good listener and a pal to someone. Papa connects their members with pals so they feel less lonely and have overall better wellbeing.
How Does it Work?
You can work the hours you want with no cap on how much you can make.
Top Papa pals make up to $3,000/month talking.
You can earn:
An hourly rate
Bonuses
Mileage
Papa is unique in that it's not just limited to working from home as some of the other sites on this list.
In addition to work-from-home opportunities like talking on the phone for companionship, there will also be in-person jobs available.
The kinds of jobs you'll do might include:
Car rides
Grocery shopping
Companionships and conversations
Picking up medication
Drive to appointments
House tasks like laundry or meal prep
Judging from the website photos, it looks like the work you're doing might be geared toward working with the elderly, at least in part.
So, in general, your role will be to help with errands that might be difficult for older adults or chat with them for friendship and human connection.
There are a ton of perks associated with a job like this:
Meaningful, rewarding work
Resume perks
Work the hours you want
Unlimited income potential
Once you join, you can use the Papa pal app to find visits near you, complete tasks, add feedback, and get paid to chat!
Join Papa to start
3. FriendPC
You can become a "virtual friend" with FriendPC, connecting with others to make friends and connect online. Some of the objectives include:
Virtual friend
Virtual girlfriend
Life coach
Virtual gamer
How Does it Work?
It's free to join FriendPC and create a listing. For multiple listings or a feature, you'll pay a monthly membership fee ranging from $3/month to $10/month, based on your needs.
FriendPC shares that you'll get paid 90% to 95% of your earnings from bookings. You will work as an independent contractor, working the hours you want from home as an online friend.
They will help you build your virtual friend business, making up to $1,000/month or more. This can be an option when you're looking for how to make money online without paying.
Visit FriendPC
4. Phrendly
Phrendly is dedicated to online flirting and online relationships with real people through phone calls, text, and video chats. It's kind of like online dating but you won't meet in person, it's completely virtual and you'll connect with lonely people.
How Does it Work?
You'll get paid to have discreet, private conversations with Phrendly users from your phone or computer. You get paid to talk to people through sharing "drinks." These "drinks" have cash value.
You also earn a percentage of your interactions with friends. Once you earn at least $10 in your balance, you can cash out.
Visit Phrendly to learn more
5. Fibler
Fibler pays you to have expert video consultations and coaching, including group coaching, with your clients.
If you have knowledge and expertise around a topic, then this could be a lucrative way to get paid to talk to others online.
How Does it Work?
First, you will apply online to join Fibler. Then, your profile will be verified for your expertise. You will set your consultation fees/rates and schedule. Lastly, you can share your profile link with your clients and on your social networks and start making money online.
Fibler offers a mandatory rating system that helps users find quality experts to work with on the platform.
Good ratings speak to your credibility and quality of service. They help you book more clients and get more exposure to Fibler. The rating system is based on a five-star framework where one star is the poorest rating and five stars is a perfect rating.
On Fibler you will make money per second on the minute rate you set for your call and message rate you set for chats.
People are a fan of Fibler for their:
Privacy
Exclusivity
Simplicity
Flexibility
One-click consultations and videocasts are available. You can instantly update your availability and rates, and manage your payment effortlessly.
Here's a closer look at the platform:
Visit Fibler
6. Premium.Chat
Premium.Chat allows you to make money through online chat, voice calls, and video calls with your clients, fans, and followers. It's like running your own premium chat service where you can connect with clients and customers.
How Does it Work?
If you have a fan base online, you can monetize it with Premium.Chat. You can start quickly with no setup costs when you join.
Premium.Chat will:
Connect you with new customers
Handle your billing
Offer a platform to work with your clients via text, voice, and live video chat
This is a global service catering to many paid chat services in various industries like:
Content creation
Consulting
Coaching
Entertainment
Entrepreneurship
Sports medicine
Mental health
Tutoring
Teaching
You'll have the option to offer more than one chat topic, setting different prices for each topic based on your skillset and expertise.
Premium.Chat operates on a web browser. You won't need to download software or use an app for services.
Thinking about getting into coaching or consulting? This is an option to monetize your expertise, offering various services that you can promote with your own Premium.Chat link on your social media.
Check out Premium.Chat
7. Chatrecruit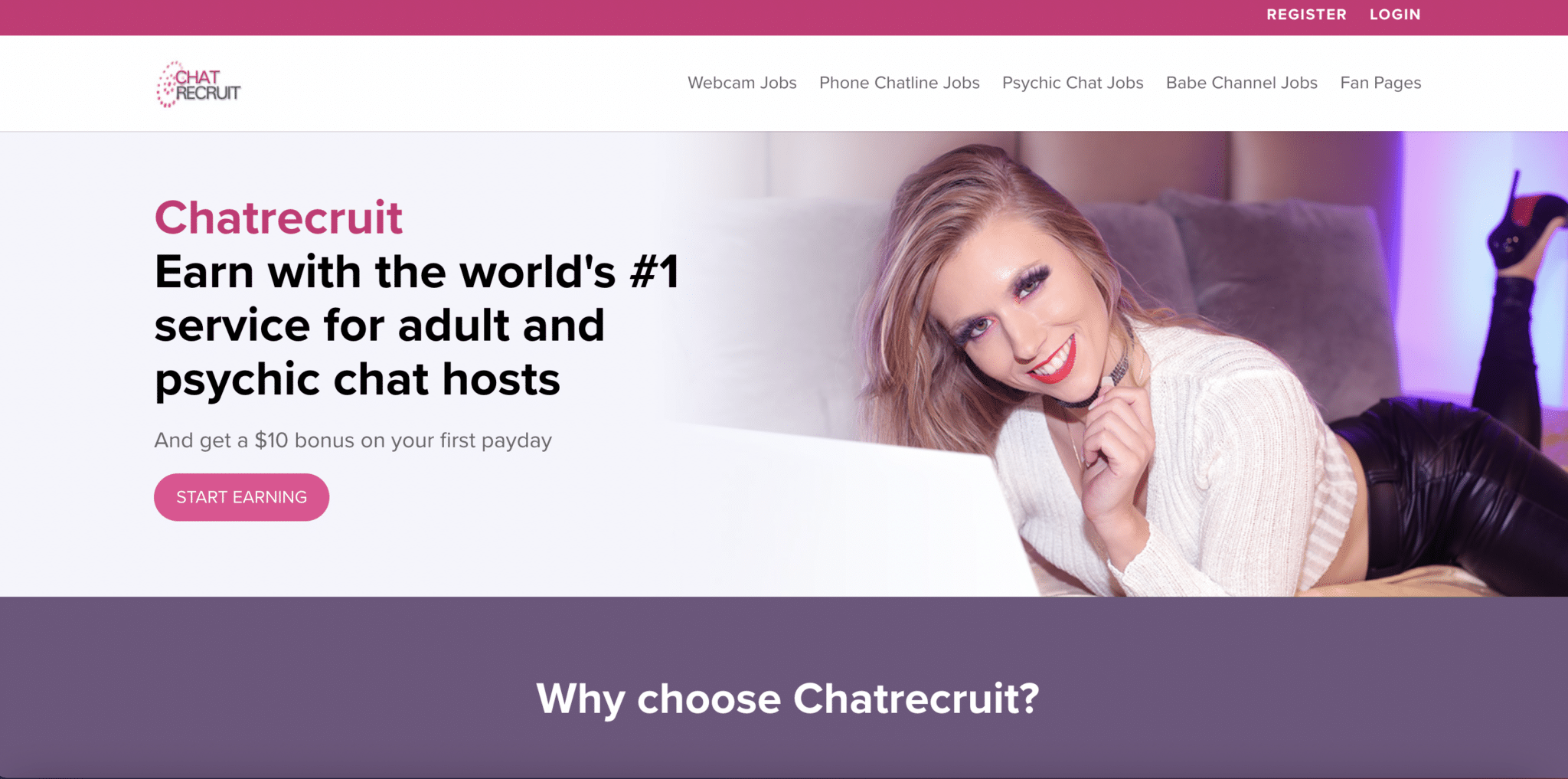 Chatrecruit gives models a chance to make money online through phone chat, psychic chat, online chat, and webcam conversations.
How Does it Work?
If you're looking for how to make money talking, Chatrecruit can help:
No experience required
No fees to join
Work from home or on the go
Get a $10 bonus on your first paycheck
Chatrecruit has paid out over $30 million to their models with top models earning $100,000 per year!
Phone chatline jobs require you to have:
A quiet space to work
A phone
An engaging personality
Psychic chat jobs require:
Psychic ability
Motivation
Confidence
The adult TV and webcam jobs require:
Models aged 18 to 34 years old
Glamorous, well-kept appearance
Confidence and a strong communicator
Webcam
Strong internet connection
A place to work
There are many options to make money and get paid to chat with Chat recruit!
Visit Chatrecruit
8. Rent a Cyber Friend
This social-based site models itself after a pen pal program, but for the digital age. People that are trying to make real connections and make friends online turn to Rent a Cyber Friend.
How Does it Work?
Becoming a cyber friend can be an option for making some extra cash on the side. You will talk to "friends" over a video call, making money per minute of your conversation as an online friend.
You can work anywhere worldwide and get paid to chat as long as you are at least 18 years old and have a strong internet connection and camera.
Check out Rent a Cyber Friend
9. Lip Service
At Lip Service you'll work as a virtual operator. You make money having conversations with Lip Service users. They say they pay one of the highest talk time rates in the industry.
As long as you meet these qualifications, you might be a fit for working with them:
Must be 18+ years old
U.S. or Canadian resident
Great voice and personality
Reliable
Own a working PC or Mac with reliable access to the internet and email
Dedicated landline or high-quality cell phone with headset
How Does it Work?
To apply, you'll complete a pre-application to see if you qualify and get a reply back within 72 hours to start the application. This is open to U.S. and Canadian residents.
Learn more about Lip Service
10. FlirtBucks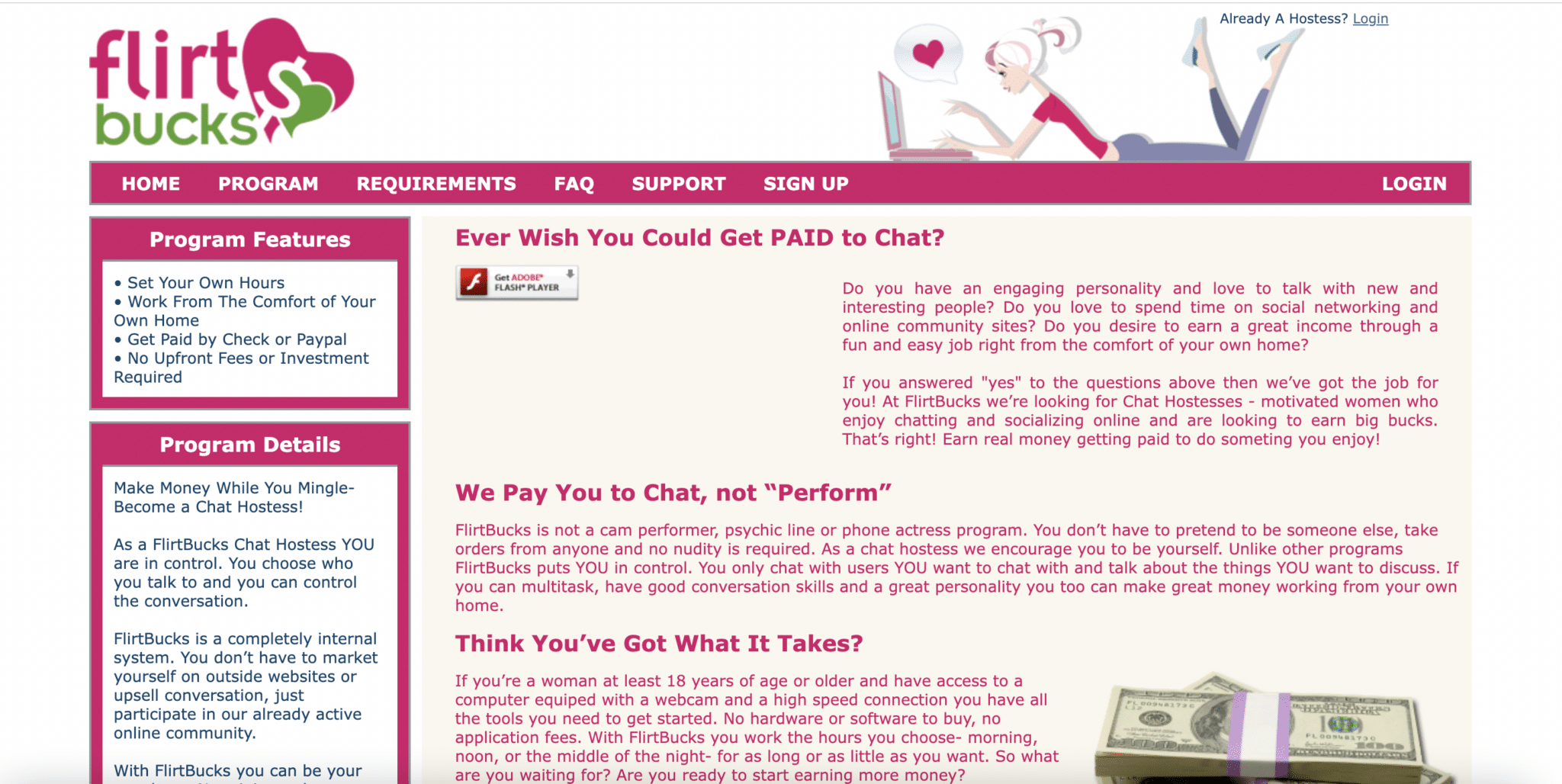 At FlirtBucks you can make money chatting as an online chat host. They encourage you to be yourself and showcase your engaging personality while talking to new, interesting people.
This is truly a chat job and not a web performance job like some of their competitors offer. To qualify, you should meet these qualifications:
18+ years old
Computer access with webcam
High-speed internet
How Does it Work?
There are no fees to sign up and no special equipment needed. You can work the hours you want and this opportunity is open to people in the U.S., Canada, UK, and Australia.
Visit FlirtBucks to learn more
11. MyGirlFund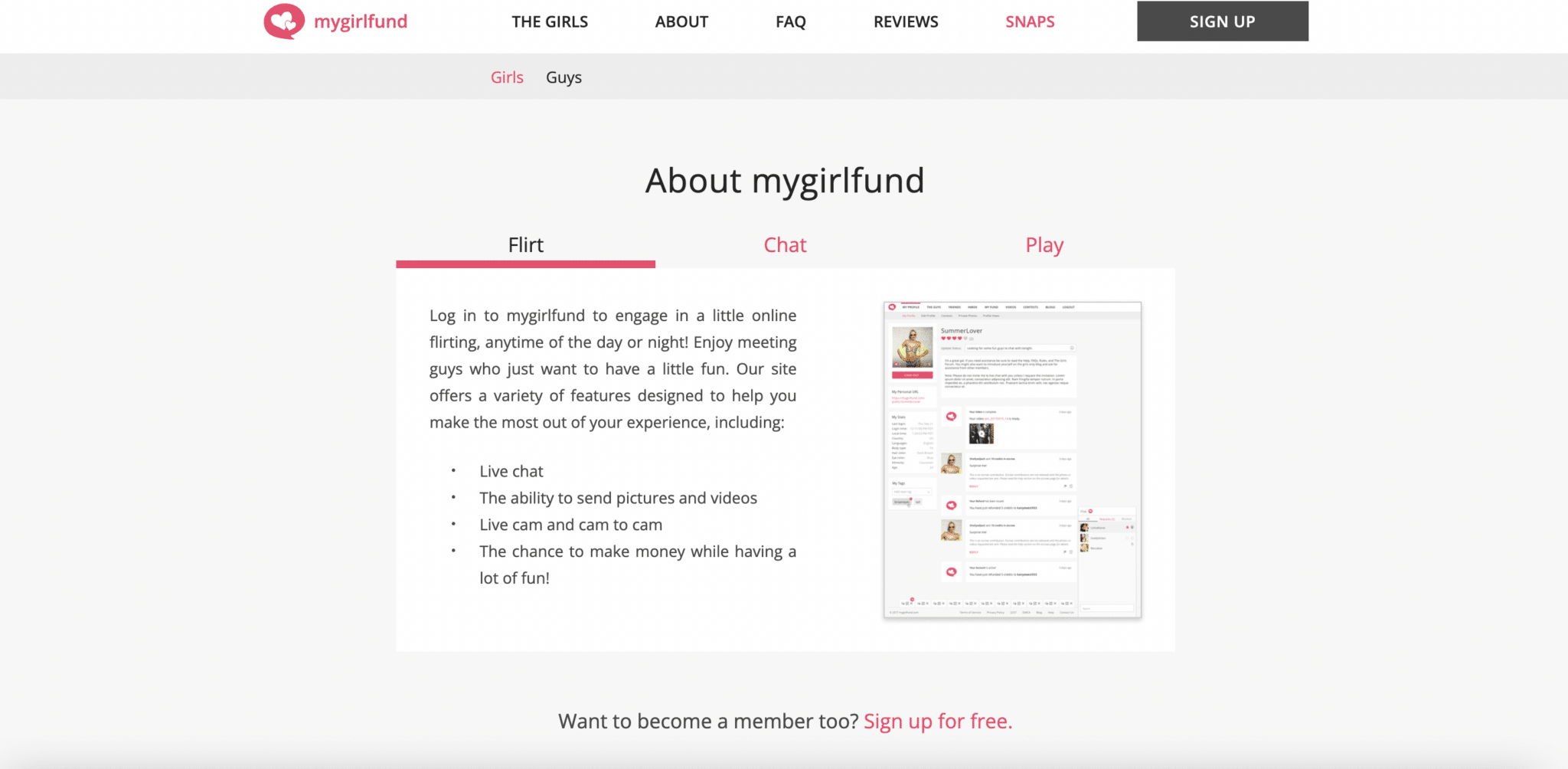 MyGirlFund calls itself a VIP room for chatting with women around the world. You work as a virtual girlfriend, connecting with MyGirlFund users online.
How Does it Work?
You will make extra cash flirting with users online.
Live chat
Live cam
Text chat
Recording videos
Uploading photos
There are three ways to interact and get paid to talk to people on MyGirlFund:
Flirting
Chatting
Playing
Flirting is about engaging in online flirting activity. This might include live chat, sharing photos and video, and live cam or cam to cam.
Chatting is about online flirting through text message chat. This might include text chat, private cam show, and cam to cam.
Playing is private, one-on-one interaction where you can engage in a more intimate setting. You might share videos or photos online.
There are no fees to sign up, but there is a service fee you pay to MyGirlFund. The fee comes from your paycheck. The idea is for users to help contribute to your "fund," which is a personal goal you're working toward, like paying for college, raising money for a trip, etc.
Check out MyGirlFund
12. Text121Chat
Text121Chat pays you to text chat. The jobs they hire for are:
Operators
Bilingual operators
Adult phone services
How Does it Work?
Operators and bilingual operators make money texting from home on topics like tarot, trivia, adult, clean SMS, and more. Adult phone services are operators that talk on the phone, engaging in adult conversations.
The requirements include:
High-speed internet
Computer literacy
Access to Adobe Acrobat Reader
Headphones with the ability to accept calls over VOIP (for phone service operators)
Good, clear speaking voice and strong communication skills (for phone service operators)
Depending on the position you apply for, you'll get a response back within 1-5 days.
Check out Text121Chat
13. Fiverr
Fiverr is a gig marketplace that you can join to sell a variety of services including talking to lonely people. You can get really creative with the kinds of virtual companionship gigs you offer talking to people.
Here are some examples of gigs:
You can offer services for:
Online chat
Voice calls
Video chats
Webcam videos
How Does it Work?
Fiverr is free to join. After joining the site, you can set up your gigs including writing a description and setting your price.
When a customer buys your gig, you will fulfill the order, and Fiverr pays you. Fiverr takes their fee out of your paycheck.
You will learn what kinds of services to offer and pricing by scoping out the competition to give you some inspiration on how to create your own gigs.
Visit Fiverr
Can I Make Money Talking to Strangers?
Yes, you can make money talking to strangers. All the websites shared above are opportunities to earn money online talking to strangers, whether you're having a phone conversation or doing a webcam chat.
Where Can I Chat and Get Paid?
If you're looking for chat jobs over the computer or text to get paid, many of the companies above offer this option. Companies like Premium.Chat and Chatrecruit are examples of websites that pay you to chat.
Get Paid to Talk to People: Frequently Asked Questions
Here are some common questions you might have about how to make extra money talking to lonely people.
1. Can I Get Paid Talking to Strangers?
Yes, you can get paid talking to strangers. In fact, most or all of the jobs in this list will involve you talking to people you don't know.
You will have the option to talk on the phone, web chat, text, video chat, or webcam with strangers, making money for your time, working from home.
2. Can I Get Paid to Listen to People's Problems?
Yes, you can get paid to listen to people's problems. You will meet new and interesting people, many of which are lonely men and lonely women just looking for a friend to listen to their problems.
If you're a strong communicator and an excellent listener, this might be the perfect job for you.
3. Is it Possible to Make a Full-Time Income Talking to People?
Yes, it's possible to make a full-time income talking to lonely people. Some of the websites like Chatrecruit even report their top workers making six figures per year!
Whether you choose one website to focus on or join multiple sites to make the most money possible, there is an opportunity to make a full-time income.
Get Paid to Talk to People: Is It Worth It?
This wraps up our roundup of websites that show you how to get paid to chat and make money talking to people. There are many options available for you to get paid to talk to people, from texting, live chat, webcam, and video calls, to phone calls.
These jobs will have rewards beyond earning money chatting online. You'll get the chance to make a difference in people's lives, connecting with lonely people, forming a virtual friendship, being a good listener, and being a cyber friend to your clients online.
Plus, you'll get to work from home or work on the go, and choose your own hours, making good money online.
Which website will you be starting with?
Want to learn step-by-step how I built my Niche Site Empire up to a full-time income?
Yes! I Love to Learn
Learn How I Built My Niche Site Empire to a Full-time Income
How to Pick the Right Keywords at the START, and avoid the losers
How to Scale and Outsource 90% of the Work, Allowing Your Empire to GROW Without You
How to Build a Site That Gets REAL TRAFFIC FROM GOOGLE (every. single. day.)
Subscribe to the Niche Pursuits Newsletter delivered with value 3X per week