Drupal vs WordPress: How to Choose the Best CMS Platform For You
When you buy something through one of the links on our site, we may earn an affiliate commission.
In truth, there is no clear winner in the Drupal vs WordPress debate.
Since WordPress's evolution from just a blogging platform into a full-on content management system (CMS), there have been advocates on both sides.
That said, choosing between them comes down to picking the right tool for the job. Depending on what you are looking for in a CMS, chances are that one will be more likely to meet your needs or offer a better experience than the other.
If you're not sure which CMS platform is the best option to build your website, carefully consider what your goals are for your site and what you need in order to accomplish them.
Here are some factors to keep in mind when comparing Drupal vs WordPress:
Consider third-party tools. It's worth noting that a good CMS on its own might not be able to provide everything you need for your site. If you need to integrate third-party tools then check how compatible they are with your chosen CMS.
Visitor engagement. What do you want your site to look like? What would you like the user experience to be? Do you need to restrict access to any content? Are you dealing with multiple kinds of content?
Team management. Will you be working on the site solely by yourself or do you have a team that needs access? If you need to provide access for multiple people, consider whether there need to be any restrictions in place for certain users.
Future-proofing. Both WordPress and Drupal are fairly future-proof solutions. However, you need to also consider your own website and how you plan to grow. Will one afford more opportunities for scalability than the other? How global is your customer base and how easy is it to provide support for different countries?
Drupal vs WordPress—What's the Difference?
Between the two of them, WordPress and Drupal account for over 67.1% of the CMS market share. However, the more impressive statistic is that 65.1% of that comes from WordPress.
That's because WordPress is used by more than 40% of websites online. That's nearly half of the internet.
Drupal was first launched in 2000, three years before WordPress, but hasn't seen the same amount of growth as its competitor. In fact, Drupal accounts for only 1.3% of websites online that are monitored by w3techs.com.
It'd be easy to assume that the discrepancy here is enough to crown WordPress the clear king of content management systems.
Alas, Drupal is not to be underestimated.
Drupal might be overall less prominent online, but it is still a viable contender in the content management system world because it can offer things that WordPress sites can't.
Both Drupal and WordPress are:
Open-source (free to use and develop)
Written in PHP (this means developers should be able to comfortably switch between the two)
Optimized to be mobile-friendly
Easy to download and install
So, what are the differences between them?
1. User Experience
Possibly the biggest difference when comparing Drupal vs WordPress comes down to the user interface. Both platforms are easy to download and install depending on your host providers but differ significantly in what your starting dashboard looks like.
When you're choosing a content management system, be realistic about your expertise. Consider whether you want to hire a developer or handle the build on your own. This will impact which platform is more suitable for you.
WordPress
The good news is, getting started with WordPress sites is super easy and user friendly. You have lots of different options for the best WordPress hosting providers and most of them are packaged with a quick WordPress installation process.
In fact, providers like Bluehost offer one-click WordPress installation to get you started in a matter of minutes.
Sign up with Bluehost to get a free domain name and 24/7 customer support for your shared hosting plan!
Get Started With Bluehost
Once installed, WordPress offers a clean and intuitive dashboard that even beginners are able to understand quite quickly.
It also comes pre-configured so you can jump straight to creating content.
The idea is that anyone can set up their WordPress websites without needing a background in programming to customize certain features.
Additionally, the new Gutenberg update is more user friendly and the plethora of the best WordPress page builders out there make custom-formatting your pages easy even with no experience in web design.
That said, this is also an area where more seasoned developers find WordPress to be limiting.
In order to be accessible to beginners, there's a certain amount of "hand-holding" that WordPress implements.
Pros will be able to work around these issues quite quickly but it's not the platform to choose if you are looking for a blank slate.
Drupal
In contrast, a common point against Drupal websites in the Drupal vs WordPress debate is the high barrier of entry.
Unless you are a CMS expert or Drupal developer, Drupal's dashboard can seem overwhelming. Because Drupal caters to users looking for bespoke solutions, the trade-off tends to be a more complex user experience.
However, there have been improvements between Drupal 7, 8, and now 9 in terms of the user interface, even if progress has been slow.
The point is that the complex admin experience is something Drupal is working on so there is the expectation that the user experience may still improve.
In addition, like WordPress, downloading and installing Drupal is pretty simple. You can even install Drupal in different "distributions" (Drupal's terminology for what is essentially a prepackaged bundle), which allows you to start off with a basic website design that you can then customize.
However, unlike WordPress' preloaded configuration, Drupal tends to make fewer assumptions out of the box, so you need to spend at least a little bit of time working on your site if you want it to resonate with visitors.
That said, the customization part of the user interface is where we can see a big difference in Drupal vs WordPress. For the most part, Drupal offers more customization opportunities but only for intermediate-level coders.
Drupal works out to be a more expensive option for anyone that isn't comfortable with the fundamentals of programming.
To that end, most people who opt for Drupal as their CMS end up outsourcing to a Drupal developer to build and customize their website.
However, because Drupal's set-up time is longer and more intensive, agencies or freelance developers end up charging more than you would expect to pay for a WordPress site.
Winner
When it comes to user experience, there is a complexity-usability tradeoff when comparing Drupal vs WordPress.
For most people, WordPress is the hands-down winner in this category. With an intuitive user dashboard and code-free customization options, anyone with a computer can get a good-looking website online in a few hours.
However, developers or people with at least some basic coding skills might appreciate the flexibility Drupal offers that WordPress doesn't.
At the end of the day, you need to find the balance between a CMS that you're comfortable with and is able to meet the needs of your business.
2. Security
The truth is, any open-source platform is going to have its fair share of security issues. But both WordPress and Drupal are at the basic level equally "secure" CMS.
When it comes to assessing trends in their overall security, issues like user habits and third-party tools are where they start to differ.
WordPress
Considering whitehouse.gov and other government websites use WordPress (fun fact, they used to use Drupal), some credit needs to be afforded to the platform in terms of its security reputation.
It's true that WordPress is the most commonly hacked CMS, but since it's also the most common CMS period, that's to be expected.
Simply put, WordPress has more users and thus presents a bigger target.
At the end of the day, security problems are not so much about the WordPress core, but more the fault of typical user habits.
In addition, when you compare WordPress vs Drupal you'll find that a WordPress website is more likely to have third-party plugins. These plugins also contribute to your site's vulnerability.
In fact, when you download and install WordPress CMS it comes preloaded with a selection of themes and plugins that you may not actually need or use.
It's important to always go through and remove any plugins or themes that aren't necessary for your website. Not only will they reduce your site's response rate, but they leave you vulnerable to security attacks.
Threats From Third-Party Plugins
Since WordPress is so easy to use, most users have little to no background in programming or things like web security.
The result is that user habits fail to consider things like security and third-party plugin installations leave websites more vulnerable to security threats. This is because plugins can leave a "backdoor" open to your site which allows hackers to modify your site or steal information.
Plugins leave holes in three key ways:
No longer supported (i.e. the developer has stopped working on it). Therefore, when WordPress updates, the plugin is no longer compatible
The plugin has a vulnerability that the developer is unaware of or unable to solve
A security patch is released but the user fails to update their plugin
Contact Form 7 and Yoast SEO have both updated their plugins to account for several vulnerabilities that left users exposed. However, SEO spam infections continue to be the most common security threat for CMS users.
Regardless of what CMS you decide to use, always make sure you keep your CMS and plugins up to date. Turning on automatic updates or regularly checking that all your plugins are up to date can go a long way in keeping your site secure.
If you're worried about security, you can opt for a web hosting provider that has additional security features (check out this list of free trial web hosting providers). Popular web hosts like WP Engine provide enterprise-level security through things like SOC-2 Type II examination, DDoS protection, managed Web Application Firewall, and other default protections.
Check Out WP Engine
Drupal
Drupal actually has a great reputation for being an ultra-secure CMS. For one, they have a volunteer security team that monitors security issues.
They also have a standard set of procedures and strict policies for handling security problems. For that reason, sites with sensitive and complex data, such as NASA, rely on Drupal.
Overall, things like database encryption and other complex cyber security solutions are easier to implement and better handled by Drupal in comparison to other CMS.
In addition, Drupal also tends to be more transparent about their security and any possible issues by publishing regular detailed security reports which are easily accessible.
Nonetheless, Drupal also has some advantages in the security department over WordPress that aren't really down to the CMS.
A large part of Drupal's reputation as a secure CMS comes from the fact that Drupal site users tend to be more web-savvy and not make the same mistakes as beginner WordPress users.
Drupal also has an overall smaller market share as well as fewer themes and plugins. Because there are fewer Drupal sites online, they present a less enticing target for hackers.
You can also look for a Drupal distribution, like Guardr, to help you keep your site ultra-secure. Guardr comes with different Drupal site modules preloaded and advanced settings that make it easy to maintain a security standard.
Winner
It's difficult to discern a clear winner in this category as both CMS are arguably equally secure.
The major issue with security for either platform comes down to webmaster oversight.
At the core level, there's not much difference between Drupal and WordPress sites. Problems of Drupal vs WordPress are introduced once you start to add additional customizations.
That said, for a developer, Drupal would be the more secure option because of the greater opportunity for security customization.
3. Customization (Plugins and Themes)
Designing and customizing a website so it's unique to your business is important for:
Brand awareness
Visitor engagement
Functionality
Luckily, both WordPress and Drupal are customizable, either by writing your own code or using themes and plugins.
Drupal modules are the same thing as WordPress plugins, they just use different terminology.
WordPress
Boasting more than 50,000+ plugins in the official directory and more than 11,000+ free and premium themes, WordPress is pretty much the king when it comes to easy, no-code customization.
Plus, downloading and installing themes and plugins is super easy on WordPress. There's no need to go off-site. You can preview and download directly from the WordPress directory, accessible from your dashboard.
Additionally, WordPress has lots of external plugins that can help you with things like on-page SEO.
Plugins like All in One SEO for WordPress and Yoast SEO can help get your website to rank better on Google by guiding you through SEO best practices.
WordPress is also a great option for budding entrepreneurs or small businesses thanks to its powerful eCommerce plugin (and make sure to check out WordPress premium vs business here). WooCommerce makes it easy to create your own online shop or even start your own marketplace website using WordPress.
Drupal
Although Drupal has been criticized for its steep learning curve, the truth is once you've mastered it, the possibilities are endless. For that reason, Drupal sites tend to be more unique.
While WordPress offers a more out-of-the-box setup experience, Drupal requires the developer to be a bit more involved. You can still find predesigned themes online, but fitting a theme into your site is less straightforward.
Furthermore, finding a theme or module to use with your Drupal website is not quite as easy as it is with WordPress. You can browse available options in Drupal's own directory but you'll have to go off-site to do it.
Once you've found what you're looking for you have to download the developer's ZIP file and then upload it to your own website.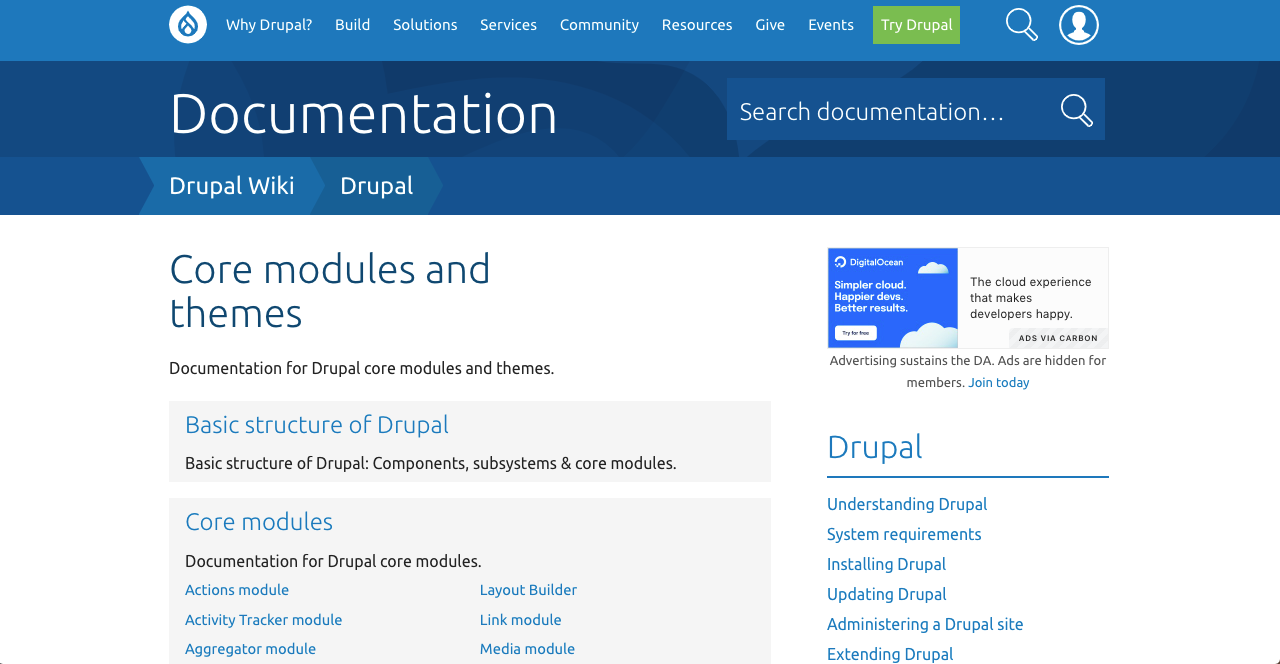 Nevertheless, Drupal does still support an extensive amount of modules/plugins (though about 10,000 less than WordPress). Modules like Drupal SEO Checklist will provide similar feedback to WordPress SEO plugins.
You'll also still be able to meet all of your eCommerce needs on Drupal thanks to multiple integration options and eCommerce modules.
You can seamlessly integrate your Drupal website with Shopify or your Amazon store. Alternatively, take advantage of powerful eCommerce solutions like Drupal Commerce, Ubercart, or eCommerce Invoice.
The main difference is that, once again, you will need to understand some programming in order to run your Drupal website successfully. The flip side of that is that your website will be more bespoke than a WordPress solution is likely to be.
Winner
In terms of customization, when considering Drupal vs WordPress you're basically comparing opportunities for customization with how easy they are to implement.
Technically, Drupal is more customizable than WordPress, however, those modifications are more time-intensive and will likely require you to outsource to a Drupal developer.
On the other hand, WordPress customization can be limited but is straightforward, even for beginners.
4. Community
WordPress
The fact that WordPress runs so much of the internet translates into a massive online community. Plus, the WordPress community is made up of developers from all different backgrounds and skill levels so if you run into problems it's fairly easy to find help.
Additionally, you'll find lots of WordPress experts on freelance sites like Upwork and Fiverr so finding a professional to help you out with a quick problem is pretty easy too.
Find a WordPress Pro on Upwork
Drupal
With just over a million users, Drupal's global community is significantly smaller. Add to that the fact that most people using Drupal are developers, the problems and solutions discussed online are often complex and specific.
Unfortunately, this means they won't be much help to just casual users.
Not being able to find a solution online could make you more inclined to look for professional help, but even there Drupal can be constraining.
Because the CMS is less popular than WordPress there are fewer developers out there, meaning they get to charge more for their services.
Winner
Community is definitely a category where WordPress wins outright. There is no substitute for the range of different skill levels or the global reach of the WordPress community. You can easily find help and other like-minded WordPress developers.
So, Which CMS Should You Choose?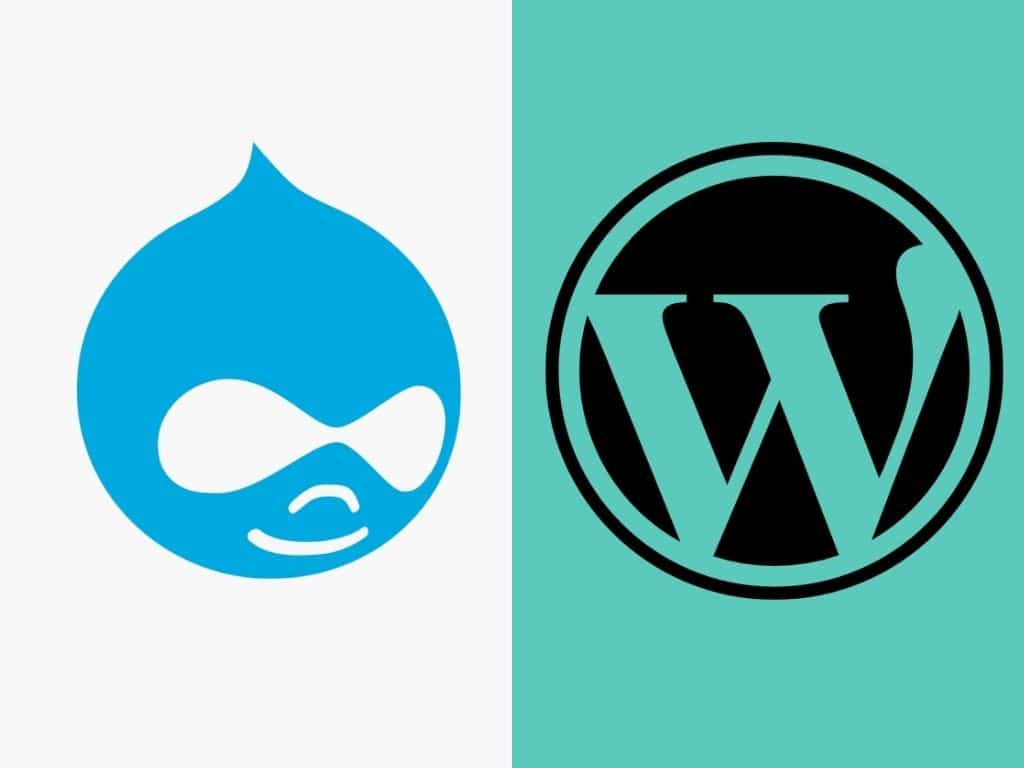 When it comes to Drupal vs WordPress it's really about choosing the right tool for the job. You wouldn't use a hammer to screw something together.
When to Use Drupal
Strict security needs. While the WordPress core is still very secure, once you start customizing your site, WordPress opens up to a host of vulnerabilities which means Drupal tends to be the more secure option.

Additionally, Drupal is better at handling PCI compliance (payment card industry data security standards) requirements.

Large amounts of data or multiple content types. Thanks to Drupal's efficient taxonomy system, working with multiple content types is much easier than it is with WordPress.

Under your Structure tab on your dashboard, you'll find an option to add as many content types as you need. If you're dealing with complex content or need to stipulate multiple levels of access, Drupal is better able to handle more sophisticated scenarios.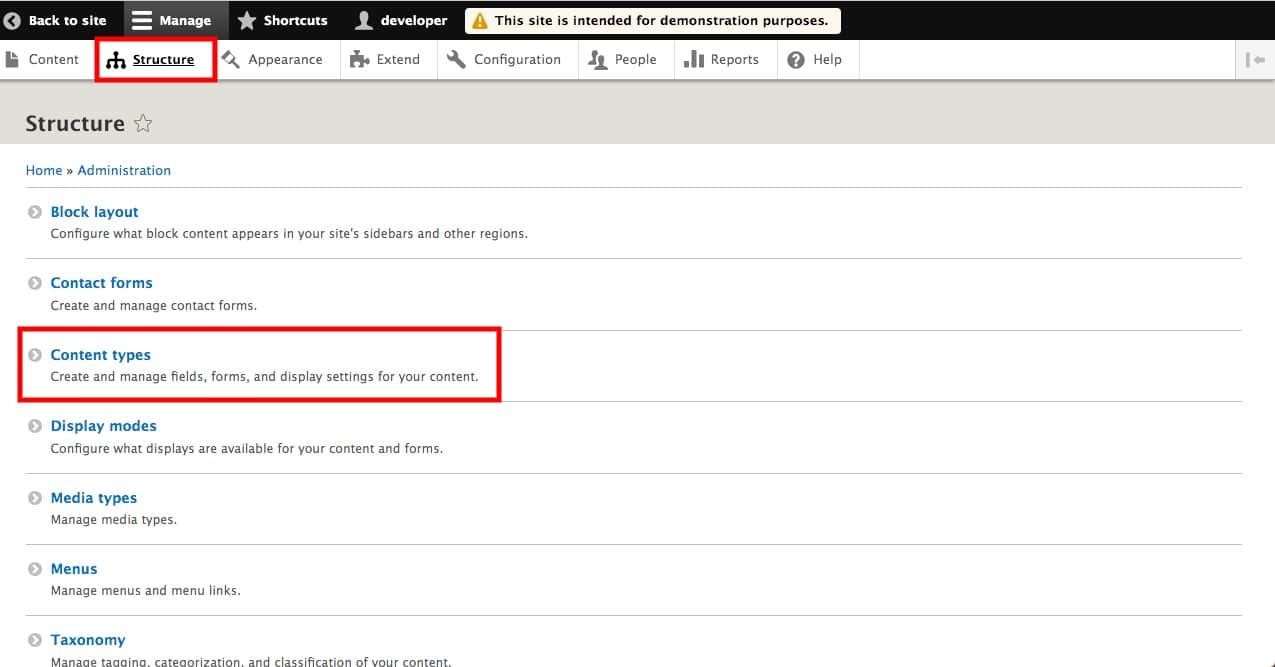 There is a diverse team working on the back end. Unlike WordPress which only allows for five basic user roles, Drupal has advanced user permissions for unlimited roles. This makes it the better option if you need to grant access to multiple users with different permissions.
Built-in multi-language support. While WordPress does have support for multiple languages, it isn't built-in like Drupal's. If you're working on a global project, Drupal might be a better option.
Bespoke website needs. Because Drupal is overall more flexible than WordPress, it's the better option for deep customization to create a bespoke website.
Creating a web application. A web application tends to be more complex as it has to deal with integrations and back-end logic. Generally, Drupal is much better at handling this because it's more bare-bones than WordPress and easier to configure from scratch.
Advanced configuration management system. Drupal allows web developers to push updates to a live website thanks to strict version control.

The configuration management system means you can keep your site live without worrying about possible errors. Users that are dealing with large, complex sites will find this feature a particular time-saver.
When to Use WordPress
Everything else. If you don't specifically need to use Drupal for one reason or another, go with WordPress. Overall it is the easier, more cost-effective, and more efficient way to get your website online.
Great for beginners (but suitable for all skill levels). Anyone with no background in coding will likely find themselves frustrated or lost trying to navigate Drupal. For that reason, most people that need to use Drupal tend to outsource. Fortunately, WordPress is beginner-friendly while still offering lots of opportunities for experienced developers to get their hands dirty coding.
A multitude of free themes and plugins. In line with being beginner-friendly, WordPress offers a huge variety of completely free themes to customize your website. Additionally, you'll find a library of plugins that can work with your site to meet all of your needs.
Conclusion
Ultimately, choosing the best tool for the job comes down to:
Ease of use
Customization capabilities (flexibility)
Overall cost
If you're a small business (eCommerce, startup, nonprofits, etc.), WordPress is probably your best option. The platform is capable of meeting all of your business needs and you can get up and running pretty quickly.
Furthermore, it's both easy and affordable to find free or professional help for WordPress.
In contrast, Drupal does offer some benefits that WordPress doesn't. For this reason, it can be the better option depending on your business needs.
Websites that need complex organizational hierarchies or flexible customization opportunities are likely to run better on Drupal. However, unless you're a developer, you should be prepared to hire a developer to get your site where you need it to be.
Want to learn step-by-step how I built my Niche Site Empire up to a full-time income?
Yes! I Love to Learn
Learn How I Built My Niche Site Empire to a Full-time Income
How to Pick the Right Keywords at the START, and avoid the losers
How to Scale and Outsource 90% of the Work, Allowing Your Empire to GROW Without You
How to Build a Site That Gets REAL TRAFFIC FROM GOOGLE (every. single. day.)
Subscribe to the Niche Pursuits Newsletter delivered with value 3X per week