How Dani Rodriguez Makes $10k+/Month From Travel Blogging and Influencer Coaching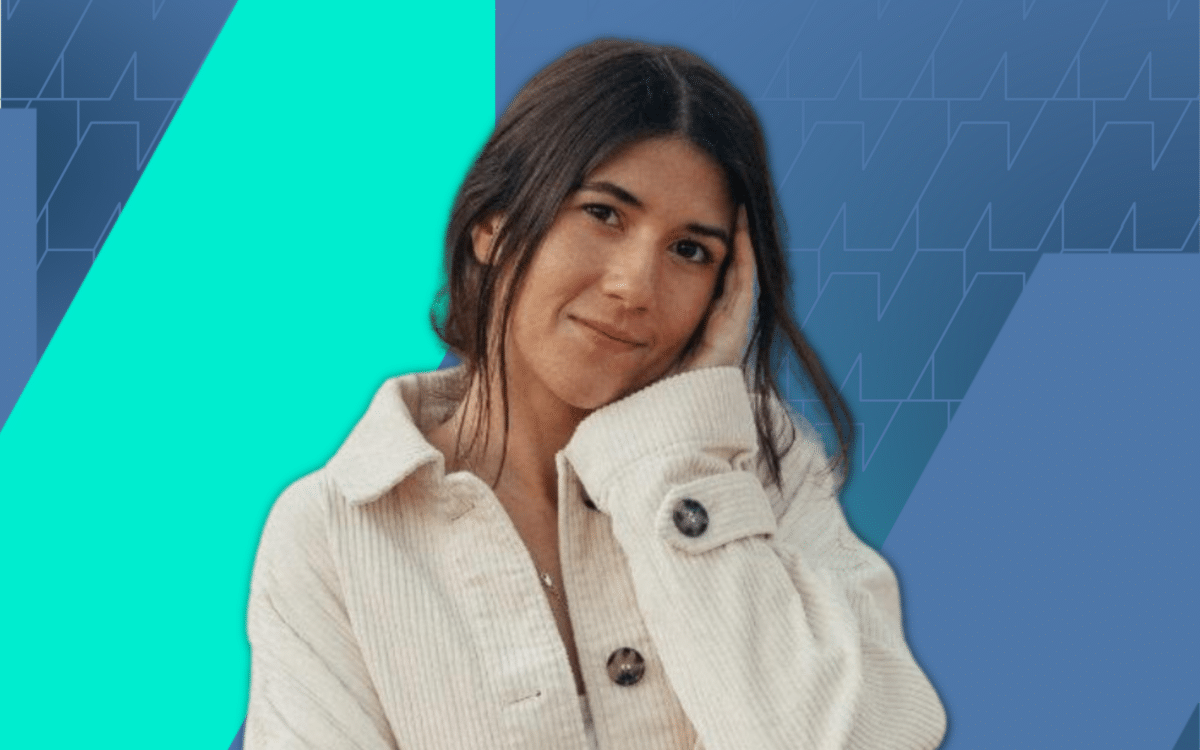 When you buy something through one of the links on our site, we may earn an affiliate commission.
Dani Rodriguez loved to hike, so she started to upload her hiking adventures to an Instagram page so she could share her passion with others. With time, she started to grow a small following.
When she was fired from her 9-to-5 job, she went all in on her Instagram page, creating content and pitching brands, even though she had no idea what she was doing.
It paid off in the end, as Dani was eventually able to negotiate deals worth upwards of $30k.
Today she earns $10k+/month running a profitable travel blog while coaching aspiring creators on how to be influencers.
Keep reading to find out:
The initial jobs she had that helped her realize what she wanted to do
What she did at her marketing agency job
What she did when she was fired
How she learned to pitch brands
Why she created her travel blog
Why she decided to sell digital products
Where her income comes from
How she markets her products
Her thoughts on SEO
Her content creation process
How she grows and monetizes her email list
The resources and tools she uses and recommends
Her main challenge
Her greatest accomplishment
Her biggest mistake
Her advice for other entrepreneurs
Meet Dani Rodriguez
I'm Dani and I'm a travel blogger and influencer coach based in Arizona! People know me as Dani The Explorer — the name of my travel blog.
I spend a lot of time with my partner, Scott, and labradoodle, Chaco (I call him my son, haha!). I wouldn't say there is anything unique about my background. I started working in pretty customer-service central roles in college.
My first job was a Starbucks barista and my next was working at Walt Disney World under the Disney College Program. It was those two jobs that taught me how much joy I get from helping people, which I think ultimately led me to the path I'm on today.
Businesswise, I'm pretty much all self-taught. I originally went to ASU and studied supply chain management. I didn't like it, so I went into marketing instead. My first job was with a marketing agency, where I learned some social media basics.
Everything else I know about my business has been through trial and error.
Why She Created Her Website
Dani The Explorer is my travel site. I use that platform to help other creators make money from brand deals, too. The how and why behind Dani The Explorer starts with the marketing agency job I mentioned.
I didn't know too much about social media, but being the "young" one in the agency, I was thrown into it: "You're young! Here, learn social media for our clients." Believe it or not, I despised the idea of social media and thought it was a giant joke, but I started to really fall in love with the idea of creating content.
I was doing a ton of local hiking at the time, so I decided it could be cool to post about the trails I traversed on social media. Those weekend adventures I was posting about grew me a small audience (maybe a few thousand followers), but I kept at it.
Eventually, I was fired from my agency job, and it was at that moment, I decided this was the time to "shoot my shot." And that began my journey as a full-time content creator that I would later call Dani The Explorer.
My original IG handle was pretty embarrassing—I'll spare you the name. So my business started as literally just an Instagram page.
I would post about my adventures and spend almost 80% of my time pitching brands. I would send them emails showcasing my photography work, asking if I could shoot their products. I did a few jobs for free before I felt confident charging for my work.
I was charging next to nothing until I connected with some other creators and found out influencers could make thousands off content creation. That was a real lightbulb moment for me.
In 2019, Scott and I decided to sell everything we own, move into a campervan, and create content full-time. That was my first super successful year as a full-time content creator. I was landing brand deals with REI, Mazda, Adobe, American Express, Eddie Bauer, tourism boards, and more. This is how I made most of my money even through 2020.
A majority of my brand deals are for a package of deliverables: photos and videos posted on my feed, content for ads, and blogs. I would get paid to feature products on my social media and deliver content the brands would take and use on marketing channels as they saw fit.
When I first started my creator journey, I was pitching brands left and right, and that's how I landed almost all my deals. As I got more experienced, grew my portfolio, and gained more personal brand recognition, companies like these started reaching out to me.
Now, I've gone from exclusively landing paid brand deals as an influencer to building a blog that now earns money on ad revenue to also coaching aspiring creators on how to be influencers.
So my business is twofold: I blog a ton and sell digital products (templates and courses). I do these now because they provide me with more of the flexibility I want in this current season of my life.
This year is actually the first year I'm focusing a majority of my efforts on digital products! So that's a relatively new venture for me. And I was accepted into Mediavine this February, so that's a new venture as well.
Until 2020, I was earning just through Instagram. I had my website initially built in 2018, but I had no idea what I was doing. I would post blogs regularly, but they were poorly written, 400-word posts that wouldn't move the needle.
In 2019, I started diving into SEO more and saw some traction with my blog. I was then able to leverage my views (around 25,000 a month) to upsell brands on the idea of having me write a sponsored blog for them. So my website earned me money that way. Now my site is my primary sales driver.
Right now my site gets around 50,000 to 60,000 sessions a month!
How Much Dani's Making
When I was doing exclusively brand deals, I was making close to the "coveted" $10,000 a month. In fact, my biggest brand deal to date was about $24,000, which included a few blogs, photos, and IG Stories for a large brand.
It took me about 4 years going all in on Instagram posting to be able to have the knowledge, skills, and confidence to negotiate $24k deals.
I really get a lot more enjoyment from helping people (I come from a customer service background), so I've proactively decided to not accept additional brand deals. They're very time-consuming, and I think I ultimately want to go the teaching route.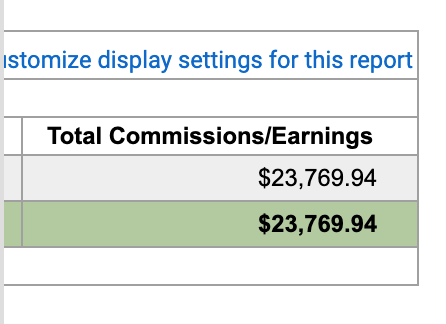 That said, since starting my digital product venture this year, I've made $30,000. Since getting Mediavine ads on my site, I've made $11,000. I don't have a manager, so I do these all myself.
It took me about 6 years to get onto Mediavine. My blog when I started this journey was horrible. I was writing bullet-pointed blogs with no intention whatsoever. I got serious about SEO and revamping my blog in 2021.
At the same time, I decided I wanted to launch my first course, so #Sponsored Bootcamp (my influencer course) came to life.
From there, I decided to start selling smaller done-for-you templates influencers could use to land paid brand deals. I have never seen traditional bloggers using their sites to really have Mediavine ads and calls-to-action to purchase their own products.
I didn't see the harm in trying this, so I decided to do it for my own business. I'm so glad I did. Using my site to make myself an authority in the creator space and sell large and small digital products has paid off immensely. I'm excited to see where this venture continues to go!
I currently work pretty traditional hours, around 40 a week. I prioritize time with my dog and partner, so I don't enjoy pulling late nights unless I absolutely have to.
Dani's Digital Products
I sell educational products: templates and courses. My influencer course #Sponsored Bootcamp is my signature product. I decided to sell these simply because I have a passion for teaching other creators. I think a lot of folks want to sell courses because it's the "trendy" thing to do, but you can really sell anything…
For example, if you're a travel creator you can sell guides that feature where to find the best photo spots in a particular destination. You can also have a "favorites" shop on your site and just "sell" your favorite products via affiliate links.
I think those wanting to get started with digital products need to find what's going to best serve their audience. If that means pushing a product that already exists (like a merch item or course you love) via affiliates, that's better than creating something just for the sake of creating it.
I see so many creators who just rinse and repeat what's already out there, and at some point this causes digital products to just become diluted versions of what already existed elsewhere.
Her Top Marketing Strategy
I get a lot of people telling me, "Oh, I could never sell digital products because I don't have a large Instagram." I have an IG page with 100k (Dani The Explorer) followers and I only started using it to sell digital products a couple of weeks ago.
My smaller page, Dani The Coach (my content creator tips page) has 1500 followers and made $7,000 with my first "live launch." You don't need a ton of followers to make a good amount of money.
That being said, my "secret sauce" is 100% my site. I write blogs about not only travel, but also my social media marketing expertise, and I use those blogs to funnel people into my emails, where I have drip campaigns to really sell them on my content creator products.
I do this with anchor text like "Download this from me," or graphics. I also have a shop on my site where I host my products. I'm always surprised by how many traditional creators and bloggers don't use the power of a website to sell their own products. It's such a basic tactic but it works!
Her Thoughts on SEO
SEO is pretty important! I'm not at the level yet where I feel comfortable writing about anything and everything, so I try to use SEO to guide some of my blog ideas. I also do lots of internal linking, which I think helps, especially when it comes to selling products.
I learned SEO basics from the marketing agency I previously worked at. When I say "basics" I mean I knew what a meta description was, and that's about it. I mainly learned SEO by talking to other bloggers and reading blogs that would rank so I could see how they optimized posts.
Keyword Research
I don't have much of a keyword research strategy anymore. I used to go for high-volume keywords I thought I could rank for, but now I just go for any longtail phrase I can rank for.
I know a lot of bloggers who write one-off giant guides on destinations. I try to write everything I can about particular destinations so I can build more authority and rank better.
I used to use KeySearch but I don't anymore because I find more value in writing about topics I'm interested in. I usually just hop on Google and poke around to see what kinds of topics I haven't written about yet.
I'd say about 90% of my site is travel content and 10% is social media.
Her Content Creation Process
I'm an organization freak and have to have a plan for just about everything. Here's what a month looks like.
Right now, I try to write blogs months in advance. People travel in seasons, so I want to make sure I have new or refreshed content prior to seasonal trends available in advance.
I'll do a little bit of Googling and keyword research to source ideas for destinations I want to write about, then I shoot those concepts over to my VAs. I'll have them write posts for me while I spend the month refreshing two to three old posts.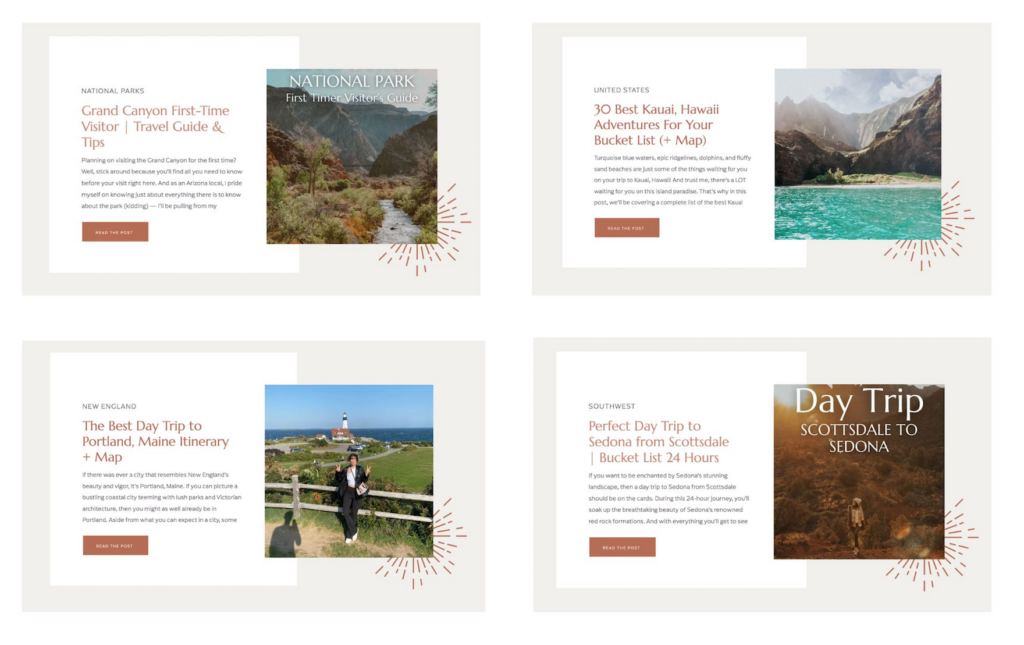 As that's going, I'm actively trying to grow my small content creator coaching page I mentioned earlier and will batch content for that. In about two days I can get 20 short-form videos done for it. I'll schedule those in my scheduling app so I don't have to manually upload everything.
I'll meet once a month with my email manager to discuss what newsletters we're sending that month. These help guide my video topics too. That cycle continues all year long!
I would say I probably take 2 to 3 days to strategize and plan content for the month before batching everything. I use Asana to keep track of all my projects. I have three VAs and they all came from recommendations, which I highly suggest other creators seek out! It makes the hiring process so much easier.
Dani's Email List
I use my blogs to funnel people into my emails over and over again. I think the key to growing a list is to offer an enticing lead magnet (freebie). No one really wants to fill out a form that says "Stay up to date on the latest XYZ!"
So my advice there would be to take some time to create a unique freebie for your audience. I started my email list for my coaching services in the fall of 2022 and have about 5,000 subscribers there.
I just decided to start a travel-focused email list, so we'll see how that goes! I use Flodesk to manage everything.
Her Favorite Resources
This might sound strange coming from someone who sells courses, but honestly, I think before looking at books, courses, podcasts, etc., you need to trust that you already have some of the answers from your unique experiences.
Sure, look up tutorials on YouTube University for things you need help with, but if you want to build something, I think the last thing I would recommend is to go "all-in" on tons of books, podcasts, etc.
A lot of these resources cause new creators to get analysis paralysis and fall into a cycle of thinking that a new hack or tip out there is what's going to take their idea to the next level… and it's not.
The people you love online and "aspire" to be are successful because they show up over and over again. Like bodybuilders! They do the same boring routines over and over again.
So while I love all the "yummy" resources we have available online, I think before you even absorb those, you need to get as far as you can with your ideas, be a little self-sufficient, and fail a couple of times.
This also allows you to see where your zone of genius lies so you know exactly where you're getting stuck and what you need help with. This is a long-winded way of me saying I get hesitant to recommend a gazillion resources to folks, but I will say that Atomic Habits by James Clear is a must-read, in my opinion.
Her Go-To Tools
Flodesk, Asana for project management, and Thrivecart for selling products! These are definitely my "must-haves."
Flodesk is great because it helps you create visually appealing emails with a drag-and-drop editor.
Asana lets you make to-do lists and boards to help you build out projects.
Thrivecart allows me to make user-friendly checkout pages so people can easily shop my site.
Her Biggest Challenge
I have to constantly remind myself to slow down. In the online world, it's easy to see what other creators are doing and what to be just like them. For instance, maybe you see a creator launching a new XYZ and you think "Oh! I have to launch too!"
The best quote I ever heard was, "Let them really shine in their aspects while you focus on yours." Slow down, stay in your own lane. I'm always wanting to do something new, new new, but I have to remember that consistency is key, and I don't have to do everything under the sun today.
Her Most Important Accomplishment
If I had to pick one accomplishment, it would be the creators I've helped land brand deals. I think it's just so cool that we live in a world with endless opportunities where you can make a significant income online, part- or full-time!
It's been really cool to see my students gain confidence to land brand deals with companies like Mercedes Benz, travel tourism boards, REI, Meta, etc.
Financial freedom is achieved by just having more cash, and I love that I get to help others make that extra money and have fun doing it!
What She Wishes She Knew When She Started
I wish I had known to trust the process and be open to new opportunities. When I first started seeing success with brand deals, I thought that was "it" for me that I would become this huge YouTuber or something of the sort.
My needs are different now. I love traveling but I don't necessarily want to do it for brands. Dani just wants a nice vacation. Coaching + blogging gives me a lot of fulfillment.
Maybe one day I'll go back to just doing exclusively brand deals, but I'm really loving this season in my career and I'm so happy I allowed myself to "deviate" from my original path.
Her Main Mistake
I spoke about this earlier, but my biggest mistake is just letting comparison and others' "shine" cloud my own. If you really want to build something amazing, you have to trust your adventure.
Her Advice for Other Entrepreneurs
Be loud. It's easy to care about what others think and convince yourself that you're not enough or yeah you need to learn XYZ before you can do ABC. But none of that is true.
You have to just start, show up, and keep showing up and make your presence known in the space you're entering. You can't be "silently" successful.
Want to learn step-by-step how I built my Niche Site Empire up to a full-time income?
Yes! I Love to Learn
Learn How I Built My Niche Site Empire to a Full-time Income
How to Pick the Right Keywords at the START, and avoid the losers
How to Scale and Outsource 90% of the Work, Allowing Your Empire to GROW Without You
How to Build a Site That Gets REAL TRAFFIC FROM GOOGLE (every. single. day.)
Subscribe to the Niche Pursuits Newsletter delivered with value 3X per week