Asana vs Monday: Which Project Management Tool Do You Need?
When you buy something through one of the links on our site, we may earn an affiliate commission.
Your team needs a little help to keep everyone on the same page. Even if you work solo, managing multiple projects at a time can feel overwhelming if you don't have a reliable means of keeping things straight. The best project management software can help you get organized quickly and efficiently. Which is the better tool: Asana vs Monday.com?
It really boils down to what you will be using it for and how much you want to spend. In this comparison, we will review the top features of each program, including:
Key features
Task management features
Workflow automation tools
Portfolio management
Integrations
Customer support
Pricing
If you are thinking about signing up with one of these popular project management tools, this breakdown will give you the information you need to choose the right one from the very beginning. Let's get into the details of what you can expect with both Monday.com and Asana.
What is Monday.com?
Monday.com is one of the leading project management tools, but it is also a relative newcomer compared to products like Asana. Founded in February 2012, founders Roy Mann and Eran Zinman attempted to make the software that they needed for their personal use.
The goal is to make it easier for businesses to scale through enhanced project management, whether you're looking to outsource development work or other projects, or working on your own.
Despite being the new kid on the block, Monday.com has an impressive reach. It has outlets in several countries including:
Israel
United States
United Kingdom
Ukraine
Australia
Japan
Brazil
It is designed for every department of the business with other project management tools available for customer-facing teams (CRM), marketing and creative teams, teams managing projects and portfolios, and product or development teams.
You don't have to be a coding genius to implement this software into your business structure. Many users love it because it integrates with approximately 50 different softwares including Zoom, LinkedIn, Adobe, and more.
Monday.com is a publicly traded company on the NASDAQ (MNDY). It has an average revenue of $308 million, making it a huge competitor of Asana, only slightly smaller.
It serves over 127,000 customers in 14 different languages, making it an excellent option no matter where you live or what language you speak.
What is Asana?
Asana is a similar SaaS company to most project management software with customizable workflows that you can use to collaborate on projects across the entire company. It has been around for quite some time, premiering its team management software in 2008 with founders Dustin Moskovitz and Justin Rosenstein.
It is publicly traded on the NYSE as ASAN.
Currently, they have more than 1.3 million paid users with $378.4 million in revenue.
When it comes to Asana vs Monday, one area where they shine is in their integrations. There are more than 200 to choose from including popular options like Slack, Google apps like Drive, and Zapier.
Asana vs Monday.com
How do the two project management software options compare? Let's take a closer look at where each of these softwares shine to find the right project management software.
Key Features
Monday.com
This project management tool is easily one of the best in the industry. It includes the ability to schedule tasks and prioritize them, share your calendar, and track time.
Monday.com also has the ability to store documents, offers collaboration tools, and allows budgeting dashboards for financial management.
The interface is intuitive and makes it easy to track task progress for every team member.
Communication, collaboration, and more are all prominent features of the Monday.com platform.
Asana
Asana shines when it comes to project documentation and storage. Users can easily organize their latest project as either a list or a kanban board. It allows you to break down your overarching project into bite-size pieces that can be assigned to individuals on your team.
Everything is highly customizable, allowing you to set due dates, due times, start dates, and set a timeline view for each project.
It also features robust project management, allowing you to manage and plan your next move. If you have more than one employee on your board, this is a great way to track everyone simultaneously.
For example, if you're launching a new blog, you can assign a blog post to a writer, transition it to the editing stage, and move it to "published" upon completion.
Task Management Tools
When comparing Asana vs Monday, the reason many people flock to these two SaaS companies is because of their task management features.
Monday.com
On Monday.com, individual tasks are referred to as pulses. While this lingo can take some getting used to, many people love the concept for their project management. The platform easily allows you to track progress through a list-style as opposed to cards, though this can be changed in the settings.
Each pulse allows you to select a status: working on it, done, or stuck. This makes it easy for you to track just how much progress you are making on any given project.
At a quick, color-coded glance, you can see where you (or your employees) might need some help with their task management tools.
If you have a long list, it has a great feature at the bottom of each list that shows you with a bar how much of your work has been completed, is currently in progress, or has stalled out.
For those who prefer the kanban boards, you can switch to this mode with a single click.
Asana
When it comes to Asana vs Monday, task management is quite similar. You can easily create tasks, assign them to specific employees, and give them a deadline for when each project is due. One great feature is the ability to make certain tasks dependent on others.
Much like Monday, you can view your task management through either lists or kanban boards.
If you want to see the details on your project management systems, all you have to do is click on a task to see more information.
Leave comments and tag the relevant personnel to track tasks from beginning to completion. Project managers will find it simple to keep tabs on everyone with this software.
Workflow Management
Closely related to task management is workflow management, which is a slightly different aspect of project management. Here is what you can expect from each of the leading platforms.
Monday.com
Are you having trouble identifying progress on your latest project? Monday.com makes is extremely helpful when it comes to workflow management, particularly for busy managers who need some help visualizing the status of their latest project.
Monday.com defaults to a list-view, but you can easily switch it to other types of trackers including:
Kanban board
Gantt charts
Calendar
Bar graph
All you have to do to achieve a different visual is click "Add View" at the top of the project management screen and select which type of progress visual you want.
If you want to change the status of your latest project, you can easily do so from the list view. All you have to do is click the status and select from the drop down menu that it displays. This will automatically update your other views.
You can also drag and change them in the Gantt charts or the kanban boards.
Asana
Much like Monday.com, there are several ways you can track progress after you assign tasks. Asana offers the capability of being able to track tasks through lists, calendars, timelines, or boards.
One of the areas where Asana shines is its ability to set task dependencies. This allows you to see which tasks need to be taken care of first before you can move onto others, making it easier to handle complex projects.
All the tasks will be easier to see and manage when you have them broken down into smaller pieces.
You can also add subtasks in the Asana platform. This allows you to check off which parts of the task have been done as they are in progress so that project managers can see how much longer a task will take.
With just a single click, you can move any task to the next section whether that means "in progress" or "completed."
Portfolio Management
When working on team projects, portfolio management is key. Both platforms offer portfolio management, but they differ in how accessible it is. Here is what you can expect from Asana vs Monday.com.
Monday.com
When it comes to project management, you will eventually need to upload documents to keep everything in one place.
Monday.com makes it easy to do this by creating a group specifically for your latest project. From here, you can create a pulse for each of the documents or aspects of the project that you happen to be juggling.
You can upload documents from your computer or several other integrations such as:
Google Drive
Dropbox
Box
OneDrive
SharePoint
As a project management tool, Monday.com makes it easy to see where your documents are located so that you can keep up with complex tasks.
While it is a bit of a roundabout way of creating a portfolio, creating a group allows you to continuously add new pulses for completed tasks so that you can keep your finished documents all in one place.
Asana
Unlike Monday.com that allows portfolio management as part of their basic plan that users can access for free, Asana's project management tools for portfolios are only available on a paid business plan. However, it is a robust offering that makes it easy to track all of your documents in one place.
When you have the portfolio feature enabled with a paid plan, you can quickly see all of your projects in one glance. Within their portfolio management, you can view:
Status of each project or progress percentage of each project
Due date range
Priority of a project
Custom field values
Project owner
Integrations
Project management software isn't often used in a vacuum. You have other tools that you want to integrate with to keep everyone on the same page. How do the integrations compare for Asana vs Monday?
Monday.com
When it comes to Asana vs Monday, Monday.com has fewer integrations but it still presents a great option if you use some of the top programs like Outlook, Google Calendar, Gmail, or even Excel.
They are still expanding this part of the project management software and you can tell that they are in the process of adding new integrations all the time. For example, they have recently added Adobe Creative Cloud, Data Studio, and Hootsuite.
One interesting integration that you can use with Monday.com is Asana. This allows you to run and track your Asana tasks directly from Monday — a great way to implement the best pieces of both platforms for better team collaboration.
Asana
Asana is easily the winner when it comes to integrations for their project management software. They offer hundreds of partnerships with other brands covering every category that you may need such as:
Communication
Connectors
Files
Financial management and HR
IT and software development
Marketing and design
Reporting
Security and compliance
As a project management tool, Asana really drives it home with their robust list of integrations, giving their users anything they could ever possibly need in one comprehensive platform.
Customer Support
How quickly can you resolve your questions through customer support with Asana vs Monday?
Monday.com
Customer support is one area where Monday.com truly shines. They offer 24/7 support in almost any way that you can imagine: phone support, email help, and via a contact form on the website. They also offer a community forum and knowledge base that any task manager can access to get their questions answered promptly.
Asana
Asana doesn't make it easy to find their customer support section. They primarily direct their users to a forum or to their tutorial center with how-to guides spelled out. However, there are times when you may want to talk to an actual person about the problems you are having.
How can you contact Asana?
They prefer you to start by contacting their AI chatbot who tries to direct you to the resources you may need. If this doesn't help, they will open a ticket for you so that someone from their team will reach out.
Asana does not offer phone support, so if this is important to you, you may want to go with Monday.com.
Asana vs Monday Pricing Plans
Both Asana and Monday offer a free version for users, but they do have limits on what you can do with a free plan. Here is what you can expect to pay with each of these platforms and the limitations you can expect.
Monday.com
The free version of Monday.com is great for one-person businesses or relatively small teams, but it may not take you where you want to go. You are restricted to just 1,000 items, 2 team members, and 500 MB of storage. This is why many people opt to upgrade to a Basic plan or Standard plan.
On the Basic plan, you get:
Unlimited free viewers
Unlimited items and boards
Templates and column type options
Access to app
Expect to pay $8 per seat per month on this plan.
However, their Standard plan is the most popular option, giving you access to:
Timeline and Gantt charts views
Calendar view
Guest access
Automations and integrations (250 actions per month)
Dashboard with combined 5 boards
It will set you back $10 per seat per month.
They also have a Pro plan ($16 per seat per month) that gives you access to private boards, chart view, time tracking, automations and integrations (25,000 per month each), and a dashboard that combines 10 total boards.
Enterprise pricing is also available, but you must contact customer supported and sales for pricing tiers on these larger plans.
Asana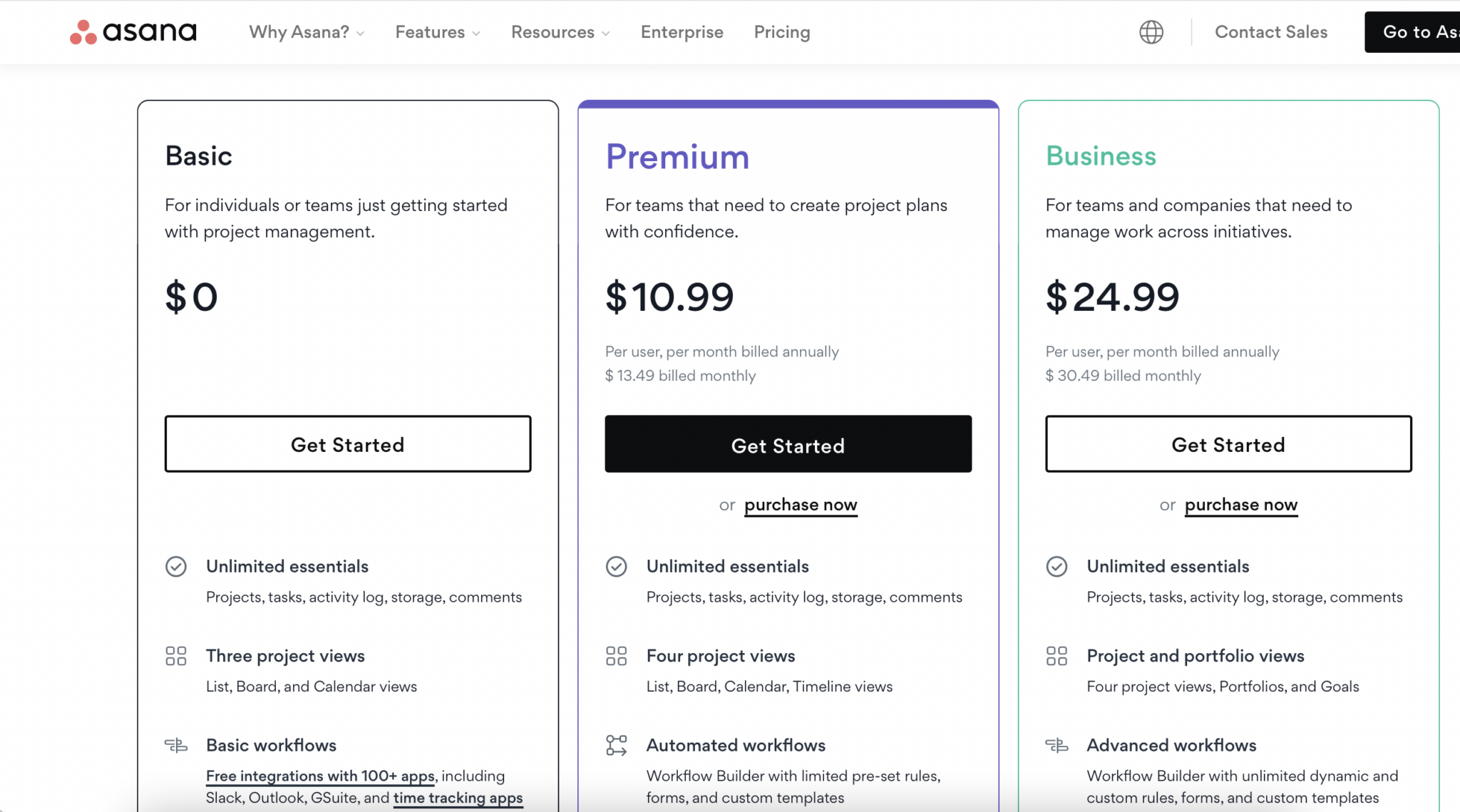 Asana offers more advanced features on their free plan, making it great for a task manager who just wants to dabble in project management software. It is a great option with the ability to create unlimited projects (tasks, activity log, storage, and comments). It also allows three project views including list, board, and calendar.
Free integrations with more than 100 apps is another great feature of the free plan.
For their Premium plan ($10.99 per user per month), you get more features:
Four project views (list, board, calendar, and timeline)
Automated workflows
More advanced reporting
Scaled security (no user limit, unlimited free guests, an admin console, and the ability to create private projects)
Community support
They also offer a business plan that makes them ideal for small to mid-size businesses. It is priced at $24.99 per user per month, includes everything from the Premium plan, plus:
Portfolio management and goals
Advanced workflow management with custom rules, forms, and templates
Advanced reporting
Access to personalized support
Much like Monday, you will need to contact them if you have a larger company and want to enroll in an Enterprise plan. These are custom-priced based on your needs. Reach out to their sales team to learn more about the monthly cost.
Which Project Management Software Should You Choose?
No matter what type of project management software you are thinking about using, it is important to get a tool that will perform all of your basic needs. To this end, you will have to decide whether Asana vs Monday is the best option. Who can benefit from each one?
Who is Monday.com Best For?
Monday.com is great for users who want customized support from a real person and want to use the free version on a limited capacity before deciding to upgrade.
While they don't offer unlimited tasks on the free version, the next step up is affordable ($8 per seat) and scores you the unlimited boards and tasks that you didn't get with the free plan.
This project management software is best for individuals who don't need to pay for many seats and who want the most capabilities in terms of different views. They can use Gantt charts, timelines, and more at less expensive levels whereas Asana only permits these on the more advanced paid plans.
Who is Asana Best For?
Asana offers a robust platform with plenty of integrations that will allow you to take control of your resource management. It is ideal for small to mid-size businesses that need portfolio management and automated workflows.
The free version of this platform is also more comprehensive than Monday, offering you unlimited tasks, projects, and storage. If you just want to try it out, you still get access to three of their most popular views including lists, boards, and calendar views.
The major downside to Asana is that it does not offer phone support. In fact, personalized support is not even offered until you reach their most expensive Business plan.
For users who aren't as tech-savvy, this can be a major disadvantage when you don't have access to a real person to help you get set up.
Asana vs Monday: Who is the Winner?
If you are a project manager looking for the perfect SaaS company to partner with for yourself or for your team, you might be wondering which tool is the right fit for you. Individuals or very small teams may want to try Monday.com first.
However, Asana offers more features that include unlimited tasks without the need to pay for any services. This makes it easier for you to keep costs down without sacrificing much in the way of features.
They are a little bit more expensive when you start to look at upgrading plans and they don't offer the priority support of Monday.com, but they are the better tool overall for workflow, integrations, and more.
Want to learn step-by-step how I built my Niche Site Empire up to a full-time income?
Yes! I Love to Learn
Learn How I Built My Niche Site Empire to a Full-time Income
How to Pick the Right Keywords at the START, and avoid the losers
How to Scale and Outsource 90% of the Work, Allowing Your Empire to GROW Without You
How to Build a Site That Gets REAL TRAFFIC FROM GOOGLE (every. single. day.)
Subscribe to the Niche Pursuits Newsletter delivered with value 3X per week