23 Brands Looking for Ambassadors & Influencers To Help Promote Their Stuff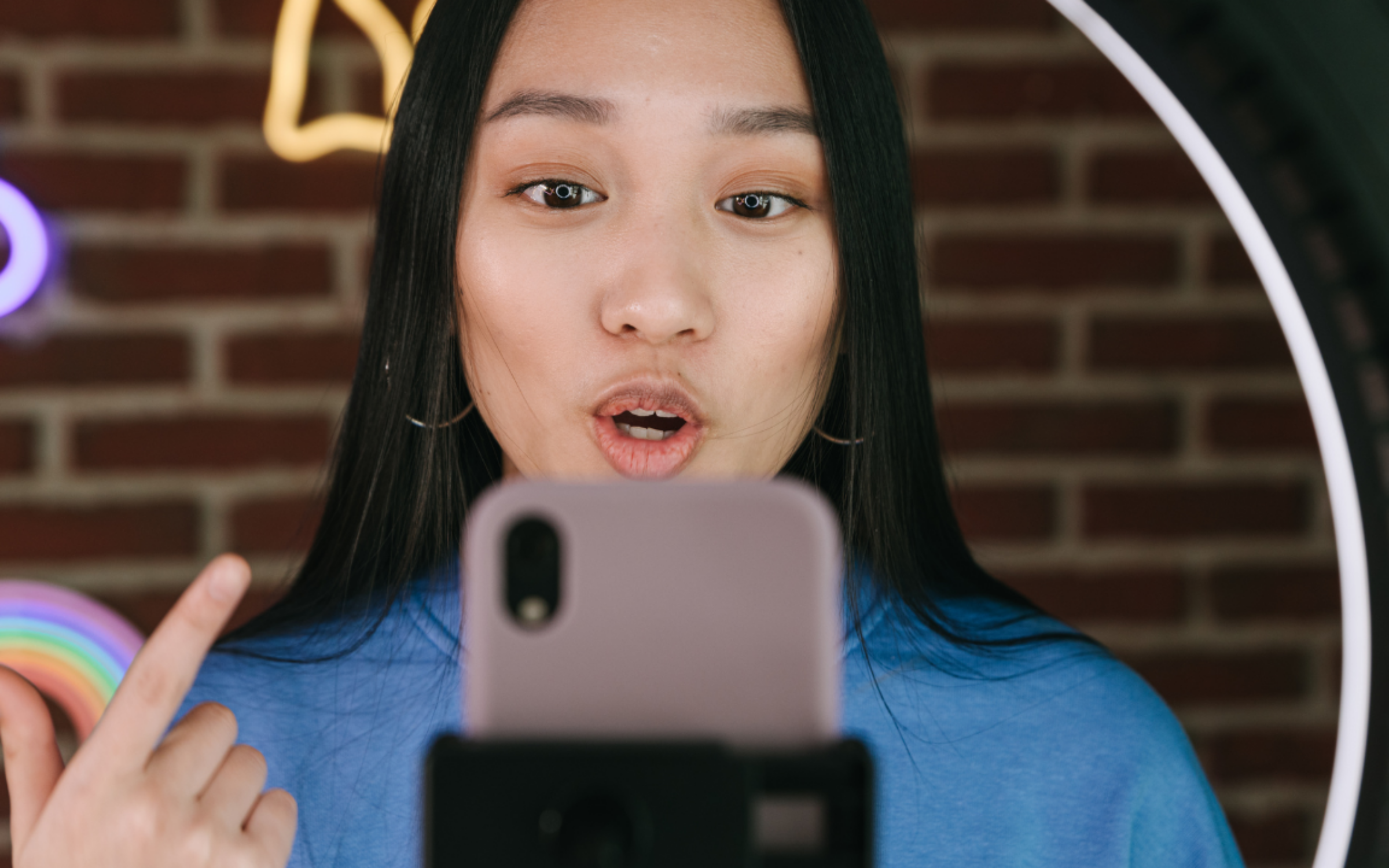 When you buy something through one of the links on our site, we may earn an affiliate commission.
Working as an influencer can be a great way to grow a personal brand and monetize your lifestyle. It's crucial that you find strong partnerships with brands looking for ambassadors and influencers that align with your personal brand and values. Whether you're learning how to become an influencer or are a pro when it comes to collaborating with brands, here are 23 companies that actively look for influencers to collaborate with.
23 Best Brands Looking for Ambassadors & Influencers
Here's a list of companies you can reach out to today for an opportunity to collaborate!
1. Asos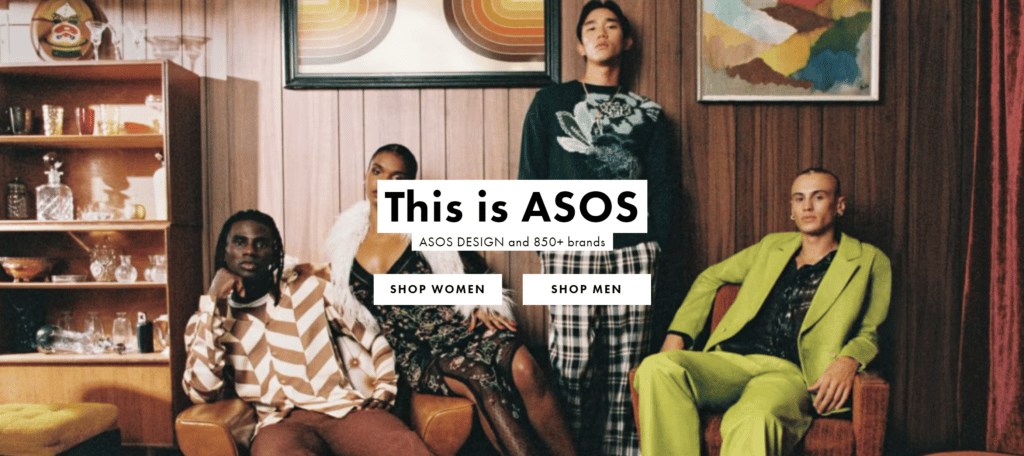 Asos is a renowned British fashion and cosmetic company. It sells all kinds of clothing items and accessories, from coats, dresses, sportswear, and trousers to caps, belts, and gloves. You can also buy cosmetic products on the website or promote them as an influencer.
The influencers, also known as Asos Insiders, promote products on their social media platforms which helps to increase customer engagement. Followers search for style, tips, and tricks to achieve the best possible look within budget.
The Media Relations Team encourages influencers to follow Asos' social media on Facebook, Twitter, and Instagram to receive collaboration updates when they search for recruits.
2. Sunny Co Clothing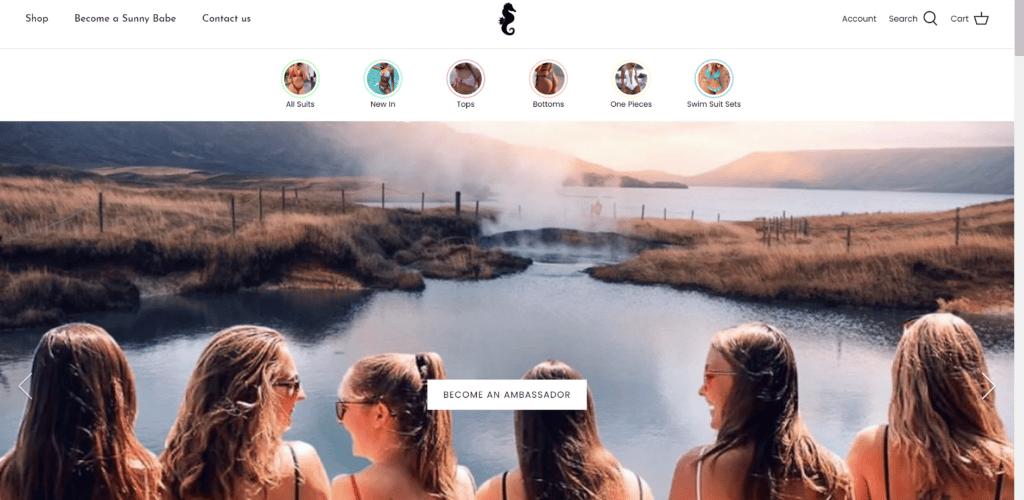 The company Sunny Co Clothing differentiates from other retailers with its marketing campaign. All the product images on the website are chosen from social media platforms where customers post pictures while using the product themselves.
As an influencer, you can choose to promote swimsuit sets, swimsuit bottoms, and swimsuit tops. The Sunny Co Babe Program is an ambassador program where you can help design new products and make new friends in a community that is 10,000+ strong.
So in return, a Sunny Co clothing brand ambassador will get a Free Suit and exclusive discounts throughout the website. Joining the Sunny Co Babe Program is easy:
Fill out the form on the website with your basic details; name, gender, date of birth, country
Answer a few open-ended questions that will help the team to select passionate brand ambassadors for the program
Wait for a response in 1-2 days.
3. Rovux Footwear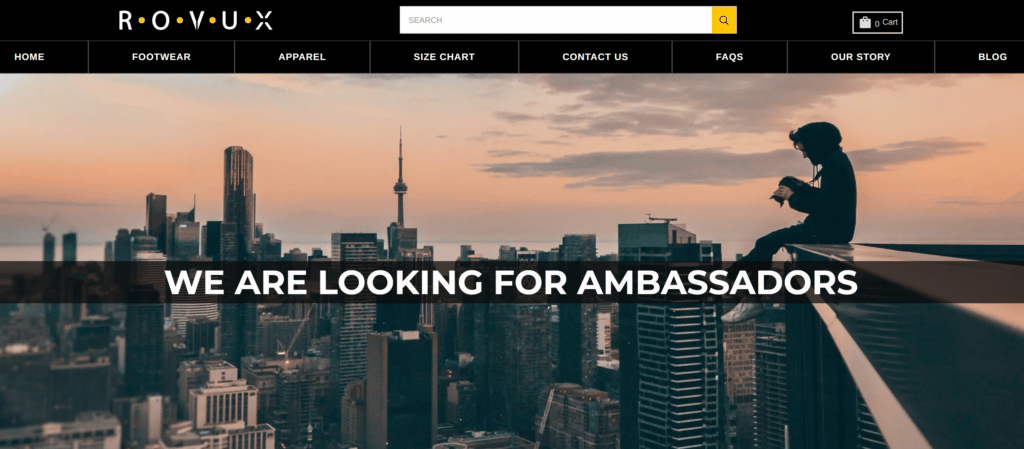 Rovux Footwear manufactures sleek, modern, and comfortable athletic shoes for quality-conscious consumers.
Footwear influencers can join the brand ambassador program to promote the brand using simple social media campaigns. You need to post at least twice a month on your social media feed to let your followers know about your discount code and earn a commission on their purchases.
Working with Rovux Footwear requires the following information from its prospective influencers:
Name, age, email address, and phone number
Instagram Username
TikTok Username (if any)
A short essay on why you would like to join the Rovux Team
4. MAC Cosmetics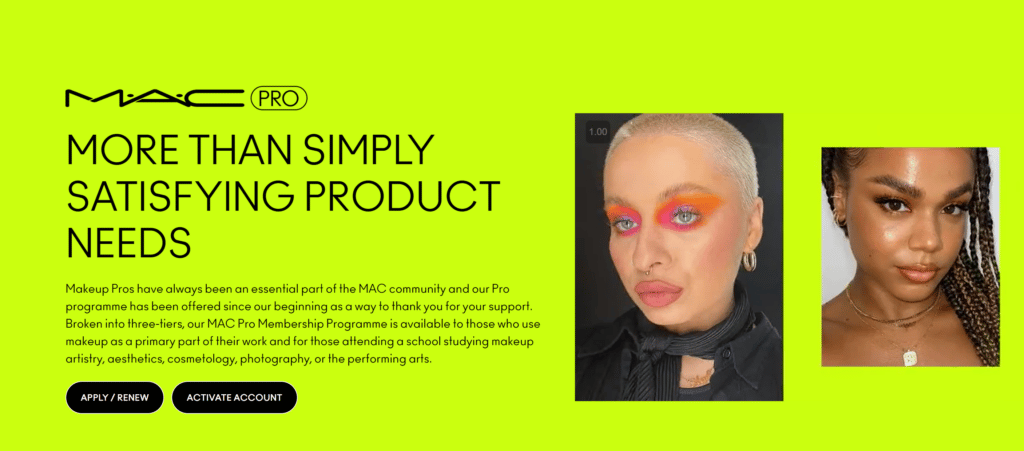 MAC Cosmetics is a leading makeup brand founded in 1984. It sells premium cosmetic products for lips, eyes, and face, with Studio Fix Fluid and Ruby Woo Lipstick being the most popular. MAC Cosmetics has also diversified into a skincare brand selling primers, concealers, and moisturizers.
MAC offers a MAC Pro Membership Program to makeup artists, professionals, and students. Influencers like hair stylists, models, and cosmetologists who are passionate about this field can join this program. They'll get exclusive discounts of 30%-40% on products online and in-store.
Along with this, they also get access to invites to pro-only events and Masterclasses. MAC requires the following documents as proof to join the program:
The Editorial page with name credit
Your Social media page with at least 1000 followers
5. Mulu Jewelry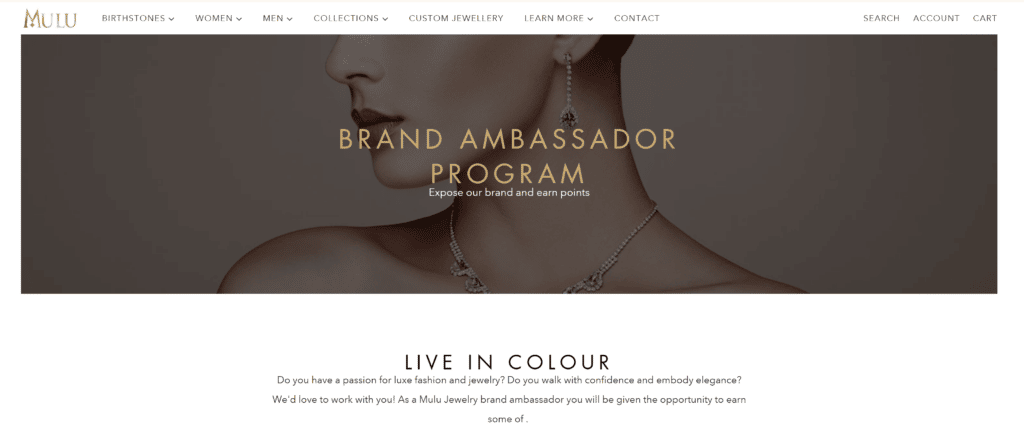 The popular hip Mulu Jewelry brand is a company dedicated to beautifully designed accessories for men and women. You can choose from a wide selection of rings, earrings, bracelets, and necklaces that can be customized to your favorite birthstone and design.
Mulu Jewelry has a Brand Ambassador program that allows influencers to use their social media platforms to increase brand awareness (and if you're curious, check out the difference between an ambassador vs influencer). As an influencer, you will get access to a code you can share with your followers to earn points. So customers can use your code to buy items that will help you generate higher points and in-store credit. You will also get to know all the latest promotions, sales, and price adjustments.
To apply for the program you need to fulfill the following requirements:
Have a considerable following on your social media accounts
Must use either Instagram, Pinterest, Facebook, or Youtube
Provide a screenshot of your social media analytics for the last 3 months
6. Kona Surf Co.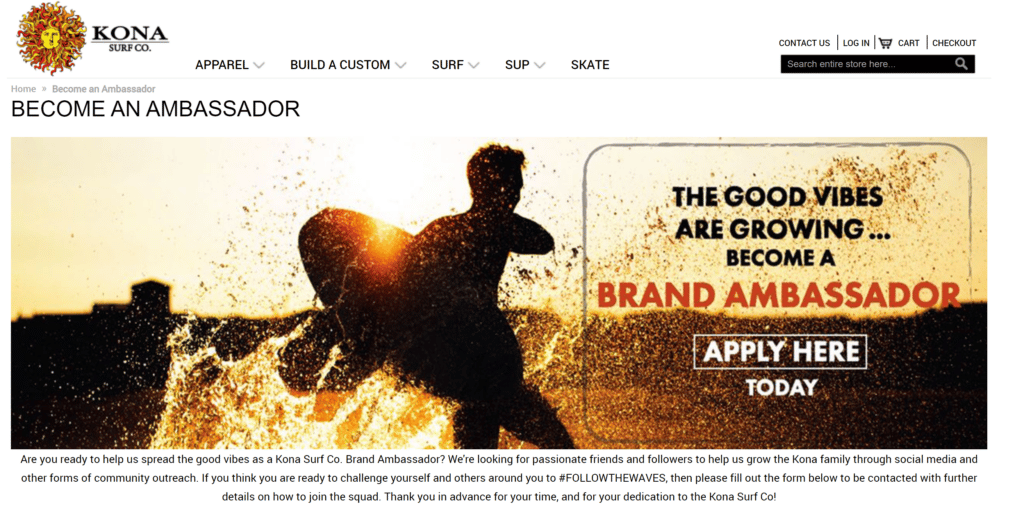 Kona Surf Co. is a lifestyle brand that sells skateboards and surfboards to the local surfing community. It aims to sell a brand experience to customers where they can personalize their surfboards, clothing, and accessories to their choice.
Instagram micro-influencers can join the Kona Surf ambassador program to win free products and prizes. As an influencer, you will need to recruit a passionate brand ambassador team of people under you to join the #FollowTheWaves community and be prompt in replying to company emails and messages.
Kona Surf Co. will review and contact applicants who fill in the online form and fulfill the following requirements:
A smartphone and reliable internet connection
Have a public Instagram profile
Are dedicated to positivity and love adventure
7. Bombshell Curves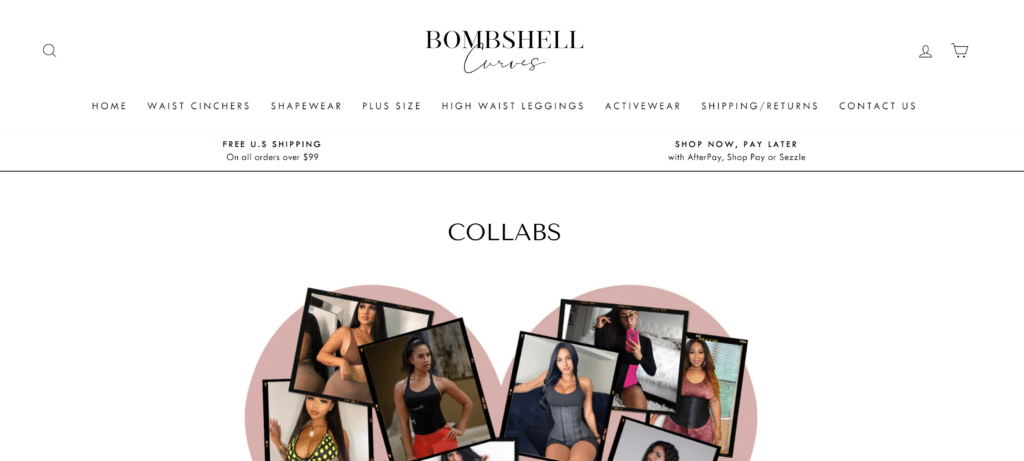 Bombshell Curves is a fashion brand that sells women's shapewear clothing. Fashion brand ambassadors can choose to market a range of products, including bodysuits, waist cinchers, shaper shorts, and activewear.
Like other fashion brands, Bombshell Curves seeks to expand its market through influencer marketing. You can visit their website and send an email listing your social media handles to show interest in collaboration. The team will review your request and send a response as soon as possible.
8. Breezy Swimwear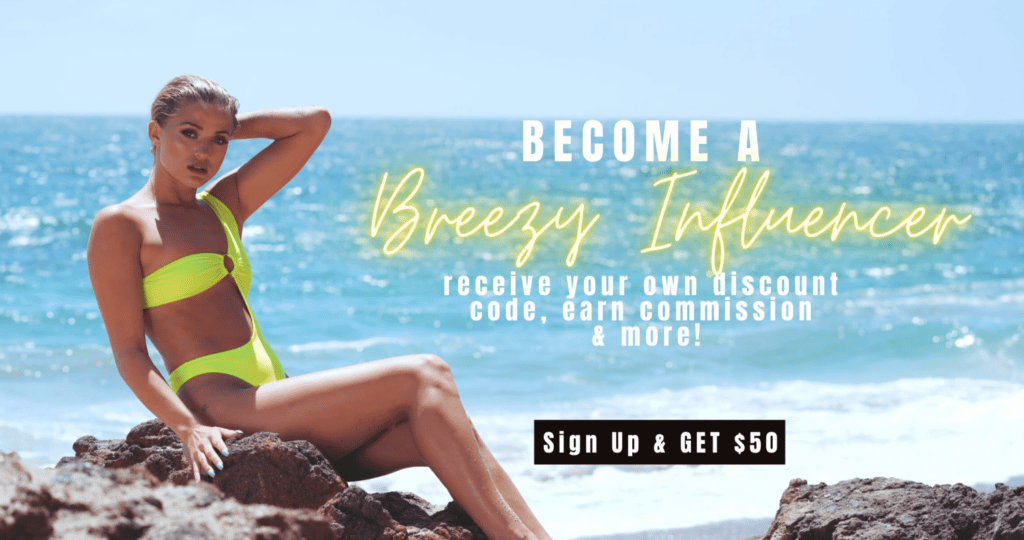 With women empowerment as its goal, Breezy Swimwear sells swimwear to women of all ages and shapes to boost their confidence. The use of striking colors and trending designs ensures that the product stands out.
You can join the free influencer program and become a Breezy Babe. After signing up, you will get a 20% discount code to share with your followers. Any sales made using your discount code will give you a 30% commission.
Breezy Swimwear also provides Tiktok, Twitter, and Instagram influencers with pre-designed graphics to market the brand. They are required to share posts with #breezybabe to let everyone know of this women-oriented fashion brand.
9. Enjoy Leggings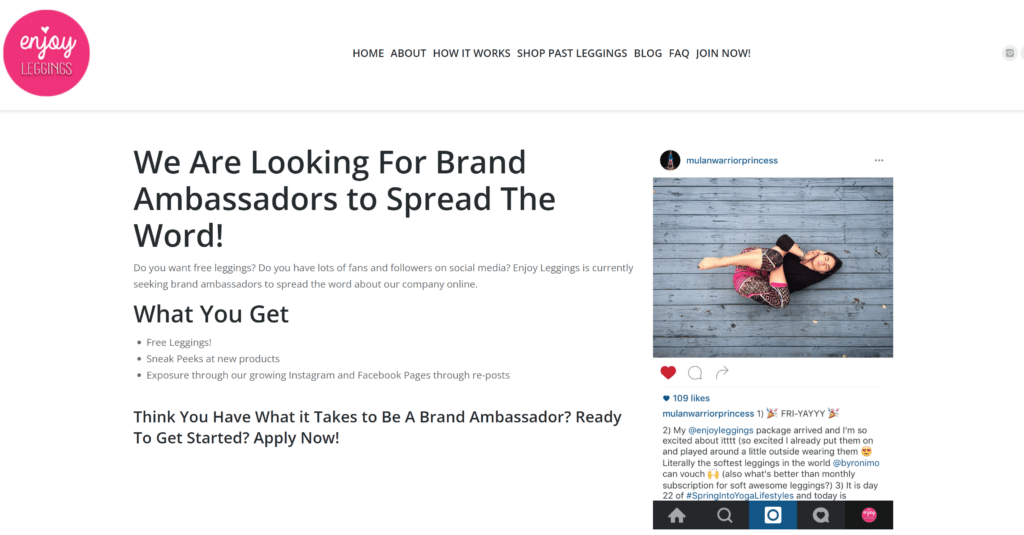 Enjoy Leggings sells high-quality leggings to women who want to feel comfortable in their own skin. The brand is looking for influencers who can promote its products online.
As an ambassador, you will win free merchandise and get a first look at the new products before they hit the market. You can create a buzz around them and attract more followers.
To join the program you need to send an email with:
Links to your social media accounts
Reasons why you would like to collaborate with the brand
10. Twelve Little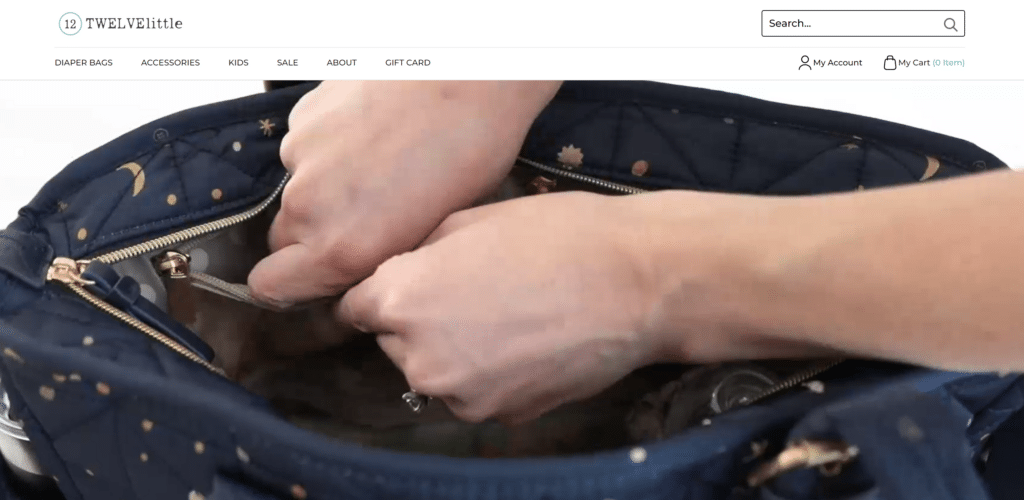 Do you struggle with finding stylish and durable diaper bags for your little ones? Twelve Little was created to resolve this issue. You can choose from a selection of intuitively designed diaper bags that can also be used to carry baby and mommy essentials. They are one of the best companies looking for influencers for parents.
The bags are made from vegan leather, giving them extra points for qualifying as a sustainable fashion accessory. The brand ambassador program gives an initial one-off 50% discount on new collections. If all requirements are met, you can receive a 30% discount for your next orders and a 20% discount code to share with your followers.
Twelve Little wants all its brand ambassadors to fulfill the following requirements:
An Instagram account with 1000+ followers
Two dedicated posts on any one of your social media platforms
Tag Twelve Little in your product-dedicated posts along with #twelvelittle, #12littletribe
Do not post pictures of Twelve Little bags with other products
Engage in company posts on social media and leave positive customer reviews on the website
12. The Skincare Boutique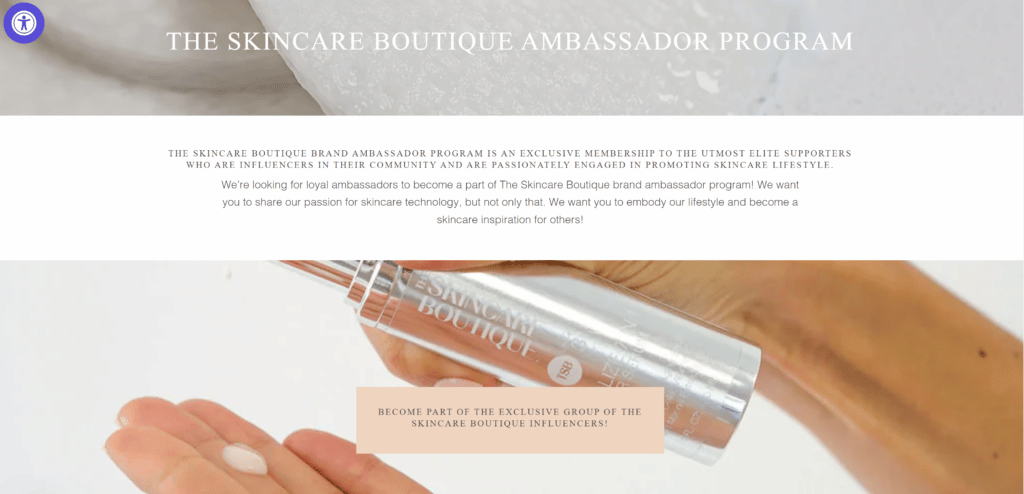 As the name represents, The Skincare Boutique is a skincare company that sells personalized facial therapies and skincare products.
If you are passionate about skincare technology and lifestyle you can join the HD Beauty Brand Ambassador Program and get access to several benefits. As an ambassador, you will get complete support to promote the brand with free merchandise, a unique discount code, and a 17% commission on all purchases.
You need to submit a detailed application to qualify as the ambassador to the Skincare Boutique:
Have a minimum of 5000 followers on a single platform or 10,000 followers spread across multiple platforms
Share direct links on your social media accounts
Include your full name, email address, and shipping address
A short essay to highlight why you are suitable as the brand ambassador of The Skincare Boutique
13. Celsius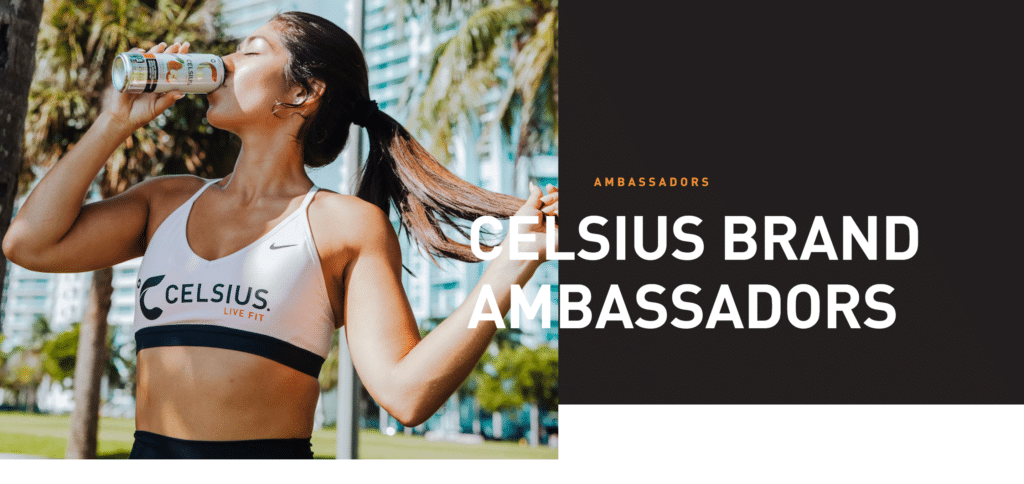 Celsius is a beverage company selling healthy energy drinks made from natural ingredients. This no-sugar drink helps individuals focus on their fitness and live a healthy lifestyle to achieve their goals. Some of the drinks include Celsius Stevia, Celsius Heat, and Celsius On the Go.
The brand is looking for influencer marketing campaigns to promote Celsius products locally and virtually. As an ambassador, you will need to submit dedicated Instagram posts every month along with #CELSIUSLiveFit, and #CELSIUSAmbassador and tag @celsiusofficial to receive 1 case of free Celsius product.
If you're looking for health-conscious companies looking for influencers, Celsius is a good fit.
To submit the application you need to visit the site and provide the following details:
Your full name, gender, and age
Link to your Instagram profile
Number of followers and in-feed posts
Describe your social page's category: lifestyle, athlete, fitness, and health and wellness
Your college details if you are a student
14. YesStyle

YesStyle is a US company selling a wide selection of Asian fashion, beauty, and lifestyle products. The company is limited to retailing popular brands and niche brands that support cruelty-free, eco-friendly ideology.
The YesStyle Influencer Program offers influencers the chance to earn free products and commission on every sale made through your Discount Code. You can earn extra commission by joining more influencers in the program using your referral link.
YesStyle requires influencers to share links to their Youtube, Instagram, Pinterest, TikTok or Pinterest account. The team will then decide using social media metrics and presence to judge whether you are suitable for the program.
15. Orglamix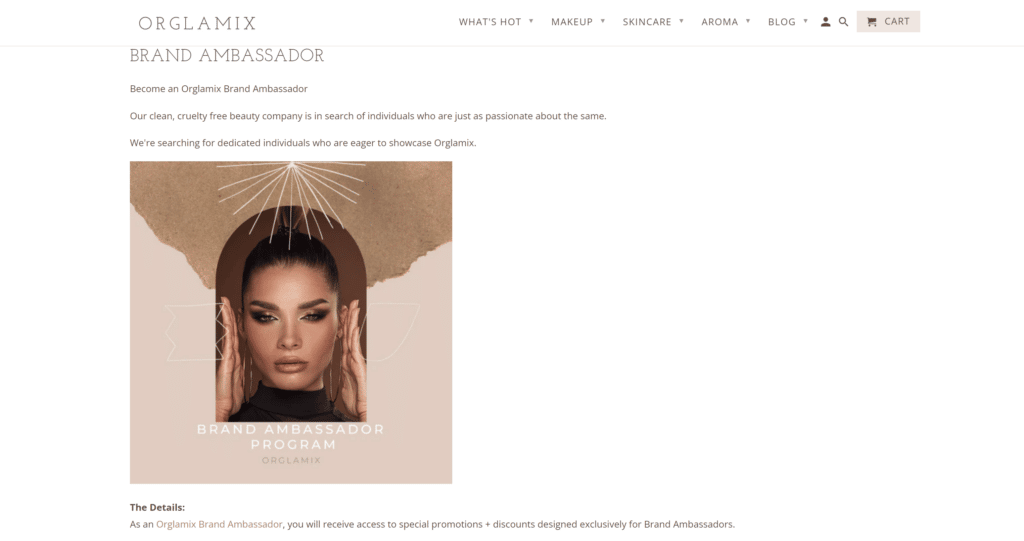 Orglamix is a beauty and skincare brand that takes pride in selling natural, vegan-friendly products. Its striking eyeshadows, flawless foundations, and smooth balms are loved by customers who keep returning for more.
You will receive the following benefits by signing up as a brand ambassador:
10% exclusive discount for all your purchases
10% discount code for your followers' first purchase
10% commission from all sales through made through your code
16. Cashmere Moon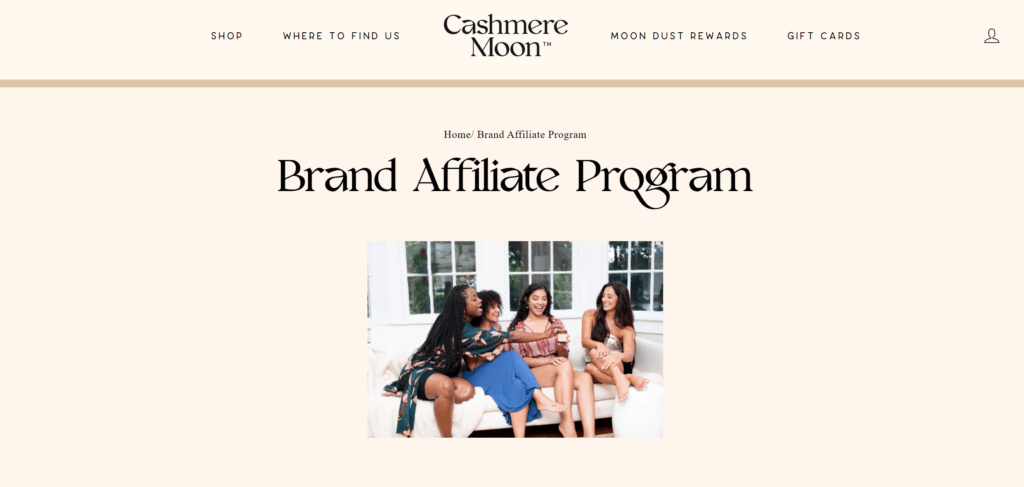 Cashmere Moon is an environmentally friendly company that aims to sell natural skincare products to help you achieve clean, glowing skin. Whipped body cream, hand lotion, and glow oil are some of their best sellers that nourish your skin. This is one of the best companies looking for influencers for those who are interested in quality natural face and body products.
If being a Cashmere Moon brand ambassador sounds interesting, you can earn points, rewards, and commissions on sales made via your unique discount code. You will be expected to share your love for cruelty-free products on your social media platforms.
To qualify for the program you must be:
18 years or above
USA-based with a majority of American followers on your social media
Passionate about healthy, natural skincare
17. Zagg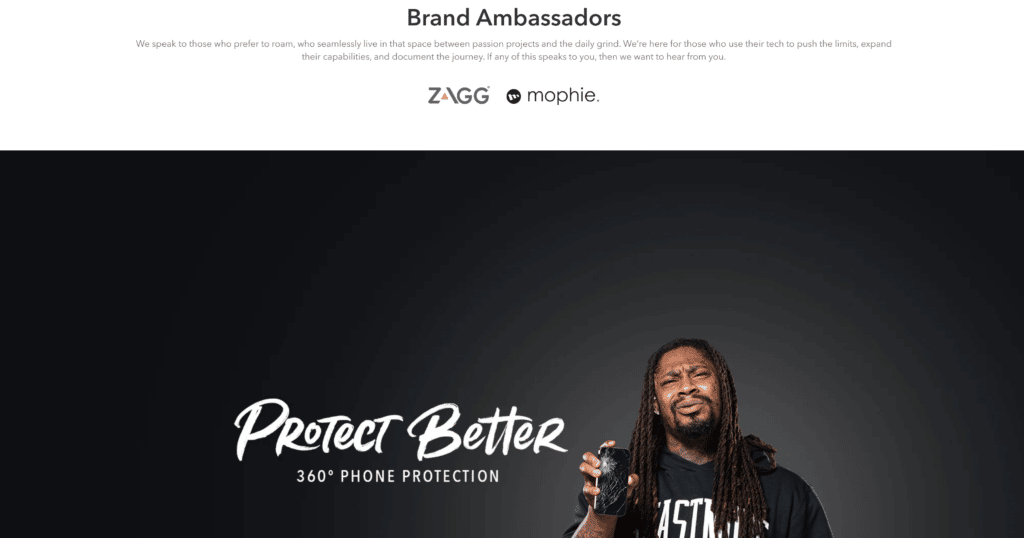 The company Zagg is a leading brand that provides you with a stylish smartphone makeover. From high-quality screen protection and impact protection cases to power banks and wireless charging, Zagg dedicates technology to designing a user-friendly mobile lifestyle.
Zagg is looking for influencer collaborations to promote the brand. If you are passionate about tech and love to test and document your journey, fill in the online application form. Your qualification will be based on the following details:
A must-have Instagram profile with a minimum of 5000 followers
Different social media platforms statistics if any
Your current smartphone brand
18. Singer Sewing

The popular company Singer has been synonymous with sewing for more than a century. The brand has manufactured state-of-the-art sewing machines and accessories to help people express themselves creatively. They're one of the most established companies looking for influencers with an attractive ambassador program.
Singer started the Singer Brand Ambassador Program in 2016. To be a part of this community your need to:
Must be active on two of the following social media platforms; Instagram, Facebook or Youtube
Have a minimum of 5000 followers on one of your social media accounts
Only use Singer brand as your sewing machine
Must have experience in writing sewing-related personal blogs/tutorials
Must post frequently as part of influencer marketing campaigns
19. One Tribe Apparel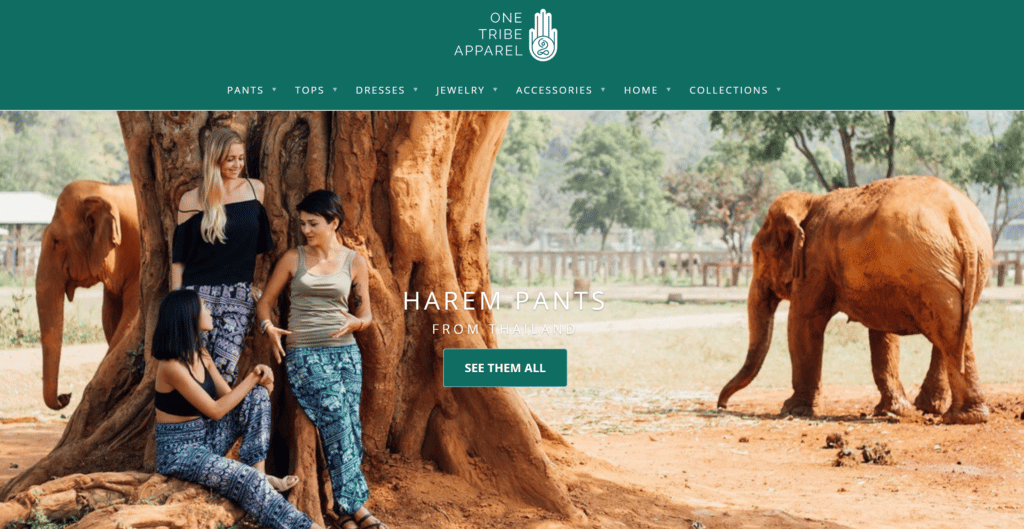 One Tribe Apparel sells bohemian-inspired merchandise in the United States. The collection includes tops, bottoms, dresses, jewelry, and other accessories.
One Tribe Apparel has partnered with an influencer marketing agency, Enlistly, to create a brand ambassador program. Participation in the program will give you 25% of store credit on all the sales generated from the proceeds from your followers.
You can also use specific assigned discount codes to share on your social media channels to generate more sales.
20. Dance Supplies
Dance Supplies is a family-owned dance supply store in Maryland, USA. It sells dance shoes, apparel and accessories online as well as in retail stores.
As a Dance Supplies brand ambassador you will get free products from the store and special holiday and birthday gifts. Then, Dance Supplies will promote your social media accounts aided with discount codes to help you increase your following.
To qualify as an ambassador you need to fulfill the following requirements:
Must be a dancer with a popular school/company in Maryland
Have a strong social media presence and post regularly
Share reviews on the dance supplies products
21. Trendy & Tipsy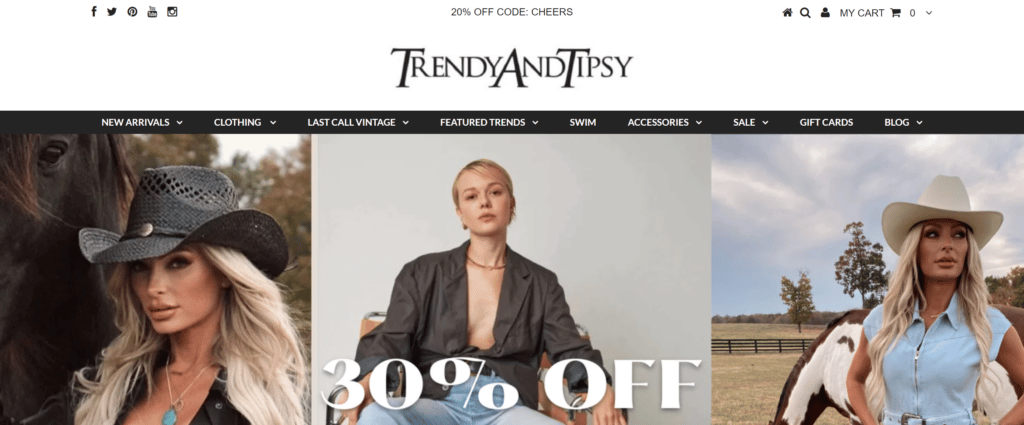 Trendy & Tipsy is an online clothing company that sells luxury fashion and trendsetting clothes for women. The brand sells apparel of all kinds, from coats and jackets, sweaters and tops to skirts, bottoms, and loungewear. You can also match your outfit with designed jewelry to complete your stunning and stylish look.
Fashion enthusiasts are encouraged to apply for the Trendy & Tipsy Brand Ambassadors Program. So by promoting and creating a buzz on social media they will get access to:
a massive 25% discount on all T&T products
an exclusive discount code to share with your followers and
bonus credits when your discount code is used
To apply for the program you will need to:
Send your name, email address, and links to your social media accounts
Your social media accounts should be set to public
State your level of education
Write a short essay on how you can help promote your favorite brand and what sets you apart from other
22. Brava Fabrics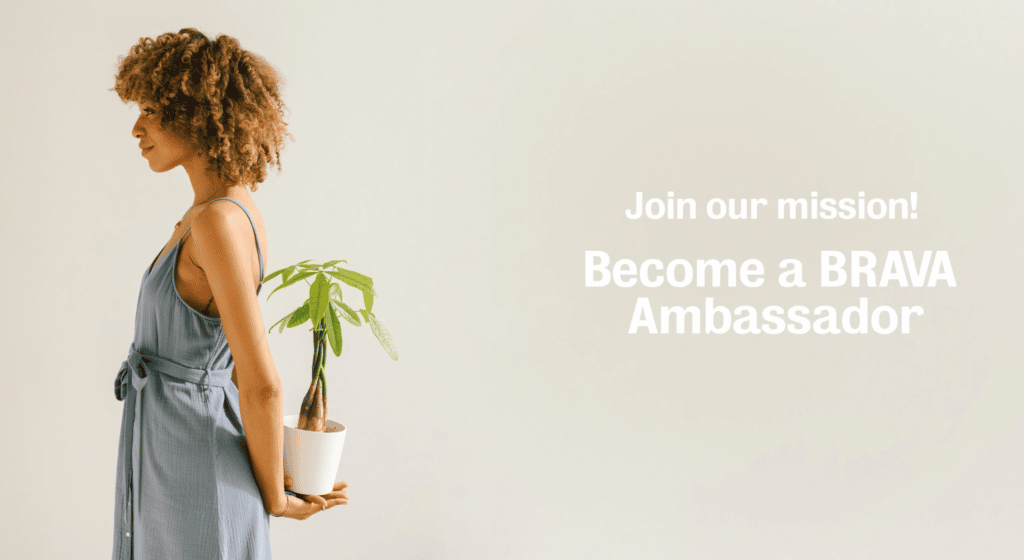 Brava Fabrics is a clothing company that manufactures garments for men and women. The brand is built on a company culture of teamwork and diversity to create high-quality clothing.
As a Brava Brand ambassador, you will receive a free product when you join the program, along with a discount code to share with your followers. You must post your feedback on Instagram within 4 weeks of receiving the item.
Brava Fabrics will review your online application within a few days after submission of the following:
Your Instagram or TikTok handles
Country where you reside
List of 3 favorite items from the website
Confirmation whether you will post feedback on the products
23. Pura Vida

The Pura Vida company is a jewelry brand and one of the best companies looking for influencers. They sell handcrafted bracelets and beautifully designed rings, earrings, and necklaces.
As a Pura Vida influencer, you will receive free products as a reward for sharing content and generating sales. Then, you will also receive a 10% commission on every sale processed using your code.
To qualify for the brand ambassador program you must:
Have an Instagram account
Be over 18
Reside in either Canada or the United States
How to Pitch Influencer Marketing Campaigns to Companies in 8 Steps
Now that you know how companies are looking for brand collaborations, let's go through the steps to successfully pitch your campaign.
1. Research the company and their target audience
First and foremost, start with researching the company. Next, learn more about the values and principles the company is built on and whether they align with your beliefs.
At the end of the day, you want to post content on your feed that you are content with and proud of. Ask yourself, is this a product or service I would use or try even if I didn't have a relationship with the company? You'll also want to ensure that the benefits of working with the company are attractive and worth your time.
2. Craft an attractive pitch
After selecting the appropriate company you want to partner with, you should craft a pitch that lists all your accomplishments as an influencer.
Begin with a concise, to-the-point subject line that ensures your email isn't lost within the thousands of messages brands guess every day.
Then write a short introduction or bio about yourself. Try to be as real as possible without being too informal. Brands love to know the personality of their influencers and whether it matches the overall feel and look of the brand.
Once you have given a glimpse of your personality, share links to your social media channels. Companies looking for influencers use these to dig deep and see how a strong social media presence fits the brand.
Share your profile metrics - engagement rate, monthly views, conversion rates, and audience demographics that will help the brand know how real and legit your followers are. You can create an effective influencer media kit that displays all these stats in an attractive and streamlined way.
4. Describe your influencer marketing strategy for their product or service
You have to explain how your marketing strategy will help the brand reach its goals.
Outline what kind of content you can create and share with your audience. Your ideas should include product reviews, giveaways, unboxing video clips, demos, tutorials, and any other creative concept that links the brand with potential customers in a helpful and relevant way.
5. Ask questions and tailor your pitch to their needs
Many companies looking for influencers ask applicants to write a short essay focusing on certain points. While writing the pitch, ensure to stress and provide all the necessary information for all relevant points.
You don't have to write fluff to increase your word count but write value-added and rich content that will provide the company with a quick solution to choose you as the brand ambassador.
6. Demonstrate results of previous influencer campaigns
Share success metrics of any brand collaborations you have done in the past, this short report persuades companies that you can achieve company goals and drive customer traffic to their website. Testimonials and references from previous partners show that you are reliable and have the experience to take their brand awareness to the next level.
7. Be flexible and willing to negotiate pay or products
Regarding pricing, don't offer a fixed rate but an open-ended one, so you have room to negotiate. Make sure that your rates are realistic and in line with industry standards.
You should also be willing and open to receiving products or services as part of the agreement. This type of exchange provides mutual benefits for both parties. Brands receive coverage and visibility around their services while you get to try new products. Be ready to negotiate terms that are beneficial for both parties.
8. Follow through to close the deal
Don't take it personally if you don't hear back after sending your application right away. Many times companies looking for influencers receive hundreds of applications a day. They simply don't have the bandwidth to respond to each one.
Make sure you follow up with the company once or twice in a professional manner. A simple email reminder can go a long way in helping you land that deal!
If any additional information is required, make sure to send it immediately, as this shows your professionalism and commitment to the project.
You should also try to stay in touch with the brand, so they remember you for any future collaborations or opportunities.
Key Factors Brands Looking For Ambassadors and Influencers Want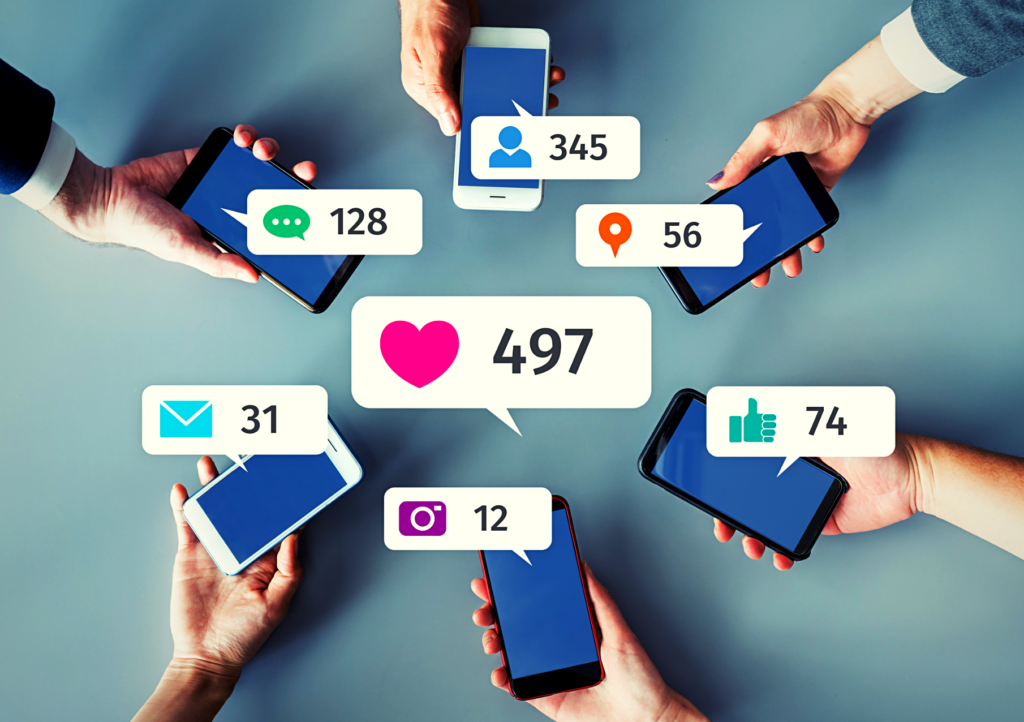 Brands looking for influencers rely on social media metrics to access the effectiveness of social media marketing. You can head over to your account and check how well your account is performing on the following:
Reach
Your reach is a measure of how many people are viewing your content. It includes different content types like reels, posts, and stories—the best brands looking for ambassadors and influencers to partner with pay close attention to these factors.
One significant advantage of knowing this metric is that you get to know the percentage of non-followers that see your content. Even though they are not following your page, your post is getting shared and viewed by the right audience.
Engagement Rate
How well is your audience reacting to the posts you share through comments, likes or shares? Any actions taken by the viewers count as an engaged response.
Social media ambassadors want high engagement rates on their posts, as this can help companies decide which influencer to partner with.
Audience Insights
Even if your account has more than 5000 followers, there is no point for a company to hire you as an influencer if your audience demographics don't match the company's target audience.
Audience Insights gives a closer look at the key demographic factors such as age, gender, location, level of education, and marital status. Knowing these statistics can help leading brands choose influencers that align with the company's goals.
Brands Looking For Ambassadors & Influencers In Closing
Working as an influencer is one of the best ways to make money online. Partnering with the right companies can help you get great returns on your investments. When pitching for a brand ambassador position, it is important to clearly understand the company's goals and objectives. You'll also want to know your own metrics and ensure that the brand's target audience matches yours. That way, you can provide value to both parties and create successful campaigns together.
Want to learn step-by-step how I built my Niche Site Empire up to a full-time income?
Yes! I Love to Learn
Learn How I Built My Niche Site Empire to a Full-time Income
How to Pick the Right Keywords at the START, and avoid the losers
How to Scale and Outsource 90% of the Work, Allowing Your Empire to GROW Without You
How to Build a Site That Gets REAL TRAFFIC FROM GOOGLE (every. single. day.)
Subscribe to the Niche Pursuits Newsletter delivered with value 3X per week