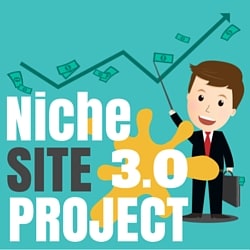 Hey Gang! Perrin here again, and I'm super excited about our call today.
Why? Because we're finally starting to move out of the content creation phase and get started with some actual marketing!
A quick recap from our last call…
Last week, Colleen told us that she was nearing the end of her first batch of content. If you've been following along, you'll know that we made a slight adjustment in our content strategy: we decided to "launch" with about 40 articles instead of 60, and we reduced our initial categories from five to two.
This was a tactical decision. We think we'll be more successful quicker if we create less content to start and spend more time marketing.
So, Colleen's been rocking and rolling. She's outsourced a good chunk of content, and she's been banging out articles of her own.
Currently, she's on schedule to have 40 articles complete by February 20th. 
We've also covered pretty much everything we need to (at least for the beginning phases of an online business) in terms of content.
So, even though Colleen still has a few days' worth of content production to go, I thought it'd be a good idea to start laying the groundwork for our link building strategy.
So today, we're going to talk about our strategy for building links.
For pretty much the entire history of SEO, people have been trying to devise ways to "build" links without actually having to talk to other people—to game Google instead of promoting content or networking with other webmasters.
There's a prevailing mindset that "white-hat" link building is incredibly difficult, incredibly time consuming, and incredibly expensive.
I bought into this mindset myself, happily buying into the PBN craze… and quickly learned my lesson.
Since then, I've been learning about—and practicing—white-hat link building.
And it's paid off… big time.
Not only has white-hat link building helped me grow a new site to beyond where aPennyShaved was—especially in terms of traffic—but it's also showed me something very important: white hat link building is actually cheaper, easier, and more effective than any grey-hat technique I've ever tried.
During my last guest posting campaign, I spent 20 hours and roughly $200 to get about 11 links, including an incredible DA75 bombshell from the biggest site in my industry. You can't do that with PBNs.
So, that's the direction I want to steer Colleen.
Marketing Phase 1: Guest Posting
I love guest posting. It's not the most efficient way to earn links, but it's certainly one of the easiest, making it, in my mind, a great place for us to start.
It's one of the safest forms of link building you can do, and it's one of the only white-hat ways to build links that allows you to retain even a teensy bit of control over your anchor text and link placement.
But, more than that, it's a great way to build real relationships with people in your market. And that, my friends, is absolutely invaluable when you start to scale into the realm of "business."
We're going to try three different kinds of guest posts…
1. Asking people we know.
If you think link-building is hard, you're going to love this. I have no idea why more people don't do this.
The first links Colleen's going to try to secure are asking people she knows to guest post on their blogs.
Listen: it's 2016. Everyone—and I mean everyone—has a blog of some kind. So everyone reading this—yes, even you—knows at least 10 people who have some kind of blog.
If you think you don't, you're wrong. You do. So ask.
Want To Build Smart & Relevant Internal Links...Quickly?
Link Whisper is a revolutionary tool that makes internal linking much faster, easier, and more effective.  It makes it simple to boost your site's authority in the eyes of Google. You can use Link Whisper to:
Bring out your orphaned content that isn't ranking

Create smart, relevant, and fast internal links

Simple yet effective internal links reporting: what has lots of links and what pages need more links? 
Click here to revolutionize your site's way of doing internal links
Just put out some feelers on Facebook, Twitter, Instagram… wherever your friends hang out. Simply ask who has a blog, and then as if you can give them some free content.
I literally can't think of anything easier; your conversion rate should be pretty close to 100%.
The obvious problem, of course, is that almost none of these blogs will be on your topic. To get around that, simply write a post that overlaps with the two niches.
Have a soccer blog, but your friend has a parenting blog? Write a post about how soccer teaches kids life skills. Have an archery blog, but your friend has a travel blog? Write a post about regulations you need to know before traveling with a crossbow. You get the idea.
Colleen's assignment: Ask 10 blogger friends for guest posts.
2. Find big blogs you WANT links on and "make those relationships happen."
This is the preferred tactic of my good friend Ryan, one of the best link builders I know.
He's always hated the idea of "link prospecting." And he detests weak links. He only goes after strong links—links he can write home about.
To do this, he finds the best sites he can. Then he compiles a list of people who might be good contacts: editors, associate editors, marketing managers, content managers—pretty much anyone who might have any say in what gets published on the site.
Then, he'll rank them in terms of priority, and he'll just start pounding the pavement. In his words, he "makes those relationships happen."
He'll email one person and follow up about four times. If he doesn't get a response by then, he'll simply go to the next name on the list for that site. And he'll do this until he's got a contact who likes him. And then he'll pitch them on a guest post.
And guys… the links he gets are ridiculous. Just one of these links is worth many dozens of lower-tier guest posts. So we're going to try to get at least a few.
Colleen's assignment: Find 20 amazing sites in her market she WANTS links on, and compile a list of potential contacts.
3. Find prolific guest posters and "steal" their opportunities.
This is the last and final guest posting strategy we'll use.
The idea here is to find someone in Colleen's broad market who's publishing a bunch of guest posts. Then, we'll try to find all the places that person's posted and go after those opportunities ourselves.
A good way to do this is to use some simple advanced Google queries, like the following:
[keyword] "guest post by"
[keyword] "guest author"
[keyword] "my guest posts"
Using those, everyone should be able to find one or two good guest posting "role models." If you can't, broaden your search to a bigger chunk of your market (e.g. "fitness" instead of "yoga for dads").
Then, we'll see if we can track down our role model's guest posts and pitch some ideas to those sites.
Check out our our call for an in-depth discussion
If you would rather listen to the audio only, you can download the MP3 file right here.
Wrapping it up…
Overall, this is super exciting. I love this part of the site-building process.
This is where the magic happens. This is what can really start the ol' success snowball, and I honestly think Colleen has the perfect skill set to execute.
Do you guest post? Why or why not? Leave a comment!
---