Top 109 Ultimate Blog Commenting Sites List + How to Post the Perfect Comment
When you buy something through one of the links on our site, we may earn an affiliate commission.
The ultimate blog commenting sites list is all about finding sites with a high domain authority that you can leverage to improve your own page ranking, drive organic traffic, and increase brand awareness.
We've all come across annoying comments like, "Hey, great post, check out my website and follow my page," and then seen it copy and pasted across different blogs, YouTube videos, and Instagram photos. If you want to use blog comments to improve your SEO, this is an example of what not to do.
When approached correctly, blog commenting is an off-page SEO tactic to create backlinks and increase site traffic.
While the process has changed a lot since Google bots have upped their game and the market has become more saturated, blog comments are still a useful way to build backlinks.
Today, we're rounding up the top sites with a high domain authority to create a blog commenting sites list. You can use all the websites on this list to funnel more traffic to your site.
In the meantime, here's a quick shortcut to use Jasper AI to comment on blog posts you haven't read.
Find a blog post related to your niche.
Use the search function (CTRL+F on PC or CMD+F on Mac) to look for questions in the post.
Input the query into Sentence Expander on Jasper.ai for additional ideas.
Submit your comment.
Get Jasper here

Types of Blog Comments
In order to enable commenting on their blog, site owners will utilize a commenting plugin or tool. There are a few that are really popular. The type of comment on a blog site can also be an indicator of the benefits it can bring to you.
CommentLuv
This WordPress plugin has been around for a long time and is one of the best ones for posting blog comments that link back to your own site. CommentLuv allows you to leave behind a titled link to your latest post.
Depending on the permissions that the site owner has set, you can also post a dofollow link with CommentLuv and choose which of your ten latest posts you want to link to.
By default CommentLuv links are nofollow to protect the site owner's page ranking.
If you're looking to increase traffic to your own site, CommentLuv comments are some of the best for you to be posting.
Disqus Comments
Disqus is another commenting plugin. I like to think of it as having the same setup as Reddit. You can create a full profile, including a name, bio, avatar, and social/website links.
Users can respond to your comment in a thread or "like" it by upvoting. You can also attach a media file to Disqus comments.
Disqus links are nofollow, but they are still a good source of traffic to your site. If you want to make the most of Disqus comments, it's important that your domain name is easy to spell and remember.
Depending on the settings of the site you are commenting on, most Disqus comments will need to be approved by the site moderator before they are published. Once your comment has been approved, you'll be able to view it from your Disqus dashboard.
Facebook Comments
More and more often these days, you'll find the option to comment on a website using your Facebook profile details. You simply log in with your Facebook ID and post your comment.
This can be useful if you are looking to build your social media presence and have a lot of links to your domain on your Facebook profile.
The benefit of using your Facebook account to leave comments is that it adds to your credibility. Often you will have a legitimate photo of yourself, and since Facebook changed its policy, you have to use your real name on your account.
This makes people feel more comfortable with you as it proves you aren't just a bot or spam.
Instant Approval Blog Commenting
Most blogs will moderate their comment section to avoid trolls and spam. This means that you need to wait anywhere from an hour to 48 hours before your comment actually gets published.
However, there are some blog commenting sites that have set up their comments without moderation. This is known as instant approval blog commenting.
The important thing to note here is that, unfortunately, instant approval blog commenting sites tend to have less thoughtful discussions as they are inevitably targeted by people leaving spam comments.
Social Media & Digital Marketing Blog Commenting Sites List
If you're looking for sites that are related to social media, internet marketing and general entrepreneurship, these sites offer an active comments section and boast a high DA for you to take advantage of.
Keep in mind that posting on business blogs is also a great way to network with other people in your niche. Often blog comments are moderated by the owner or marketing team, so it's a good way to get your name in front of people.
1. ZDNet—DA 92
2. HubSpot Marketing—DA 92
3. Buffer Blog—DA 91
4. Moz—DA 91
5. Search Engine Land—DA 91
6. ElegantThemes Blog—DA 90
7. Neil Patel—DA 87
8. Yoast SEO—DA 79
9. CopyBlogger—DA 78
10. Problogger—DA 77
11. QuickSprout—DA 73
12. ShoutMeLoud—DA 69
13. Backlinko—DA 63
14. Internet Marketing Ninjas Blog—DA 60
15. Smartblogger—DA 58
16. WP Tavern—DA 57
17. JungleScout Blog—DA 57
18. Advanced Web Ranking—DA 55
19. Unmarketing—DA 54
20. Buildfire—DA 54
21. Blogging Tips—DA 52
22. Yaro Blog—DA 50
23. Thirsty Affiliates Blog—DA 43
Tech Blog Commenting Sites List
To take full advantage of the benefits of blog commenting, posting on blogs that are in the same niche as yours is really critical. These blog commenting websites are ideal for any techheads blogging about the latest technology.
Because tech is always changing, make sure anything you mention in your post is current to appeal to more people. The more "in the loop" you are, the more credibility you will gain among other bloggers.
24. TechRadar—DA 92
25. TechRepublic—DA 88
26. TechSpot—DA 87
27. OnlineTechTips—DA 73
28. TechDee—DA 65
29. Trak—DA 64
30. ComputerTechReviews—DA 62
31. DashTech.org—DA 61
32. ForTech.org—DA 61
33. TechStrange—DA 60
34. TechWalls—DA 59
35. AllTechBuzz—DA 58
36. TwinzTech—DA 51
37. TroubleFixers—DA 49
38. Techvig.net—DA 49
39. TheITBase—DA 48
40. TechTricksWorld—DA 43
Fashion Blog Commenting Sites List
Fashion gurus looking to write comments on niche relevant blogs can check out these fellow bloggers. These blog commenting sites boast high DA and the perfect opportunity for you to engage with blog readers that are already committed to reading online about fashion.
Just like tech, fashion is something that is constantly changing. For that reason, keep your post on trend to highlight your knowledge of the fashion industry. This is more likely to inspire readers to check out your website.
41. The Sartorialist—DA 74
42. Purse Blog—DA 70
43. GirlWithCurves—DA 65
44. Style Rookie—DA 64
45. SincerelyJules—DA 62
46. Love, Maegan—DA 61
47. Makeup and Beauty—DA 56
48. TheFrugality—DA 54
49. BecauseImAddicted.net—DA 54
50. LouiseRoe—DA 54
51. BecauseImAddicted.net—DA 50
52. HarperAndHarley—DA 49
53. The Coveted—DA 45
54. WhereDidUGetThat—DA 42
55. Fashion Chalet—DA 36
If you're struggling to get your fashion blog off the ground, check out how to start a fashion blog with Dave Bowden and how he grew his male fashion blog to $30K a month.
Travel Blog Commenting Sites List
These high DA travel blogs have a great comment section for you to post your thoughts and hopefully gain some incoming traffic to your own site. All of these sites cover everything from where to stay to what to eat, what to pack, and how to find the best deals.
If you run a travel blog and you're looking to monetize your page, take a look at some of the best travel affiliate programs for bloggers to make money from.
Travel blogs have become increasingly popular with more and more people working online and living as digital nomads. Make the most of these blog commenting sites by also using them as an opportunity to meet other bloggers doing the same thing as you.
56. BoardingArea—DA 78
57. NomadicMatt—DA 67
58. AdventurousKate—DA 61
59. GlobalGrasshopper—DA 58
60. TravelsOfAdam—DA 58
61. UncorneredMarket—DA 58
62. HandLuggageOnly.co.uk—DA 57
63. DangerousBusiness—DA 56
64. IAmAileen—DA 55
65. VelvetEscape—DA 54
66. TheShootingStar—DA 52
67. LocalAdventurer—DA 51
68. OurAwesomePlanet—DA 48
69. TheSavvyBackpacker—DA 47
70. TheLongestWayHome—DA 46
71. BeOnTheRoad—DA 43
72. TheBrokeBackpacker—DA 41
Bonus: Another great travel blog to consider for your blog commenting sites list is BeMyTravelMuse run by Kristin Addis. It's one of the top travel blogs for women in the world with a DA rating of 68.
Kristin's blog is a fantastic source of inspiration and a place to network with other travelers and people interested in travel.
Finance Blog Commenting Sites List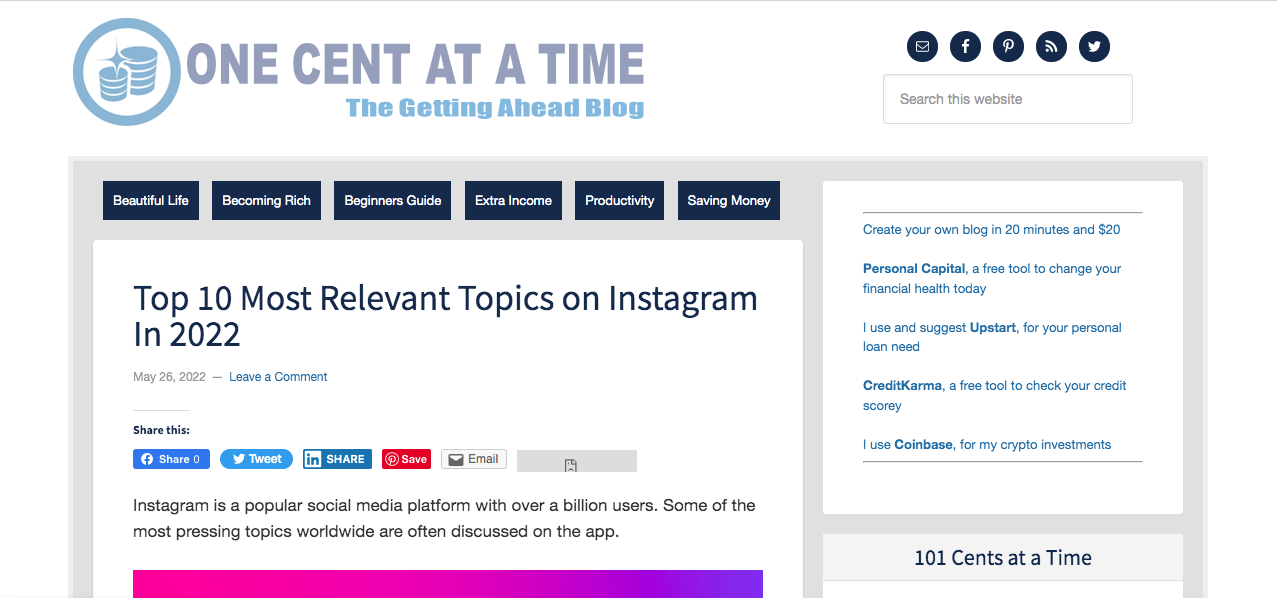 Finance blogs are likely to start generating a lot more traffic as inflation rises around the world. Everyone is looking for money-saving hacks and advice on how to tackle debt and budget correctly.
These are just a couple good blog commenting sites to check out if you are working on your own niche blog about finance. You can gain inspiration for post ideas and see which articles encourage a lot of engagement from blog readers.
73. MoneySavingMom—DA 70
74. SavingAdvice—DA 63
75. OneCentAtATime—DA 58
76. MakingSenseofCents—DA 57
77. SeedTime—DA 56
78. ManvsDebt—DA 56
79. ModestMoney—DA 54
80. DoctorOfCredit—DA 54
81. WhiteCoatInvestor—DA 54
82. FinancialHighway—DA 51
83. ComFree—DA 50
Lifestyle Blog Commenting Sites List
You want to look for a niche-relevant blog (with a good SEO matrix) to benefit from your blog commenting technique. You want the people who are going to see your comment to be interested in the same kind of posts you have on your own blog.
But that isn't always specific. "Lifestyle" is a pretty general term for blogs that encompass a few different categories. For the most part, lifestyle blogs include posts about home decor, food, travel, fashion, and more.
If your blog niche is really specific, you might not find blog commenting sites that cover the same topic. However, you can probably find a few articles on lifestyle or general blogs that are in the same niche. These are the best posts for you to comment on to capture the right audience.
For example, don't comment on a post sharing a recipe for blackberry crumble if your blog is all about fashion.
Look for a post about someone that loved their new pair of mom jeans and then point out that if readers found this article helpful they can also check out your blog which is all about motherhood fashion.
84. TheSpruce—DA 76
85. DesignMilk—DA 74
86. TheFamilyRoom—DA 70
87. CentsationalStyle—DA 65
88. StyleByEmilyHenderson—DA 64
89. OnePlace—DA 59
90. FamilyLife—DA 57
91. FamilyFocusBlog—DA 57
92. Wit&Delight—DA 52
93. SwoonWorthy—DA 49
94. EverythingMom—DA 45
95. Aha-Now—DA 43
96. DashofWellness—DA 33
Health & Fitness Blog Commenting Sites List
Health blogs usually go hand in hand with fitness blogs so don't be afraid to post on one even if your blog is more about the other. Fitness is health, health is fitness.
With that said, all the websites here are the perfect place for anyone looking to target other health nuts. Whether your blog is all about healthy eating, ten-minute fitness routines, body positivity, or living with diabetes, you can find a robust community online.
Affiliate marketing can be a great source of revenue from your blog, especially once you build up your traffic. Take a look at these health and wellness affiliate programs to consider implementing on your blog.
The key to tapping into the audience you'll find on other blogs is making sure you use the right tone and language to appeal to their readers. For some people, health can be a sensitive subject, so read the post carefully before writing your comment and try to match the tone.
97. HealthyPlace—DA 75
98. FitBottomedGirls—DA 66
99. 100DaysofRealFood—DA 65
100. FoodRenegade—DA 64
101. YogaWorks—DA 61
102. TheFullHelping—DA 59
103. AggiesKitchen—DA 56
104. HealthBeckon—DA 53
105. DiabetesStrong—DA 52
106. HiveHealthMedia—DA 51
107. TheBeautyGaze—DA 49
108. HealthAndBeautyTimes—DA 48
109. TheFitScene—DA 42
What Is Blog Commenting?
A blog comments section is a space for readers to engage in discussion about the blog post and the value they gained from it. It's a great way to build a community around your blog and interact directly with readers.
Often, comments will also enhance the value of the original post with insight from other perspectives and possible solutions to problems.
Blog commenting is also one of the oldest tricks in the book to build backlinks to your site.
Bloggers and other site owners will sometimes comment on other people's blogs to increase traffic to their own site. Sounds crazy, but it works.
Basically, blog commenting (in this context) is the process of leaving blog comments on a bunch of different sites that have a high DA in your niche with the end goal of increasing your own SEO and driving more traffic.
How Do Blog Comments Help Build Your Site?
Let's be honest, commenting on a bunch of blogs that aren't your own sounds annoying, time-consuming, and pointless. But there's a reason that you come across those annoying copy-and-paste comments across all your favorite blog posts.
Here's why a great blog commenting sites list can help you boost your own blog/site.
1. Visibility/Site Traffic
It's no secret that the golden rule of marketing is to get your name in front of as many people as possible. Exposure will always lead to more site traffic.
When you write blog comments you are creating a presence for yourself in another area. By doing this, you can tap into the audience that another website has already curated.
If you post quality comments that are intriguing and beneficial for other readers, they're likely to, at the very least, remember your name.
Visibility is hugely important for your overall success. The more people that remember your name, the more likely you are to increase your site traffic and gain new customers.
2. Credibility
This one goes hand in hand with visibility. Engaging in blog commenting is also a great way to increase your credibility.
For one, if you've done a good job of curating your blog commenting site list, then you'll be posting in places where there is established authority on your subject.
By engaging in the conversation there, you can interact with others that are knowledgeable or looking to learn more on a particular subject.
As long as you post quality blog comments, you can showcase your own authority and gain credibility.
Secondly, the more visible you are online the more likely people are to trust you. If people remember your name and associate you with another reputable blog then they'll be more comfortable with you.
The key to establishing credibility through blog commenting is to make sure you're posting quality comments that allow you to market yourself as an expert on a topic.
3. Site Backlinks
A backlink is generally any link found on a site that is not your own, that leads back to your site. So, it's where you gain inbound traffic from another website.
Backlinks are a major part of increasing your page rank and SEO score. The quality and quantity of backlinks your site accumulates will influence your standing with search engines like Google. This is because Google considers the amount of backlinks you have to be indicative of how popular your site is.
Fun fact: When Google first launched, it was the first search engine to ever consider backlinks as part of a page's popularity. Their "PageRank" algorithm measured both the authority and number of backlinks each website has to determine how high up your site shows on the search engine results page. So, for Google, quality backlinks are very important.
Depending on the type of blog comment you leave, you create a backlink to your own blog or website. More high-quality backlinks leads to higher search engine ranking and leads to more traffic, which also increases the opportunity for backlinks and better page ranking. It's like a happy little SEO loop.
The best way to create quality backlinks through blog commenting is to target high DA blog commenting and prioritize places where you can put a dofollow link to your blog.
All in all, it's important to focus on building genuine links. Don't use automated blog commenting bots. These days, you get a lot less link juice from blog commenting than you used to so making sure you take the time to create quality backlinks is really important.
4. Networking & Business Relationships
One of the primary reasons that people open up the comment section on their own blogs is to engage and interact with their readers.
More than increasing your SEO score, blog commenting helps you to network with other people in your industry and build important relationships.
This opens up doors for collaboration and better link building. You get more link juice from another blogger endorsing your site and putting a link to your blog in their post than you do from attaching a nofollow link in the comment section.
So, if you want to create quality backlinks, networking is an absolute must.
Networking is also important for opening up new avenues of income and increasing your brand awareness. The more consistent you are with blog commenting and the more work you put into building up your visibility, the more likely you are to find new business opportunities.
If you a build a relationship with the blog owner you might be invited to write a guest post, you might find yourself writing sponsored posts, and so on and so forth. Never underestimate how valuable relationships can be for your business.
5. Name/Brand Recognition
Visibility plus credibility equals brand recognition. Even if you don't immediately find that blog commenting has any impact on your traffic or your SEO score, that doesn't mean that it's not worthwhile.
Ultimately, building these things up takes time but every time you post a comment you are working towards something. The more people that remember your name and think of you as an expert or leader in a certain area, the more people will think of you when it comes time to make a purchase.
How to Find a Good Blog Commenting Site
The easiest way to grow your own list of blog commenting sites is to use Google to find active blogs. You can input a particular search string to find niche-relevant blogs, high DA blog commenting sites, and even look specifically for dofollow blog commenting sites.
Once you get to Google, simply put in a niche related keyword + leave/add/post comment.
So your query could look something like this:
You can also try:
"keyword" + "leave a comment"
"keyword" + "post a comment"
Right away you'll end up with a ton of hits. A quick way to narrow this down is by using the search tools to look for active blogs. Click on "Tools" and adjust the date range for your search. Look for blogs that have been posted no longer than a month ago.
In general, the more recent the blog the better chance you have of someone seeing your comment. There's also a higher likelihood of people engaging with you directly in the comments section.
If you post on an article that's much older than a month or so, the engagement levels tend to peter off.
If you specifically want to search blog commenting sites that will allow for dofollow links then you might want to search for blogs that are using CommentLuv. You can do this by adding "CommentLuv" or "CommentLuv enabled" to your search query.
Depending on the keyword you put in, the top results might all be videos. In that case its probably a topic that is better suited to video, and that's fine.
You can still comment on videos and drive traffic from YouTube back to your site. Plus, posting comments on YouTube videos is especially helpful if you also have a YouTube channel that's related to your blog.
Domain Authority
Creating a blog commenting sites list that is full of websites with a high domain authority is really important. Or so I keep telling you.
But why? What the heck is domain authority anyways?
A site's DA is basically an indicator of how well it will rank on search engine result pages (SERPs). Search engine rankings are important indicators of a site's credibility, traffic, domain age, search volume and link quality/diversity. All of these factors will help to determine a site's domain authority.
The DA scale ranges from 1 to 100 with all new sites starting out with a DA score of 1. As your site gains traction online and the search volume for your brand goes up, your backlink profile grows, etc., your DA score grows too.
If you want to use blog commenting as a way to improve your own blog ranking then it's important to consider the search engine rankings of the sites on your blog commenting list.
The reason for this is because the sites which link to your own blog will also impact the quality of your backlink profile and therefore influence your DA score. Additionally, DA score is indicative of the traffic that the site brings in which will tell you if it's a website worth commenting on.
You can use Moz's free domain analysis tool to check the DA of any site. If you scroll down you'll also be able to view top search competitors and their DA. From there, you can check out the sites that are related and have a high DA to also add to your blog commenting sites list.
Basically, you want to comment on high DA blogs to improve your own DA score which will influence where you turn up on search engine result pages. So, it's an SEO thing.
Niche Relevancy
Another important factor to consider when you go to search blog commenting sites is how relevant the blog is to your niche.
This is pretty self explanatory—you want to post your comments in front of your target audience. No matter how valuable or insightful your comment is, you won't build up your fashion blog by commenting on blog sites related to horses.
The benefits of blog commenting, like networking and traffic driving, are only beneficial within your own niche.
Determining niche relevancy is a pretty easy thing to do. When you are inputting your search string into Google to look for blog commenting sites, make sure you pick a keyword that is related to your own niche.
Stick with a keyword that is obvious. The more vague or obscure your keyword is will affect the niche relevancy of the blogs that come up. Even if you just wrote a post on how clearing your debt can have a positive impact on your physical health, don't use a fitness keyword if you run a finance blog.
You can also use the Moz tool to check out how relevant a blog is to your own. Their domain analysis includes a list of the top ranking keywords. Based on the keywords that a blog ranks for, you'll get an idea of what their audience is interested in.
For example, if we look at bemytravelmuse.com, we can see that it ranks well for the keyword "solar plexus chakra." This tells you a little bit more about their readers and can help you decide if it's a good blog commenting site for you.
Nofollow vs Dofollow Links
Link building is an important part of search engine optimization.
Basically, anytime another website links back to yours, it's called a backlink.
People use blog commenting as a tactic to build their backlink profile. However, building a natural backlink profile requires both nofollow and dofollow links.
The difference between dofollow and nofollow links is the way that blog sites pass on their link juice. This has implications for search engine rankings, both for your site and the site you've commented on.
Niche Pursuits has a ton of links pointing back to this site but a lot of that came naturally. You can read Spencer's post on how to build links for niche sites to find out more about the methods he used to grow NP's authority.
Dofollow Links
A dofollow link tells Google that the link is endorsed by the dofollow blog commenting site you posted on.
A dofollow link will look like this:
<a href="https://example.com">Anchor Text Goes Here</a>
Before 2005, all links were dofollow. This allowed the original domain to pass on its credibility and authority to your blog.
However, as people took advantage of this and started spamming comment sections to build their backlink profile, Google and other search engines introduced the nofollow link.
Overall, if you can get a dofollow link from high DA blog sites it will have a positive impact on your own SERPs. For that reason, dofollow links are often considered more desirable than nofollow links for SEO purposes.
Nofollow Links
That's not to say that nofollow links aren't still valuable.
Nofollow links will still link back to your domain, but Google will not consider the link to be endorsed. Basically, the nofollow tag in the link will impact indexing and crawling by Google.
Nofollow links will look like this:
<a href="https://example.com" rel="nofollow">Anchor Text</a>
You won't get the full SEO benefit of a dofollow link to add to your profile, but you can still drive traffic and increase brand awareness with nofollow links. In turn, more traffic and more awareness will have an impact on your SEO so nofollow links are still helpful for your blog.
Also, since the introduction of nofollow, Google has further updated the way that nofollow links can be categorized by blog owners and website admin. The search engine has now added the additional link tags:
rel="sponsored" which looks like this:
<a href="http://www.example.com/" rel="sponsored">Anchor text</a>
and rel="ugc" which stands for "user-generated content" and looks like this:
<a href="http://www.example.com/" rel="ugc">Anchor text</a>
Both tags are meant to be used as a way to further indicate to Google how to treat the outbound link.
The rel="ugc" tag is often used for the comments section. However, website admin can actually remove it from specific links to reward valuable contributors. This basically turns your link into a dofollow backlink.
Nofollow links are also important for building trust, both with your audience and your fellow blogger. The more people see your brand name, the more they are going to start to trust you.
Likewise, the more bloggers that notice you are an active, quality contributor in their niche, the more likely they are to afford you credibility and look to build a relationship with you.
Plus, if you post a comment with a nofollow link, there is always the possibility that a reader will pick it up and post it as a dofollow on their own site.
How to Write the Perfect Blog Comment
OK, here's how not to be that annoying person that posts the same comment over and over again. To make the most of your blog commenting sites list, you want to ensure you are posting a comment that is going to interest your target audience.
After all, you want to grab their attention and persuade them to find out more about you and your site—i.e., check out your blog.
With that in mind, you can't write a single generic comment to post across your blog commenting sites list.
Your goal for every comment should be to:
Add value
Promote your brand respectfully
Engage blog owners and other readers
In addition, here are some helpful tips to keep in mind if you want to get blog commenting perfect:
Don't overpromote your brand and post a ton of links in one comment
Use a real image for your comment profile
Don't use a fake name or a brand name for your profile—use your real name
Keep it short and sweet—comments shouldn't be longer than 100-150 words
Avoid blog commenting sites that have a lot of spam comments (this can hurt your link quality and SERPs)
1. Add Value
When posting your comment to blog sites the first thing others will look for is if your comment adds value.
You're there to promote yourself, but standing out as a brand starts with standing out in the comments. Ultimately, building trust and credibility will come with adding value to the original post.
Make sure you read the post you are going to comment on (in full!) before you try to write a comment. Then read what other people have commented. You're contributing to an ongoing discussion, you can't just jump in without knowing what everyone else is saying.
A good way to stand out is to say something different than what has already been said. Posting, "I totally agree with you, here check out my blog" isn't going to attract anyone.
You can either play devil's advocate and post an alternative or opposing position or agree but add additional insight.
Another way to get your comment noticed is to reference another commenter specifically. Something like, "I agree with what Erica said about blah blah blah, but I don't agree with her thoughts on blah blah blah because…"
When you directly respond to another commenter there is a good chance they will come back with a rebuttal and probably check out your link to see who you are and what you're all about.
Always make sure the information in your comment is up to date. You want to show that you are an authority in your niche that can be trusted. Bonus points if you can enlighten the blog owner and readers to something new. It will show you're ahead of the game and drive more people to your site.
2. Promote Your Brand Respectfully
The whole purpose of building a blog commenting sites list is to increase brand awareness. But you need to do it respectfully or you can alienate your audience and other bloggers.
Most blogs will have a list of community guidelines that dictate the parameters of an appropriate comment. If you're unsure about your post you can always check here to see if you're in line with what the moderators are willing to allow.
Doing this will also mean you have a good chance of your comment being approved and you won't waste your time writing comments no one will ever see.
To promote your brand respectfully, writing meaningful comments that show you've actually thought about the topic is key. Don't shamelessly plug your brand with no relevancy.
Not only will other readers likely skim over these kinds of comments, but you are also insulting the original blogger by not taking the time to read their post.
In addition, keep your brand values in mind when writing a comment, as they will inevitably come across to the reader. When you leave comments, this is an opportunity to showcase what is special or unique about you and your brand.
If you post an unthoughtful comment or something inappropriate and then riddle it with links to your site on a high DA blog, people are going to form a low opinion of your brand.
They say all exposure is good exposure when it comes to marketing—but that's not always true. Don't give people a negative reason to remember your name.
3. Engage Blog Owners and Other Readers
The more you can encourage engagement in the comments section, the more likely you are to attract more clicks on your link.
We already talked about responding directly to another commenter, but another way to do this is to ask questions in your comments.
Asking a question can extend the conversation and encourage other readers to get involved – don't just write "Amazing post!" and hit Submit Comment! Leave a thoughtful contribution, and as a result, more people will be looking at your commenting profile… and you're likely to see a small spike in traffic.
You can also suggest other topics for the blog owners to cover that are related to the post. If they've written about traveling with a toddler, you might ask how they found traveling with a newborn and request they create another post related to that.
You might even earn yourself a dofollow blog link as a shoutout for post inspiration if they appreciate your informative blog post suggestion.
Using Gravatar For Blog Commenting
Having a Gravatar is integral for blog commenting. An image alongside your name lends a lot of credibility to your post.
Gravatar stands for Globally Recognized Avatar and is basically the image that follows you around online. It is associated with your email address, so whenever you go to post a comment and put in your email, the image you choose will show up alongside your name.
Connecting your image to your email address means that your Gravatar isn't limited to a single platform. You can use your Gravatar across multiple blogging platforms like WordPress, Squarespace, Wix, and more.
If you want to see what your Gravatar image looks like, you can check here and simply put in your email address.
Just on its own, having a Gravatar image is an easy way to start growing your blog. A Gravatar can:
Help you stand out. If you're leaving a blog comment, your image will help your comment stand out and attract people to you. It also helps show your comment isn't spam. This is important for moderated comments as it is a signal to website admin to approve your post (provided it is appropriate).
Consistency. Gravatar allows you to use the same image across multiple different blogging platforms which can help with consistency. This means readers are going to see the same picture over and over and start to remember it.
Put a face to the brand. These days, people tend to be a lot more interested in the face behind the brand. Using your real image as part of your comment will not only inspire curiosity in others (and encourage them to click your link), it also lends your post credibility.
How to Set Up Your Gravatar Image
Setting up your Gravatar is really easy and it's one of those things you only really have to do once.
Once you're there, click on "Create Your Gravatar"
2. Create or log in to your WordPress account
Don't worry if you aren't commenting on a WordPress blog, or if your own blog isn't on WordPress. It's just the login credentials, kind of similar to how you can use Facebook or Google to log into multiple sites that aren't necessarily connected.
Gravatar just uses WordPress login credentials to get you set up.
I'd suggest using your domain-specific email address to sign up.
3. Check your email to activate your account
You'll receive an email letting you know that your account set up was successful. Click the link to activate your account.
4. Add a new image
Once you're successfully logged in, you'll be on your Gravatar management screen. Click on "add a new image" near the bottom of the page.
5. Upload your picture
You can upload directly from your computer or a website URL. You can also view past uploads to restore one of your old Gravatar images.
6. Crop and Choose Your Rating
Once you've uploaded your photo, you'll have the chance to crop it, so your image fits in the standard square.
You'll also have to choose a rating for your photo, which tells Gravatar what audience your image is suitable for. You should use a G-rated photo that is suitable for display on all websites for all audiences. Don't limit yourself here by posting an X- or R-rated photo.
That's it; you're all set up and ready to go!
Start Commenting!
Blog commenting is one of the oldest tricks in the book for building a backlink profile. The benefits are increased traffic and better brand awareness which can have a positive impact on how well you rank on search engine result pages.
The key to using blog commenting for SEO purposes is to post on high DA blogs and aim for dofollow links. However, while nofollow links might not have immediate SEO benefits, they are still important for your own DA score.
A good balance of both is the best way to establish a natural backlink profile.
Hopefully, this informative article was helpful in understanding the basics of how useful you might find blog commenting sites to help grow your following (and if you'd like to learn about another way, check out how to create a poll on Facebook). Remember to post quality, meaningful comments to get the most out of your blog commenting strategy.
You want to come across as trustworthy and transparent so also using your real name and a real image are good ways to gain credibility.
After all that, just because you use blog commenting to promote your own brand doesn't have to mean you want other people to do the same thing on your site.
Find out more about how having a comments section on your blog can affect your SEO and how to turn it off by clicking on the post below.
How to Turn Off Comments in WordPress
Want to learn step-by-step how I built my Niche Site Empire up to a full-time income?
Yes! I Love to Learn
Learn How I Built My Niche Site Empire to a Full-time Income
How to Pick the Right Keywords at the START, and avoid the losers
How to Scale and Outsource 90% of the Work, Allowing Your Empire to GROW Without You
How to Build a Site That Gets REAL TRAFFIC FROM GOOGLE (every. single. day.)
Subscribe to the Niche Pursuits Newsletter delivered with value 3X per week