The Best Side Hustle Book: 15 Options To Help You Find Your Next Idea
When you buy something through one of the links on our site, we may earn an affiliate commission.
Are you searching for the best side hustle book? Ones that show you how to earn extra money and, in some cases, passive income? 
If you are, you've come to the right place.
This short article will share with you 15 of the best ultimate side hustle books that provide inspiring stories, practical tips, and side hustle ideas for almost anyone.
They have been the springboard for many entrepreneurs and have enabled people to find financial success from the profitable side hustle ideas inside them.
Let's jump right in.
15 Books For Side Hustlers
The 15 business books below offer excellent side hustle ideas ranging from simple to advanced. Some have become New York Times bestsellers, while others have flown under the radar somewhat but still provide actionable advice that you can use to make some extra money.
Here they are in no particular order.
by
This book was written by well-known author Chris Guillebeau. He provides 100 side hustle ideas for earning extra income. Each idea comes from people who have used the hustle to succeed, and the book shows you how you can do the same.
The inspiring stories throw up some unexpected ideas, and they are all achievable regardless of your experience.
2. Start-Up Opportunities by Sean Wise & Brad Feld
Sean Wise and Brad Feld created this book in 2017 with new entrepreneurs in mind. However, feedback since the launch has seen many experienced entrepreneurial life commenting how they too got something from the book, so it's not just for newbies.
The book aims to show you how to assess your business viability using the 10x rule. In addition, it offers solid advice on avoiding the mistakes and failures that many entrepreneurs make in the early days of starting a business or side hustle.
by Neil Patel
Hustle is a New York Times bestseller written by Neil Patel. The book provides inspiring stories, great content, and everyday advice for hustling your way to success.
Hustle is a step-by-step guide for making your dreams come true. It aims to take you away from clocking in at a full time job and provides actionable advice to benefit you and your business ideas for years to come.
4. The Side  by
Nick Loper created this book to help people supplement their expected income with a side business.
He provides ten side hustles that can make you additional income away from your current job and help with your financial independence. The ten examples are from everyday people from all walks of life who decided to take control and make more money with a side gig.
5. Side Hustles by John Banks
Side Hustles by John Banks aims to make more income and, in a way, help create new job security. The title of the book states, "Start your 5-9, while keeping your 9-5,' which means working after work on your side gig.
The book's main selling point is to provide step-by-step guides that are achievable regardless of your experience.
6. How To Start A Side by Kaylene Langford
Kaylene Langford is a business coach who has written this book to help you start a business on the side. The practical tips and guides will walk you through the process of developing great side hustle ideas.
She helps you get the ideas out while motivating you to take action.
With inspiring quotes, tips, and tricks, this reasonably new book is quickly becoming a hit with many people looking for guidance on creating a side hustle. 
On The Side by Heather Ledbetter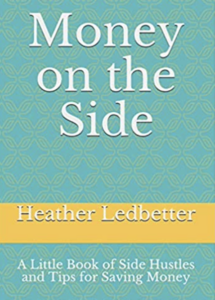 Heather Ledbetter wrote this short book based on her own experiences of needing to earn a few extra bucks to pay bills, go on vacations, and help with other expenses.
If you want to earn a side income and learn some solid financial (essential) advice, the book is worth reading. It teaches you how to make more money and also save money.
8. Crushing It by Gary Vaynerchuk
Gary Vaynerchuk is pretty famous in the online business world. He has produced multiple best-selling books, owned numerous businesses, and has a top-rated youtube channel.
His book 'Crushing It' has motivated and inspired many people to succeed. You hear successful side hustle stories from various entrepreneurs who tell you their secrets to success and how it has helped them in all walks of life.
Regardless of your area of expertise, Gary provides practical advice that helps you build a brand and become successful.
9. The Side Guide by Bola Sokunbi
Bola Sokunbi is the face behind 'Clever Girl Finance' and has written the book to provide actional and practical advice for those looking to improve their financial situation.
Preparation, brainstorming, research, and business finances are topics mentioned in this popular side hustle book.
The book will help you with your own side hustle journey and more.
10. She Means Business by Carrie Green
If you ever have doubts about a business idea or you're lacking the confidence to jump in and start a side hustle, this is the book for you.
Carrie Green's book She Means Business was on the shortlist for the business book awards in 2018. It has thousands of positive reviews from actual users and aims to turn your ideas into reality.
The book breaks down into three main parts. Part one is about mindset, part two is the actionable content, and part three focuses on sustaining your business.
11. The Side Millionaire by
Tony Whatley is the man behind the Side Hustle Millionaire. In his own words, he wrote the book to help you create a side hustle project that leads to financial freedom.
The book takes the overwhelm out of running a business and offers lots of advice on starting a side hustle. In addition, he also lays out the critical foundations that you need to understand.
Regarded by many people as no-nonsense and straight to the point, this book is worth a second look and has many raving fans.
12. What If It Does Work Out by
If you suffer from doubts or imposter syndrome, this is the book for you. Suzie Moore has an uncanny way of motivating you to take action and overcome your fears.
What If It Does Work Out shows you how to take your talents and create a business around them. Whether you have a skill for balloon decorating, pottery, or just about anything, Moore shows you how to take this skill and turn it into a side hustle.
The end of the book is a section that interviews other entrepreneurs who have created thriving businesses from their passions.
13. Common Path To Uncommon Success by John Lee Dumas
You may know John Lee Dumas from the popular podcast Entrepreneurs on Fire. The podcast interviews some of the sharpest minds in the business world and has become one the most listened-to podcasts online.
John Lee Dumas created the Common Path To Uncommon Success to provide a step-by-step approach to launching a business. This book is as actionable as they come, and it's pretty easy to follow.
The book starts at the beginning of your journey and takes you by the hand to create a side hustle business. By the time you have finished the book, you will have a business, as long as you have taken action on each step.
14. Don't Keep Your By
Cathy Heller provides another book that aims to show you how to turn your passion into a profitable side hustle business.
The book aims to build a business but offers so much more. Cathy shares techniques and inspirational content with the purpose of helping you to create a life that is a joy to live each day.
If you ever feel like something is missing in your life and want to run your own business, this book is worth considering.
15. Side by
Chris Guillebeau is behind the $100 Startup which became a bestseller, selling thousands of copies in 2012. Chris later produced Side Hustle in 2019 which has followed in the same footsteps and become another huge success.
Side Hustle offers many tips and step-by-step approaches to building a side business without quitting your day job. The book starts at day one and continues up to day 27, with lots of actionable advice and tips for creating a successful side business.
Is Side A Good ?
Yes, with starter kits and valuable resources, this book is an excellent addition for anyone looking to start a side hustle or get a 'business degree' studying at a side hustle school.
What Are The Top Ten Side Hustles?
There are many side hustles, so choosing the top ten isn't easy. However, the list below seems to be the popular choice amongst many people and can spark some ideas for you to start a side hustle:
The books above list hundreds of hustles between them.
Final Thoughts On
You have 15 of the best side hustle books listed above. All of them are useful and offer lots of advice, information, and practical tips for you to start a side hustle within the next few days.
Take a look at the titles above and see which books jump out to you because these are usually the ones that will benefit you the most.
Want to learn step-by-step how I built my Niche Site Empire up to a full-time income?
Yes! I Love to Learn
Learn How I Built My Niche Site Empire to a Full-time Income
How to Pick the Right Keywords at the START, and avoid the losers
How to Scale and Outsource 90% of the Work, Allowing Your Empire to GROW Without You
How to Build a Site That Gets REAL TRAFFIC FROM GOOGLE (every. single. day.)
Subscribe to the Niche Pursuits Newsletter delivered with value 3X per week