Best Copywriter Website? 7 Sites To Help Guide You Towards Success
The best copywriter websites attract the right target audience and compel those web visitors to take action. These websites are built for freelance writers and the services they offer.
As a copywriter, your website can be like your calling card. You get a blank foundation to build upon, sharing what you do, bragging about your work, and impressing prospective clients.
Putting all those pieces together and accomplishing the above can be a struggle.
To make the process easier on you, we've compiled a list of 7 of the best copywriter websites you can check out and draw inspiration from. Get real examples of successful copywriter websites, including our review of what makes them stand out and what works on their website.
Let's get started.
Ultimate List of 7 Best Copywriter Websites
Here's my curated list of copywriting websites that have helped me a ton!
1. Content Bistro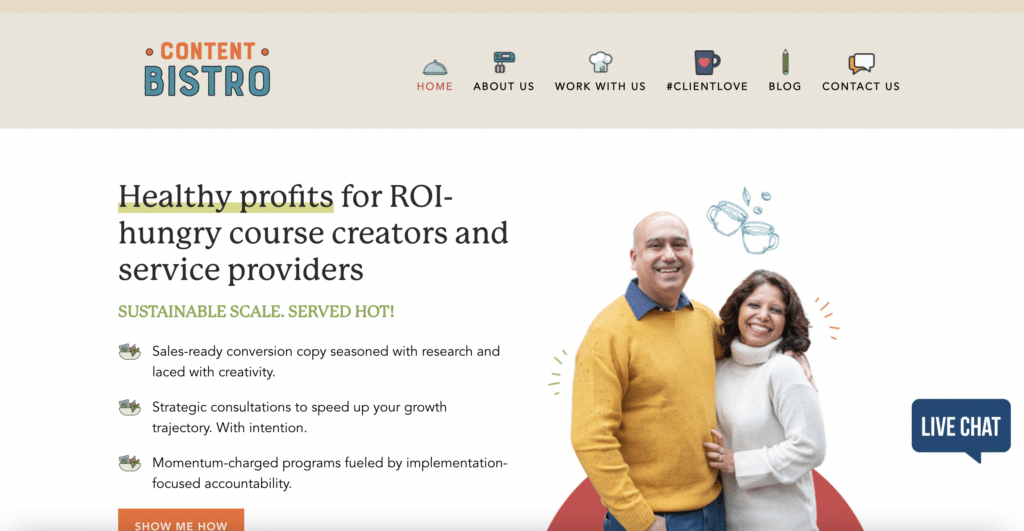 When you land on Content Bistro, you can clearly see they are a copywriter website. The copy on the home page tells you without even having to scroll.
What do they do?
Creating sales-ready conversion copy
Offering strategic consultations
Crafting momentum-charged programs
And they also tell you who they serve.
Who is their audience?
Course creators and service providers.
The copy and graphics are inviting and playful, with cartoon-like graphics and fonts used throughout the site. The layout is user-friendly and broken up into blocks with varying features and colors to keep the web visitor engaged, so they don't get bored.
The site owners are also put front and center on the site, so you know who you'll be working with.
The site tells you:
Content Bistro has been featured in Forbes, ConvertKit, and other places
They offer various plans for course creators and service providers
About the owners, their background, and commitment to your success
You'll also find some amazing testimonials on the site, and this social proof sells!
In all, the site is put together very well. They definitely know their audience well and are doing some great things to attract prospective customers and gain new business.
2. SuzieBakos
On SuzieBakos, you'll see that the layout and format of the website differ a lot from Content Bistro.
What do they do?
Suzie Bakos is a freelance writer, and this is a copywriter website
Suzie offers help for your content issues/fixes
She's London-based and has a flexible schedule
Who is their audience?
On the homepage, you'll learn about her clients, which are companies of all sizes, from startups to established global companies.
I like how she highlights some of the services she offers:
Email copy
Writing press releases
Social media copy
Suzie shares about herself, her educational background, and her work experience, so you can get to know the writer you're working with.
To educate you about how the process works, she explains the three-step process: chat about your needs then, get a written proposal from her, followed by her kicking off the project with research, and then writing starts.
This website is short and sweet.
It has a few web pages that have essential information that web visitors will want to know. The homepage is broken into blocks with varying other elements and colors to keep the web visitor engaged. This is probably one of the most simple sites in our roundup but simple sells, and Suzie does a great job of this!
3. FashionCopywriterNYC
At first glance, you'll know immediately that FashionCopywriterNYC.com is a copywriting portfolio site for a fashion copywriter.
This made our list as one of the best copywriter websites for several reasons:
User-friendly design
Simple layout
A clear picture of the target audience
Good understanding of services offered
Social proof
First, the simple and user-friendly design mimics the layout of SuzieBakos' site a bit. It's set up like a copywriter portfolio site where the homepage explains services and a short bio about the writer. Then, you can navigate the menu to see the copywriter portfolio, read reviews, and also contact the site with questions.
What do they do?
The site URL tells you exactly what kind of copy it creates: fashion-related copy.
As you scroll through the homepage, you'll learn what kind of fashion copy the writer creates: email marketing copy, product descriptions, and social media captions, among other types of website copy.
The section titled Rave Reviews is home to customer testimonials. This is social proof, and as I mentioned earlier, social proof sells.
Generally, it's hard to be convinced to work with a stranger over the internet. Reviews/testimonials help resolve feelings of hesitation, sharing successes the writer has had with others.
What is their audience?
Clients who need fashion-related copy.
In a couple of scrolls, you have a solid understanding of what the website is about, who it's for, what you get from the writer, and also customer reviews. The navigation is simple and user-friendly, taking you to various other parts of the website where you can learn more about her services.

4. The Email Copywriter
Like the previous copywriter website, this website tells you exactly what it's about, in the URL, TheEmailCopywriter.com.
What do they do?
They sell email copywriting services and products.
When you land on the website, you know who the writer is (Chris Orzechowski), you know what services he offers, and who his target audience is.
One of the marks of a great copywriter website lies in the content above the fold, on the website. This is all the information you see on the homepage without having to scroll. Chris does a great job of that with his website.
The site is set up like sales pages you see online showcasing website copywriting.
It's broken into blocks with varying colors, text, and fonts to keep the web visitor engaged. He shares social proof with his impressive numbers of how much revenue he's made, the number of clients served, and the number of students helped.
Web visitors can learn about publications featured in, like The Motley Fool, Betterment, and others.
Who is their audience?
E-commerce businesses.
The homepage is pretty long, but each section serves a purpose, sharing:
How he can help your e-commerce business
Case studies
Links to podcast interviews he's been featured on
Testimonials
A free download of his bestselling book
This looks like a professionally-developed website, and he's clearly doing things right to have worked with thousands of people and generated millions.
5. Jennifer Locke Writes
This copywriter website, JenniferLockeWrites.com offers book writing services. The site has a user-friendly setup with a clean appearance.
As you work your way down the homepage, you'll read about:
Who Jennifer Locke is and how she can help you
Client testimonials
How you can contact her to start your book project
This is a copywriting portfolio website, and, done right, and it can attract the right audience and generate leads.
Although it may not look as professionally crafted as the previous site from TheEmailCopywriter, it ticks all the boxes for us, offering the most important elements of a strong copywriter website.
When a web visitor lands on the site, they know immediately what the site is about.
Locke doesn't need to try to sell the potential clients on the benefits of A, B, or C. Instead, she has one core service offered, and she can speak to that more in-depth.
6. Conversion Copy Co
One of the prettiest copywriter websites we have reviewed is from the writer behind ConversionCopyCo. On appearance alone, it's visually stunning.
It's set up like an e-commerce website, a bit.
Above the fold, you know what the site offers: website copywriting conversion for B2C brands.
What do they do?
Offer conversion copywriting services.
As you browse the site, ConversionCopyCo highlights some key features:
Who the company is and why they're different from the competition
Former clients they've worked with (some big names you may have heard of)
What you get working with the site
Testimonials
Services offered
Who is their audience?
B2C brands
The website flows very well, and while it has a ton of information throughout, it doesn't feel busy or overwhelming. Copywriting certifications are displayed on the site, a feature that takes them above the competition and instills buyer confidence among potential clients.

7. Nickicopy
Nickicopy.com made the list of best copywriter website examples because of their user-friendly layout, highlighting important information about their services above the fold.
This website is a quick browse. It doesn't have tons of information or dozens of web pages like some of the other writers' websites we've reviewed.
What do they do?
Offer book writing services.
Who is their audience?
Clients that need their book written.
There's value in highlighting only the most useful information so that web visitors don't get information overload and feel overwhelmed.
When you first land on this website, you'll learn the writer behind the site is Nicki Krawczyk and she's a copywriter and content marketer. The site navigation leads you to helpful links to her copywriter portfolio, contact details, and About page, where you can learn more about the writer.
She has some featured sites from her portfolio on the homepage, so you can easily review her work.
Altogether, this is a simple and effective copywriter website. It works!
What Makes a Good Copywriter Website?
A good copywriter site should be filled with compelling website copy and also creative copywriting to sell your service. It should use persuasive language to educate and sell the web visitor on your service and convince them to take action.
Your web visitors will know what services you offer without any hassle, whether you do content marketing, book writing, conversion copywriting, etc.
Altogether, good copywriter websites should:
Be user-friendly
Have a simple, clean layout
Tell web visitors who you are and what services you offer
Display a call to action to generate leads for your service
Contain keyword-driven phrases to attract your ideal clients to the site
When it comes to your own site, you don't have to be niched down. But, you do have to clearly tell your audience about what you do. Also, you want to include who you serve and how you can help them.
What all of these websites do well is contain a block format where the homepage is broken down into sections. This organization helps the web visitor navigate through the site more easily.
You can also share all the information about your copywriting services in an easily digestible kind of way, and the block format accomplishes this very well.
How Can You Build a Copywriter Website?
Ready to start building your copywriter website? These copywriter website examples are great to give you some ideas for creating a website for your business.
One of the best ways to create a winning website is with a proven system that has garnered success for others, like The Authority Site System (TASS) by Authority Hacker.
If you want plug-and-play templates you can copy and paste, video lessons to walk you through the process, along with a systematic approach to growing your website, this program is one you'll want to check out. Read our Authority Site System review to learn more.
Bottom Line
We just covered 7 of the best copywriter websites online! Generally, if you feel stuck on design issues, seeing examples can help. If you're having a tough time figuring out the layout and structure of your freelance copywriter business, I hope this list helps.
Also, you can gain inspiration and ideas of what direction to go with your own website.
Which copywriter website is your favorite?
Want to learn step-by-step how I built my Niche Site Empire up to a full-time income?
Yes! I Love to Learn
Learn How I Built My Niche Site Empire to a Full-time Income
How to Pick the Right Keywords at the START, and avoid the losers
How to Scale and Outsource 90% of the Work, Allowing Your Empire to GROW Without You
How to Build a Site That Gets REAL TRAFFIC FROM GOOGLE (every. single. day.)
Subscribe to the Niche Pursuits Newsletter delivered with value 3X per week