9 Of The Best AI Novel Writing Software Options to Help Get Your Story on the Page
When you buy something through one of the links on our site, we may earn an affiliate commission.
Do you dream of having your name printed on the cover of a book but lack the time (or creativity) to write it yourself? With the rise of AI writing tools, you can finally cross the finish line on your latest novel without all of the heavy lifting. You just need to know which AI novel writing software is going to be the best fit for you.
Before you start working with an AI writing assistant on your book, here is what you need to know about the top options.
Let's get started!
Best AI Novel Writing Software
Below you will find the 9 best novel writing software tools (via AI) on the market. Weigh each of them carefully, along with your goals for your project, to see which is the right fit for you. 
Jasper
Jasper is one of the most well-known AI writing software options on the internet today. When using its proprietary Boss Mode, you can get one step closer to finishing the book that you've been dreaming about for years.
How does Jasper stack up when compared to other AI writing software? 
Start by selecting "long-form content" as the template you'll use when writing a novel. You can then select a tone of voice and input your description. Some writers prefer to write an introductory paragraph that sets up the story prior to letting their AI writing assistant do all of the heavy lifting.
Keep in mind that Jasper can only see as far as the previous 3,000 characters in your conversation for context. This means that you may need to remind the original AI writing tools of the direction of your story while writing.
While you may still need to do a little polishing of the prose and add in some of the subtle elements of a great fiction story (like subplots and minor characters), it gives you a great starting point.
See our full review of Jasper AI here.
---
Copy AI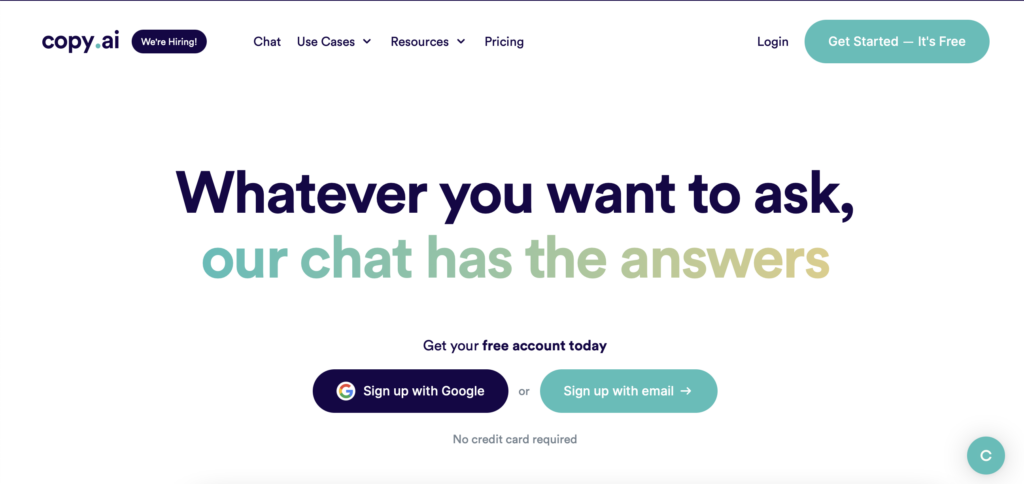 Maybe you don't need a writing software to do all of the heavy lifting for you. If you want to get the barebones framework of a story using AI writing tools and then flesh it out on your own, Copy AI might be the best fit for you.
While marketed as a long-form content creator, the software tools it uses are better suited to marketing and ad copy. That being said, it can be used to enhance your writing skills and create an outline of story ideas that will send your fingers flying on the keyboard on Microsoft Word or Google Docs.
One way to use the AI writing software to spark a bit of creativity during each writing session is to have it write the first paragraph of your story or chapter. Just give it a little context for what is going on in your story, adapt your writing style, and let the machine learning tool get to work.
For more information on its natural language processing algorithms, see our full Copy AI review here. You can also compare Copy AI and Jasper here.
---
Rytr AI
Among the various options for AI writers out there, you may come across Rytr AI. This tool is a great all-in-one option for those who need help with their writing process as well as the hard work of actual writing. 
First up, Rytr helps with the long-form content creation process by allowing you to select the tone and the use case (in this scenario, you would select "story plot"). Give it a vague idea and watch it transform it into something you could write a whole novel about.
This AI novel writing software is also a great option for writers who aren't as confident in their writing abilities. It has a grammar checker and a built in plagiarism checker that makes sure your writing sings.
Another great function is the "reword" option. If you write a paragraph that just isn't flowing, you can ask Rytr to wordsmith it until the writing software tool meets your expectations and allows you to move forward with a style and cadence that you're satisfied with. 
For more details, see our full Rytr review here before you sign up. 
---
Shortly AI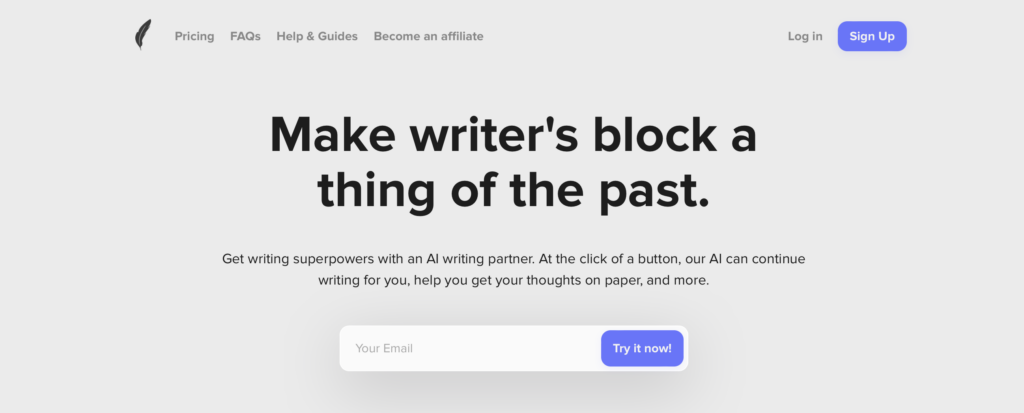 Shortly AI is another well-known contender that serves as a great AI novel writing software option. Owned by the same parent company as Jasper AI, you'll find that the two have several overlaps in what they have to offer.
As far as AI writing software goes, Shortly AI offers a lot for writers to consider. It helps in the event that you stall out on your novel with a case of writer's block, taking what you have so far and spinning forward momentum on your story -- all while writing in your own voice.
If you like something that Shortly AI writes for you, you can use shortcuts and commands to refine it until it's perfect for you. For example, you can choose to transform your sentences by expanding, rewriting, or shortening.
Like many of the top AI novel writing software options, you can also use Shortly AI for a creativity boost and for brainstorming.
See our full Shortly AI review here to weigh your AI writing software options.
---
Sudowrite
If you're looking for a top-of-the-line AI tool, you might want to experiment a bit with Sudowrite. While many AI tools are geared more toward short-form content, Sudowrite has a unique edge that makes it the perfect AI novel writing software. 
If you need help from novel writing software tools, you'll find Sudowrite to be robust. It can help with all of the following:
Brainstorming plots, story elements, and characters
Drafting your manuscript
World-building for fantasy stories
Beta reading and feedback on the story
Even if you're determined to write your story on your own, you can still utilize the AI writing tool to refine what you have. This AI novel writing software can elevate your writing style and make it easy to see where and how you can move forward.
---
ChatGPT
Out of all the AI writing software on the market today, ChatGPT is perhaps the best option for those who want to churn out a bestseller quickly. ChatGPT works with you as a guide and can even do the writing for you if you're in a pinch.
The AI writing software tools that you'll find on this platform are robust. You can use it to create a detailed outline of your next story with chapter breakdowns.
With a little bit of guidance as to the direction you want your story to take, it can even come up with a story arc that makes sense. You'll have the basic framework for plotting your story so that you can start with your novel writing.
If you're happy with the chapter outlines it provides, you can ask it to start writing forward. Keep in mind that you may still have to layer in emotional impact and verify the facts, as this writing software is not connected to the internet and doesn't have access to the latest news.
For more information on using ChatGPT to write a book, here is our complete guide.
---
Writesonic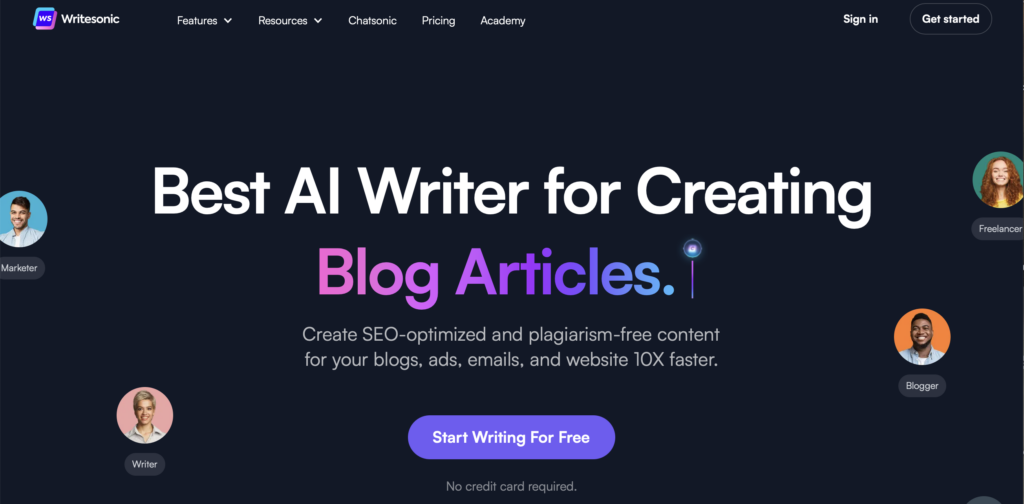 If you want an AI writing tool that will help you overcome writer's block, Writesonic may be the right fit for you. It may not specifically help you to draft an entire novel (for that you'll want to check out our Novel AI review), as the writing software is more geared toward short-form content.
However, it can help you brainstorm creative writing ideas that will move you closer to your goal of finishing that novel.
The tool can be used to boost your novel writing skills, giving you ideas based on your input. From here, it can write the introduction for you to inspire you toward writing the story on your own. If you aren't sure where the story is headed, you can use Writesonic to draft an outline.
You can also use the tool to write an "article" about your story idea, which might help you to see the direction the plot is moving toward and give you a leg up on your actual writing style.
The good news is that this AI writer is relatively easy to use compared to some of the more complex options on the market. It has a short learning curve, allowing you to get started as quickly as possible! 
See our full Writesonic review here!
---
AI Dungeon
If you need something a little more geared toward fantasy, AI Dungeon offers an AI software that delivers on creative writing. While it may not be designed specifically for novel writing, you can use its AI writing tools to help you in the process of writing novels. 
All you have to do is enter in a character, world, and the scenario that you want your character to find their way into. Unlike other tools that use natural language processing to give you flawless prose, AI Dungeon is designed for gamification -- but you can still harness its powers for the writing process!
One of the best features of the AI writer is that it has a large repertoire of worlds to draw from. Select the character name, gender, class, and race to flesh out your character. From here, you can choose which actions they take. Think of it as a framework for a Dungeons and Dragons game.
AI Dungeon will do the heavy lifting and create reactions from other characters and generate ideas for new world events.
If you have your own ideas for what should come next, you can enter into the editing process. This AI writing software allows you to re-do each section or to enter your own words in place of what the writing tool offers.
You'll have to make sure to write grammatically correct sentences, as this AI novel writing tool won't be checking. You might choose to run the story through Grammarly when finished to make sure that everything meets your expectations.
---
Novel AI
If you're looking for the best AI software for fiction writing, then you may want to look in the direction of Novel AI. Using natural language processing and based on the study of literature, its AI tools give you exactly the story that you've been looking for in the recesses of your mind. 
One of the coolest features of Novel AI is that it allows you to really visualize your characters. Using AI models, it can give you an image of your character or a specific scene to help you combat writer's block and write better descriptions.
Use the AI story writer write long form content and to collaborate with you in the content creation process. The AI novel writing software is encrypted so that you can rest assured that the story you create is yours and yours alone.
When finished, you'll have something totally unique written in your own style.
Maybe the best part of the AI novel writing software is that it allows you to pick and choose the elements of the story that are most appealing to you. You can write in the style of your favorite author (with options like Edgar Allen Poe and H.P. Lovecraft).
You can also write according to a theme. The AI writing tool doesn't disappoint when it comes to the options for customizing your story.
---
Final Thoughts: Which is the Best AI Novel Writing Software for You?
With tons of options on the market, how do you decide which AI tool is going to be the right fit for you? All of these novel writing tools are top-of-the-line options that will help you to jumpstart your creative writing. 
Narrow down which features are the most important to you for your writing process, and decide what kind of help you need. From writing grammatically correct sentences to drafting an outline to writing the actual prose, you can choose the AI novel writing software that works best for you.
So, after reading this list, which one will you try to help with writing novels your readers will love?
Want to learn step-by-step how I built my Niche Site Empire up to a full-time income?
Yes! I Love to Learn
Learn How I Built My Niche Site Empire to a Full-time Income
How to Pick the Right Keywords at the START, and avoid the losers
How to Scale and Outsource 90% of the Work, Allowing Your Empire to GROW Without You
How to Build a Site That Gets REAL TRAFFIC FROM GOOGLE (every. single. day.)
Subscribe to the Niche Pursuits Newsletter delivered with value 3X per week