1001 Catchy & Descriptive Wine Business Names!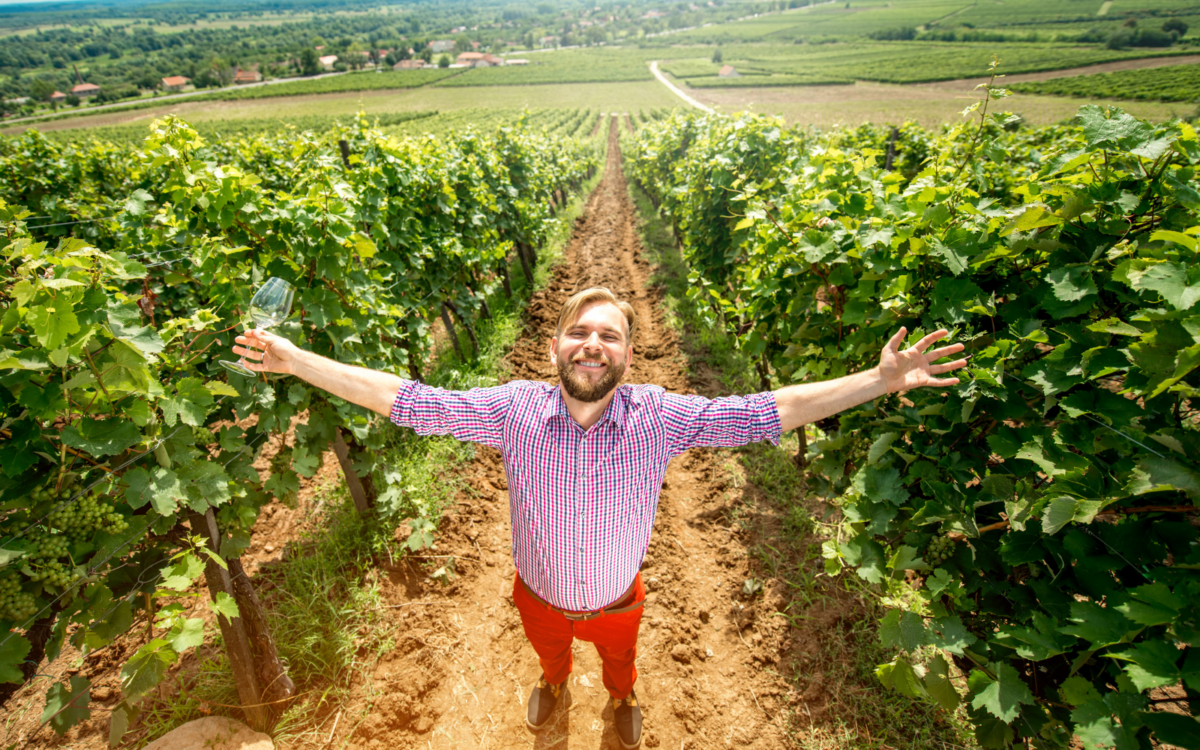 When you buy something through one of the links on our site, we may earn an affiliate commission.
From catchy and creative to sophisticated and memorable, we've curated a collection of 1000 unique and imaginative wine business names that will shine a light on your startup.
We also provide essential tips to help you secure a company name that perfectly captures your brand's personality.
Whether you're a seasoned vintner or a budding entrepreneur, this resource is your go-to guide for naming success.
Wine Business Names That Are Catchy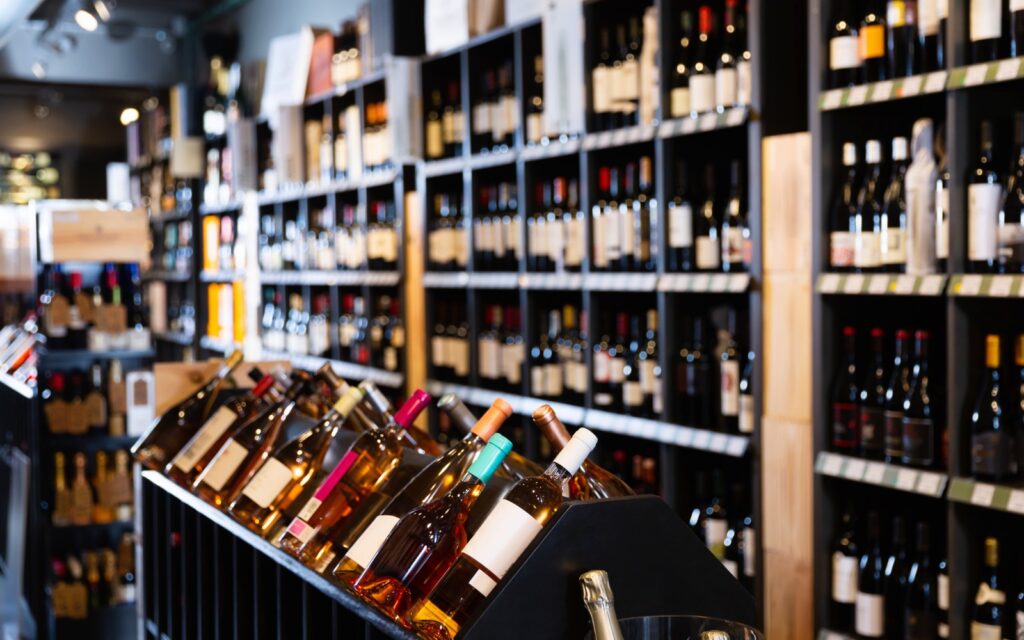 Cork & Vine
Grapevine Delights
Wine Oasis
Sip & Savour
Vino Vista
Cellar Select
Vintage Vineyard
The Wine Palette
Red & White Delights
Barrel & Bottle
Cheers & Co.
The Grape Escape
Noble Nectars
Tasteful Tannins
Corkscrew Cellars
Wine Haven
Vinoteca
The Wine Cask
Blissful Bottles
Vineyard Ventures
The Wine Emporium
Velvet Vines
Pour Pleasures
Wine Whispers
Tannin Tales
Bottle & Bunch
Enchanting Elixirs
Vintage Voyage
Wine Wonders
Taste Trail Winery
Corkville
Charming Chardonnay
Sip Sensations
The Grapevine Gallery
Oak & Grapes
Wine Crafters
The Wine Spot
Red Velvet Vineyard
Vinous Ventures
Liquid Luxury
Corked & Co.
Wine Odyssey
Grape Expectations
Bottle Boutique
The Wine Cellaret
Lush Libations
Merlot Manor
Wine Symphony
Cellar Serenade
Divine Vintages
Sophisticated Names For Your Business
Vinum Elegante
Cellar Couture
Enclave Estates
Noble Grapes
Grand Cru Winery
Vinoteca Royale
Opulent Vintages
Vintage Connoisseur
The Tannin Tasting Room
Luxe Cellars
Vin Blanc Manor
Vino Aria
Sommelier Select
Refined Reserves
Elysian Vines
Château Élite
The Aristocrat's Vineyard
Prestige Cellars
Regal Red Wines
Vin Luxe
Vinum Opus
Cuvée Grandeur
Vin de la Haute
The Noble Oak
Eminent Estates
Premier Viniculture
Exquisite Terroir
Vintner's Legacy
Vinum Majestas
Palais du Vin
Viné Amour
L'Éclat de Vin
Vinum Virtuoso
The Distinguished Vine
Vin Renaissance
Elysium Estate
Cellar Etiquette
The Savant Sommelier
Vin Rouge Royale
Élite Terroir
Cuvée du Palais
Vinum Nectar
The Refined Cellar
Vin de Prestige
The Vintner's Parlour
Maison de Grand Vin
Vinum Regale
Premier Cru Estates
The Exquisite Pour
Château Magnifique
Memorable Names To Do With Wine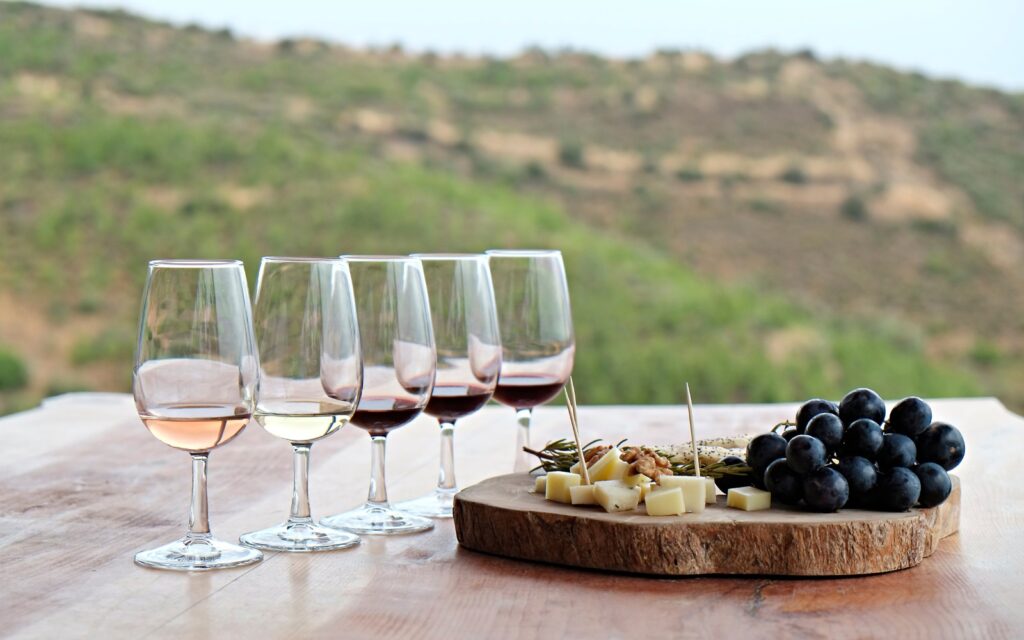 Vine & Verse
Legacy Vineyards
Cellar Memories
Vinum Odyssey
Captivating Cuvées
Wine Wanderlust
Vintage Chronicles
Memoirs of Merlot
Timeless Tannins
Nostalgic Nectars
The Wine Journal
Bottle of Memories
Vinous Heritage
Echoes of Grapes
Enchanted Vines
Reminiscent Reserves
Vinum Recollections
Vintage Remembrance
Essence of Elegance
The Wine Memoir
Vineyard Legacy
Echoing Elixirs
Memoirs in a Bottle
Vinum Reminiscence
Timeless Tastings
Nectar of Memories
Memoirs in Merlot
Vineyard Chronicles
Vinous Journeys
Vintage Echoes
Wine Reverie
Treasured Terroir
The Wine Scrapbook
Vinum Memento
Vintage Reflections
Cellar Tales
Melodies of Merlot
Memoirs in Vino
Vinous Flashback
Reminisce & Sip
Vintage Narratives
The Wine Remembrance
Vinum Echo
Memory Lane Vines
Nectarous Nostalgia
Wine Engravings
Vintage Vignettes
Timeless Vinum
The Wine Memoirs
Vinous Souvenirs
Descriptive Wine Business Names
Oak & Vine
Luscious Red
Heavenly Whites
Blissful Blends
Bold & Robust
Smooth Velvet
Delicate Bouquet
Sparkling Splendor
Rich Harvest
Golden Elixir
Aromatic Essence
Divine Vines
Silken Serenade
Refined Tasting
Floral Symphony
Crisp & Fresh
Exquisite Reserves
Earthy Delights
Balanced Blend
Sublime Sips
Intense Flavors
Vibrant Notes
Harmonious Fusion
Fragrant Fusion
Elegant Bouquet
Refined Palate
Bold and Beautiful
Mellow Melodies
Intoxicating Elegance
Smooth Harmony
Delightful Complexity
Robust Aromas
Rich Terroir
Refined Craftsmanship
Fresh Harvest
Delightful Crispness
Fruity Allure
Aged Perfection
Refined Structure
Complex Depths
Elegant Refinement
Harmonious Balance
Velvety Smoothness
Enchanting Depth
Intense Character
Delicate Nuances
Crisp Terroir
Full-Bodied Grace
Lingering Finish
Sublime Terroir
Whimsical Wine Names
Whimsy Winery
Tipsy Tales
Enchanted Vineyards
Fairy Wine Co.
Wandering Wine
Bubbly Breeze
Mystic Grapes
Fantastica Vino
Serendipity Sips
Whimsical Winescapes
Quirky Corks
Magical Vintages
Whimsy & Wine
Dreamy Draughts
Enchanting Elixirs
Pixie's Pour
Whimsical Vineyard
Delightful Drips
Curious Corkscrew
Charming Cellars
Fairytale Ferments
Whimsy's Whispers
Enchanted Cellars
Bubble & Fizz
Fantasia Vino
Quirky Quaffs
Whimsical Winemakers
Mystical Melange
Magic in a Bottle
Bubbly Wonderland
Chateau Whimsy
Whimsical Vintners
Whimsy & Whine
Fairy's Finest
Quirky Quenchers
Wonder Wine Co.
Mystical Muses
Fanciful Ferments
Whimsical Whispers
Sprightly Sips
Curious Cellars
Dreamy Drops
Whimsy's Vintage
Quirky Quaffables
Playful Pours
Bubbly Fantasia
Witty Wines
Whimsical Winetime
Sparkling Spells
Fantastical Ferments
Vintage-inspired Wineries
Old Vine Estates
Vinum Vintage
Retro Reserve
Classic Cellars
Vintage Vineyards
Timeless Tastings
Heritage Wines
Antique Elixirs
Vino Vintage
Rustic Winery
Nostalgic Nectars
Vintage Vines
Cellar Classics
Vintage Cellars
Vinum Legacy
Old World Wines
Vintage Elegance
Vintner's Heritage
The Vintage Cask
Retro Grapevine
Vinum Antiqua
Classic Cravings
Time-Honored Tannins
Vintage Harvest
Cellar of Ages
Vinum Ancestral
Rustic Reserve
Vintage Terroir
Old Barrel Cellars
Vintage Nostalgia
Timeless Vinoteca
Aged Elixir
Vinum Traditions
Vintage Roots
Antique Vineyards
Rustic Elegance
Vino of the Past
Vintage Terroirs
Aged Memories
Old World Vintages
Vintage Charms
Vinum Classicum
Retro Winery
Vintage Whispers
Aged Heritage
Classic Vintages
Vintage Flair
Vinum Vintage Reserve
Retro Cellars
Vino of Yesteryear
Regional Names For Wine Businesses
Coastal Vines
Mountain Mist Wines
Valley View Winery
Lakeside Cellars
Prairie Vineyards
Desert Oasis Wines
River's Edge Winery
Highlands Harvest
Sun-kissed Vintages
Seaside Cellars
Forest Hill Wines
Vineyards of the Plains
Rustic Ridge Winery
Island Oasis Vines
Alpine Peaks Cellars
Redwood Valley Wines
Canyon Creek Vineyards
Bay Breeze Cellars
Hillside Harvest
Coastal Charm Winery
Lakeshore Vintages
Mountain Majesty Wines
Prairie Sunset Cellars
Desert Bloom Vineyards
River Valley Wines
Highland Heights Winery
Sunny Hills Vines
Forest Grove Cellars
Coastal Haven Wines
Plainside Vineyards
Rustic Retreat Winery
Island Haven Vintages
Alpine Terroir Wines
Redwood Forest Cellars
Canyon Vista Vineyards
Bayshore Blends
Hilltop Harvest
Coastal Crest Winery
Lakeside Serenity Vines
Mountain Mist Vineyards
Prairie Haven Cellars
Desert Vistas Wines
River's Bend Winery
Highlands Haven Vintages
Sunlit Slopes Cellars
Forest Falls Wines
Coastal Peaks Vines
Lakeshore Elegance Winery
Mountain Crest Cellars
Prairie Ridge Wines
Wine Business Names That Are Exotic
Vinum Exotica
Spice Route Wines
Tropical Vineyards
Saffron Cellars
Silk & Satin Wines
Oasis Oasis Wines
Zenith Vintages
Mystique Vineyards
Enigma Elixirs
Secret Garden Wines
Equatorial Essence
Coral Coast Cellars
Jewel of the Vines
Forbidden Fruits Wines
Enchanted Oasis Vines
Golden Sands Winery
Safari Serenade
Opulent Orchid Wines
Mystical Mirage Cellars
Spice Symphony
Celestial Vineyards
Sahara Sunsets
Harmonious Haven
Exquisite Fusion
Enigmatic Elixirs
Paradise Valley Wines
Ruby Dunes Vineyards
Bamboo Breeze Cellars
Exotic Spice Trails
Oasis of Delights
Amber Sands Winery
Serene Serengeti Vintages
Moonlit Mirage
Silken Saffron Wines
Majestic Oasis Vines
Jewel Tones Cellars
Tropical Twilight
Oriental Opulence
Enchanted Forest Wines
Exotic Treasures
Silk Road Vintages
Oasis of Flavors
Desert Gem Cellars
Enigmatic Journeys
Amber Sands Wines
Hidden Oasis Vineyards
Lotus Blossom Winery
Harmonious Melange
Spice Infusion Wines
Exotic Enchantments
Playful Company Names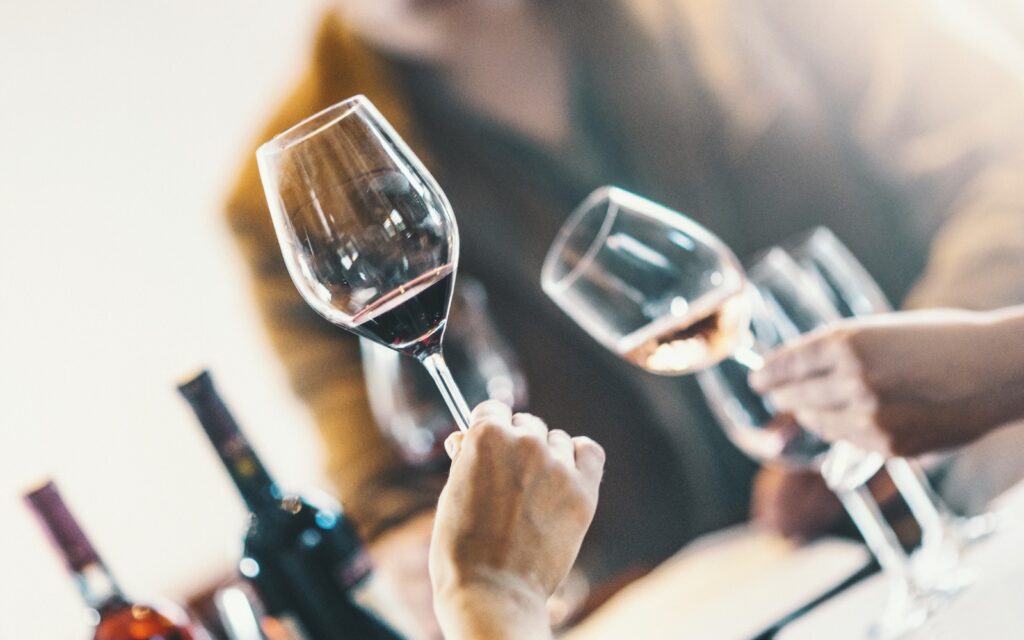 Witty Wine Co.
Corks & Capers
Wine Whimsy
Tipsy Tastings
Cheeky Cellars
Vino Vibes
Sip & Giggle
Quirky Corkers
Playful Pours
Bottle Bop
Jolly Juice
Sip 'n' Smile
Vineyard Vaudeville
Wacky Winos
Grapes & Giggles
Tickle Your Tannins
Wine Wonders
Fun Ferments
Bubbly Banter
Sip & Shenanigans
Whimsical Wines
Quirky Quaffs
Lively Libations
Happy Hour Vines
Charming Château
Giggle Grapes
Corky Capers
Playful Palate
Wino Wonderland
Sip, Smile & Repeat
Amusing Aromas
Quirky Sips
Jovial Juice
Laughing Lush
Witty Winery
Tickle Your Taste Buds
Wine Magic
Whimsical Wino
Bubbly Bliss
Sip & Snicker
Joyful Juice
Quirky Corkscrew
Wacky Wine Wizards
Playful Pours
Cheerful Cellars
Vineyard Ventures
Giggly Grapes
Sip & Chuckle
Quirky Quenchers
Wines with a Twist
Zero-Alcohol Wine
Pure Sips
Blissful Bubbles
Fresh Vineyards
Sober Sips
Sparkling Delights
Healthy Harvest
Clear Vines
Crisp & Clean
Pure Vinum
Revitalizing Reserves
Zero Gravity Wines
Alcohol-Free Elixirs
Refreshing Terroir
Divine Nectars
Pure Essence
Zero Proof Vintages
Sober Cellars
Clean Savor
Sparkling Serenity
Fresh Harvests
Pure Palate
Non-Alcoholic Vineyards
Zero-Proof Blends
Clear Creek Winery
Fresh & Flavorful
Pure Vinification
Zero-ABV Elixirs
Light and Lively
Clean Terroir
Alcohol-Free Bouquet
Refreshing Blend
Pure Savor
Zero Alcohol Vineyards
Crisp Splendor
Revitalizing Reserves
Pure Harvest
Zero Gravity Vineyards
Clean & Clear
Sparkling Elegance
Fresh Fusion
Pure Palate
Non-Alcoholic Cellars
Zero Proof Classics
Clear Skies Wines
Fresh Harvests
Pure Tasting
Zero-ABV Serenity
Light & Lively
Clean Sips
Alcohol-Free Delights
Wine Names For Contemporary Businesses
Vinovation
Urban Vines
Modern Cellars
Fusion Winery
Nouveau Nectars
Contemporary Casks
Trendy Tastings
Innovative Vintages
Chic Vinoteca
Artisanal Blends
Contemporary Corks
Hipster Vineyards
Modern Harvest
Vanguard Vintages
Edgy Elixirs
Avant-Garde Wines
Trendsetter Tipples
Modern Craftsmanship
Urban Terroir
Progressive Palate
Cutting-Edge Cellars
Contemporary Classics
Fresh Perspectives
Innovative Vines
Artistic Ferments
Modern Pour
Urban Elegance
Contemporary Vintners
Dynamic Blends
Trendy Terroir
Modernist Wines
Urban Delights
Innovative Infusions
Chic Cuvées
Contemporary Vineyards
Modern Melange
Avant-Garde Flavors
Urban Vintages
Contemporary Reserve
Edgy Enoteca
Progressive Palettes
Modern Tastemakers
Cutting-Edge Winery
Trendsetting Terroir
Urban Fusion
Contemporary Craft
Modern Aromas
Vanguard Vineyards
Artistic Blends
Innovative Grapes
Family Wine Business Names
Family Vineyards
Generations Winery
Legacy Wines
Heritage Cellars
Family Estate
Family Roots Winery
Family Reserve
Family Tastings
Ancestral Vines
Homestead Wines
Family Harvest
Family Traditions
Vineyard Legacy
Family Cellars
Family Heritage
Kinship Wines
Family Affair Winery
Family Blend
Roots & Vines
Sibling Cellars
Family Pride Wines
Family Crafted
Next Generation Vines
Family Legacy
Family Estate Vineyards
Generational Grapes
Family Craft Wines
Family Reserve Cellars
Ancestry Vineyards
Family Crest Winery
Family Roots Reserve
Homestead Heritage
Family Tradition Wines
Vineyard Clan
Family First Cellars
Family Vintage
Heritage Harvest
Family Roots Blend
Family Affinity Wines
Sibling Traditions
Family Crest Vineyards
Generations Craft
Family Reserve Blend
Ancestral Cellars
Family Heritage Grapes
Roots & Legacy
Family Roots Craft
Kinship Reserve
Family Pride Vineyards
Homestead Tradition
Names That Are Unique
Vinovia
Enigma Wines
Euphoria Vineyards
VinoNova
Luxuria Cellars
Amethyst Wine Co.
Vintessa
Epicurean Elixirs
Vinum Luxe
Zenith Vintners
Mystique Cellars
VinoVision
Bacchanalia Wines
Vinum Veritas
Vinum Vividus
Amara Vineyards
Vinea Terra
Enchanted Elixirs
Vinum Amor
Prism Vintages
Vinum Solis
Aurora Winery
Vinum Luminis
Ethereal Elixirs
Vinum Obscura
Aether Vineyards
Vinum Harmonia
Oceania Wines
Vinum Eternum
Nebula Cellars
Vinum Seraphic
Essence Vintners
Vinum Celestis
Vino Nova
Vinum Ignis
Solara Vineyards
Vinum Mirabilis
Celestia Cellars
Vinum Divinus
Seraphic Sips
Vinum Tenebris
Nebula Nectar
Vinum Aeternum
Stellar Vintages
Vinum Mysticus
Celestial Vineyards
Vinum Infinitus
Luminous Wines
Vinum Arcanum
Nebula Luxe
Imaginative Wine Business Names
Enchanté Wines
Vinoverse
Dreamscape Cellars
VinoQuest
ImagiVino
Whimsy & Wine
MystiVines
Vinfinity
Illusionary Elixirs
ImaginaWines
Vinomancy
EnigmaVino
Enchanted Vineyards
Vinova
Immerse Wines
VinoSurreal
Wondrous Winery
Vinomagica
Imaginary Vines
Vinemagination
Mirage Cellars
Vinodyssey
Illustrious Elixirs
VinoFantasy
DreamWeaver Wines
VinoWhisper
Enchanted Elixirs
Vinovation
IllusioVino
Visionary Vintages
Vinomystic
Imaginara Vineyards
Vinetopia
Ethereal Elixirs
VinoMirage
Enchantopia
Vinovative
Mystic Vineyards
ImagiSips
VinoEtherea
Enchanted Vineyards
Vinoptics
Illusionary Elixirs
DreamDrops Wines
Vinovista
EnigmaWish
Whimsical Winery
Vinomythic
Enchantopia
Imaginarium Wines
Timeless Names To Do With Wine
Vinetique
Heritage Wines
Grand Reserve Cellars
Vino Classico
Eternity Vineyards
Vinum Legacy
Classic Vintages
Noble Cellars
Vintage Elixirs
Premier Vineyards
Vino Perpetuo
Timeless Tastings
Resplendent Wines
Vinum Tradizione
Opulent Vintners
Time-Honored Terroir
Cellar Classics
Vino Prestige
Vinum Antique
Eternal Harvest
Château Noble
Vinum Primo
Storied Vines
Timeless Reserve
Vintegrity
Venerable Vinum
Iconic Vintages
Vintage Essence
Vinum Centenario
Majestic Cellars
Timeless Heritage
Vinum Regale
Legacy Vintners
Vintage Splendor
Vinum Antico
Illustrious Wines
Vinum Prestigio
Regal Reserve
Timeless Elixirs
Vinum Magnifico
Vino Sacro
Noble Heritage
Vinum Venerato
Grandeur Vintages
Vinum Primus
Refined Cellars
Classic Reserve
Vinum Regio
Timeless Reflections
Vinum Magna
Names That Are Creative
Vinovation
Grapevine Creatives
BlendCraft Winery
Artisanal Vines
Curious Corks
VinoArtistry
Palette & Pour
Wine Fusion
Imaginewine
Vinestry
CellarCanvas
Innovino
Vinetastic
Quirky Corks
Artful Aromas
Pour & Paint
Winecrafters
VinoVerse
Vintage Creations
Corks & Canvases
Vinemagination
Liquid Artisans
Palette Perfection
VinoVibe
Sip & Sketch
BlendArt
The Creative Cellar
Wine Muses
Artistic Ferments
Vinestrokes
Palette Expressions
Wine Inspired
Blend Masters
Vineyard Visionaries
Artful Ferments
VinArtistry
Curated Corks
Creative Tastings
VinoGallery
Palette Pairings
Crafted Canvas
Wine Innovators
Artisan Blends
Vinemasters
Pourable Art
Wine Fusionists
Artistic Cellars
Vinotopia
Imagivino
Blend & Brush
Wine Business Names That Rhyme
Fine Vine Wines
Divine Vines
Vintage Rhyme
Wine Shrine
Noble Goblet
Vino Cino
Sparkling Darlings
Dreamy Creamy
Vino Latino
Bold and Gold
Stellar Cellar
Wine and Dine
Timeless Rhymes
Tipsy Sipsy
Grape Escape
Tasty Rhymes
Red and Bed
Sip and Trip
Charming Harvest
Fancy Nancy
Zesty Fest
Berry Merry
Blissful Kiss
Luscious Crush
Happy Grapes
Cheerful Wineful
Fruity Beauty
Swirl and Whirl
Sweet Retreat
Clink and Drink
Chilled and Thrilled
Wine and Shine
Whiskey and Riskey
Cork and Fork
Chardonnay Day
Merlot Magic
Riesling Singing
Cabernet Magnet
Pinot Noir Explore
Zinfandel Delight
Sauvignon and On
Malbec Delve
Syrah Soiree
Rosé Bouquet
Gewürztraminer Stunner
Viognier Voyager
Sangiovese Serenade
Nebbiolo Fellow
Tempranillo Tinto
Grüner Veltliner Sparkler
Intriguing Company Names
Vintrigue
Enigma Vines
Elixir Quest
VinoQuest
Vintriguing
MystiVines
Vinigma
VinoMystery
Enchanted Elixirs
Vintricate
Vinomancy
Vinigma
Wandering Wines
Vinomystic
VinoEnigma
Illusionary Elixirs
VinoWhisper
Enchanted Elixirs
Vintriguing
Vinomagica
Mystic Vineyards
Wineova
Secret Cellars
Vinomystique
Enigmatic Elixirs
Vinoptics
Nebula Nectar
Vinomagic
Arcane Vintners
Vintrigue
Vinomystic
Celestial Cellars
Vinum Mysterium
Enigma Elixirs
Vinomagia
Whispering Wines
Vinomystique
Nebula Nova
Vintriguing
Elixir Enigma
Vinum Secrets
VinoQuest
Enigmatic Elixirs
Vintricate
Celestial Vineyards
Vinomystery
Mysterious Melange
Vinoptics
Vinum Arcanum
Elixir Whispers
Budget Wines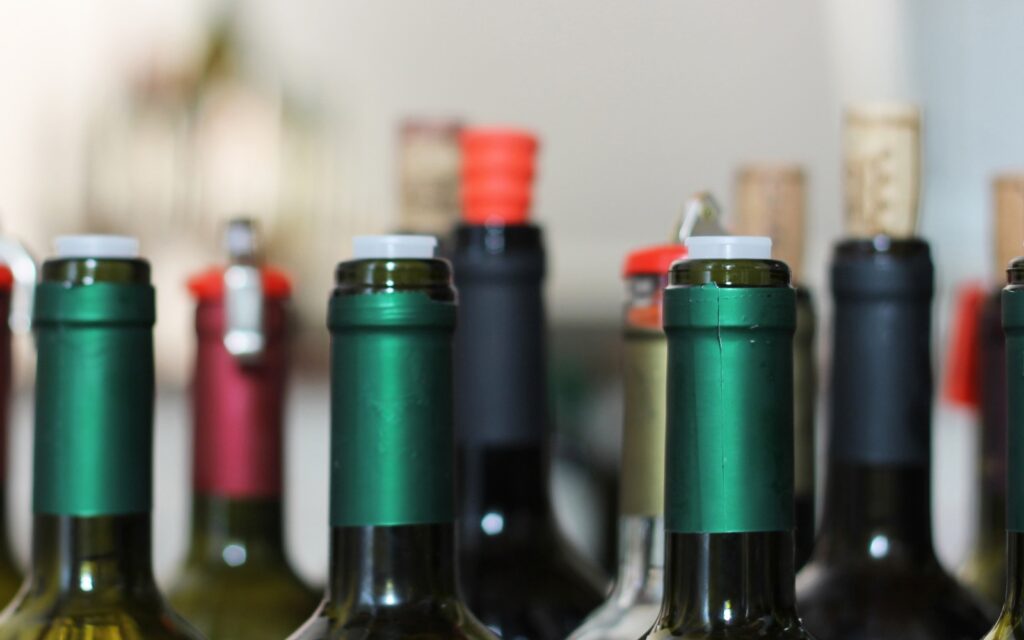 Affordable Vines
Budget Cellars
Value Vintage
Discounted Wines
Budget Blendz
Pocket-Friendly Vino
Frugal Ferments
Wine Deals
Bargain Bottles
Thrifty Tastings
Wallet-Friendly Wines
Budget Bacchus
Affordable Aromas
Wine for Less
Discount Delights
Savvy Sips
Budget Connoisseur
Affordable Elixirs
Wine Warehouse
Low-Cost Libations
Frugal Grapevine
Budget-Friendly Bubbles
Value Vineyards
Discounted Divines
Wine on a Dime
Wine Sales
Budget Cellar Door
Value Vintage Vault
Pocket-Pleasing Pour
Budget Bacchanalia
Discount Drinkery
Affordable Artisan
Thrifty Tipples
Bargain Blendings
Wallet-Wise Winery
Affordable Fermentation
Wine Value Vault
Budget Wine World
Discounted Drops
Savvy Sippers
Frugal Fermentation
Low-Cost Libations
Budget Bubbly
Value Vino
Discounted Delights
Affordable Abundance
Wine Wallet
Thrifty Tastings
Budget Bacchus
Pocket-Pleasing Pour
Wines That Are Organic
Pure Vineyards
Organic Oasis Wines
Earthly Elixirs
Natural Nectar
EcoVino
Verdant Vines
Organic Origins
Sustainable Sips
Green Grape Winery
BioBlend Wines
Earth Essence Elixirs
Harmony Hills Vineyards
Natural Reserve Wines
Organic Oasis Vineyards
EcoVine
Terra Verde
Earthly Delights Winery
Biodynamic Bliss
Green Grapevine
Organic Origins
Pure Terroir
Sustainable Spirits
BioVin
Earth's Bounty Winery
Natural Vineyards
Verdant Valley Wines
Green Earth Elixirs
Organic Oasis Cellars
EcoHarmony
Terra Vitae
Earth Essence Vineyards
Natural Reserve Cellars
Harmony Hills Winery
Organic Vinescape
BioBalance Wines
Green Vineyard
Earthly Elixir
EcoGrape
Terra Vino
Earth's Bounty Cellars
Natural Winegrowers
Verdant Valley Vineyards
Green Earth Spirits
Organic Oasis Estate
EcoHarmonia
Terra Vita
Earth Essence Cellars
Natural Reserve Estates
Harmony Hills Estate
Organic Viniculture
Nature's Essence
Important Tips For Wine Business Names
When it comes to a name for your wine business, you want to pick one that stands out from your competitors.
Here are some helpful tips to consider when naming your company.
Keep it simple and choose a name that is easy to pronounce, spell, and remember.
Aim for a wine business name that stands out and captures attention.
Consider using creative wordplay, alliteration, or unique combinations of words to create a memorable brand identity.
Use words that convey the quality and craftsmanship of your wines. Terms like "premium," "fine," "handcrafted," "artisanal," and "select" will communicate the high standards of your products.
Craft a name that tells a story or evokes emotions. Incorporate elements related to winemaking traditions, vineyard location, or the unique characteristics of your wines. This helps customers connect with your brand on a deeper level.
Reflect on your values. If your wine company has a particular ethos or focuses on sustainability, organic practices, or community involvement, consider incorporating words that reflect those values in your name. It helps to attract like-minded customers.
Keep your target audience in mind when naming your wine company. If you cater to a specific demographic, such as millennials or wine enthusiasts, tailor the name to resonate with their preferences and interests.
Research names for your business before finalizing your choice. Double-check the name complies with all the legal requirements. Search the trademark and copyright database to ensure it doesn't infringe on existing businesses.
Check for domain availability using Namecheap.
Do a mini-survey and test the potential name with friends, family, or focus groups to gather feedback on its appeal and impact. Consider their perspectives and make adjustments if necessary.
The name of your wine company should reflect your brand identity and resonate with your target audience. Consider using ChatGPT for brand building.
Take your time, be creative, and choose a name that perfectly represents your wines and business values. The same can be said when it comes to your website. If you need some help, read our article on how to create a website for your business.
We wish you success in your wine venture!
Want to learn step-by-step how I built my Niche Site Empire up to a full-time income?
Yes! I Love to Learn
Learn How I Built My Niche Site Empire to a Full-time Income
How to Pick the Right Keywords at the START, and avoid the losers
How to Scale and Outsource 90% of the Work, Allowing Your Empire to GROW Without You
How to Build a Site That Gets REAL TRAFFIC FROM GOOGLE (every. single. day.)
Subscribe to the Niche Pursuits Newsletter delivered with value 3X per week